With foodie culture at an all-time high, wedding menus are no longer a "one size fits all" scenario. Instead, couples are increasingly prioritizing a well-crafted food experience within their wedding budget, ensuring their guests dine on cuisine that's fun, interesting, locally sourced, and above all, completely delicious. And that's why it's a good idea to consider 2020 wedding food trends when planning the menu for your big day.
Wondering which new menu items will be big this year? We've consulted with the pros for all the 2020 wedding food trends sweeping the scene.
Plant-Based Options
Gone are the days of meat-only wedding menus, as more couples move towards accommodating the plant-based lifestyles of their guests. "In catering, we have seen every trend and diet come through as a request. Some last longer than others, but in reality, they have all gone away with the exception of plant-based diets, which have steadily grown over the past 20 years," Bob Sargent of Savory Cuisines Catering in Boulder, Colorado said. "These days we are seeing around 10 percent vegan options and up to 25 percent vegetarian options at our events. I think 2020 will see another huge step in people abandoning meat in their diets altogether and many more plant-based wedding menus."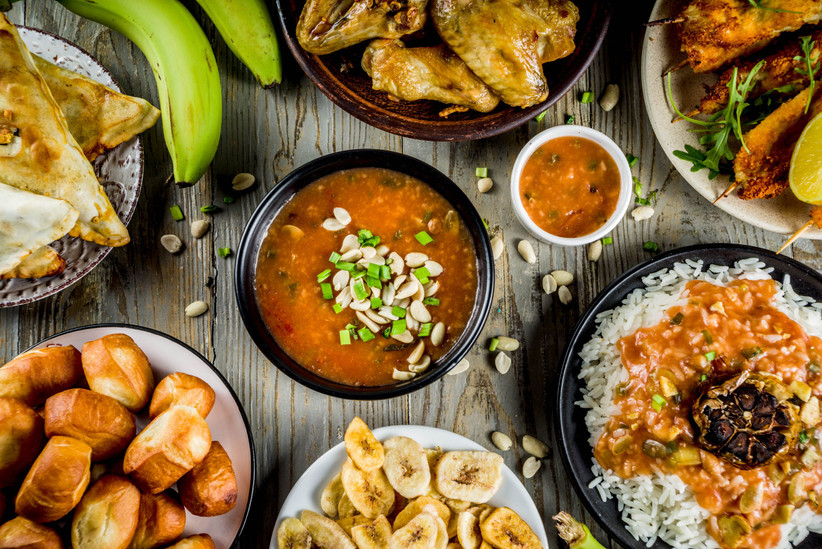 West African Cuisine
"In recent years, food trends have moved around the globe and many food bloggers and writers are banking on West African cuisine to grow in popularity this coming year," Sargent said. "I often find that people are most intrigued by cuisines they haven't tried, which might depend on the couple's own curiosity. However, I think we should keep an eye out for more West African-inspired restaurants and wedding menus soon."
Organic Everything
The experts at Capers Catering in Stoneham, Massachusetts note that organic ingredients are here to stay as couples continue to request in-season and ethically-sourced food on the plate of each guest. With the heightened awareness of sustainable agriculture, couples care about where their food came from and are looking to provide their guests with the freshest, farm-to-table experience possible.
Global Fusion
"We're really excited to see the emergence of the multicultural menu. We're seeing couples come together from completely different parts of the globe—each with their own rich culinary traditions—which can play out spectacularly in their menu requests," Joel Chaiken of Food for Thought in Lincolnwood, Illinois said. "These menus serve as such a celebration of the couple's family history, as well as their journeys to that moment." Savory Cuisines Catering agrees, sharing favorite fusion menus they've recently created, including a New England/New Orleans pairing and a Vietnamese/Texas BBQ experience.
"Seacuterie" Spreads
According to Savory Cuisines Catering, "seacuterie" is going to be all the rage in 2020, with seafood replacing the traditional meat and cheese varieties. "It is our belief that the popular grazing table will start to incorporate seafood, such as smoked oysters, mussels, cured fish, and pickled crustaceans on platters and boards to give wedding guests an opportunity to explore flavors and techniques new to their palates. Many top restaurants around the country are already incorporating these sharable items into their menus, and we will see this trickle into the wedding menus of more savvy couples. As aqua-culture techniques make seafood products more sustainable, and available to the health-conscious consumer, "seacuterie" will become a top 2020 wedding food trend that will probably be around for the foreseeable future."
The Late Night Hot Spot
While late-night snacks are nothing new at wedding receptions, 2020 wedding food trends include more sophisticated requests. The typical sliders or pizza are being replaced with unique eats that reflect the couple's favorite comfort foods.
"Couples want food from their favorite hang-out spots. Food that means something to the couple more personally," noted Kevin Marsland of Capers Catering.
Chaiken of Food for Thought agreed, adding, "given the access we have to food from around the world, the opportunities are endless–think soup dumplings, Roman pizza, ramen, and Nashville chicken sliders. Our clients are looking to replicate their favorite nightspot; the place they 'end up at' after a night out or even the place where they enjoyed a first date. It's a chance to relive and share their unique moments with friends and family."