Brunch Weddings: Everything You Need to Know to Plan a Daytime Celebration
You don't have to be an early bird to enjoy the benefits of hosting a brunch wedding. We talked to wedding-planning experts to help you plan the ultimate morning event.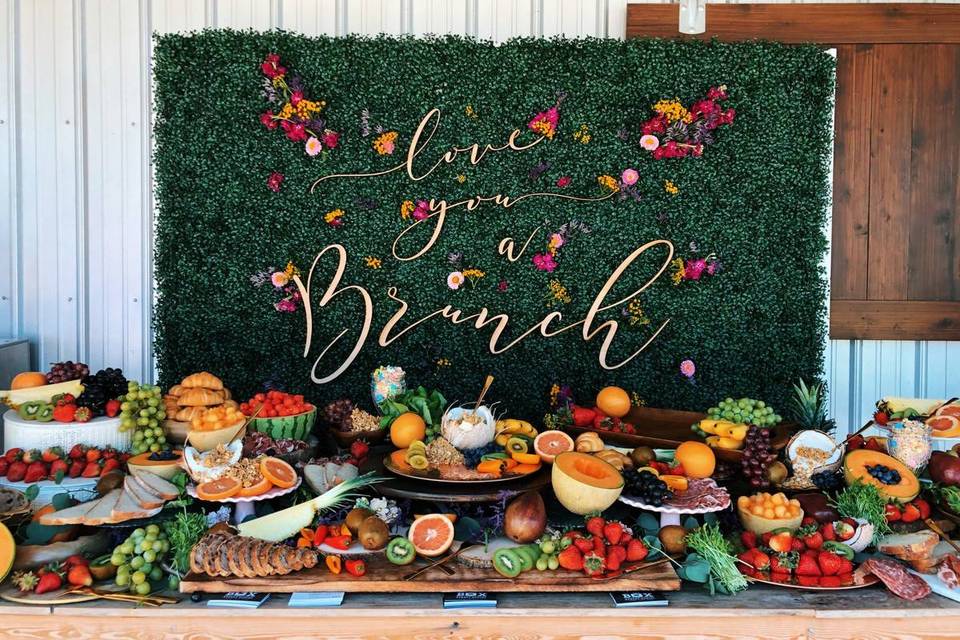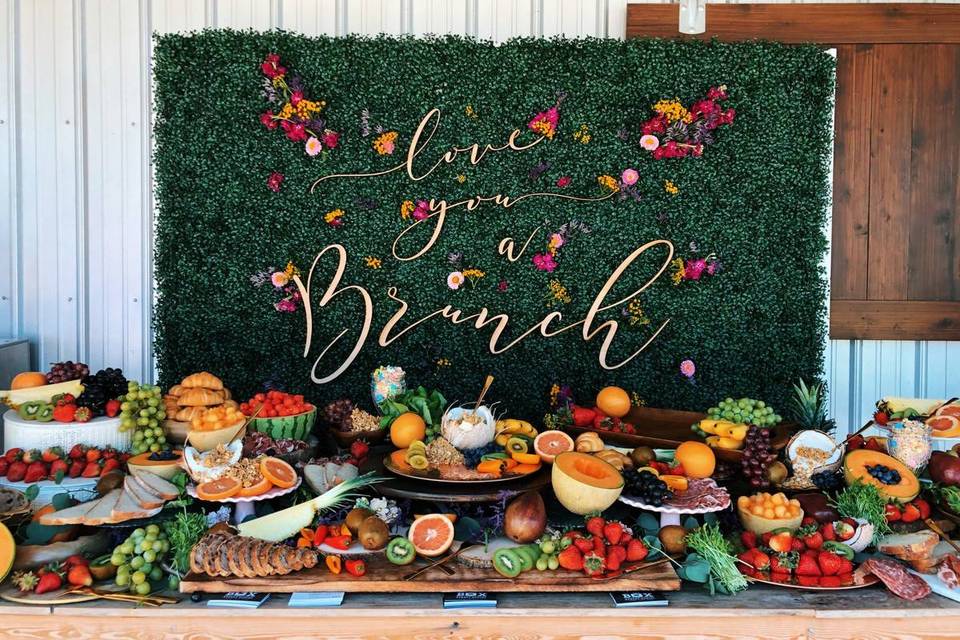 A wedding doesn't have to take place in the evening to be memorable. In fact, brunch weddings are a growing trend, especially amid the COVID pandemic. With 2020 couples rescheduling their weddings into 2021 and 2022, Saturday evenings are booking up fast, making morning ceremonies and brunch receptions an appealing option (and seriously, who doesn't love a waffle bar and bottomless mimosas?). We talked to several wedding planners about why brunch weddings are a great idea, some details to consider, and a sample brunch wedding timeline to help you plan your A.M. celebration!
Brunch Wedding Advantages
There are lots of reasons why hosting a brunch wedding are totally trendy right now. We've broken down the advantages of hosting a brunch wedding here:
Availability
When it comes to finding a wedding date in 2021 and even into 2022, flexibility is key. Since morning weddings aren't as common as evening events, you'll likely find more venues and vendors available on weekend mornings, as opposed to the ever-popular Saturday nights. This is particularly important if you're planning a wedding with a tighter timeline (a 6-month engagement, for example).
Budget Friendly
If you're looking to save some money, a brunch wedding may be worth considering. "Brunch menu items are most commonly less expensive than dinner menus," says Brandi Robinson of B Posh Events in Farmington, Michigan. "And most vendors and venues offer smaller and discounted packages for brunch weddings and events." You also won't likely need a full open bar for a brunch wedding, focusing your beverage selection on drinks like Bloody Marys, mimosas, bellinis, and screwdrivers (as well as coffee and espresso, of course!), which will help with your savings.
And when it comes to florals and other decor, such as centerpieces, you can keep things simple to great effect. "Decorations can be kept on the minimalist side because many guests may not be expecting over-the-top floral arrangements that early in the morning," adds Evelyn Kibwana of Events by Evelyn in Huntersville, North Carolina.
However, brunch weddings can still be totally luxe and expensive (hello, lobster omelets!), so you'll have to watch your spending during the planning process. "The budget depends on many factors like guest count, ideal menu, how elaborate are the florals and décor and the overall theme," says Kibwana.
Breakfast Food
One of the biggest draws of a morning wedding: breakfast and brunch food! Many of our favorite brunch wedding ideas relate to food—you can really let your creativity shine here. Jessica Carrillo of Art & Soul Events in Los Angeles, California suggests having a "doughnut, coffee, and mimosa hour" instead of the traditional cocktail hour, complete with a specialty coffee bar and mimosa station.
For the main meal at your brunch wedding reception, Carrillo suggests switching up the usual seated meal format in favor of interactive food stations, such as an omelet station, bagel, French toast, or waffle bar, and more. Of course, a seated meal is totally fine too—Carrillo has planned a high tea-themed reception, complete with fresh salads, finger sandwiches, and scones. And lieu of or in addition to a traditional wedding cake, you can offer brunch-themed desserts such as cinnamon rolls, doughnuts, or crepes.
Casual, Relaxed Setting
"Brunch weddings typically tend to be a little bit more relaxed due to it being during the day," says Robinson. Morning weddings usually have a smaller guest count than evening events (including a smaller or no wedding party), with a more casual feel. Attire tends to be more informal (though if you've always dreamed of that ballgown wedding dress, go for it!) and decor more understated. If this more laid-back vibe appeals to you, consider a daytime wedding.
Kid Friendly
If you have kids of your own or are inviting children to your wedding, a morning or daytime wedding may be ideal. Late afternoon and evening weddings tend to conflict with naps or bedtime, which can mean cranky kiddos. But a morning wedding means kids that are typically well-rested and just plain happier. Be sure to include kid-friendly entertainment options at the reception (Carrillo suggests an interactive art station) to keep the little ones occupied.
Celebration Continuation
The thing about brunch wedding receptions is that when they end, you still have the rest of the day ahead of you! Of course, you can simply let your reception come to a close and spend the rest of your big day relaxing with loved ones and opening gifts, or you can plan some post-wedding activities, such as a trolley tour or a group hike. Remember that if you're hosting your wedding on a Sunday, your guests will likely need to get home earlier if they have work the next day.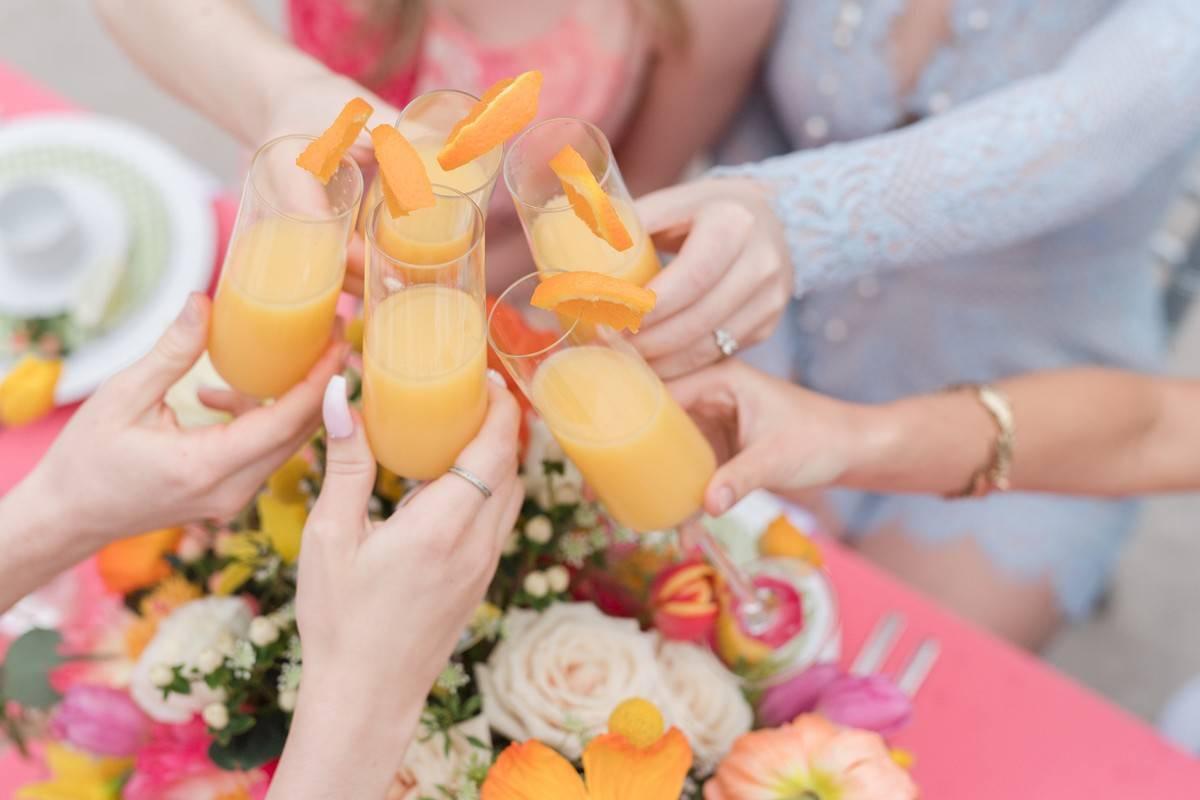 Brunch Wedding Considerations
When it comes to planning a brunch wedding, there are certain differences between this time of day and an evening wedding that are important to consider.
Early Start Time
Remember that your wedding day actually starts hours before your ceremony. You'll need plenty of time to get hair and makeup done and take pictures, so expect an early wake-up call. According to Carrillo, even if your wedding ceremony doesn't start until 11 a.m., a 5 a.m. start time may be necessary. Work with your hair and makeup pros, planner, and venue coordinator to determine the ideal start time.
"I advise a 11 a.m. or 12 p.m. start time and reception around 1 or 2 p.m.," says Kibwana. "You probably wouldn't want it to start too early, right? That depends, if a couple are early risers, and don't have a large wedding party, a 9 or 10 a.m. start time would probably work for them."
Of course, the more bridesmaids and other people who need professional hair and makeup, the earlier you'll have to start—unless you have multiple hair and makeup pros to work on several people at the same time. Carrillo also recommends finding a location at or near your ceremony venue to get ready so you won't have to factor travel time in to your already early timeline. And remember: Resist the urge to overdo it at the rehearsal dinner (you may want to opt for a rehearsal lunch the day before your wedding instead)—you'll definitely need your beauty rest if you're planning a brunch wedding!
Additional Entertainment
While you should still plan on having a DJ or band and performing your first dance and other special dances at your brunch wedding reception, your guests may not be as inclined to hit the dance floor in the early afternoon. According to Carrillo, it's a good idea to have a few alternative entertainment options to occupy your crew, such as lawn games, a couples' game such as the shoe game, photo booth, caricature artist, and tarot card readings. At one brunch wedding Carrillo planned, guests decorated a huge chalkboard wall which served as both the guest book and a keepsake for the newlyweds.
Carrillo adds that a dance party is still totally possible at a brunch wedding, if the couple wants one. "While people may be more inhibited about dancing in daylight, if you have an energetic DJ and the couple dances, other people will dance, too," she says.
Shorter Timeline
Brunch weddings tend to be shorter than evening events, typically lasting between 3 and 4 hours, as opposed to 5 to 7 hours for an evening wedding. For some couples, a shorter wedding is appealing, while others may want their reception to last longer. If you're interested in extending your celebration and are okay with spending more money, talk to your venue about the possibility of a longer reception (though some may not be able to accommodate this request if they're hosting another wedding that evening)—or find a creative activity for your guests to enjoy after the reception officially ends.
Brunch Wedding Timeline
One of the most important wedding-planning tasks is creating a timeline for your big day. A brunch wedding timeline may look a bit different than an evening reception timeline. "Brunch weddings typically start early, as early as 10 a.m. at times," Brandi Robinson of B Posh Events says. "Most often, I have also seen them start around 11 a.m. and end around 2 p.m." We asked Robinson to share a sample brunch wedding timeline template to help you DIY your own.
6 a.m.: Getting Ready begins (this may need to be earlier depending on number of wedding party members and hair and makeup pros, as well as travel time to the ceremony venue)
10 a.m.: Wedding Ceremony
​​​​​10:30 a.m. to 11:30 a.m.: Wedding Portraits and Cocktail Hour
11:30 a.m. to 12:30 p.m.: Brunch is served
12:30 p.m. to 1:30 p.m.: Dancing and entertainment