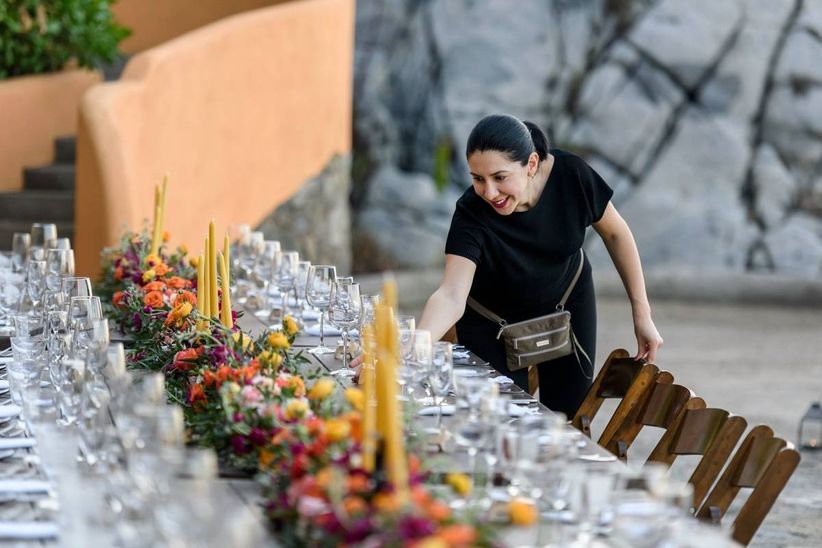 If you're on the fence about if you should hire a wedding planner, you're in good company. While some brides and grooms consider the expense a no brainer, others have a tough time making the decision. After all, a wedding is hardly an inexpensive endeavor, and the thought of spending a couple extra thousand dollars or more on help with planning can seem exhaustive, and potentially even unnecessary.
While it's true that a wedding planner costs money, it's actually possible that they may help you save—in terms of money, but also time and stress, which some consider to be priceless. "A wedding planner can point out areas to save money, such as rentals, and sometimes, other vendors will even pass along little cost-saving perks for clients," explains Lindsey Nickel at Lovely Day Events in Napa, California. "A wedding planner can also save their client countless hours googling, trial and error and asking friends for input."
To help guide you in your decision, we asked planners to share the five key signs that a couple should consider hiring a wedding planner.
Your organization and planning skills are subpar.
When talking to prospective couples, Leah Weinberg of Color Pop Events in Long Island City, New York, always tells them to be realistic about the bandwidth they have to plan a wedding and also about their strengths and weaknesses. "If spreadsheets and to-do lists just aren't your thing, bring in a pro instead of trying to do it on your own and letting things slip through the cracks," she says. "Having someone help keep you organized and on track is going to give you such a confident feeling when it comes to your wedding that the price tag will be well worth that value."
You have a very demanding job.
If your job feels more than full-time, it might be a good idea to hire a wedding planner so you're not spending every lunch break and evening wedding planning. "Planning a wedding becomes a part-time job and takes a lot of hours," says Nickel. "Vendors work business hours and typically are not available on the weekend since they are executing weddings, so if you work full-time, save your sanity, save a ton of stress and hire a wedding planner."
You're having a destination wedding.
A wedding planner for a destination wedding is a must, according to NIckel. "If you don't live in the town you are getting married in, it's really hard to know who the best vendors are, what the weather is like and local laws," she says. "A local wedding planner has vendor relationships that can help your wedding go smoothly."
You're struggling with your budget.
Planners know how to make—and stick to—a budget. "We understand how much money you can spend on alcohol and how much you realistically should be spending on a photographer," says Carly Rose of Orlando Designer Weddings in Winter Garden, Florida.. "When budget is a concern, a wedding planner can work the numbers to make sure that everything you are looking to include, is a part of the day at a good price point."
Your wedding day has a lot of "moving parts".
If you're planning on bringing in a lot of decor and inventory that needs to be placed for both ceremony and reception, you should definitely hire a wedding planner. "Decor needs to be moved from ceremony spot to cocktail hour and reception areas, place cards needs to be alphabetized and placed on appropriate tables and place settings, etc.," says Deb Erb of Simply Events Inc. in Lititz, Pennsylvania. Many vendors are working and their arrival/departure times, set-up, etc. all needs to be coordinated and managed. Family dynamics can also play a big part in a couple's wedding day. Divorced parents don't like to be near each other or family members need assistance getting around the property - wedding planners assist with all this, so the couple doesn't need to think about it!