Is a Destination Wedding Right for You?
Do you like the idea of having a destination wedding, but can't help but wonder if it's the right choice for you? These simple questions will help you decide once and for all.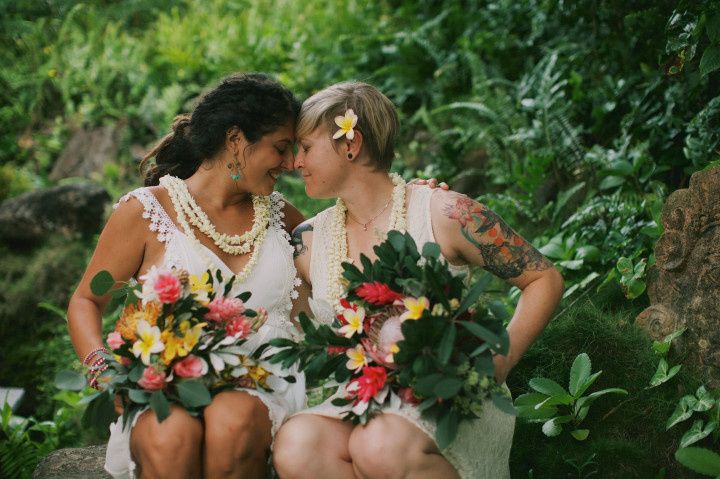 Destination weddings can be totally dreamy. From getting married barefoot in the sand to holding your ceremony in some far-off European city, there are lots of options to choose from. But before you finalize those travel plans, you should consider some of the differences (both good and bad) that come with having a destination wedding.
Ask yourself these questions to decide whether or not a destination wedding is the best choice for you.
Where are you and your partner from?
Destination weddings are great for couples who are from two completely different parts of the country, and who made now reside in a third locale. Gathering all of your nearest and dearest on "neutral territory" will make the event more relaxed for all.
Are you okay letting go?
If you're getting married in a far-off location, you may not be able to control every little detail – and you may not even meet your vendors face-to-face until the day of your wedding. Make sure you're comfortable with putting your faith (and your wedding!) in the hands of others before you move forward.
Are you okay with important people in your life not being able to make it?
There may be several people in your life who will be unable to make a destination wedding – elderly or infirm relatives, people with small children, and those with busy work schedules. If you want to have a small and intimate wedding, that may be a positive feature of a destination wedding.
Will your VIPs understand?
Your parents and other relatives and friends may not be accustomed to the idea of a destination wedding, so you may need to do a little (or a lot of) explaining. If your family is relatively relaxed about the idea and able to spend the money to travel, this shouldn't be an issue.
Are you on a budget?
Because destination weddings tend to be smaller and held in beautiful settings that require little added décor, they are often less expensive than hometown weddings. Of course you'll have to factor in travel costs, so be sure to budget wisely. If you're still concerned about budget, choose a resort with all-inclusive wedding packages – those can help you save a bundle as well.