5 Couples Share Why They Hired a Wedding Planner
If you're going back and forth about hiring a wedding planner, these couples have some helpful advice: Book that planner, stat.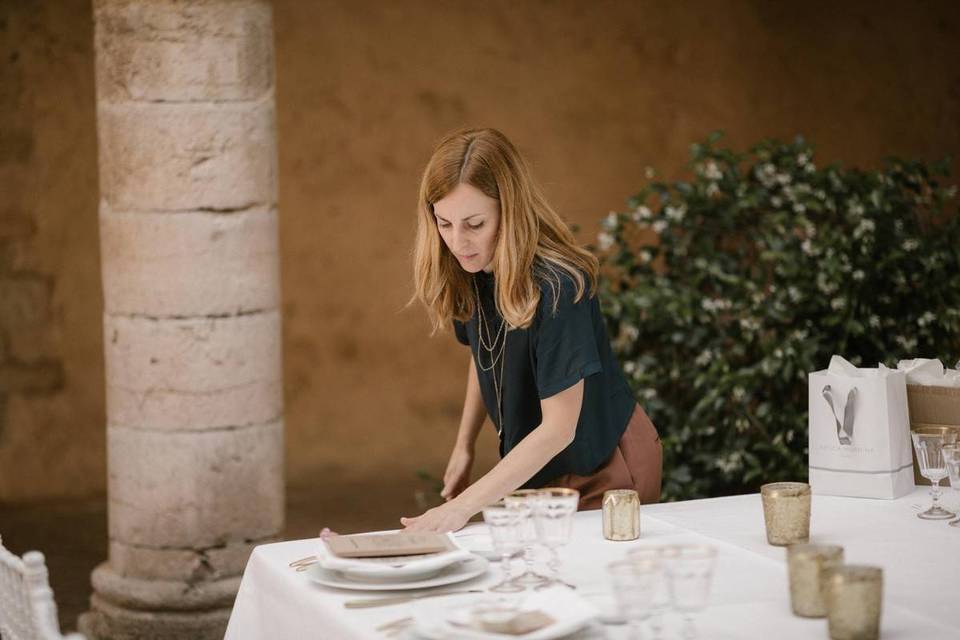 The easiest decision in the wedding planning process? Saying "yes" to your partner. Then, the choices become a tad more complicated. While many couples map out their special wedding weekend all by themselves, others enlist the help of professional wedding planners to ease the burden. Particularly for those duos who both have full-time jobs, a wedding can feel like a side hustle that quickly takes over your life (and relationship). If your budget allows you to hire a wedding planner, it could be worth the investment. From those who manage all of the vendors and iron out every detail from the beginning of your planning process to day-of coordinators that step in so you can relax, there are many options available. Here, we spoke with those who decided to hire a wedding planner—and rave about the experience.
"It made everything less stressful."
If they could do it all over again, Katie Wilson and Alex Thornton would hire a wedding planner again in a heartbeat. They decided to have a destination wedding, so having a planner made the experience easier and less stressful — two things that are priceless for your big day. At the time, Wilson was working two jobs and had zero extra time to dedicate to wedding details, so having someone else to take care of it made their dream day possible. They hired Destination Wedding Travel Group, and they made magic happen — from choosing a venue and booking travel arrangements for guests to decor and ceremony planning and more.
Their best advice to couples: "To put it simply, do it! But really, it is such a great decision to hire someone who will take care of the planning details and guide you through what to do next. It gives you the chance to enjoy the journey and the day, so you don't have to stress about anything. When working with a pro planner, our biggest piece of advice is to trust the people you are working with. They really know what they're doing! So enjoy the journey and just relax, because this is your moment!" —Katie Wilson.
"We were able to be fully present on our wedding day."
There was nothing more important than being present on their wedding day for attorney Liz Rosado and TV and podcast producer Adam Howard. With busy, demanding jobs and the desire to be more hands-off, they hired Leah of Color Pop Events, who helped them execute their vision. In addition to taking the worries out of the wedding planning process, Rosado also said they benefited from Leah's network of trustworthy vendors, who all work together to create a seamless, beautiful experience. In the end, it was a spectacular day, and now Rosado recommends wedding planners to every newly engaged couple she meets.
Their best advice to couples: "Make sure you hire someone who understands and respects your priorities and values. We made a lot of non-traditional choices — my husband had groomsladies instead of groomsmen and we played movie clips instead of having readings. Leah never made us feel weird or judged. In fact, she celebrated these choices as expressions of our unique relationship. I also suggest hiring someone who will be a calming force on your wedding day. Some of that is just a personality fit, but it's also a matter of your planner's experience and judgment. It's hard for me to give up control, but I had no issues handing the reins over to Leah because I knew she could anticipate issues before they occurred and problem-solve on the fly. I knew I was in very good hands on my wedding day and could fully enjoy one of the best days of my life." —Liz Rosado
"It gave us the sense of calm and security we needed."
There's no perfect time to get married or start your life together, but when you decide to wed in the middle of a global pandemic, it comes with complications. As Natalie and Zachary Yabroff discovered, one of the savings graces of having a COVID-19-era wedding was hiring a wedding planner. They decided to hire Daniela Grafman from Vision Event Company—and Natalie says the experience was incredible right away. Having a go-to professional who can handle inevitable hiccups and changes during uncertain times made the process much more enjoyable for this duo.
To begin, she organized everything into a timeline to make it more digestible. She also partnered with both moms and was readily available for all questions. Five months into the process, COVID caused them to reschedule their wedding, and their planner helped them handle the situation and rebook everything for their new date.
Their best advice to couples: "Think about how you want to feel on your wedding day. On our big day, I woke up feeling relaxed, knowing Daniela and her team had everything under control. Her team was everywhere and ready to handle any hurdles (trust me, there are always hurdles). She had a schedule for every aspect of the day. Every vendor was in constant contact with her team. The only thing we had to worry about was showing up! Every aspect of our wedding was perfect because everything ran so smoothly. It was effortless, beautiful, and so much fun! We felt exactly how we always wanted to feel, excited, and in love." —Natalie Yabroff
"It allowed us to have what we wanted, without taking on another full-time job."
Because grooms Ryan Hill and Josiah Eubank decided to have a destination wedding, they knew they needed help ironing out all of the details. To help, they hired Destination Weddings Travel Group to select a resort, make travel arrangements, and coordinate the details. Not having to research and find all of the necessities for their wedding was a lifesaver, and they'd recommend a planner to anyone.
Their advice to couples: "Look at your to-do list and what's already on your plate. Most of us are already working full-time, some may be going to school, others may have children, etc. Then ask yourself, 'Can you easily take on more and feel confident you will have the wedding of your dreams?' If not, hire a wedding planner! They will assist and take the reins on anything you'd like them to. Don't worry; you'll still be included every step of the way, but with the relief of knowing a professional has got your back!" —Ryan Hill
"Let someone else put out the fires."
There's no reason to sugarcoat it: while your wedding day is a very special experience, it's also one of the most stress-inducing times of your life. So having a professional ally that will be with you every step of the way — and ahem, put out fires for you — can be a game-changer. Just ask Radley and Thomas Swafford, who hired Heavenly Day Events for their grand affair. Because they hired someone who would advocate for what they wanted, they could use the time to truly invest in one another and celebrate this new chapter without being bogged down by the details. Radley appreciated their attentiveness, organization and ability to jump in and make everything seamless. Because they trusted them every step of the way, they felt relief and joy throughout the planning process.
Their best advice to couples: "If you are one of those couples who want to do it all yourselves, I salute you. I am here to warn you, though, from my own experience, your wedding day will become more reminiscent of a chore than a celebration. The moment I enlisted Heavenly Day Events, my wedding to-do list actually became doable. I suggest that you find someone you connect with personally, who loves their job and loves their coworkers. Find a planner with an awesome team who has the resources and expertise to execute your plans. I highly encourage you to take the advice of and respect the creative opinions of your planner. Remember, they do this every day. There are many fires they are well versed in putting out. Sometimes the couple's vision can't come to exact fruition, or something goes awry. This is a great opportunity to use your planner's assets to your benefit and let them exercise a little creativity. I assure you, you will not regret it. Lastly, I implore you to remember that while this planner is working on your wedding, they do it because they love to. Be patient, considerate, honest, and above all, appreciative." —Radley Swafford