How to Plan Your Wedding in Just 6 Months
Planning a wedding with a shorter engagement? Check out our 6-month timeline to help you plan a wedding in just 6 months.
We have included third party products to help you navigate and enjoy life's biggest moments. Purchases made through links on this page may earn us a commission.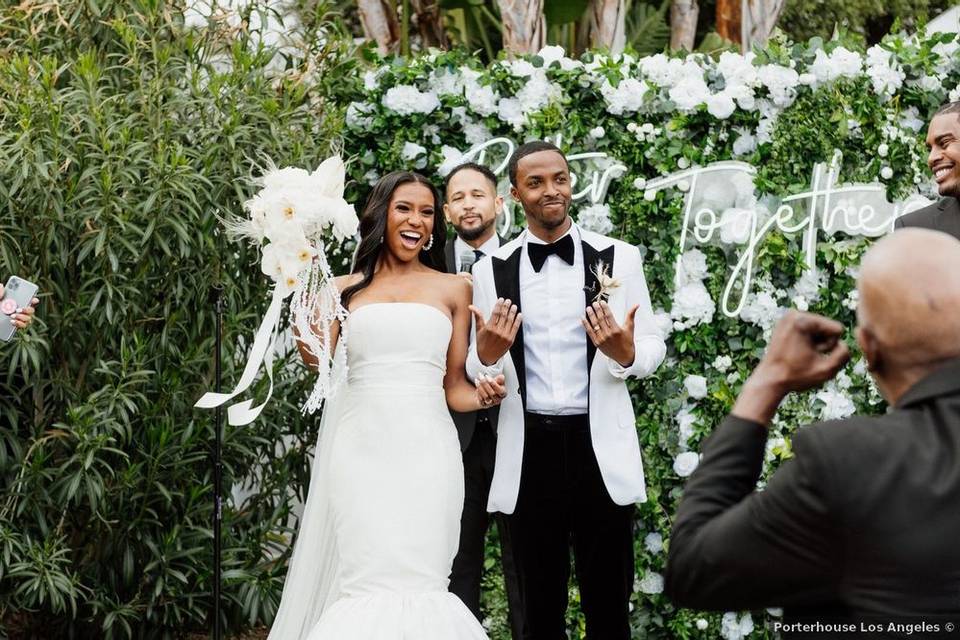 The average engagement lasts about 13 months, but we know there are many reasons why couples would want to wed much sooner than that. In fact, 19 percent of couples plan their weddings in 6 months or less — and with our handy month-by-month timeline, couples can figure out exactly how to plan a wedding in 6 months. If you're recently engaged and want to get married in just a few months, you'll have to condense your wedding-planning timeline — but it can absolutely be done with minimal stress. Here's exactly how to plan a wedding in 6 months.
6 Months Before Your Wedding
Note: Yes, this seems like a lot in a short period of time—but don't be afraid to delegate responsibilities to your future spouse, family members, and friends who will be happy to help you! And if you're planning your wedding during the COVID pandemic, feel free to shift some of these tasks and events based on safety regulations in your area.
Start your wedding checklist
Not sure how to plan a wedding? First things first, make sure you have a wedding checklist at the ready to stay on task! An online checklist is particularly ideal so you can tick off tasks whether you're at home or on-the-go!
Figure out the basics
When you're dealing with a 6-month wedding timeline, you have to make decisions relatively quickly—which can actually be a good thing (less time to doubt your choices!). The first three things you'll need to figure out are:
Find a planner
Booking a wedding planner is a good idea for any couple, but particularly couples working with a shorter wedding timeline. Planners can help quickly connect you with other available vendors, and have the expertise make sure you check everything off your list (and handle a lot for you!), stress-free.
Book venue and caterer
You haven't officially set your date until you book your venue—so take care of that ASAP. With such a short timeline, an all-inclusive venue might be a good option, but be open to any venue with availability that can comfortably hold your guest count and is within budget. If your chose venue does not have an in-house caterer, now's the time to book your caterer, too.
Book hotel room blocks for your guests
This is particularly important if you're hosting a destination wedding or if many of your guests will be traveling from out of town. Check out hotels near your venues and reserve room blocks to ensure your guests have a place to stay for your wedding weekend. Don't forget to spread the word!
Set up your registry
Your guests are going to want to buy you gifts ASAP, so it's time to set up a wedding registry. While it's always a good idea to go to a store and register in person, if you're pressed for time, you can always start your wedding registry online.
Select your wedding party
Time to pop the question—to your wedding party! Ask your nearest and dearest to stand by your side ASAP to give them plenty of time to plan those wedding showers and bachelor and/or bachelorette parties! Plus, the sooner you ask, the sooner your attendants can really help you figure out how to plan a wedding in 6 months and get organized.
Book other vendors
With a 6-month wedding timeline, there are several vendors that you should book ASAP (meaning, right after booking your venue):
Start shopping for attire
Wedding dresses can take months to arrive after being order, so if you're wearing one, it's best to shop sooner rather than later. While suits and tuxes don't take as long, it's a good idea to start shopping.
Set up your wedding website
A wedding website is a helpful way to communicate with your guests—so be sure to set one up and keep your loved ones in the loop about travel, accommodations, registry, and more.
Send out save-the-dates
Save-the-dates should be sent out as soon as possible to give you guests a heads-up about your wedding date so they can book their travel and accommodations.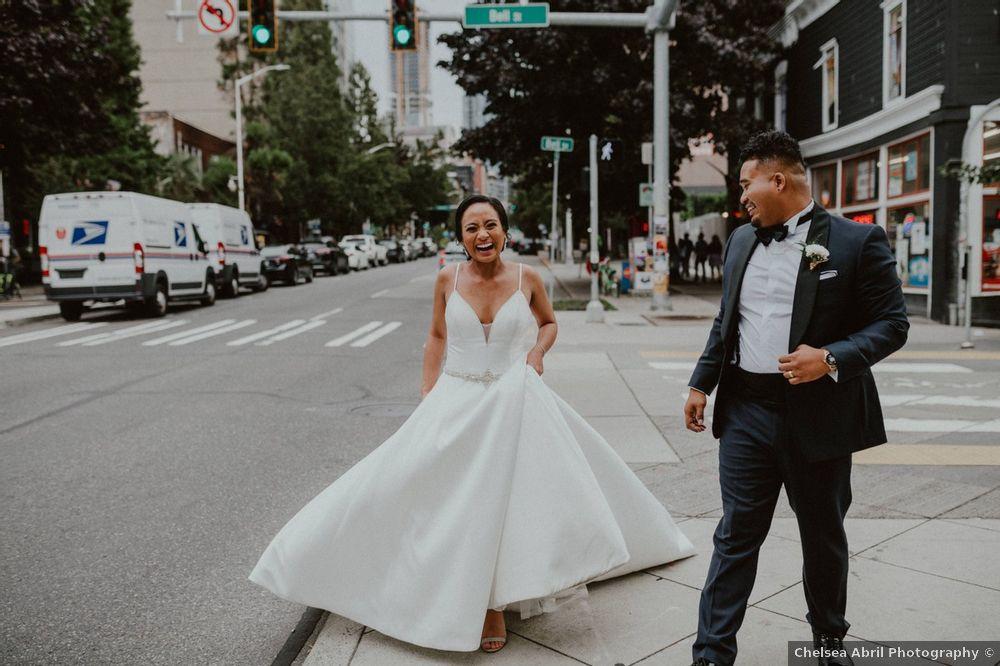 5 Months Before Your Wedding
Purchase your accessories
Shoes, undergarments, jewelry, hair accessories and more—start shopping for your wedding-day accessories after you've purchased your attire.
Select your wedding party attire
Work with your wedding party members to select their attire—whether you're having your crew wear the same thing, or allowing them to choose their own dresses or suits.
Book more wedding vendors
You're not done booking vendors quite yet! There are a few more you should line up for your big day:
Find your invitations
Time to start shopping for your invitations! Wedding invites can take a bit of time to be ordered, so there's no time like the present to visit a stationer and pick them out.
4 Months Before Your Wedding
Purchase wedding rings
Your wedding rings are an important part of the ceremony ritual—and they're likely something you'll wear all the time, so take the time to shop for wedding jewelry you really love.
Plan your rehearsal dinner
This pre-wedding event takes a bit of planning as well, so be sure to book a venue at least four months before the big day.
3 Months Before Your Wedding
Figure out your favors
Whether your wedding favors are edible or something for your guests to keep, work out the details and make any purchases.
Plan your honeymoon
Get ready for your trip of a lifetime—it's time to pick a destination and start booking!
Hair and makeup trial
You'll want your hair and makeup to look picture-perfect on your big day so be sure to make room in your wedding timeline for a trial run.
Have your catering and cake tasting
Meet with your venue and/or caterer to select your wedding reception menu, and also schedule a time to decide on cake flavors with your baker. It's the most delicious part of wedding planning by far!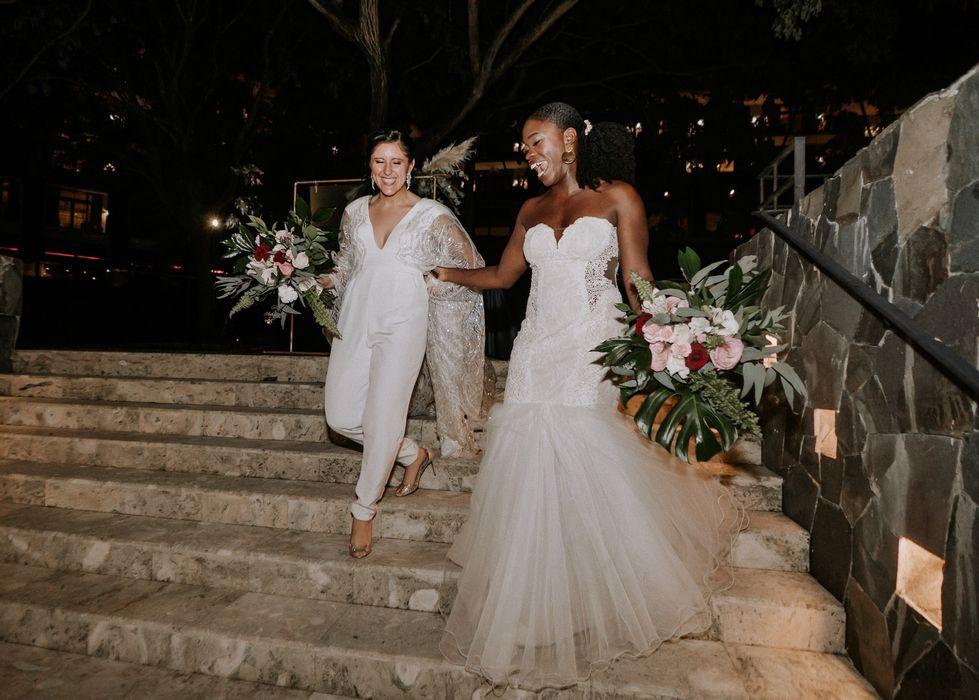 2 Months Before Your Wedding
Have your wedding shower, bachelor and/or bachelorette party
Usually these events are planned by your wedding party members so you can just sit back, relax, and enjoy the festivities.
Pick your ceremony and reception playlist
Work with your wedding ceremony musicians, band, and/or DJ to come up with your must-play and do-not play lists, as well as your picks for your processional, first dance, and other songs for important moments.
Send out your invites
Wedding invitations should be sent around six weeks before your wedding date, with an RSVP deadline of about two or three weeks in advance.
Buy gifts
You'll likely want to make sure that you buy thoughtful and meaningful gifts for your wedding party members, as well as your parents. Now's the time to start shopping for these.
Start writing thank-you notes
You've probably already received a bunch of wedding gifts—don't delay on writing those thank-you notes. Purchase pretty stationery to make the process more fun.
1 Month Before Your Wedding
Get your marriage license
Every state has different laws about procuring your marriage license, so be sure you're up-to-date on your state's legal requirements and timeframe.
Confirm all vendors and details
This is a good time to check in with all of your vendors, if you haven't already to make sure everyone is on the same page for your big day.
2 Weeks Before Your Wedding
Create your seating chart
Once you have your final guest list and headcount, you'll want to figure out who's going to sit where at your reception. Use an online seating chart tool to make this step a breeze.
Create your wedding day timeline
A wedding-day timeline is an absolute must in order to keep your day running smoothly. Work with your planner to plan out your entire wedding day, minute-by-minute—and don't forget to share your timeline with your vendors and wedding party members.
The Day Before Your Wedding
Rehearsal and rehearsal dinner
The day before your wedding is sure to be a busy one, but the celebrations begin with your rehearsal and rehearsal dinner.
Your Wedding Day
Get married!
All of your planning paid off—you're now officially married!