Paper and Flower Shortages are Rocking the Wedding Industry—Here's How to Deal
Yes, the shortages you've been hearing about are affecting the wedding industry—but your vendors have got it covered!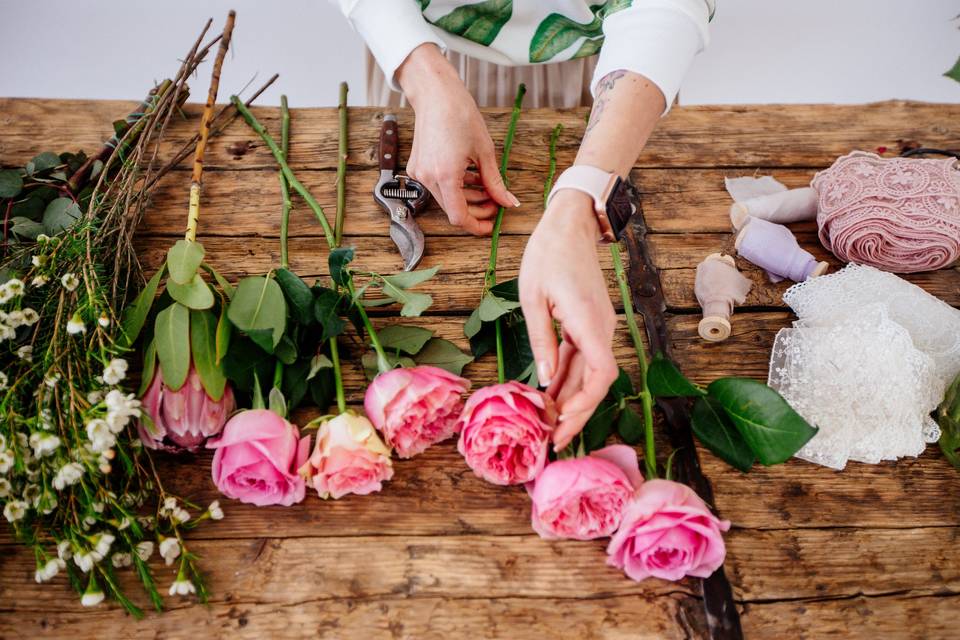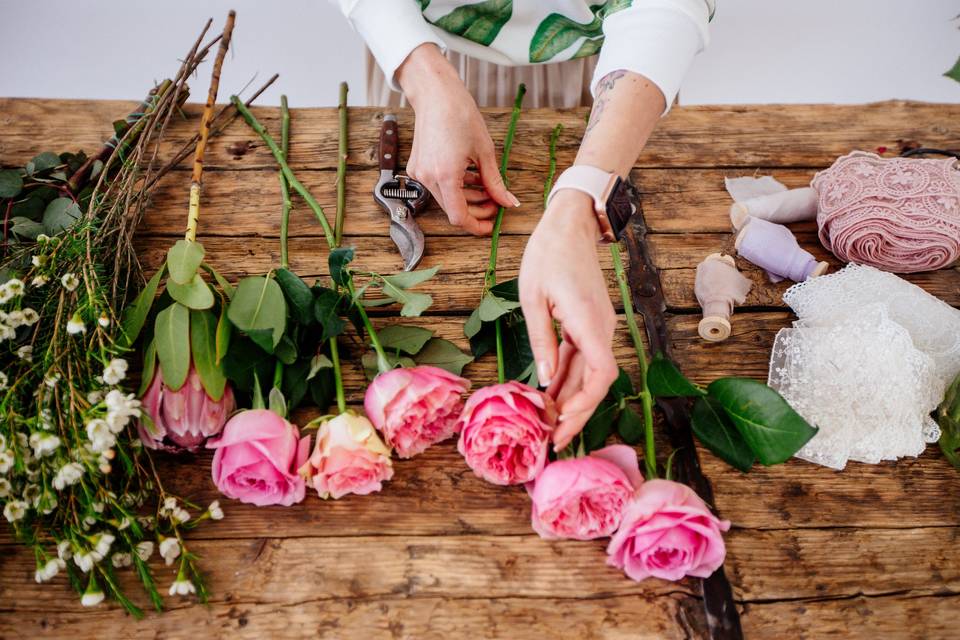 You've probably heard about the various shortages may be affecting your everyday life in the wake of the COVID pandemic, from furniture to meat, and more. Well, similar issues are now making their way to the events industry in the form of global paper and flower shortages. And of course, this is occurring during a "wedding boom"—last year's events that were postponed due to the pandemic are occurring now and into 2022. So if you're scrambling to figure out your invites and order bouquets, you're definitely not the only ones.
Before you start to panic, take a deep breath. There's a reason we value and trust wedding vendors: They know how to make lemonade out of lemons and create magic, no matter what is going on in the world around them. We don't know how they do it—but they do.
Here, we talked with industry professionals about what's happening in their specialties and how couples can have patience, get creative, and still have an unforgettable wedding.
What You Need to Know About the Paper Shortage
Since the pandemic began nearly two years ago, there has been an influx of shortages in supply chain infrastructures throughout various industries, including paper. According to Rhiannon Hale, the owner and creative director at Paper and Home in Las Vegas, Nevada, one of the most impactful has been cotton's limited availability. Because cotton stocks have gorgeous textures with more durable pulp stocks, Hale says many stationers use them in the specialty print processes, like letterpress. Plus, their texture elevates a flat-printed piece, making it a more popular material for wedding invites. Without reliable access, variety has become a hard thing to come by, which is problematic when couples want a specific design or color.
"I recently sat on the phone with one of my suppliers for quite some time while I ran through eight to 10 different options of stock as the original selection was unavailable. Out of that group, only a few of the papers were available and even then, the colors weren't exactly right, or the weights weren't what I was hoping for," Hale shared as an example. "If I had had time to wait for a restock, it would have potentially been a few weeks later when a shipment would come in, but there was no guarantee of that."
Kelley Nudo, a client manager at Momental Designs in Wyoming, Pennsylvania, echoes Hale's experience. Nudo says her company primarily creates custom stationery for clients, so they deal mostly with cardstocks, which has not been as heavily hit as other papers used in mass production printing, like cotton. However, at the beginning of the pandemic, one of their major paper suppliers closed their doors, only to just recently reopen with less than half the products they carried pre-pandemic. "Their closure left us scrambling to secure new suppliers who carry similar stocks our clients have grown to know and love," she continues. "Shortages have impacted some stationers' ability to keep an even workflow, limiting their ability to take on new clients. Some stationers only handle the design work and depend on larger companies to do the actual printing, and some of those companies may be working with a much smaller inventory of paper. The paper shortage coupled with an extremely hard year and a half has not made it easy for some stationery companies to work at full capacity."
Tips for Couples Navigating the Paper Shortage
Sometimes, rearranging your plans and your vision can create a more spectacular experience than you could have imagined. When you're dealing with pandemic wedding planning and paper shortages, here are some tips to make the process smoother:
Allow additional time and budget for custom stationery.
For couples planning to order custom stationery, Nudo says to allow extra time to produce your pieces. "With the supply chain being so unpredictable and shipping times being longer than typical, give your stationer a little bit more of a buffer in the event your materials take longer than anticipated to arrive," she explains.
Also, talk to your stationer and to your wedding planner about the budget allotment for paper goods. Even though the supply chain is unstable, Nudo says the price of paper continues to rise. "Couples may want to plan for a slight increase in costs when it comes to their paper goods," she continues. "To not impact our clients' budgets, we continue to search out the best stocks at the lowest prices, but that is becoming more and more of a challenge."
Don't get stuck on a specific cardstock.
When you first created your vision board for your wedding, you drooled over a specific cardstock that looked and felt buttery-smooth. Now, as you start to order your invites, it isn't available. Though disappointing, Nudo urges couples to be as open-minded as they can with alternatives. "If there are major delays anticipated for the stocks you have selected, it might be more beneficial to allow your stationer to make substitutions for something comparable," she adds.
Ask if your stationer prints in-house or via a third-party.
Pro tip: Ask your stationer if they print in-house or if they use a third-party printer. How come? Nudo explains if the stationer offers in-house printing, it might give you some peace of mind to know that they have a bit more control over their inventory of paper. "Otherwise, if your stationer works with a third-party printer, for full transparency, you may want to ask the question if there are any potential issues to anticipate with paper availability," she shares. "By being in the know, if an issue should arise, you can work together with your stationer to find the perfect resolution."
What You Need to Know About the Flower Shortage
Once the pandemic shut down several industries — seemingly overnight — forcing many professionals to work remotely. However, not everyone can log in to a computer and bring in a living. Particularly when you're in the business of planting, growing and harvesting flowers. COVID-19 has hit this industry, and it happens to be an essential part of a wedding that no couple wants to forgo.
For the florist industry, in particular, many farms that are wholesalers are sourcing flowers from were unable to maintain their normal processes during sowing and harvesting time, according to Bron Hansboro, the owner of The Flower Guy Bron in Richmond, Virginia. "Because of this, a lot of the crops from last year ended up being mowed down. On top of not having the human capital to re-plant and nurture these florals, the harvest this year is understandably limited," he explains.
Last year, Hansboro says farms did the little volume they needed to meet the needs of a much smaller wedding season since the demand was lower, of course. "However, with weddings and events back in full swing, we're really feeling the brunt of it and seeing it firsthand," he explains. "Couples that may have had their eye on a particular flower are now having to consult with their florists for alternatives, and there are a lot of compromises being made."
In addition to growing the flowers themselves, everything else required in the process was also disrupted, including the transportation needed to fly in the flowers and an unpredictable climate, says CeCe Todd, the owner of CeCe Designs and Events in Birmingham, Alabama. Shuffled wedding dates impact the availability of specific blooms, too. "Couples were forced to postpone their weddings, with some marrying in a completely different season than they had originally planned," Todd continues. "Because of this, the blooms that they had envisioned are going to be feeling the consequences of the shortage, or they're going to be out-of-season altogether. Expectations are at an all-time high, so both couples and florists alike are navigating new waters together."
Tips for Couples Navigating the Flower Shortage
Since flowers are a big-budget section for most couples, it can be disheartening when the specific arrangement you want is no longer possible. With a little luck, some compromise and faith in your florist, you can still have a nature-filled event. Try these tips:
Focus on the bigger picture.
Rather than getting stuck on a certain rose or peony, Hansboro encourages couples right now to focus on the bigger picture of their design. "Florals are a lovely focal point for weddings, but there's plenty of supplemental decor that can be incorporated into your arrangements and installations," he continues. "Think about the structure and placement of your floral design, which will make for a much larger impact."
Trust your florist.
When you hire a florist, it's because you aren't a flower expert yourself, right? They know how to turn anything into something, and they can work with your desires if you have a little faith in them. "If there's a must-have color palette, we'll use that as much as possible to create something incredible," Todd reminds. "A lot of times, we rely on the couple's trust to let us run wild with creativity."
When they make suggestions, take them to heart. For example, Todd says if peonies aren't in season, there are ways to manipulate certain blooms to achieve the desired look. "Going with similar flowers such as garden roses and opening up the petals can give the same effect," she says. "'Fluffing' the petals can mimic the look of a flower that's unavailable or not in-season, and your guests will really be none the wiser."
Consider silk flowers as an alternative.
When you think of 'fake' flowers, you likely think of the 80s, with weird textures and unnatural colors. However, Todd says the silk industry has come a long way in quality, and silk alternatives look and feel like fresh flowers. "I suggest using them along with fresh flowers, that way you can add dimension and texture," she continues. "'Real touch' orchids, for instance, are perfect for achieving that luxury look without needing to worry about real orchids falling flat or wilting."