How to Plan Your Nuptials During the Post-COVID Wedding Boom
The post-COVID wedding boom is real—and it's here. Here's how to navigate planning during the rush of weddings in 2021 and 2022.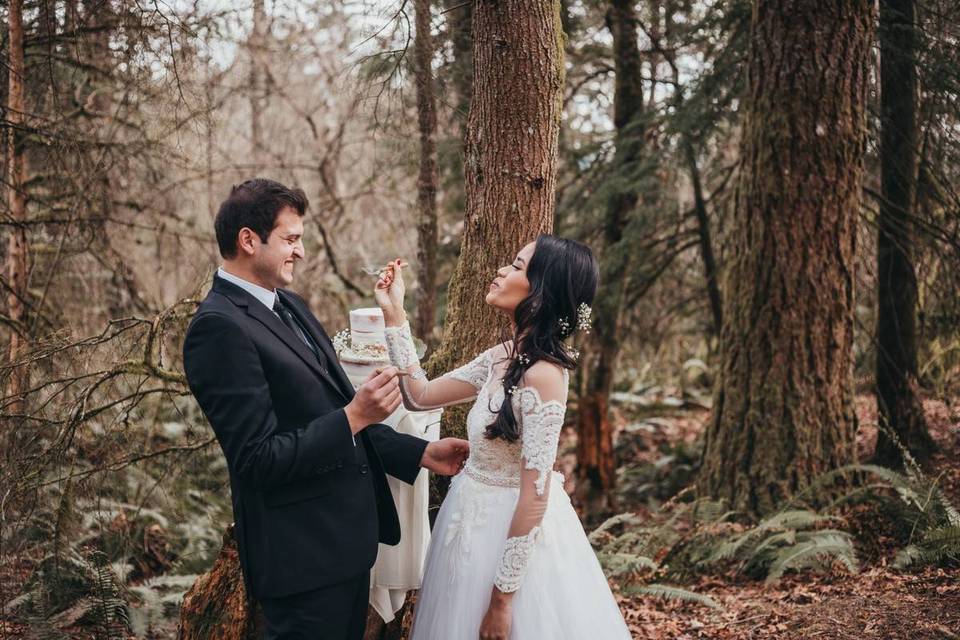 Chances are, you either were either planning a wedding or planning to go to a wedding that got cancelled or postponed due to COVID. While we've certainly come a long way since the days of sudden shut-downs and minute-to-minute unknowns, it's safe to say that the wedding industry is still recovering in countless ways as life returns to some degree of normal. After close to an entire year of cricket sounds, weddings are picking back up in a fervent fashion that's never been seen before—enter the 2021-22 wedding boom.
At some point in May for wedding pros in New York City, things just exploded, according to Leah Weinberg of Color Pop Events in Long Island City and author of The Wedding Roller Coaster. "We got busy out of nowhere—there was no slowly easing back in it and it was like both existing and new clients were ready to start planning their wedding all at once," she says. Her theory as to why this sudden push to plan happened all at once is twofold. "Couples were put on pause for quite a while until we knew where things were heading and had clear guidance on how things were opening back up, so as soon as we could start planning again, those couples were all a little behind and had to play catch up," she says. "Also, now that people know weddings are happening again, they're eager to get everything done or finally start booking their venues and vendors for 2022 and beyond."
Wedding planner Kelly McWilliams of Kelly McWilliams Celebrations, Weddings & Parties in Cape Coral, Florida, experienced the rush in a similar fashion. "As the vaccines have been rolling out and the restrictions are being lifted the phones and inquiries have been unlike anything I have ever experienced," she says. "I can not tell you how insane the last 3 weeks have been with triple the weddings all trying to have weddings in the next 12 months."
While this surge in weddings is exciting, it also brings about new challenges for those planning a wedding—no matter the stage of planning that they're in. To help ensure you maximize every opportunity afforded to you as you plan your wedding, follow these expert tips for how to plan during a wedding boom.
Don't wait to book your vendors.
While it's more important than ever to do vendor research and go with companies that are tried and true, it's also important to book vendors in a timely fashion, especially now with the wedding boom well underway. "We lost a lot of great businesses during the pandemic and now that the demand is high and services are low, it is more important than ever to get on people's calendars," says Shannon Leahy Rosenbaum of Shannon Leahy Events, in San Francisco, California.
Acknowledge price increases.
"We have seen costs go up by at least 20 percent across the board," notes Rosenbaum. "Comparing your wedding quotes and budgets to your friends who were married in 2018 and 2019 isn't as helpful since so much has changed." She advises couples to expect to spend more in 2021 and 2022, especially on things like flowers, rentals and custom builds.
Be flexible when it comes to dates and details.
You might have originally hoped for a Saturday evening wedding, but may find that there are hardly any dates available for the next calendar year (or more!). "It is a good time for couples to be flexible when it comes to what day of the week they get married, what time of year you get married, and maybe even what calendar year you get married in," says Weinberg. As an added bonus, less-than-desirable days of the week or dates may be less expensive! "Don't lose sight of the fact that you are getting married and that you will be able to celebrate together with loved ones, even if it doesn't look exactly as you dreamed," adds Rosenbaum.
Send out your save the date ASAP.
As soon as you have your planner and venue booked and your guest list established, it's a good idea to send out your save the dates. Even if it seems on the early side, it's a good idea to get ahead of the curve, according to McWilliams. "So many weddings will be happening at the same time, so you'll want your guests to know about your wedding immediately," she says. She also recommends getting your invitations out early and asking for responses sooner than later so that you have better insight into your guest count. "We're seeing RSVPs coming in at 85 to 95 percent versus the 70 to 85 percent pre-pandemic, so be sure to set your budget and spending plan accordingly."
Be patient with your vendors.
While you're going through the process of planning your wedding, you might notice that your vendors are busier than ever (even pre-pandemic). "For a lot of us, we are solo business owners and don't have a team of people supporting us, so please have grace with us when we don't respond as quickly as before and help us to prioritize by being honest about how urgent something is," says Weinberg.
Enjoy the process.
It's been a stressful, scary and overwhelming year for so many people—especially couples planning a wedding. If you're starting to plan amid the wedding boom, don't forget to enjoy the process, as understandably complicated as it can be. Try to focus in on the big picture: You'll soon be walking down the aisle towards the love of your life and saying "I do."