10 Ways to Make Your Dog the Star of Your Wedding
Here, some clever and cute dog wedding ideas to pay tribute to your precious pup on your special day.
We have included third party products to help you navigate and enjoy life's biggest moments. Purchases made through links on this page may earn us a commission.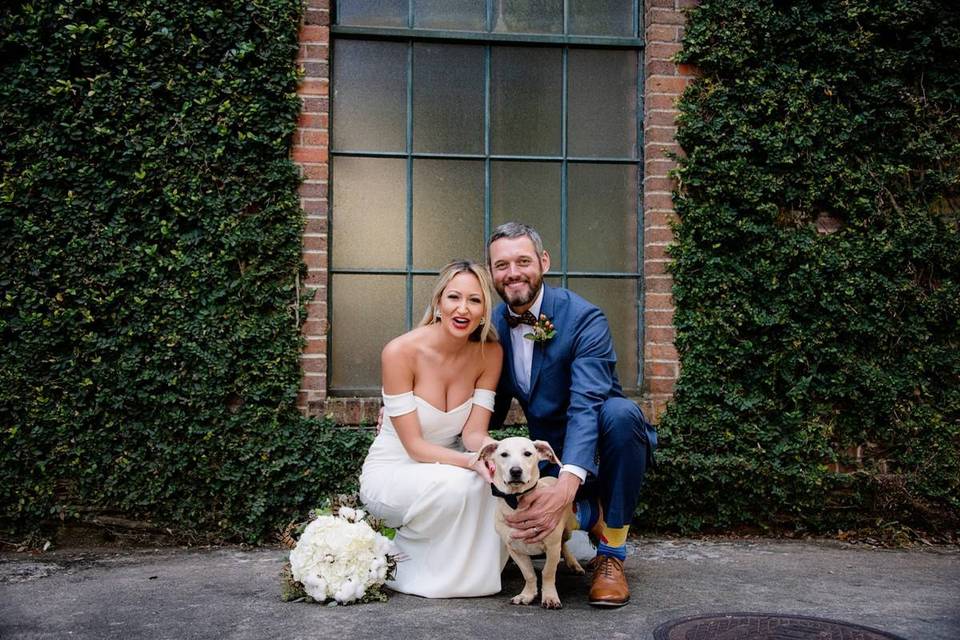 While that lovely human being you're engaged to is at the center of your heart, another big chunk of it? It belongs to the four-legged wonder that wagged his or her way into your home, in between you and your partner in bed at 4 a.m. For couples who have adopted a dog together, it may be important to think of dog wedding ideas to include your furry bestie into your big day. In fact, according to a new WeddingWire study, 91% of pet owners include their pet in their wedding day in some way. With or without them at your actual ceremony, they can still be honored as part of your shared love story. Here, some clever dog wedding ideas to pay tribute to your precious pup on your special day: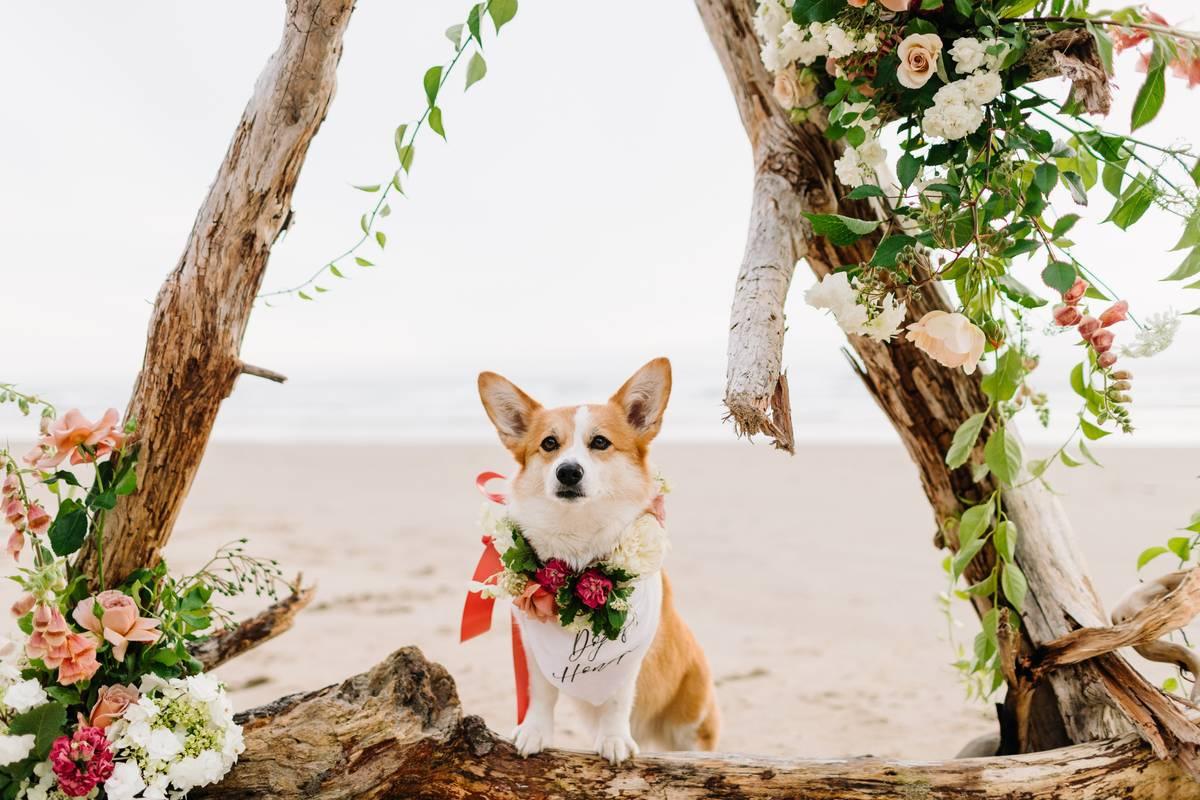 Include them in the wedding party.
Your wedding party should consist of your best friends, right? So why not give your dog a special role in the day. Give your pooch a title like "dog of honor" or "best dog", and don't forget to include them in the ceremony programs!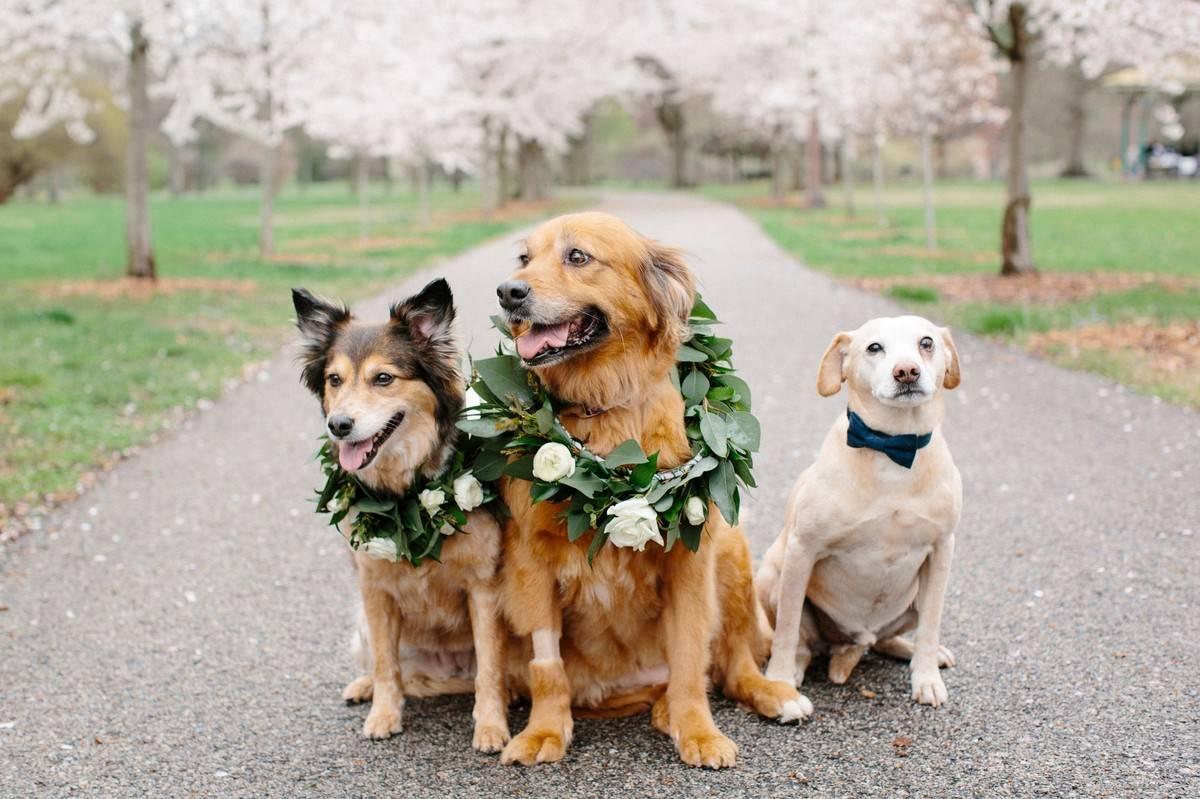 Dress her up.
If your wedding venue will allow your dog to be present on the big day, make sure your furry friend dresses the part! Depending on your wedding style (and your pooch's temperament), you might choose a personalized bandana, bow tie (or full tuxedo!), floral collar, or even a tutu for your furry friend. There are many options available on Etsy, as well as through online retailers like Chewy and Petco. And don't forget to get your pup bathed and groomed before the wedding—according to our study, 25% of pet owners got their furry pals professionally spruced up pre-wedding.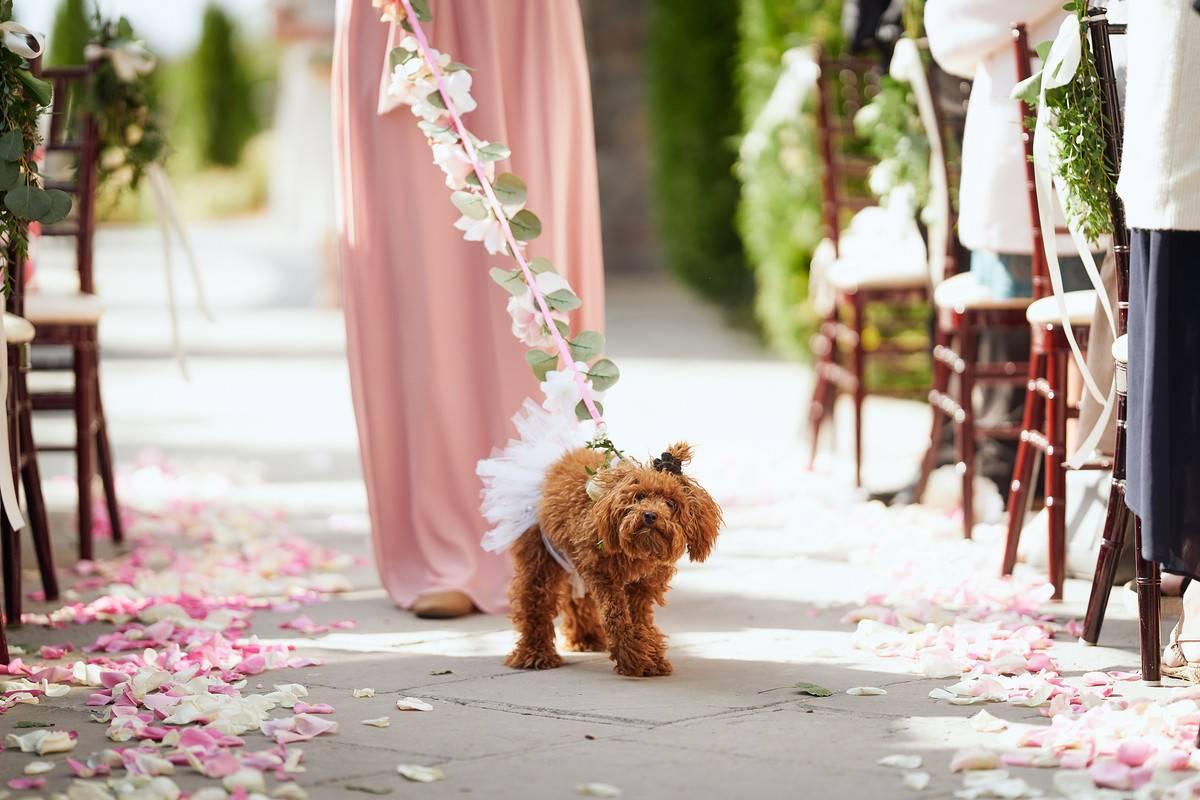 Send him down the aisle as a ring bearer.
If your dog is well-trained enough to listen and follow commands, consider having him pay a large part in your wedding ceremony that will leave your guests gushing over the sweetness. In fact, according to our study, 30% of pet owners included their dog in their ceremony. With a dog collar that holds a pair of rings, you can send him down the aisle, lugging along the wedding bands that turn a couple into a family. It's important to have a groomsman, bridesmaid or wedding guest available to hold onto your fur baby after they make their grand entrance, especially if you don't want paw prints on your attire.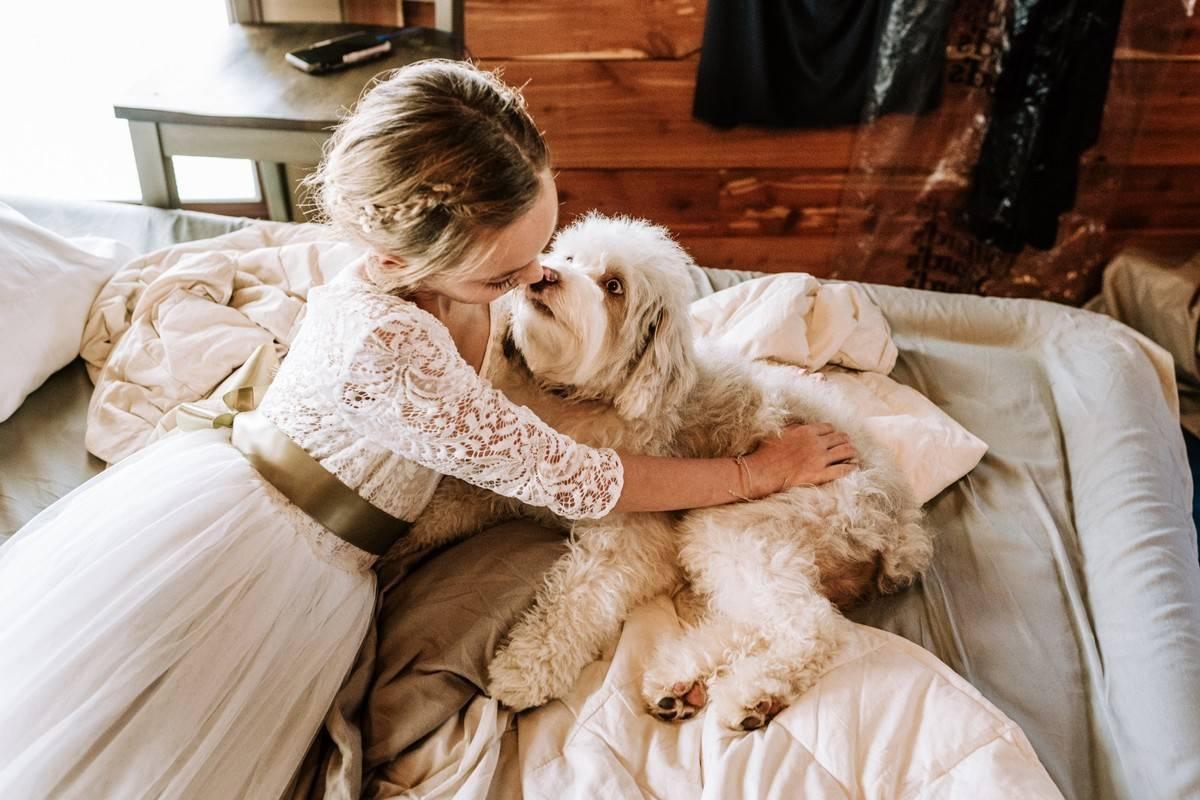 Or, let your youngest wedding party members be in charge.
If your sister decided to have kiddos far before you adopted your pup, your nieces and nephews might love your dog slightly more than they adore you. One of our favorite dog wedding ideas is giving the flower girl or ring bearer the special duty of walking your pup. This will not only help her stay focused on the task at hand—getting down the aisle!—but it prevents your dog from going bananas when they see you or your partner standing at attention. Best of all, the wedding photos of your pup and the little ones in your life will make for some of the sweetest yet.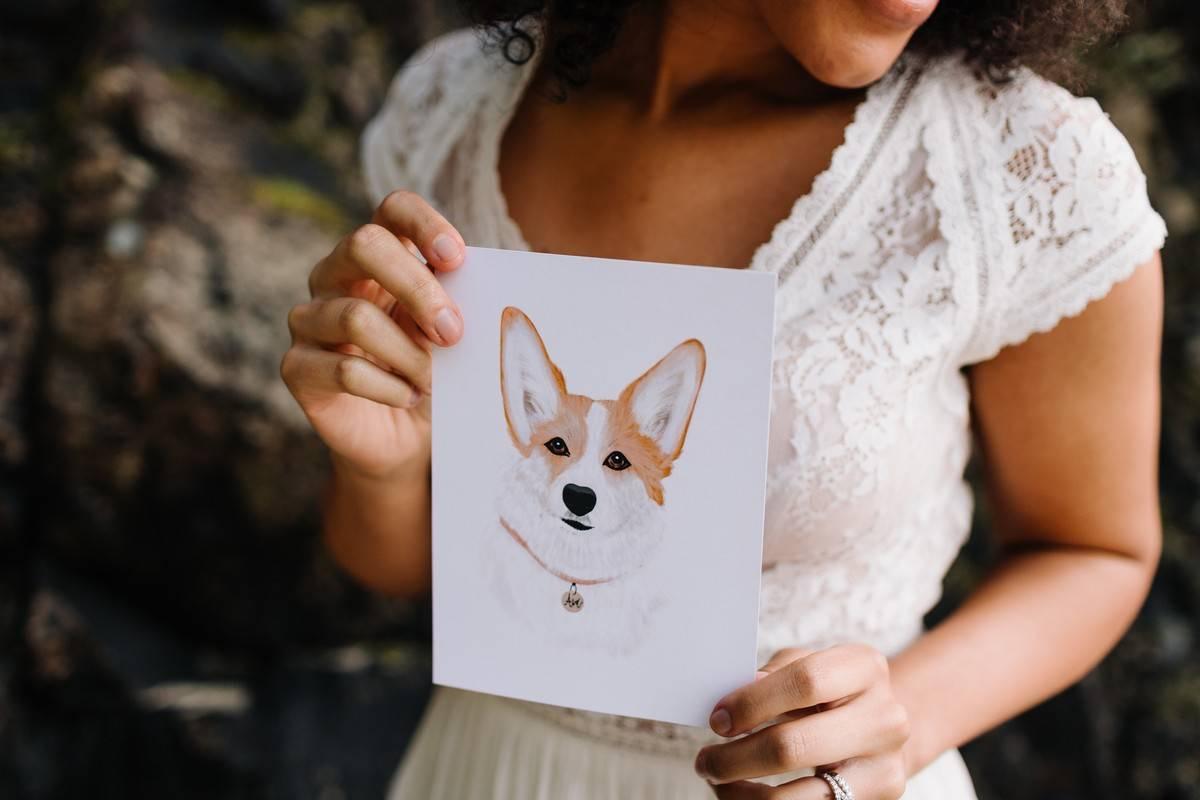 Include him in photos you display
According to our study, 57% of respondents included their pet in their wedding decor. Though your big day is primarily a moment for you and your partner to celebrate your long-lasting love affair, it's also a celebration between your shared in-laws and relatives. One way to pay tribute to all of those who have come before you is via photographs scattered about your reception or cocktail hour area. Since you already have a few (hundred) selfies with your dog, print a few out that show the progression of your relationship—or commission an artist on Etsy to create a portrait of your best pal. It's one of the best dog wedding ideas if your four-legged friend isn't actually present on your big day.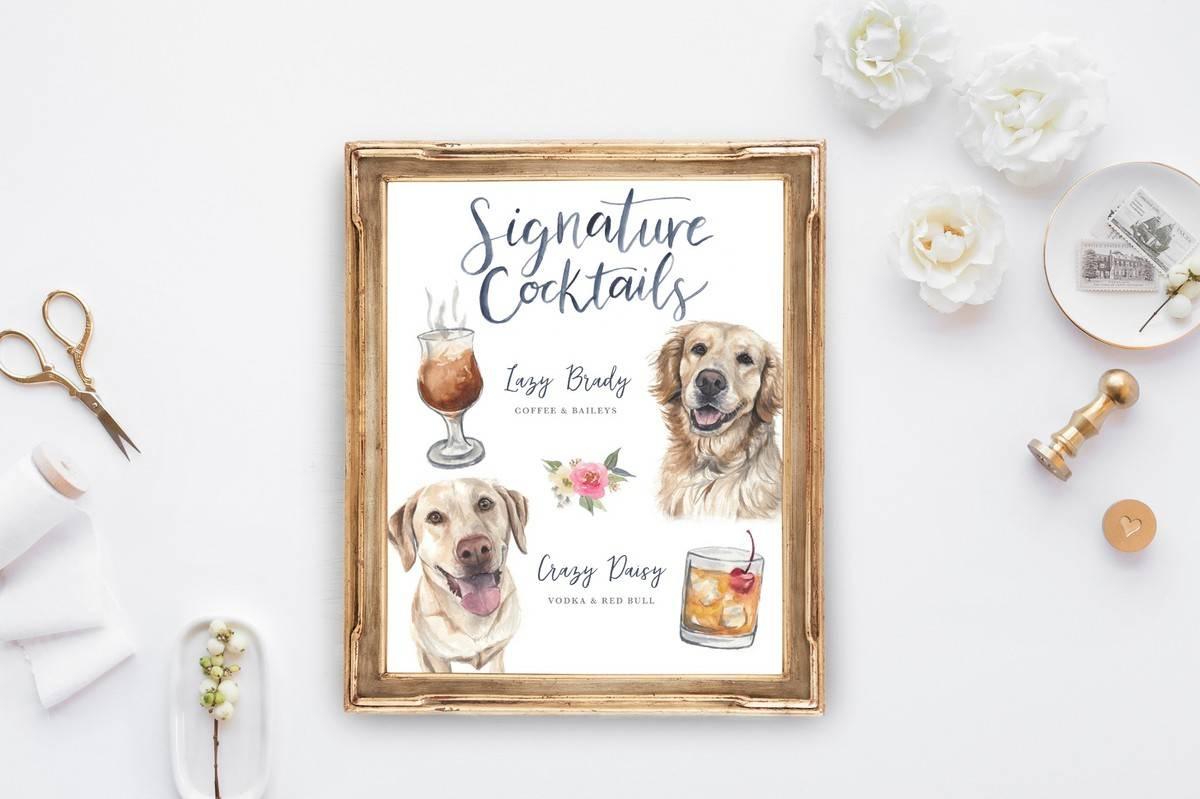 Name a signature cocktail after your furry friend.
Even if your pooch can't attend the wedding reception, their presence can be felt in many ways. We love the idea of naming a cocktail after your beloved pet. Come up with a cute drink name featuring your dog's name—your caterer or bartender can help—and then create a fun drink menu with your precious pet's image.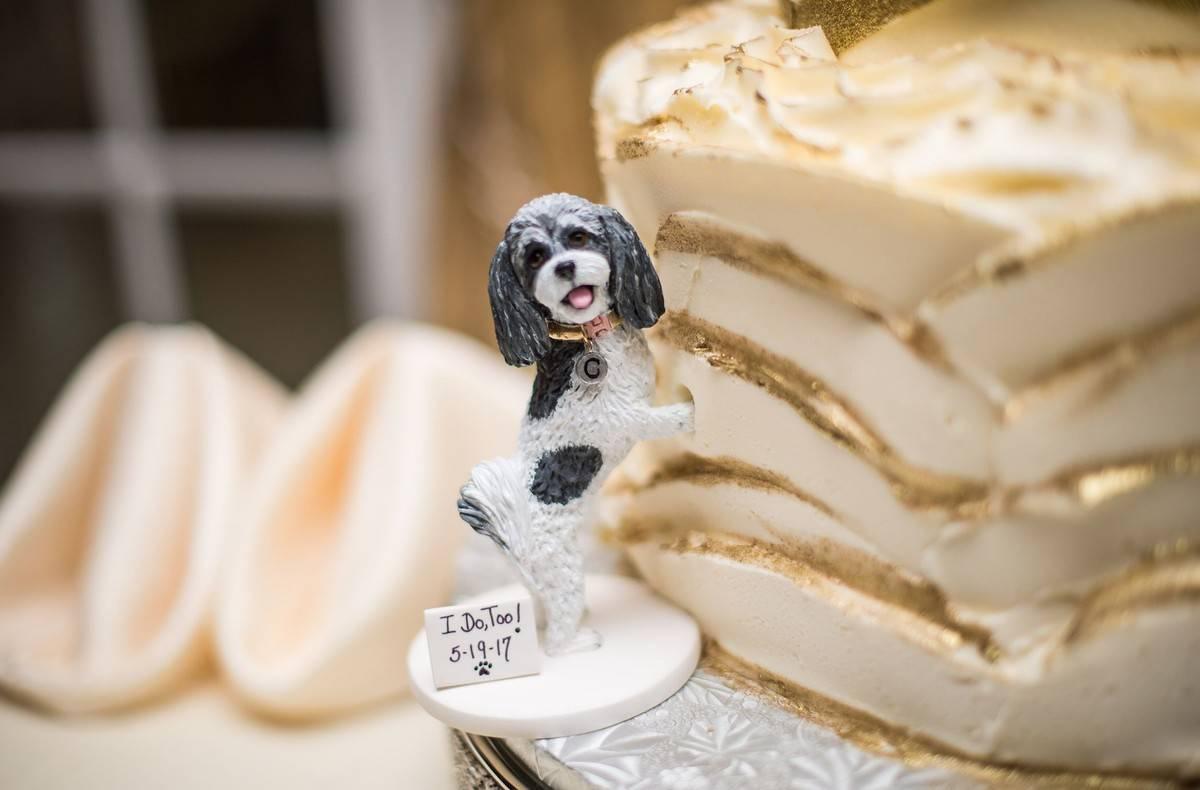 Add her to your wedding cake topper.
Another one of our favorite dog wedding ideas is including your best pal as part of your cake topper. Sure, we've all seen the figurines or cutouts of the newlyweds atop a cake, but adding your pooch as part of the topper gives it an extra-personal touch—and turns your cake topper into a keepsake you can display in your home forever.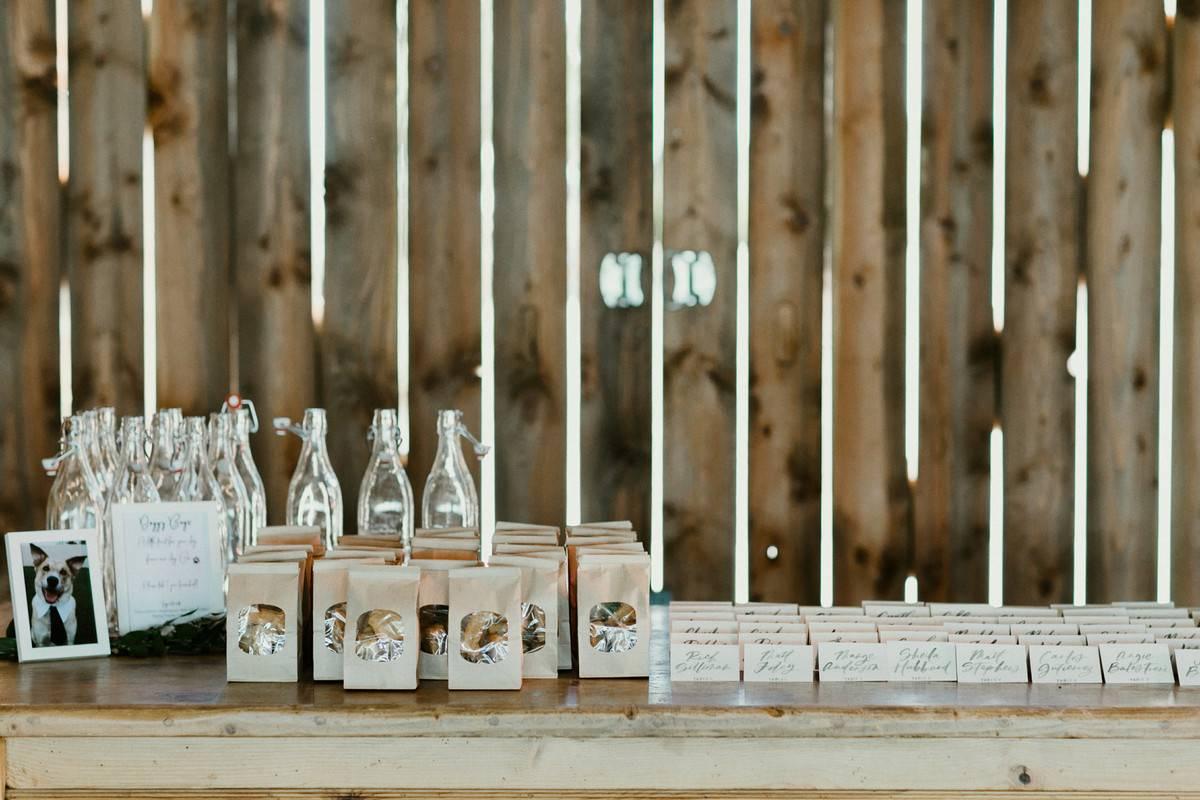 Give out wedding favors in honor of your pup.
If you've invited a bunch of fellow dog lovers to your big day, keep their pets in mind when planning your favors! Individually-wrapped pet treats make lovely (and easy to DIY!) favors. You could even include a favor tag that says that these are from your doggo (example: "Thanks for watching my humans say 'I do'! Hope your furry friend enjoys this treat! Love, Fido"). Just make sure that the dog treats are very clearly labeled so humans don't accidentally take a bite! You can also include your pet's image on other favors, such as koozies.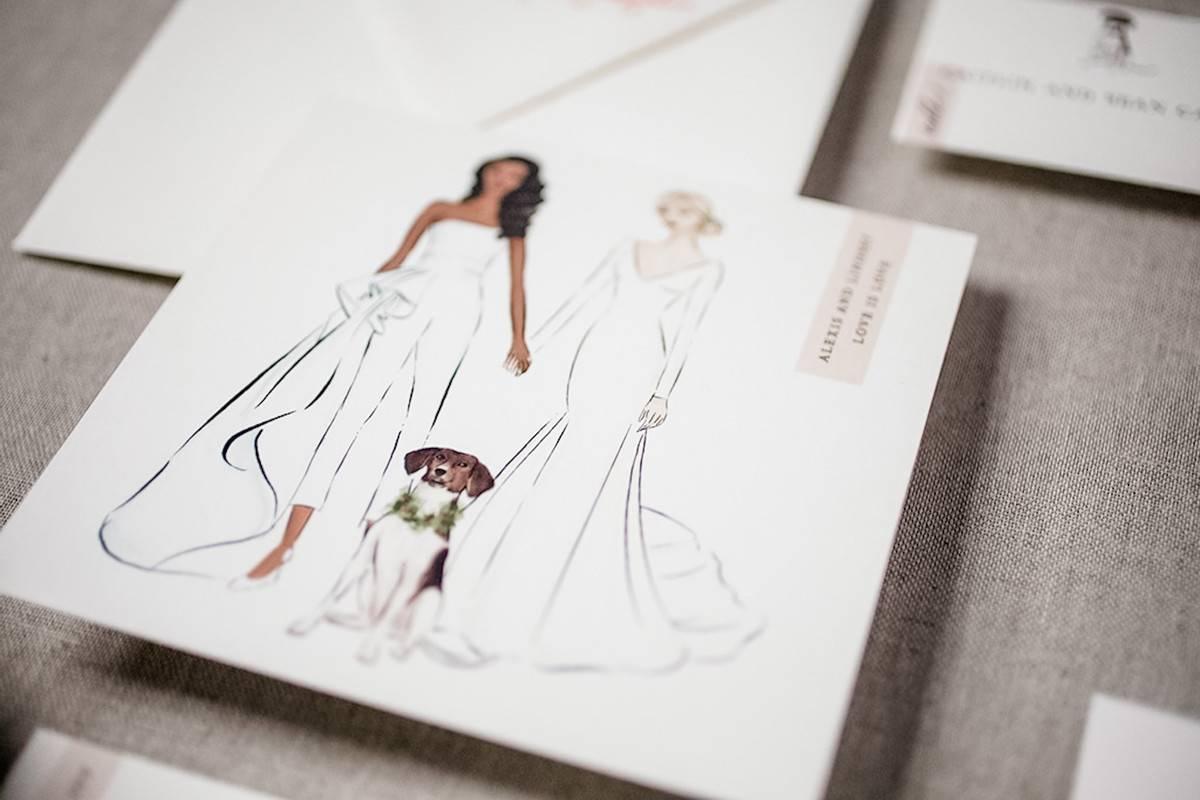 Send 'thank you' cards with his name, too.
When you're back from your honeymoon and settling into married life, the wedding duties aren't completely over. Since you have countless thank-you cards to get out within the recommended six months post-wedding day, you could get creative with your grateful sentiments by including your dog as part of the gang. Even if you didn't have your couple's best friend at your nuptials, a sweet family shot of the three of you together is a personalized touch for your guests to receive via snail mail.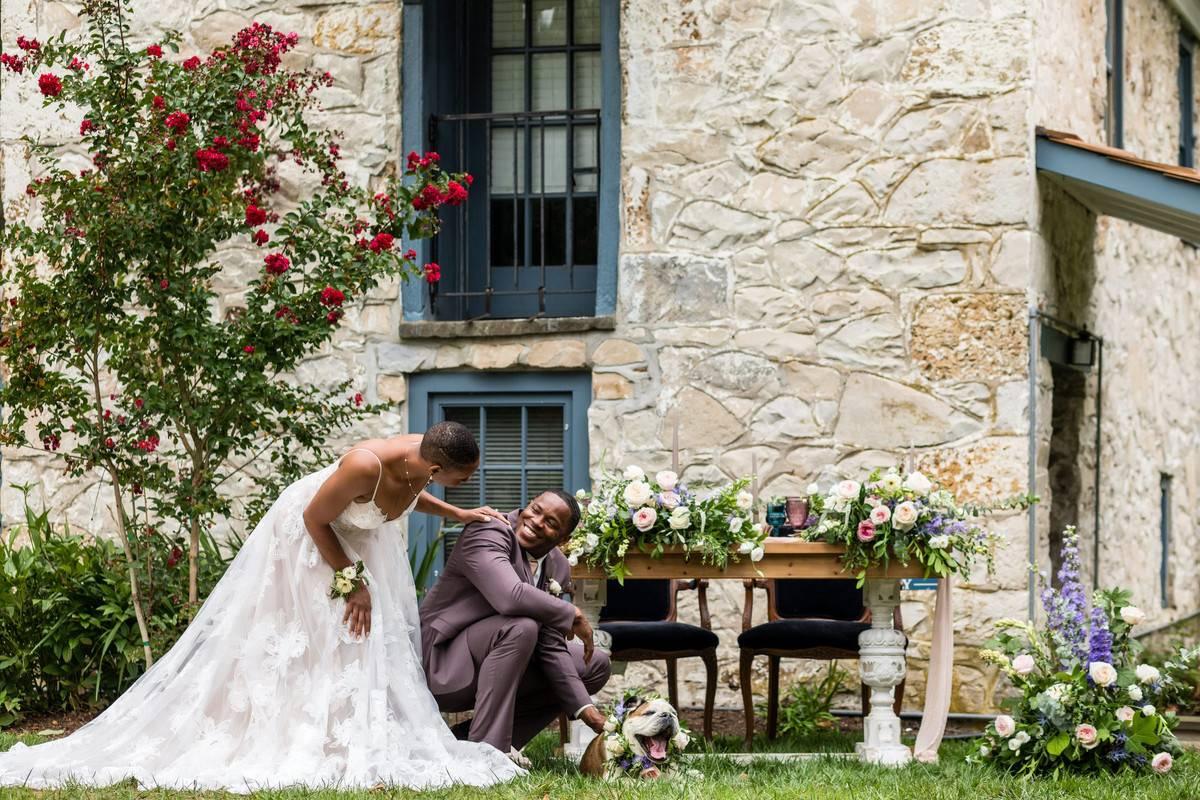 Enlist a dog walker for the photo session.
Instead of having your doggie be around for your entire ceremony or reception, consider inviting him for the all-important task of being a handsome goofball on camera. According to our study, 54% of pet owners included their pet in their engagement and/or wedding photos. While you collect wedding photos of your bridesmaids, your groomsmen, your family members, and you and your number one, add on a few that focus on Fido completely. Pro tip though? Make sure you invite a trusted dog walker or sitter to be on hand for when he's not posing—turns out that 38% of our respondents hired a pet sitter or dog walker to help out on the big day. This goes for your engagement photo sesion, too.