7 Tips for Choosing a Ring Bearer and a Complete List of His Duties
Your ring bearer is going to be one of the cutest attendants at your wedding. Here's what you'll need to consider beforehand and what to do when the big day arrives.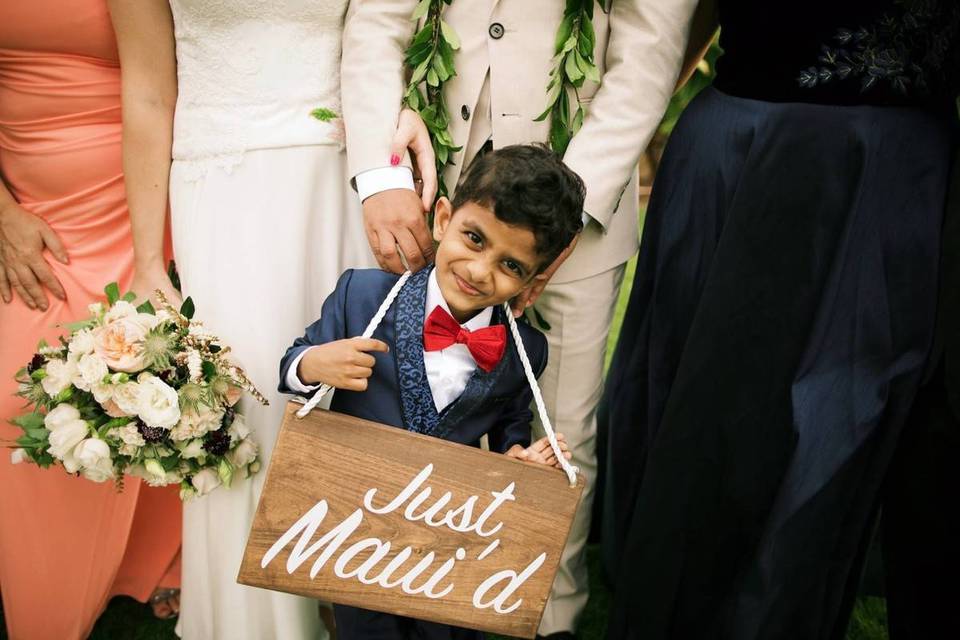 Your ring bearer's role is a functional one (delivering the rings to the altar), but more importantly, he's bound to bring some irresistible cuteness to your special day. Choosing a ring bearer isn't always the most straightforward process, but there are a few things that can help make your decision easier. Even if you already have a ring bearer in mind, you might be wondering about the specific duties and etiquette surrounding the little guy's role. Whatever your situation, we've got answers.
Keep reading for our advice on choosing a ring bearer, plus a clear run-down of how to incorporate him into your wedding.
Figure out if you actually want kids at your wedding.
Before choosing your ring bearer, it's important to decide if you're inviting children to your wedding at all—or if you'll only make exceptions for the wedding party. Inviting children to your wedding has its advantages (all the cuteness!) but it can also pose some potential issues, especially if the kids are babies or toddlers. Even if you ultimately decide on an adults-only wedding, you can still have a ring bearer and/or flower girl.
Choose a ring bearer who is the appropriate age.
Traditionally, ring bearers should be between the ages of three and eight years old. Younger children are more likely to be shy or nervous at the wedding, even if they're normally outgoing—just as anyone would likely feel when walking through a room full of strangers. Older ring bearers may feel more comfortable letting their personality shine through, especially if you help them get excited about wearing a new outfit and doing an important job, like guarding the rings (or fake rings, if you're not willing to take any chances!).
Create a list of potential ring bearers.
Sometimes, choosing your ring bearer is obvious: maybe you have your own children, your siblings have children, or your best friend's son is always bursting to show you his new toys whenever you visit. But if you can't relate to any of the above, choosing your ring bearer can pose more of a challenge, so you might need to think outside the box. Are there older children in your family (i.e. pre-teen age) that could walk down the aisle as ushers or junior groomsmen instead? Or maybe all of the children in your family are girls—so rather than having six flower girls, you could designate three of them as ring bearers. Don't be afraid to break gender roles and age limitations!
If you're having trouble deciding between two or more ring bearers, consider who has been in a wedding before and who hasn't. For example, if your friend's son has been the ring bearer in three weddings over the course of a year (because everyone in your group is getting married), consider asking another friend's child or one of your relatives if they'd like to be involved instead.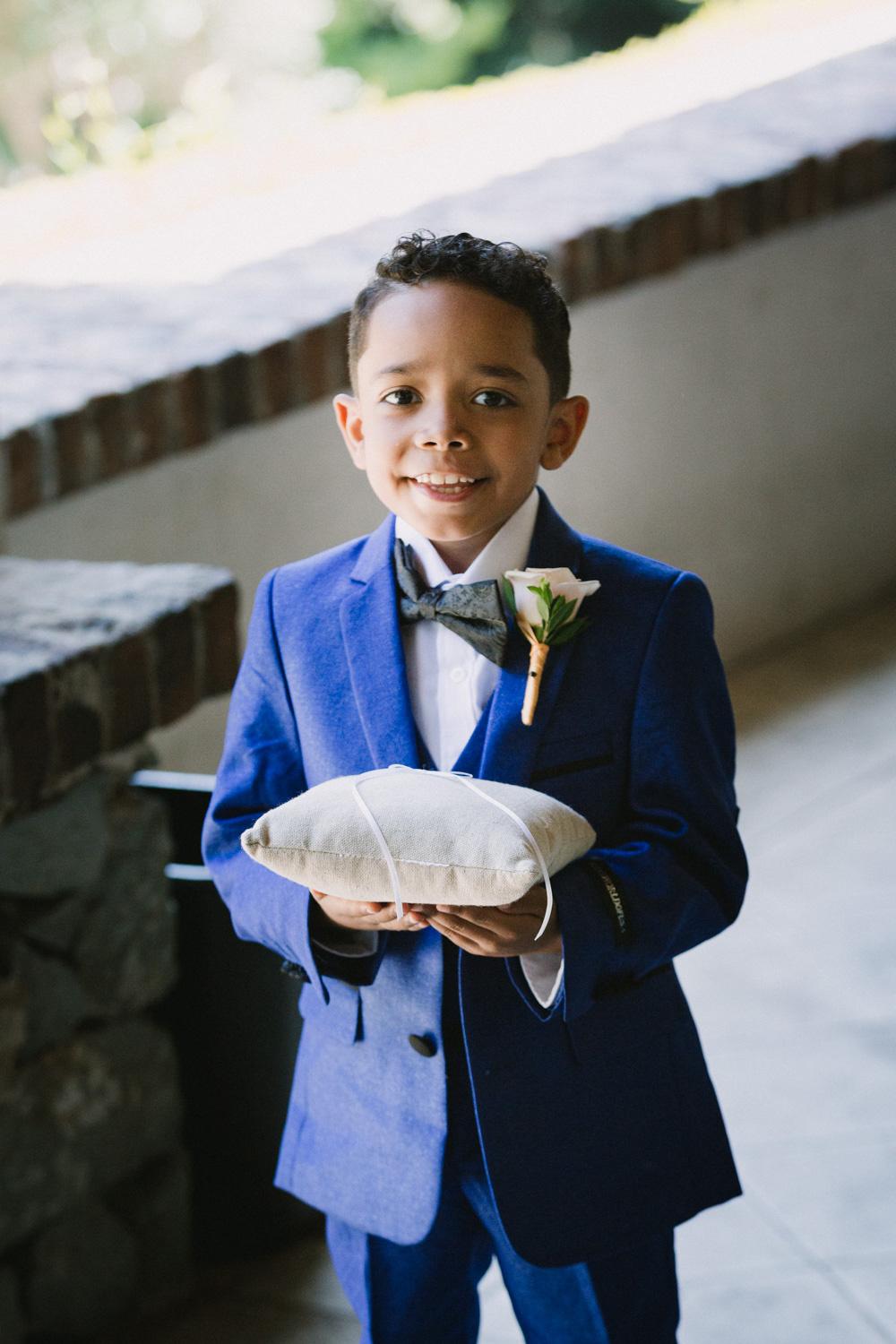 It's okay to have more than one ring bearer if you want.
You can always include more than one ring bearer in your wedding party, even if they are different ages. Older children can pull little ones in a wagon, or one attendant can carry the rings while the other holds a sign. But if you're committed to selecting just one ring bearer, there are a few things that will help you make the final decision. Consider ages, personalities, and how well you know each potential ring bearer. Will your BFF's son be so shy that he hides under a pew? Will your nephew be hamming it up with funny faces knowing everyone is watching him? Think about the quirks and traits of the kids you know and how they might fit into your overall wedding vibe.
The parents will play an important role, too.
Your ring bearer will have his moment in the spotlight, but his parents will have a lot of behind-the-scenes work to do. They'll need to purchase his wedding attire (unless you offer to foot the bill), prepare their child for the big day, ensure good behavior during the ceremony, handle meltdowns, and more. Before selecting someone to be your ring bearer, think about whether or not his parents would be willing to handle this responsibility—and when in doubt, don't be shy about asking them frankly. If the child's parents are already in the wedding party, it may be easier for them since they'll be part of your group all day long. You'll also want to consider whether or not the parents have other young children that need to be supervised, how soon they'll need to arrive before the festivities, and how to work around things like nap time or snack time.
During the ceremony, your ring bearer's parent(s) should be seated along the aisle, ideally one or two rows back from the altar. They can encourage young ring bearers to walk in that direction and serve as a distraction among hundreds of guests. Once your ring bearer has reached the end of the aisle, we recommend allowing him to sit with a parent or family member rather than standing with the rest of the wedding party.
Ask your ring bearer the right way.
No matter what, you should always get permission from the parents before asking your ring bearer to be in the wedding. Once you have their approval, you can get as creative as you want when it comes to asking him to be in your wedding, whether that means surprising him with a new toy, a sweet card, or even his favorite candy. When speaking with the parents, remember to discuss outfit requirements, especially if you'd like them to pay.
Give other kids special jobs.
If there are kids in your life who are special to you but won't be able to participate in the actual wedding ceremony, consider giving them other duties, such as handing out programs, blowing bubbles, or shaking noise makers after your first kiss. You can also surprise them with their own flower crown, boutonniere, or corsage.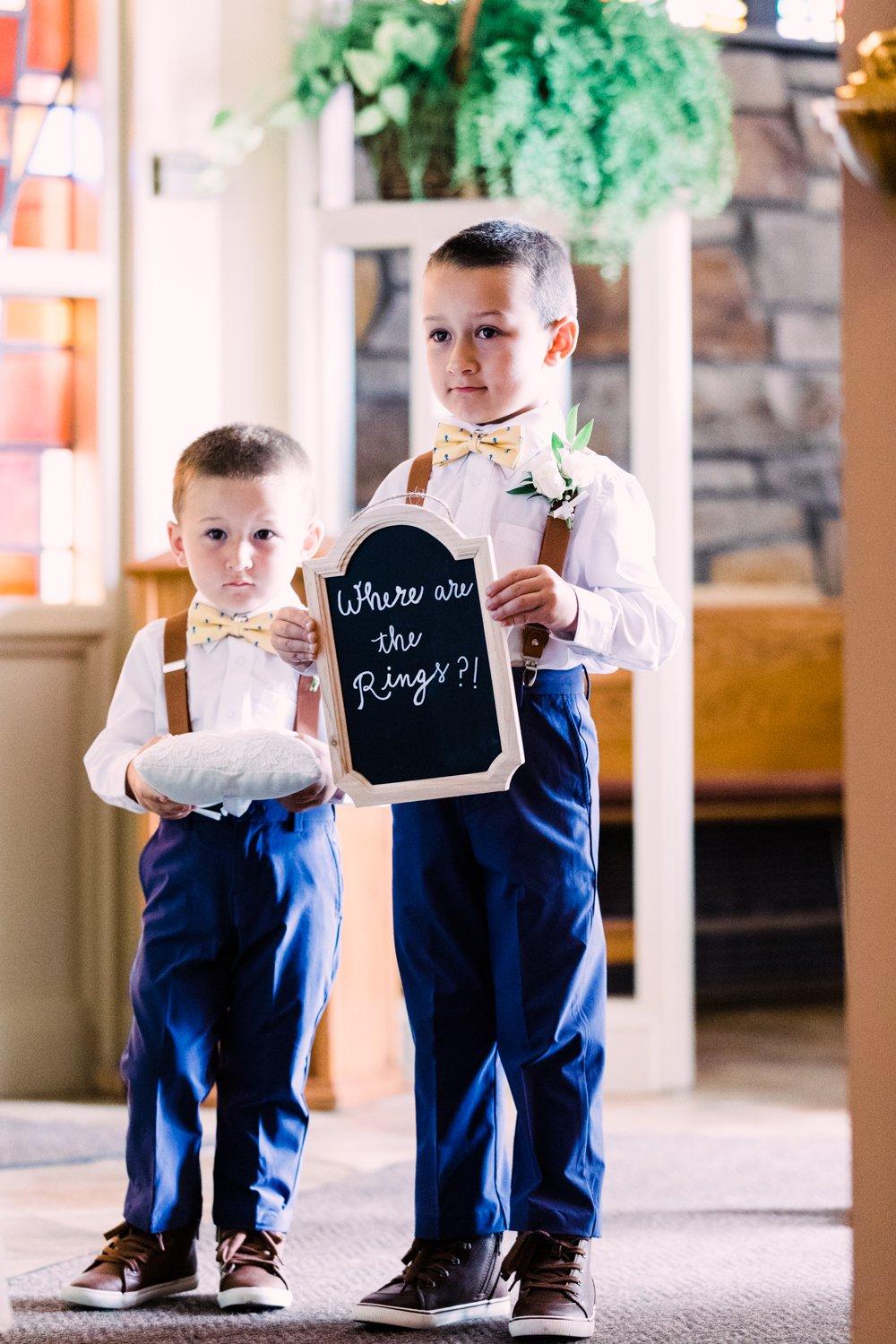 Ring bearer duties and FAQs
How old should a ring bearer be?
The most common age for ring bearers is between three and eight years old. Depending on your situation, your ring bearer could be as young as a few months old (as long as there is someone to safely carry him down the aisle) or up to 10 years old.
What does the ring bearer wear?
Your ring bearer's outfit will depend on your dress code. For formal and semi-formal dress codes, the ring bearer traditionally wears a kid-sized tuxedo or suit (which is extremely adorable). You can also dress your ring bearer in suspenders, a bow tie, hat, or other accessories to match your wedding theme. In general, the ring bearer outfit should be somewhat similar to the groom or groomsmen attire.
Who buys the ring bearer's outfit?
The ring bearer's parents traditionally pay for the outfit, which means they're also entitled to some input regarding what the child is wearing. If you're able to pay, it's a nice gesture to purchase the ring bearer outfit yourself.
Does the ring bearer actually carry the rings?
The ring bearer traditionally carries your wedding bands that have been tied to a small pillow or secured in a small box. If you're worried about the rings getting lost, you can have your ring bearer carry a sign, banner, basket, or a set of backup rings instead.
When does the ring bearer walk down the aisle?
In a traditional wedding ceremony processional, the ring bearer walks down the aisle after the groomsmen and before the flower girl.
Does the ring bearer give the rings to the best man?
The ring bearer's role is to carry the wedding bands down the aisle and deliver them to the best man or maid of honor, who keeps them safe until the exchanging of vows.
Does the ring bearer have to be a boy?
Girls can be ring bearers, too. If you don't know anyone with a young son, consider breaking tradition and having a female ring bearer instead. If you also have a flower girl, the two of them will look just as cute walking down the aisle separately or together.
What do you do if you don't have a ring bearer?
If you don't have a ring bearer, you can get creative by putting your own spin on the tradition. Consider female ring bearers, junior groomsmen, asking friends to serve as adult ring bearers, or—our personal favorite—having grandparents step in as ring bearers and flower girls.