How to Include Your Children in Your Wedding
Check out our tips on how to include your kids in your wedding day.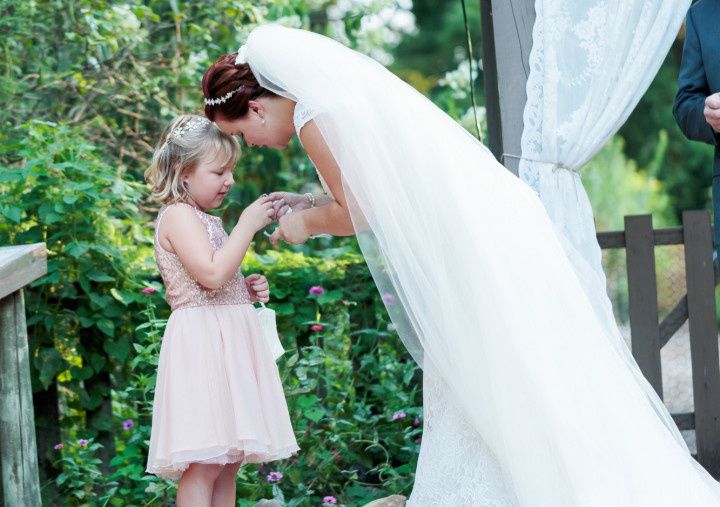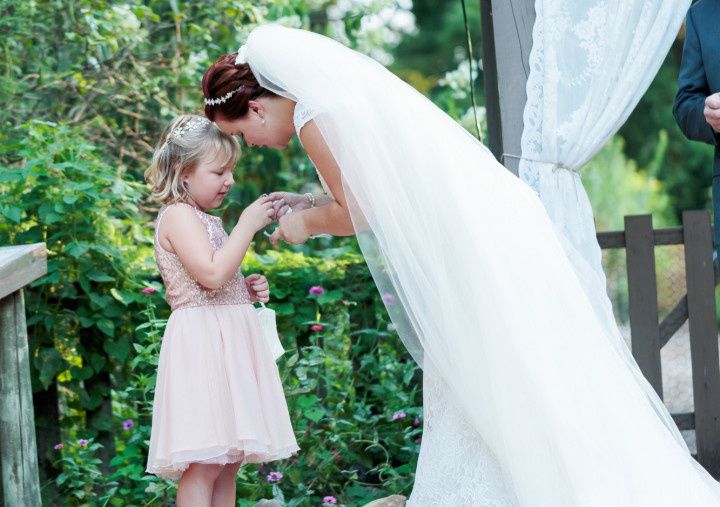 Photo: Frozen Exposure Photo & Cinema
A wedding is about you and your spouse joining together and becoming a family. And this is even more apparent if you and/or your future spouse have children, either together or from previous relationships. If your child or children will be present at the wedding, it's a nice idea to give them a special role in the day.


Give Them a Role
Whether they're in the wedding party as maids of honor, best men, bridesmaids, junior bridesmaids, groomsmen, flower girls, or ring bearers, giving children a special job in the wedding will make them feel included and special. It's really up to you and your future spouse to decide which role is best for your child or children. What's most important is that you explain to them in advance what their role means and what they'll need to do on the big day.

Include Them in the Planning
Talk to your children about what a wedding is, and allow them to help with some of the decision-making, if possible. Even if it's just allowing them to choose their attire or help pick out the wedding color palette, they will feel such a sense of pride at the wedding if they've been included in the planning process. Also, take the time to explain to young ones what a wedding means and its significance, all the while reassuring them if they have fears or concerns.

Get Ready Together
Include young ones in the pre-wedding prep, and make sure to give them some special, personal attention during the process. Give them lots of compliments on their ensemble, and allow them to "help" you get dressed, too, whether it's helping you put on your shoes, tie a tie, or put on a piece of jewelry. Make sure they are surrounded by lots of familiar faces during the process, so they'll feel extra comfortable.

Processional Participation
If your child or children are old enough to walk down the aisle, they can do so in a variety of different ways. If they are serving as a flower girl or ring bearer, they can walk down the aisle in that role. Or, you may prefer that your child or children escort a parent down the aisle for an especially emotional moment. If a child is too young to walk down the aisle, he or she may be carried (or even pulled in a wagon!) by a parent or close relative.

Share a Special Vow and Gift
During the ceremony, it's a nice idea for the children to stand alongside the couple to really symbolize the family unit. If the child is gaining a stepparent from the marriage, the stepparent might wish to recite a special vow emphasizing his or her devotion to the child (your officiant can help you craft the right phrasing for this). A gift, such as a piece of engraved jewelry, can be presented to the child or children during the vow. Older children may prefer to give a reading or do a musical performance during the ceremony.

Seat of Honor at the Reception
There are a variety of ways you may seat your children at the reception—but consider their comfort first and foremost. You can seat your children with you, either at a small private table or at a larger head table with other members of the wedding party. If there are going to be many friends' and relatives' children at the wedding, your young ones may prefer to sit with them. Make it a fun experience by providing activities, like coloring books or games, at the kids' table.

Dance Together
A special "family dance," which takes place after the traditional first dance, can be a fun addition to the evening. Allow your child or children to select an upbeat song that they like for the family to dance to together—even if it's not necessarily the most emotional or meaningful choice. Take a spin around the dance floor as a family, and then invite the rest of your guests to join you to really kick off the celebration!

Let Them Give a Toast
If your children are old enough, they may want to say a few words during the reception. Don't force them to do so if they're not fans of public speaking, but do give them the opportunity to give a toast if they would like.