7 Ways to Say Thanks to Your Guests at Your Wedding
Aside from writing thank-you-notes after the fact (an etiquette must!) there are several ways to thank your guests on your wedding day.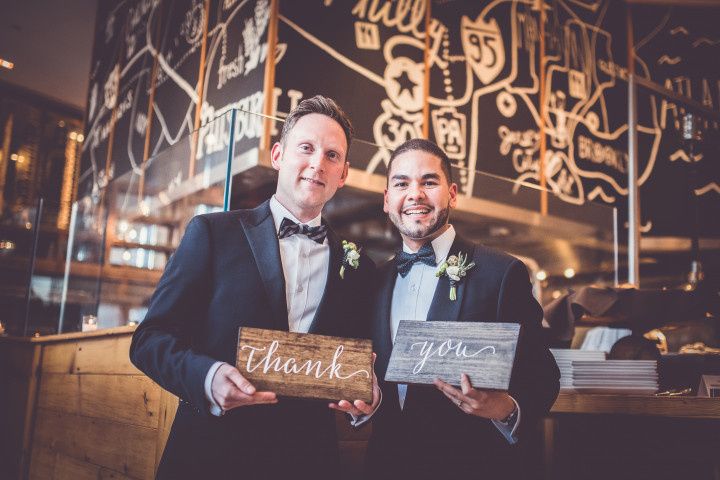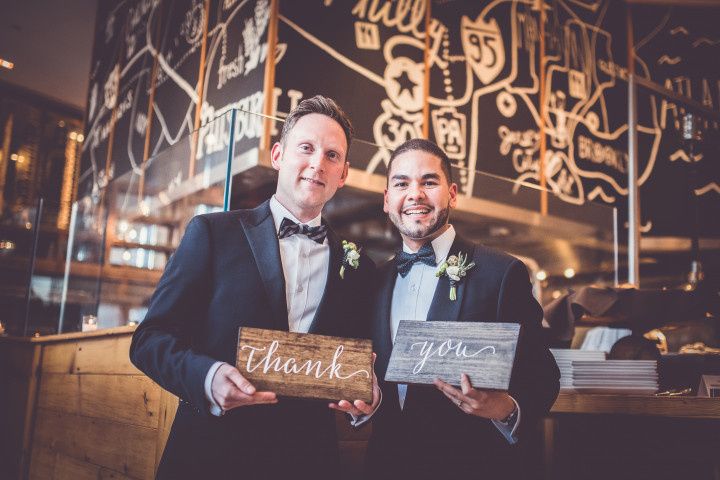 Photo: AlimarioPhoto LLC
Your guests have traveled from near and far to celebrate with you on your wedding day. While you and your spouse are truly the guests of honor, it's important that you show your appreciation for you family members and friends who have loved and supported you through it all.


Make Sure They're Comfortable
Like the old saying goes, be prepared! Smart planning goes a long way. When you're looking at venues, think about the overall guest experience. Is there a Plan B in case of bad weather? Can all of your guests fit comfortably inside with places to sit? What is the bathroom situation? Are there accommodations for guests with special needs? While picking the right venue isn't a direct way of thanking your guests, providing them with a comfortable space will make them feel well taken care of.

Welcome Them
Provide out-of-town guests with a little welcome basket for when they arrive to their hotels. It doesn't have to be anything fancy – something to drink, a few snacks and a schedule for the weekend are all you'll need.

Leave a Note
Whether it's in your ceremony programs, on each table or place setting, or posted as a sign, it's a nice idea to write your guests a group note thanking them for their support on your special day.

Mix and Mingle
Throughout the evening, take some time with your new spouse to go from table to table to greet your guests and thank them for attending your wedding. While this may seem like a time-consuming task, it's good etiquette and your guests will be so happy you stopped by (especially older guests who you may not see on the dance floor). You only have to spend a few minutes at each table, and there's no need to worry if not everyone is seated at the time. It's the gesture that counts.

Give a Toast
Before you cut the cake, you and/or your spouse should take a quick turn on the microphone to thank your family members and friends for attending. You don't have to write a formal speech for this, though you can if you feel it would be helpful. Simply thank everyone for coming, add a few special words about your families or whoever helped you plan and host the wedding, and then give a rundown of how the rest of the night will go (mention if there's an after-party or special transportation guests should be aware of).

Give a Favor
From a sweet treat to a late-night snack, something to keep to a donation to a favorite charity, there are a variety of favor options to choose from. You don't have to spend a ton of money on these, but pick a favor that fits with your personality and wedding theme.

Provide Transportation
If you're hosting a wedding with a lot of out-of-towners, it's a nice gesture to provide transportation to and from their lodging. That way, guests can feel free to imbibe and celebrate without worrying about finding a safe ride at the end of the night.