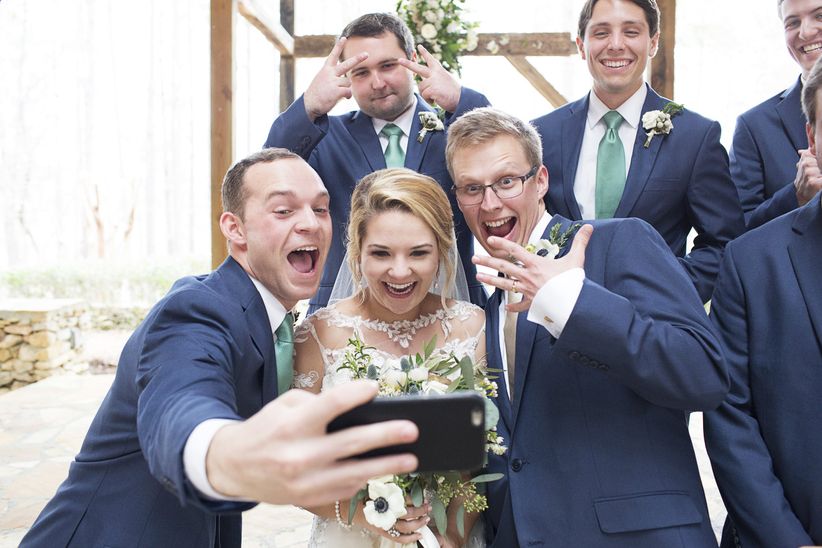 Photo: Mandy Owens Wedding Photography
Whether your best friend is about to give birth or you have an elderly relative who is unable to travel, there are many reasons why a close friend or family member wouldn't be able to attend your wedding—especially if you're hosting your event in a far-flung destination.


While it can be difficult to celebrate such an important milestone without all of your nearest and dearest present. However, there are ways to help those who can't attend feel like they're experiencing the wedding along with you. Check out these ideas:
Invite Them Anyway
There may be some family members or friends who let you know far in advance that they won't be able to attend. Send them an invitation anyway. Yes, we know it's an extra expense, but it's an important gesture.
Livestream the Ceremony
If your guests are tech savvy, you can set up a livestream of your ceremony so that they can view the event in real time. Your videographer may be able to assist you in setting this up, or there are services such as
My Streaming Wedding
and
Mobile Events Live Streaming Service
who specialize in this service.
Create a Wedding Hashtag
Make sure your guests are aware of your wedding hashtag and encourage them to post photos and video from the big day on social media. Those who aren't able to attend can follow the hashtag and feel like they're celebrating along with you! Check out our
Wedding Hashtag Generator
to get started, and
download WedSocial
to make viewing and sharing the photos a snap!
Give a Shout Out
If you and your new spouse are making a thank-you speech during your reception, mention those who were unable to attend your big day.
Play a Favorite Song
Ask your DJ or band to play a song that makes you think of your family member or friend. It's subtle, and maybe only you will know the song's significance, but it's still a nice gesture.
Give Them a Call
If there is an elderly relative who is not tech savvy, it's a nice gesture to take a moment out of the day to give them a quick phone call and let them send their congratulations. It might be difficult to take the time to call them, but it will certainly be appreciated.
Hire the Best Photographer and Videographer
Your
photographer
and
videographer
will capture the images (both still and moving) that you'll be able to share with those who couldn't attend your wedding—so make sure you do your research before hiring these pros.
Save Some Cake
You're probably already freezing the top tier of your wedding cake for your first anniversary, so why not also save a slice for a family member or friend who couldn't attend. If you'll be seeing them in the near future, bring them a slice of frozen cake for a sweet memory of the day.
Send them a Favor
Your friend or family member will be delighted to receive a little gift in the mail from you—and it will help them feel like they actually attended your wedding.
Pay a Visit
If a friend or family member cannot attend your wedding due to illness, try to visit them as soon after the wedding as is feasible. We know of a couple who visited an elderly grandmother on their way to the airport for their honeymoon—a lovely gesture that brightened Grandma's day.