How to Tell Your Love Story at Your Wedding Without Annoying Your Guests
Want your guests to feel the love? Here's how to tell your love story without driving your guests crazy.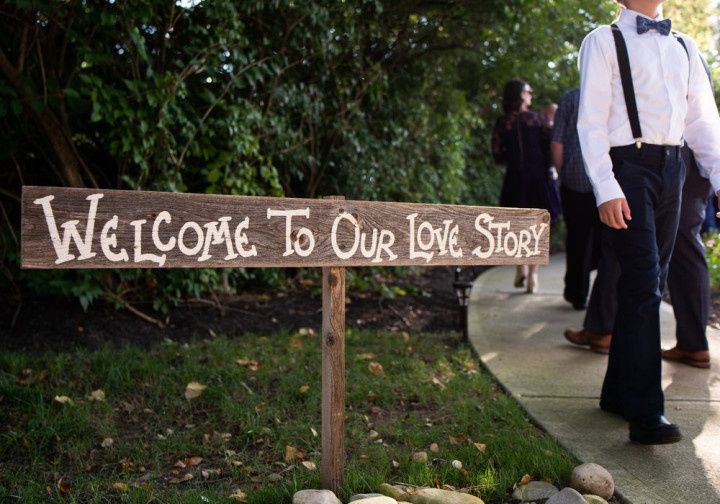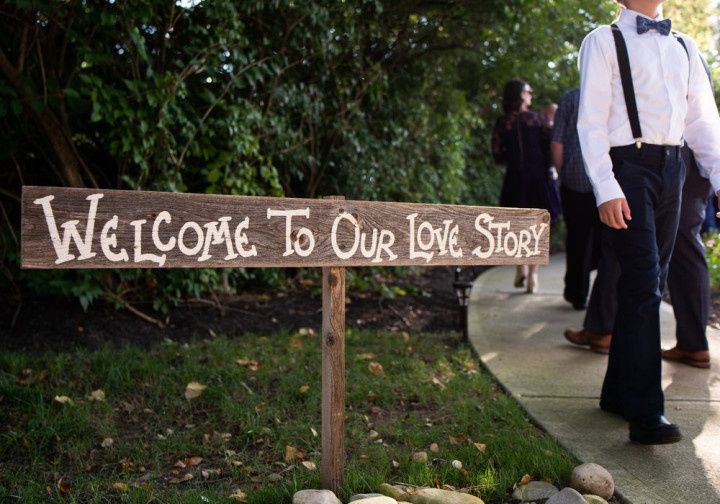 Weddings are a celebration of love, but we've all been to at least one wedding where the couple took it too far. From overly-intimate vows to a nearly-endless photo montage detailing every aspect of their years-long relationship, a couple's desire to tell their love story at their wedding can quickly cross the line into mushy, cheesy, or even downright off-putting. But it's a wedding, and love should be celebrated!
So how can you tell your love story at your wedding without annoying your guests? These pros have the answers.
Streamline your ceremony.
Your officiant might ask questions that span your entire relationship, but that doesn't mean you've got to cover every single detail before you say "I do." "I try to identify a single high point, then use that to introduce a theme that ties through the couple's entire relationship," says Alyson Arnold, a ceremony officiant in Providence, Rhode Island. She uses her background in public speaking to then select three points that epitomize that theme and the couple's romance - enough to give a peek into their relationship, but not so much that guests are overwhelmed by irrelevant details.
Keep the audience in mind.
Yes, your guests love you and are there to celebrate with you, but they're also your audience for the evening. "You already know your love story, so as you write your ceremony, think about what your guests will want (and need!) to hear," says Alyson. "Skip any details that might not be appropriate, inside jokes they won't understand, or stories that (while interesting) might not be relevant in the moment." Incorporate just enough to bring tears to your loved one's eyes, but not so much that your grandmother feels uncomfortable or guests get bored.
Ask for feedback.
Before you start your ceremony, read your vows, or make your speech, ask a family member or friend to provide some outside perspective on what you've written. "Having someone you trust take a look at the stories you're sharing and the words you've chosen can make all the difference," says Matt Morgan, an officiant in Littleton, Colorado. They can flag anything that is confusing to someone outside of your relationship, or any details that may have gone too far.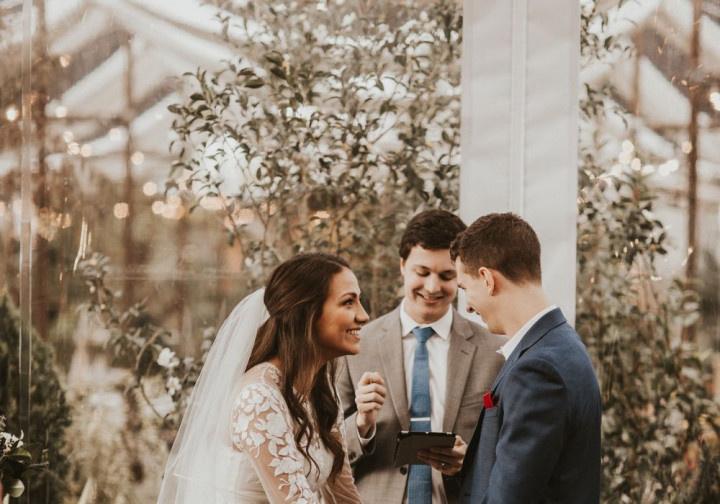 Make it relatable.
"Not everyone has a romantic story of how they met — it might be a totally normal or funny scenario that brought them together," says José Rolón of José Rolón Events in Brooklyn, New York. "Embrace the normalcy instead of trying to spin it into something straight out of Hollywood. A recent couple of ours met on a plane to Israel, after the groom had his headphones confiscated. The bride loves to joke that he had no choice but to talk to her for the ten hour flight!" It's a story guests can relate to, a real life fairy tale that wasn't staged on a movie set.
Use humor.
Ceremonies are important moments, of course, but they can sometimes get bogged down in big, serious sentiments that can feel alienating. "You are making meaningful promises, but your vows don't have to be somber!" says Nanette McIntyre of Ceremonies by Nanette in Santa Barbara, California. "If it suits your personalities, let yourselves at times be silly and lighthearted. In addition to the big reasons you want to spend your lives together, mix in quirky things your partner does that make you smile and laugh — which might get your guests laughing, too."
Avoid clichés.
When it comes to writing your vows, it's easy to get sucked into clichés, especially with romance on the brain, but take it from "ugh" to "aww" by making the sentiment your own. "Instead of saying 'love is blind,' you might say that your bride-to-be will always be the most beautiful person in the room, whether she's in sweatpants or dressed to the nines," Matt suggests. This personalizes the statement so it doesn't feel like a cheesy greeting card.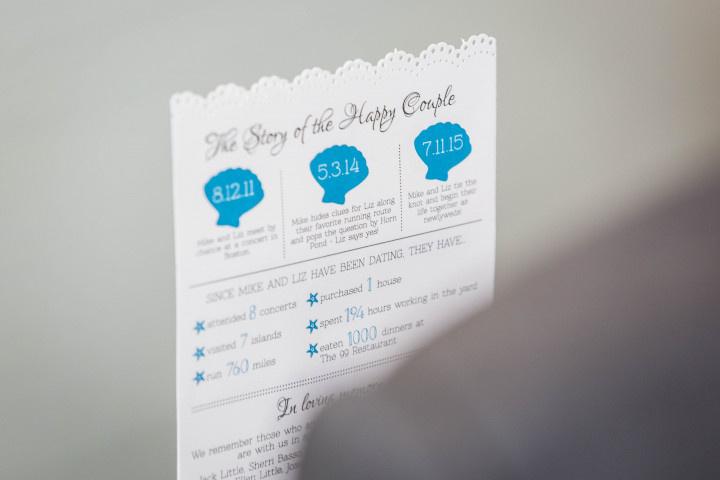 Have programs do double-duty.
Instead of long-winded speeches or video presentations, incorporate personal details into the ceremony programs so guests can learn a little more about your love story at the wedding if they so choose. "I love when couples add in notes about how the bride met the maid of honor, her father's first impression of the groom, or the groomsmen's best marriage advice," suggests José. Guests can peruse the details as they wait for the ceremony to begin, putting them in control of how personal they get.
Make it fun from the get-go.
"Everyone loves a good game of 'Two Truths and a Lie,' right?" asks Elizabeth Brandon of Wink! in Burbank, California. "Spice up your RSVP by swapping out song requests for three facts, asking guests to guess which one is a lie. Sending in an RSVP is so much more fun when you're thinking 'I'll have the vegetarian meal, oh, and there is no WAY Mark dressed up as Kate for their first Halloween as a couple!' It's sure to have guests smiling and keep them guessing until the big day."
Choose one personal element to share.
Inside jokes can be alienating, but one sweet personal detail can be the perfect way to get guests engaged in your celebration. "A recent couple of mine shared a love of reading to one another, especially bedtime stories they enjoyed as kids," says Simone Garland, also of Wink!. "On the big day, the bride surprised the groom with a completely custom 'bedtime story' based on Dr. Seuss' Oh, The Places You'll Go, complete with illustrations and blank pages in the back for guests to add their own contributions. Not only did guests get a heartfelt glimpse into their love story at the wedding, but they were able to share in it in a completely unique way."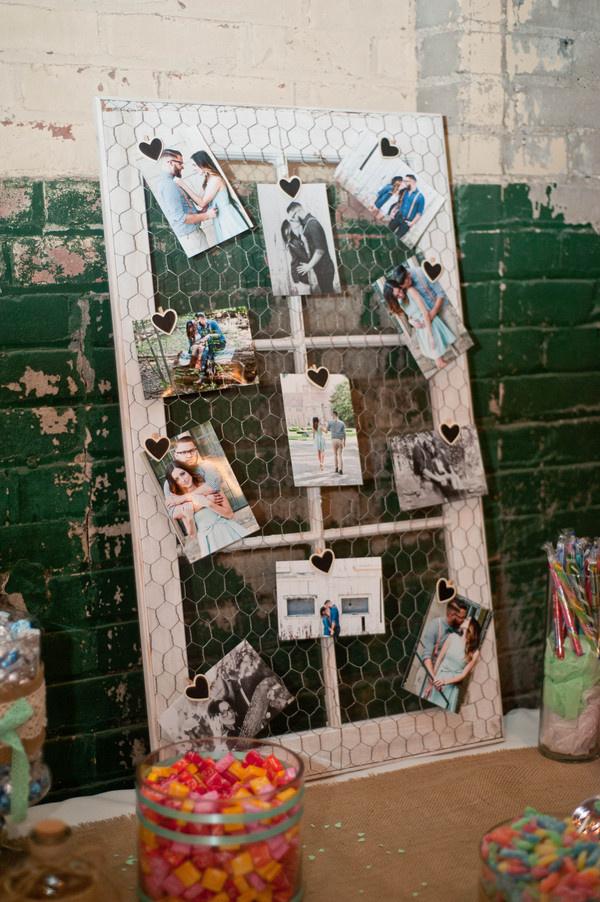 Use your time wisely.
What do guests really want to do at your reception? Dance! Instead of taking time away from the band with a slideshow of your love story at your wedding, display those images for guests to peruse during cocktail hour. "That's the perfect time for guests to spend a few minutes taking a trip down memory lane," says Kate Mulligan of Kate's the Key in Torrance, California. "You could frame some of your favorite photos and set them out around your venue with brief notes or stories, or even assemble it all in a photo guest book. Then, the next time you want to relive the early days of your relationship, you'll also be greeted by your guests' love and best wishes."
Keep it PG.
Garter tosses can be a fun way to add a personal touch to your reception — for example, tossing the garter around a football if the groom was the high school quarterback — but it can also get too personal in a hurry. "Guests don't really enjoy watching the groom put his head under the bride's dress to remove the garter with his teeth," says Mulligan. "It can quickly make guests uncomfortable, and can even encourage older guests to head home if it seems the evening is heading in that direction." Instead, keep things tasteful with a quick garter removal without the show (or no removal at all, just the toss!), and make sure your guests are excited to stick around for the party. Adds Kate, "Save the risqué part for the honeymoon!"