Here's What to Include in Your Wedding Ceremony Programs
While ceremony programs aren't a must, they're an excellent way to give your guests the rundown of the day's proceedings. Here's what to include in a wedding program.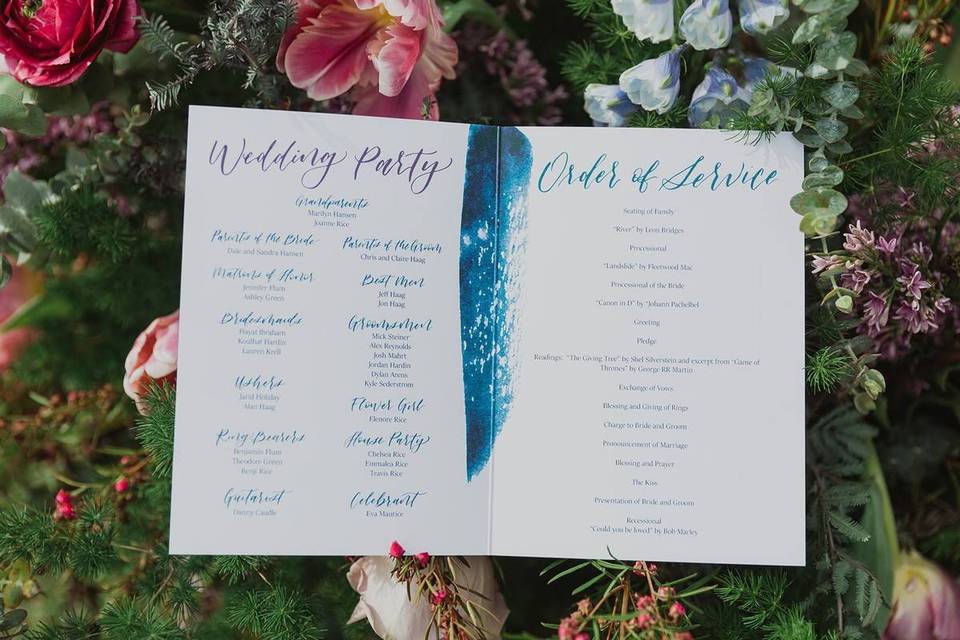 When it comes to your wedding stationery, there are a few obvious items you'll need, such as your save-the-dates, invitations, escort/place cards, and thank-you notes. Other stationery products, like wedding ceremony programs, may get overlooked at first, but they're just as important in the scope of your wedding day. Here, we're breaking down exactly what to include in a wedding program, why they're important, and a few different ways you can get creative with these paper products for your own celebration.
What is a wedding ceremony program?
A wedding program is a stationery item that outlines important information about your ceremony and those who are part of the ceremony. When deciding what to include in a wedding program, start with the basics: the names of everyone your wedding party, your parents, your officiant, and ceremony speakers. You can also list the order of services, for example the officiant's welcome speech, religious proceedings, ring and vow exchange, and the processional.
If your ceremony includes a song, religious excerpt, poem reading, etc., you can also include those details in the program. Finally, your wedding program can serve as a greeting for your guests—feel free to add a brief welcome note thanking everyone for joining you.
Do you need wedding programs?
Although wedding programs aren't absolutely essential compared to some stationery items (say, invitations), your guests will definitely find them useful. Traditionally, wedding programs are either placed on each chair before the ceremony, or they're handed out to each guest. For this task, you can enlist your ushers or anyone who's not in your wedding party—it's a great way to include friends or younger relatives who aren't serving as bridesmaids or groomsmen. If you don't want to give a wedding program to every guest, consider allocating one per family or couple or displaying a wedding program sign instead (more on that in a minute!).
What do you include in a wedding program?
If you're wondering how to write a wedding program, the good news is that there are a lot of different ways to personalize yours. But no matter the design or format, there are a few details you'll want to highlight—here's what to include in a wedding program.
Introduction
Think of the introduction as a cover page to your wedding. Most importantly, you should include your names and the full date of your wedding. You can also include the city and state, and the name (or an illustration) of the venue.
Your wedding party
Here's where you list everyone who is a part of your wedding and will be walking down the aisle. The officiant is usually first, followed by parents and wedding party members, including flower girls and ring bearers. Try to keep the list in the same order as the processional, which will help your guests understand who is who. If there's room, you can add a personal touch by providing how you know each person (for example, sibling, childhood friend, college roommate, etc.).
Wedding day timeline
One of the most important things to include in a wedding program is an order of services so that your guests know what to expect and can follow along, from the processional, any songs or prayers, vow exchange, and recessional. If you're having a religious ceremony, you may also want to provide explanations of the proceedings, for example, the Greek weaving of the crowns or the traditional Hindu seven steps. If you have any readings or music selections, you should also note those on your wedding program, including titles of poems or religious passages.
If there's room on your ceremony program, you can follow up with details about your wedding reception, including driving directions to the venue if it's taking place at a different location. Note the timing of events, such as the start of cocktail hour, dinner, speeches, and your send-off.
Fun facts
In addition to keeping your guests in the loop, your wedding programs are a great way to personalize your ceremony and entertain everyone while they're waiting for the event to begin. Feel free to share a couple of fun facts about your relationship—for example, a silly story from your first date, how many places you've traveled together, your zodiac signs, or where you're headed for your honeymoon.
Special instructions or requests
Your wedding programs are the best place to share special instructions or requests regarding your ceremony. Encourage guests to share photos by adding your wedding hashtag, or if you're having an unplugged ceremony, politely ask guests to keep their cell phones and cameras off.
Memorials
If you have loved ones who have passed away, you can honor them by including their name(s) and a heartfelt message in your wedding programs. It's a sweet way to keep them with you on your special day, and guests who knew them will appreciate the gesture as well.
Types of Wedding Programs
Your wedding programs should complement the rest of your wedding stationery and decor, but they're also an opportunity to be as traditional or creative as you want. From classic booklet programs to custom hand-lettered signs, there are a few different ways you can present all the necessary info. Here are some of the most popular wedding program ideas.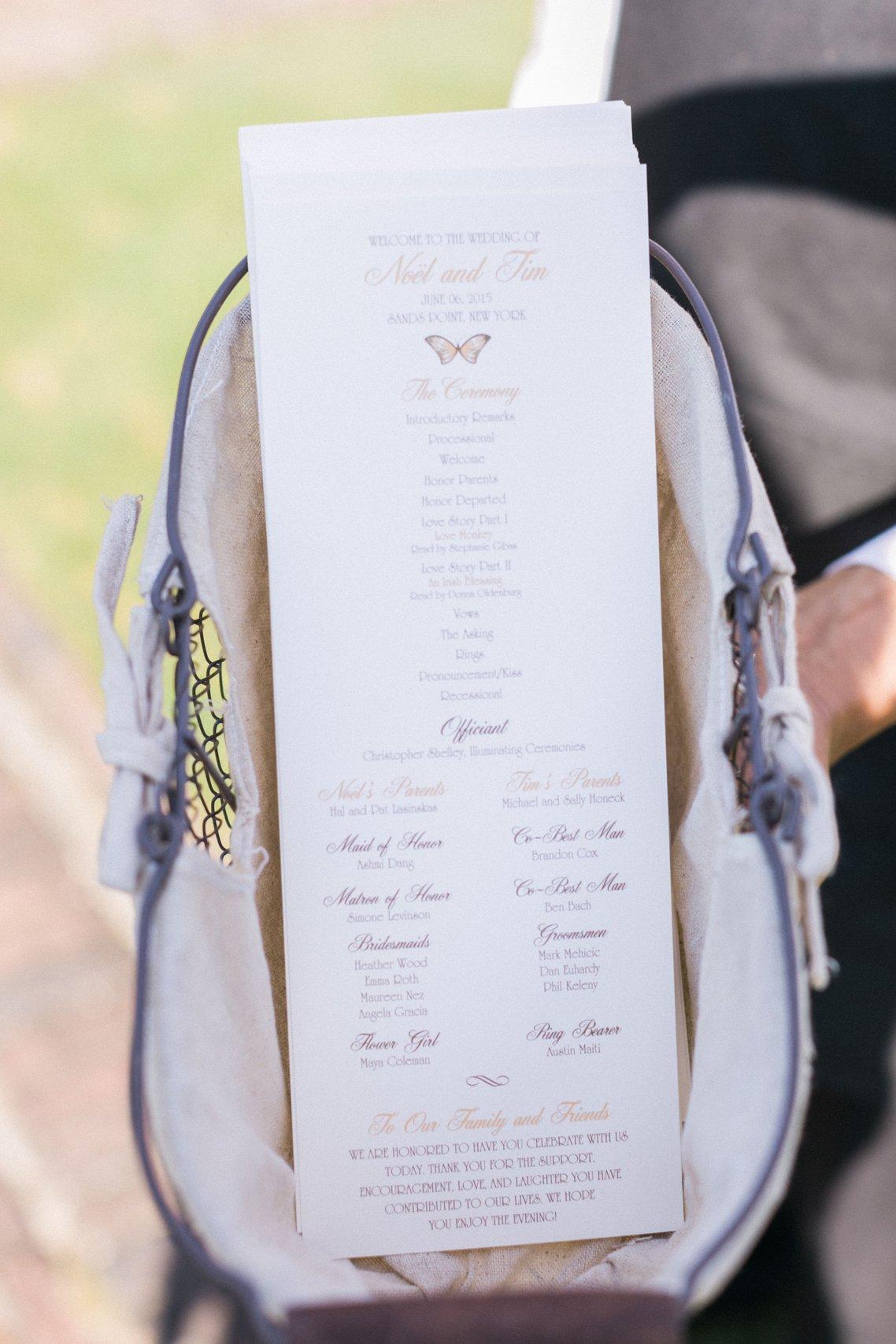 Wedding program cards
This is one of the most straightforward types of wedding programs. Elongated rectangular cards (typically made with heavy cardstock to complement your wedding invitations) provide plenty of room to list all of your wedding party members, along with a short welcome note or other important details. They're a great option if you want to incorporate wedding programs into your ceremony but don't need to share a ton of information.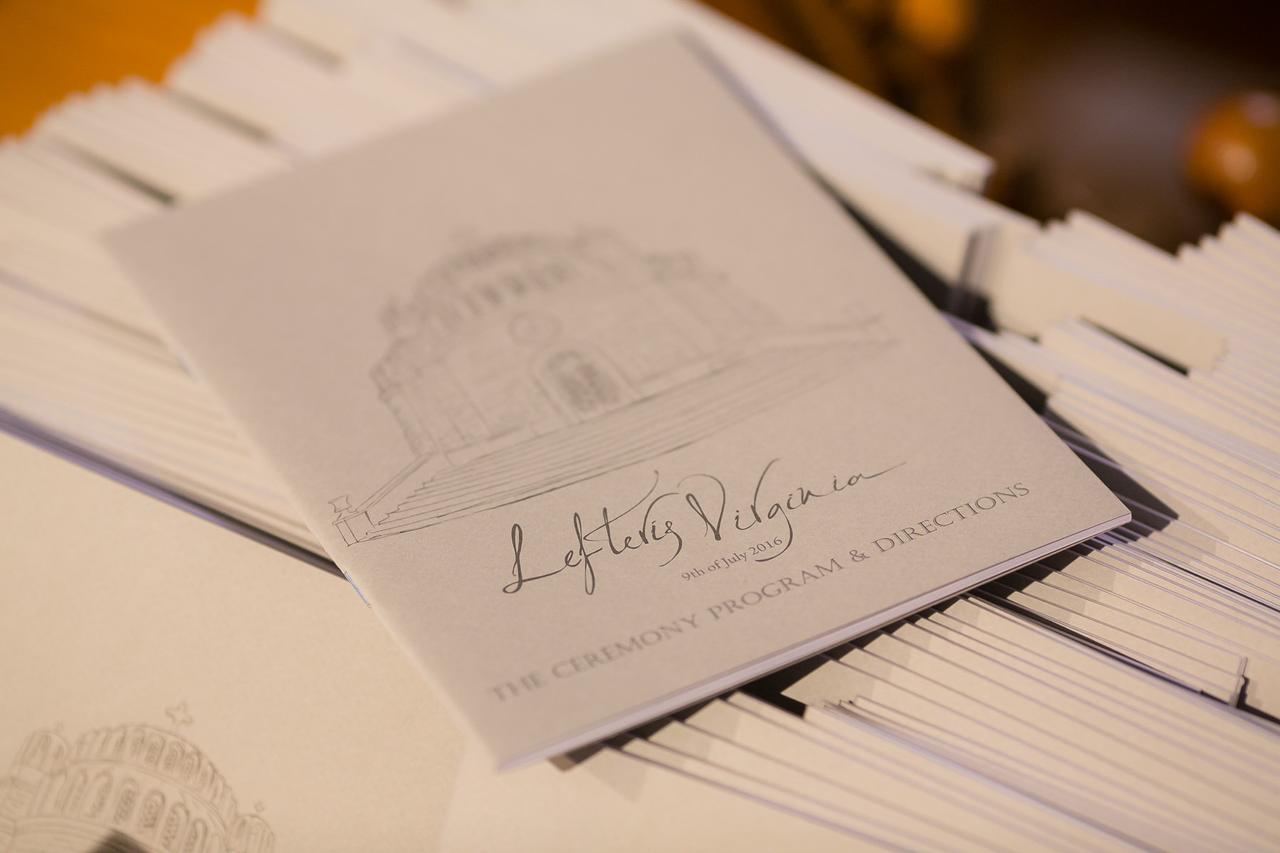 Wedding program booklet
Booklets are the most formal type of wedding programs. These are ideal if you're having a very long ceremony, for example a Catholic mass, and need to share a lot of information, such as hymn lyrics or religious passages.

Unique wedding program
Your wedding programs don't have to be limited to cards or booklets—in fact, they don't have to be written on paper at all! We've seen ceremony programs on everything from accordion fans to vellum envelopes filled with confetti, so think outside the box for ways to surprise your guests while also incorporating your wedding theme.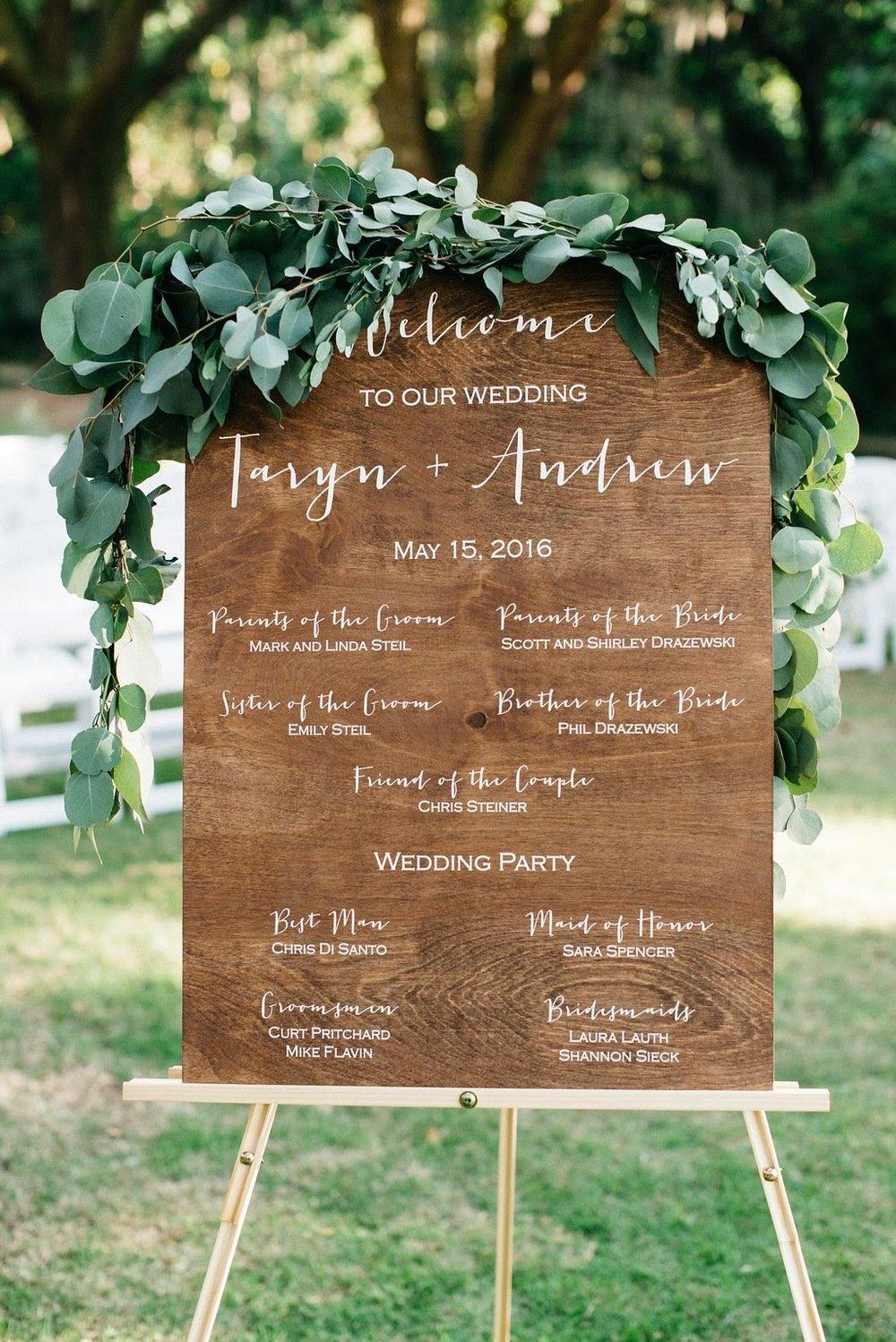 Wedding program sign
If you want to skip the individual wedding programs altogether, a simple sign displayed at your ceremony entrance is a stylish—and functional—compromise. Enlist your wedding stationer or a professional calligrapher to create a hand-lettered sign that's short and sweet.