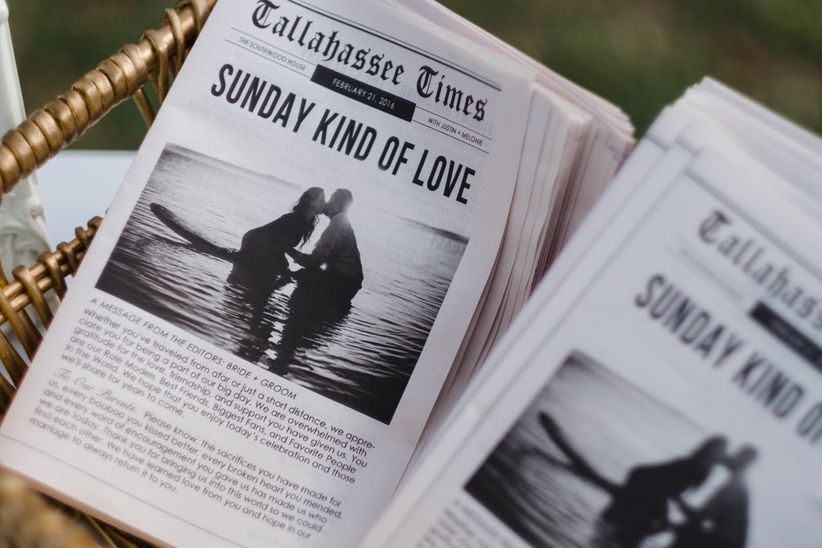 Photo: Artsinfotos Photography
While ceremony programs aren't a must, they are still a great way to give your guests the rundown of the proceedings.


Programs don't need to be super formal or fancy, but there are a few important details you should include.
1.) Introduction
Think of the introduction as a cover page to your wedding. All this requires is you and your spouse's names and the date of your wedding. You may also wish to note the city and state, and perhaps the name of the venue, as well.
2.) Order of Ceremony
This is the important part. You'll want to create a timeline of events so that your guests know what to expect and can follow along—from the seating of your VIPs to the processional, the ceremony, and recessional. If you're having a religious ceremony, you may also wish to provide explanations of the proceedings. And if you have any readings or music selections, you should also note those here.
3.) Members of the Wedding party
Here is where you list everyone who is a part of your wedding and will be walking down the aisle. The officiant is usually first, followed by parents and wedding party members—try to keep the list in the same order as the processional. This allows for your guest to know who is who. You can add a personal touch by providing how you know each person, if there's room.
4.) Thank Yous
At the end of the ceremony program, include a short note thanking your guests for attending and giving a special shout-out to those who were instrumental in planning and executing your big day (your parents, for example). You may also wish to mention loved ones who have passed away, but whose memory is an important part of the occasion.