What to Include on an RSVP Card
The response card might be a small part of your invitation suite, but it's hugely important. Here's what to include on your RSVP card.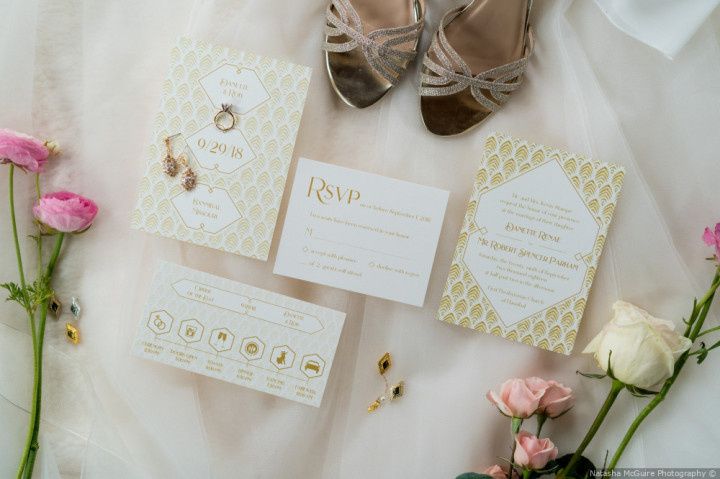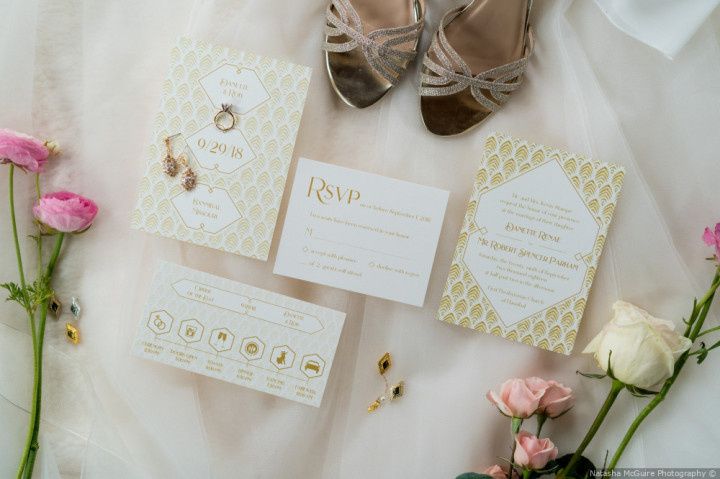 When you choose your wedding invitations, you'll notice that one of the items that comes along with it is the response, or RSVP card. And while invitations follow pretty standard wording for the most part, figuring out what to include on an RSVP card gives you a chance to show your personality if you'd like to. There are lots of fun ways to tailor your response card to the type of wedding you're having. If you're hosting a super-formal wedding, stick with traditional wording, like "Accepts with Pleasure" and "Declines with Regret." Casual destination wedding? Consider more laid-back language like "Our Bags Are Packed!" and "We'll be Toasting From Afar!"
But aside from the most creative response choices you can dream up, what should you include on your RSVP card? Remember that these cards will be very important when it comes to implementing the actual details of your wedding, like headcount for different events, meal choices, and possibly even where everyone will be staying. This information will be invaluable during your planning process, so be sure to have a good system for storing and recording your RSVP cards as guests mail them back to you.
So when it comes time to decide what to include on your RSVP cards, be sure consider all the information you'll need guests to provide. We're here to break it down for you.
Space for your guests' names
Traditionally, this is a long blank line that begins with a printed "M." It's the place where recipients will write the names of those planning to attend your wedding. Another (and perhaps more modern) alternative is to print the word "Name:" before the blank line.
Wondering what you should do if your guests forget to fill in their names? Kathy Misjan of The Write Image in Raleigh, North Carolina has a cool tip: "Pencil in a tiny number on the back of each card and keep a corresponding spreadsheet so if someone forgets to write their name, you'll know whose response card it is."
The RSVP deadline date
The date by which you need the recipient's response should be prominently displayed on your RSVP cards. This gives your guests a sense of urgency to RSVP ASAP. There are a few possible wording options, based on whether you want your response cards to have a formal or casual feel. Wording like, "The favor of a reply is requested by," and "your reply is requested by" are more formal ways to word this, while "RSVP by" and "please respond by" tend to give a more casual vibe.
Accept or decline options
Another hallmark feature of what to include on an RSVP card is the section that allows your guests to select whether they'll be attending or not. Like we mentioned above, the options are endless here. So feel free to be as creative as you'd like, or have these responses tie into your wedding theme. A more formal option is leave the card blank except for the RSVP deadline date so that guests can fill in their own responses.
Food selections
If you'll be serving a sit-down dinner at your reception, it's a good idea to have your RSVP card include a small section at the bottom where the recipient will select his or her choice of entree (if there will be choices). And be sure to be considerate of people who may have food allergies. Celeste Simpson of Impress Me Designs in Windham, New Hampshire says, "I always include a line for food allergies or dietary restrictions. This is very helpful to the venue's chef should they need to accommodate a serious allergy for a guest."
Another food-related tip Celeste shares is important if you'll be throwing a post-celebration brunch the morning after your wedding. "If you'll need to have a head count of those that plan to stick around for breakfast, be sure to also ask them to reply to this additional event. You will have a more accurate head count and can plan your food budget accordingly."
Accommodations
Are you inviting out-of-town guests? If you are and are thinking about what to include on your RSVP card, you may want to consider including a line that invites your guest to specify where they'll be staying. Simpson says, "this is a great idea if you have a number of room blocks at hotels in the area, and makes it easier to coordinate welcome gift bags and transportation."
Disclosure: This post contains affiliate links, some of which may be sponsored by paying vendors.