29 Creative Wedding Escort Card Displays to Help Seat Your Guests
Wow your guests (and help them find their reception seats) on your wedding day with these creative wedding escort card ideas and displays.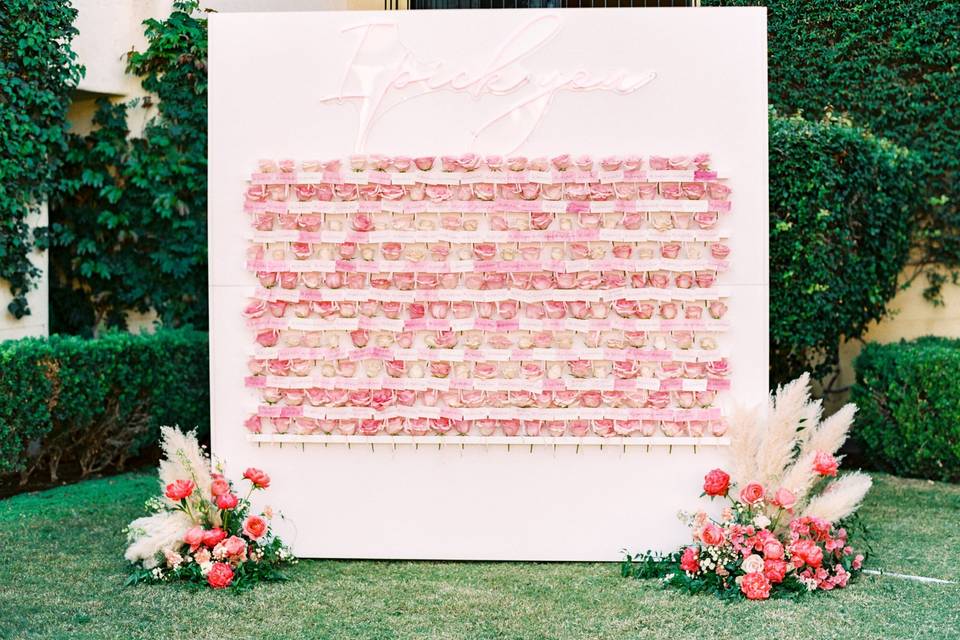 Escort cards are just one of the necessities you'll need for your wedding reception. They correspond to your wedding seating chart and play a crucial role in helping your wedding guests find their table assignments. But even though your escort cards are first and foremost functional details, they don't have to be boring. These creative wedding escort card ideas and displays will inspire you to think outside the box—or card, rather—for added ways to play up your wedding theme on the big day. (And if you don't want to stop there, take a look at our favorite wedding place card display ideas to surprise your guests once they take their seats.) Personalize your reception decor with these creative wedding escort card ideas.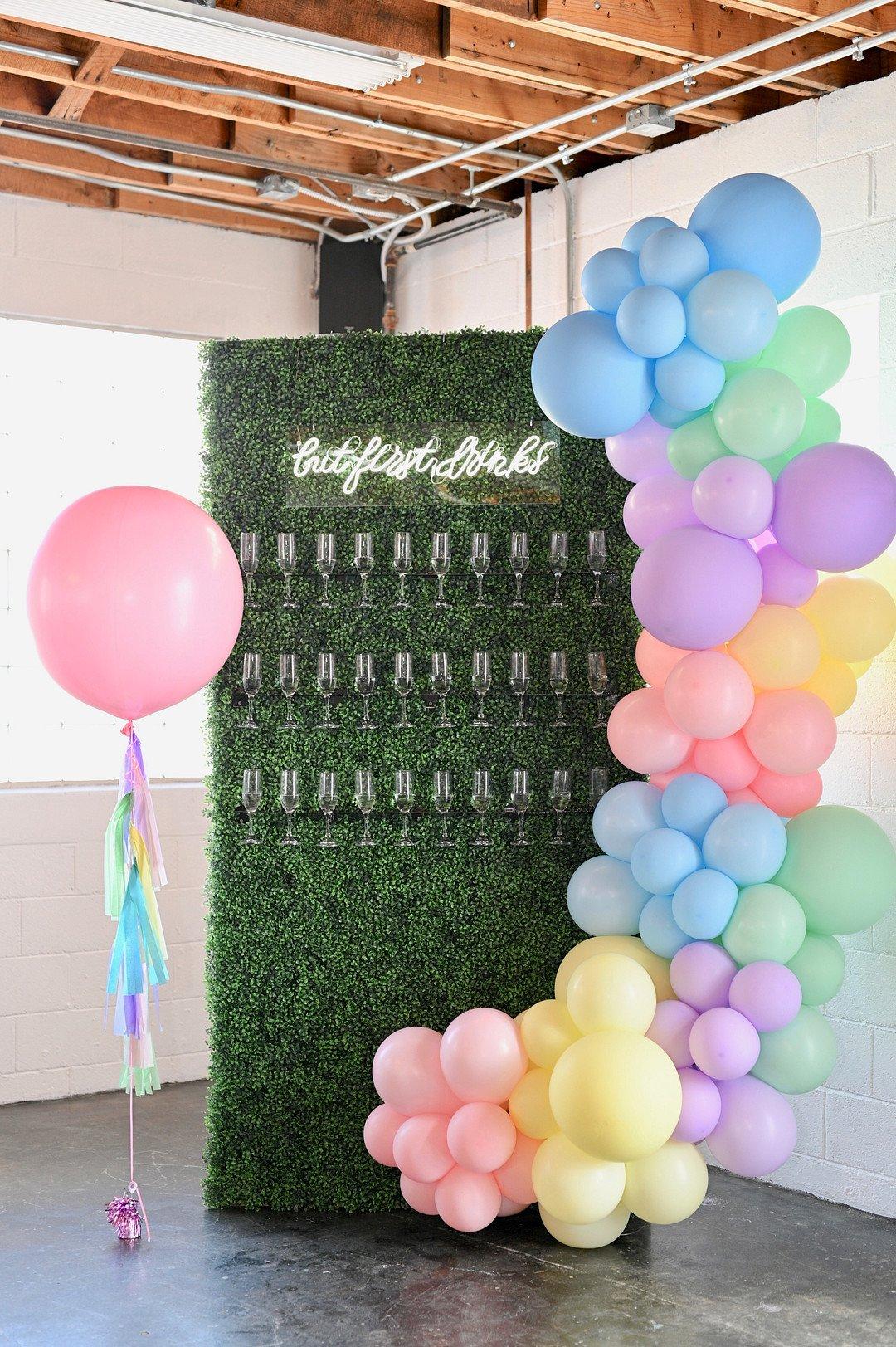 Champagne Escort Card Wall
Get the party going as soon as guests walk in the door by pairing your escort cards with glasses of bubbly! Champagne walls have been trending for a few years now, and truthfully, we can't get enough of them. Personalize yours with a neon sign, flowers, or colorful balloons. Of course this wedding escort card idea works for the 21-and-older crowd, so if you have any underage guests, be sure to swap out champagne for juice or sparkling water.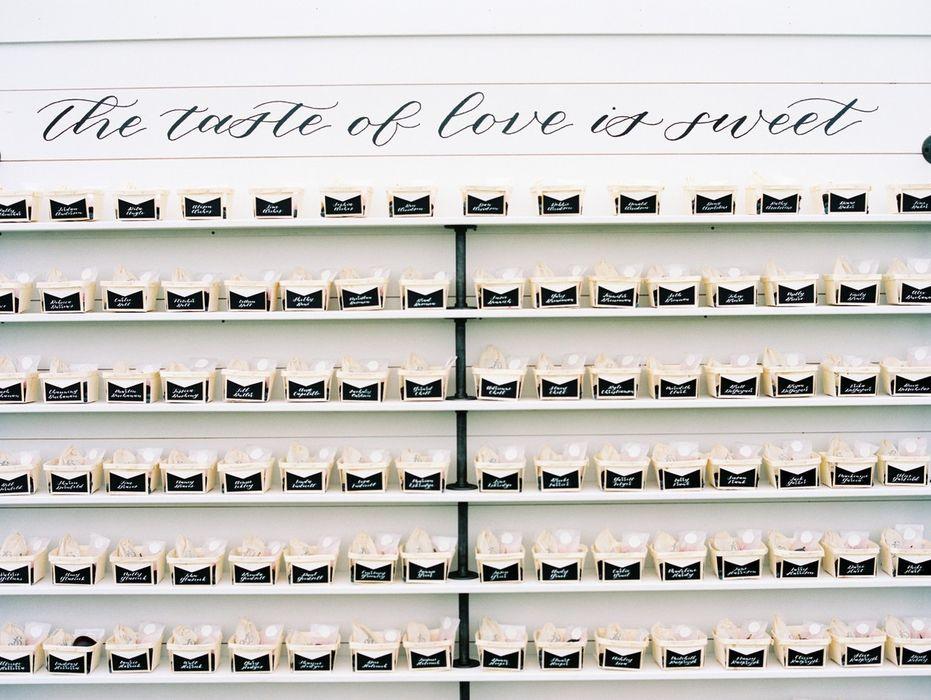 Dessert Escort Card Display
Who says you have to wait until after dessert to eat dinner? Individually boxed treats, like cookies, macarons, doughnut bites, or cupcakes, will give your wedding guests something to snack on when they first arrive at the reception or cocktail hour.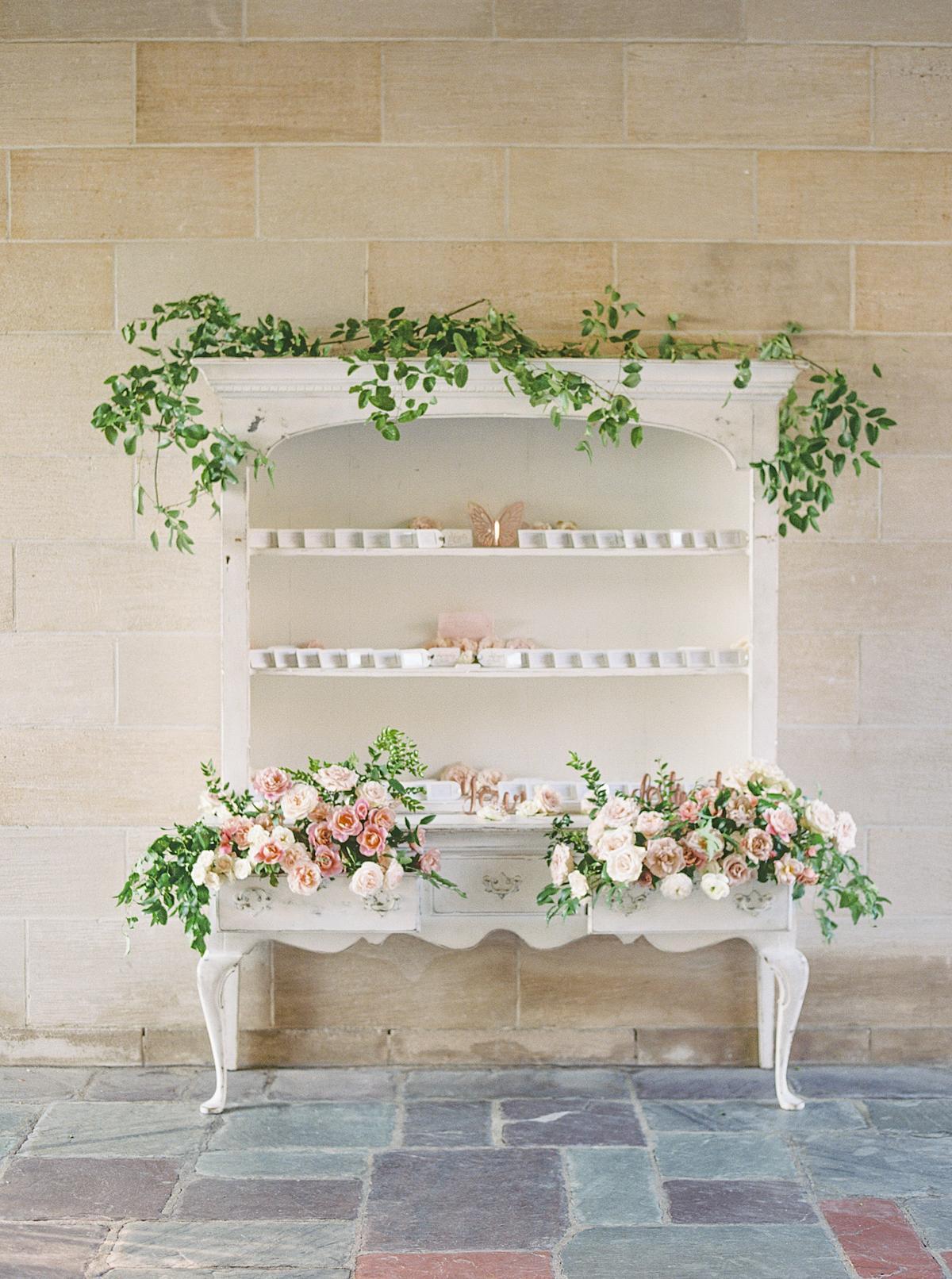 Flower-Filled Hutch
If you're hosting a vintage-inspired wedding or garden-themed wedding, this wedding escort card idea is romantic and aesthetically fitting. Source an antique hutch from a local event rental company and turn it into a focal piece with your escort cards and botanical details.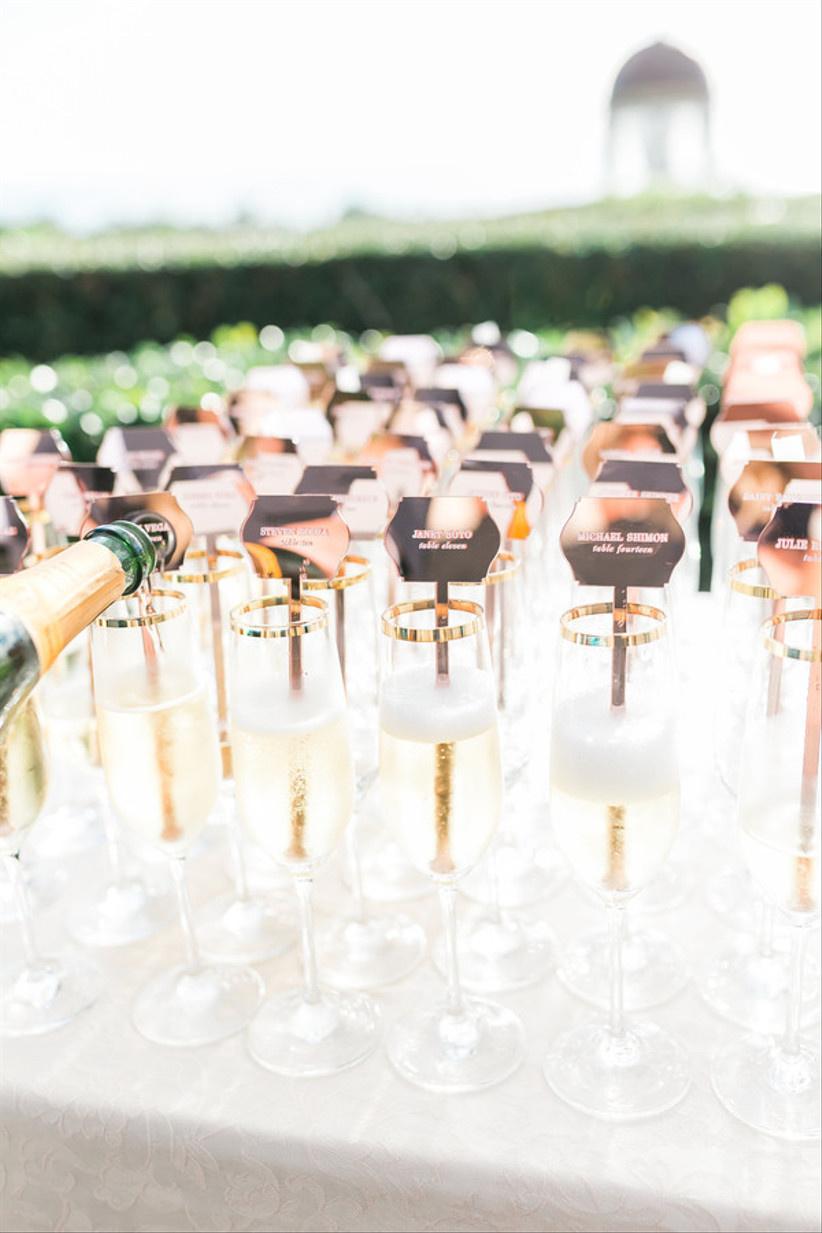 Event design by Angelica Rose Events, Escort cards by ShePaperie
Champagne Escort Cards With Stirrers
Here's another option if you love the champagne wedding escort card idea. Fancy drink stirrers, like these engraved rose gold ones, immediately turn ordinary glass flutes into stylish (and drinkable) escort cards.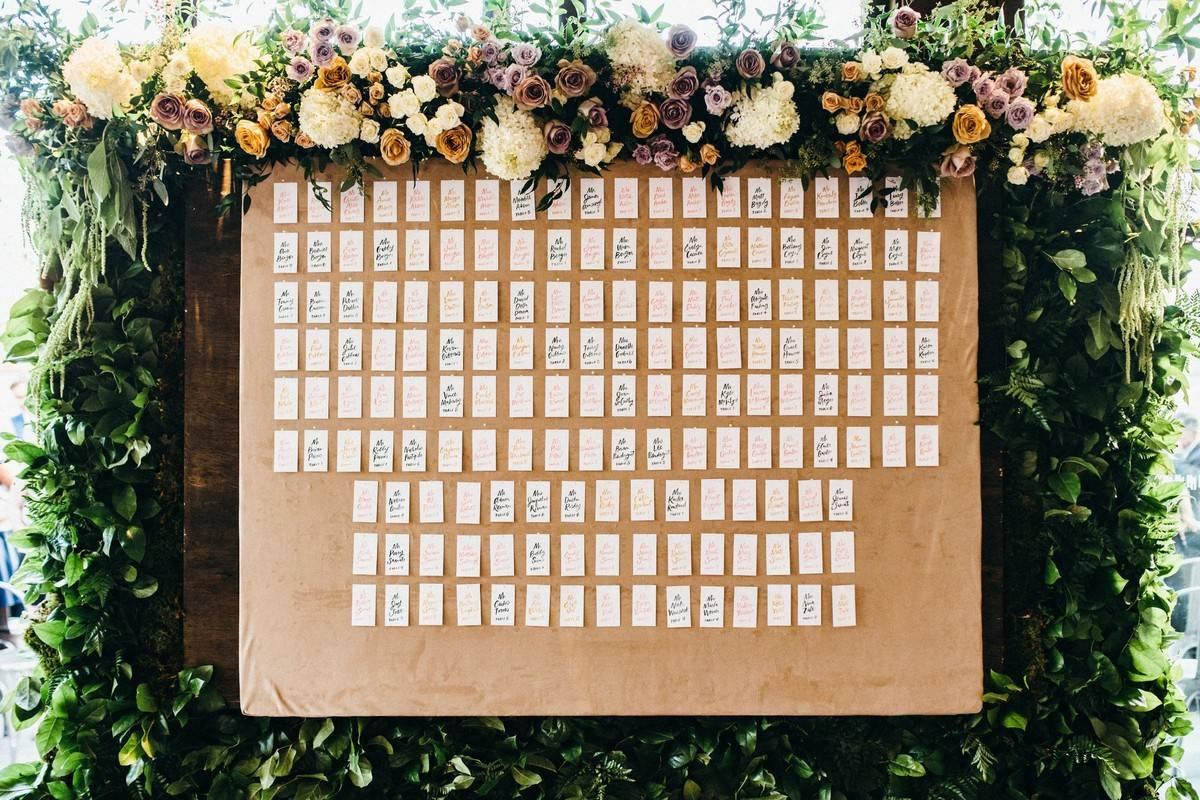 Calligraphy Escort Card Wall
Use a wooden board surrounded by greenery and lush flowers to turn even the simplest of wedding escort cards can be transformed into a memorable display.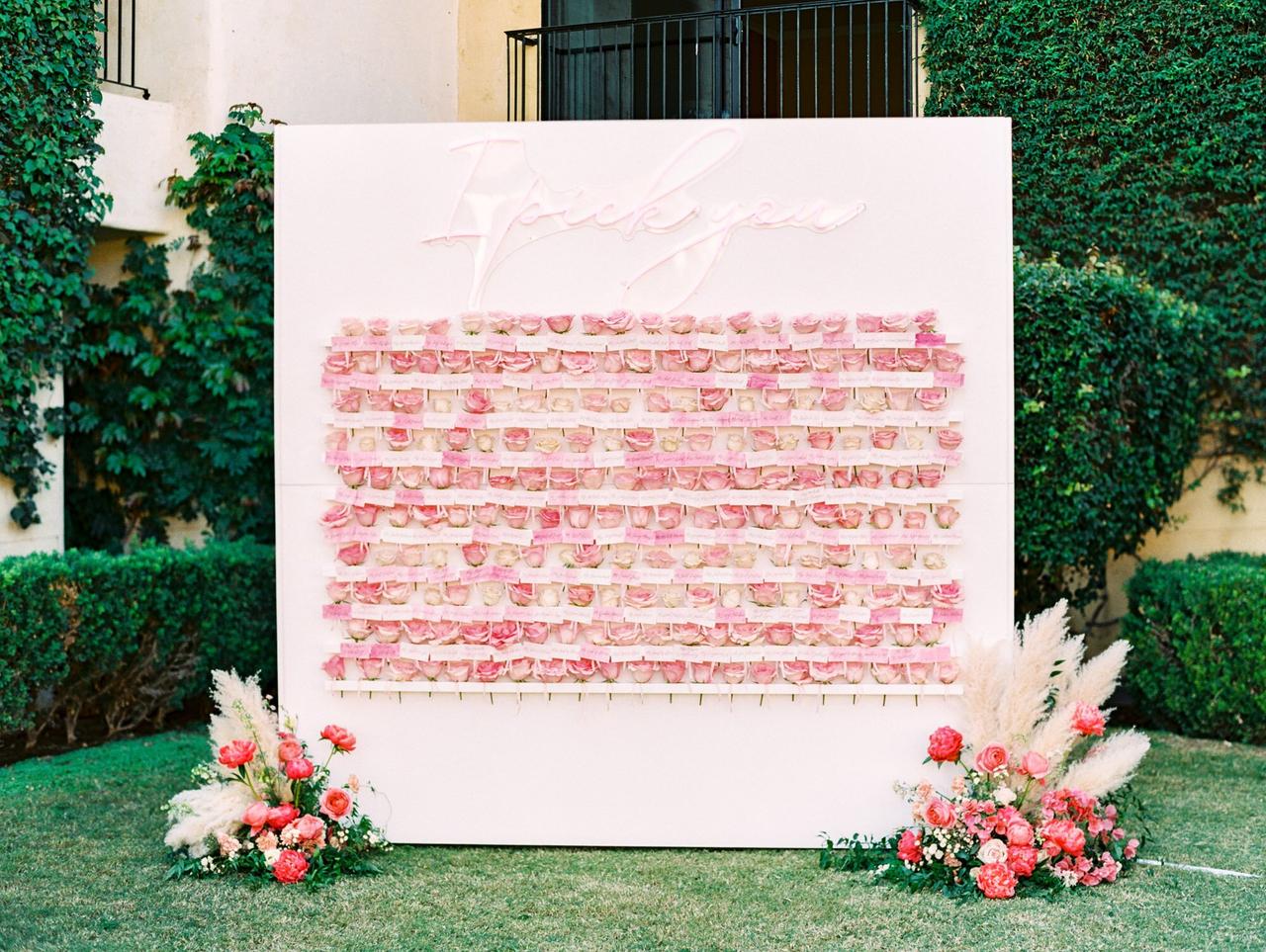 Wall of Roses
If roses are your favorite flower, you won't want to miss this wedding escort card idea. Use a pegboard or slotted shelves to display escort cards that are attached to individual roses—this assortment of white, blush, and pink blooms is incredibly pretty.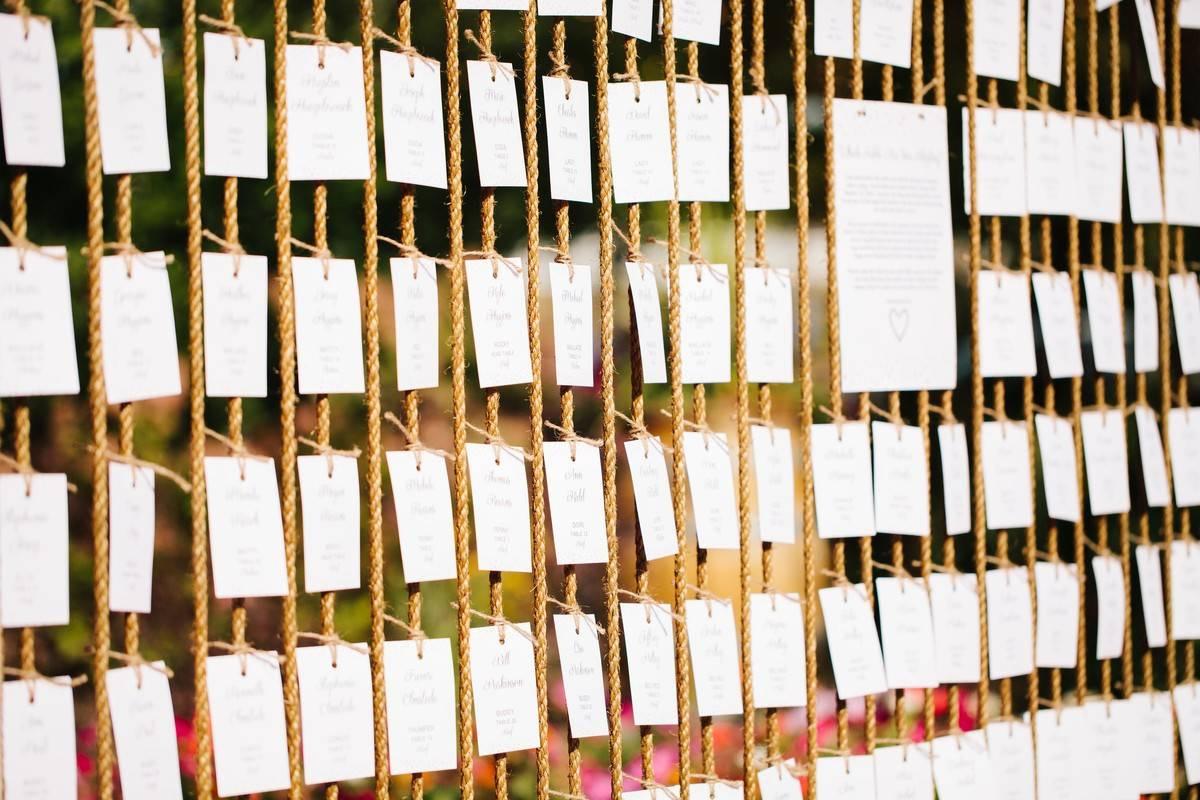 Rope Escort Card Display
Use twine to tie paper escort cards to vertical ropes, creating a rustic, laid-back look that's fitting for an outdoor wedding.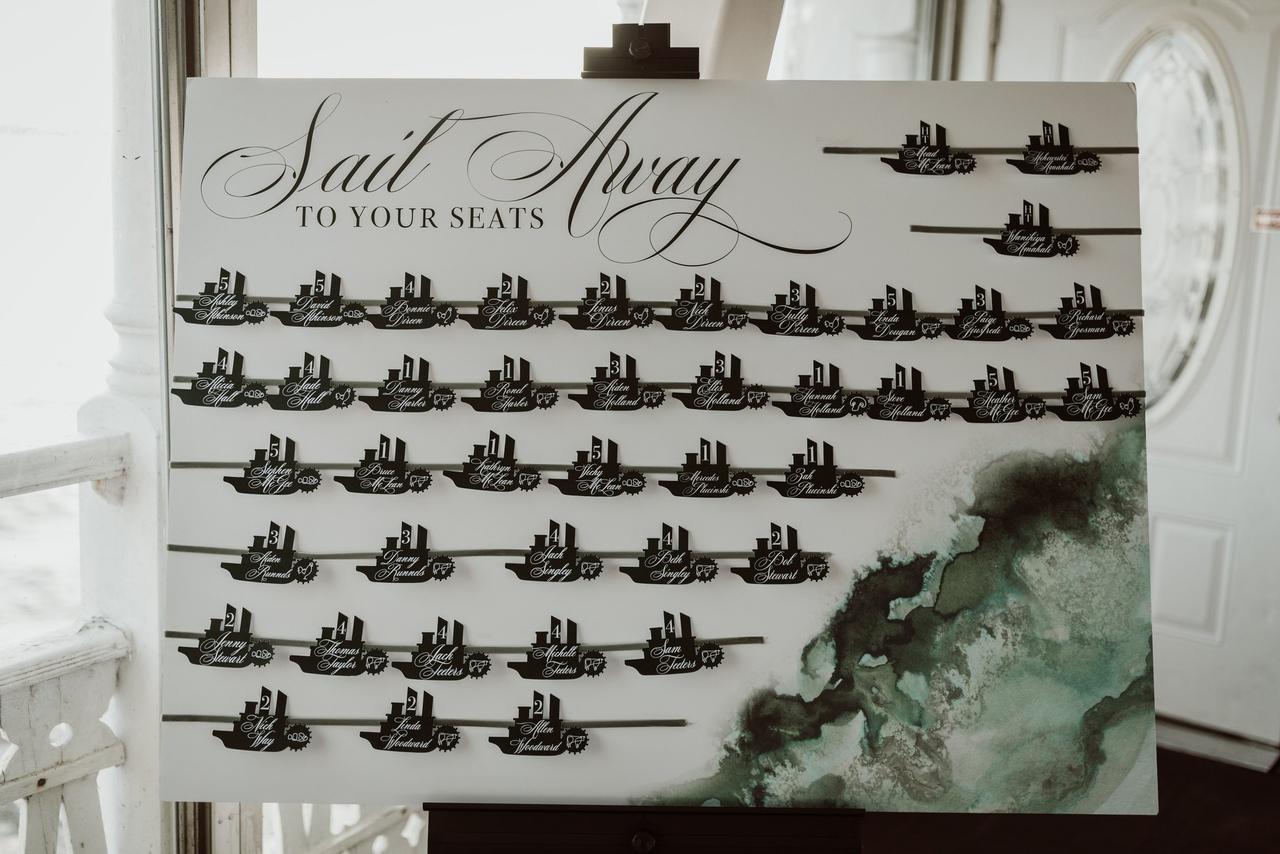 Nautical-Themed Escort Cards
Boat-shaped escort cards are a fun way to add detail to a nautical wedding theme. Add a watercolor accent to the display to tie the whole aesthetic together.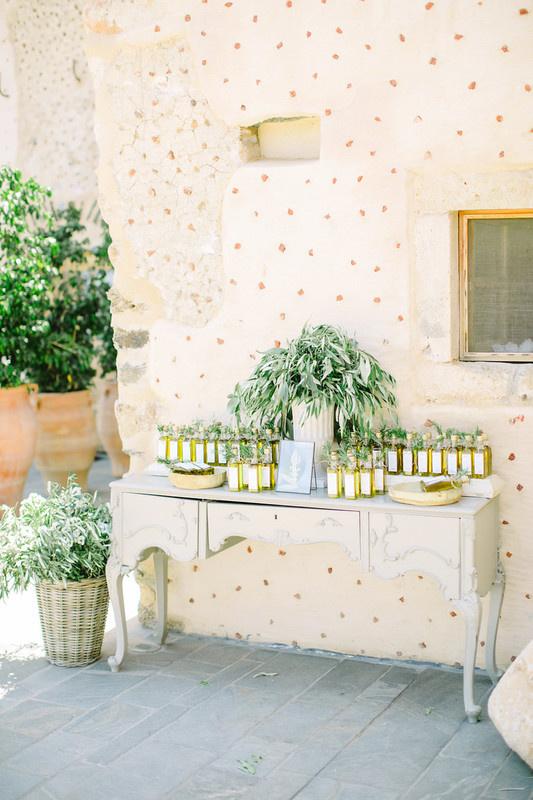 Vintage Buffet
Your escort cards can also double as wedding favors—just make sure you add a custom tag or label for each guest. These gourmet bottles of olive oil look so stylish atop a vintage buffet decorated with fresh greenery.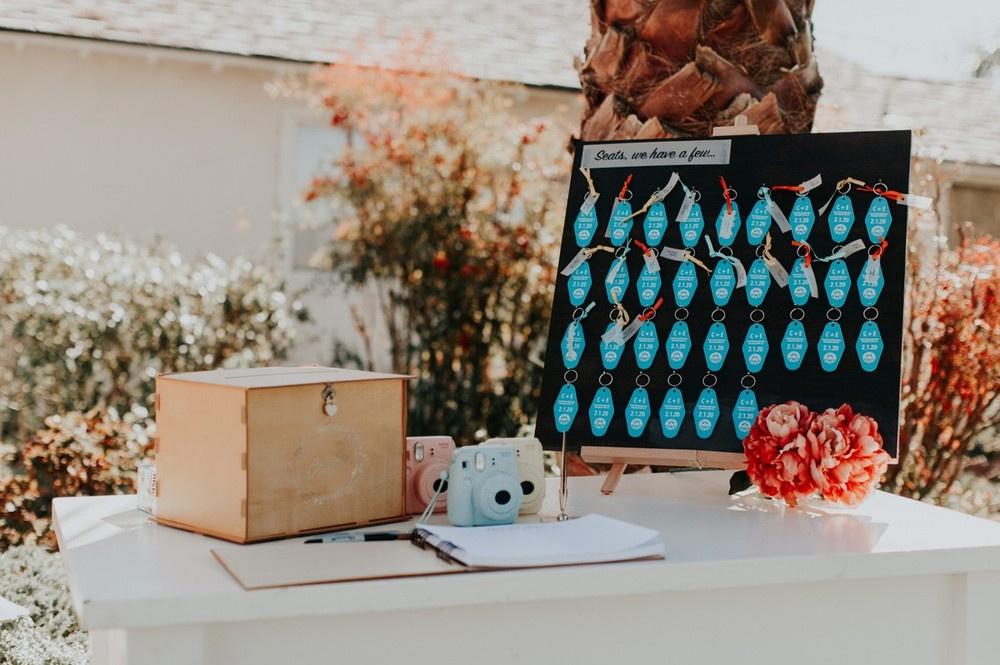 Keychain Wedding Escort Cards
We love this unique wedding escort card idea: retro-style keychains engraved with guests' names and table numbers. The best part? They're great keepsake items for your friends and family to use long after the wedding.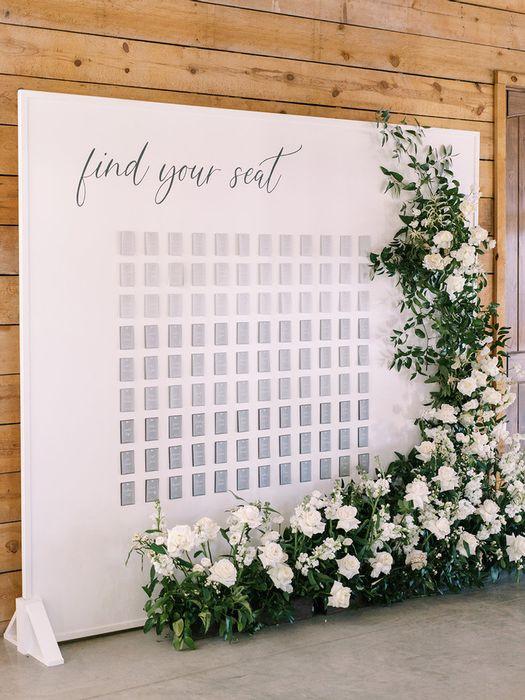 Ombré Wedding Escort Card Wall
For a modern minimalist wedding theme, arrange calligraphy escort cards in an ombré pattern against a white backdrop. Add a floral installation to one side for a touch of drama.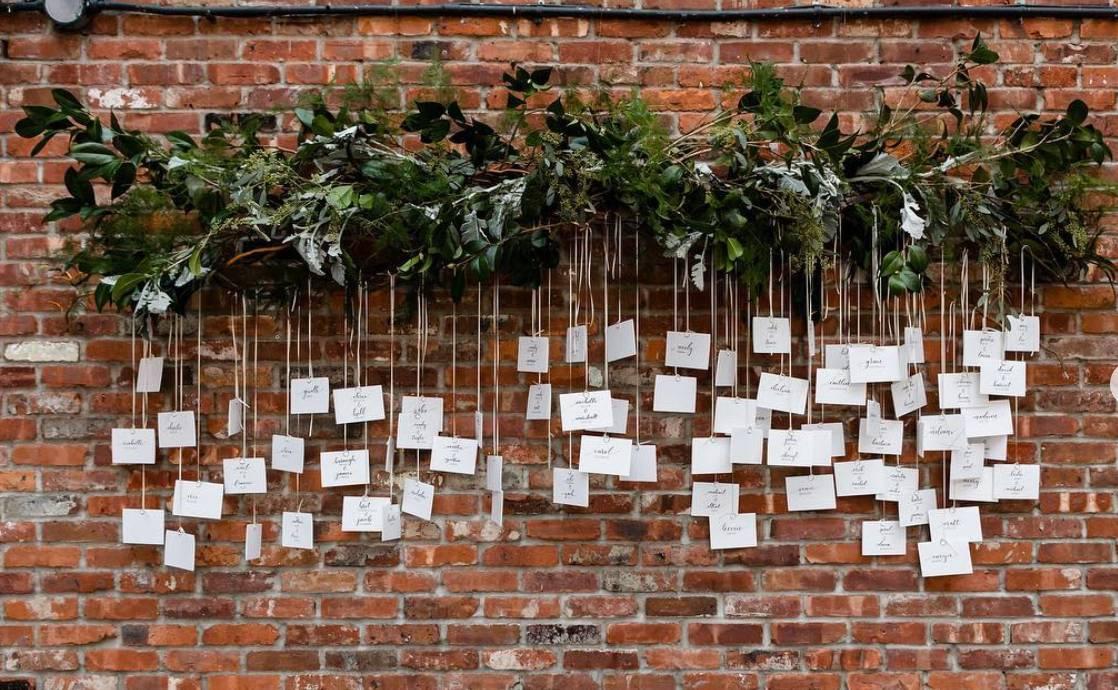 Hanging Wedding Escort Card Display
If you love the hanging centerpiece look, take the idea to the next level by using a suspended arrangement to show off your wedding escort cards.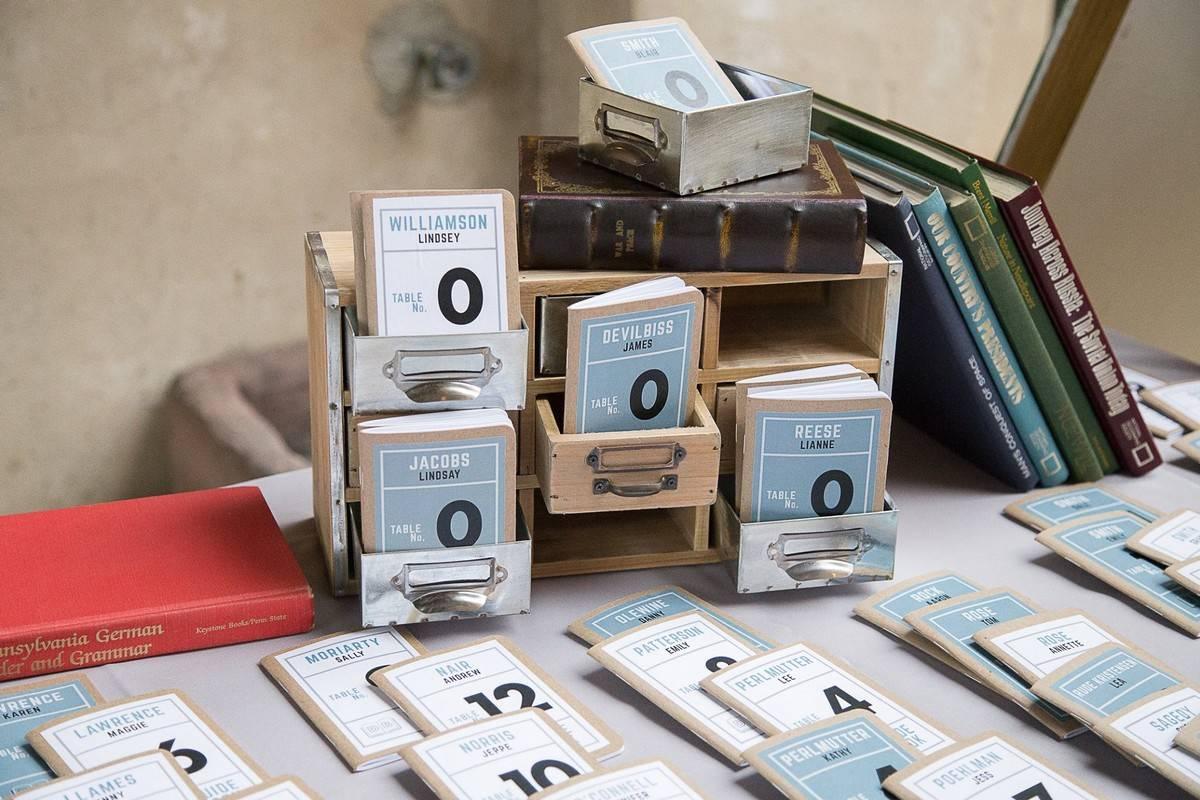 Book-Themed Wedding Escort Cards
This creative escort card display is perfect for a book-themed wedding (or if you're getting married at a library venue).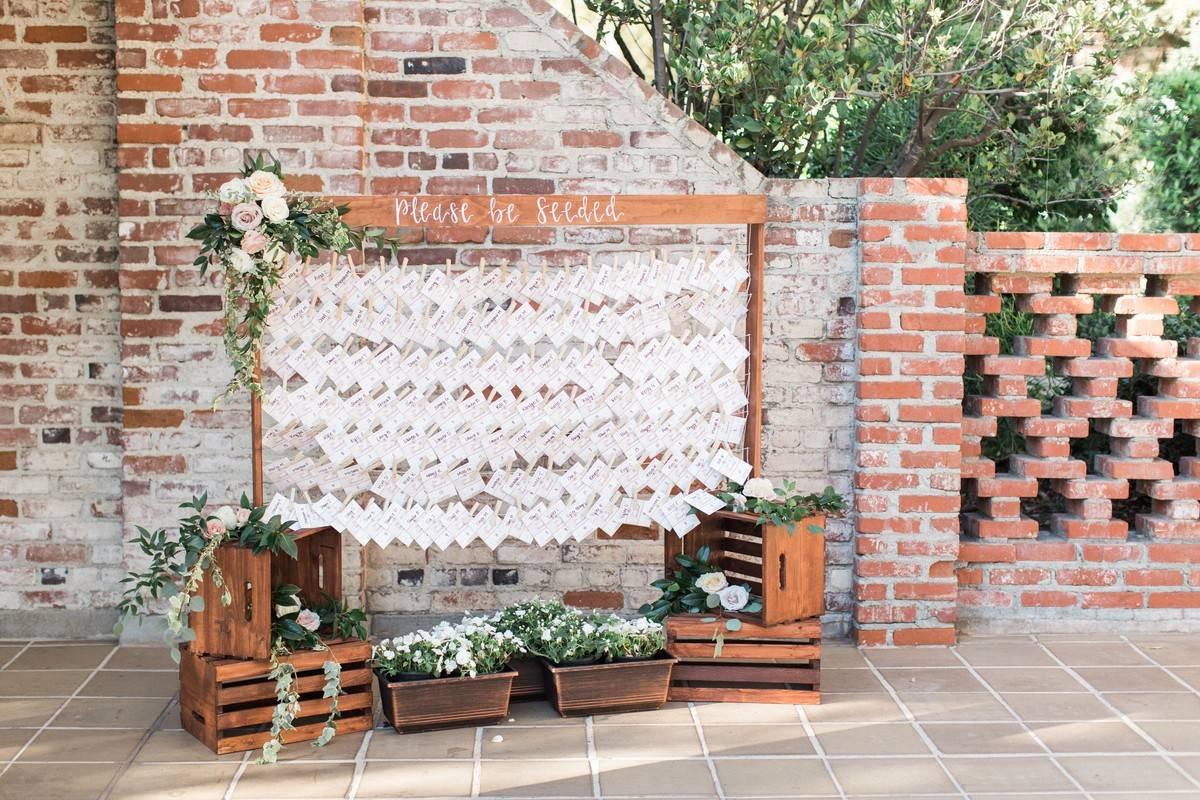 Clothespin Wedding Escort Card Display
Clothespins are an easy but decorative way to showcase both traditional and alternative escort cards, like these seed packets.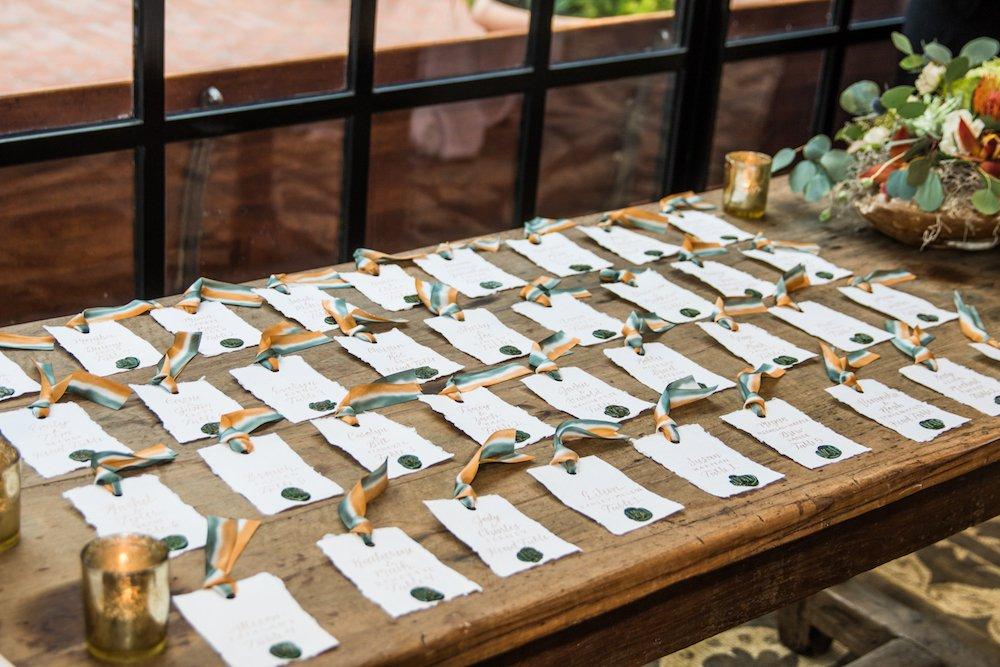 Wedding Escort Cards With Wax Seals
Use wax seal stamps to instantly give ordinary paper escort cards a regal, Old World look. We love classic wax colors like gold and silver, but you can find almost any hue to match your wedding colors—or melt colors together to create a swirled effect.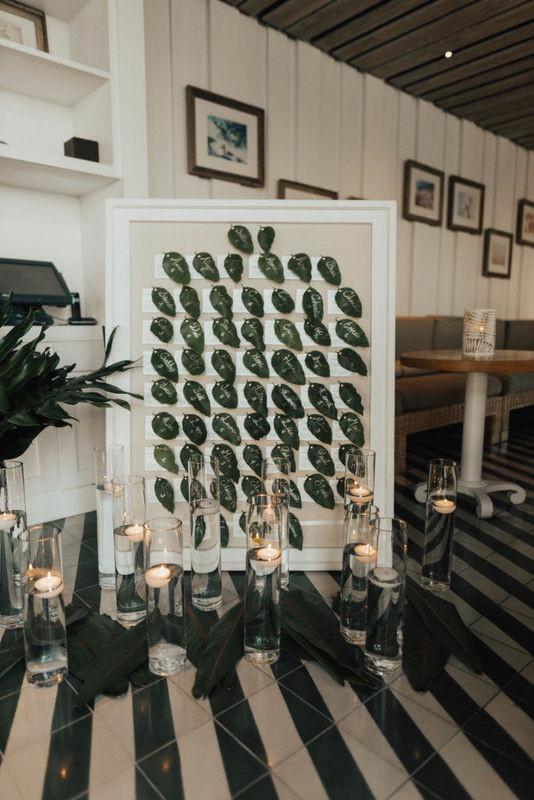 Tropical Wedding Escort Cards
Using leaves as escort cards will bring island-inspired flair to your reception space. Showcase the leaves on a framed bulletin board along with candles and streamlined wedding decor for a chic tropical theme.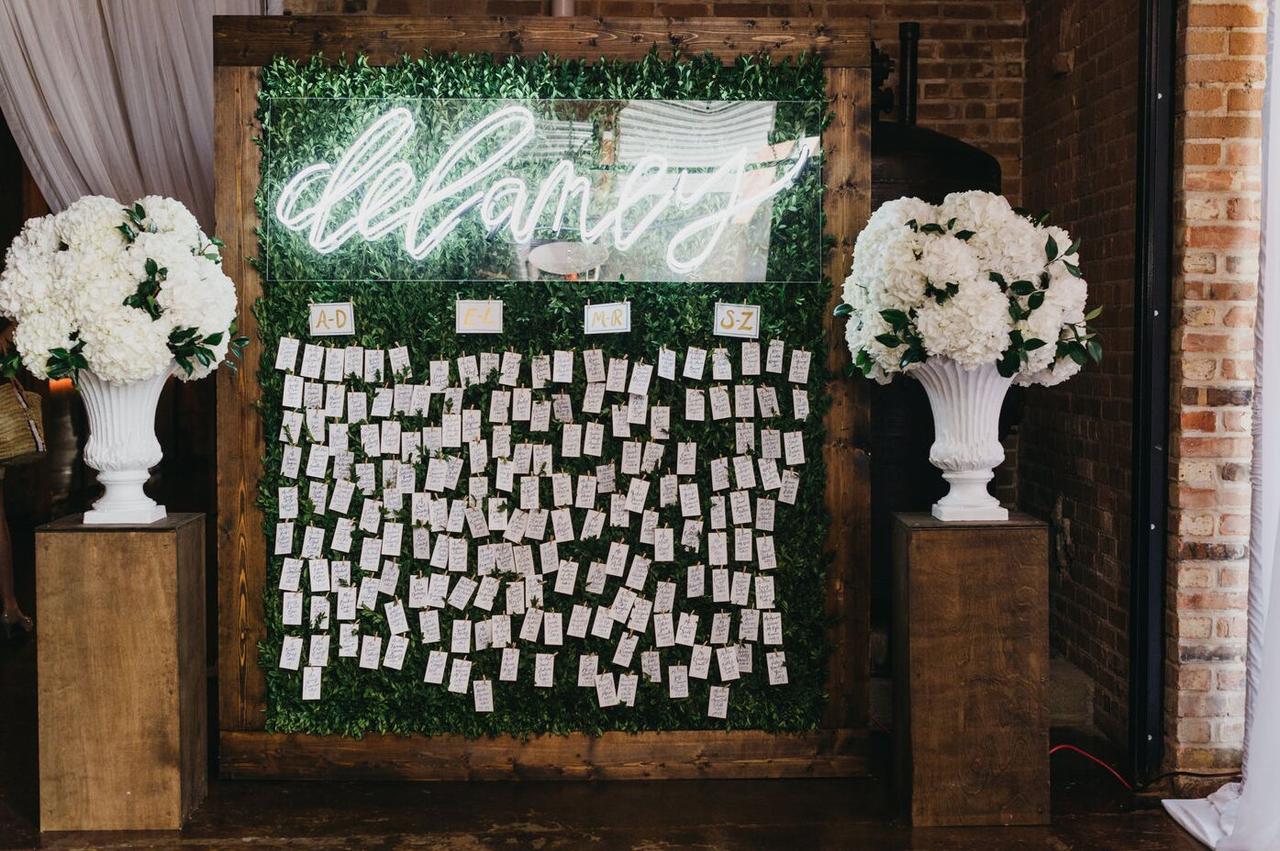 Neon Sign Wedding Escort Card Display
A glowing neon sign adds spunk and personality to your wedding decor, and your escort card display is a fabulous spot to show off a custom sign that bears your last name or initials.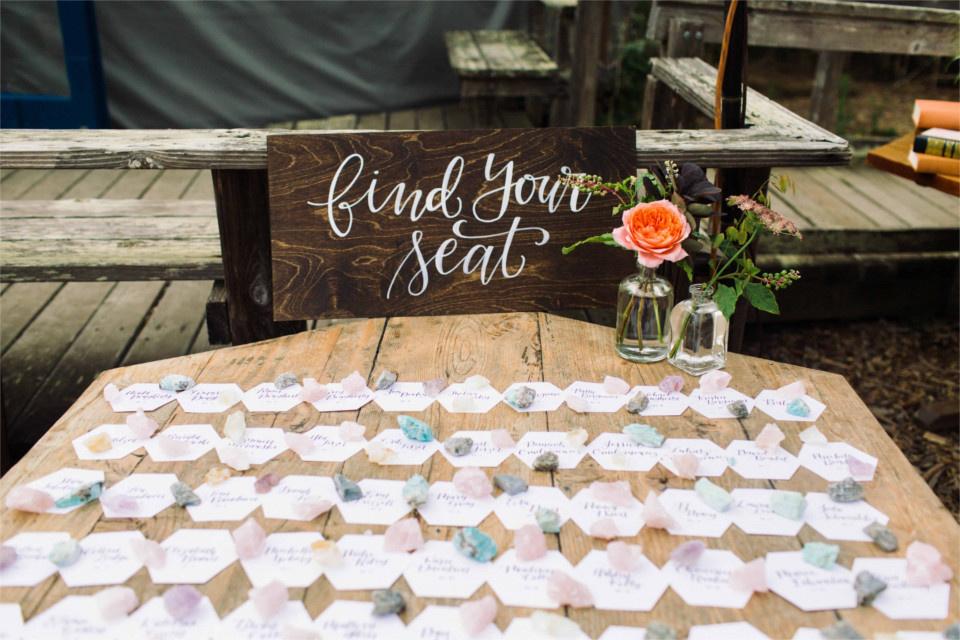 Wedding Escort Cards With Crystals
Send your guests to their seats with all the good vibes by pairing each wedding escort card with its very own crystal. You can choose the crystals based on their meanings or simply use stones that match your color palette. And you don't have to stop at escort cards—you can incorporate crystals into the rest of your wedding decorations for a cool bohemian look.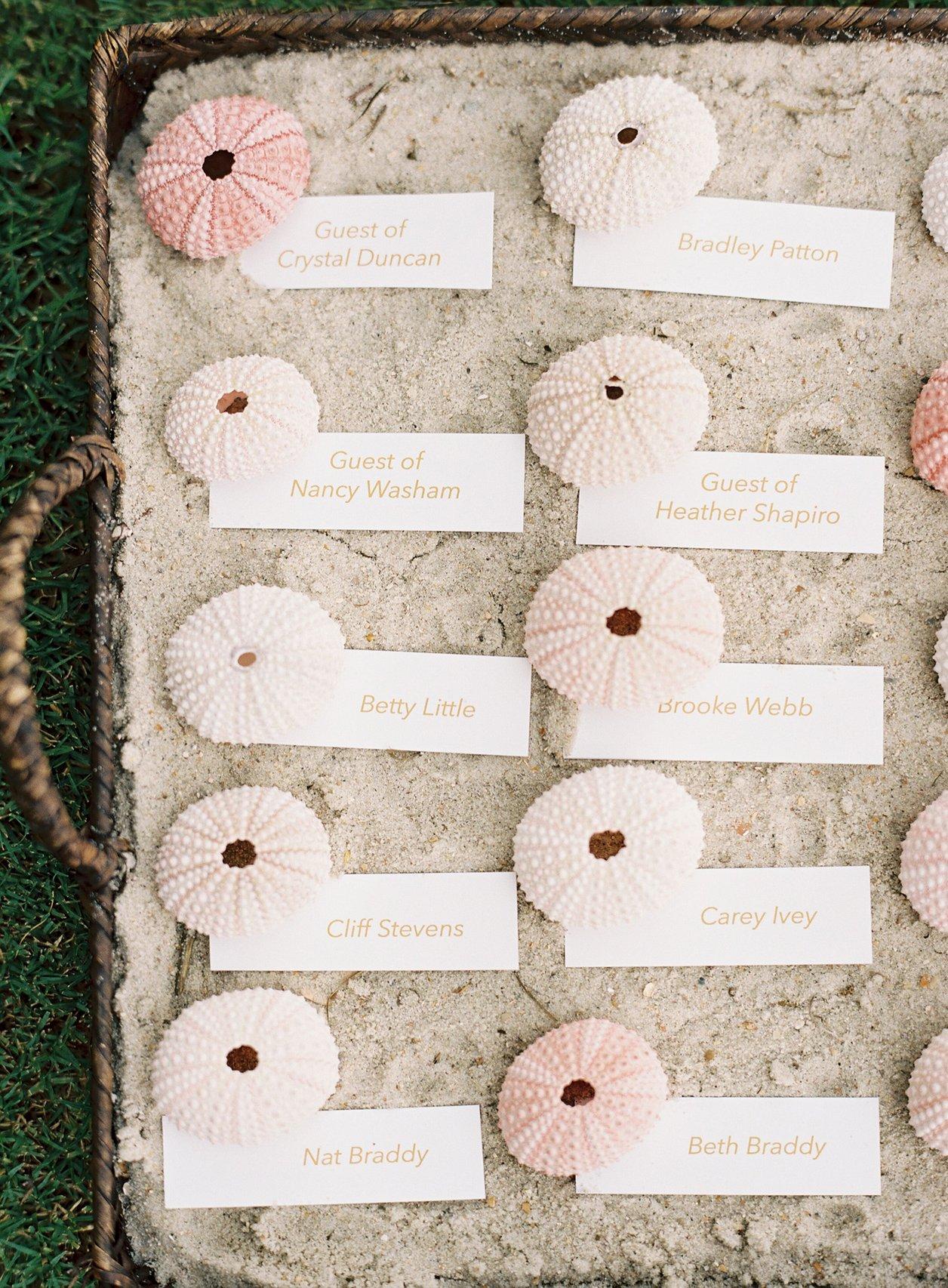 Seashell Wedding Escort Cards
Sea urchin shells make lovely wedding escort card ideas for a beach wedding or coastal theme. Use shells in the same color palette and place them on a bed of sand for the most decorative look. Another on-theme option: using colorful sea glass instead of dried shells.
Wedding Escort Cards With Lavender
For a classic garden wedding, display your escort cards in a tray of loose lavender buds. The natural fragrance will have your venue smelling heavenly!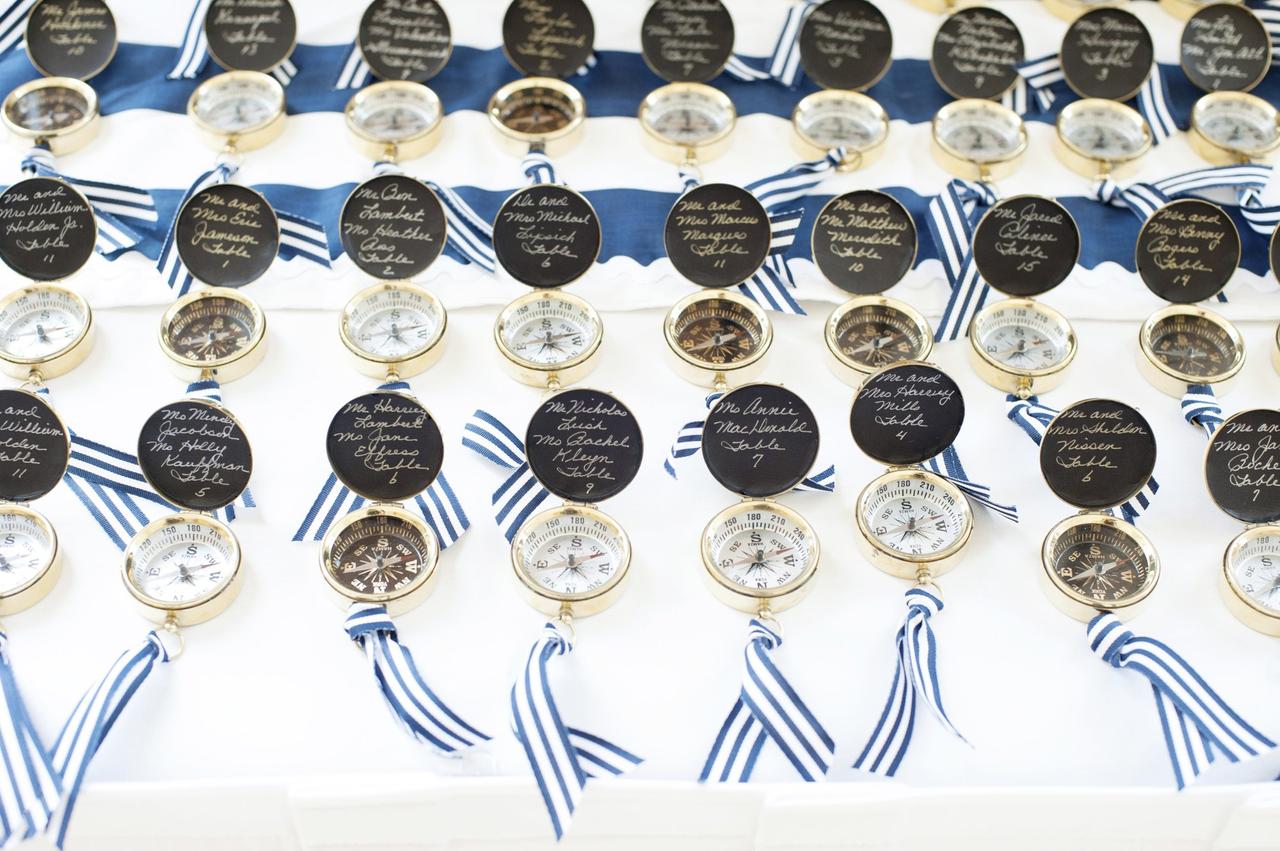 Compass Wedding Escort Cards
Personalized compasses tied with striped ribbons make decorative wedding escort cards if you're having a nautical preppy theme.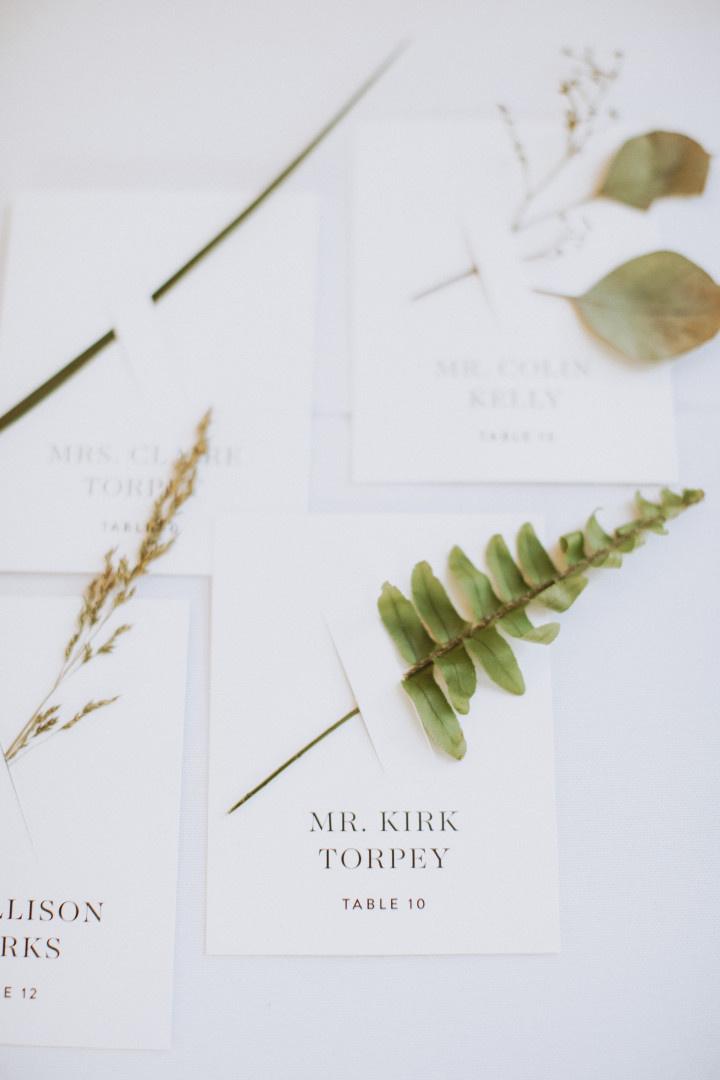 Wedding Escort Cards With Greenery
If your motto is "less is more," you'll love these simple botanical escort cards. Ask your florist to save any leaves that were removed while creating your wedding flower arrangements. Mixing and matching the greenery will only add to the earthy aesthetic.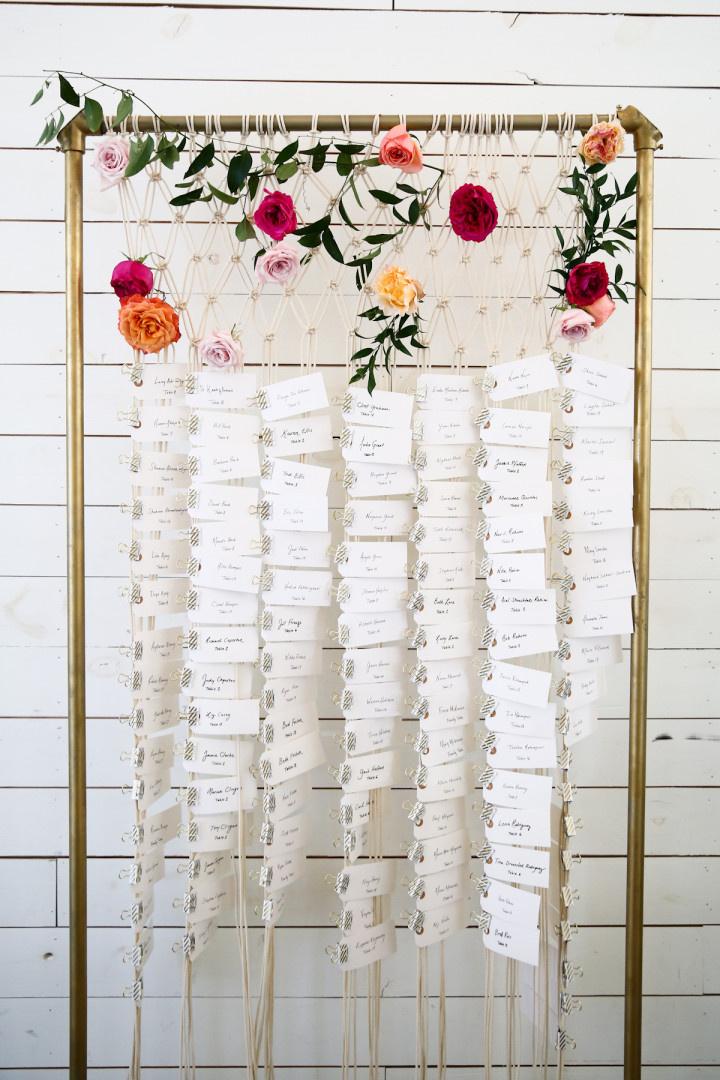 Macramé Escort Card Display
Macramé details are a must for any boho wedding theme. This innovative escort card display is giving us all the free=spirited vibes. Plus, you can repurpose the macramé as a wall hanging in your home after the wedding is over.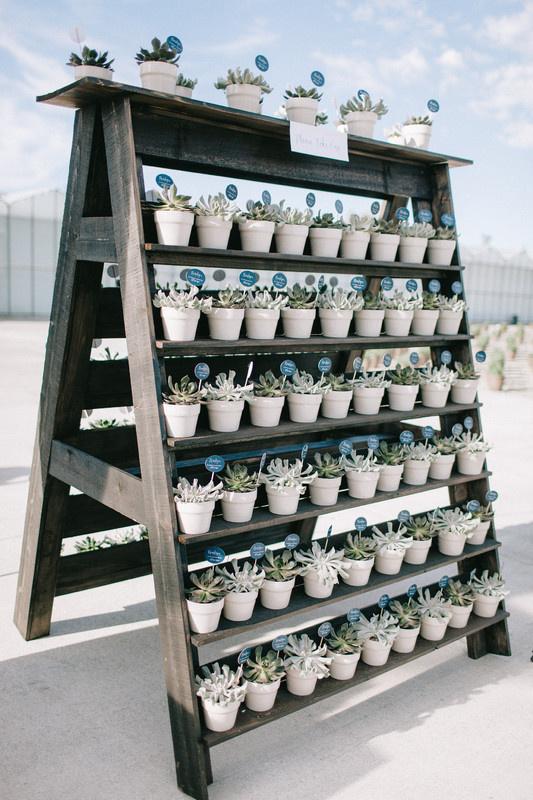 Potted Succulent Escort Cards
Potted succulents are a two-for-one deal when it comes to wedding escort card ideas. They make adorable escort cards, especially for an eco-friendly wedding or greenhouse venue, and at the end of the night, your guests can enjoy them as take-home wedding favors. Succulent escort cards also serve as a decorative accent when displayed on a ladder shelf like this.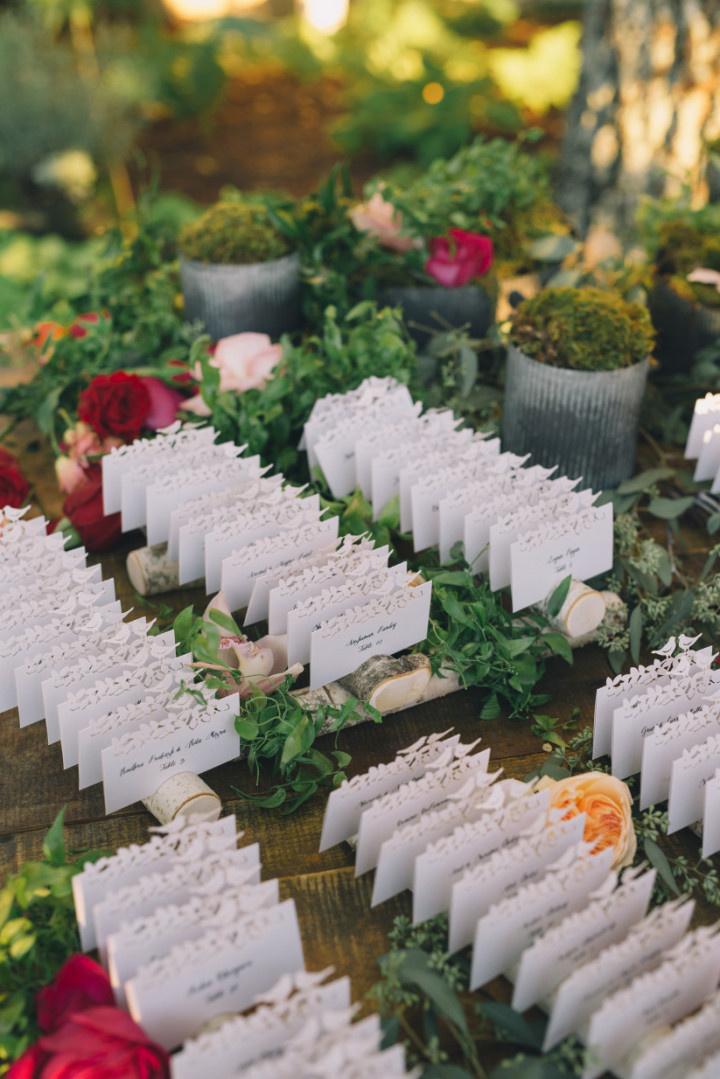 Branches & Greenery
You can create this escort card display relatively easily by repurposing tree branches or logs. Cut paper-sized slits into the branches at even intervals, and then add greenery and fresh flowers for bursts of color and texture.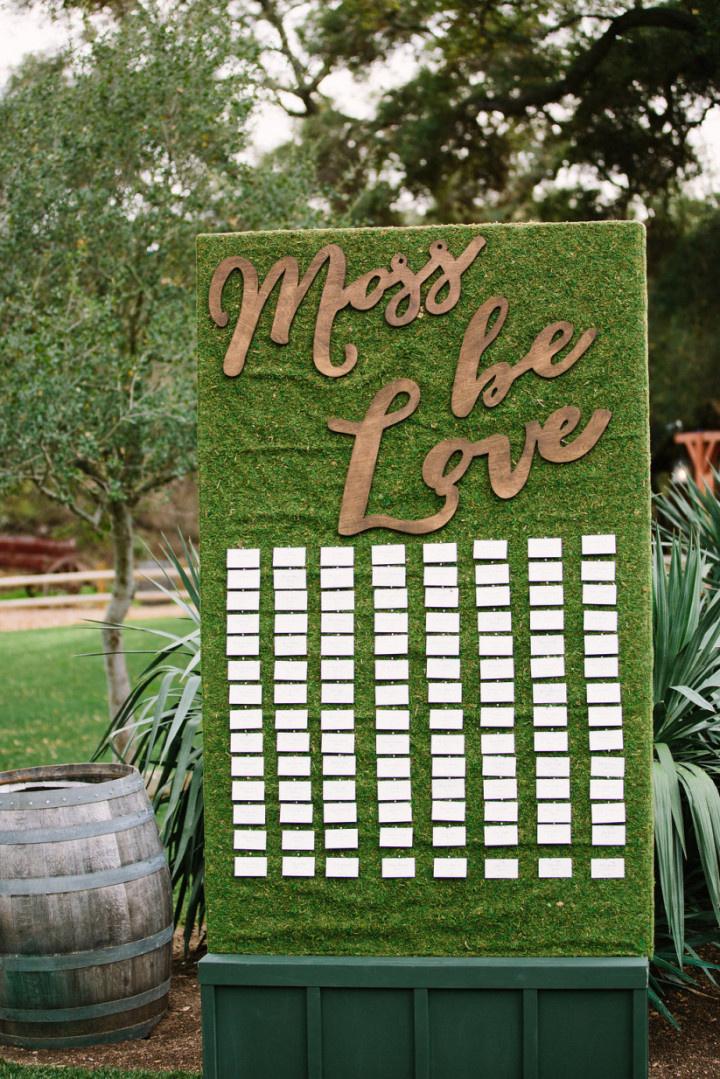 Moss Wall Escort Card Display
Are moss walls the new floral walls? We can't say for sure just yet, but this stylish escort card display could convince us once and for all. The dark wood laser-cut sign paired with the moss creates a woodland-inspired, fairytale effect that is perfect for an outdoor wedding at a vineyard or forest venue.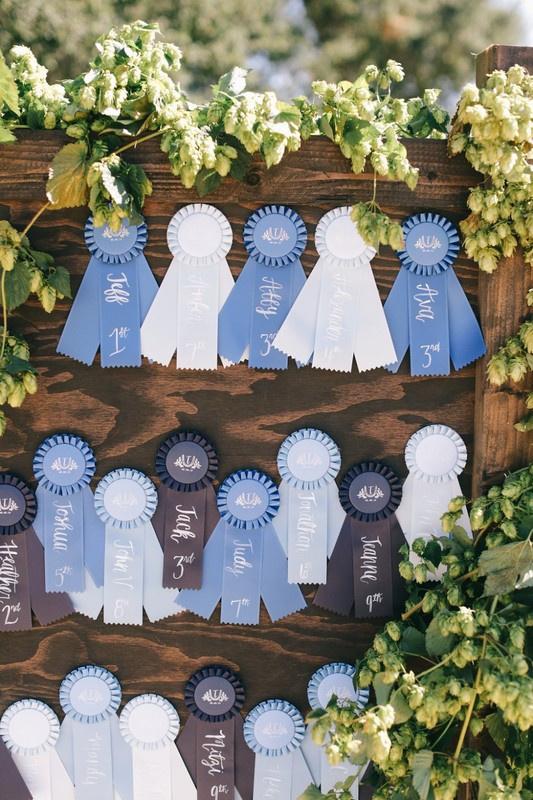 Champion Ribbon Escort Cards
Make your guests feel like the VIPs that they are by awarding them ribbons guiding them to their corresponding tables. This option is a whimsical take on classic style, and it's one of our favorite wedding escort card ideas if you're getting married at an equestrian farm or stables.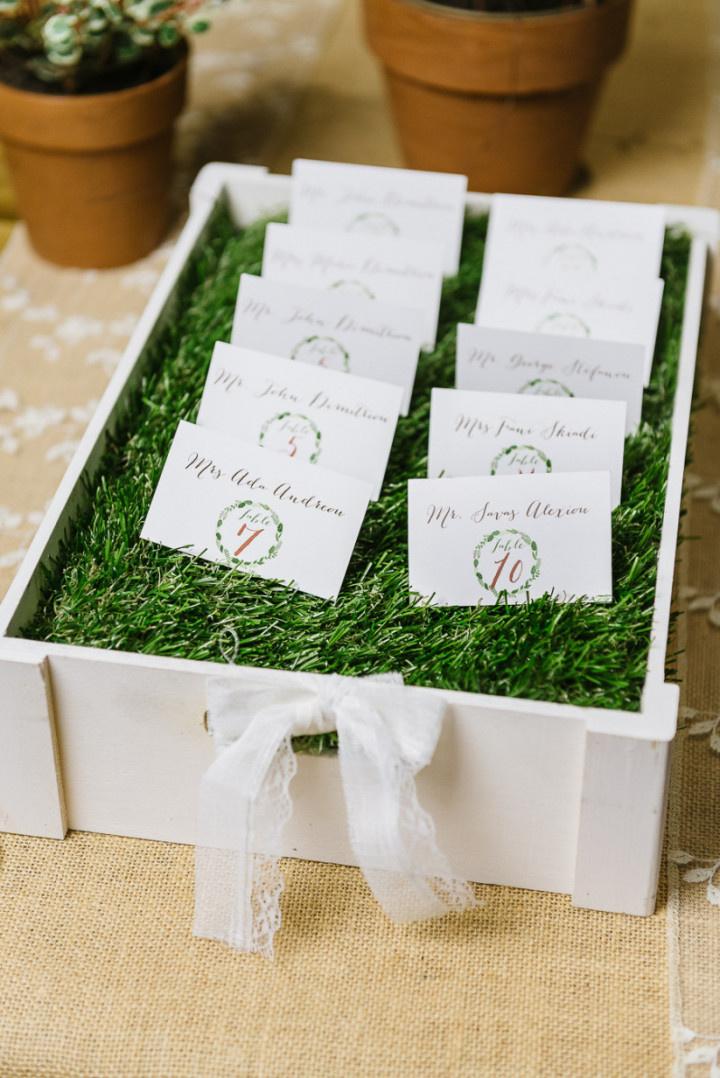 Faux Grass
Tuck your escort cards into neatly arranged crates of faux grass for a classic springtime vibe.

Moody Wedding Escort Card Display
Transform an ordinary wooden board into a decorative display by adding flowering vines along with your escort cards. The dark brown and burgundy hues in this display would be gorgeous at a moody fall wedding.