There's something extra sweet about saying "I do" in the springtime. The trees and flowers are budding, the sun is shining longer, and everything seems new again. Spring wedding style is inherently elegant and romantic, with a focus on fresh and lighthearted elements that reflect the joy of the season.
If you're planning a spring wedding, take a look at some of the prettiest ideas we've seen yet.
Season
Spring weddings can range from early March to mid-June. The spring months continue to be a very popular choice for weddings across the country, but they've seen some heavy competition from the fall months (especially October) in recent years.
Venue
Spring is known as the season of rebirth because after a long (and oftentimes dreary, depending on where you live) winter, everything magically becomes green and fresh again. If you're planning a spring wedding, celebrate the natural beauty and renewal of the season by choosing a botanical venue. Some of our favorites include conservatories, arboretums, gardens, and greenhouses. In the spring, these locations will have an abundance of flowers and plants in bloom, creating a picture-perfect backdrop for your wedding.
Color Palette
Traditionally, a spring wedding color palette is all about pastel hues or airy, cheerful colors. Think of the colors you see in bloom — pink, blue, yellow, purple, and green are just a few that come to mind. A good recipe for creating a balanced color palette is to choose two main colors, and then pair them with a neutral (white, gray, black, cream, etc.) for the most visually pleasing combination.
If pastels or bright colors aren't your thing, we totally get it. If you prefer richer tones, for example, red, plum, or emerald, choose one as your main color, and then accent it with a neutral and a "muted" pastel, such as French blue, mauve or sage green to achieve a happy medium. Anything too dark will typically seem out of place for a spring wedding.
Decor
If you ask us, we think that flowers should definitely play a big role in spring wedding style (we bet you didn't see that coming!). Go the floral-inspired route with patterned linens and china, or use actual flowers to transform your wedding venue into your own secret garden — think flower-covered ceremony backdrop, floral chandeliers, and a flower wall. If your floral budget is a little tighter, don't sweat it. Focus on using flowers where they will pack the most punch, such as your reception centerpieces, and invest in accents like greenery that will "boost" your arrangements.
Remember when we mentioned the idea of getting married at a botanical venue? If you choose a blossoming garden or conservatory, you can get away with using less decor, thanks to the existing flowers, plants and other details that are already filling the space. This gives you more room to allocate your budget to specific items, like a custom cocktail bar or renting those vintage tufted chairs you've always dreamed about.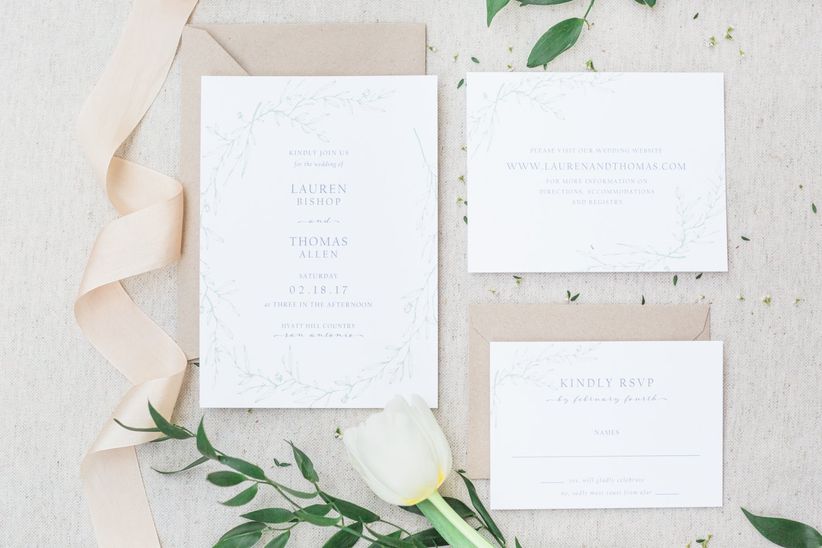 Stationery
Another way to incorporate flowers into your spring wedding is by using them on your stationery. Watercolor florals have been a favorite of ours ever since they became a trend several years ago, and they seem to be sticking around for the long haul. You can also go with a more subtle option, like these barely-there greenery details against a clean white backdrop. If you don't want your invitation suite to be totally covered in flowers, floral envelope liners look lovely and will add just enough of a "pop" to your invitation suite.
A few other accents we love for spring wedding stationery are laser-cut filigrees, preppy stripes, laurel wreaths, and calligraphy.
Flowers
If you're having a spring wedding, then consider yourself spoiled when it comes to your wedding flowers — and we mean that in the best way possible! Not only do you have your pick of flowers that are readily available year-round (hydrangeas, roses, lilies, orchids, dahlias), but you're also in luck when it comes to some of the most coveted blooms, including peonies, that can be difficult or expensive to find out of season. Other spring flowers include tulips, muscari, anemones, daffodils, lilacs, hyacinths, hellebores, and poppies.
Work with your wedding florist to create arrangements that really play up the beauty of the flowers. For weddings on the formal side, stick with a few types of flowers and uniform centerpieces on your banquet tables. If you want a more carefree look, don't worry too much about the arrangements looking perfect or identical. Centerpieces that have a slightly undone appearance will give off a picked-from-the-garden vibe that is inviting and peppy for a spring wedding.
You can even play around with unique vessel options for the arrangements. Garden-inspired elements work especially well with spring wedding style. Instead of traditional vases, have your florist display the flowers using terra cotta pots, wooden baskets, galvanized pails, or even cute vintage watering cans.
Attire
Spring weddings are the sweet spot when it comes to attire. Depending on where you're getting married, it probably won't be so cold that you need to be bundled up in a heavy coat the entire time, but it also won't be overwhelmingly hot either. Ultimately, your venue type should be the deciding factor for your wedding dress code.
If you're wearing a wedding dress, sleeves are a beautiful option, especially if you're having an early spring wedding (they can provide a bit of extra warmth in chilly temperatures). A dress with sleeves looks modern yet elegant at the same time. For a more relaxed vibe, choose a dress made from lightweight fabric that will move as you walk, such as organza or tulle.
Lastly, don't forget to factor in Mother Nature. We all know that the spring season can be notoriously rainy, and even though rain on your wedding day might seem like an inconvenience, it doesn't have to ruin your big day — you just need to plan ahead. Prep for inclement weather by stocking up on cute rain boots, umbrellas, and even matching raincoats for your wedding party to wear. We promise that they'll make for a one-of-a-kind photo op!
Thinking about a suit or tuxedo? Classic black and white is always in fashion, but it's not your only option. For weddings with a more casual dress code, we love a light gray, tan or light blue suit. All of them will emphasize the "fresh" feel of a spring wedding, and they tend to photograph wonderfully. If you're wearing a tuxedo, switch things up by going with navy blue instead of black.
Favors
Plant-themed favors are one of our favorite ideas for a spring wedding. These miniature potted succulents are adorable (and low-maintenance) favors, but you could also give your guests packets of seeds based on your favorite flower or vegetable.
Cake and Dessert
For spring wedding cakes, it's no surprise that flowers are one of the most popular decorations. Ask your florist to set aside a few extra flowers that your wedding cake baker can use for decoration — roses, ranunculus, peonies, dahlias, and greenery are all excellent options. If you don't want to use actual flowers, sugar/gum paste flowers are just as pretty. Ruffled tiers, ribbons, floral-painted fondant, and naked or semi-naked cakes are all gorgeous options, too!
If you're looking for alternative dessert ideas, bite-sized treats such as macarons, miniature pies, and cake pops are great if you love the idea of a garden party wedding. Incorporate seasonal fruits by serving parfaits, tarts and bars.