14 Wedding Flat Lays, Because We All Need Something Pretty to Look at Right Now
There's a surprising amount of work that goes into creating these pretty photos, so we're breaking down the process and how your vendors can help you create your own wedding flat lay.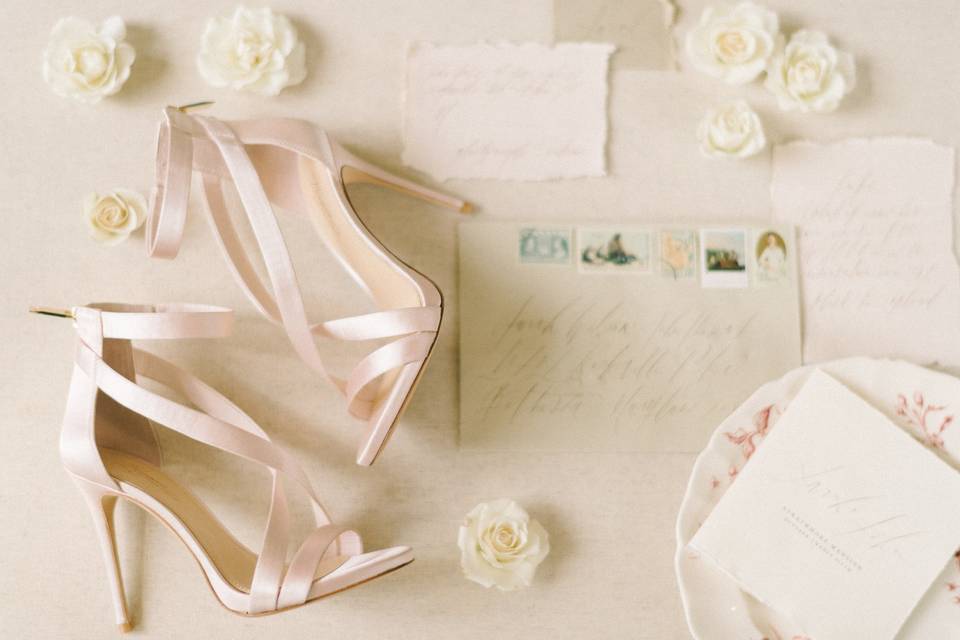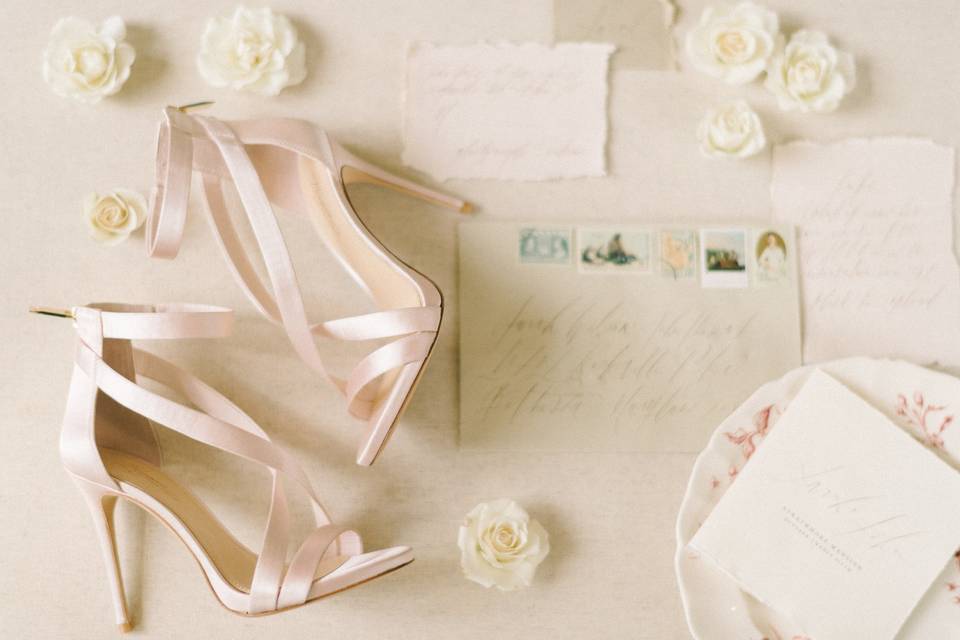 You'd probably recognize a wedding flat lay if you saw one, but the actual term might be something you're not as familiar with. A flat lay is one of the most popular types of wedding detail shots—in other words, a photo that doesn't include people. While the term "detail shot" can refer to anything from flower arrangements and ring close-ups, to place settings and cakes, a flat lay is different. This specific type of photo is carefully planned out by your wedding photographer (almost like a painting) using your stationery, accessories, and other personal items. If you've seen photos of wedding flat lays before, you already know that the end result can be a beautiful idea when it comes to capturing your special day.
Here's an explanation of what a wedding flat lay is and how you can work with your vendors to get your own.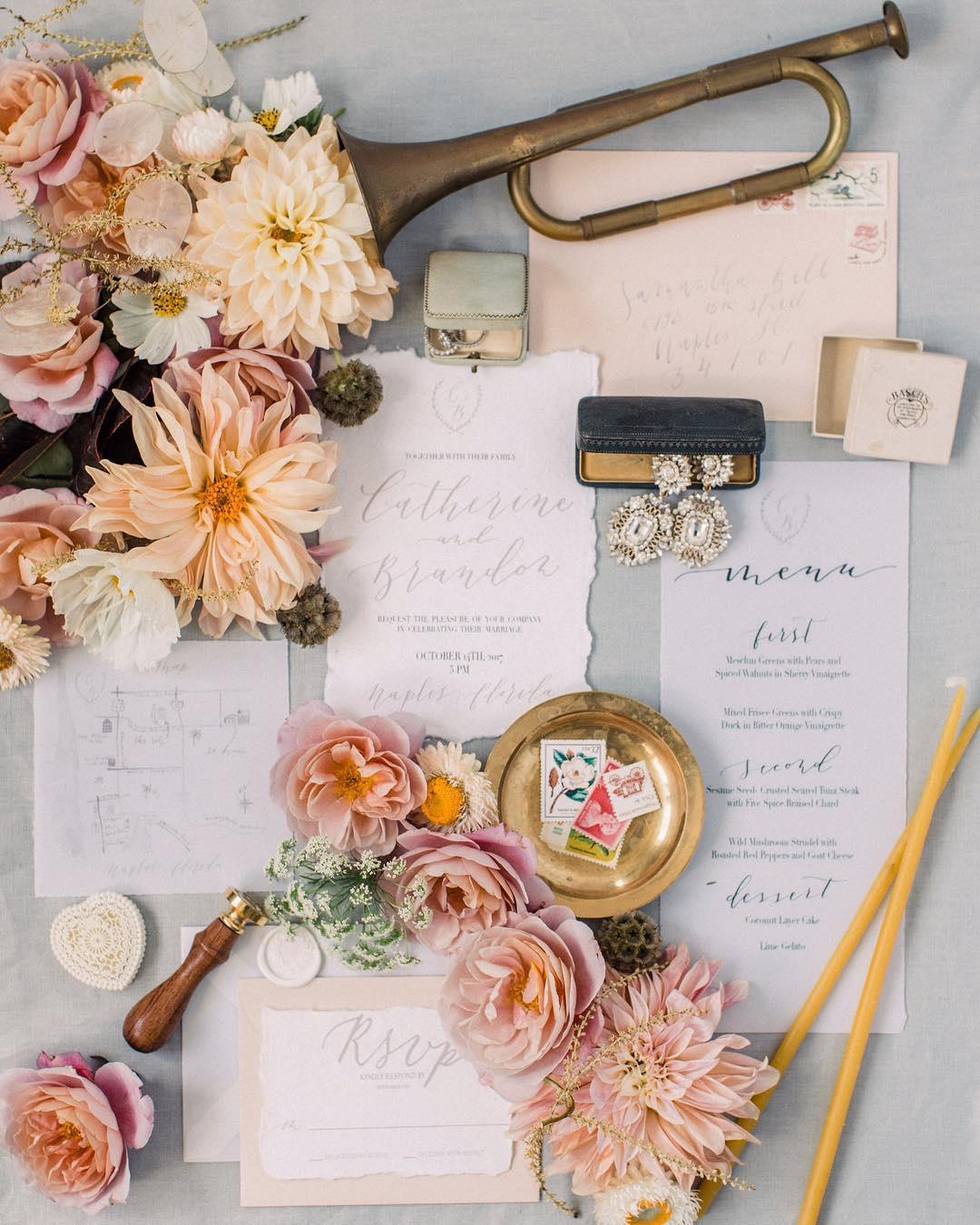 What is a wedding flat lay?
A wedding flat lay is a collection of objects that have been intentionally arranged to create a styled, editorialized photograph. The flat lay can be arranged on any flat surface (hence the name), such as the floor, a table, a piece of fabric, or a decorative styling board. You can think of it as a snapshot of your wedding—a flat lay should summarize the story of your special day by showcasing everything from your color palette to the general theme you've chosen.
On your wedding day, your photographer and/or your wedding planner will style the flat lay. The finished product will be an artistic photo (or series of photos) you can include in your wedding album. Flat lay photos can come in handy for your wedding vendors, too—many vendors use flat lays to showcase their work on social media and blogs. If your photographer hasn't already given you a list of items they'd like you to bring on your wedding day, ask if they're planning to do a flat lay and what you should have on hand.
What to include in a wedding flat lay
In order to set up and photograph their flat lays, some photographers choose to arrive a little earlier than necessary on your wedding day. Most photographers and wedding planners have curated their own flat lay styling kits, but they'll need your personal items to make the flat lay one-of-a-kind. Here are some examples of what they might want to use on the wedding day. (Pro tip: Pack everything in a sturdy box with a lid to keep the items protected and easy to transport.)
Wedding flat lay inspiration
Every photographer, planner, and wedding stylist has their own method when it comes to creating wedding flat lays, so no two are exactly alike! These pros have probably spent years fine-tuning their flat lay skills, so take a look at their previous flat lays to get an idea of how they will style yours when the day comes. In the meantime, use these ideas to get inspired about the different types of flat lays and the variety of items you can include.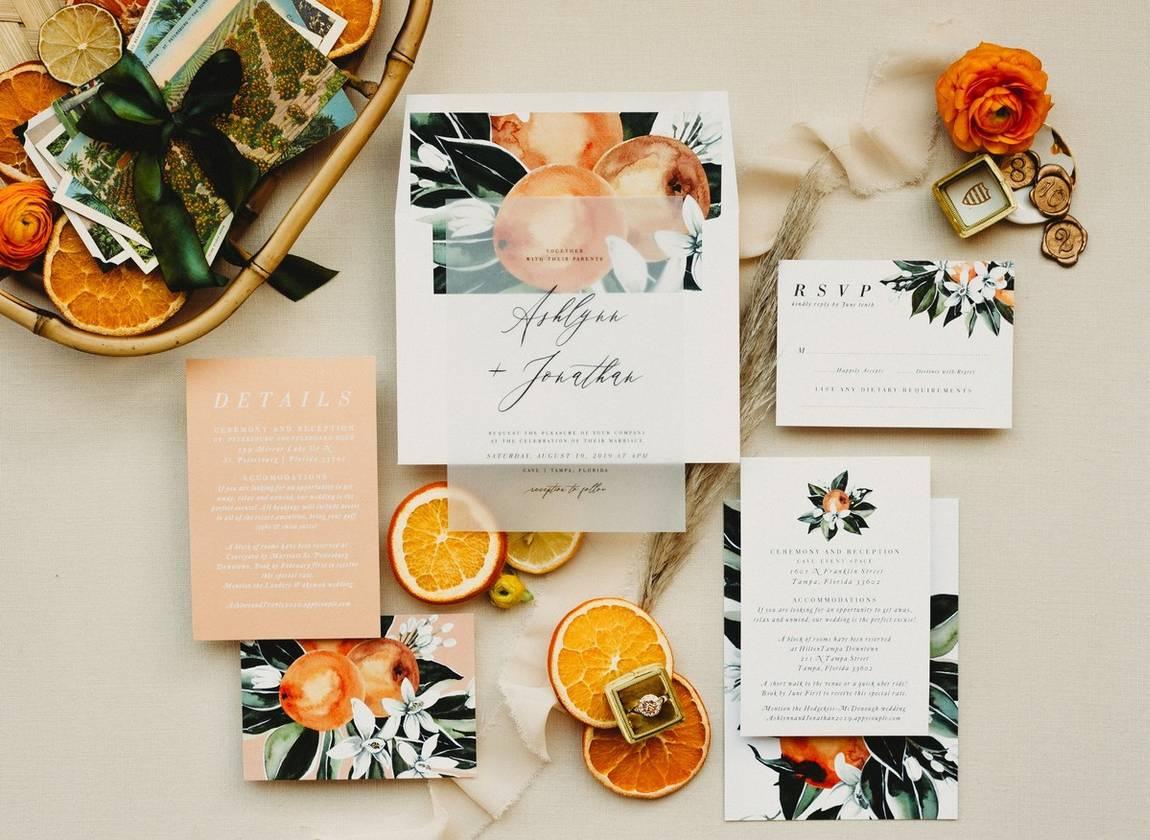 Dried orange slices are a unique addition to a tropical wedding flat lay, and they complement illustrated wedding invitations with botanical motifs.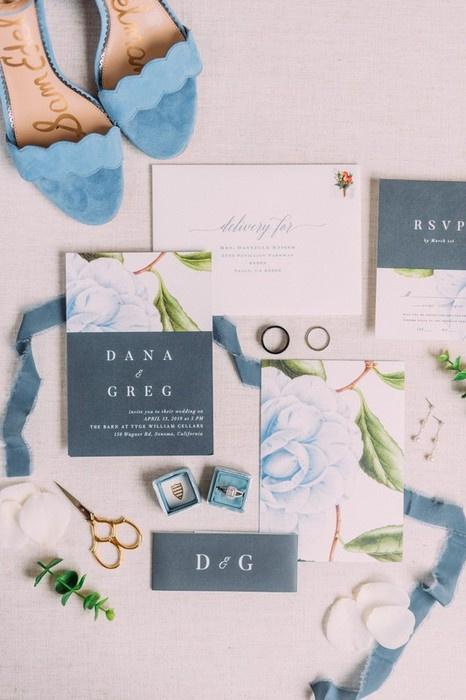 Use objects in different shades of the same color for a cool, monochromatic effect.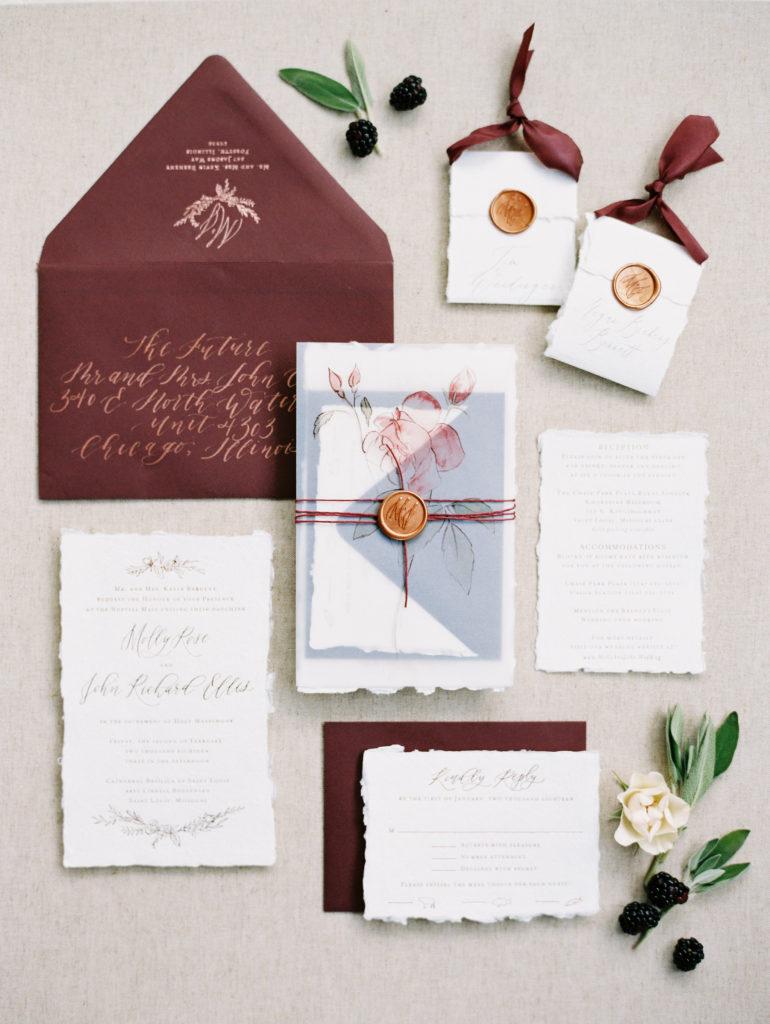 Think about contrast and texture—dark colors, like burgundy, navy, and black will pop against an oatmeal linen backdrop.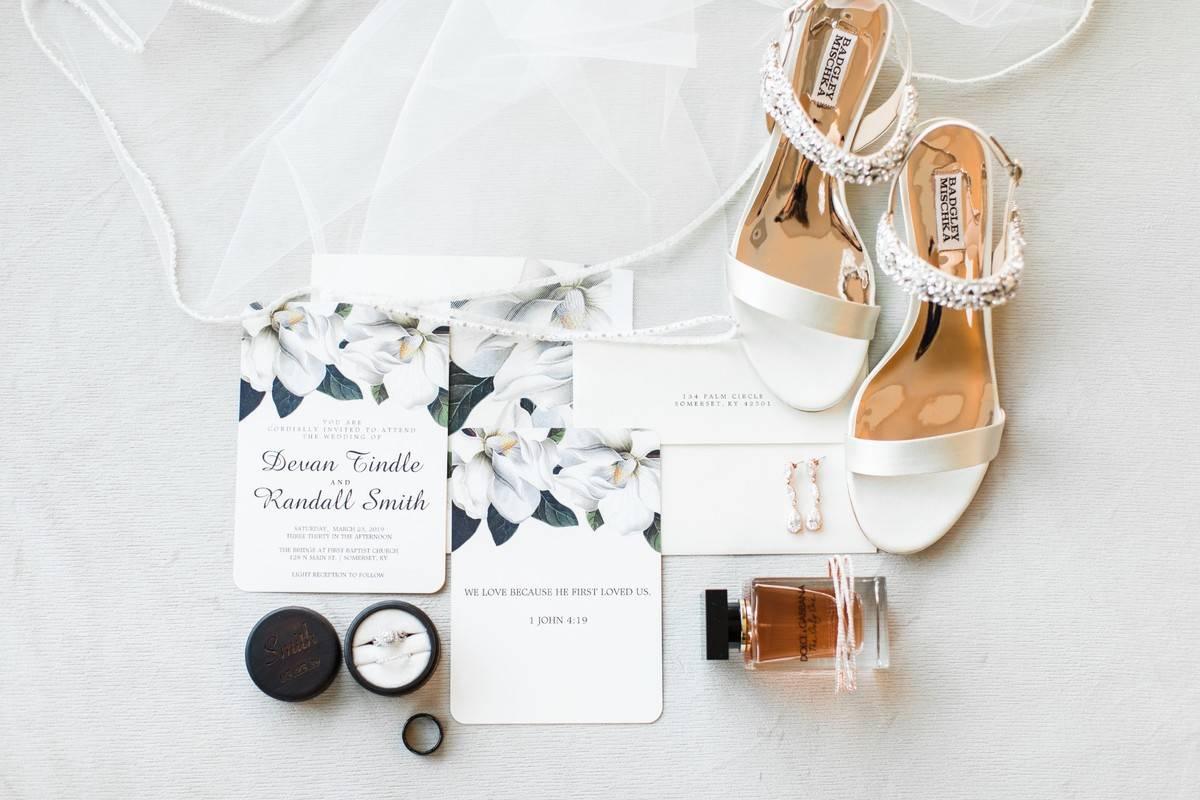 Adding the edge of a veil gives your wedding flat lay a classic, romantic look, especially if it's decorated with lace or beading.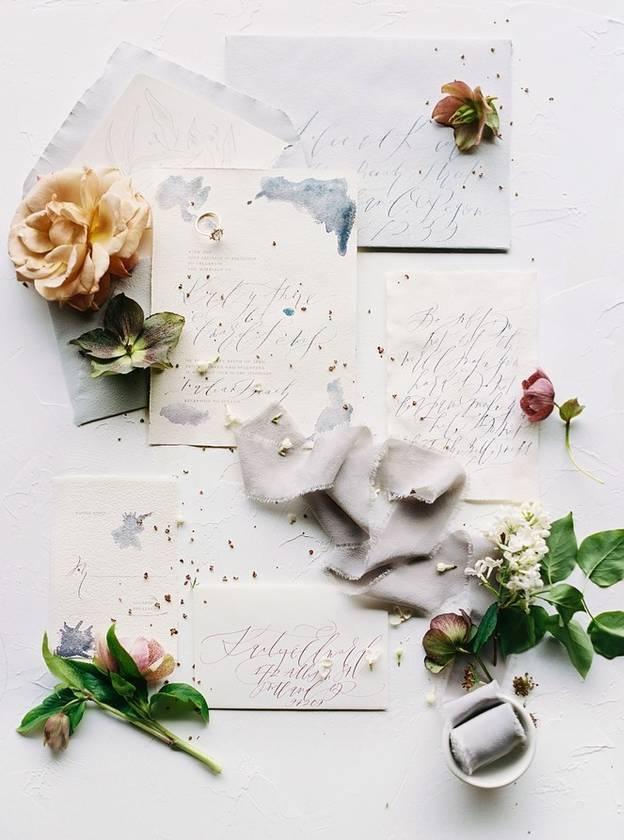 Scatter flower petals or seeds across your flat lay to recreate this abstract, ethereal design.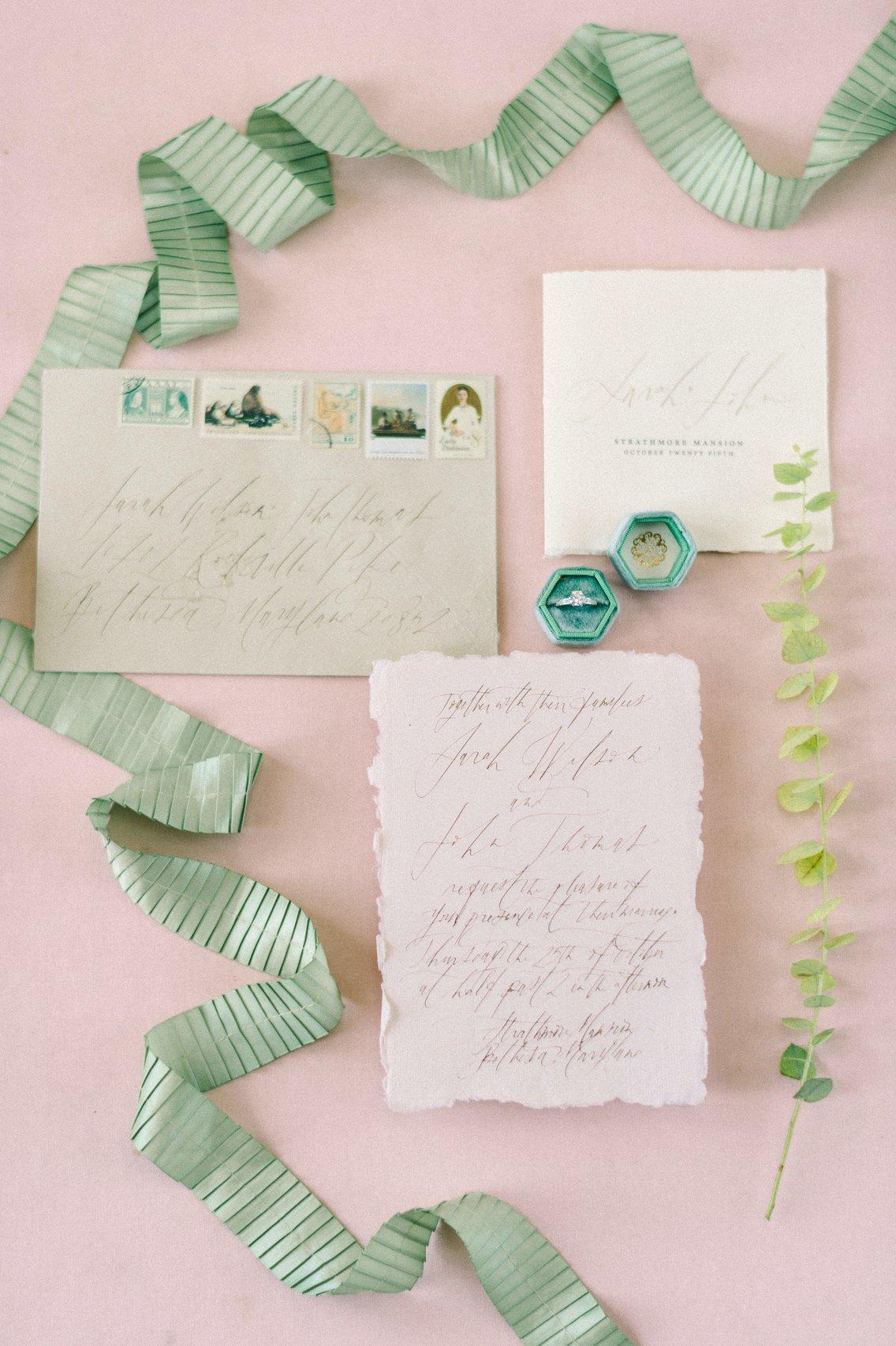 Look for ribbons with interesting textures, like this pleated mint green option.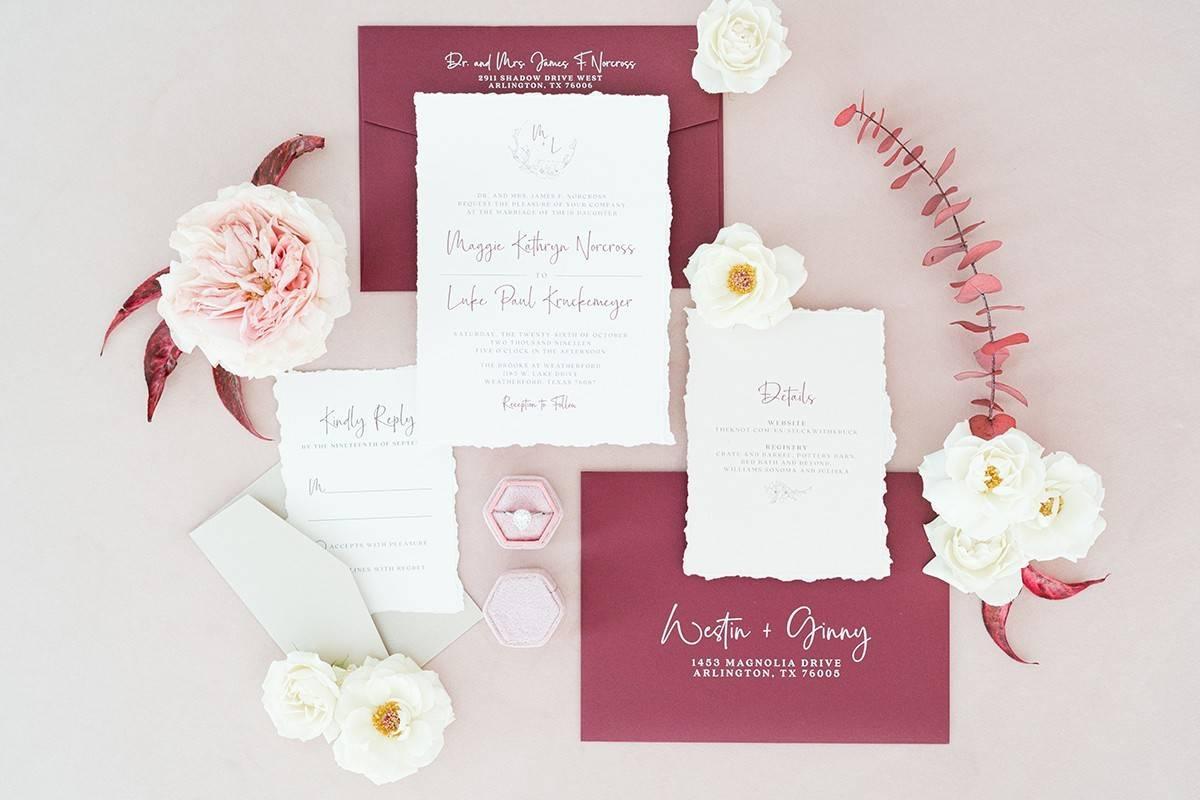 This flat lay feels balanced and fresh with the boldly colored objects placed around the edges of the layout.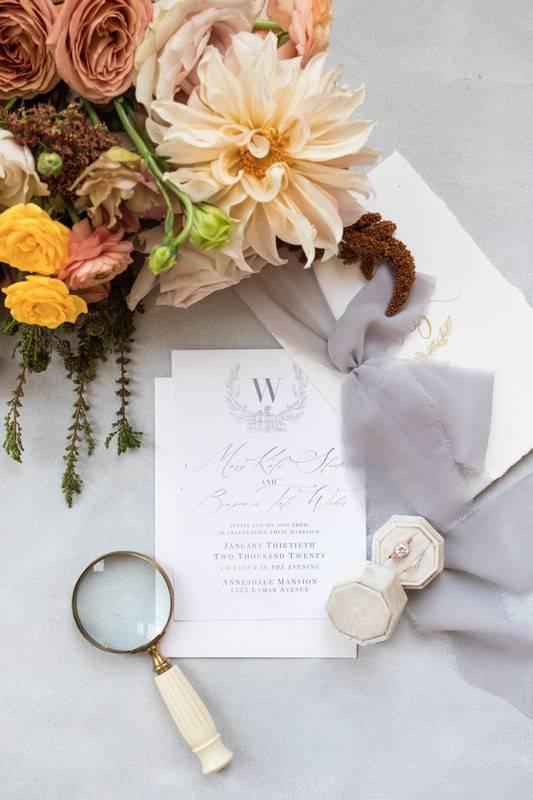 A vintage magnifying glass is a stylish way to accent calligraphed invitations and fresh flowers.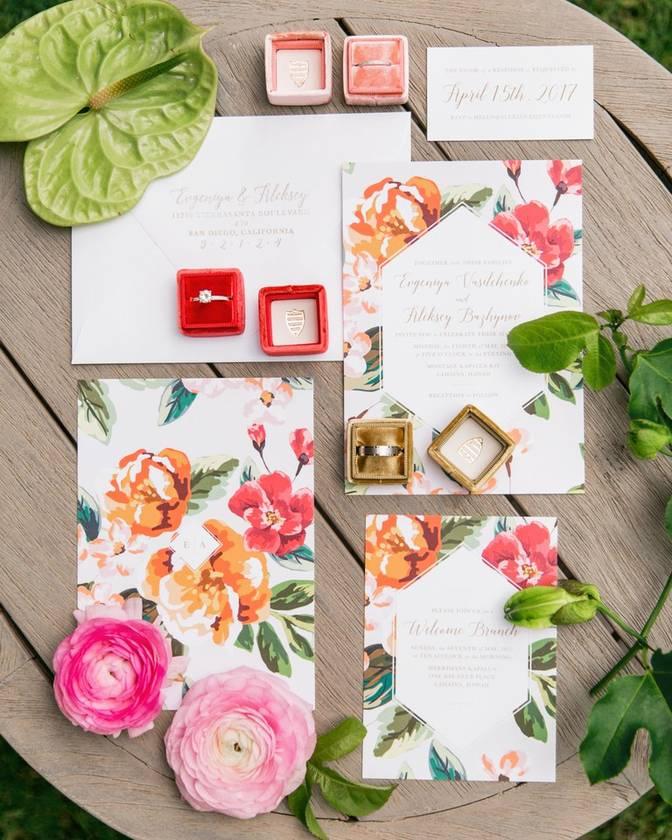 Match the colors of your ring boxes with your invitation suite for a playful, cohesive look.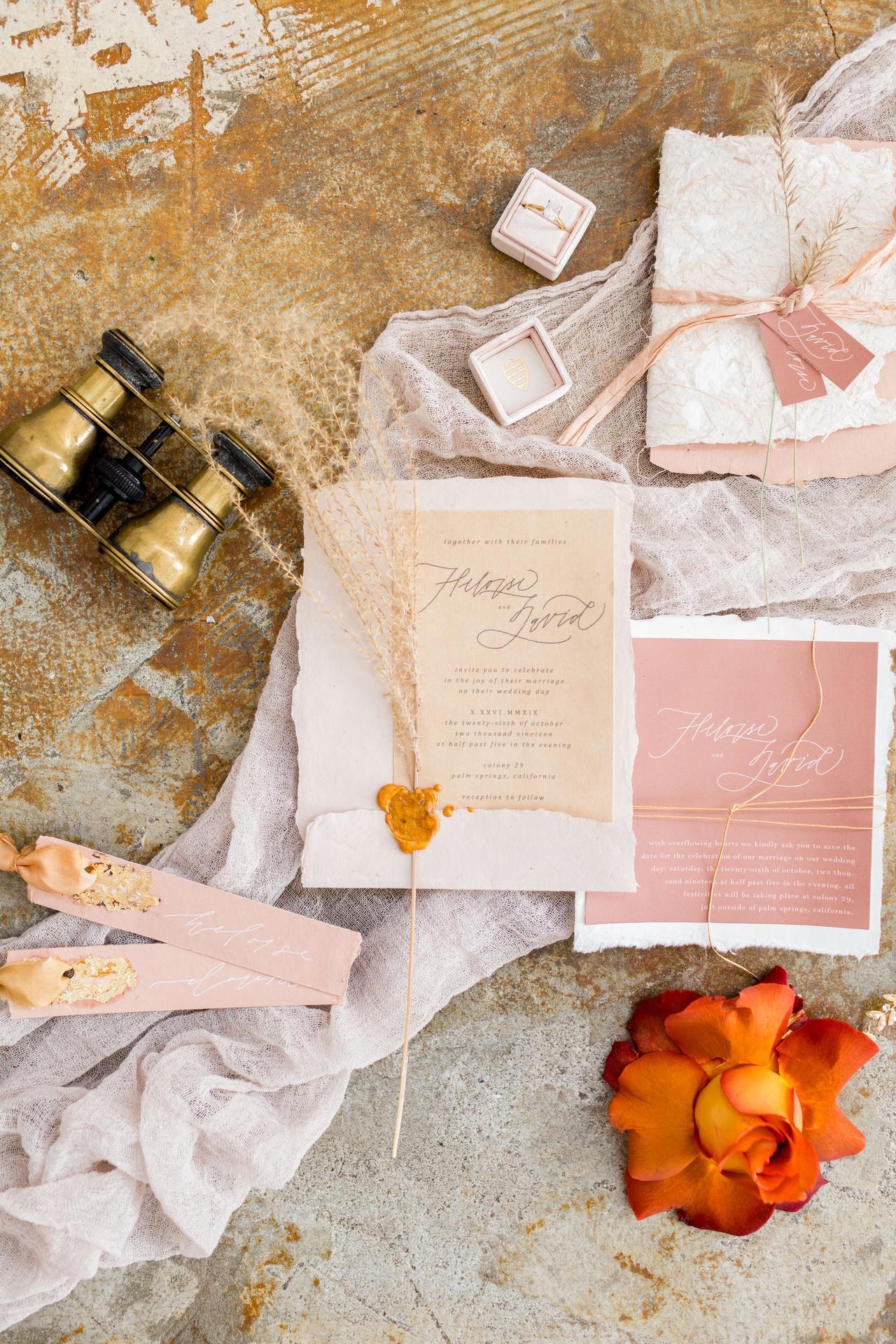 You can use sheer gauze fabric (believe it or not, this is a curtain!) to visually soften a harsh backdrop, like a concrete floor.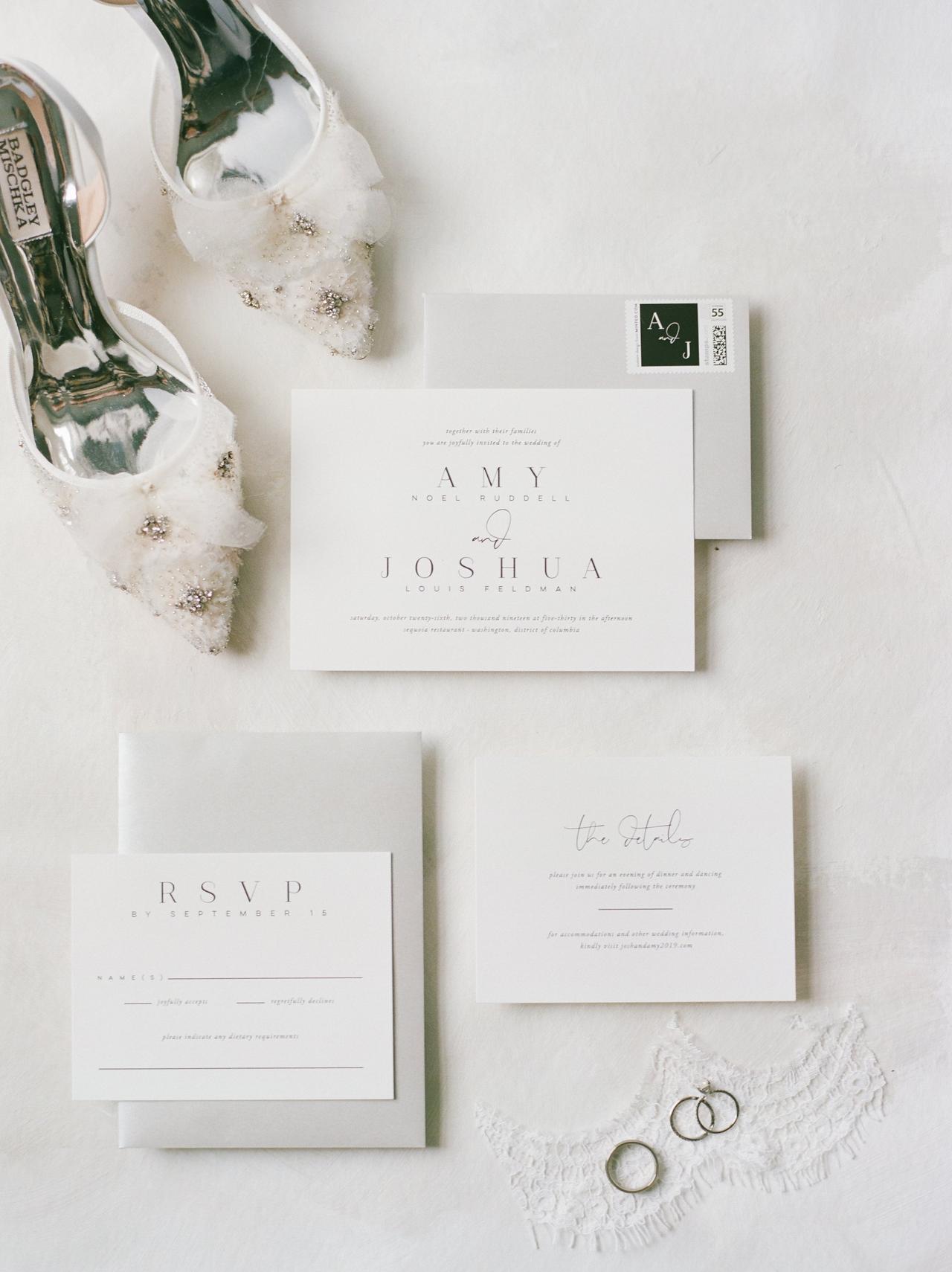 Ask your wedding seamstress for the fabric scraps that are removed from your dress during alterations—then repurpose the scraps in your wedding flat lay.
Disclosure: This post contains affiliate links, some of which may be sponsored by paying vendors.