12 Tips for Wedding Dress Alterations You Should Know About
Wedding dress alterations are part of completing your bridal look. Here are essential tips to help your bridal alterations process go smoothly.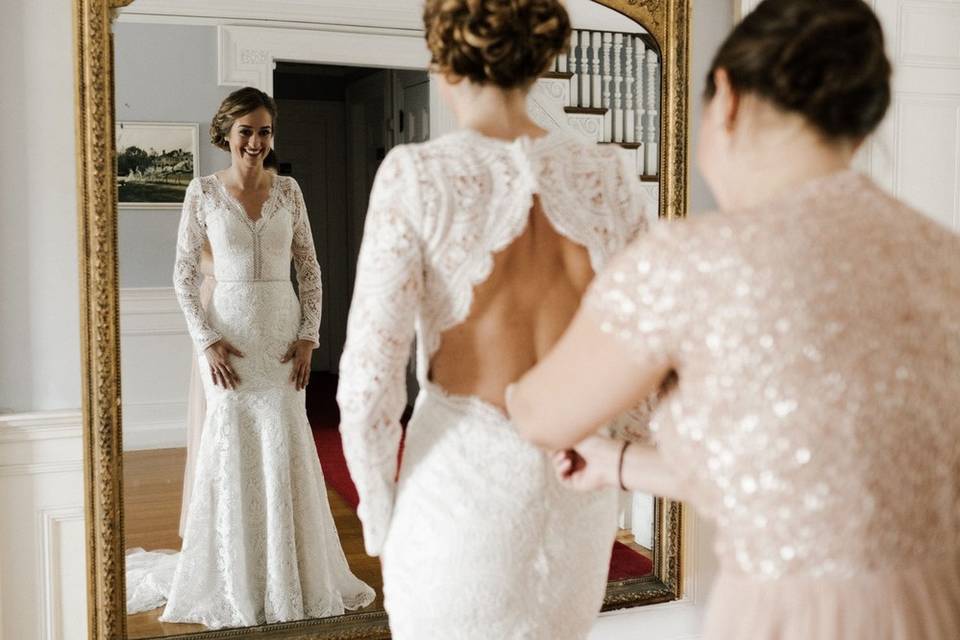 Congrats! You've found your dream wedding dress, but that doesn't mean the process is over just yet—you've got to get that gorgeous gown fitted perfectly to you and your figure. Whether your wedding dress needs just a simple hemming, a bustle added, or needs to be completely resized, we've got the expert tips for wedding dress alterations that you need to know. Not sure what to expect when meeting with a wedding seamstress for the first time? Don't fret! We're answering all your burning questions with our own tips for bridal alterations, plus the wedding dress fitting etiquette you need to know.
Keep reading to see our tips for wedding dress alterations and bridal fittings.
Your wedding dress probably needs to be altered no matter what.
Most wedding dresses are made in generic sizes, so very rarely does a bride's body match a designer's dress perfectly (for example, your gown might fit like a glove in the hips, but too loose in the bust). After you find your wedding dress, the bridal salon compares your measurements to the designer's size chart and orders the closest size of gown. Once it arrives, the dress must then be tailored precisely to fit your figure.
Schedule not just one, but three dress fittings.
Bridal salons and seamstresses usually recommend that you have at least three wedding dress fittings. Schedule your first fitting to take place roughly three months before your wedding day, the second fitting about a month before your wedding, and your final fitting at the two-week mark. You may need an additional fitting if you're adding extensive customizations, such as long sleeves or a train. Typically, your gown goes home with you at the final fitting—hooray!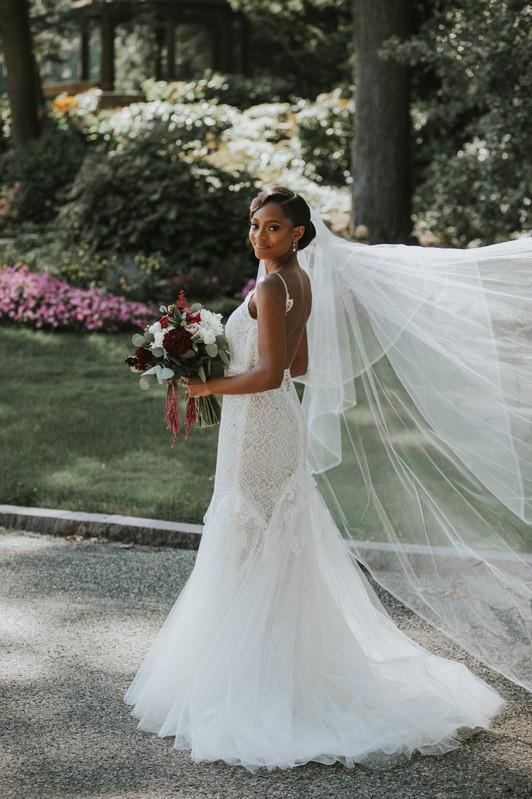 Ask your bridal salon about in-house wedding alterations.
One of the most important pieces of advice for wedding alterations is to ask your bridal salon if they offer tailoring services in-house. Not only is it a huge time-saver, but those seamstresses will have likely worked with your specific dress before (or similar styles by the same designer), and many shops will give you a small discount for doing your alterations in-house. But if they don't, don't panic! Your salon will likely be able to recommend a few trusted professionals who specialize in wedding dress alterations.
Bring the right bridal accessories.
For your first fitting, bring the shoes and undergarments you plan to wear on your wedding day, as these can greatly impact the fit of your gown. Donning a pair of sky-high stilettos will require your wedding dress hemline to be a different length than if you're opting for a pair of sparkly bridal sneakers or flats. Another pro tip for bridal alterations? To ensure your dress is tailored to the exact fit you want while walking down the aisle, be sure to come prepared with the shapewear, undergarments and jewelry you plan to wear on the big day.
Don't freak out if your wedding dress doesn't fit perfectly at first.
During your first fitting, you get to try on your actual wedding dress for the first time (woo hoo!). But don't panic if it doesn't fit perfectly—this is totally normal. Be direct with your seamstress about how you envision your dress looking and feeling, and if there are any significant changes you want to make, such as adding straps or altering the neckline. Most importantly, don't be afraid to be honest and ask questions! Chances are, your seamstress has seen it all, and they might have some fabulous expert advice to share.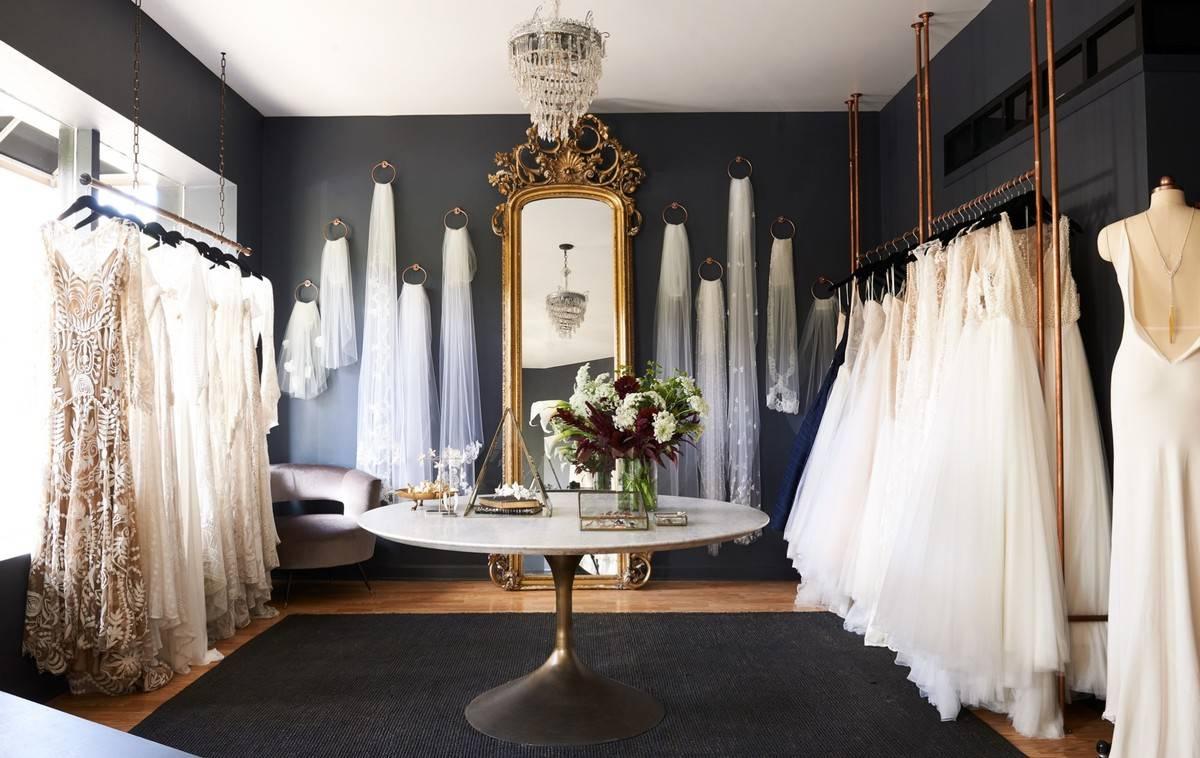 Speak up if your dress still doesn't feel right at the second fitting.
Your seamstress will do everything in her power to make sure your dress fits, but you're the one wearing it, so speak up if something doesn't feel right. Whether it's a zipper poking you, a strap falling down, or not enough support in the bust, being vocal will help you avoid having to book more fittings, which will ultimately allow you to stick to your dress timeline.
Be selective when choosing your entourage.
It's proper wedding dress fitting etiquette to bring only one or two close friends or family members to get a second opinion. Just like dress shopping, you want to avoid bringing too many people—all those opinions will stress you out and make the tailor's job that much more difficult. At the last fitting, bring at least one person who will be helping you get ready on the wedding day—the seamstress will want to show them how to zip you up, lace your corset, or bustle your train.
Include wedding dress alterations in your overall budget.
Don't forget about wedding alterations when deciding what you're comfortable spending on a dress. While the cost of alterations varies depending on your dress and the type of adjustments, most brides spend a few hundred dollars—and sometimes closer to $1,000. The more you plan on customizing a dress, the more you'll spend.
Wedding dress alterations FAQs
How long does a dress fitting appointment last?
On average, you should plan for your first wedding dress alterations appointment to last about an hour. The first appointment will take the longest—especially if you're making extensive customizations, like adding sleeves or changing the neckline—since it's the first time your seamstress will see you in the dress. Following your first appointment, each fitting typically lasts less than 30 minutes.
How much can you alter a wedding dress?
The exact bridal alterations you can do will depend on your dress—the fabric, beading (if any), and whether you purchased it as a sample size or had it made to order will all make a difference. But in general, many experienced seamstresses should be able to work their magic and can completely redesign your gown, if that's ultimately what you want. From adding corset panels to shortening straps, inserting a bustle, adding lace, sewing cups into the bodice, raising the hem, etc., your options for wedding alterations are practically limitless. When purchasing your wedding dress, always ask the retailer or designer about the types of customizations that can be made. If they're not able to accommodate your requests during the design process, they may be able to refer you to a professional seamstress who specializes in working with their gowns.
Can you alter a dress that is too small?
While it's easier to take in wedding dresses that are too big, a professional seamstress should also be able to alter your dress if it's too small and needs to be let out. In general, most wedding dresses have seams that can be let out by an inch or two, which is ideal if you only need your gown to be slightly bigger. To go up several dress sizes, your seamstress can add a lace-up corset back or gussets (fabric panels that blend into the sides of the bodice).
What if I lose or gain weight before my wedding?
Even if you have your wedding dress a year before your wedding date, most seamstresses don't recommend having it altered until about three months before the big day. At that point, you're not likely to experience drastic weight fluctuation that will affect the look of your dress. After your first fitting, you should plan for two or three additional appointments: one or two a month before your wedding, and the final fitting/dress pickup about two weeks before your wedding. This gives your seamstress plenty of opportunities to ensure that the dress fits like a glove, even if your weight has changed by a couple of pounds.