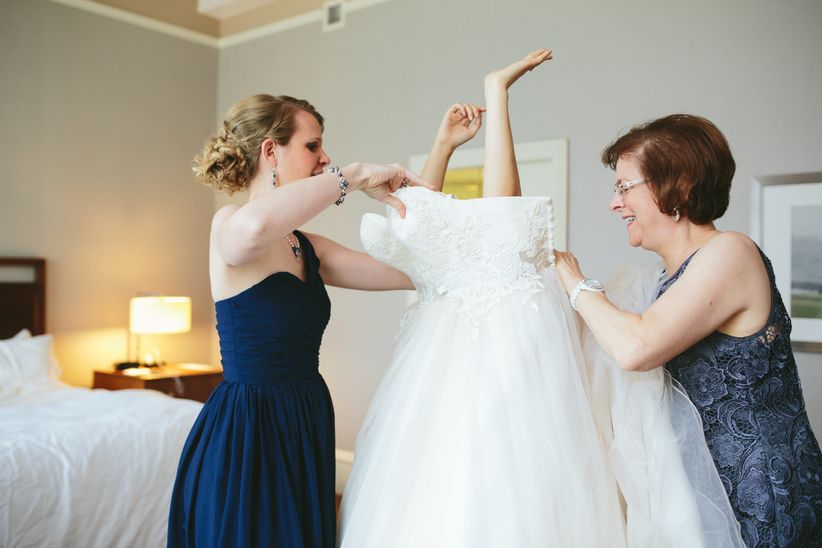 Photo: Greybird Galleries
Finding information on shopping for your wedding dress is easy. Perhaps too easy. Not to mention all the people who will give you unsolicited tips on finding a great gown when you tell them you're headed to the altar. But what about shopping for wedding undergarments? It seems that everyone is hush-hush about this key topic. Until now.


Here are 10 tips on finding the perfect bra, shapewear and panties to wear under your gown.
Opt for no bra.
Many wedding dresses are form fitting and have enough structure to support your chest and stomach. But if your gown doesn't provide that support, you can
ask the tailor
to sew in cups to make you feel more comfortable. It's up to you entirely.
If you don't feel comfortable with going braless...
Try a strapless bra or a corset, says Dionne Morrison, a bra fit expert at
Baba's Lingerie
in Kingston, Jamaica. If you would feel better with more coverage, opt for a bridal corset. As an added bonus, this corset will help shape your stomach.
If you're wearing a dress with sleeves...
You're in luck! You may be able to go ahead wear a regular bra—if the entire thing will be covered by your gown, of course. Morrison suggests purchasing a white one or one that matches your underwear. Opt for a fancier one than your everyday options. This is your wedding, after all.
Photo: Jessika Feltz Photography
Select shapewear that works for you.
Many women wear Spanx or shapewear when they go out. Feel free to wear your favorite piece under your gown too. Just make sure it's not too restrictive. "Remember, you'll be wearing it for six-plus hours, so you want to be comfortable," says Carrie Huyett, wedding dress designer and owner of
Carrie's Bridal Collection
in Chamblee, Georgia. "A simple waist cincher is often all that's needed, as opposed to a full corset."
The shapewear you select all depends on what areas you need to smooth out. If it's your lower belly, opt for high-waisted shapewear panties. If you want a more defined waist, a waist cincher might do the trick.
Test out your undergarments.
Try wearing your undergarments before your wedding. Remember that you'll be dancing, eating and drinking the night away. If the piece you've selected is too constrictive, return it for a better fit.
When shopping for your wedding-day undergarments, try bringing a dress that has a similar cut or is made out of the same material as your wedding dress. Likewise, you can bring photos and measurements so the bra fitter can help you pick out items that won't show under your gown.
You should also bring your undergarments to
all of your dress fittings
, both to ensure that your dress fits properly over the undergarments, and also to make sure you can't see your underpinnings through the gown.
Watch out for sheer gowns
Sheer gowns might look gorgeous (and are very on-trend these days), but sometimes they can show a little too much.
"Lighter-weight or sheer dresses might show the wire bones of your shaper. Make sure you get one without the boning (and a wireless bra) if the fabric of your dress will show it," says Huyett.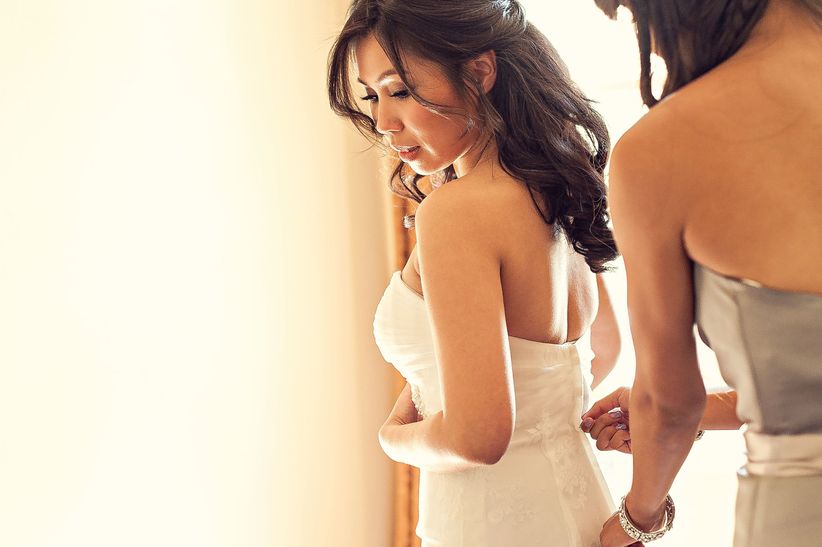 Photo: Melvin Gilbert Photography
All about underwear
"The wedding dress, of course, will dictate which style of underwear she wears on the wedding day," says Morrison. If you opted for a tight, form fitting gown (think Pippa Middleton's famous bridesmaid dress), you'll want seamless panties that won't show and have no pattern. You also can wear thong underwear. Match the color of your panties to your bra or corset.
Avoid stick-on bras
Unless you've worn them before, it's best to not wear sticky bras. "Avoid the tape on and silicone type if you've never worn them before. You don't know how your skin might react to the glue in it," says Morrison.
Stick with what you like
If you don't feel comfortable in the lingerie you've tried on, you're not going to feel comfortable. Period. Don't force it. "If you're not a thong person, don't wear a thong on the wedding day," says Morrison. "Same for the bra – if your busts are heavier, stick to a corset, if available."
The last thing you'll want on your wedding day
is to fret
about is your undergarments. Wear what feels and looks good.
The finishing touches
Don't forget the garter. Even if you
aren't planning on doing the garter toss
, it's a nice tradition to wear one on your wedding day—particularly if it's an heirloom you can pass down to future generations. It also can be an easy "something blue."