The Best Bridal Undergarments to Wear Under Your Wedding Dress
Build the perfect foundation for your wedding attire with these top tips.
We have included third party products to help you navigate and enjoy life's biggest moments. Purchases made through links on this page may earn us a commission.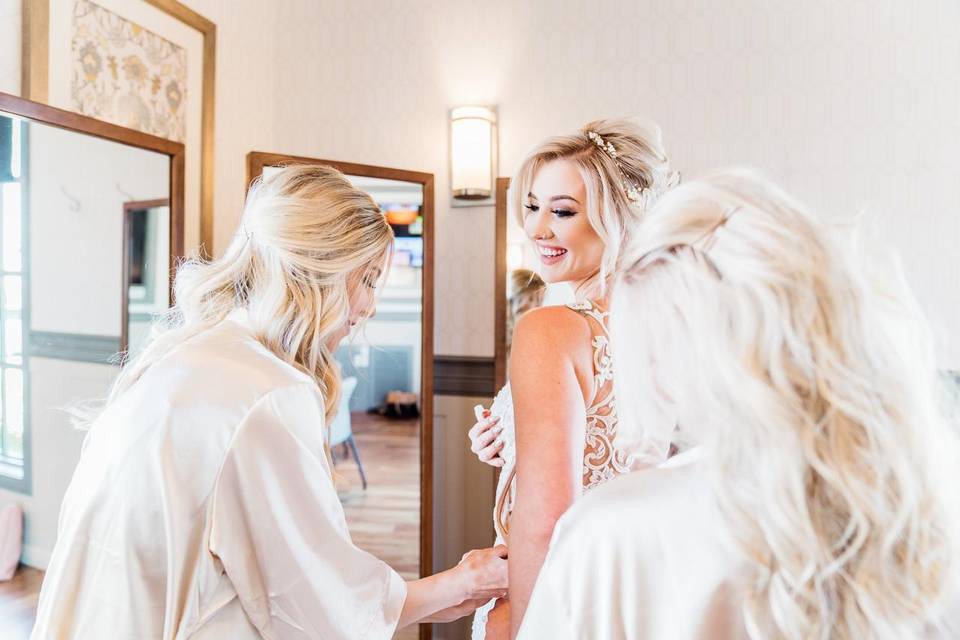 Congratulations—you've checked finding your dream attire off your wedding to-do list! Now it's time to figure out what to wear under your wedding dress. It might take some trial and error before you find the right wedding dress undergarments, but we guarantee there's something out there that works for your body type, preferences, and dress silhouette. Below, we're sharing suggestions for wedding-worthy shapewear, bras, and underwear from our favorite online retailers. But first, check out our top shopping tips to find the perfect foundation garments to wear under your wedding dress.
How to Shop for Wedding Dress Undergarments
Not sure where to start? We totally understand—it's not every day you have to shop for super-important underwear, after all! Follow these steps to make buying your bridal undergarments a breeze.
1. Take the style of your wedding dress into account.
The number one thing to keep in mind when shopping for underwear is your gown's silhouette. For example, a traditional bra with straps won't work with a strapless dress. If you don't feel comfortable with going bra-less, try a strapless bra or a corset, says Dionne Morrison, a bra fit expert at Baba's Lingerie in Kingston, Jamaica. Similarly, if you're wearing a form-fitting silhouette, seamless underwear is a must. Otherwise, you run the risk of a VPL (read: visible panty line) beneath your wedding dress.
2. Go with undergarments you feel comfortable in.
When it comes to wedding attire, comfort isn't always a priority—but it should be, and the same can be said for your undergarments. Wear whatever makes you feel confident and supported. For some brides, that means wearing a shaping undergarment like a bodysuit or high-waisted undies. For others, it means forgoing a bra or shapewear altogether. "If you're not a thong person, don't wear a thong on the wedding day," says Morrison.
3. Prioritize practical wedding undergarments over pretty lingerie.
Your undergarments are the foundation of your wedding outfit. If you have a larger bust, Morrison recommends supportive attire for under the wedding dress, such as a corset. This is especially important if you're wearing a less structured silhouette, such as a slip dress, since it likely won't have any cups or other support built in. There'll be plenty of time for sexy lingerie on your wedding night and honeymoon.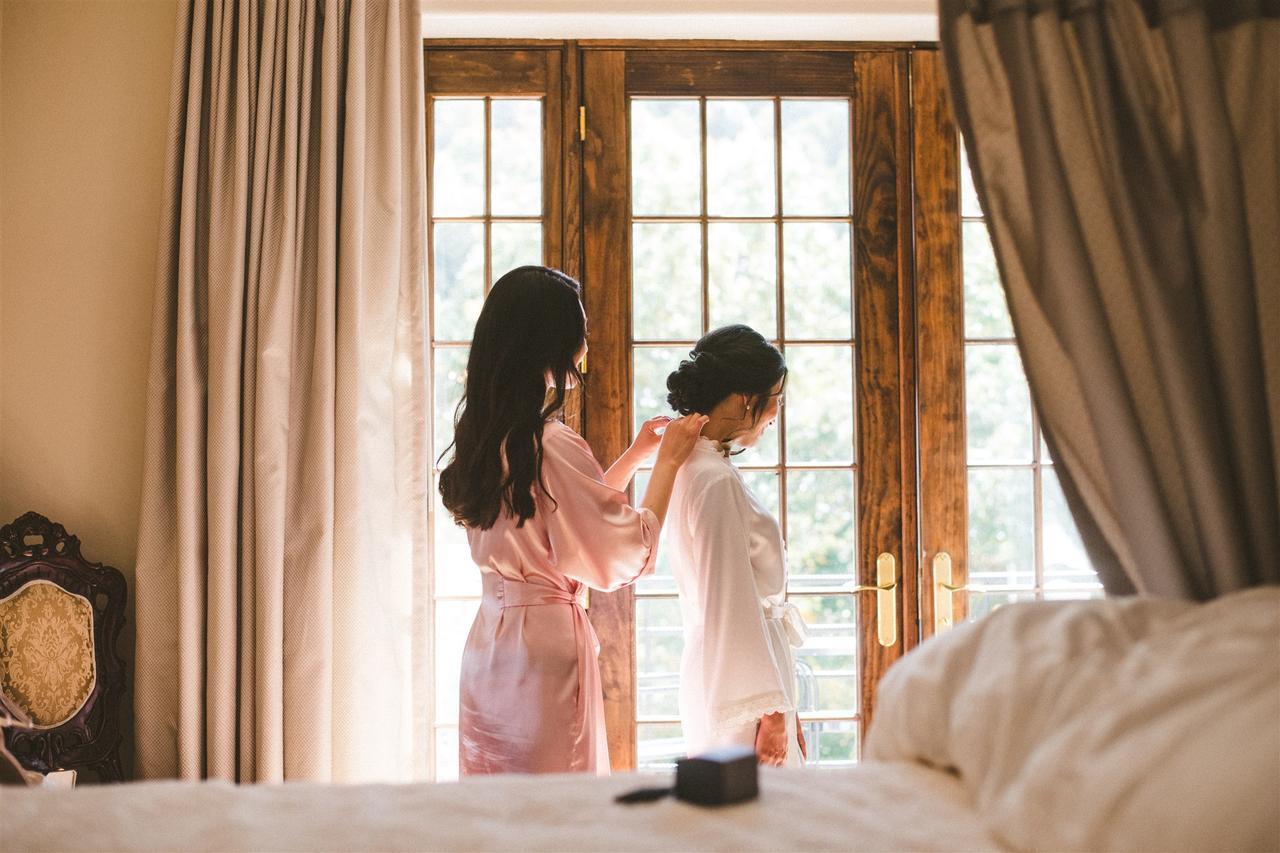 4. Choose the right color undergarment for your wedding dress.
It might seem like common sense to wear a white or ivory bra to match your wedding gown, but that's not always the case. More often than not, nude undergarments are actually the safer option because they blend in with your skin tone. If you're set on wearing white undergarments, try them on before the wedding in different lighting to make sure they're not showing up through your dress.
5. Consider visiting a bridal undergarment specialist.
For particularly unique dress silhouettes (think: low back and V-neckline), finding the perfect wedding day bridal undergarment can be a little trickier. Your local lingerie store should be able to offer advice (and they'll more than likely have something in stock that works). Plus, they'll be able to measure you for the perfect fit.
When shopping for the best wedding undergarments, try bringing a dress that has a similar cut or is made out of the same material as your wedding dress. Likewise, you can bring photos and measurements so the bra fitter can help you pick out items that won't show under your gown.
6. Test out your undergarments before the wedding.
Testing out your undergarments before the big day is essential. And we don't mean just trying them on with your wedding dress—ideally, you should wear them for an entire day. Remember that you'll be dancing, eating, and drinking the night away. If the undergarments you've selected are too restrictive, swap them for a better fit.
You should also bring your wedding day undergarments to all of your dress fittings, both to ensure that your dress fits properly over the undergarments, and also to make sure you can't see your underpinnings through the gown. In order to have them on hand from the first dress fitting, plan to shop for undergarments shortly after purchasing your wedding dress.
7. Have a backup plan.
It never hurts to have a second option in case of any undergarment snafus on the morning of. This could be having a second set of underwear in a different hue or simply adding boob tape to your "minimergency" kit. Just keep in mind that if you haven't worn a stick-on bra or boob tape before, your wedding day isn't the time to start. "You don't know how your skin might react to the glue in it," says Morrison. Consider doing a test run with sticky tape a few weeks before your wedding so that you're familiar with putting it on just in case, and you'll know for sure if it causes any adverse reactions.
Wedding Dress Undergarments: Best Shapewear
The best undergarments for your wedding dress are the ones you feel comfortable and confident in. If that means a shaping bodysuit or corset, check out our top suggestions here. If you'd rather wear a bra and traditional briefs, keep scrolling for our favorite picks there too.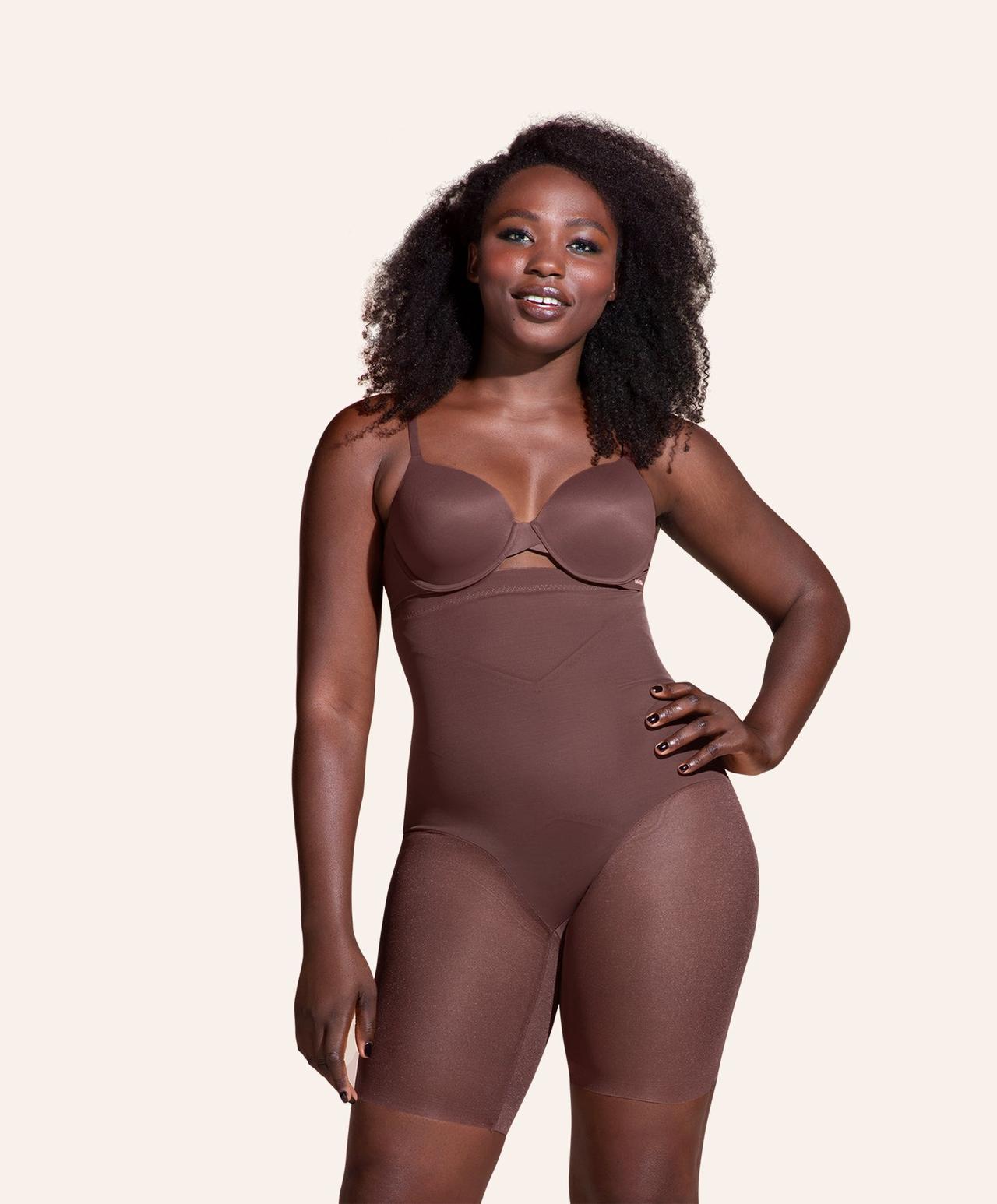 Honeylove has an inclusive range of shaping bridal undergarments to choose from, including these high-waisted compression shorts. They're available in sizes XS–3X and three nude hues: sand, mocha, and cinnamon. Going with shaper shorts as opposed to a bikini or thong offers extra support in the leg area (because let's face it, no one wants thigh chafing on their special day). Flexible boning in the side seams ensures that it doesn't slide down throughout the day. Finally, patent-pending BoostBands have a sculpting effect on the legs and buttocks.
Honeylove SuperPower short, $89, Honeylove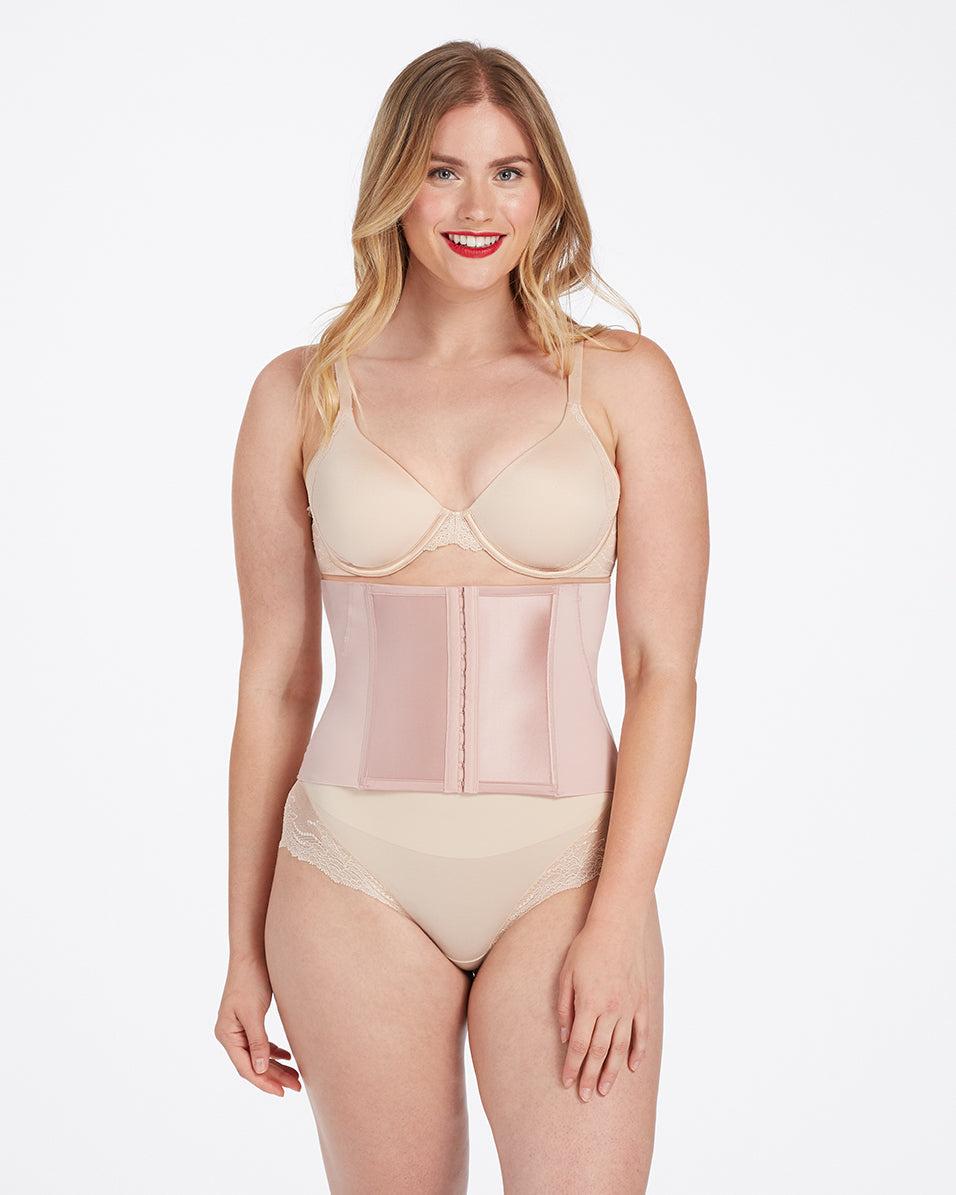 Many to-be-weds choose to wear a corset or bustier under their wedding dress, but if you've tried that and found it a little too restrictive, there are other options. "Remember, you'll be wearing wedding shapewear for six-plus hours, so you want to be comfortable," says Carrie Huyett, wedding dress designer and owner of Carrie's Bridal Collection in Chamblee, Georgia. "A simple waist cincher is often all that's needed, as opposed to a full corset."
Spanx Under Sculpture waist cincher, $68, Spanx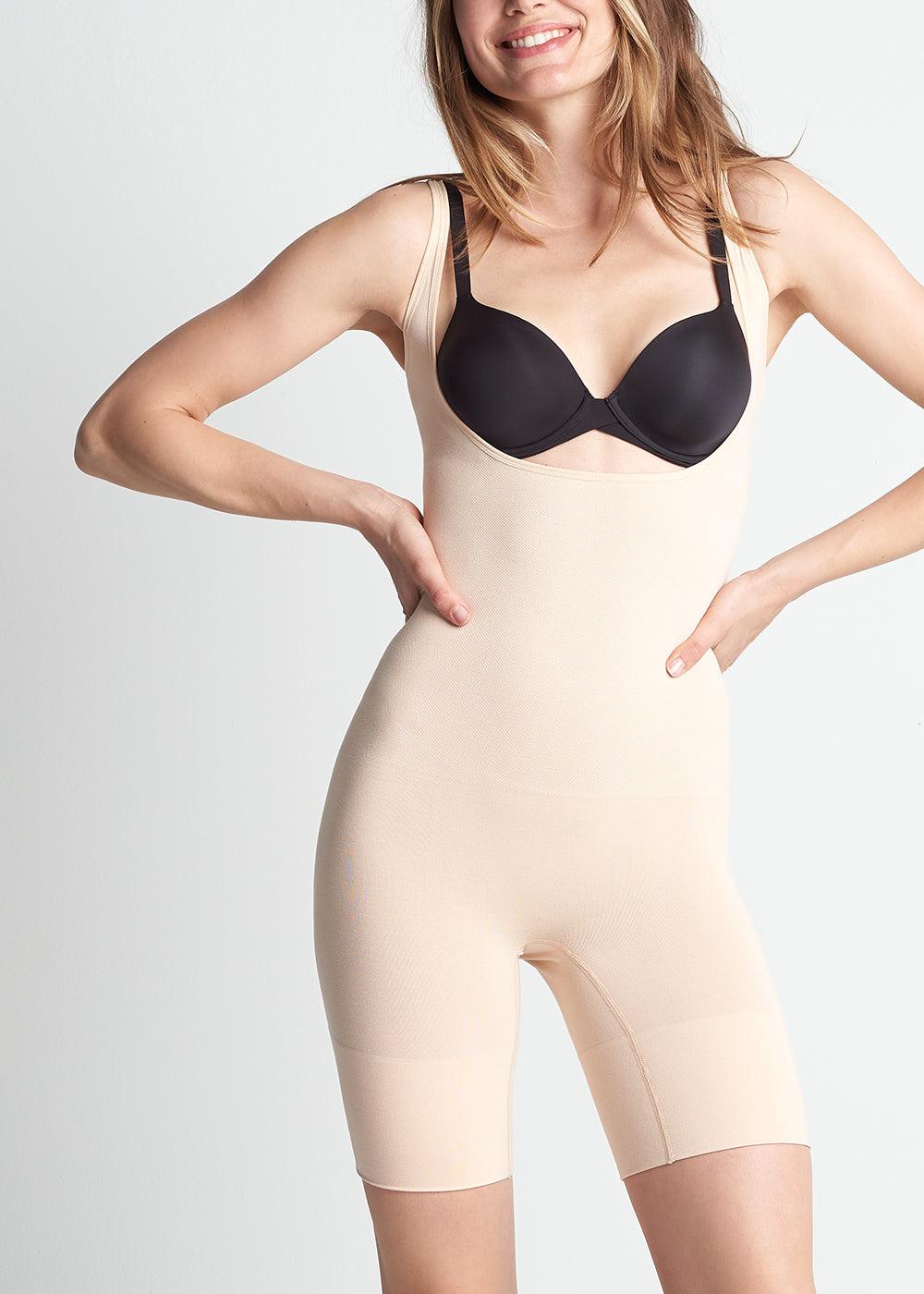 If your dress is made from a lighter material, a traditional corset or waist cincher may not be a viable option. "Lighter-weight or sheer dresses might show the wire bones of your shaper. Make sure you get one without the boning (and a wireless bra) if the fabric of your dress will show it," says Huyett. If you wear this bridal bodysuit under your wedding dress, you should avoid any of those faux pas, since the seam is on the inside of the leg. Plus, the open bust allows you to choose the perfect bra for your wedding attire.
Yummie Cooling FX Wear Your Own Bra shaping singlet bodysuit, $58, Yummie
When it comes to shaping undergarments, Skims has become a pretty well-known (and loved!) brand. The site's standard and plus-size undergarments are perfect for wedding dresses. Plus, there are hues to suit a wide variety of skin tones. There are pros and cons to choosing a full bodysuit versus one that has an open gusset. You don't have to spend the time (or money!) on finding a separate bra. But, if your dress requires a specific design (think: strapless or open-back) or your bust needs a lot of support, this bodysuit's built-in bra may not fit the bill.
Skims sculpting bodysuit with snaps, $62, Skims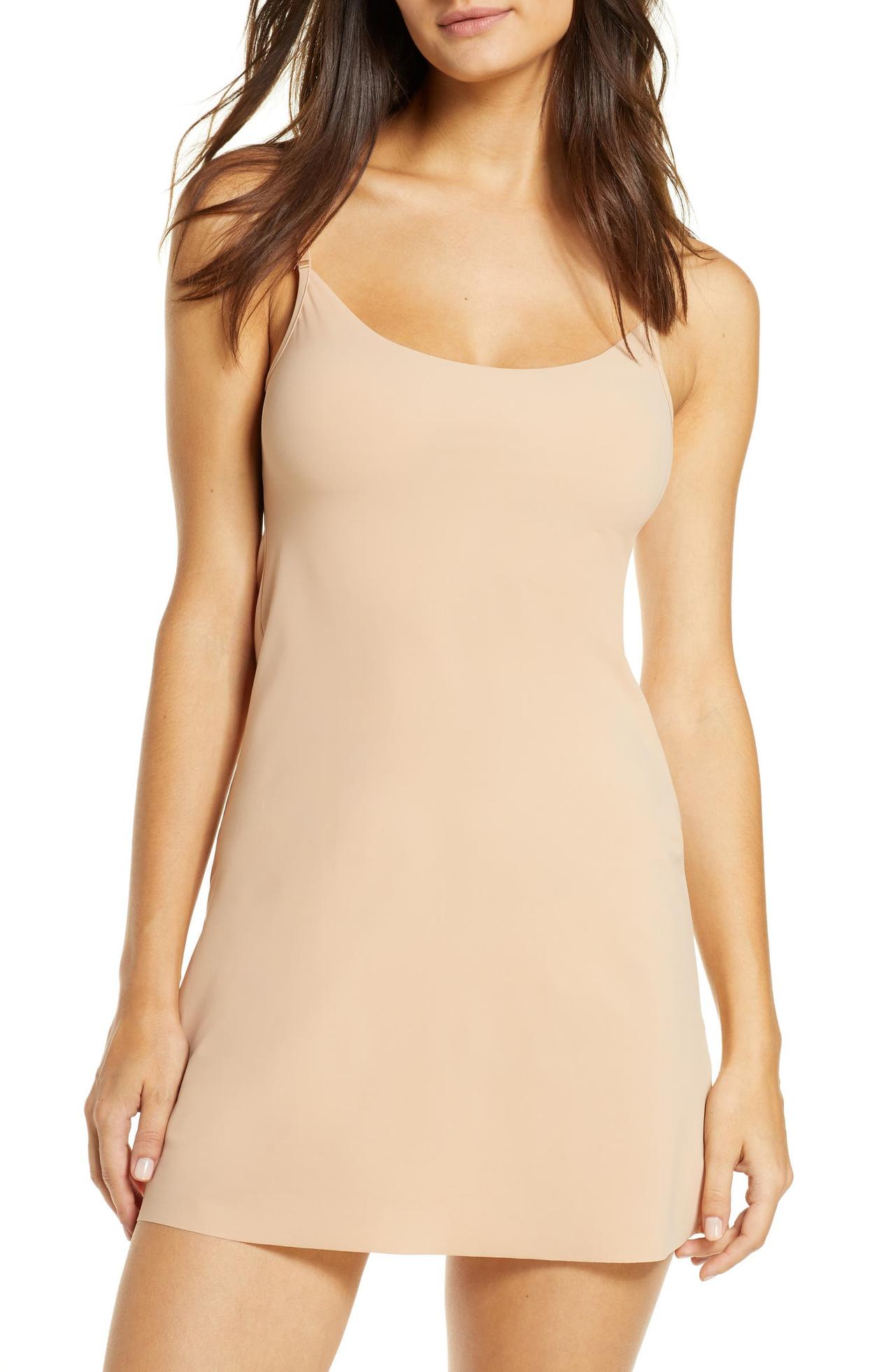 The humble slip is an often overlooked but practical piece of bridal shapewear that works with a variety of silhouettes. It's a great choice for to-be-weds who want to create a seamless base for their wedding attire but don't want the high level of compression that's typical with bodysuits and shorts. It's silky smooth and breathable, but only comes in one beige hue and sizes XS–XL.
Commando mini cami slip, $88, Nordstrom
Wedding Dress Undergarments: Best Bras
A soft, supportive bra is an essential wedding undergarment for many brides. If going bra-less on your big day just isn't for you, consider one of these options for the most popular dress silhouettes.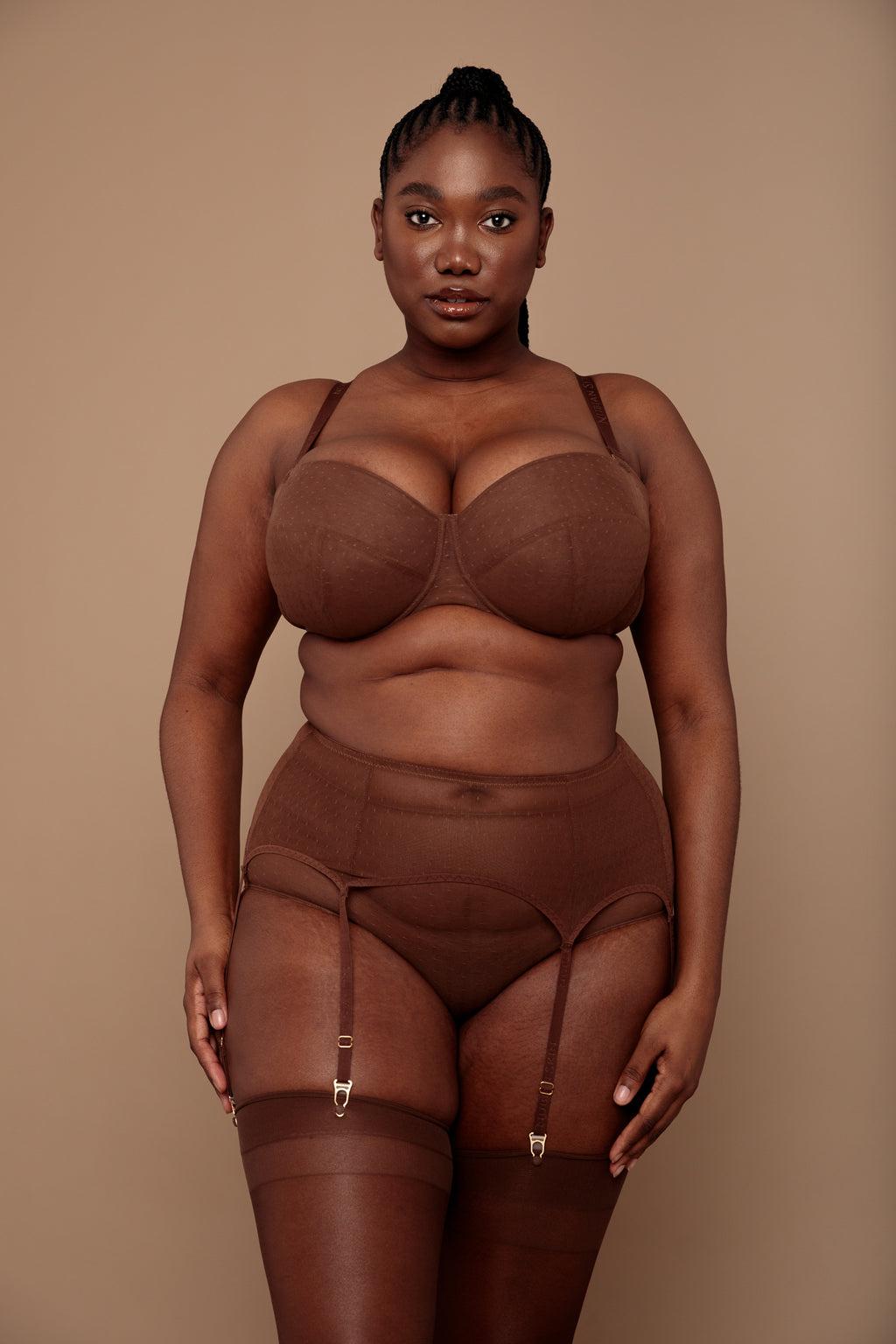 This convertible undergarment has removable bra straps to suit a strapless wedding dress. After the big day, you can easily attach them again, making it a versatile addition to your underwear drawer in the long run. There are four colors to choose from to suit lighter and darker skin tones, including berry, cinnamon, caramel, and café au lait. There's also a range of sizes for those with larger busts, starting from 32DD. Add a matching suspender belt and thong or high-waist briefs to complete your wedding lingerie.
Nubian Skin Plumetis multi-way bra, $54, Nubian Skin
Third Love is known for its super-comfy undergarments, and this buttery soft plunge bra is no exception. Complement a dress that has a plunging neckline with the light taupe bra designed to lift and support your breasts. Band sizes range from 32–44 and cup sizes range from AA–H. The cups also have removable inserts, so you can adjust them for comfort.
Third Love Classic Uplift plunge bra, $68, Third Love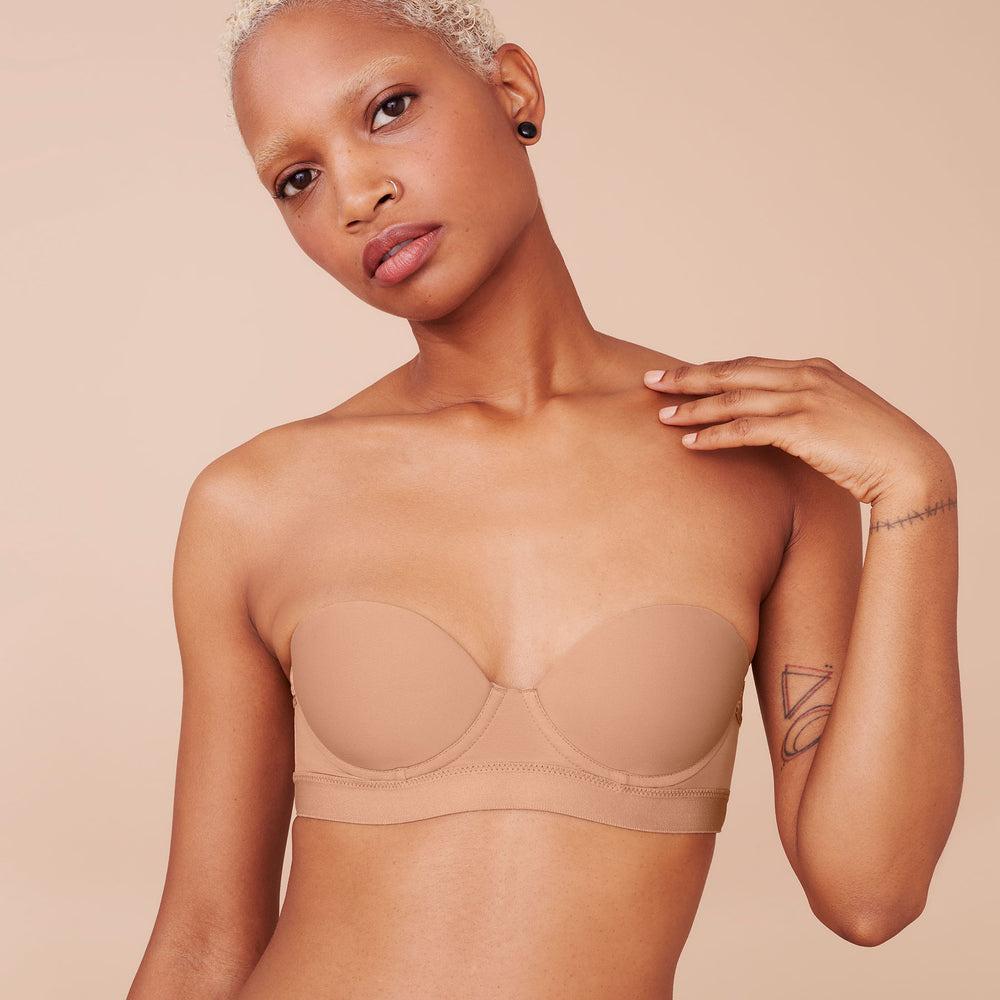 Here's an option for smaller-chested soonlyweds who plan on wearing a strapless gown. Pepper's multiway bra is available in band sizes 30–40 and cup sizes AA–B. This strapless wedding undergarment has a silicone strip to prevent slipping and a lifting balconette cup design.
Pepper MVP strapless bra, $60, Pepper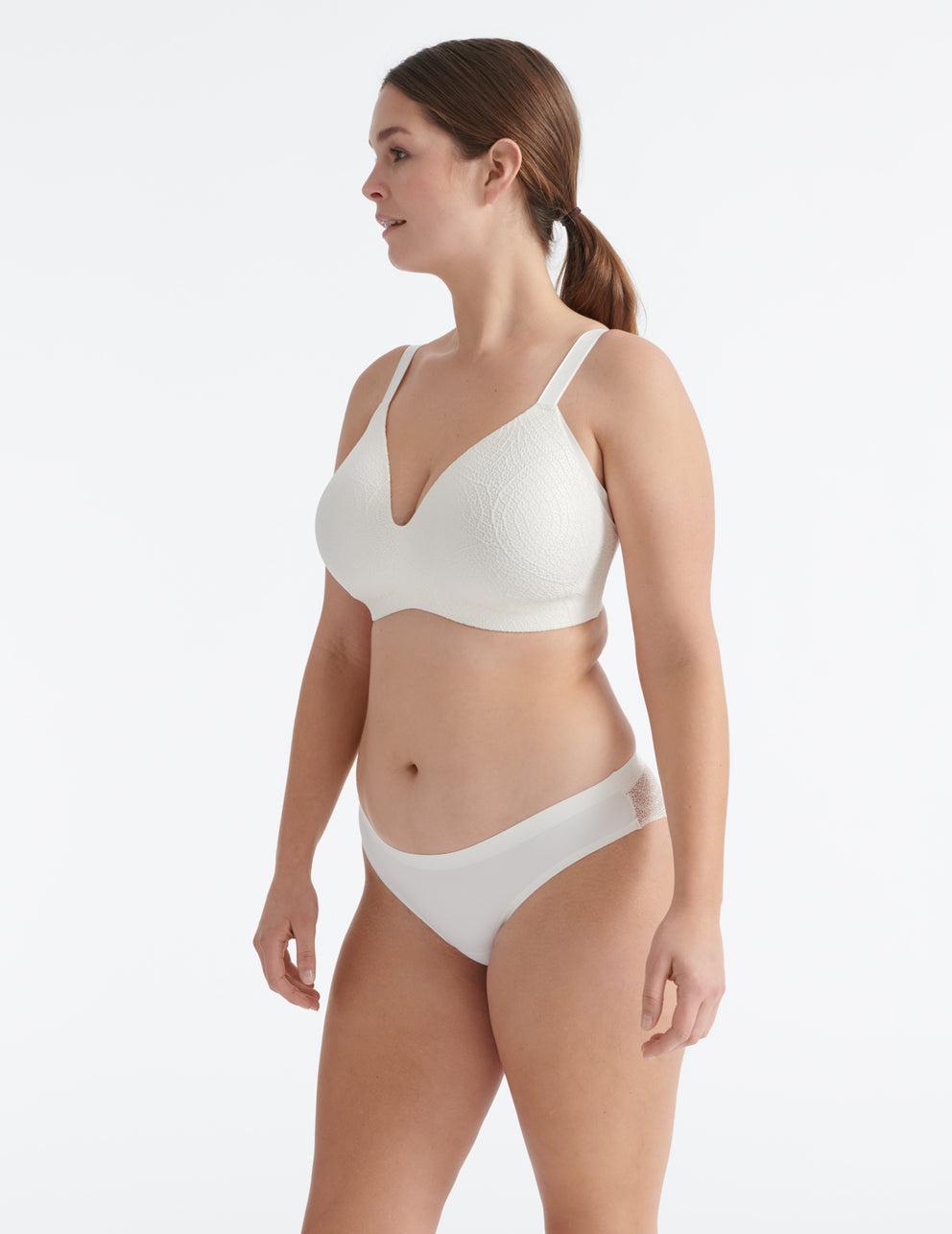 Knix doesn't just have super-comfy briefs to choose from. The site has equally comfortable bras that'll feel like a dream under your wedding dress. While we definitely recommend choosing practical over pretty when it comes to your undergarments, this lacy white bra offers the best of both worlds. It's beautifully bridal but structured enough to still support your girls. Plus, the plunging neckline makes it suitable for V-neck styles. Again, double-check before the day that the white hue doesn't show through your wedding dress.
Knix Knixy lace WingWoman contour bra, $60, Knix
There really are lots of different types of undergarments to choose from. If you're wearing an open-back style, a backless stick-on bra might be a great fit. Just make sure that you try it before your wedding day to ensure that it offers enough support, is sticky enough to survive the dance floor, and doesn't irritate your skin. If your bust is on the bigger side, you definitely want to make sure the fit and support are adequate. The silicone cups in this adhesive bra come in five colors: ivory beige, porcelain pink, black, mahogany, and sand.
Circle Circle Dot Dot silicone adhesive bra, $15, Circle Circle Dot Dot
Wedding Dress Undergarments: Best Underwear
Whether you've already chosen a bra or your gown offers enough support on its own, the next step is picking out underwear. Your briefs don't have to perfectly match your other undergarments, just make sure the color or seams don't show through your dress. Find out what kind of underwear works best under a wedding dress here.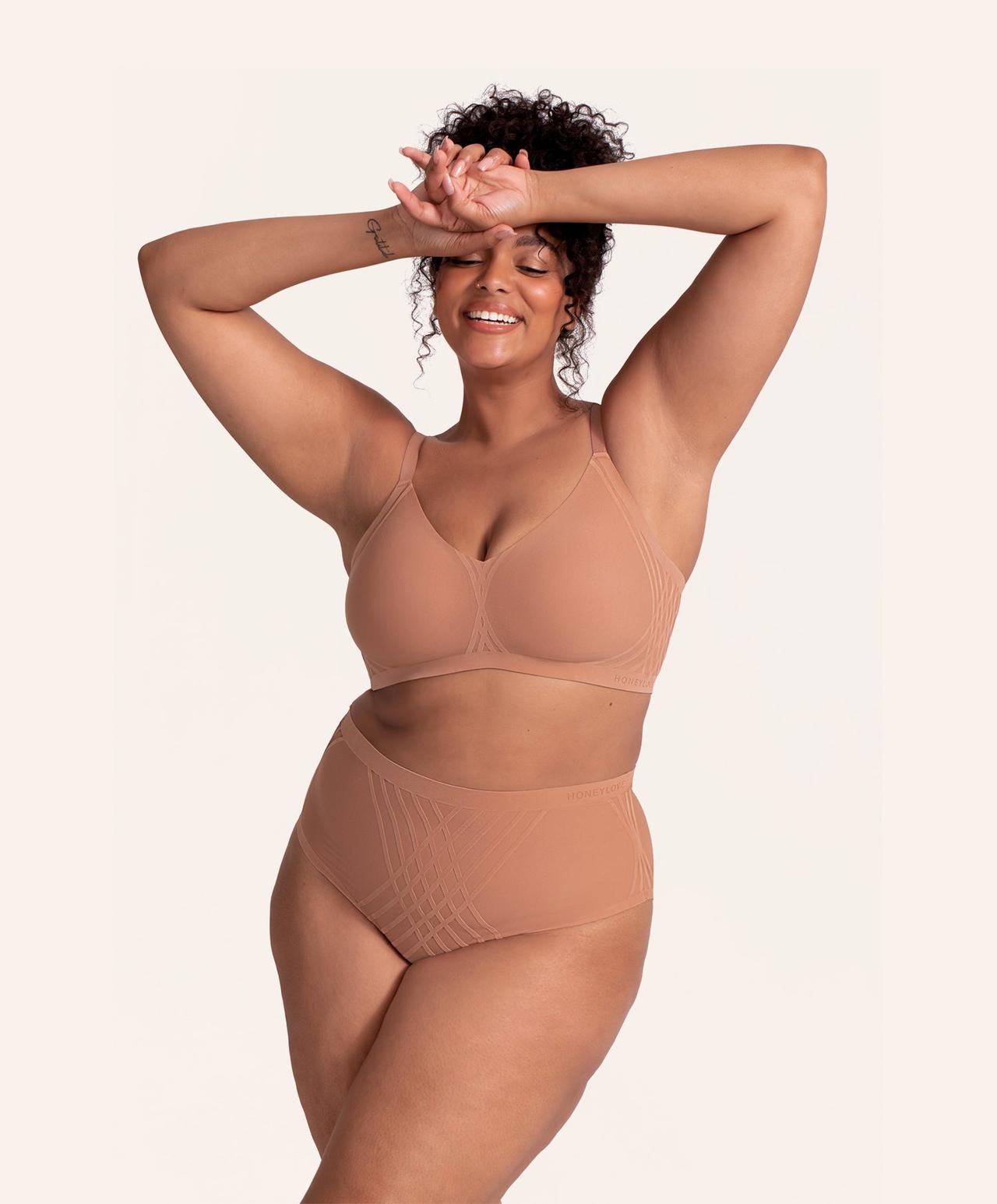 Depending on your dress style, seamless underwear is an essential part of the wedding day attire. Form-fitting silhouettes require extra-discreet underwear with no VPL. If your wedding dress has a looser silhouette, such as an A-line or ball gown, feel free to wear your bridal lingerie instead (so long as it's comfy enough to have on all day long). For those who need more inconspicuous undies, consider these subtly shaping panties from Honeylove.
Honeylove Silhouette brief, $29, Honeylove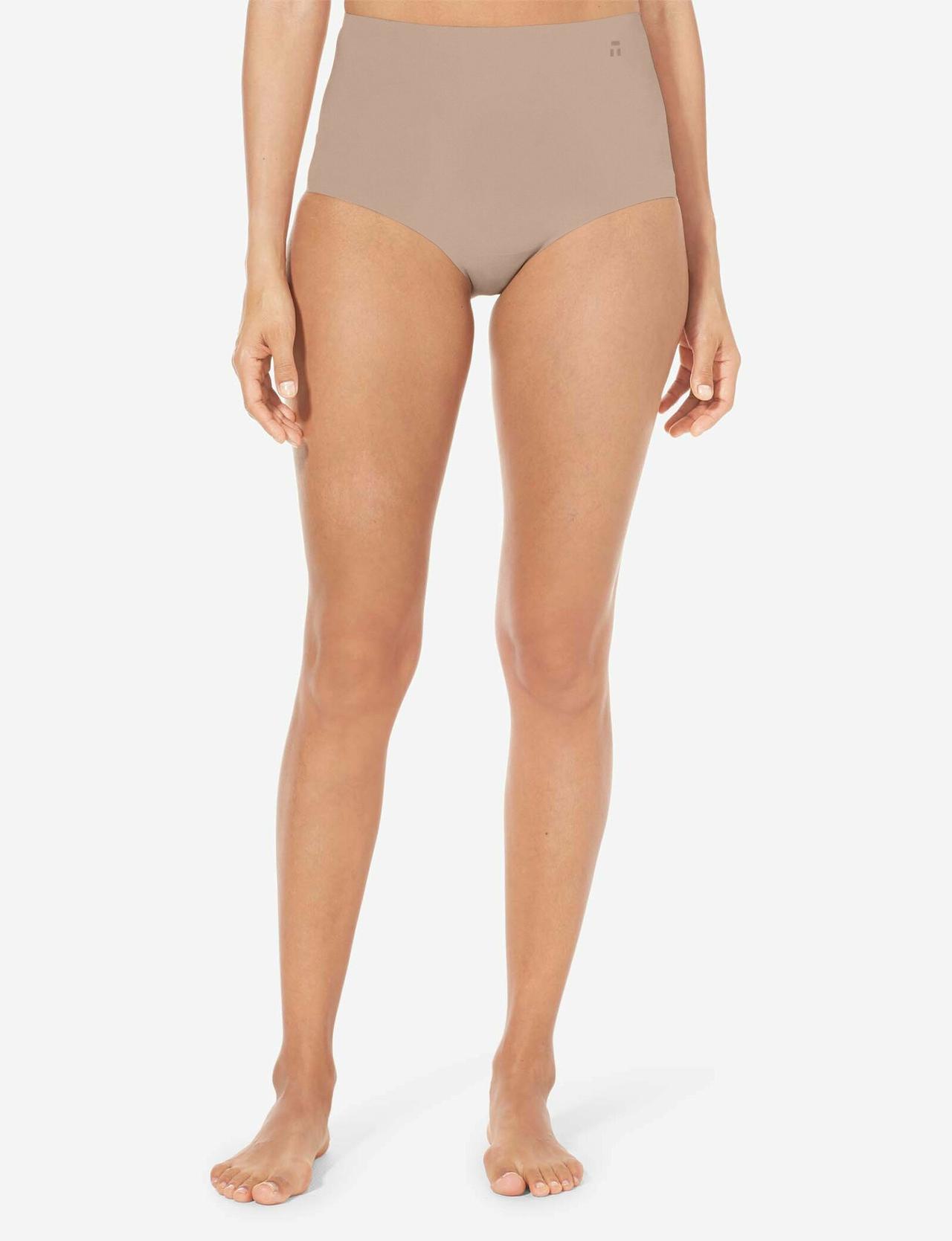 Tommy John's Air Invisibles say it all in the name. These seamless panties are ultra-soft and promise no VPL. They're perfect for anyone seeking fuller coverage in their wedding underwear thanks to the high waist and modest cut. There are several light colors to choose from, including a peachy pink, bridal blush, and neutral beige.
Tommy John Air Invisibles high-rise brief, $24, Tommy John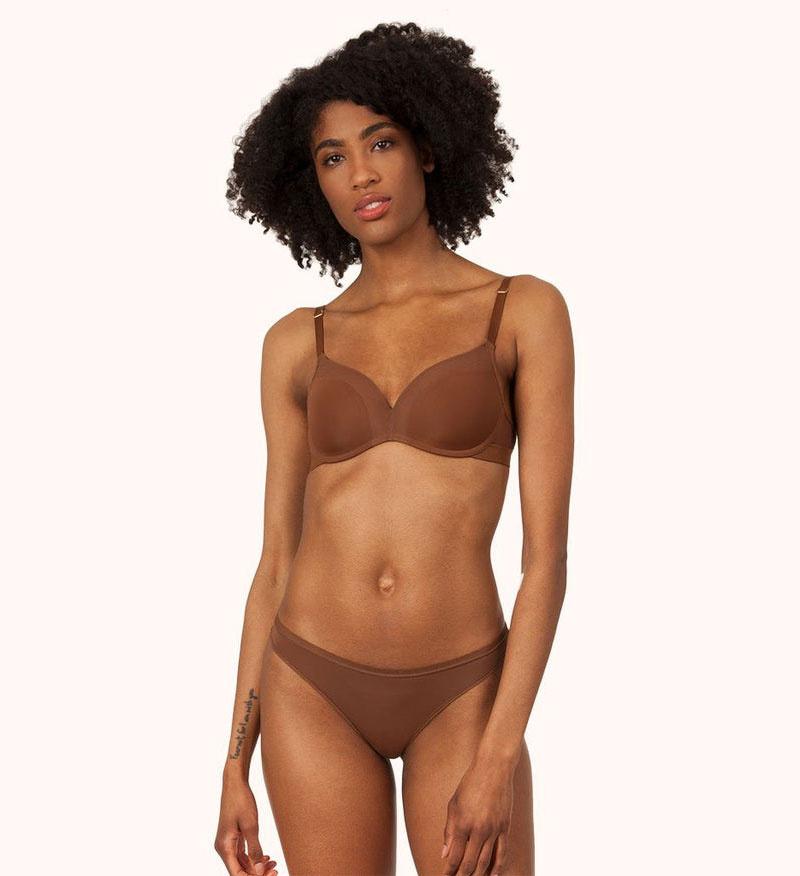 If your gown continues to hug your curves below the waist (think: a mermaid or trumpet silhouette), a thong is the safest way to avoid visible lines through the material. This affordable pick is aptly named the No Show thong and comes in nine colorways, including a few neutral and nude tones. According to reviewers, they're incredibly comfortable.
Lively The No Show thong, $15, Lively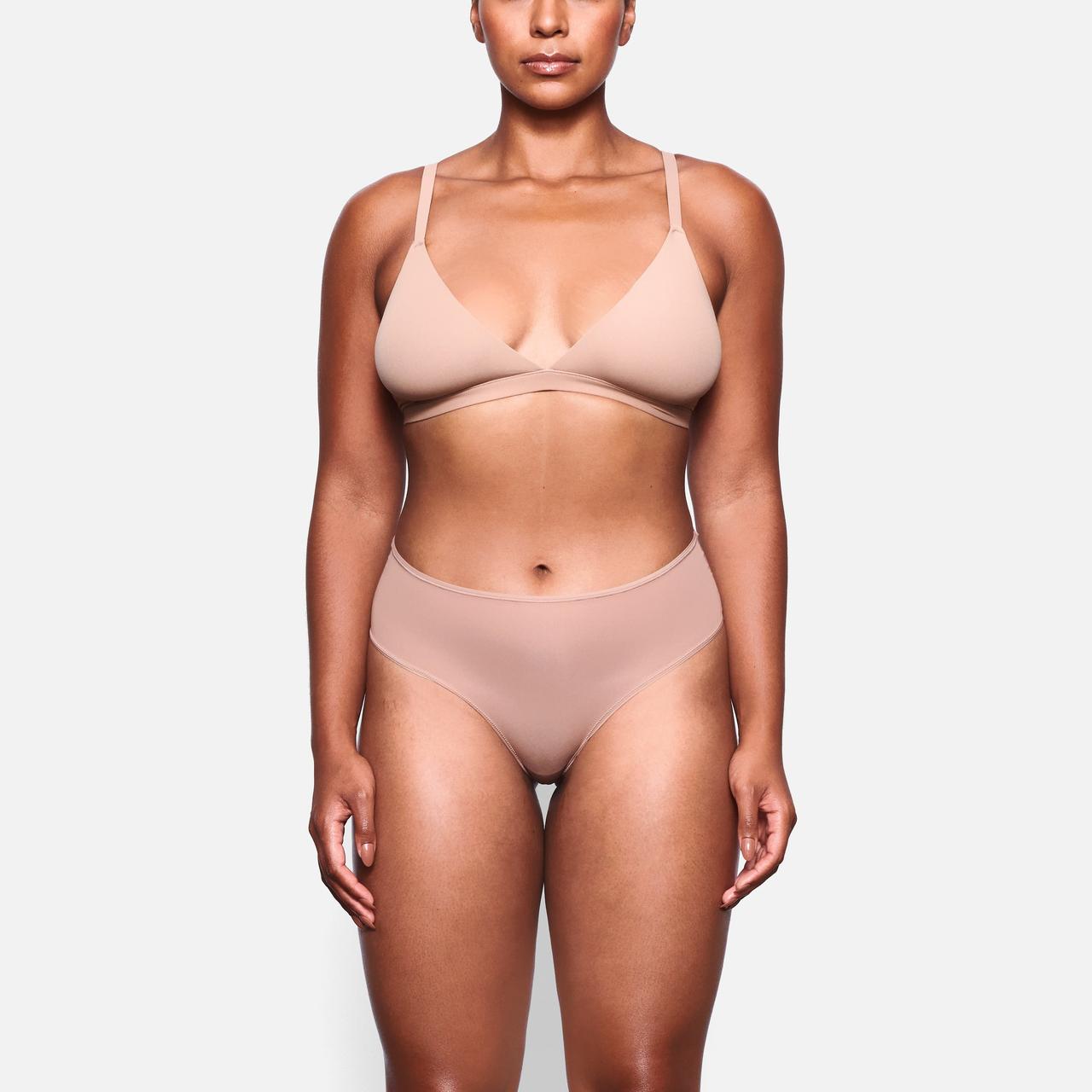 Looking for a simple pair of panties that will get the job done without a fuss? These mid-rise briefs from Skims will do just that. They come in an impressive eight hues to suit a variety of skin tones. They're also available in nine different sizes, ranging from XXS–4X. The briefs are designed to contour to your body for the perfect fit.
Skims Fits Everybody mid-rise brief, $18, Skims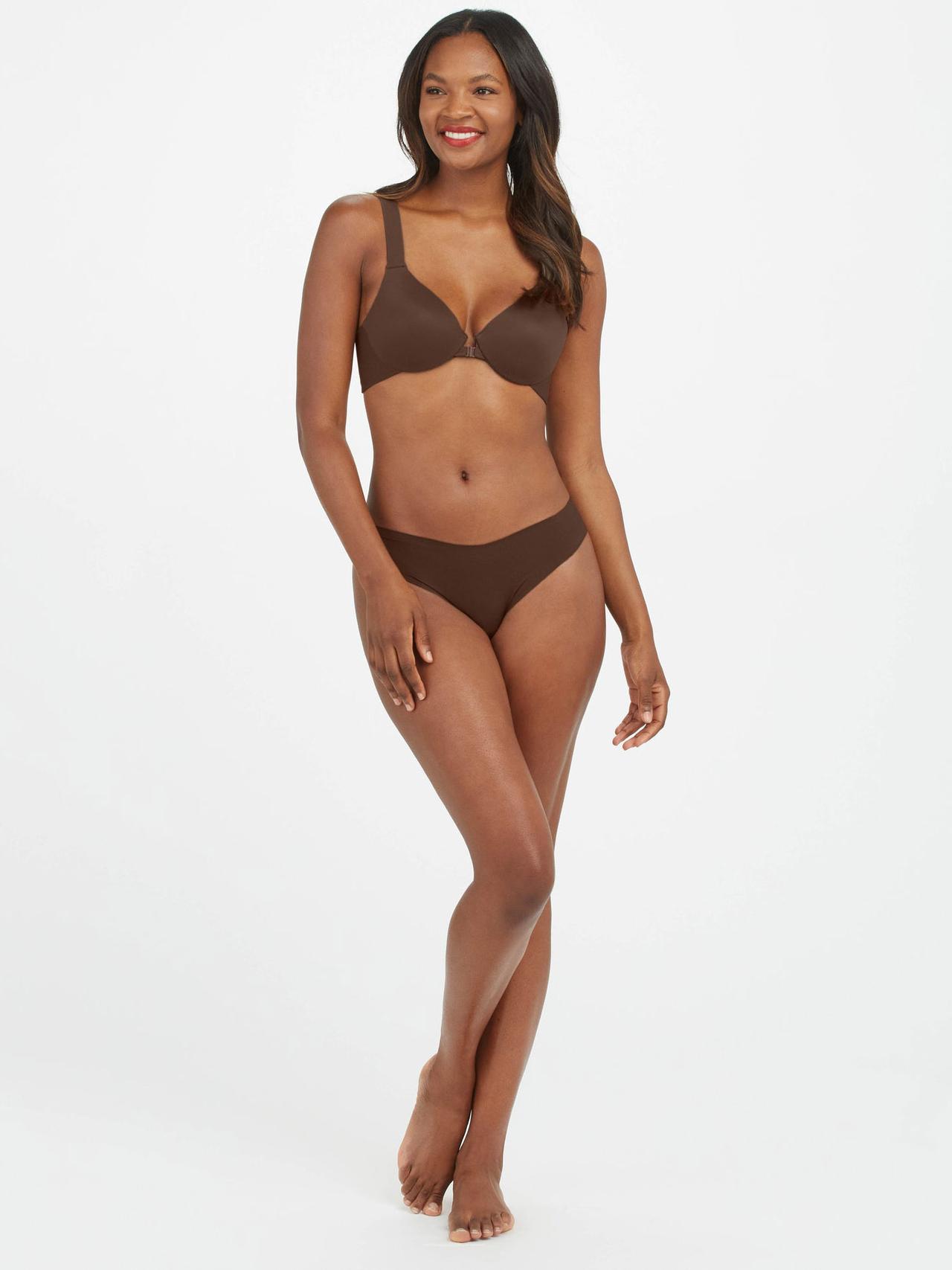 Last but not least on our list of what to wear under your bridal gown: a pair of practical and versatile briefs that comes in three nude hues. Choose from café au lait, naked 2.0, and chestnut brown depending on your skin tone. The standard one-size panties are suitable for sizes XS–XL, and the plus-size option is made to fit sizes 1X–3X.
Spanx Ahh-llelujah thong, $20, Spanx
Stephanie Hallett contributed to the reporting of this article.