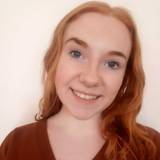 Naoimh started her career at WeddingWire in 2019 writing storefront descriptions for some of our amazing wedding vendors. Here, she learned many things about the intricacies of wedding planning, like which kind of frosting will work best for your cake and that a "subwoofer" is not, in fact, a DJ's canine assistant. Taking her newfound knowledge of wedding trends and couples' needs, she joined the editorial team to write expert e-commerce content. Naoimh specializes in creating thoughtful, shoppable articles about topics ranging from wedding party gifts to wedding fashion. Naoimh comes from a small town in Ireland and currently lives in Donegal, a county known for its rugged landscape, stunning coastline, and many, many sheep. On the weekends, you'll find her hiking the rolling hills, baking something sweet, or catching up on a podcast episode.
Experience
Naoimh has dreamt of becoming a writer ever since she learned it was an actual profession. Over the years she's dabbled in a variety of creative projects both personally and academically. She has experience writing for a wide variety of vendors on WeddingWire's directory, getting the inside scoop on all the awesome services they provide and exactly what couples are looking for when it comes to planning their big day. Naoimh has worked at WeddingWire for over a year, most recently applying her expertise to creating useful and informative e-commerce articles.
Education
Naoimh attended the National University of Ireland, Galway where she earned a Bachelor of Arts degree in English Literature and German. She studied creative writing alongside her degree, flexing her creative skills from fiction and non-fiction to screenwriting and poetry. During her four years there, Naoimh wrote an entire first draft of a novel, drank a whole lot of coffee, spent time studying in Leipzig, Germany, and even performed in a German-language play. After graduating with First Class Honors, she stepped right into the wonderful world of weddings at WeddingWire.
WeddingWire Q&A with Naoimh
What is your ideal wedding style?
Rustic with a touch of elegance. My dream wedding is under the stars with beautifully decorated farmhouse tables, twinkling string lights, romantic candles, and tons of pretty flowers. That said, I'll happily set up shop in a historic building or traditional barn, because in Ireland having a roof is always a good idea.
Dream honeymoon location?
Basically anywhere adventurous with unique wildlife, like South Africa or the Galapagos.
What was (or would be) your first dance song?
I've talked about this with my partner and we've both decided on taking the classical music route with something timeless and romantic like "Clair de Lune." Although when it comes to learning choreography, we may default to something more suited to our abilities, like the "Macarena."
Favorite celebrity wedding look?
I'm obsessed with Pippa Middleton's gorgeous floral lace wedding dress designed by Giles Deacon. There's something so graceful about a high neck and capped sleeves, and the intricate detailing layer-upon-layer is just stunning.
Articles published by Naoimh O'Hare