Five years! Can you believe it's been that long since you said the vows that made you partners for life? There have probably been some ups and downs that you've had to face together over the past five years, making your union stronger than ever. But now that your milestone fifth anniversary is drawing near, it's time to celebrate and choose a great 5-year anniversary gift. Or, if you're a friend or relative of a couple celebrating a five-year anniversary, you're probably looking for that perfect gift.
What is the traditional 5-year anniversary gift?
Traditionally, couples give and receive a gift of wood for their 5-year anniversary, which symbolizes the strength of their union. The modern option is silverware, which seems tricky when choosing a gift, but don't worry—we've got you covered with some unique options. Finally, the gemstone most often associated with a 5-year anniversary is sapphire, and the color blue as an extension of that.
We've rounded up lots of great 5-year anniversary gifts for you to browse, including lots of gifts that fit with the 5-year anniversary gift traditions.
5-Year Anniversary Gifts for Them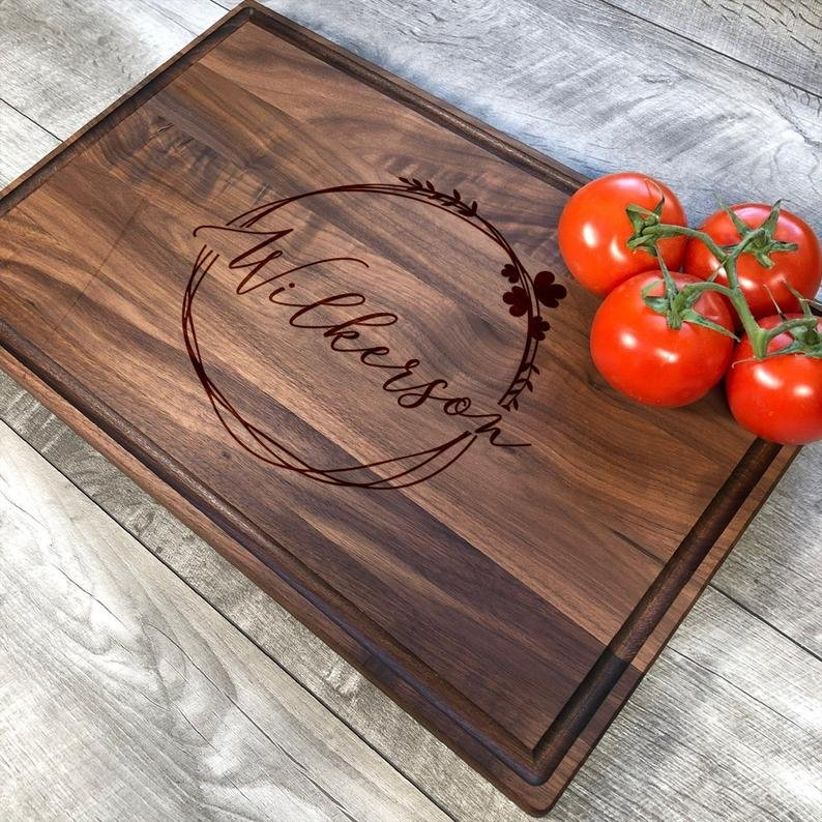 If you'd like to give the happy couple a traditional 5-year wedding anniversary gift, this sturdy wood cutting board from Etsy shop Customize Fast Gifts is a great choice. Choose from a variety of sizes and shapes, and select a cutting board made from walnut, maple, cherry or bamboo. These boards can be personalized with anything you'd like, but the couple's last name emblazoned across this wooden cutting board seems like the right choice for a 5 year anniversary gift.
Customize Fast Gifts personalized wooden cutting board, $27, Etsy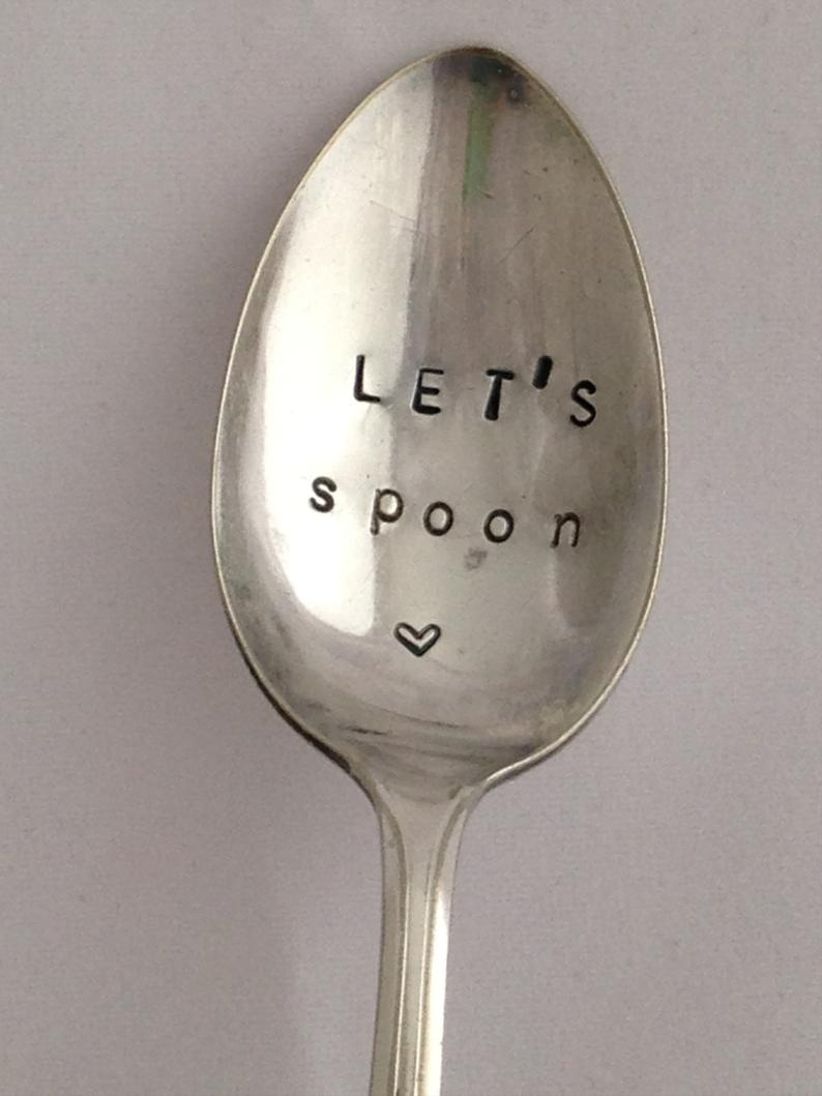 The modern five year anniversary gift is silverware, and there's so much you can do with that! Even though the couple may already have a basic silverware set, they're sure to love these cheeky little spoons! The phrase, "Let's spoon" is written in a playful font, making them a sweet gift for a couple celebrating this milestone anniversary. They're great for everything from stirring coffee to sharing a dish of ice cream together.
Nine9dots hand stamped vintage spoon, $16, Etsy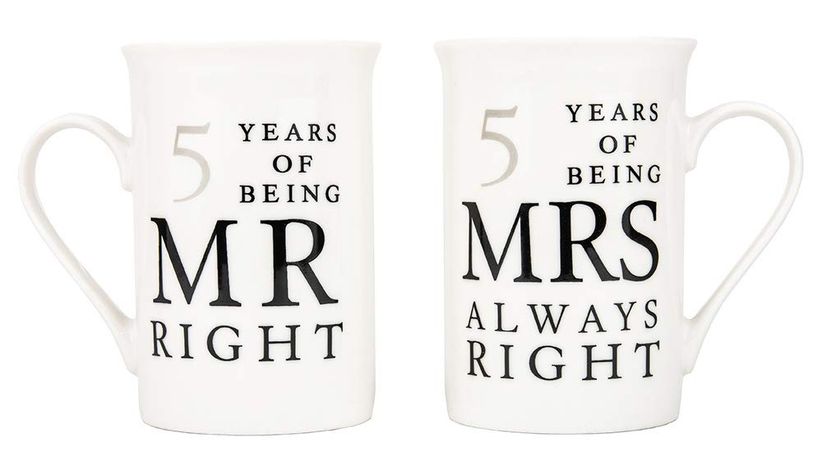 Let's face it—we all know who's calling the shots, right? Now the couple can tell the world with these funny his and hers coffee mugs that say Mr Right and Mrs Always Right. They're a great way for the couple to share some laughs… and some coffee.
Haysoms anniversary coffee mugs, $25, Amazon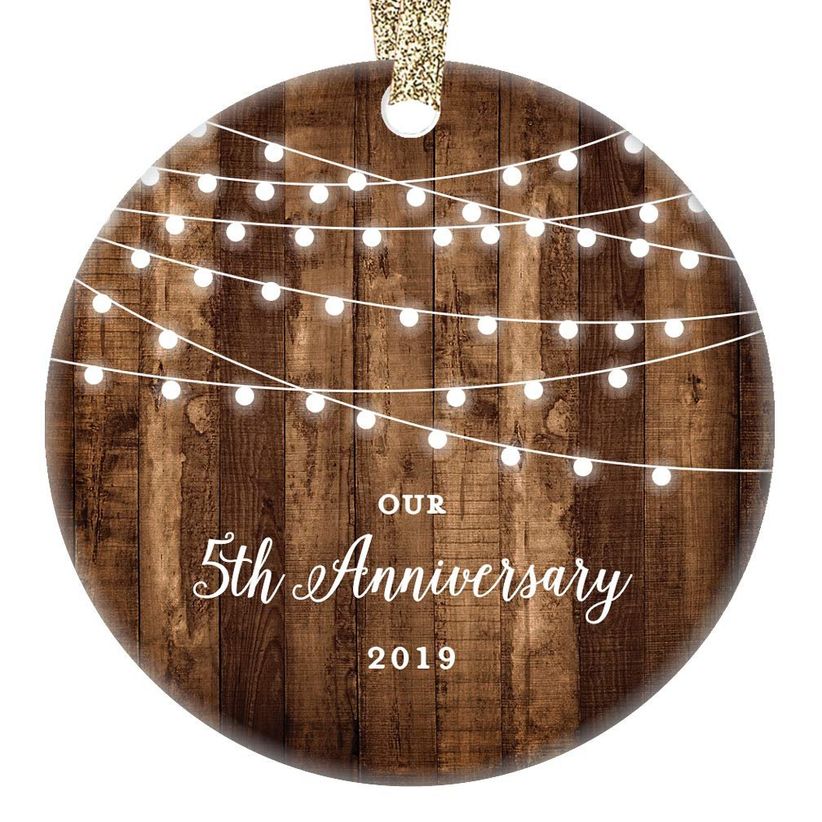 This simple, rustic holiday ornament makes a just-right addition to their holiday tree, making it a perfect 5 year wedding anniversary gift. The ceramic circular ornament is painted to give the feeling of a rustic but luxurious background with twinkling lights. What's more, it arrives ready to hang with its own attractive ribbon.
Digibuddha porcelain ornament, $19, Amazon
Keep your 5-year wedding anniversary gift on trend when you give the couple these rose gold spoons with flowers on the scooping end. These delicate little spoons are a great way to check the box on the modern 5-year anniversary gift of silverware while still giving something they'll enjoy over and over again.
Maitys rose gold flower dessert/coffee spoons, $13, Amazon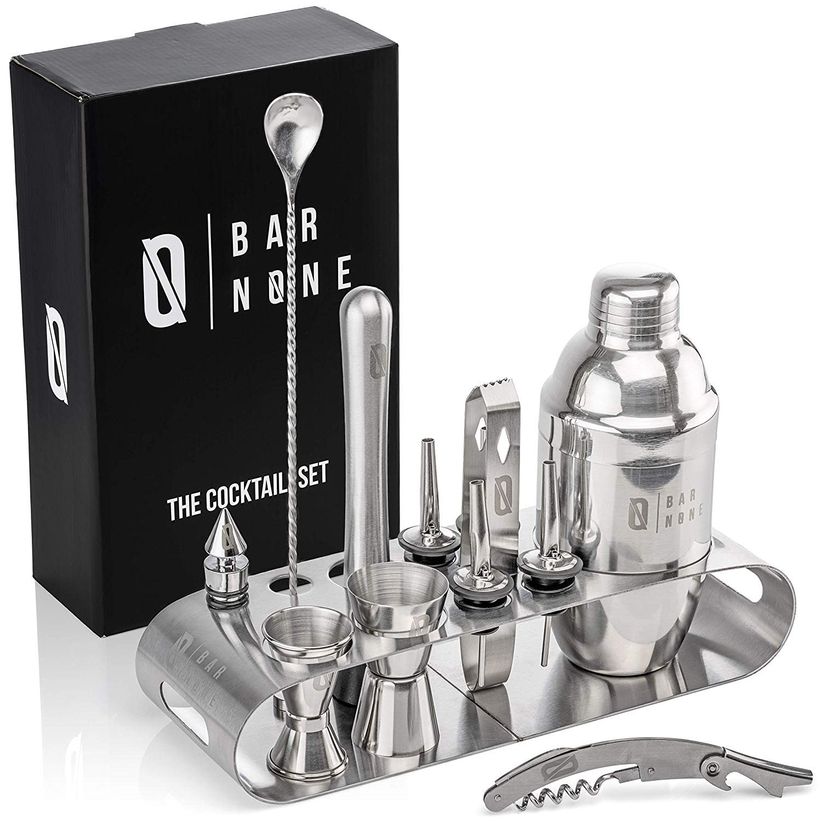 While barware may not exactly count as silverware, it does count as a gift the couple will love and enjoy for years to come. And this top-notch silver set makes a great choice. It's stocked with everything they'll need to make just about any drink they could want, including a shaker, jigger, muddler, tongs and a mixing spoon. Plus, everything's neatly stored in an included holding tray for easy clean up and storage.
Royal Lion 12 piece barware set, $50, Amazon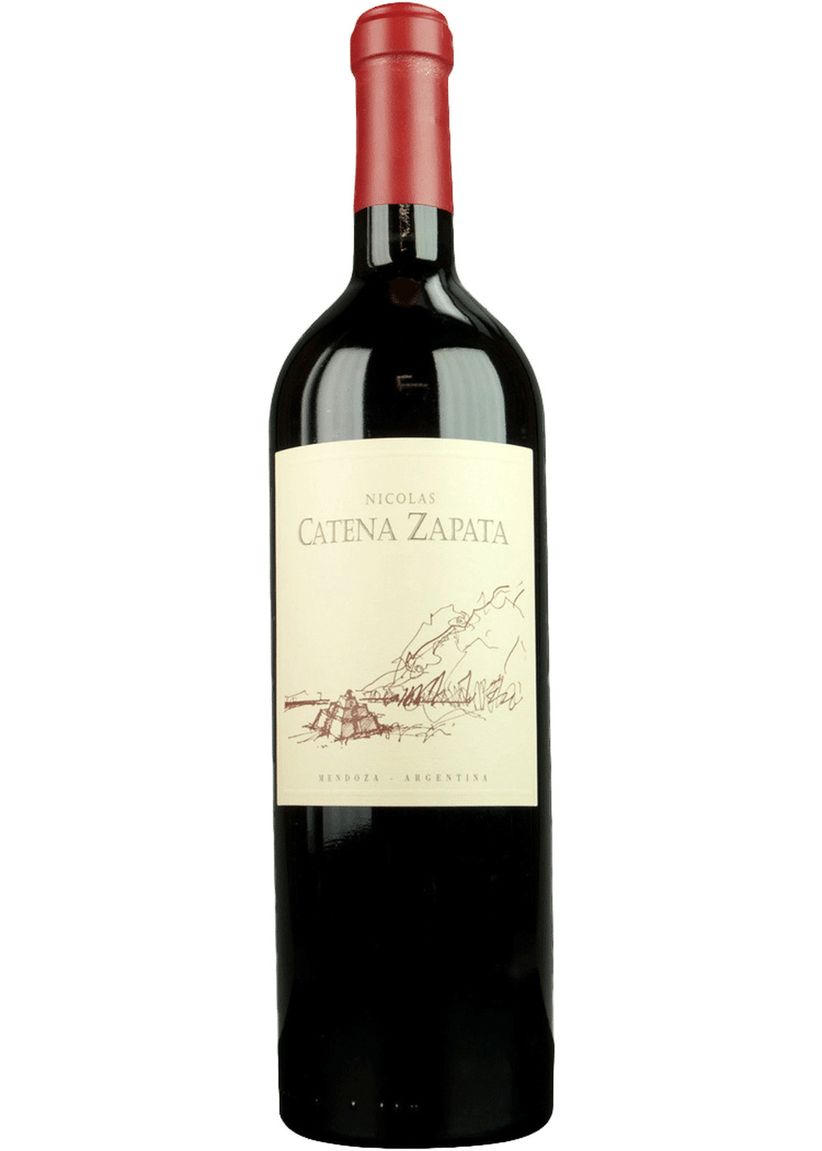 Wine makes a perfect gift for just about any occasion, including a fifth anniversary. Take it a step further and gift the couple a bottle of wine that's aged 5 years in honor of this special milestone. We think this Cabernet Sauvignon from Catena Zapata would make a great selection, but of course, any five-year-old vintage will make a great 5-year wedding anniversary gift.
Total Wine Catena Zapata Nicolas red, $90, Total Wine
A bottle of wine is always a nice anniversary gift, so why not up the ante by including a wooden wine gift box as a nod to the traditional 5 year anniversary gift of wood? We love how this wine box can be affordably personalized.
WeddingWire Shop wooden wine box, $15, WeddingWire Shop
Another great idea that's totally on theme—this wine cork holder shadow book is not only fashioned from wood, it can also be personalized with the couple's names and wedding year. It's a cute way to save all of those wine corks from celebratory anniversary bottles.
WeddingWire Shop personalized wooden wine cork holder shadow box, $20, WeddingWire Shop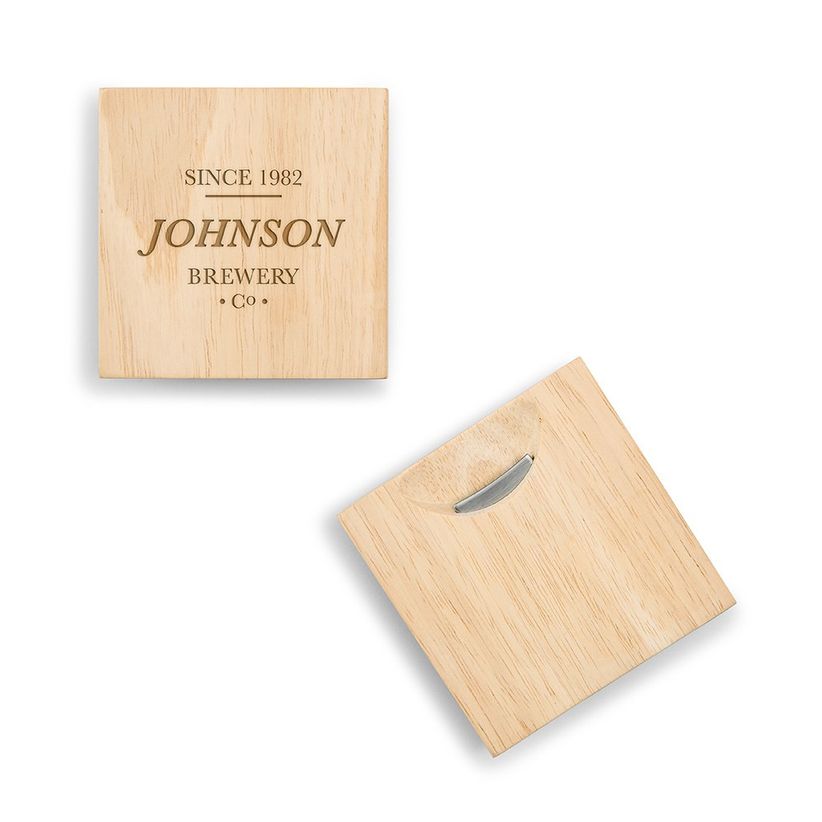 These wooden coasters come with an added bonus—a built-in bottle opener on the back! This is another 5-year anniversary gift that can be affordably personalized—and is ideal for the couple that loves to entertain.
WeddingWire Shop wooden coasters, $10 for 2, WeddingWire Shop
5-Year Anniversary Gifts for Him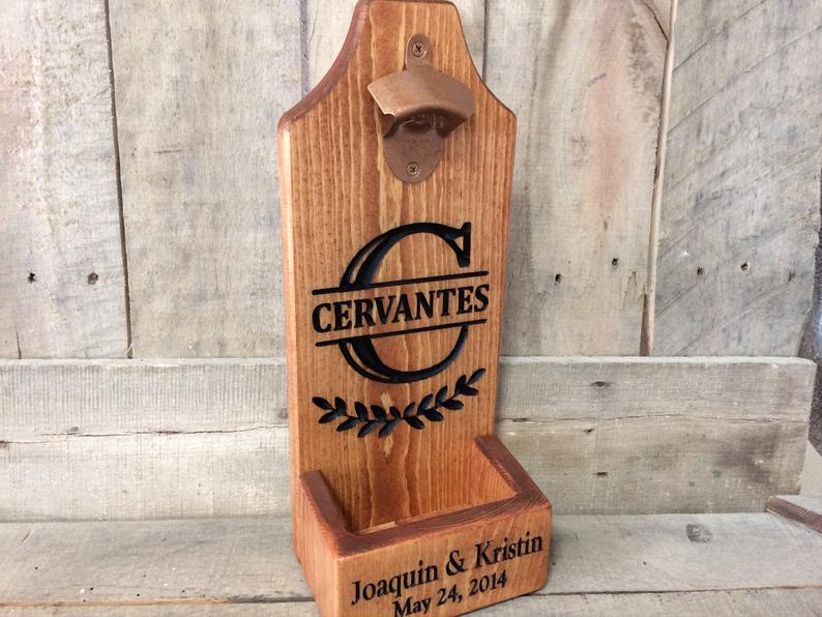 Tops off, bottoms up! The special guy in your life is sure to be a fan of this wall-mounted bottle opener. It's personalizable with just about anything you'd like to include (Best.Husband.Ever.) and it comes with a space to hold his cold one in case he needs a bit of extra storage. Our opinion? This gift is a keeper, just like he is.
Wallis Family Customs personalized wooden wall-mounted bottle opener, $33, Etsy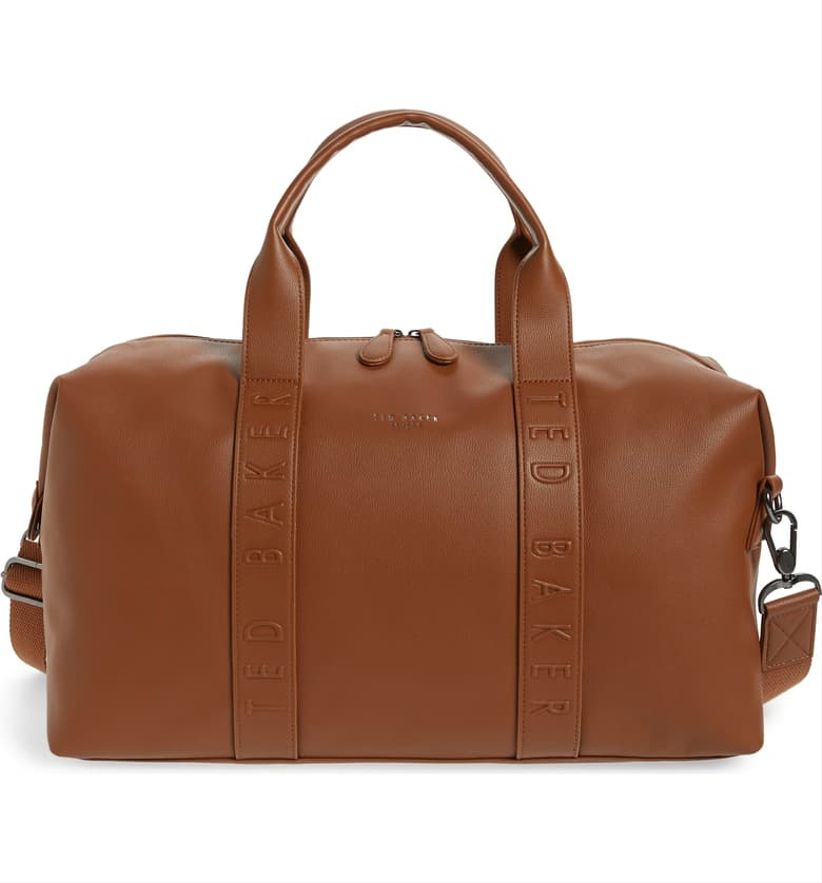 Every man needs a great duffle bag to store all his belongings for an overnight getaway. Let his cheap nylon gym bag handle sweaty shoes and socks. Gift him an upgrade with this faux leather duffle by Ted Baker. It's available in two handsome, match-with-anything colors, and has a roomy interior to hold everything he needs. Sturdy handles and an optional clip-on shoulder strap round out this exceptional bag.
Ted Baker London hungar faux leather duffel, $239, Nordstrom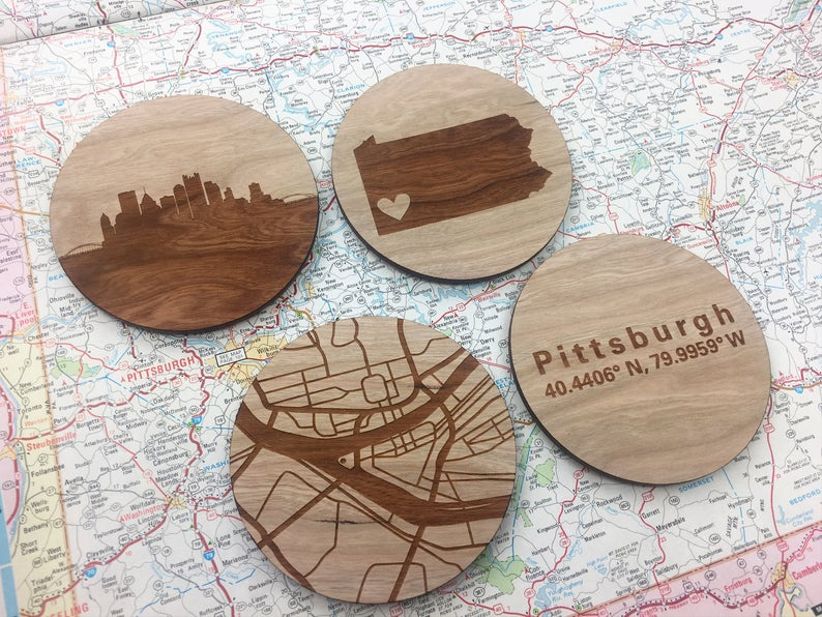 What's a great 5-year anniversary gift for him when it seems like he has everything? Coasters, of course! There's always a use for coasters, and these top-rated ones are the perfect gift to celebrate your fiver, since they're made from wood, the traditional fifth anniversary gift. Choose the city you live in, or perhaps the city he grew up in if he's moved states to be with you. Either way, these exquisite etched coasters are sure to be a hit.
JWdesignstudio city map coasters, $35, Etsy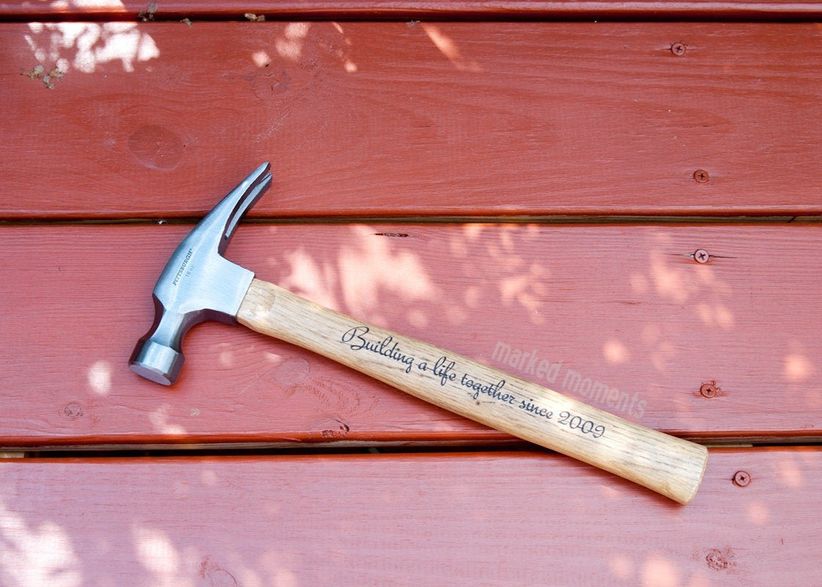 If you're the type who loves to give useful, practical gifts, we can't think of a better option than this hammer. Yes, a hammer. While it may seem banal, this one has a special engraving on the wooden handle about building your life together. It's simple and sweet: the perfect recipe for a well-loved 5-year anniversary gift for him.
MarkedMoments personalized wood engraved hammer, $37, Etsy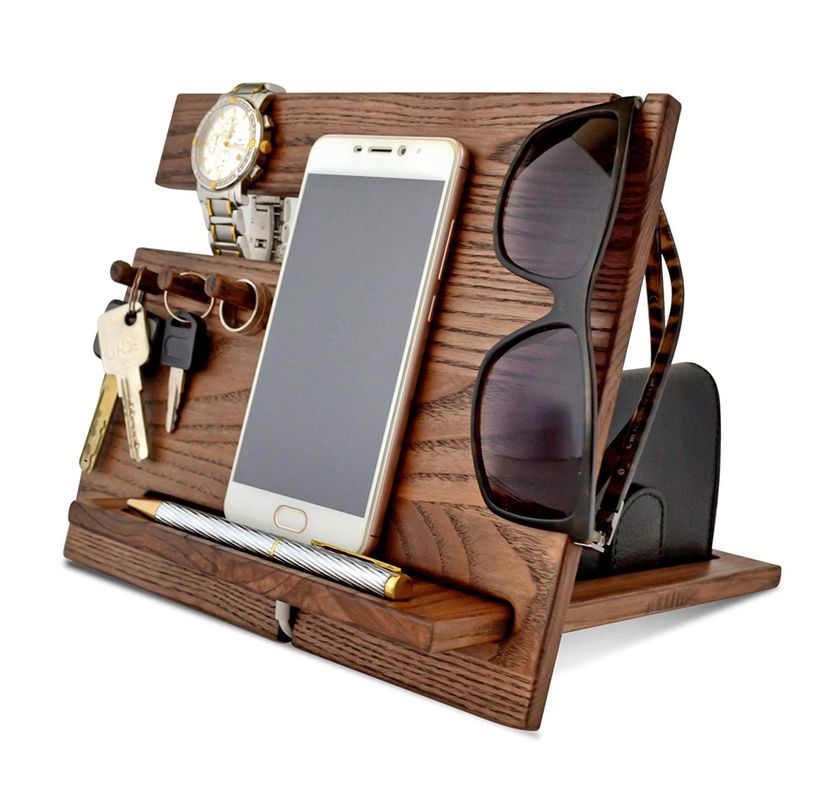 Another practical way to check the box on the traditional gift of wood is this wooden organizer and docking station. It's the perfect way for him to stash all his belongings when he walks in the door. This handy organizer has room for his wallet, keys, phone, a pen and even a small tray for loose coins and other stray items. So if you're looking for 5-year anniversary gifts for him that'll make his mornings go more smoothly, you've found it!
MyFancyCraft wood phone docking station and organizer, $40, Amazon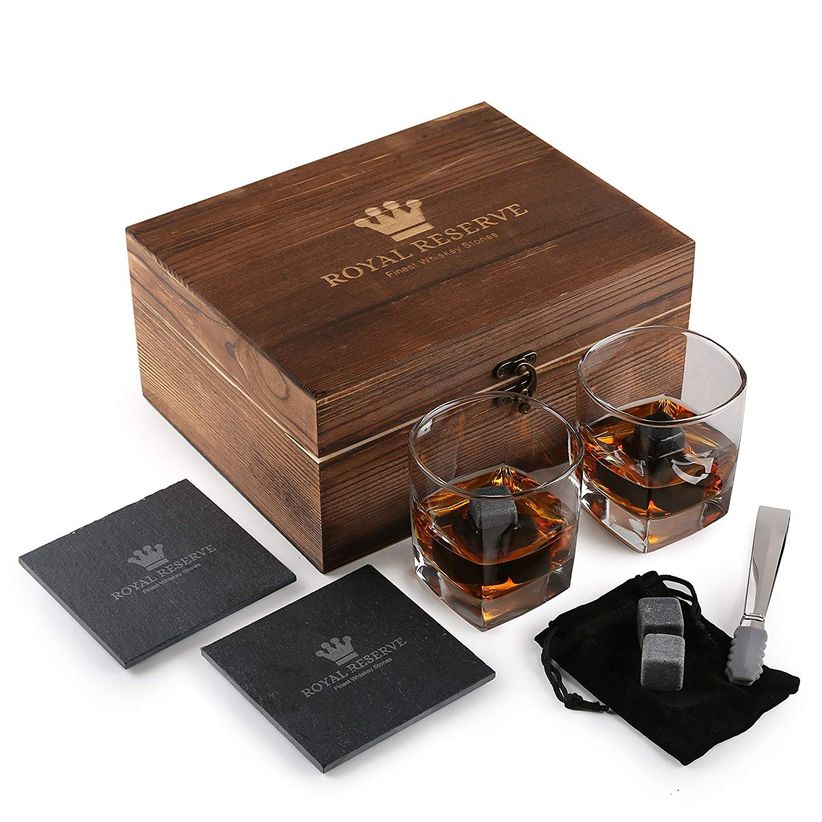 If the man in your life is a whiskey lover, we've got the best 5-year anniversary gift for him. It's a set of premium whiskey stones, beautifully packaged in a wooden box from Royal Reserve. There will be no more watered-down whiskey in his future when you opt for this wonderful set, which includes two crystal glasses and a pair of tongs.
Royal Reserve whiskey stones gift set, $60, Amazon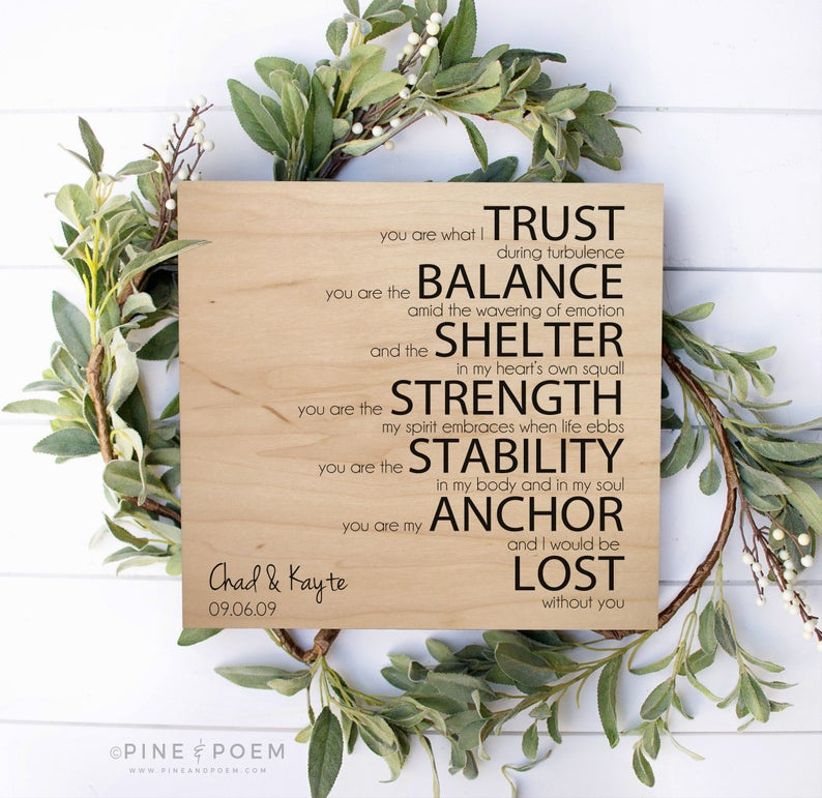 His heart will swell with pride when he opens this heartfelt wooden plaque on your anniversary. It lets him know that he's your rock when life gets too intense, and that you'll always look to him when you need a partner in life. Simple and straightforward, this 5-year anniversary gift for him is something he can treasure for many years to come.
PineandPoem personalized love poem, $40, Etsy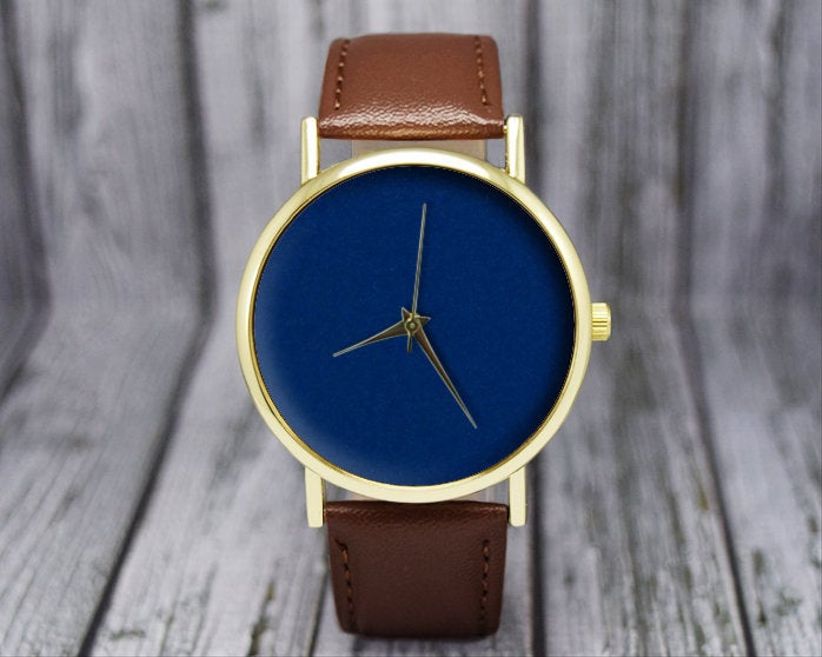 It may be a little-known fact, but blue is actually the color to give for a five-year wedding anniversary. In keeping with that is this stunning minimalist watch with a blue face. In true minimalist fashion, the watch face is devoid of anything but the minute, second and hour hands. A sturdy, attractive leather band completes the look.
RedJuanShop minimalist leather watch, $18, Etsy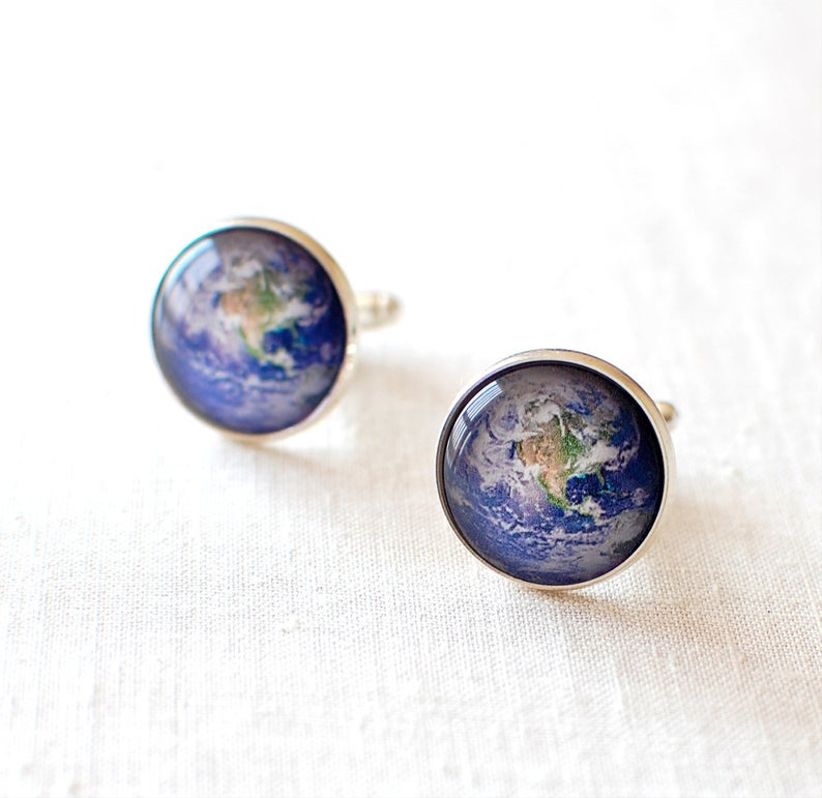 Planet Earth is on display on these beautiful, unique cufflinks. So whether you're looking to incorporate blue into your 5-year anniversary gift for him, or simply give him something he'll use over and over again, we're of the opinion that you can't go wrong with these cufflinks.
JujuTreasures planet earth cufflinks, $25, Etsy
This wooden keepsake box is a nice addition to any desk or workspace. We love how a photo can be included for a personal touch—and so that the recipient will be able to fondly look back on those wedding memories.
WeddingWire Shop wood keepsake box, $13, WeddingWire Shop
5-Year Anniversary Gifts for Her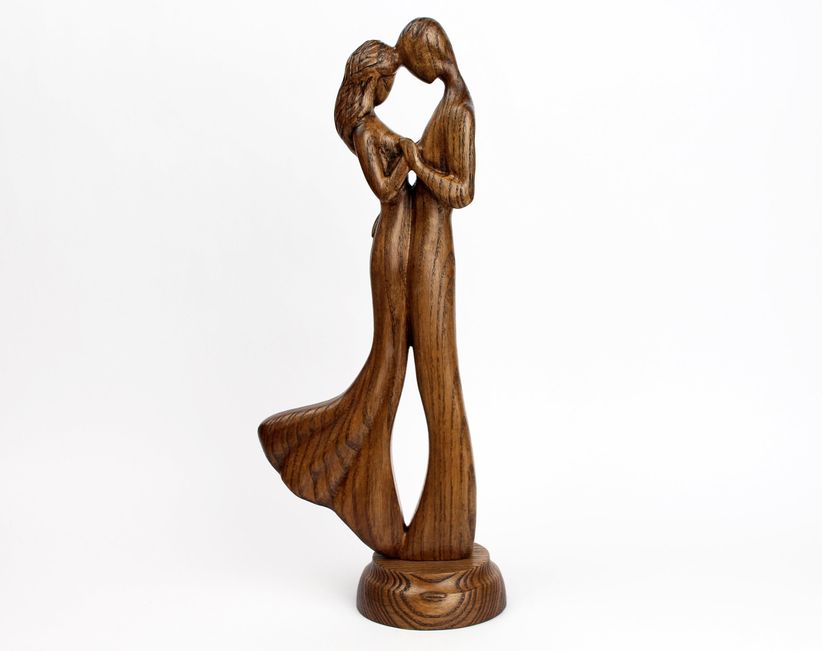 This wooden statue of two lovers in a tender pose will steal her heart on your fifth wedding anniversary, and it fits perfectly with the traditional gift of wood, which is symbolic of the strength of the bond you share.
WoodSoulCarving wooden couple statue, $72, Etsy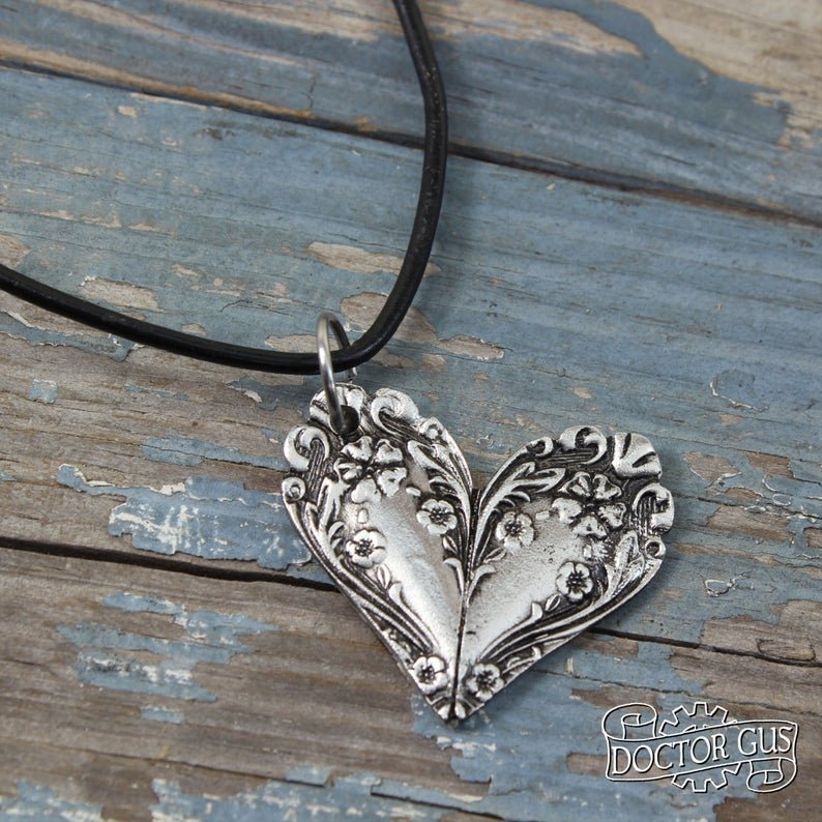 The modern 5-year anniversary gift is silverware. If that doesn't sound too exciting to you, feel free to get creative with it. Here, Etsy shop Doctorgus has done the work for you—they've created a beautiful necklace out of tips of ornate spoons. This beautiful silver necklace makes the perfect 5-year anniversary gift for her.
Doctorgus ornate spoon heart necklace, $11, Etsy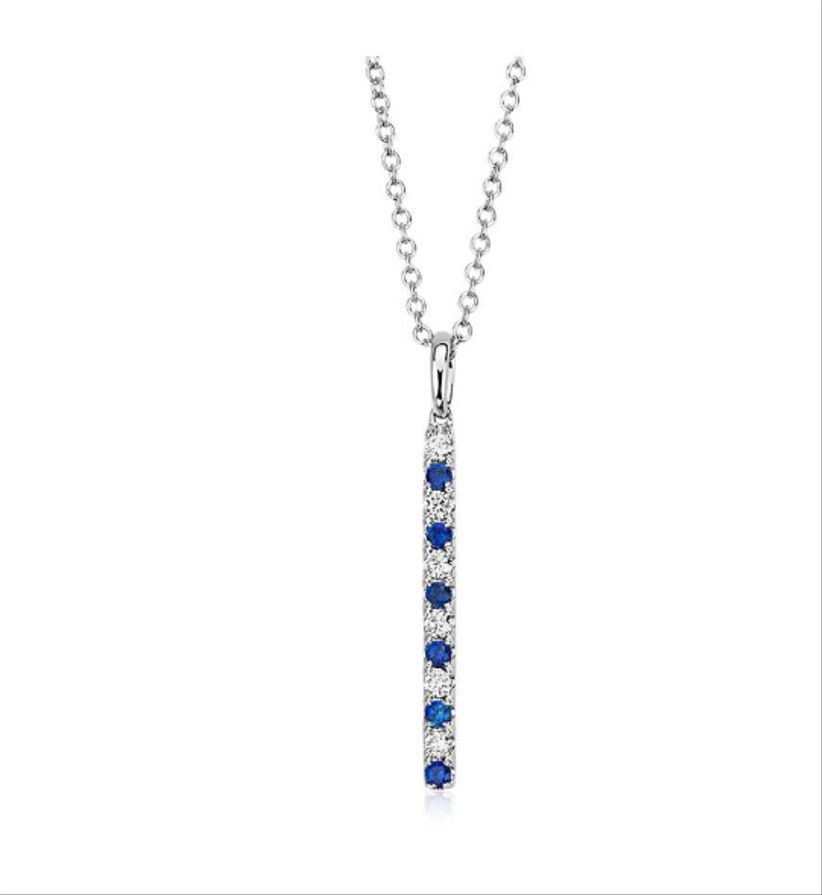 By now, you've probably done your research (or read this article!) and you know that sapphire is the customary 5-year anniversary gift for jewelry. If you've chosen to go that route, consider this stunning vertical drop necklace from Blue Nile. Alternating sapphire and diamonds sparkle against a white gold background. Trendy and relatively affordable, this necklace is a great choice if you'd like to make jewelry your 5-year anniversary gift for her.
Blue Nile sapphire and diamond vertical bar pendant, $440, Blue Nile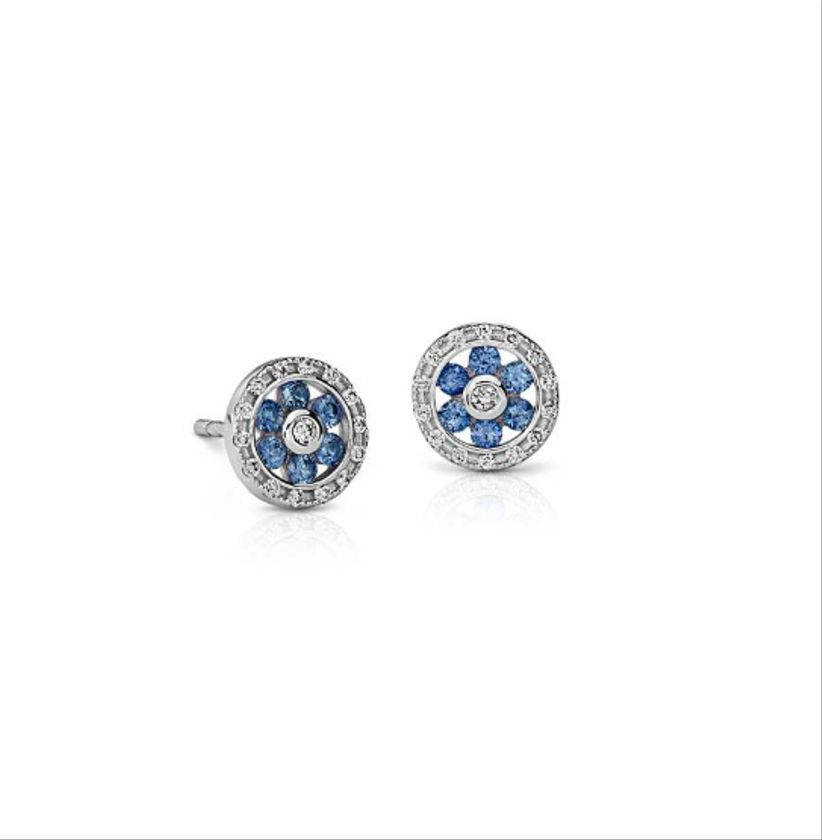 These adorable floral stud earrings are another great choice if you're shopping for jewelry as your 5 year anniversary approaches. These shimmering studs are available in traditional blue sapphire, or a fun pink sapphire color with gold accents.
Blue Nile sapphire floral stud earrings, $384, Blue Nile
If she's a lover of fine perfumes, there's no better 5-year anniversary gift for her than a bottle of Chanel No. 5. How apropos, right? It's like they've done the work for you.
Chanel No. 5 eau de parfum, prices vary based on size, Sephora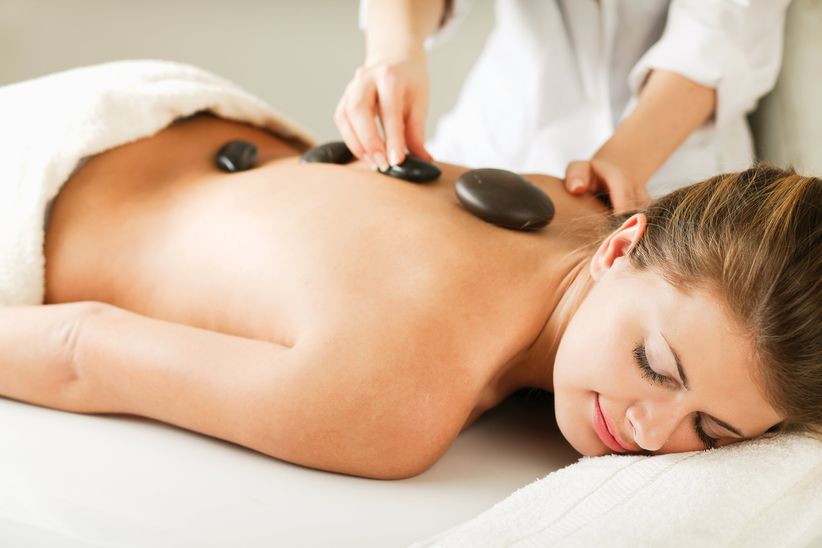 Maybe you'd like to skip the wood and silverware thing altogether. We get it, and we've got the perfect gift for you: a spa gift card. We promise this is something that won't ever go out of style! Spa Week allows you to choose a gift card to tons of spas across the country and choose your amount, too. Not only that, you can choose to mail the gift card, or print it, or even send it via email.
Spa Week gift card, amount varies, Spa Week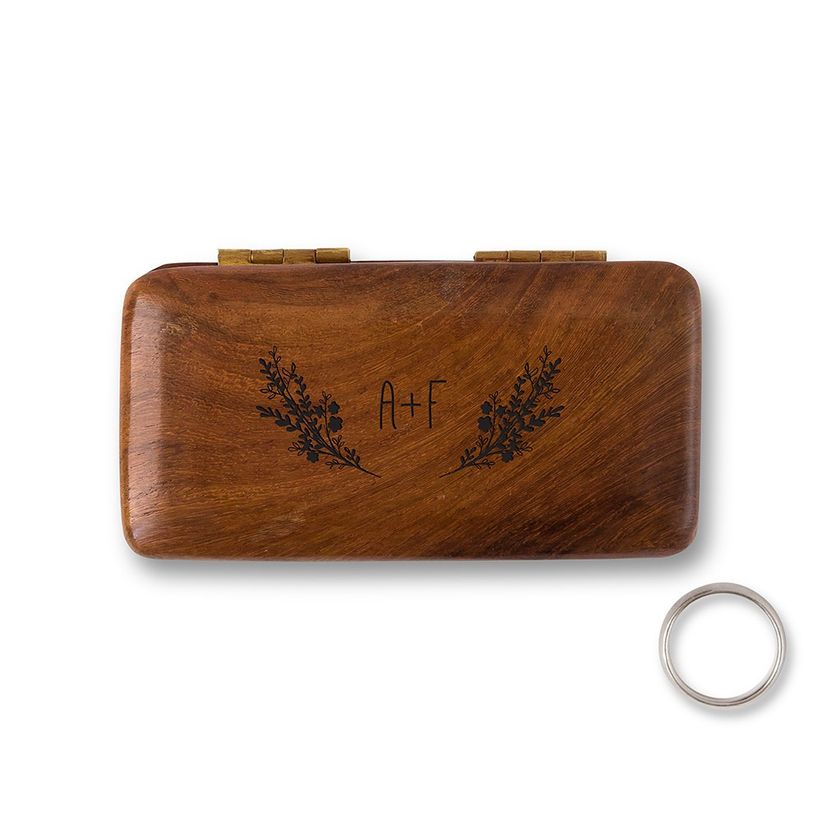 Give her something to hold all of her special keepsakes. This wooden jewelry box features an engraved monogram and certainly makes an affordable gift.
WeddingWire Shop personalized jewelry box, $26, WeddingWire Shop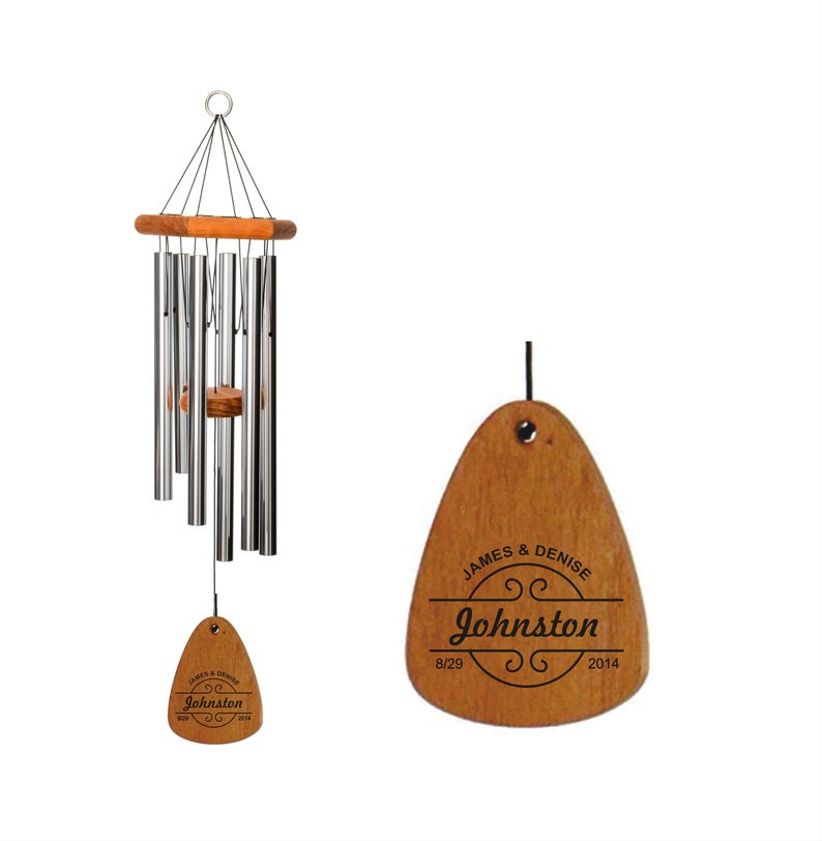 Here's a great 5-year anniversary gift for her that checks the box on the traditional gift of wood without being, well, wooden. These beautiful wind chimes have wooden parts (that are personalizable, by the way), but the gift itself is so much more than that; it's a nice, relaxing addition to any outdoor space that she's sure to love.
FireWoodCreations 18-inch silver wind chime, $50, Etsy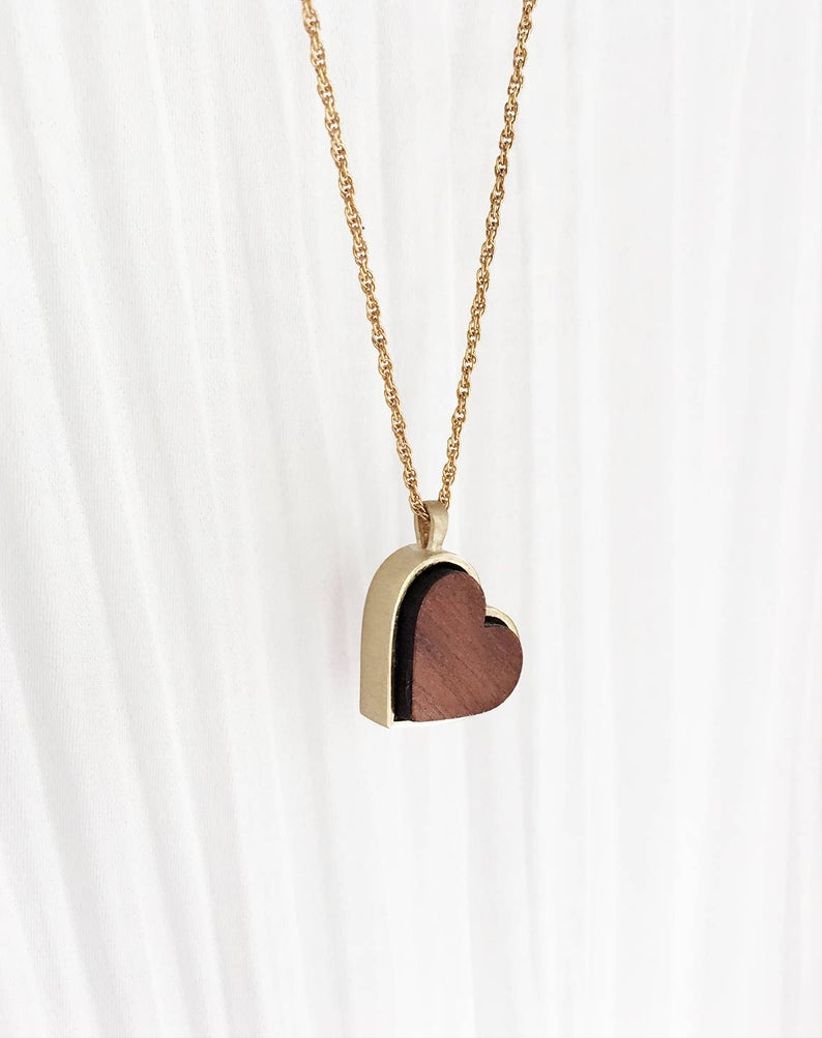 A tiny piece of Pau Ferro wood is laser cut, sanded and oiled in this heart-shaped necklace. With a dramatic 30" chain and set against a 14-karat gold-plated inlay, this beautiful necklace makes a unique—and heartfelt—5 year anniversary gift for her.
LielandLentz wood love necklace, $139, Etsy
Disclosure: This post contains affiliate links, some of which may be sponsored by paying vendors.