31 Unique 1-Year Anniversary Gifts for Every Couple
Looking for a first anniversary gift they'll love? Read on for traditional, modern, and thoughtful gifts to buy your spouse or the happy couple.
We have included third party products to help you navigate and enjoy life's biggest moments. Purchases made through links on this page may earn us a commission.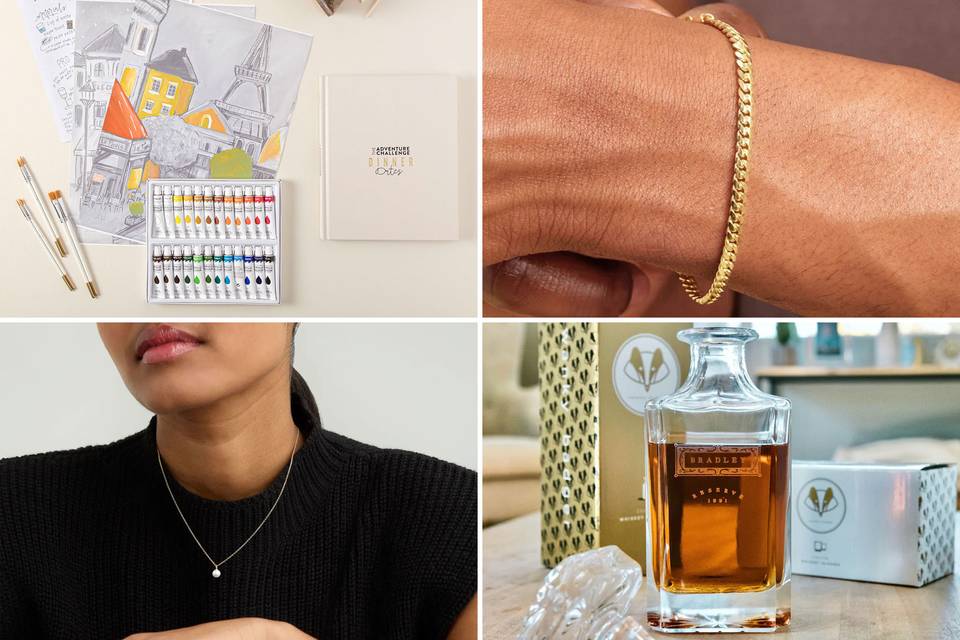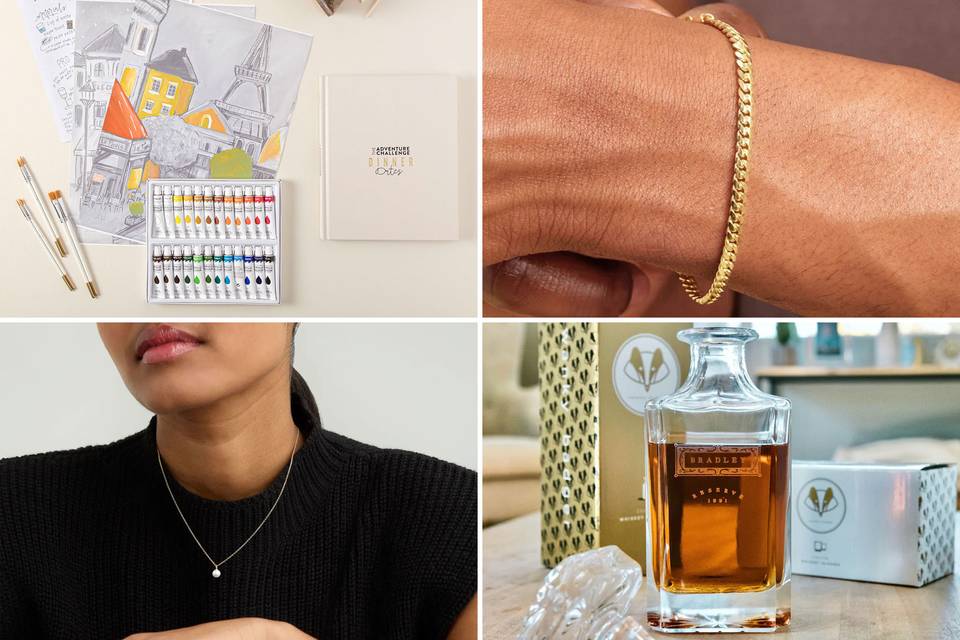 Just like that, you (or your favorite couple) are already celebrating one year of marriage—which means it's time to start thinking about gifts. When considering what to buy for a one-year anniversary gift, you can lean toward the first anniversary themes for inspiration (more on that below). But you can also think beyond the milestone's traditional symbols—really, any gift can be great, as long as it's something from the heart. If you're in need of some thoughtful ideas, we've got you covered. From gold jewelry to an origami clock, or even a book filled with romantic prose, these first anniversary gifts are a creative way to celebrate those you love most.
What Is the Traditional One-Year Anniversary Gift?
The traditional first anniversary gift is paper, while the modern gift is a clock. Paper anniversary gifts symbolize the blank page your new marriage gives you, while a clock is said to mark the time you've spent together. Both the traditional and modern routes are great starting points when it comes to considering first anniversary gift ideas, but you can take inspiration from other first-year symbols too.
Gold is the traditional first anniversary metal, both yellow and gold are the first anniversary colors, and carnations are the year's designated flower. To give you a helping hand, we've picked some of our favorite gifts below honoring these special themes, as well as some alternative ideas.
The Best One-Year Anniversary Gifts
Need some ideas for celebrating a marriage that's officially one year in? Whether you're a traditionalist or fancy yourself as more of a modernist, these are the best first anniversary gifts for your married friends or other half. (Plus, some alternative picks for those who prefer to go their own route.)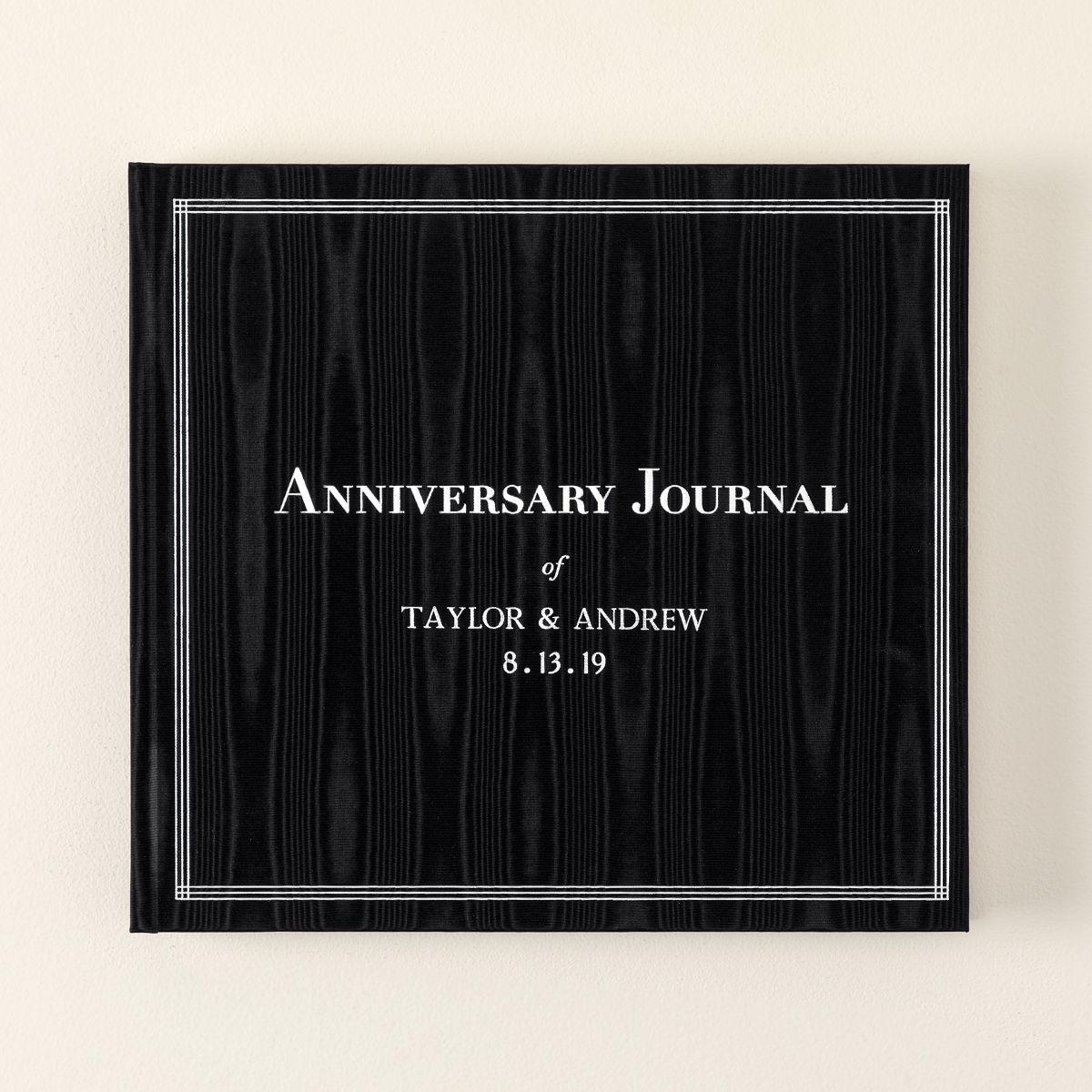 1. Sentimental anniversary journal
One year down, forever to go—so now's the time to start documenting your memories together. With this anniversary journal, there's space to record everything from the first to the 60th anniversary. Better yet, it includes prompts to guide romantic reflection and serve as a reminder of every year together. (Awwh!) This is definitely something that'll be appreciated for a long, long time. In fact, it might just become a treasured family heirloom. The cover is personalized with the couple's names and wedding date for an extra-special touch.
Uncommon Goods The Personalized Anniversary Journal, $130, Uncommon Goods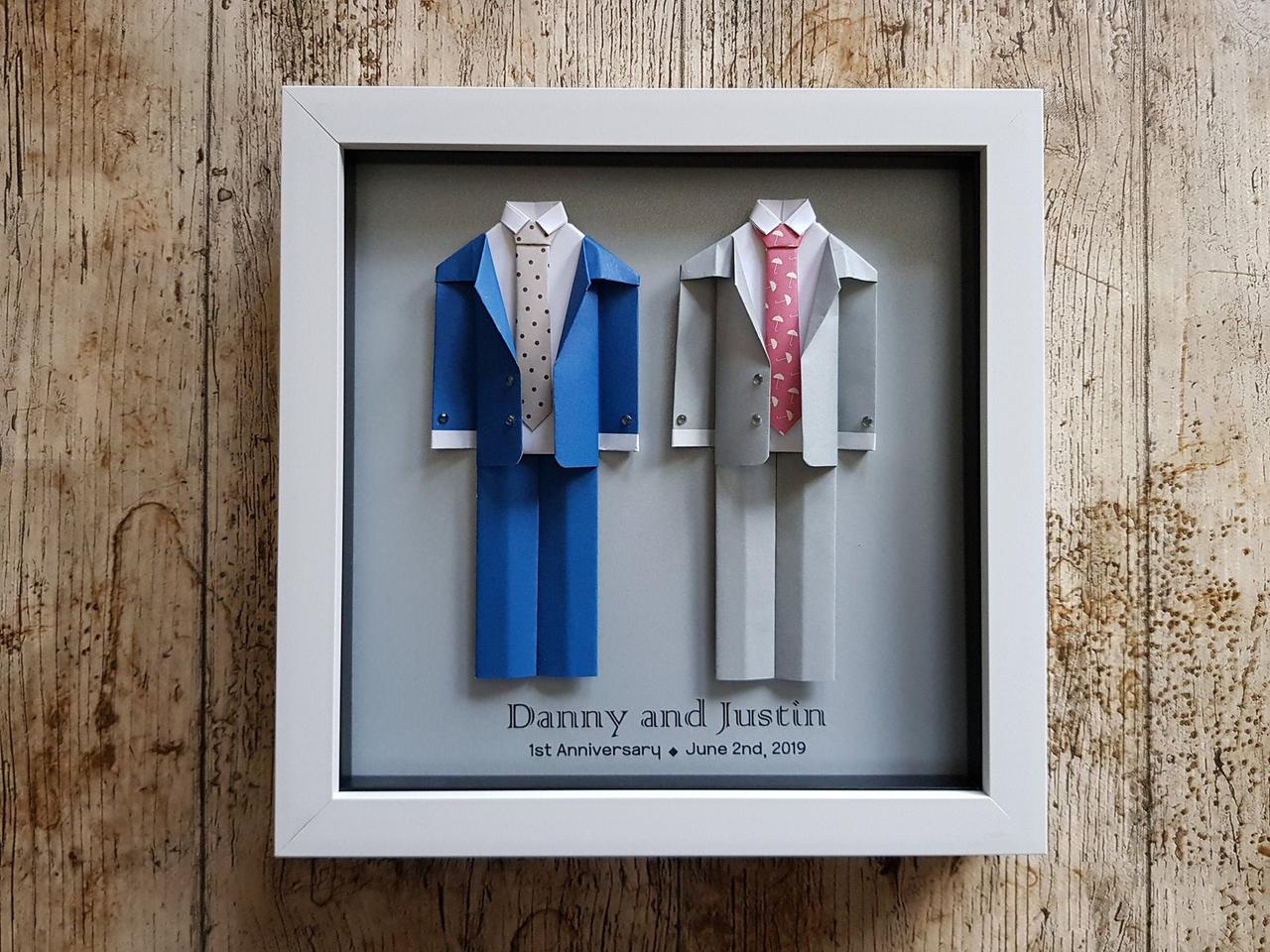 2. Original origami art
Paper gifts for your first anniversary don't come much sweeter than this unusual artwork. It's a framed piece of 3D origami art customized to match your wedding suits and you can personalize it with your wedding date and names to really commemorate the occasion. The artist also has options in their Etsy store for two brides or a bride and groom, as well as art that reflects traditional Korean, Scottish, and Chinese attire.
Joayo Crafts origami wedding art frame, from $84, Etsy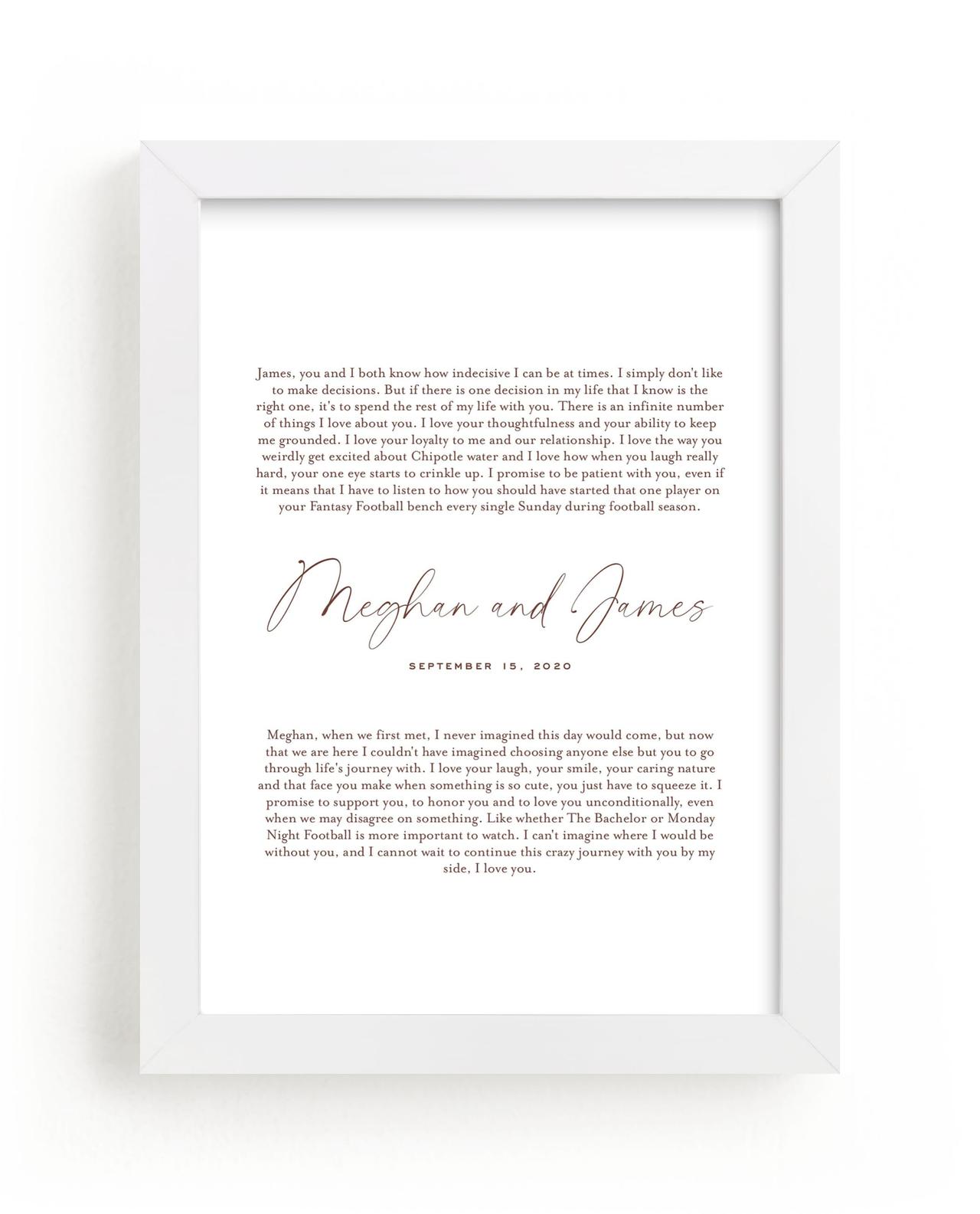 3. Printed wedding vows
Your vows are something you'll treasure forever. This unique paper anniversary gift allows you to show them off on either side of your names and wedding date in a framed print. Hang it above your bed for a romantic reminder of your big day or put it on display in your living room for visitors to appreciate too.
Minted Our Vows art print, from $38, Minted
4. Chic gold watch
Blend two traditional one-year anniversary gift themes in one with this pretty gold watch. While it's made out of gold-plated stainless steel rather than solid gold (hence the affordable price tag), it still looks sleek and stylish. The allover gold tone feels elegant and polished. If that sounds like your spouse's style, go ahead and spoil them. Trust us, they'll love this modern first anniversary gift.
MVMT Reina Multi Eye cascade gold watch, $168, MVMT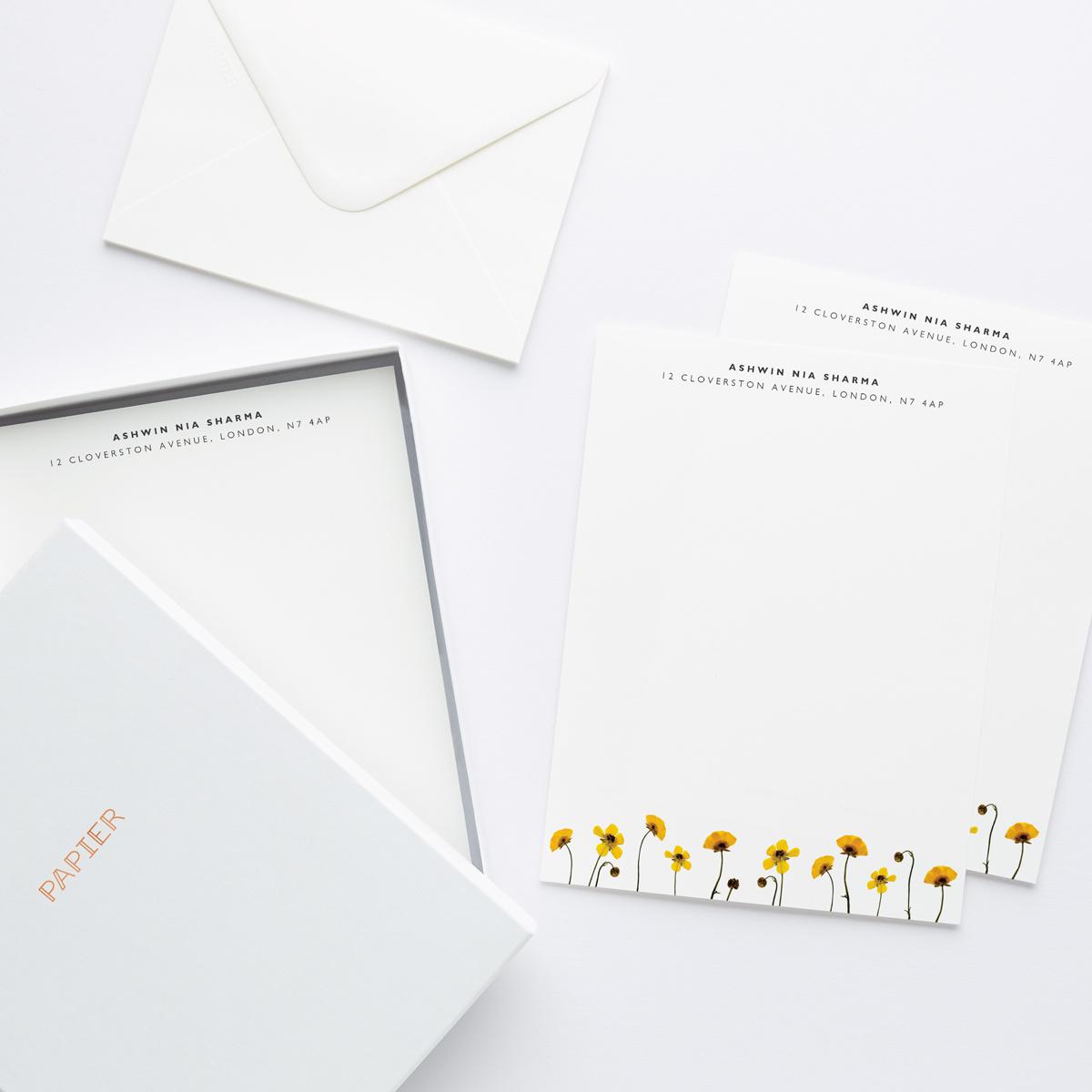 5. Personalized stationery set
One of the most obvious paper anniversary gifts of all? Actual sheets of paper. This personalized stationery set is an elevated take on just that. It's personalized with their name and address and decorated with pretty yellow blooms along the bottom—a subtle nod to the first anniversary color. You'll seriously up your spouse's stationery game (and maybe even encourage them to start writing you love letters).
Papier Buttercup writing paper set, from $40, Papier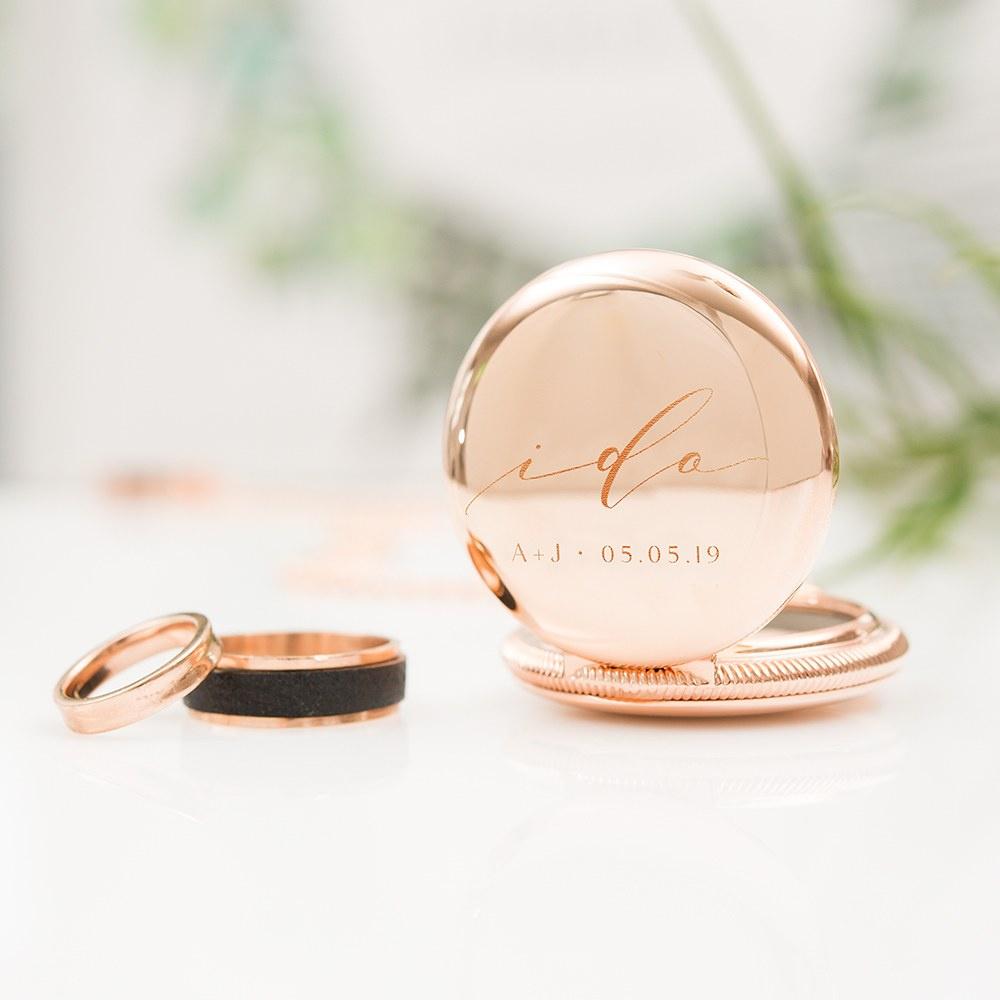 6. Custom ring holder
Now that you've given your other half a ring, they need somewhere safe to store it. If they haven't got around to picking up a ring holder over the last year, now's your chance to surprise them with a special one. Exhibit A: This customizable pocket ring holder engraved with the words "I do," your initials, and your wedding date. You're letting them know that you still do (and always will), plus it keeps with the one-year anniversary theme thanks to the rose gold hue. It's a particularly thoughtful gift for a spouse who frequently has to remove their wedding ring to keep it safe (e.g. for work).
WeddingWire Shop personalized pocket wedding ring holder with chain, $42, WeddingWire Shop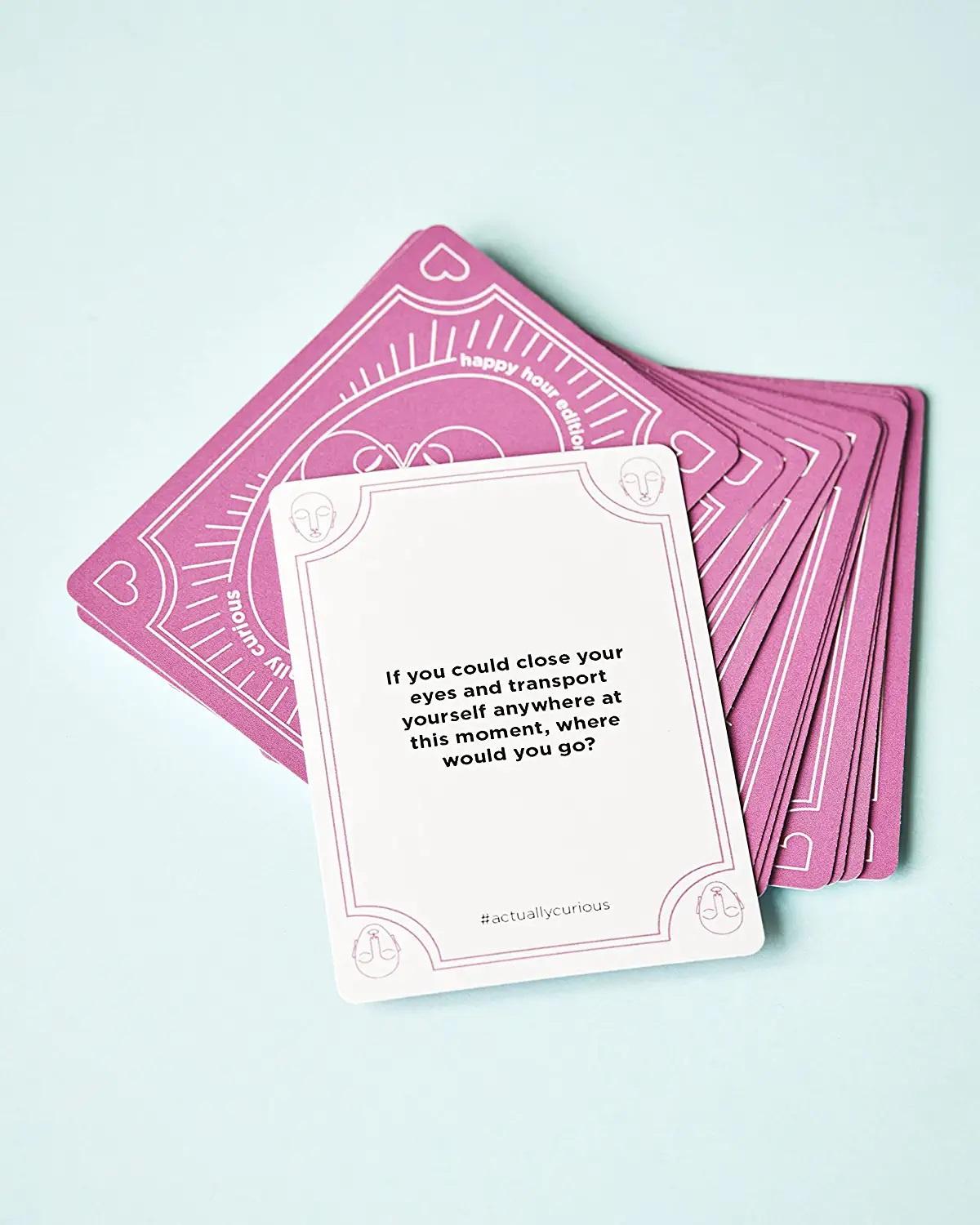 7. Relationship-building card game
This thought-provoking card game from Black-owned business Actually Curious is a fun way for the happy couple to spend their next date night. And the questions aren't just an awesome way to get to know each other on a deeper level, they're also suitable for friends and family. If the lovebirds like to host, they'll enjoy having an easy icebreaker on hand. You can officially check buying a gift for their first wedding anniversary off your list.
Actually Curious Happy Hour Edition, $25, Amazon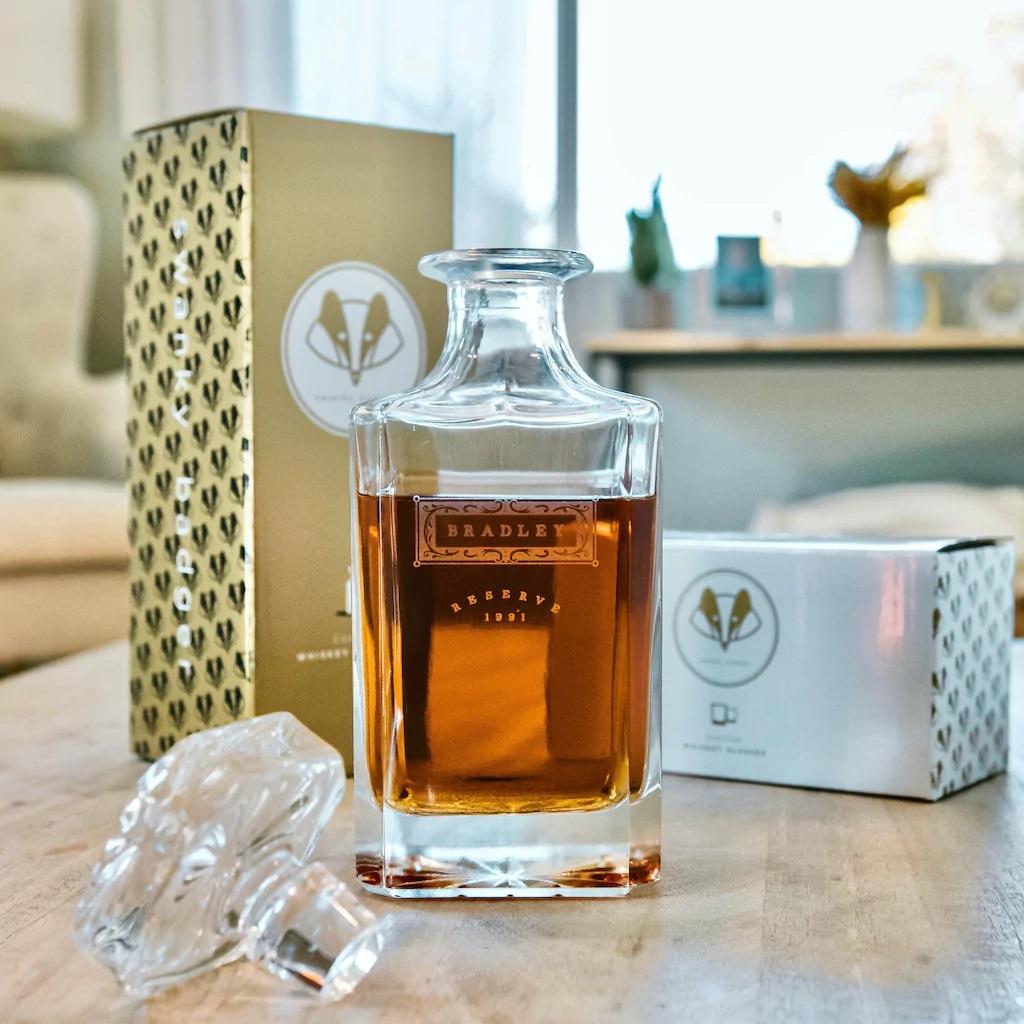 8. Dapper whiskey decanter
Got a whiskey lover in the house? Here's a great one-year anniversary gift for him or her. Raise their spirits with this beautiful decanter inscribed with their name in a classic style. You can add an extra engraving on the back with a sweet message like "Cheers to one year," or make it a set by adding matching rocks glasses. Whatever you decide, this attractive glassware is a great way for them to store and enjoy any libation of their choice.
Swanky Badger The Classic whiskey decanter, from $167, Swanky Badger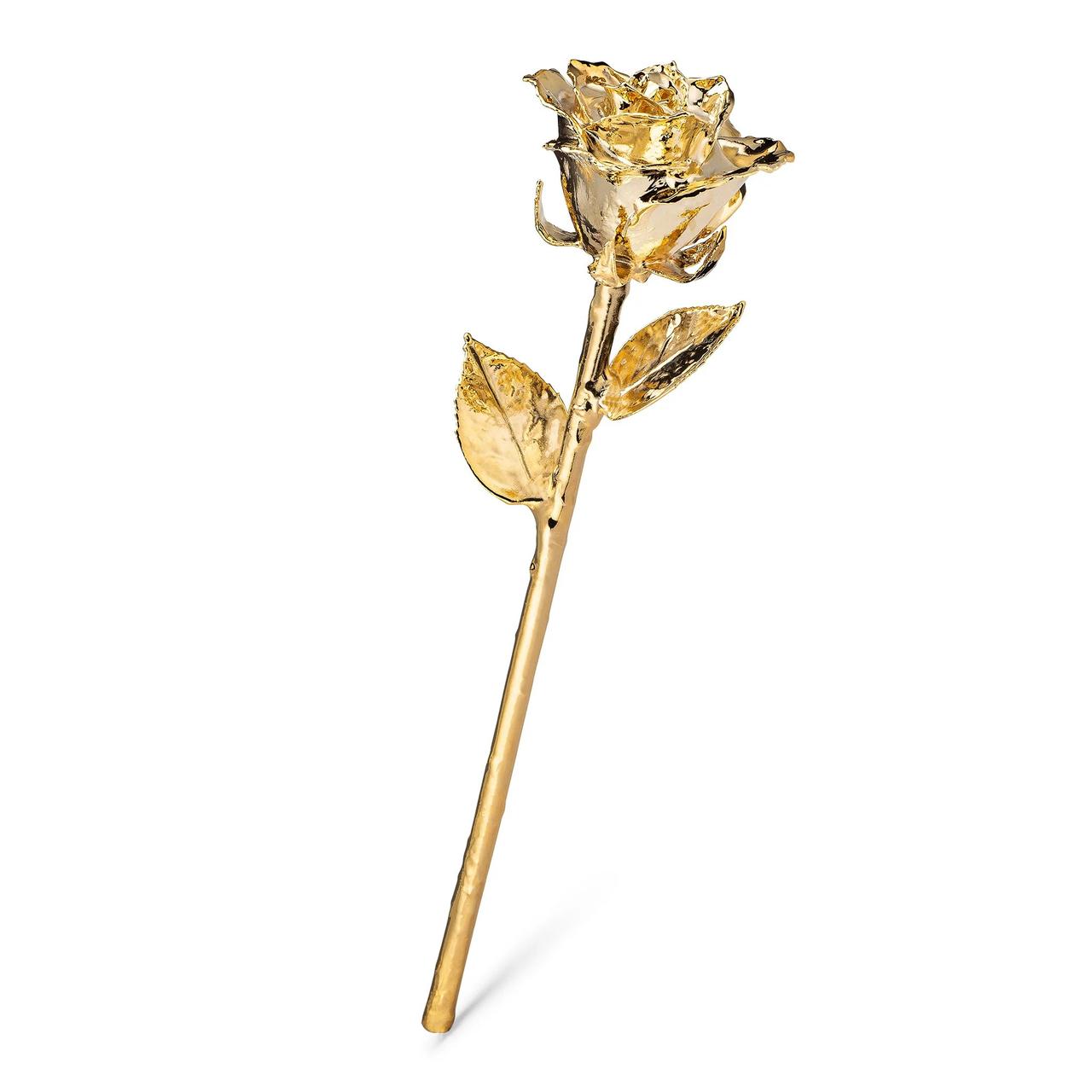 9. Gold-coated rose
A rose is a quintessential anniversary gift, but it doesn't fit the theme for the first year of marriage—or does it? This stunning bloom is covered in 24-karat gold, making it an on-theme (and ultra-romantic) present. It's pretty fascinating to find out how it all works too. First, a real rose is picked at peak bloom. It's then preserved in a durable shell that still allows the flower's natural beauty to shine through. After that, the rose is plated in 24-karat gold. Have it engraved with your names or a heartfelt note like "I love you" before completing your order.
The Forever Rose 24-karat gold-dipped forever rose, from $110, The Forever Rose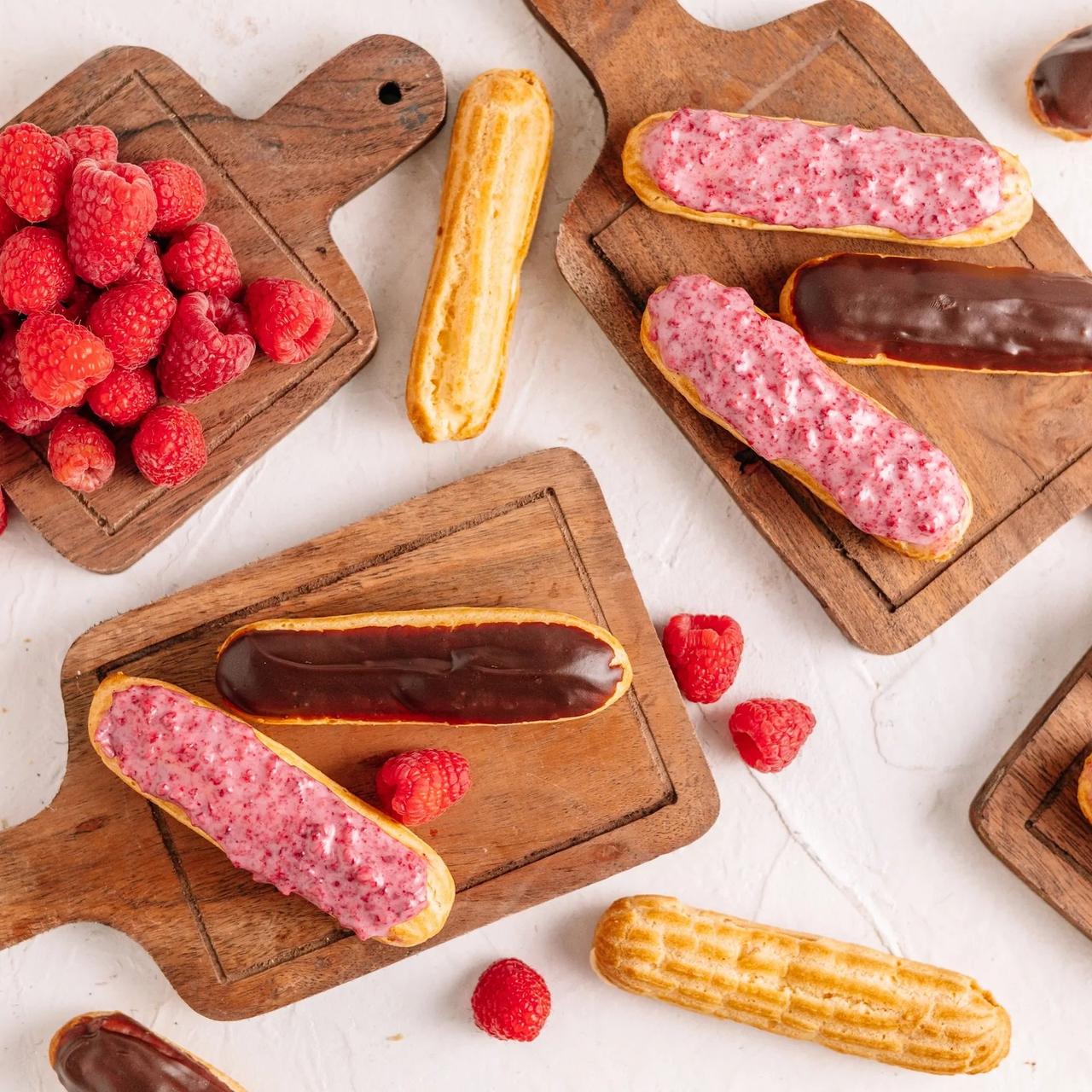 10. At-home baking kit
If the newlyweds share a sweet tooth, we can't think of a better one-year wedding anniversary gift than this eclair baking kit. It'll be a fun way to spend a morning or evening together, and at the end, they get a tasty treat as their prize. The kit comes with high-quality pre-measured ingredients (i.e. no last-minute dash to the store), step-by-step instructions, and a kitchen utensil that'll come in handy while baking. Talk about a creative way to celebrate year one!
Bake Eat Love raspberry and chocolate eclair kit, $40, Bake Eat Love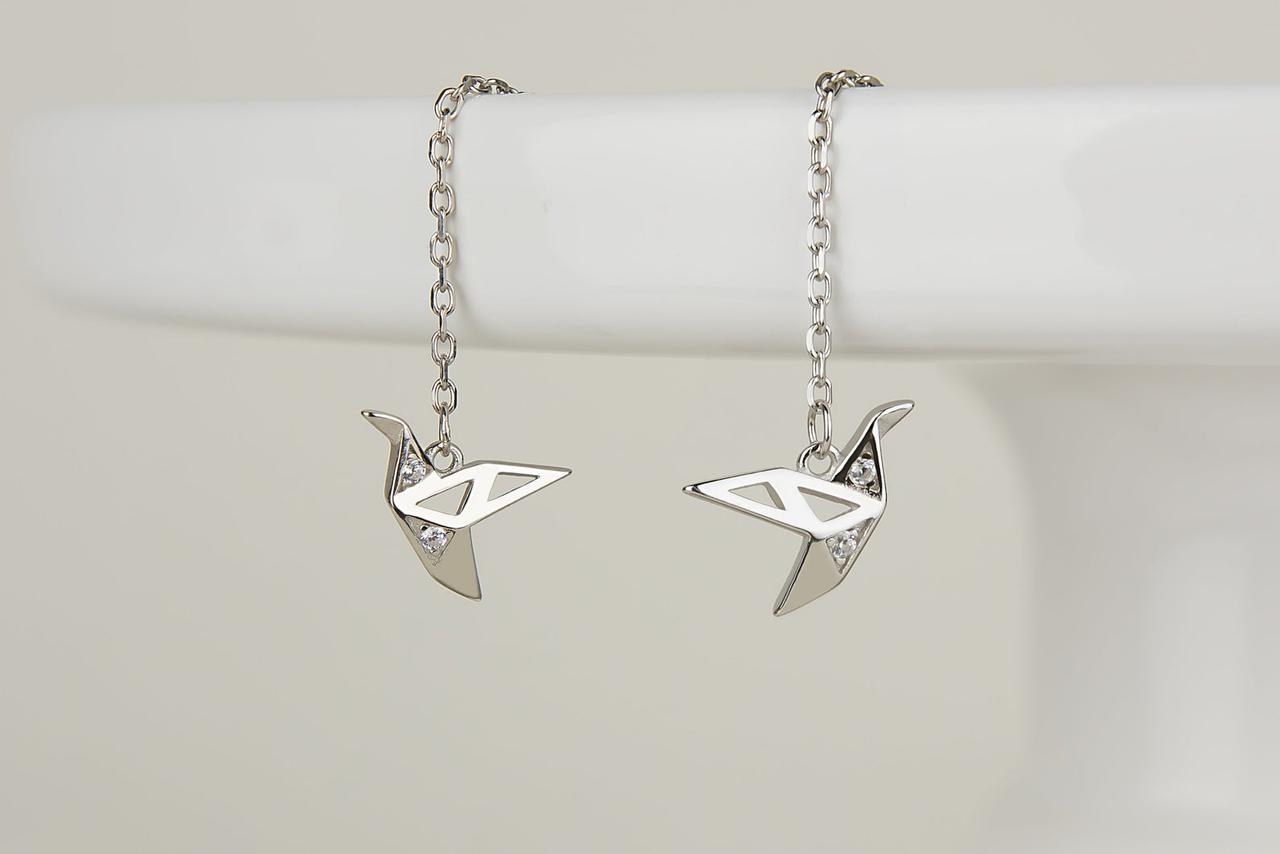 11. Paper crane earrings
Your paper anniversary doesn't mean you're strictly limited to paper goods. Take these dainty origami crane bird earrings for example—they're a chic take on a paper creation. Opt for the gold set if you want to maximize the one-year themes.
Shineez Treasure origami crane bird earrings, from $27, Etsy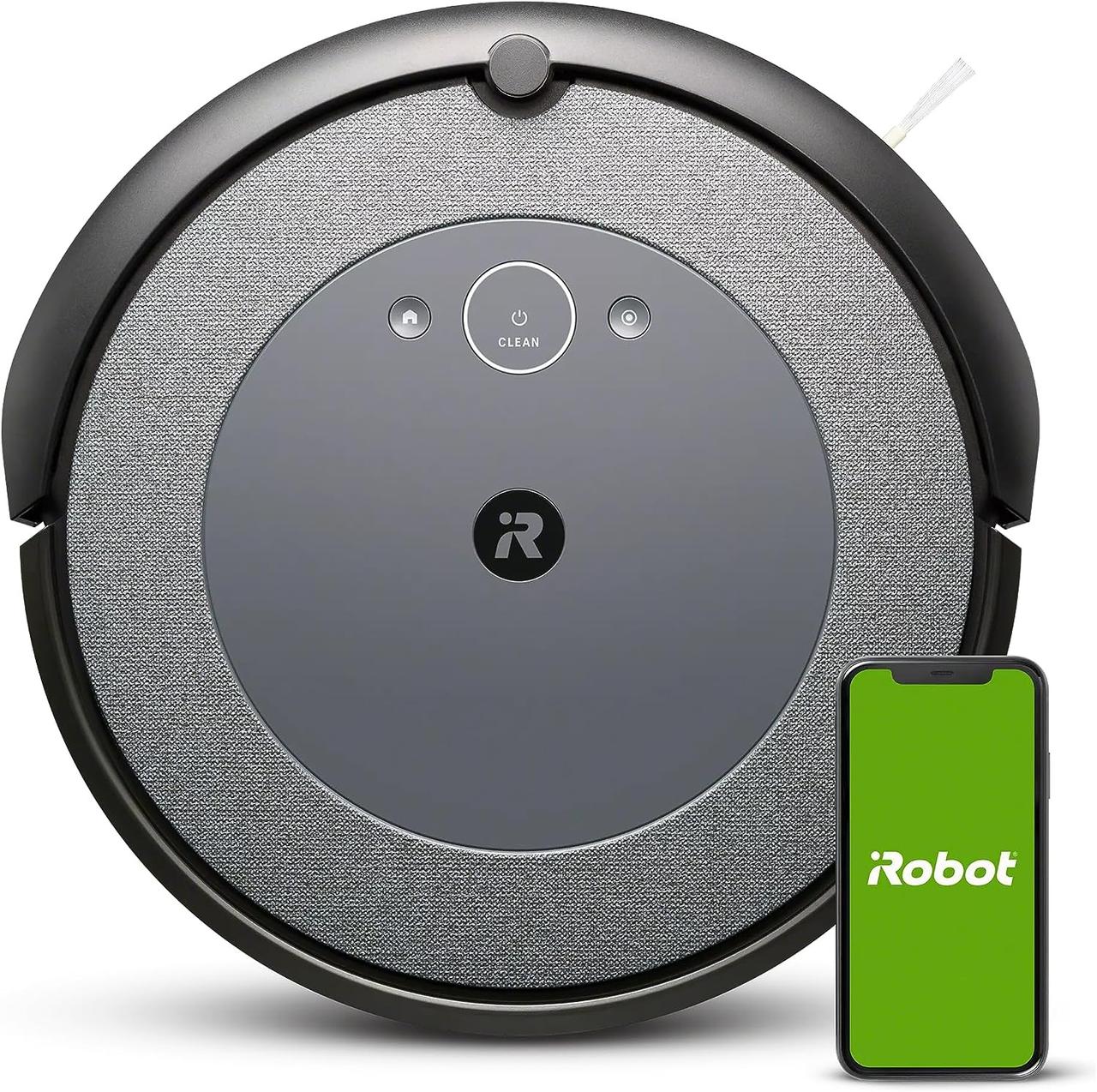 12. Practical robot vacuum
Top tip: A lot of newlyweds will leave their wedding registry active for up to a year after the big day. So, if you're really stuck for first anniversary gift ideas for a couple, check their registry to see if there's anything that went unfulfilled. The lovebirds will be glad to receive it as a first anniversary present instead. Self-operating vacuums have consistently topped couples' wish lists over the last few years. If they don't already have one, iRobot's Roomba is sure to put a smile on their faces. It cleans in neat rows, is great at picking up pet hair, and you can communicate with it through Alexa devices.
iRobot Roomba i3 EVO wi-fi connected robot vacuum, $350, Amazon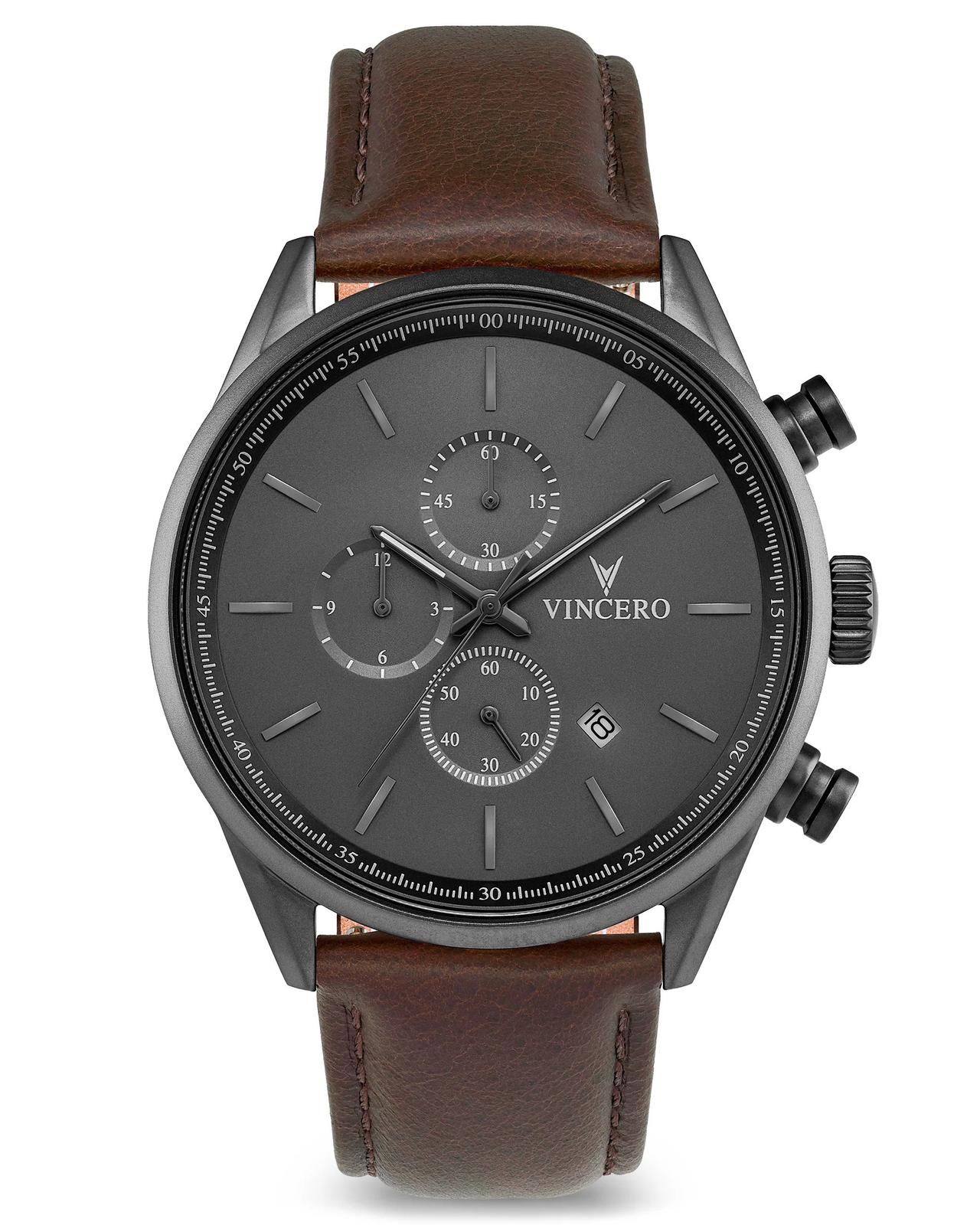 13. Sophisticated wristwatch
A watch is a classic anniversary gift, and it's especially relevant when you're celebrating your first year as a married couple. The brushed gold details mean that this leather-strap watch combines two one-year anniversary materials: clocks and gold. A stunning leather strap meets a stylishly modern watch face, resulting in a contemporary-yet-sophisticated timepiece. (And that's not to mention all of the meaning a clock anniversary gift brings.)
Vincero The Chrono S2, $175, Vincero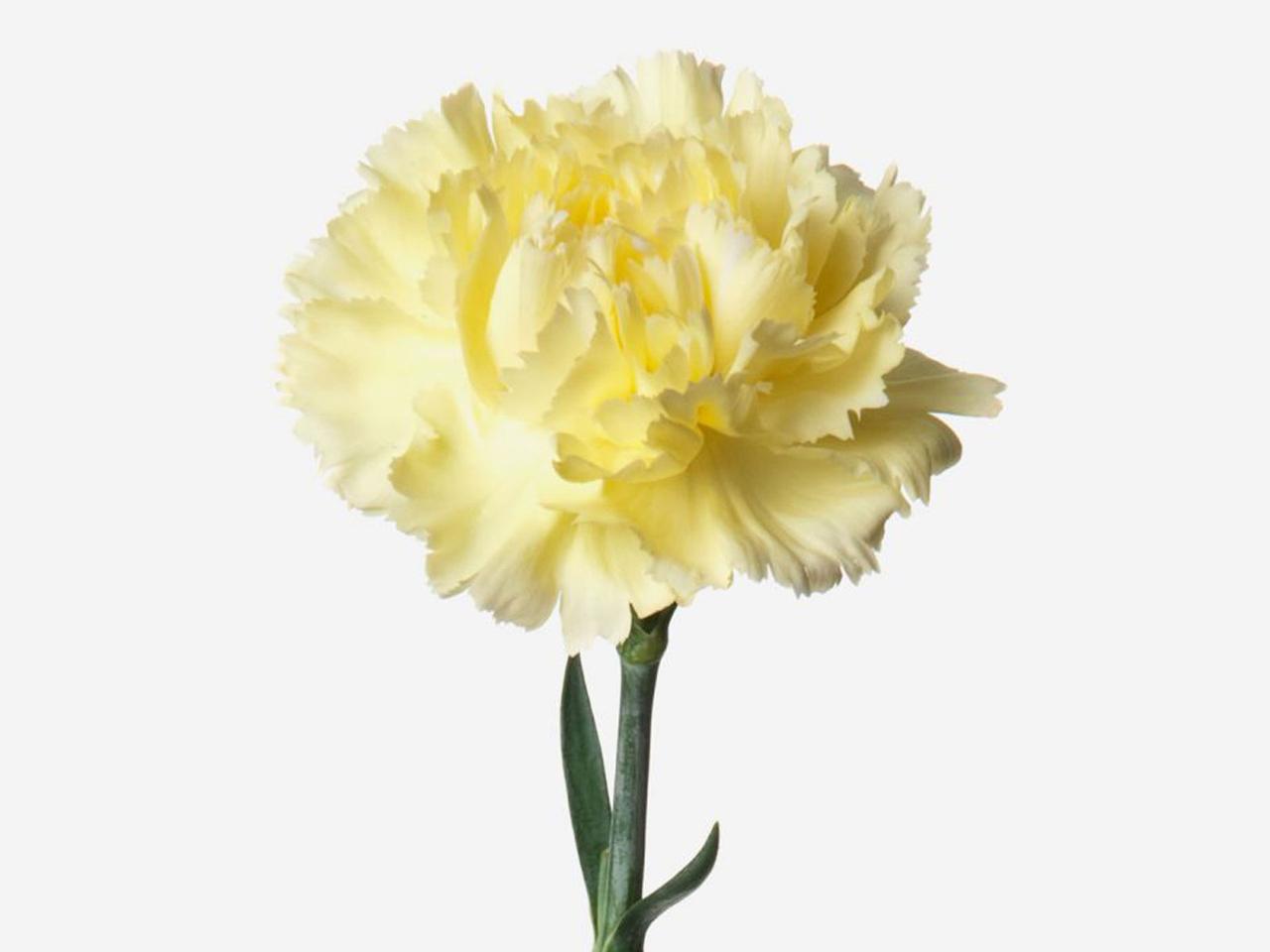 14. Blonde carnation bouquet
Because the first anniversary flower is a carnation, a bouquet of these sweet blooms is a no-brainer for a one-year anniversary gift. Opt for this pale blonde hue if you want to get top marks for staying on theme. It comes in a bunch of 20 stems or 40 stems depending on your budget (and how grand a gesture you want to make).
FLOWERBX pale blonde carnation, from $65, FLOWERBX
15. Dainty pearl necklace
If you're sticking to tradition, then you can't go wrong with this beautiful gold-vermeil necklace from Mejuri. The pretty pearl is a symbol of wisdom, and the classic style means they'll wear it time and again. It's subtle enough for every day, yet elegant enough for special occasions.
Mejuri mini pearl pendant necklace, $98, Mejuri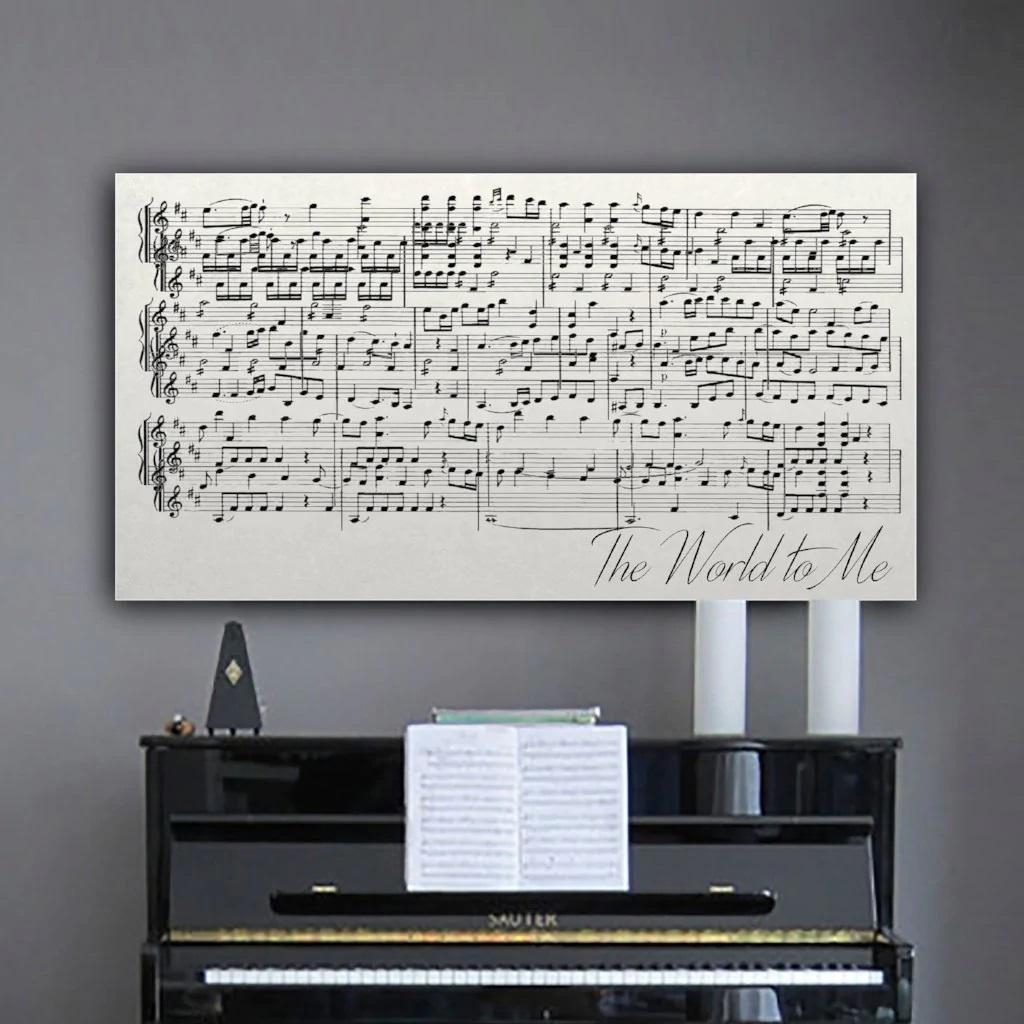 16. Meaningful sheet music
Your wedding day was one of your biggest milestones as a couple and a day you'll each want to remember forever. There are so many ways to commemorate that special day and so many details you never want to forget. Turn your first dance song into a keepsake piece of home decor by having the sheet music printed on canvas. There's also an option to add the lyrics if you want to put those on display as well.
Canvas Vows first dance sheet music on canvas, from $89, Canvas Vows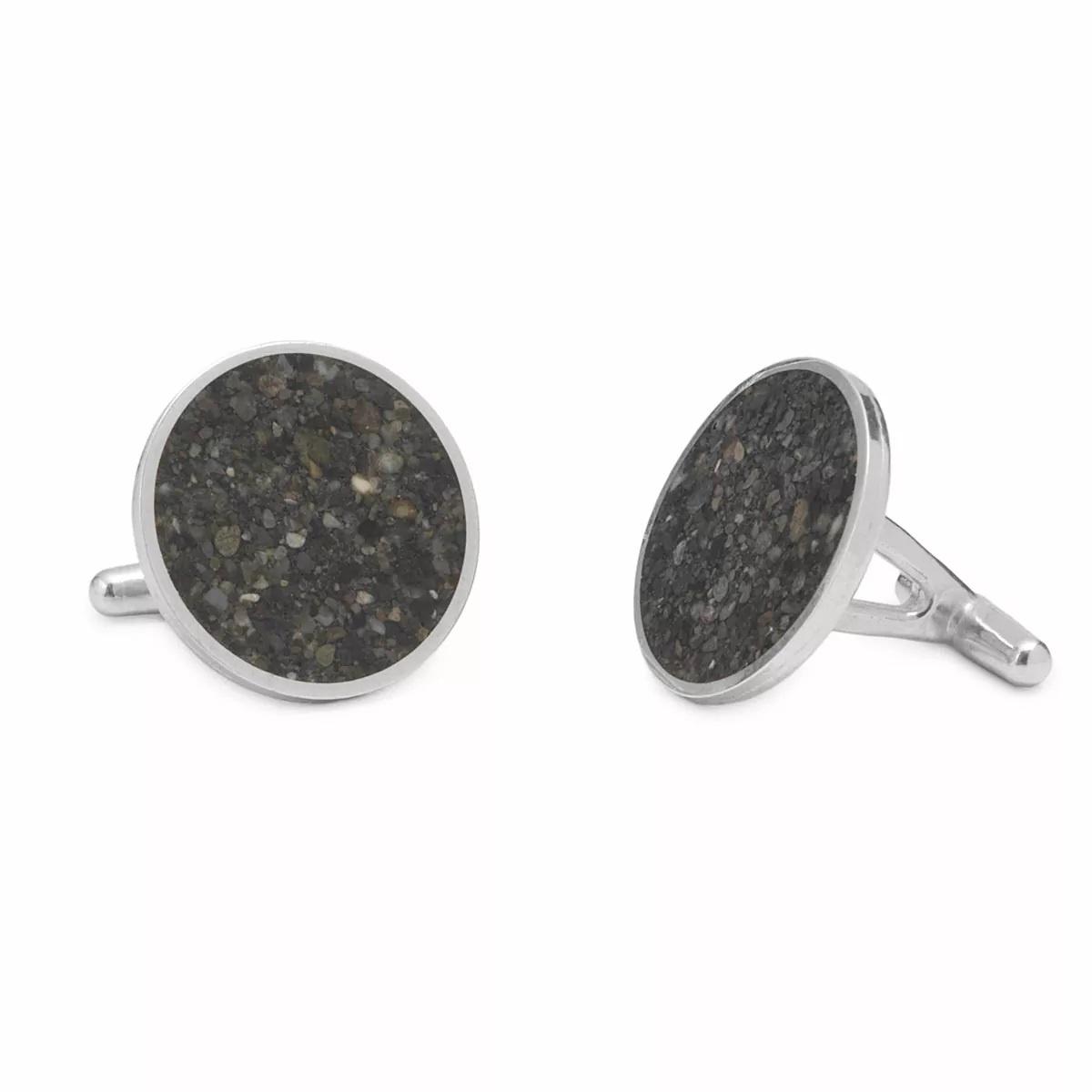 17. Honeymoon cuff links
Keepsakes from the wedding day will always be a good first anniversary gift idea, but how about a reminder of your honeymoon? These clever cuff links are filled with sand from the beach of your choosing, or you can opt to send your own sand to the maker instead. They can source sand from all over the world, so chances are your honeymoon destination is on the list.
Holly Daniels Christensen custom beach cuff links, from $144, Uncommon Goods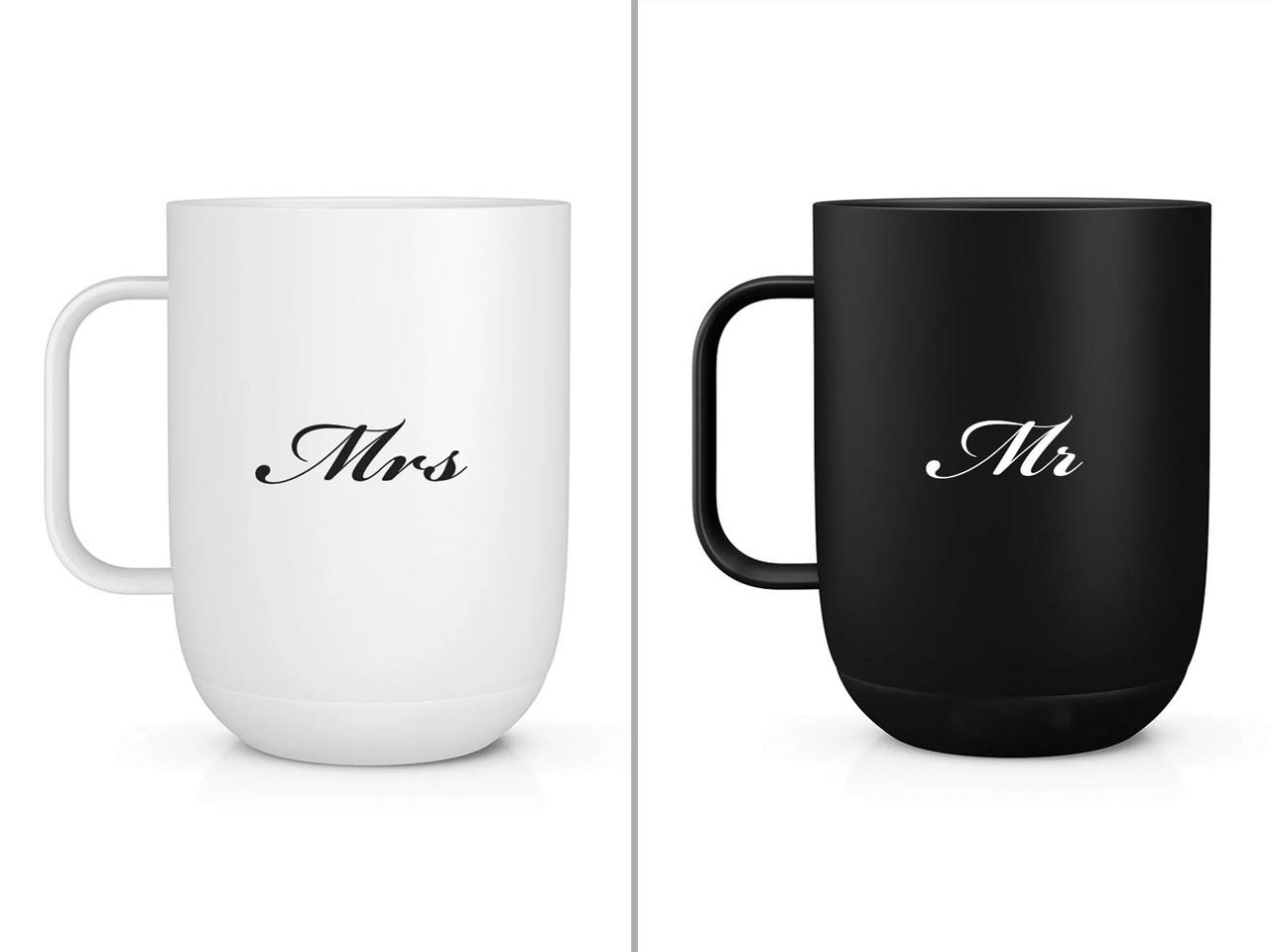 18. Must-have coffee mugs
Shopping for a duo who knows a thing or two about good coffee? Elevate their daily cup of joe with coordinating mugs flaunting their marital status. These self-heating mugs are sold separately so that you can pick up a Mr. and Mrs., Mrs. and Mrs., or Mr. and Mr. set. Powered by a built-in battery, the mug indicates when the optimal temperature has been reached with an LED light and has an auto-sleep feature.
Ember Ember Mug² wedding collection, $169 each, Ember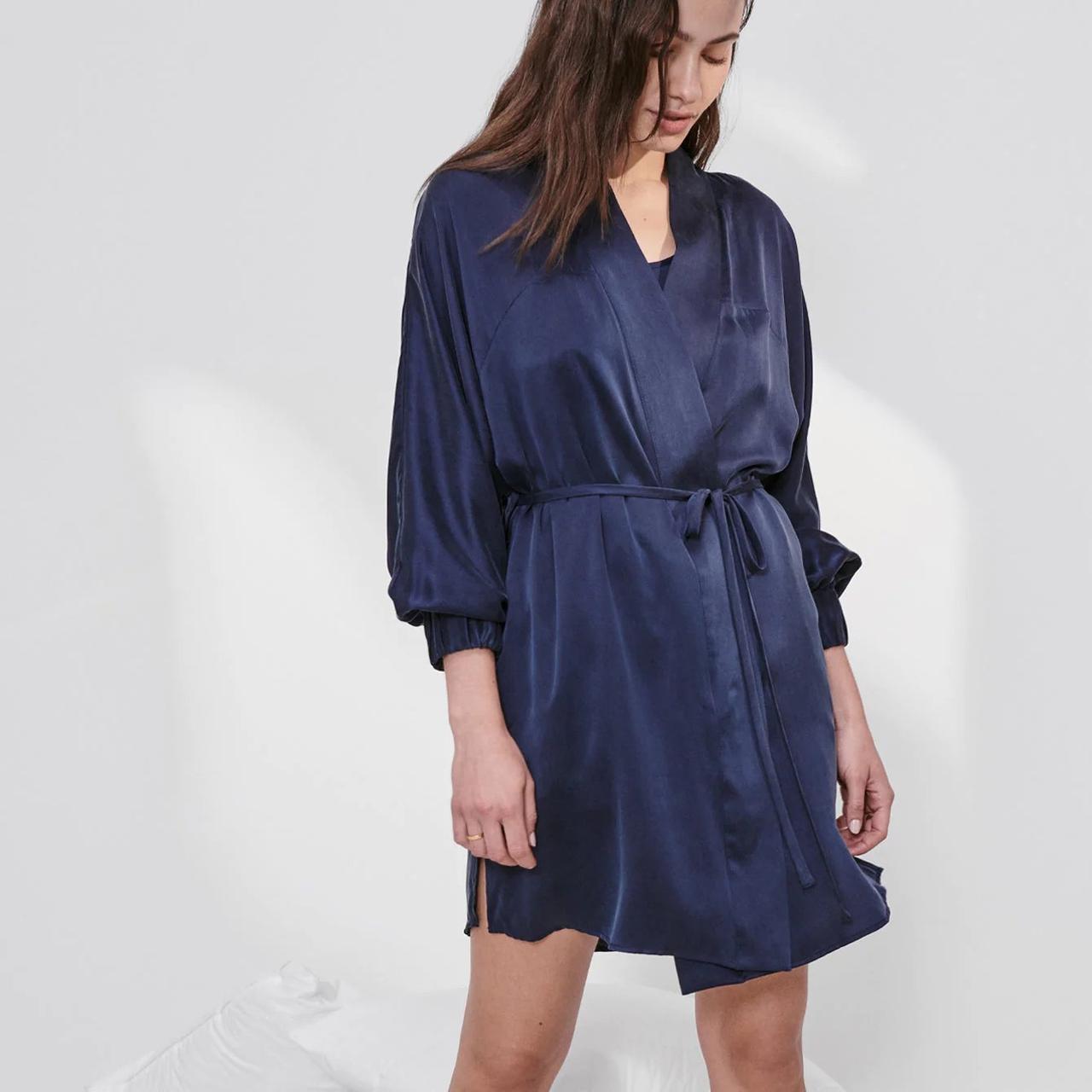 19. Upgraded silk loungewear
There's nothing quite like slipping into a silky soft robe at the end of a long day. If you're looking for a first wedding anniversary gift that'll encourage your husband or wife to relax and take it easy, Lunya's silk loungewear is totally it. The site has options for men and women, and (prepare to be amazed) they're all machine-washable. Yes, really.
Lunya washable silk robe, $278, Lunya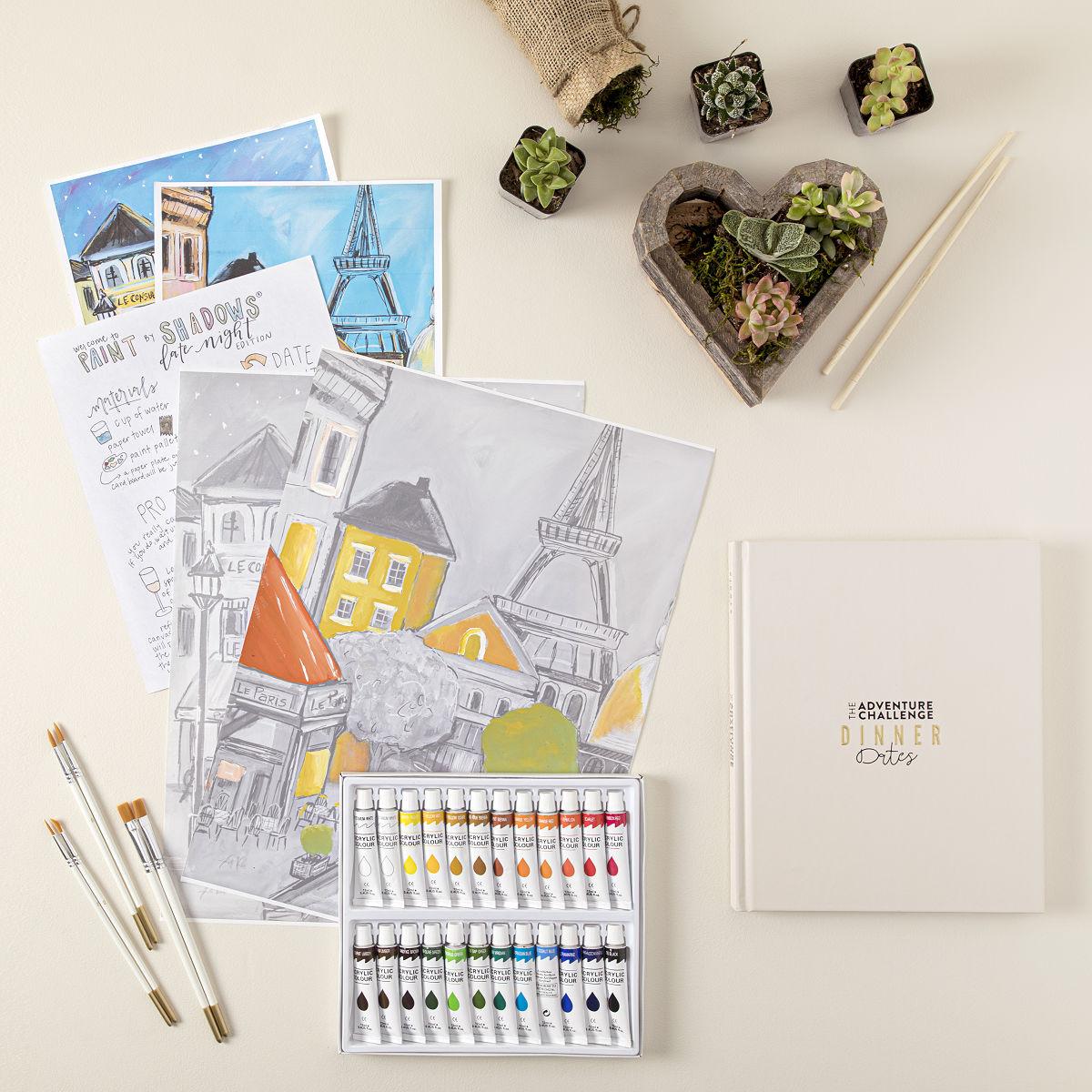 20. Date night subscription
Nobody panic, but we may have just discovered the perfect gift for a couple on their anniversary. This genius subscription from Uncommon Goods combines a selection of gifts that make for excellent date nights. Once a month, they'll get a fun surprise like The Adventure Challenge: Dinner Dates or a couple's shadow painting kit. Choose between a three- or six-month subscription—either way, it's a gift that keeps on giving!
Uncommon Goods Any Night Is Date Night subscription, from $159, Uncommon Goods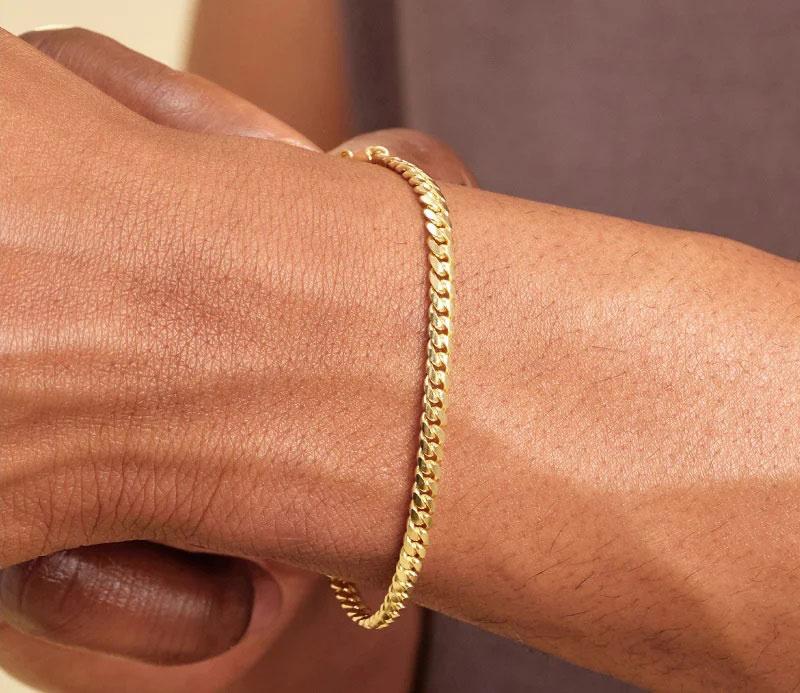 21. Classic gold bracelet
Looking to the traditional first anniversary metal for inspiration? Go for gold with this subtle but luxurious chain link bracelet. Your S.O. will feel like a million bucks with this solid gold piece on their wrist. The 14-karat jewelry is casual enough for everyday wear without feeling over the top or flashy. Basically, it's bound to be appreciated for years to come.
Jaxxon 4mm Cuban link bracelet, from $768, Jaxxon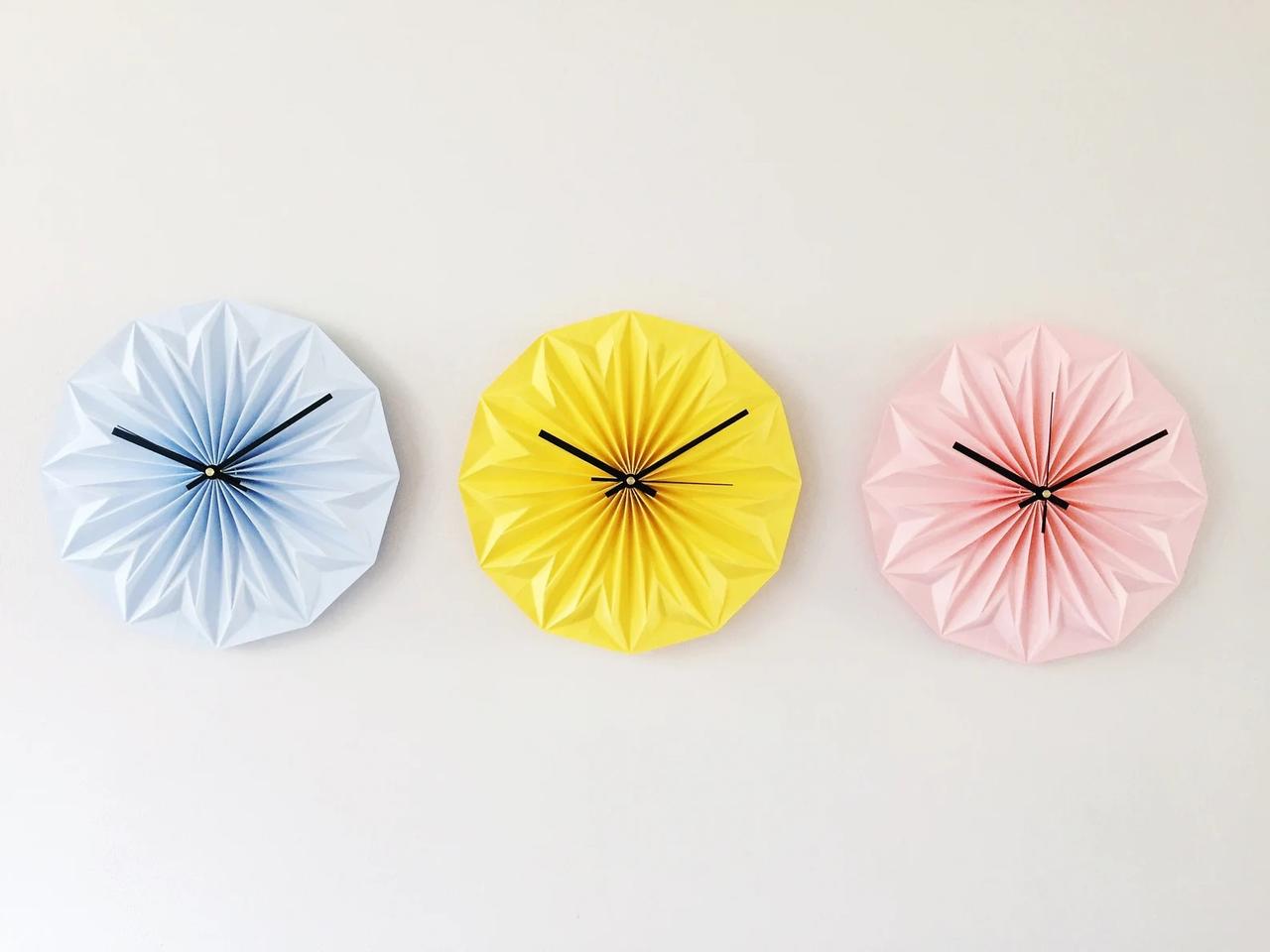 22. Origami wall clock
A paper gift and a clock gift? You've hit the first wedding anniversary gift jackpot. This stylish clock blends traditional and modern one-year anniversary themes and makes a fun, contemporary addition to any home's decor. There are six different colors to choose from, including a cheerful shade of yellow that nails yet another one of this milestone's classic symbols.
Nellianna origami wall clock, from $55, Etsy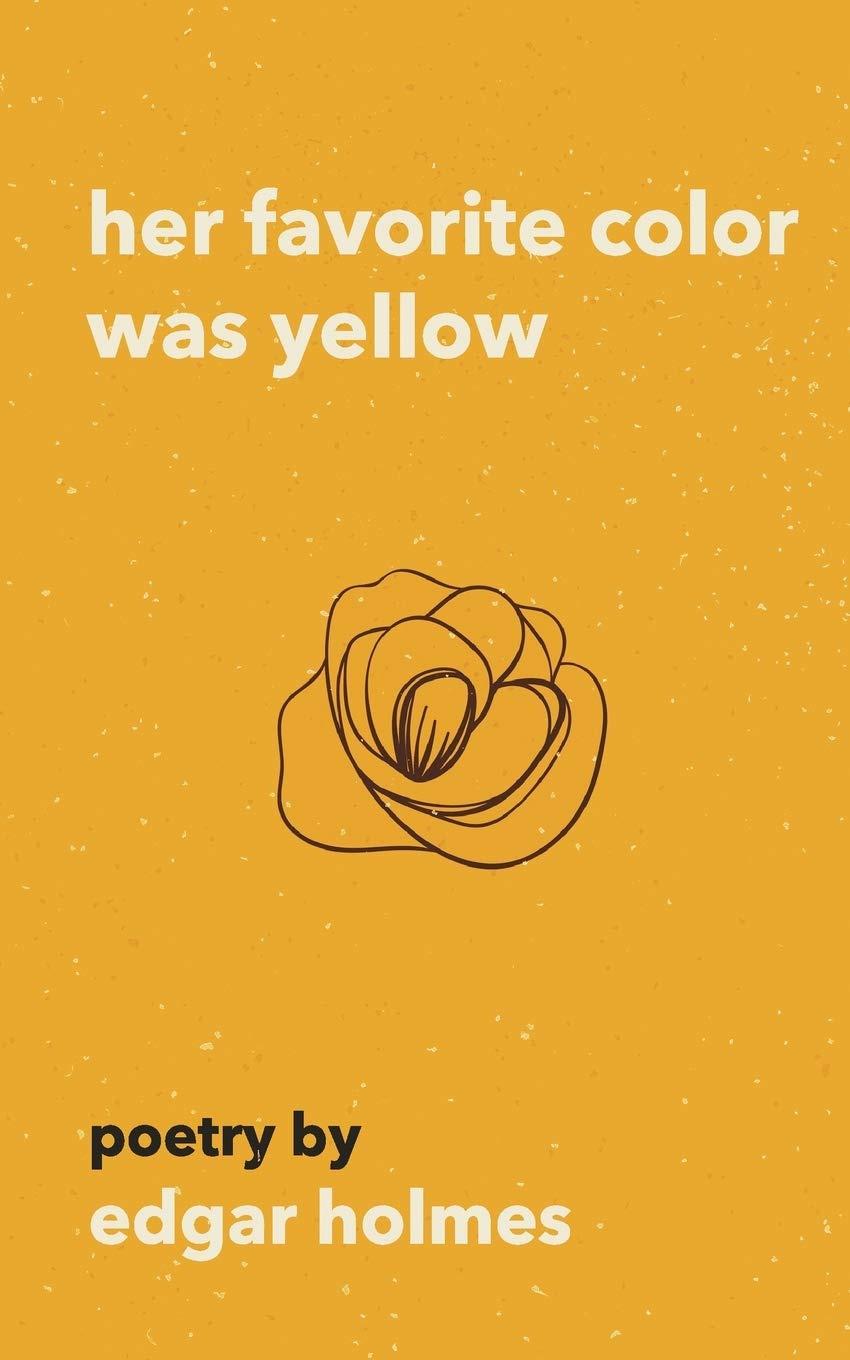 23. Book of love poems
Bibliophiles will relish a book for a one-year anniversary gift, particularly a book filled with poems about love. Her Favorite Color Was Yellow by Edgar Holmes is a tribute to his wife and celebrates all parts of marriage. Bonus: The yellow hue is a nod to the first anniversary color.
CreateSpace Publishing Her Favorite Color Was Yellow by Edgar Holmes, $15, Barnes & Noble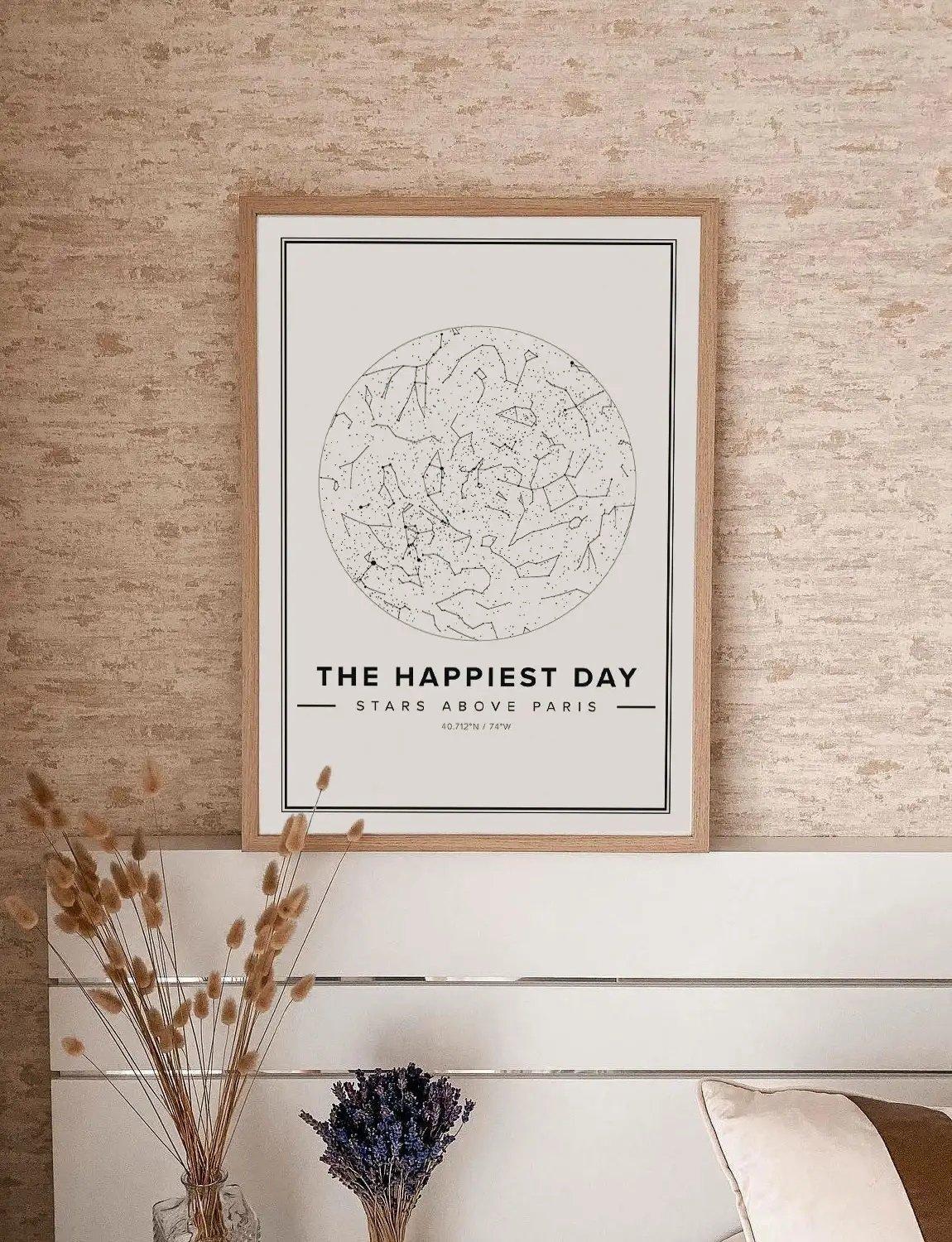 24. Star map print
Does your husband or wife love looking up at the stars? Here's a cute paper anniversary gift for him or her. It's a map of the night sky from the date and location of your choice (hint: your wedding day). You can also customize the text on the print to send a romantic message. This one reads, "The Happiest Day."
Mapiful customizable star map print, from $39, Mapiful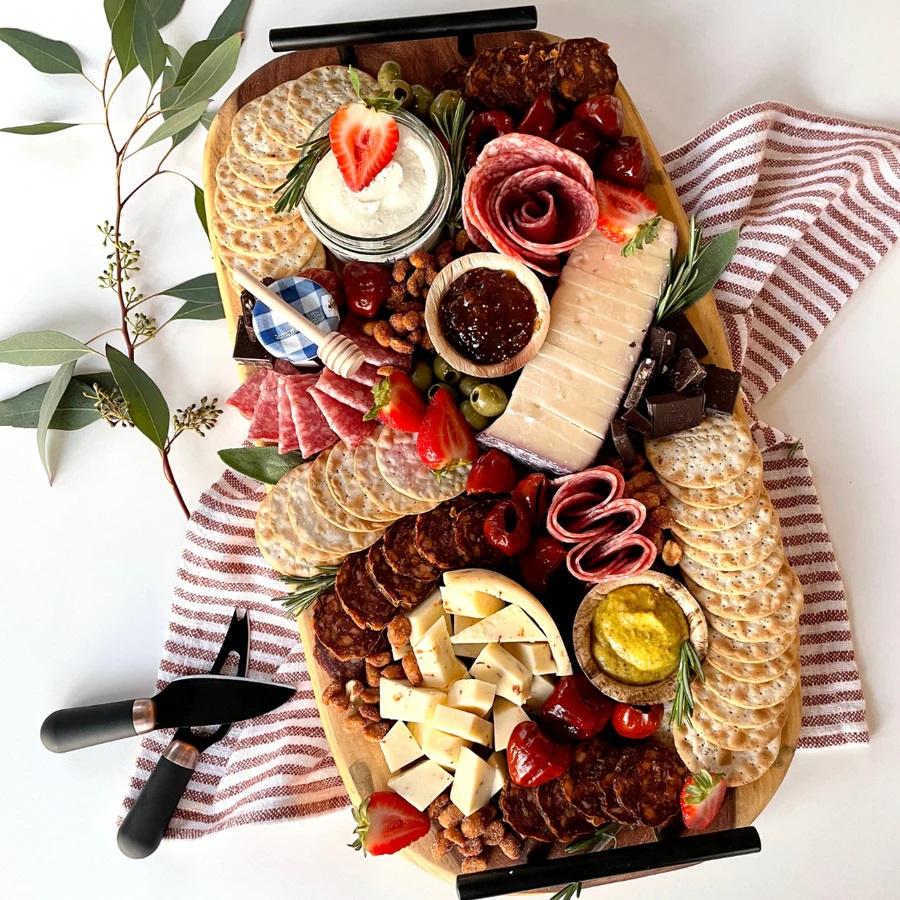 25. Delicious charcuterie delivery
What better way for the couple to celebrate than over a scrumptious platter of charcuterie with all the trimmings? This awesome gift idea easily serves two people with the standard size. It comes with two cheeses, one meat, one pack of crackers, spreadables, and other accompaniments (think: olives, dried fruit, or chocolate). The kit also includes instructions and a video tutorial so they can have fun creating the perfect charcuterie display together before digging in.
Platterful charcuterie kit, from $99, Platterful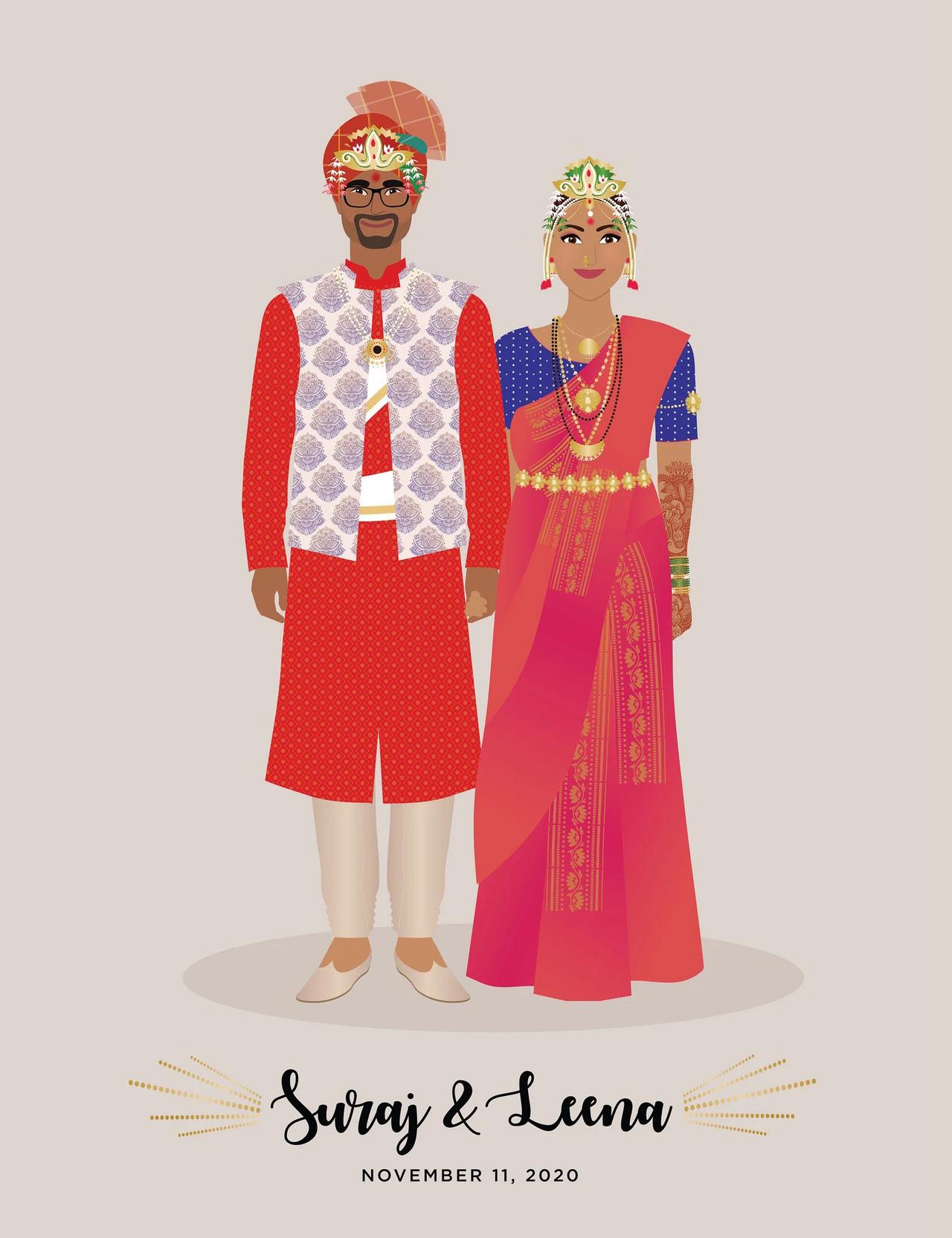 26. Custom couple's portrait
If you're stuck for a cute one-year anniversary idea and want to give them something special, may we suggest this custom wedding portrait? Simply send the artist a picture of the couple on their wedding day and they'll do the rest. Bonus: It matches the traditional first anniversary symbol, making your gift twice as meaningful.
HenryJamesPaperGoods wedding portrait paper anniversary gift, $125, Etsy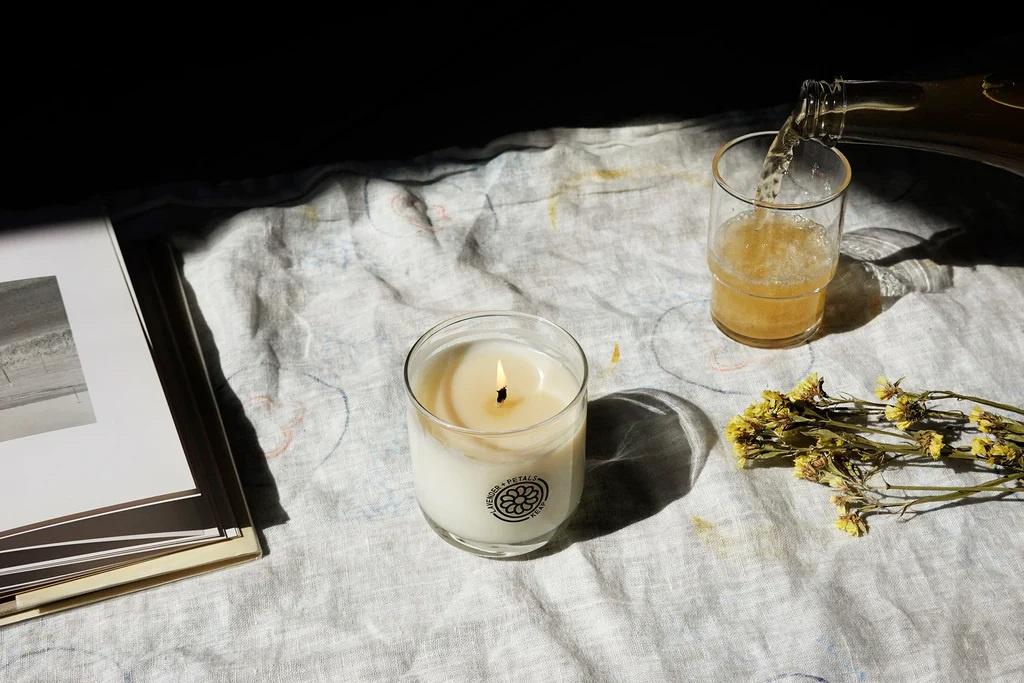 27. Luxury candle subscription
Shopping for a candle lover? If your spouse is always on the hunt for the perfect seasonal scent, up their candle game completely with a Keap subscription. The brand's luxury candles are designed by a master perfumer, featuring delightful fragrances like "wild figs" and "wood cabin." Better yet, each candle is made from thoughtful ingredients as the company keeps the planet in mind at every step of the process. Choose from a three-candle, six-candle, or 12-candle subscription to suit your budget.
Keap Candles gift subscription, from $134, Keap Candles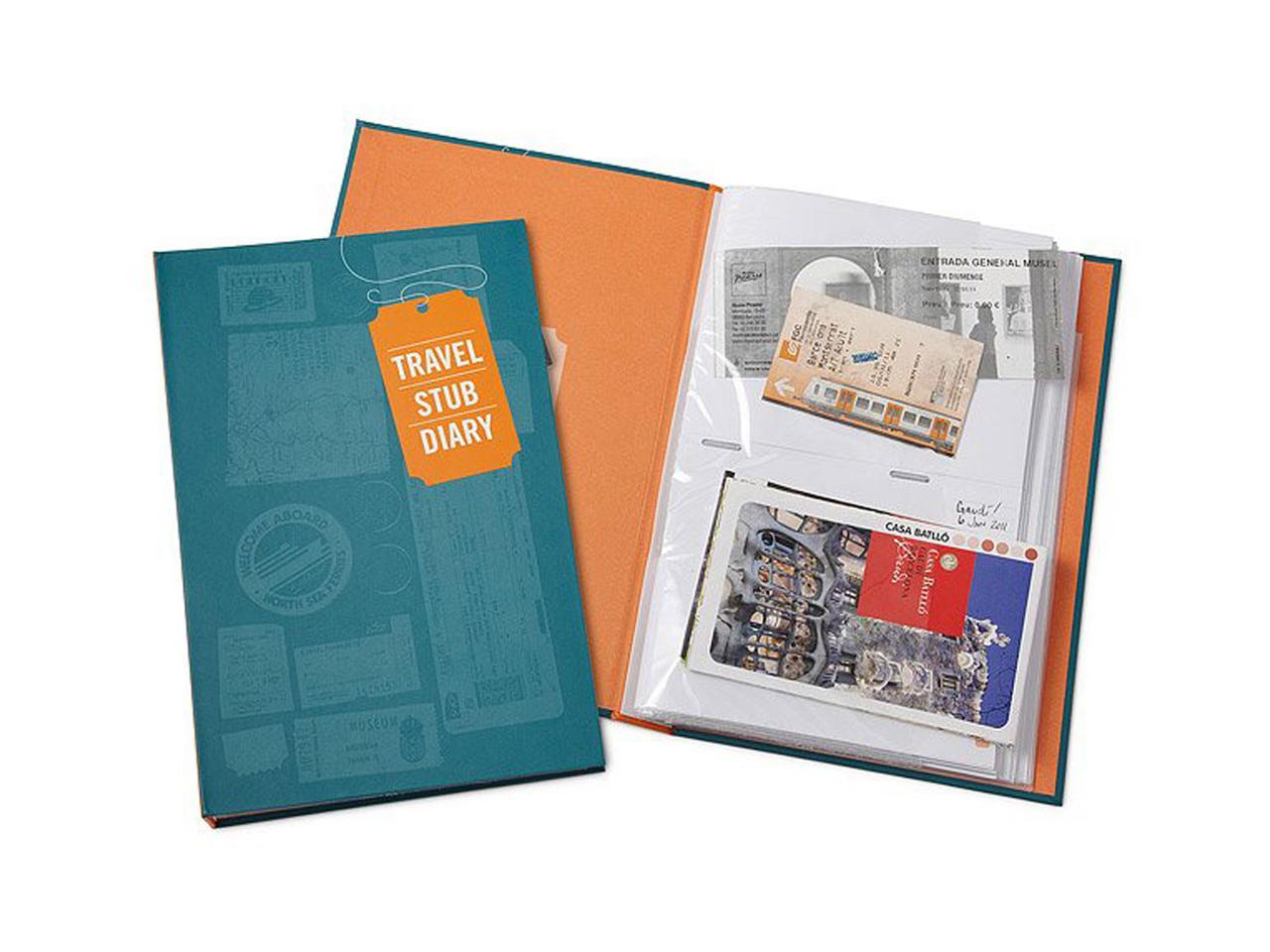 28. Useful travel diary
If the lovebirds are avid travelers, this travel stub diary will be right up their alley. In it, they can store all the paper goods they collect from their vacations including ticket stubs, postcards, maps, and brochures. It's a fitting way to toast to their future adventures as a happily married couple.
Uncommon Goods travel stub diary, $15, Uncommon Goods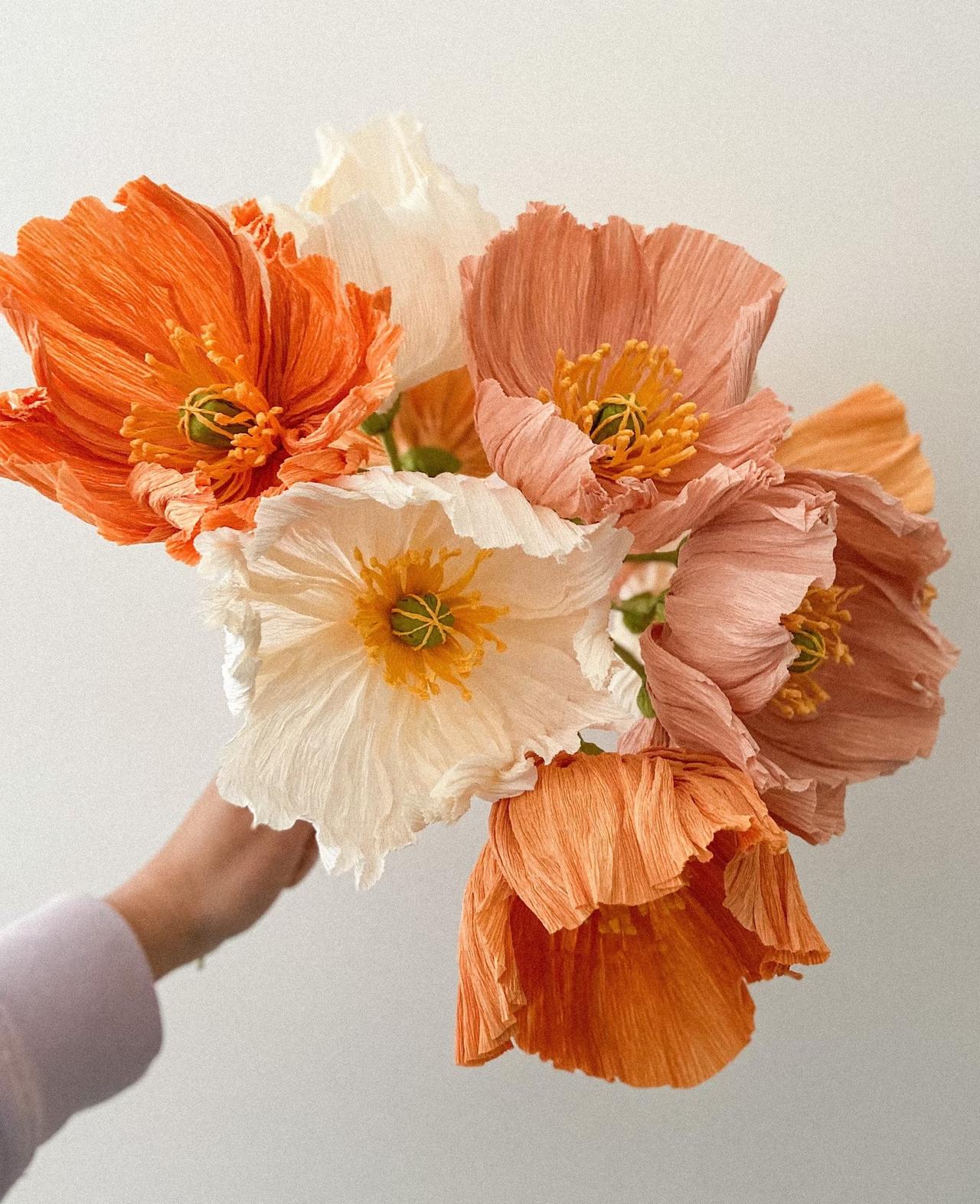 29. Paper poppy bouquet
Here's another unique first anniversary gift they'll love. Paper flowers are such a fun present and these dusty pink poppies will last so much longer than the real thing. Pink poppies are a symbol of success and imagination (perfect for celebrating the success of your union so far and imagining a bright future together).
NataliaManczak Icelandic poppies bouquets, $31, Etsy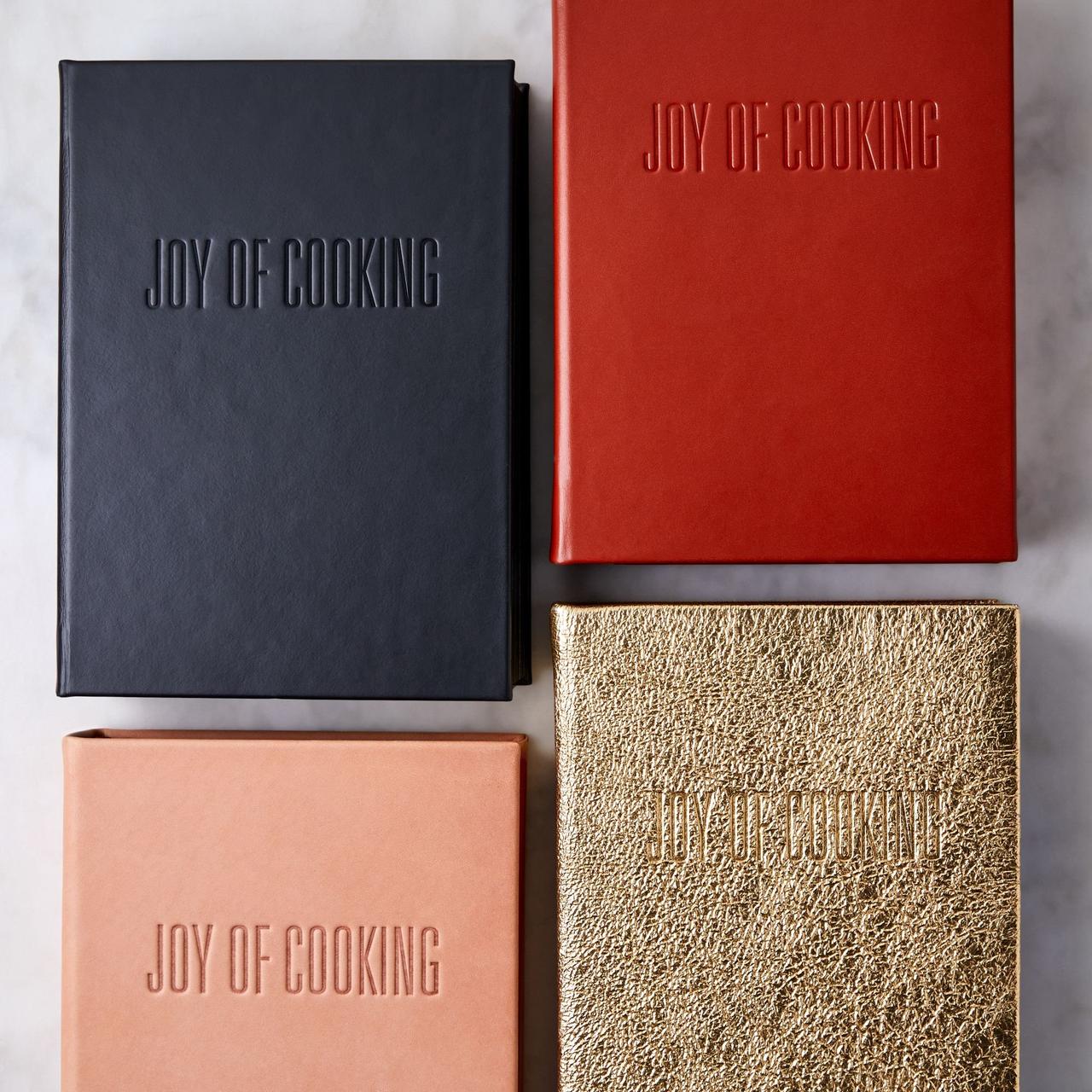 30. Special edition cookbook
Buying a first-year anniversary gift for foodies? They'll be delighted with this leather-bound edition of Irma Rombauer's Joy of Cooking. We imagine it will take up permanent residence on their kitchen shelf.
Graphic Image Joy of Cooking by Irma Rombauer, from $140, Food52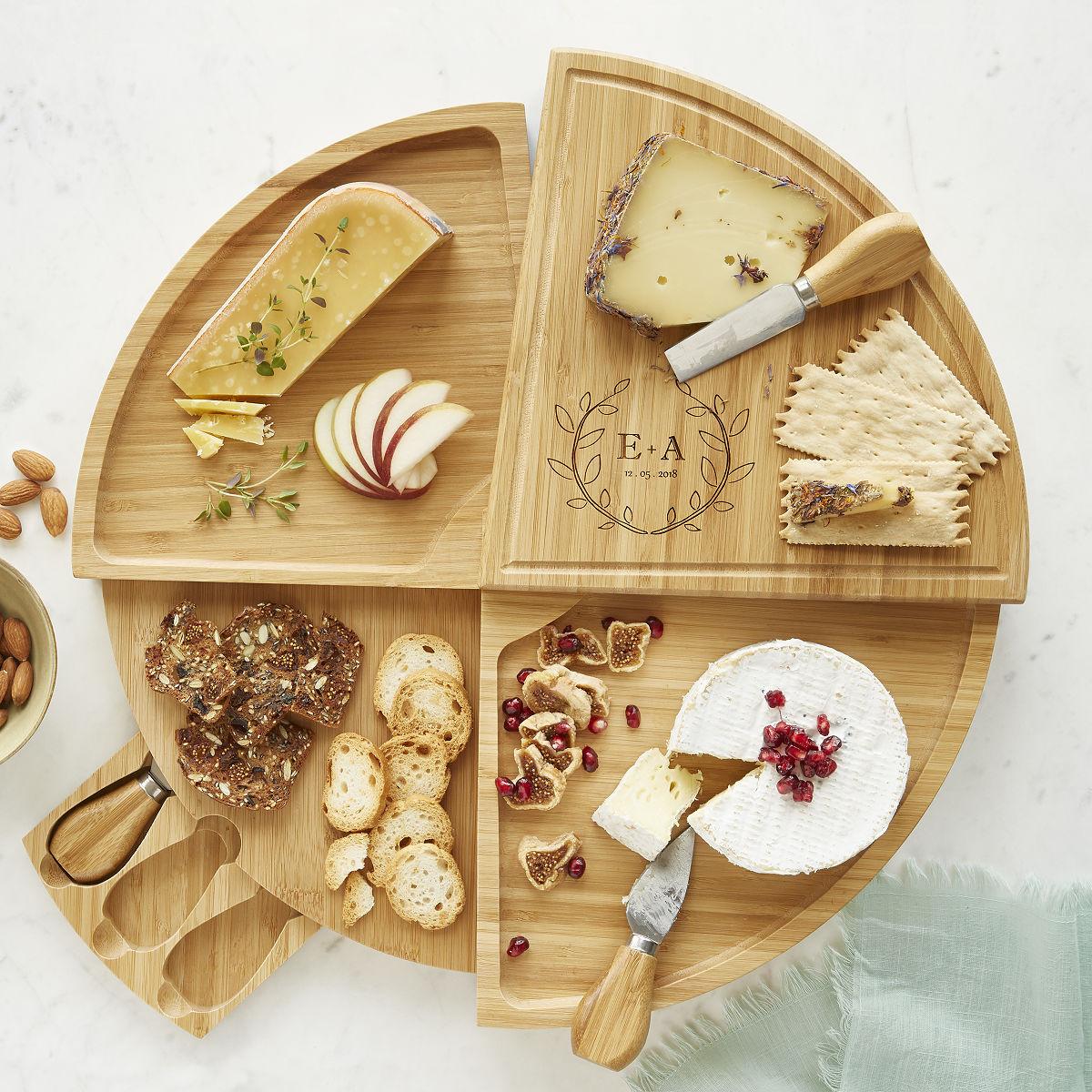 31. Custom cheese board
Chances are, the new couple is still procuring items to help them get their kitchen set for entertaining. That's why this high-end cheese board is one of our favorite first wedding anniversary gifts. There's more than enough room on this multi-level wheel perfect for serving an array of meats, crackers, and cheeses. An added bonus is a hidden pull-out tray that stores matching utensils. Engrave this useful platter with their initials for an extra-personal touch.
Uncommon Goods personalized compact swivel cheese board, from $56, Uncommon Goods