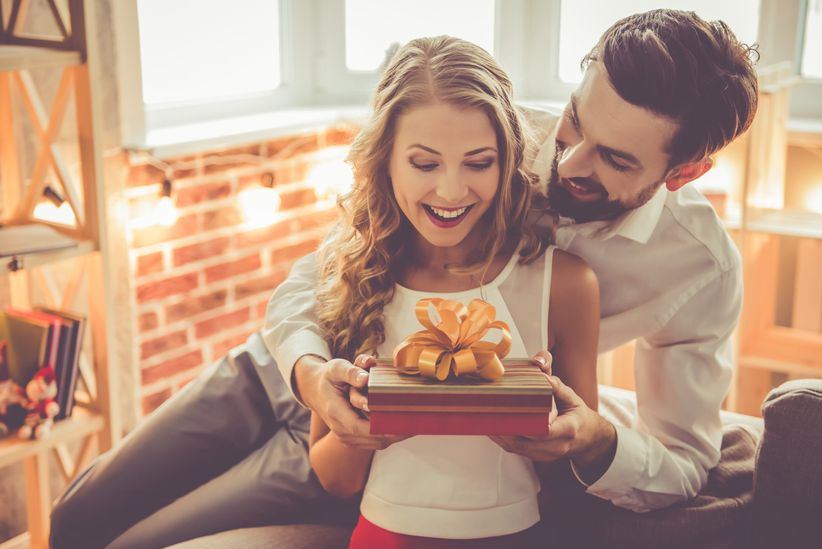 It's time to breathe a sigh of relief: you've made it through the first year. Congrats! Be sure to mark this special milestone with a first wedding anniversary gift that shows your partner how much you love and cherish them. What to buy? Well, you could start with the traditional one year anniversary gift of paper. Or, you could opt for something more modern, and gift your partner a clock to give a nod to the time you've spent together. While those are great places to start, remember that anything heartfelt will make a great first anniversary gift.
Need some inspo? Here, we've rounded up some of our all-time favorite first wedding anniversary gift ideas for you to browse through.
First Wedding Anniversary Gifts for the Couple
Nothing inspires fond memories of their special day more than the song they chose for their first dance. That's why this oversized canvas is a great first anniversary gift for a newlywed couple. It displays the most heartfelt lyrics of their special song in the shape of a heart, along with their names and wedding date. It's the perfect centerpiece to hang over their bed.
CanvasVows first dance lyrics on canvas, $49, Etsy
Chances are, the new couple is still procuring items to help them get their kitchen set for entertaining. That's why this high-end cheese board is one of our favorite first wedding anniversary gift ideas. There's more than enough room on this multi-level wheel perfect for serving an array of meats, crackers and cheeses. An added bonus is a hidden pull-out tray that stores matching utensils. Personalize this useful platter with their initials for an extra touch.
KreativeEarth personalized compact swivel cheese board, $100, Uncommon Goods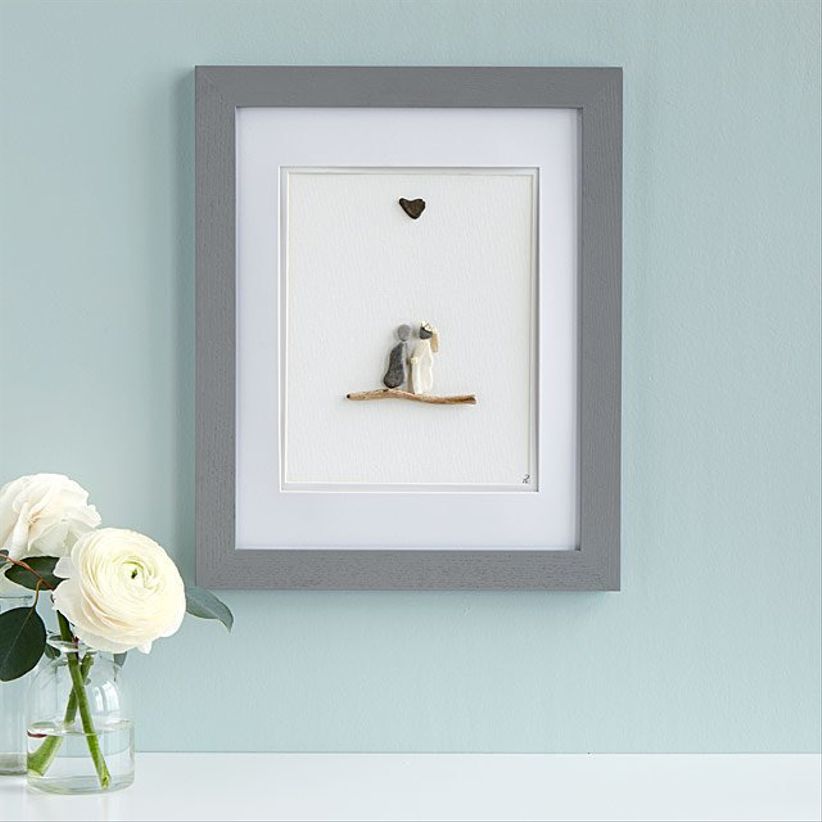 Here's something new and different that we're totally in love with: it's a portrait of two forever lovers made out of things from nature, like shells, pebbles and leaves. Sounds strange, right? But this portrait's beautiful simplicity has us all aflutter. And since it also checks the box on that traditional 1-year anniversary gift of paper, this is one of our favorite first year anniversary gift ideas!
Uncommon Goods wedding pebble portrait, $110, Uncommon Goods
Looking for a 1 year anniversary gift for a happy couple? Raise their spirits when you gift them this stately decanter set inscribed with "his" "hers" and "ours." This attractive set is a great way for them to store and enjoy any libation of their choice.
Teals Prairie decanter, $88, Etsy
A pair of wine glasses makes a sweet first wedding anniversary gift. We like how these wine glasses can be engraved with the couple's names and wedding date.
WeddingWire Shop personalized wine glasses, $20, WeddingWire Shop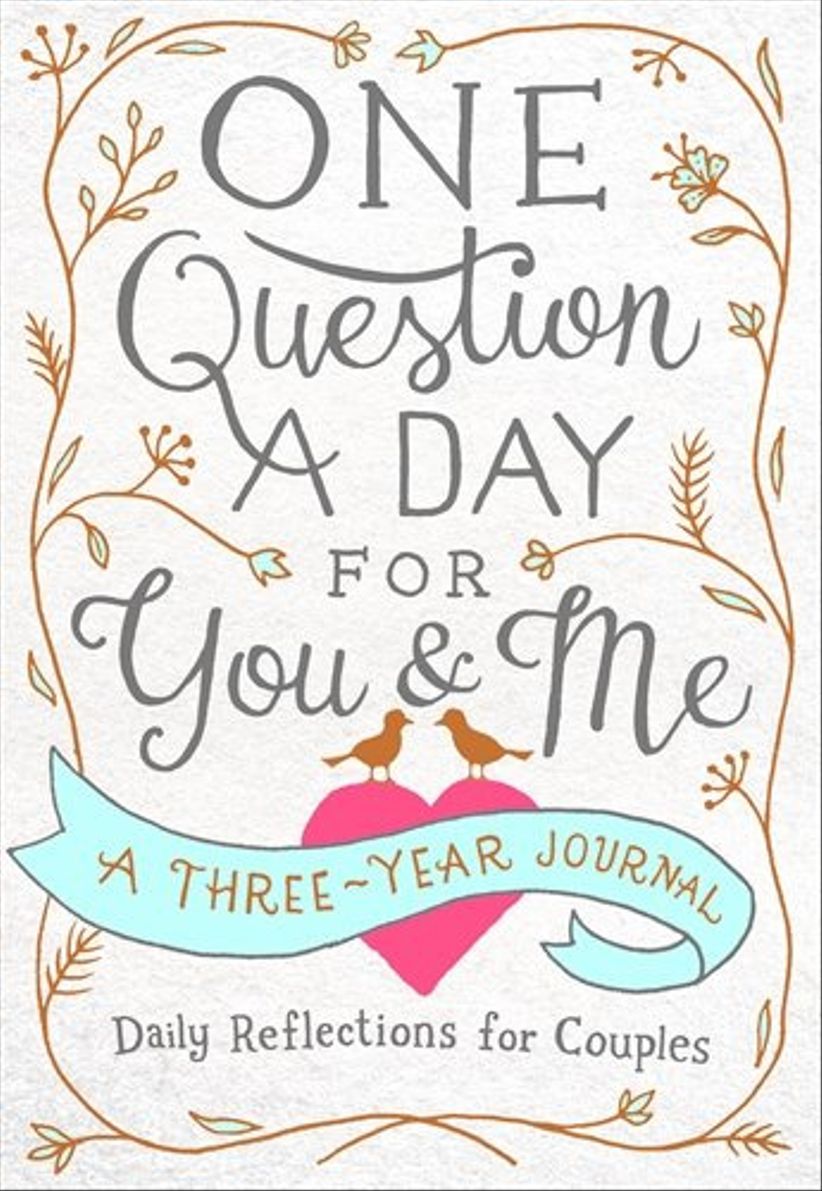 Another clever way to give a paper gift? A journal, of course! This one-question-a-day journal allows the couple to spend just a few minutes each day documenting their early days together, while creating something that they'll look back on fondly for years to come.
Aimee Chase One Question a Day for You and Me, $11, Amazon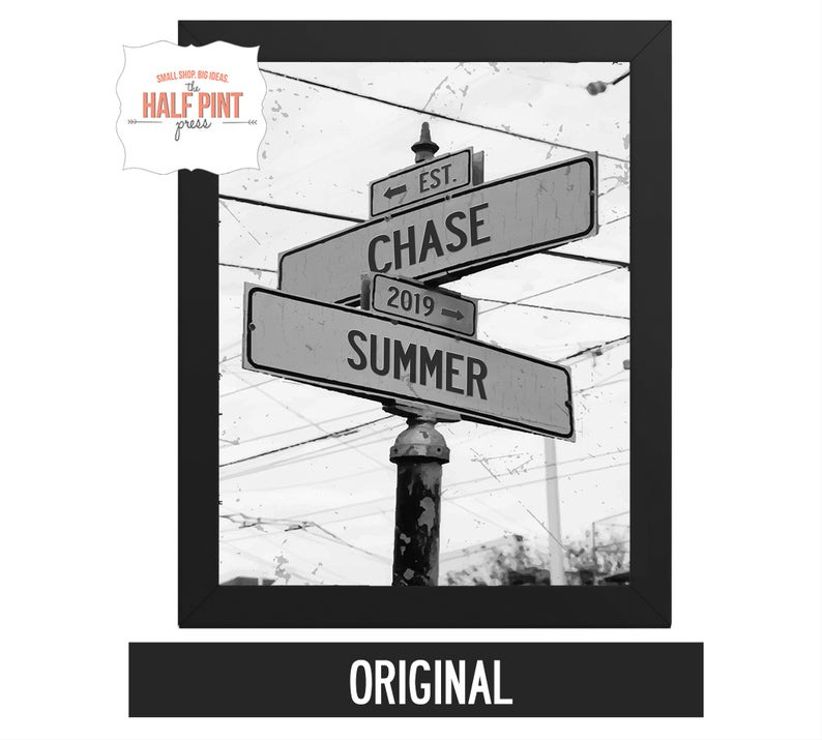 Hoping to stick with tradition when choosing their one year anniversary gift? What better way than to give them a framed print to hang on their wall? We love this print from Etsy seller Half Pint Press, that cleverly displays each of their names on intersecting street signs. It's such a cute way to give a nod to their newly wedded status.
Half Pint Press photo print, $33, Etsy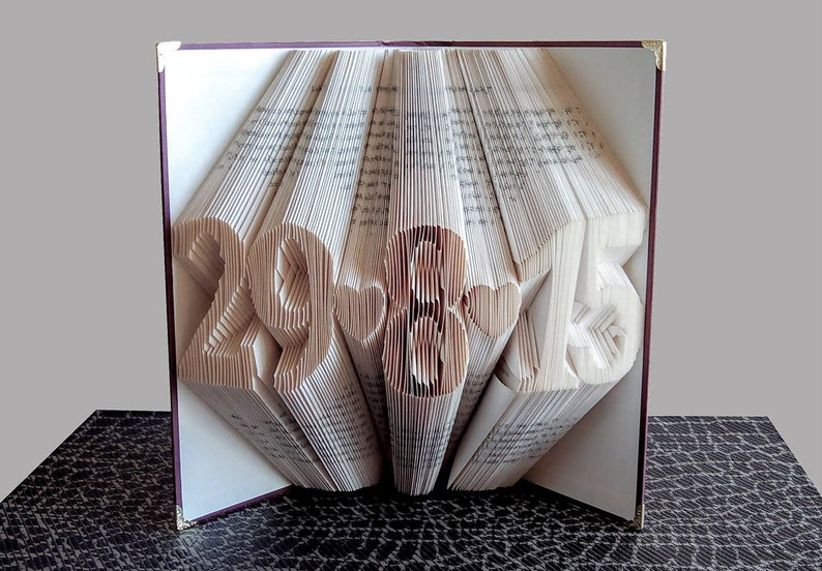 If you're looking for a first wedding anniversary gift for a pair of bookworms, what could be cooler than this folded book art, featuring the couple's wedding date? It's a gorgeous keepsake that the couple is sure to enjoy for a lifetime.
Happy Folded Books personalized gift book, $58, Etsy
First Wedding Anniversary Gifts for Him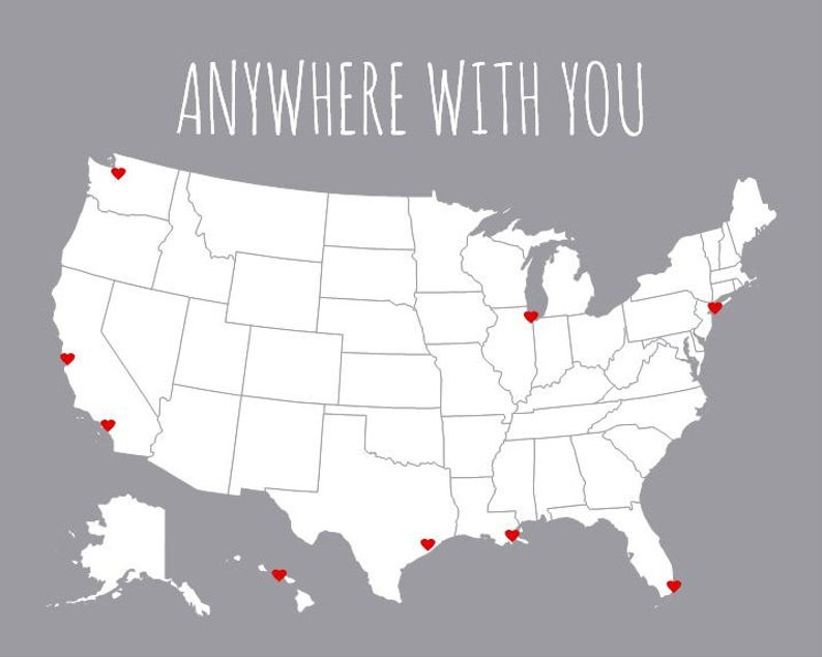 If he's a traveler at heart, we can't think of a better one year anniversary gift than this adorable couples travel map. It's a white map set against a grey background that'll match perfectly with any décor, and tiny red hearts mark the special locations that mean the most to you as a couple.
PaperPlanePrints couples travel map, $35, Etsy
We're guessing your man would love to have a wedding picture in his office, but he probably needs a handsome frame to house it. That's why this wood and brass frame from Artifact Uprising makes a great 1 year anniversary gift. There's no need to remove the backing; he can simply slip a new photo in any time he wants!
Artifact Uprising brass and wood photo display box, $55, Artifact Uprising
Knowing that the modern go-to gift for the first anniversary is a clock, it only makes sense that a watch would top our list of the best first year anniversary gifts for him. And this sleek, handsome leather one from Jack Mason for Nordstrom is a great choice. With gauges and dials reminiscent of a sweet race car and a bright, easy-to-read face, this attractive watch will pair perfectly with a business suit, a leisure suit, or anything in between.
Jack Mason chronograph watch, $275, Nordstrom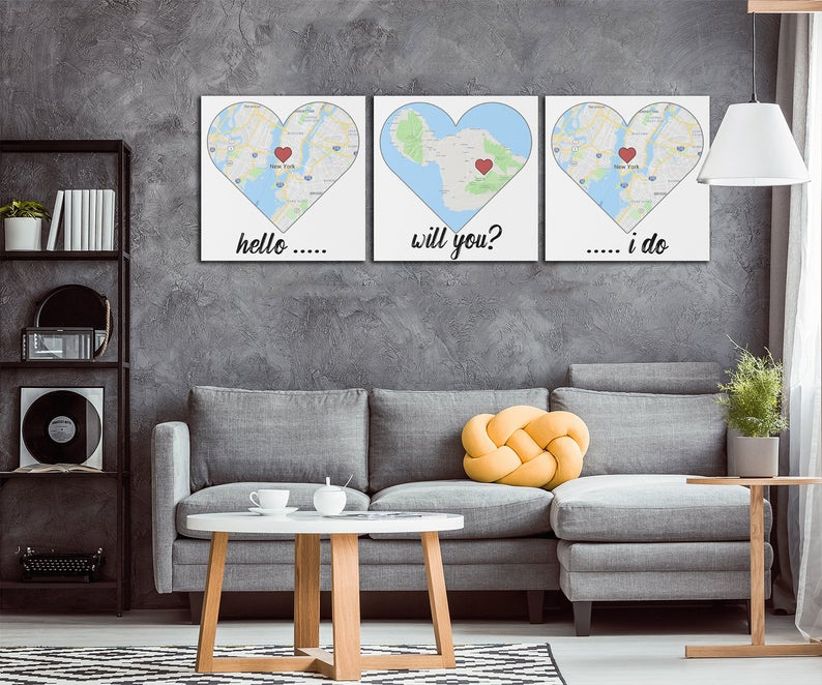 This trio of maps set on canvas is another great way to visually map your journey as a couple. The place you met, the place you got engaged and where you tied the knot are showcased together in this first year wedding anniversary gift.
Teerrific Apparel custom map art using three locations, $80, Etsy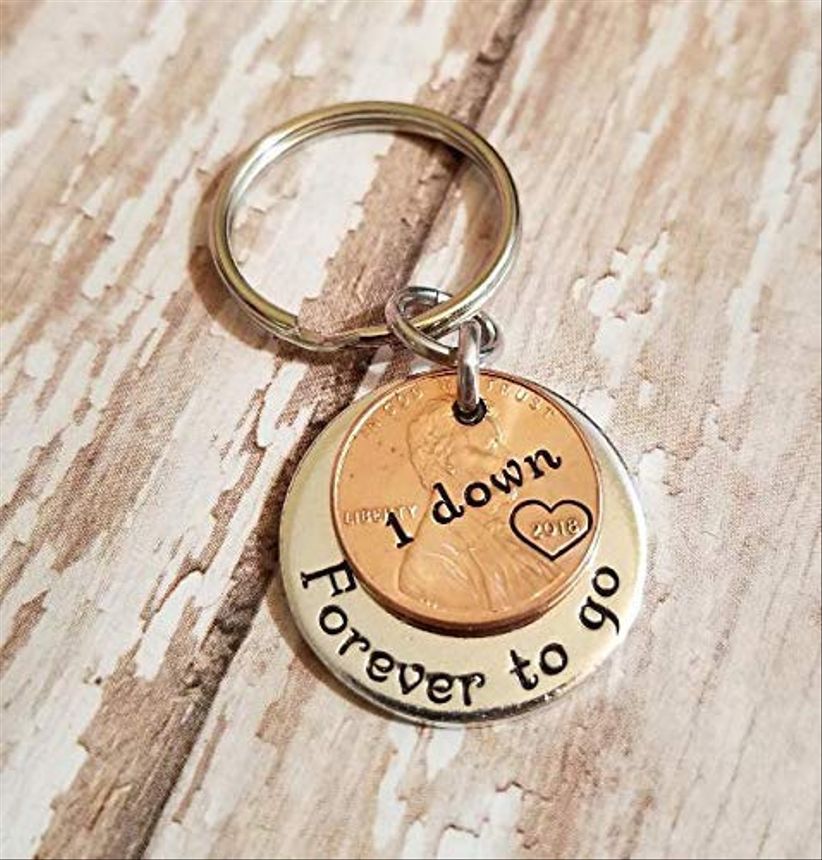 One down, forever to go. That's the sweet inscription on this keychain, making it a perfect one year anniversary gift. Whether you're looking to keep the gift exchange on the cheap, or you'll be pairing this with something else, like a bottle of his favorite whiskey, he'll love the sentiment behind this gift.
Tucker's Trinkets and Treasures copper penny anniversary gift, $20, Amazon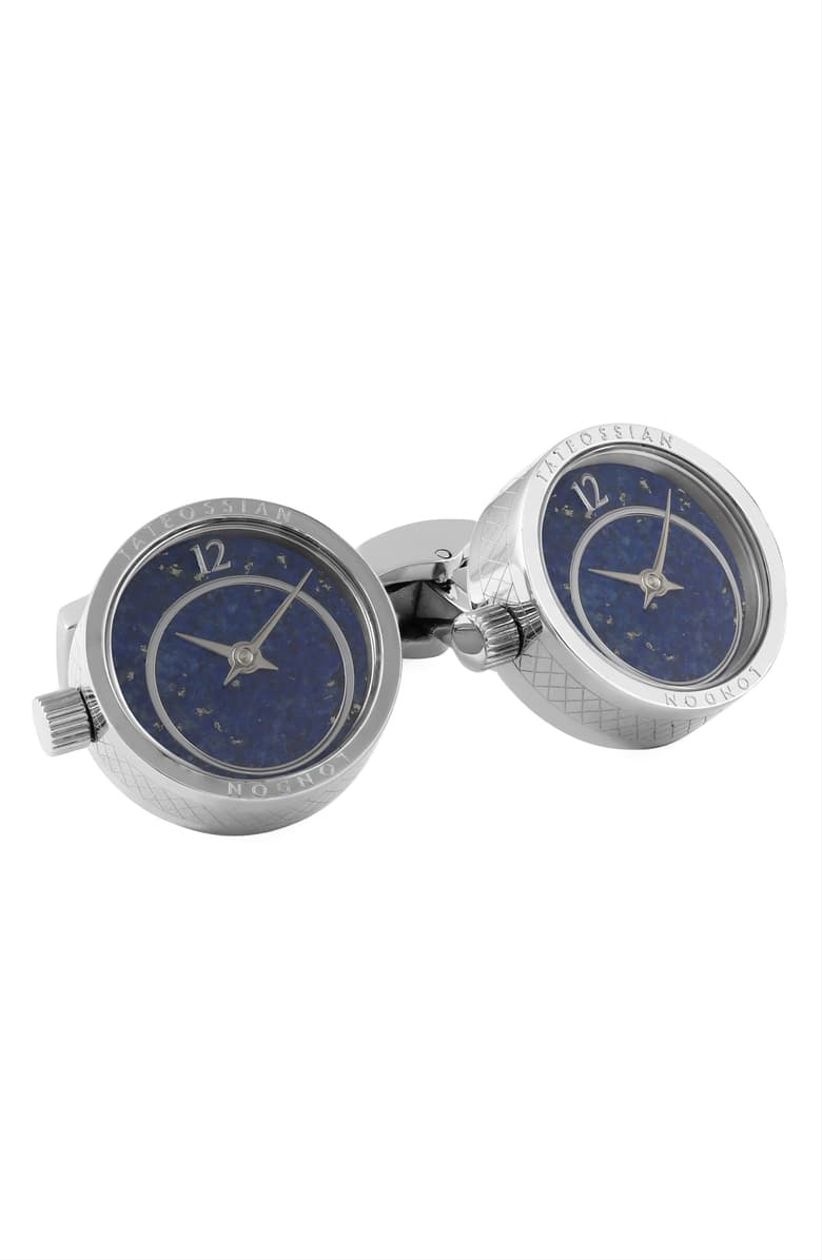 We can't get enough of these teeny-tiny clocks set atop Tateossian cufflinks. What a cute first wedding anniversary gift that checks the box on that modern gift option—the clock. So if your honey likes to dress snappy, snag him a set of cufflinks that'll remind him of the year you've accomplished together.
Tateossian watch cufflinks, $525, Nordstrom
Another cool set of cufflinks with a really unique personalization option. Send the jewelry designer a message written in your own handwriting, and it will be engraved on the stainless steel cufflinks.
Georgie Designs personalized handwriting cufflinks, $68, Etsy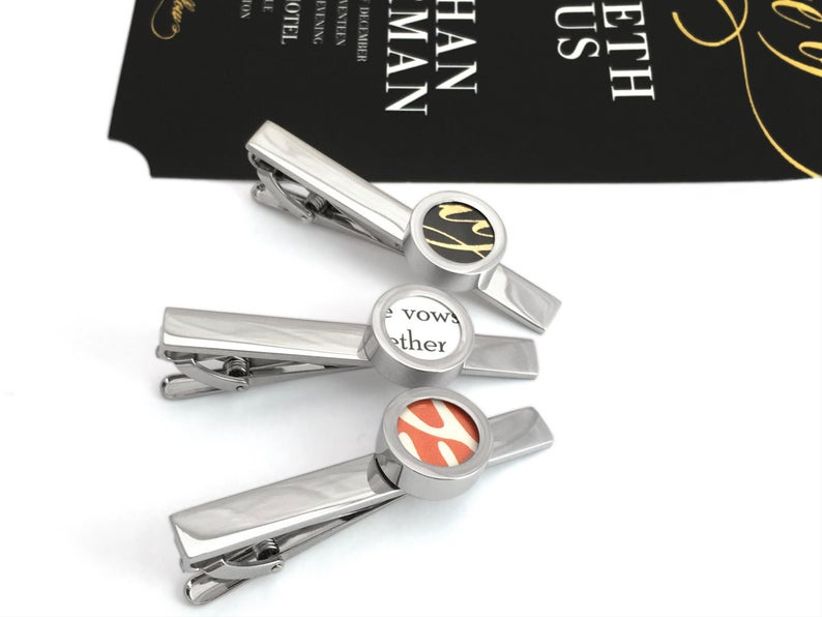 What a fun way to incorporate paper into your first wedding anniversary gift. These tie bars include a snippet of your wedding invitation—what a fabulous keepsake!
Paper Anniversary Love tie bar, $79, Etsy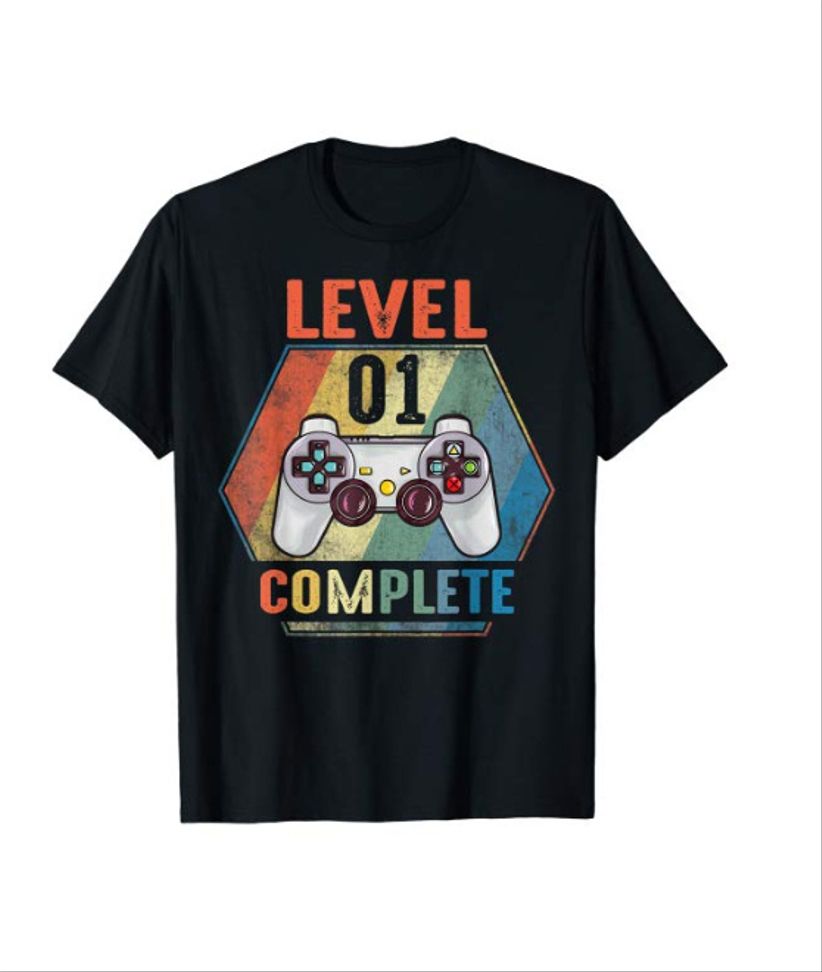 Married to a gamer? He'll be right in his element when you choose this cheeky video game shirt as a first year wedding anniversary gift. Hilariously inscribed with the words, "Level One Complete," this vintage-inspired shirt is sure to be his favorite for years to come.
Anniversary Birthday Video Gamers Gift vintage anniversary tee shirt, $17, Amazon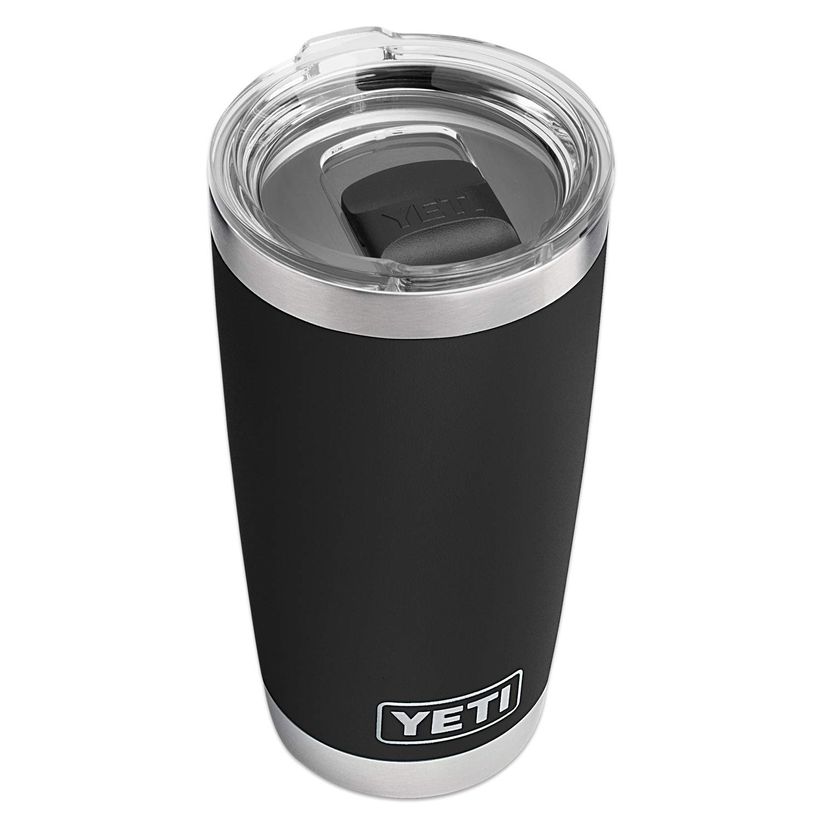 If you're stumped on what to get your man for a first year wedding anniversary gift, why not opt for something he'll love but doesn't want to spring for, like a Yeti tumbler. These trend-setting to-go cups are lined with stainless steel to keep hot drinks hot and cold drinks cold for hours, and they come in an array of awesome colors.
Yeti 20-ounce rambler, $30, Amazon
First Wedding Anniversary Gifts for Her
A perfect gift for the sentimental lady, this anniversary journal will undoubtedly become a treasured keepsake for (many!) years to come. The journal is beautifully bound with a satin ribbon, and its cover is adorned with greenery for a romantic aesthetic. More than forty pages worth of space for memories and events for each year of marriage, from one to twenty-five, are included.
RagandBoneBindary personalized anniversary journal, $66, Etsy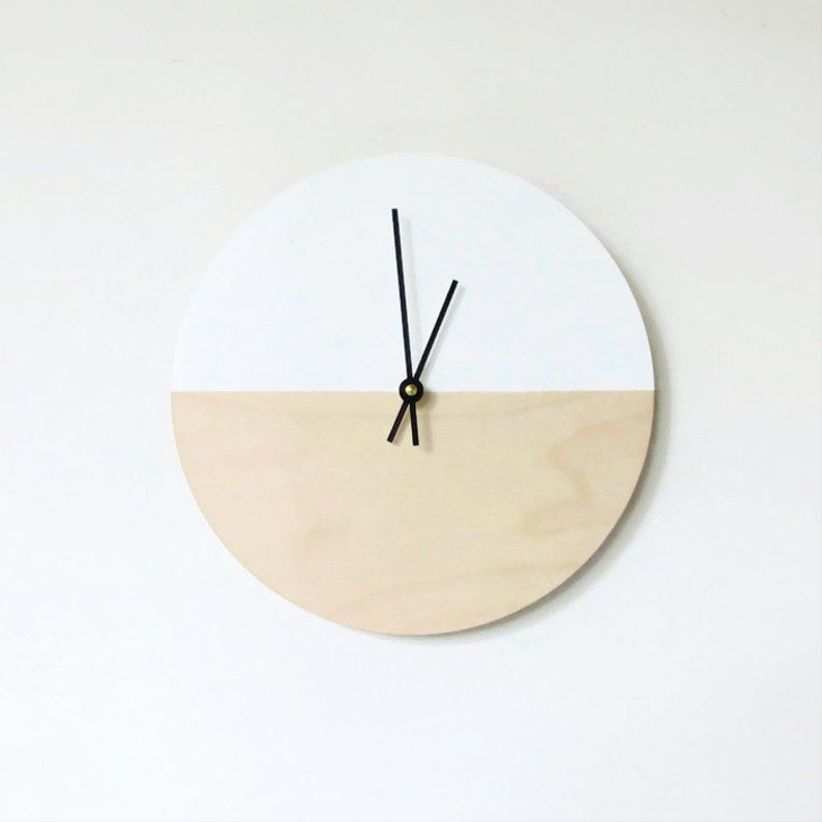 A chic, modern wall clock is one of our favorite first wedding anniversary gift ideas. And this one takes the cake: crafted from birch wood in a minimalist style, black clock hands pop against the white-on-natural color palette of the clock's face.
Shannybeebo modern wall clock with white birch wood, $49, Etsy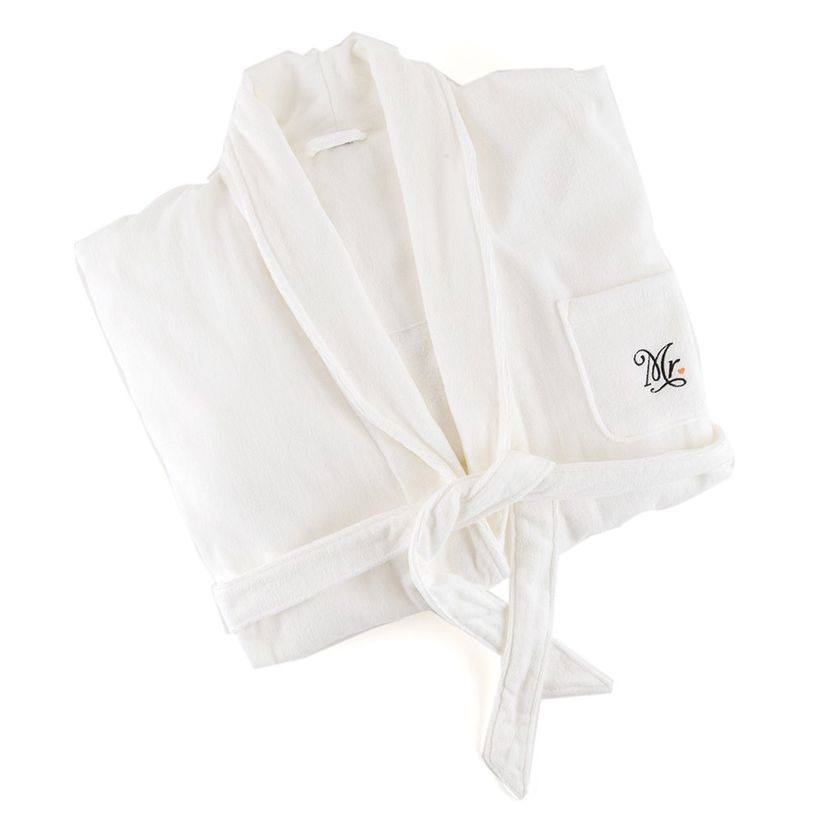 There's nothing quite like slipping into a soft, fluffy robe at the end of a hard day. If you're looking for a first wedding anniversary gift that will encourage the recipient to relax and take it easy, this robe is totally it. This robe comes in a variety of colors and can be personalized.
WeddingWire Shop personalized robe, $30, WeddingWire Shop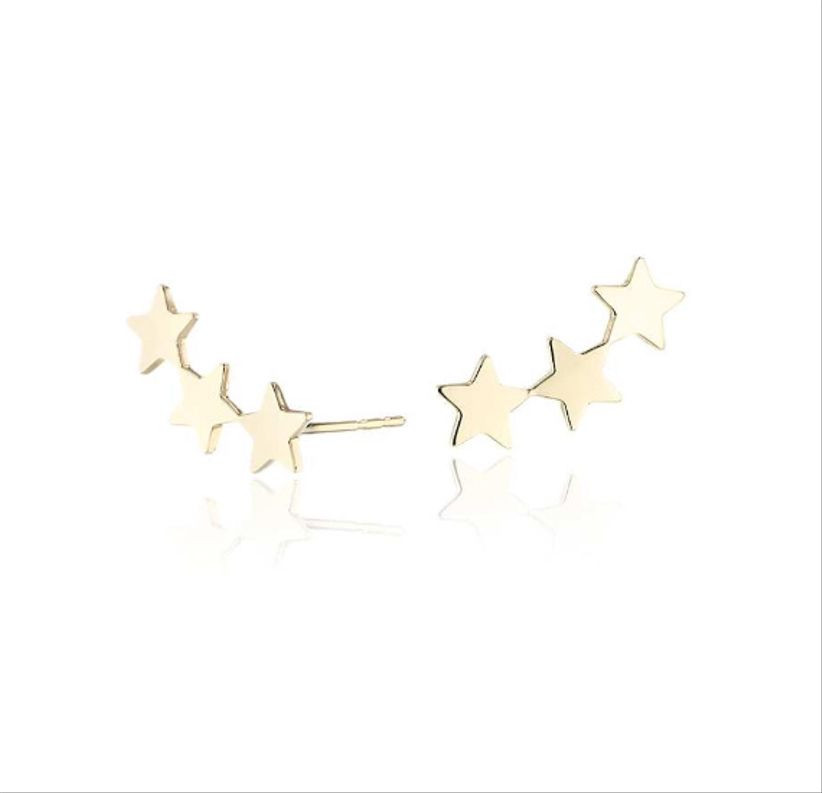 If your new wife is a jewelry lover, you should know that gold jewelry is another customary gift to mark the first anniversary. But since you're probably still paying off her bridal set, keep it low key but on-trend when you gift her these whimsical gold star ear climbers from Blue Nile.
Blue Nile yellow gold star ear climbers, $95, Blue Nile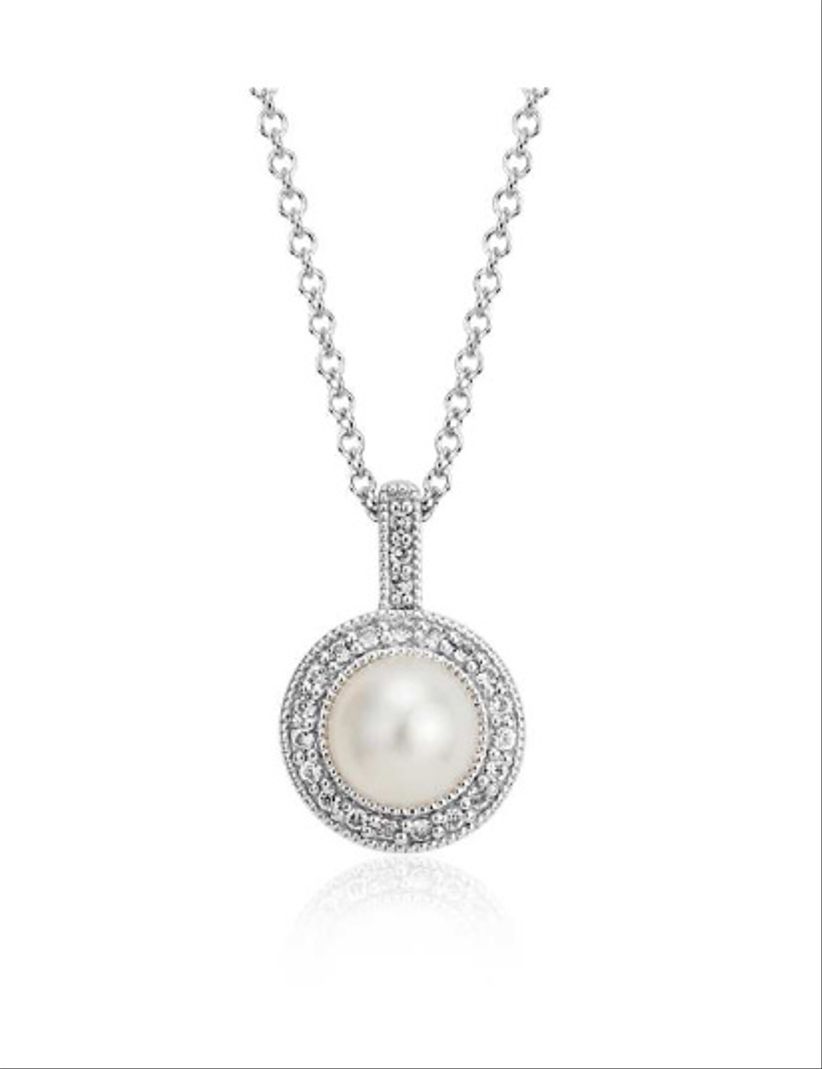 Your wife has spent the last year sporting a beautiful set of diamonds on her hand, so why not gift her a necklace that makes the perfect companion without breaking the bank? Our top choice is this freshwater pearl necklace from Blue Nile. The pearl is surrounded by a channel of tiny diamonds that make this stunning piece look way pricier than it really is.
Blue Nile freshwater pearl vintage halo necklace, $75, Blue Nile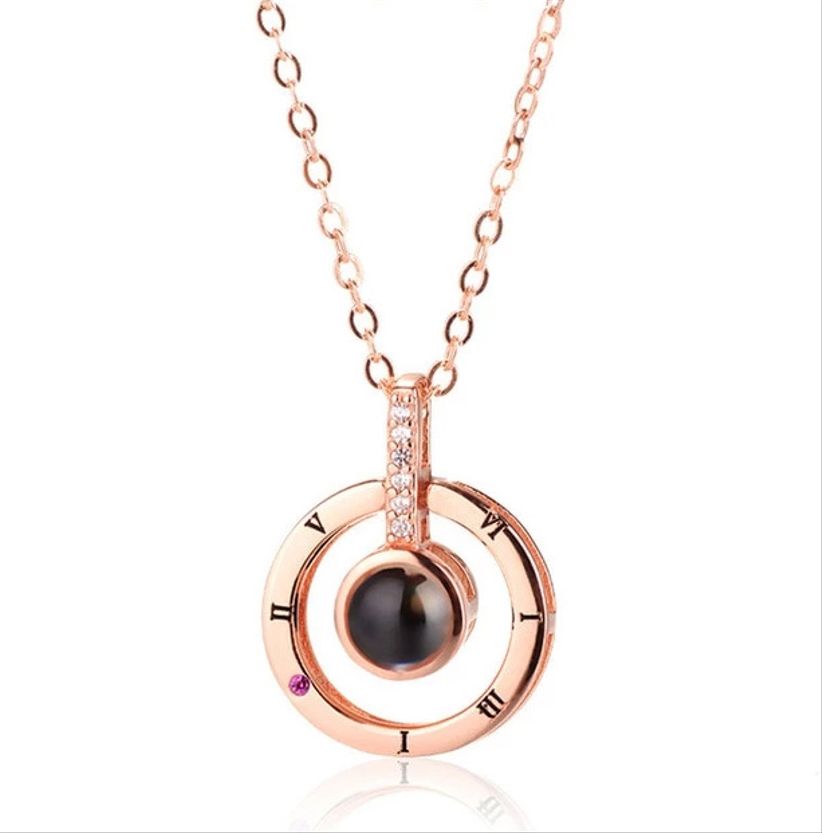 There's no better time to say I love you (in 100 different languages, no less), than on your first anniversary. That's why this necklace from Pandora's Box is one of our favorite first anniversary gifts. It's pretty on its own, but it's hiding a stealthy surprise—shine light on it at just the right angle and it projects a collection of I Love Yous in different languages. This cool gift is sure to be a big hit!
Pandora's Box hidden love languages necklace, $30, Pandora's Box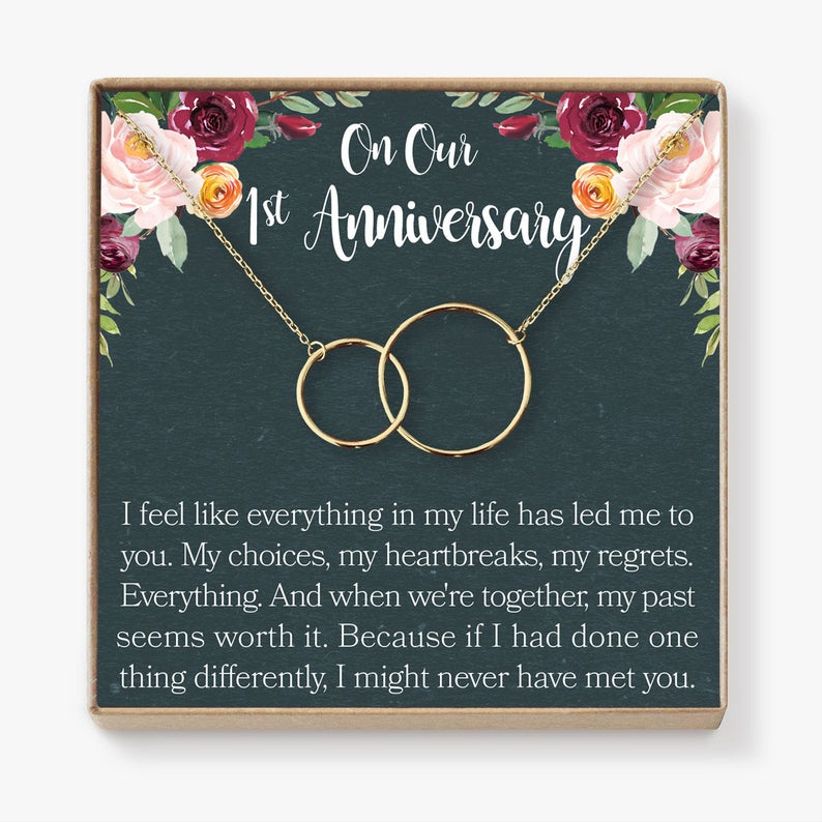 Another necklace that's stolen our hearts as a perfect first anniversary gift idea is this gold pendant with two interlocking circles. It's a symbol of the love you two share, and it arrives with a sweet poem that lets her know exactly how you're feeling as you close the book on your first year of marriage.
DearAvaGifts first anniversary interlocking circle necklace, $39, Etsy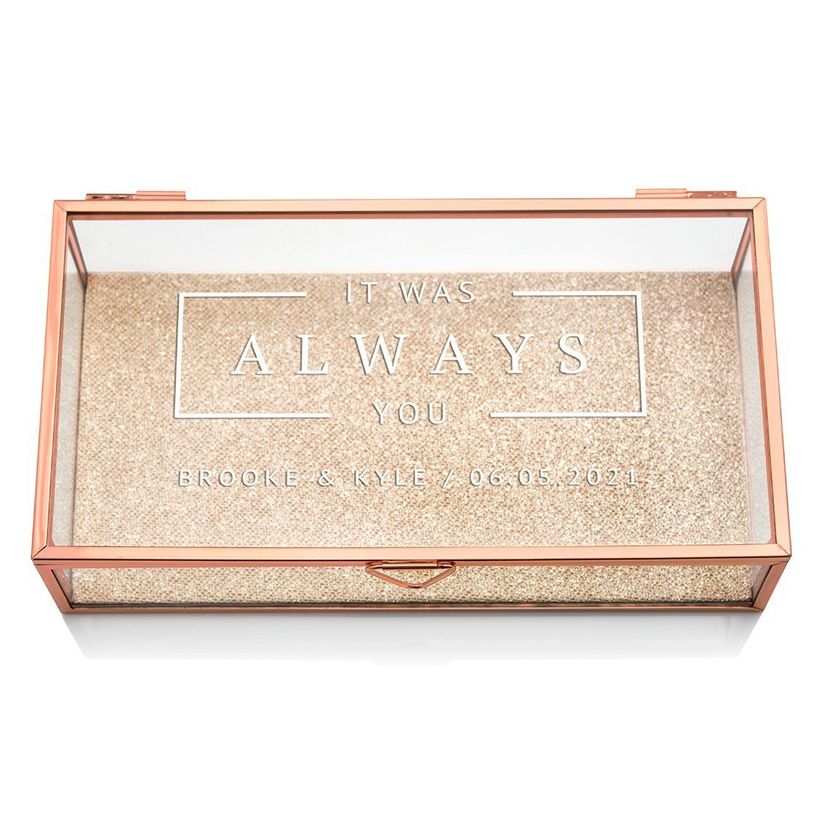 A jewelry box is a classic anniversary gift, and this one is both useful and stylish. We love the glam gold hue, as well as all of the personalization options.
WeddingWire Shop large personalized jewelry box, $20, WeddingWire Shop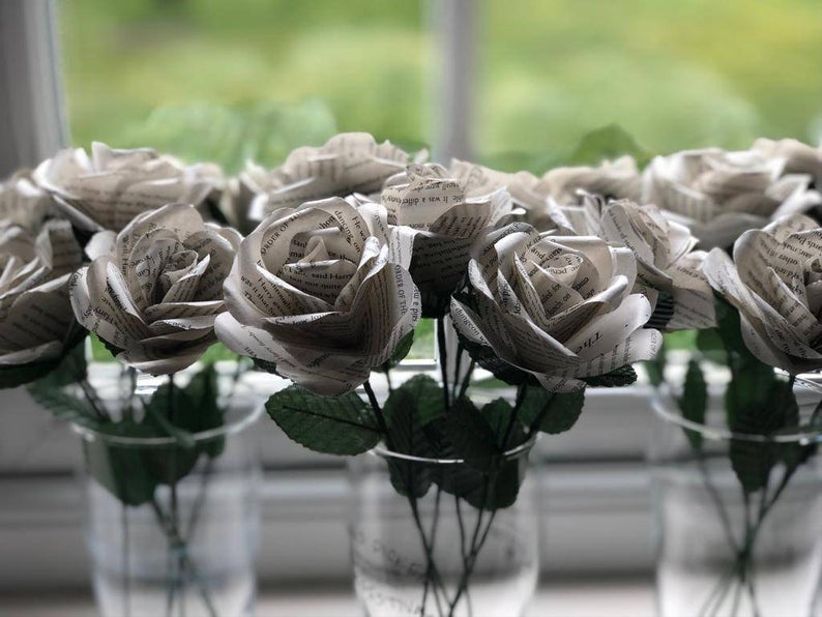 Roses that last forever? Sign us up! These paper roses are handcrafted from book pages to make a first anniversary gift she'll never forget. That traditional gift of paper for the first anniversary? You just nailed it.
Houseofpompomshop book page roses, set of 6, $23, Etsy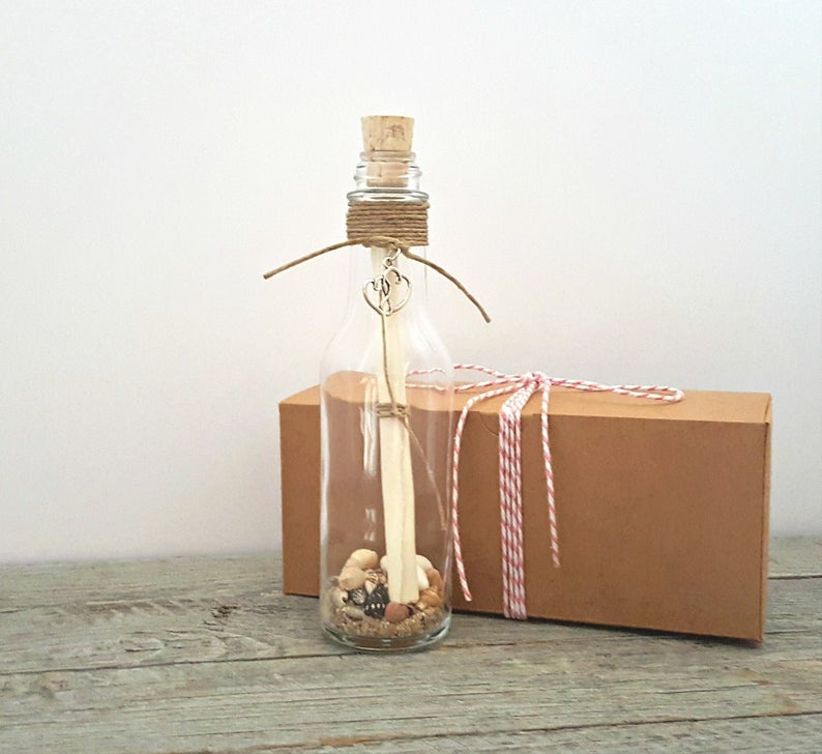 Another perfectly legit way to check the box on that paper gift is to choose this sweet little message in a bottle as a one year anniversary gift. Here, a pre-printed love poem is scrawled on a piece of paper that's been rolled up and placed inside a glass jar. Choose from different pendants to customize this gift exactly how she'll like it.
MessageinaBottleStor message in a bottle gift box, $22, Etsy
Disclosure: This post contains affiliate links, some of which may be sponsored by paying vendors.