How to Celebrate Your Anniversary at Disney World
Celebrate your milestone with a trip to the Happiest Place on Earth.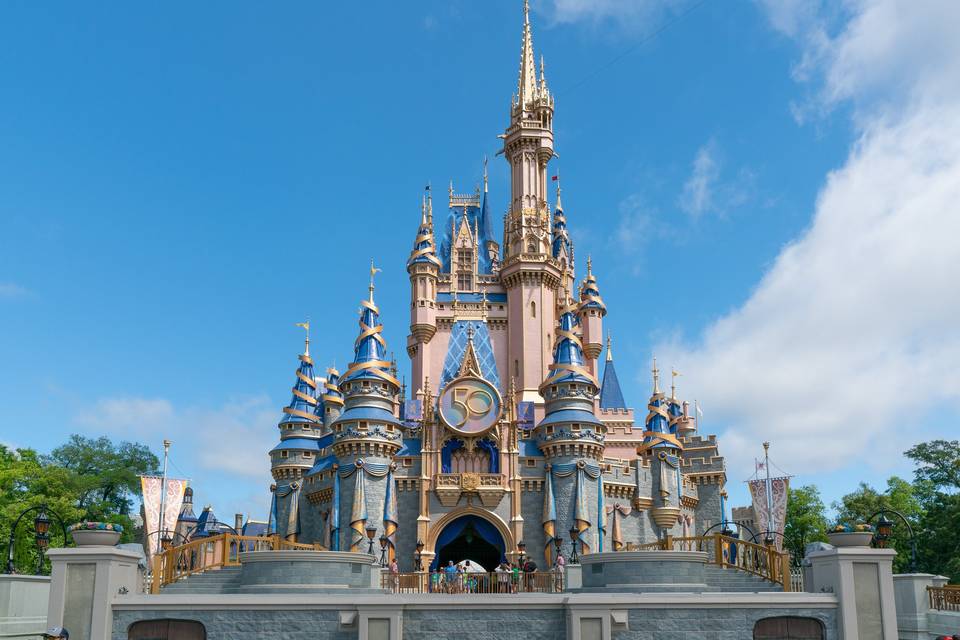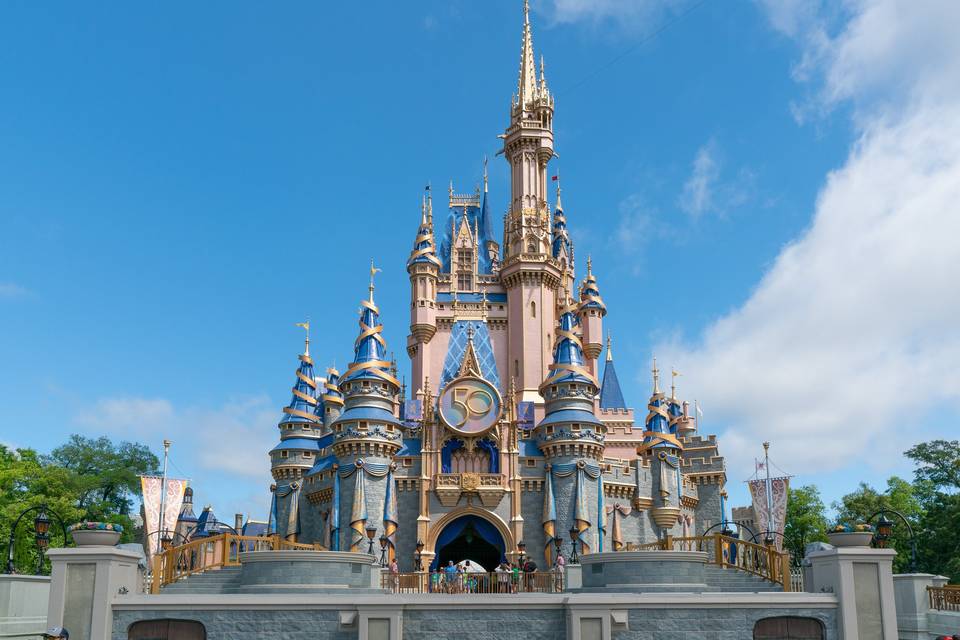 If you're like most couples, you've probably had to cancel a handful of planned or hoped for vacations over the last few years as a result of the pandemic. There's no denying this can be a major bummer, not to mention a total romance killer, especially when you've been hoping to get away in honor of your wedding anniversary. After all, one of the best ways to ensure a happy and healthy relationship involves taking fun trips where you can focus on just the two of you, not to mention celebrate your momentous nuptials.
Thankfully, after more than two years of pandemic waves and variants that caused infection rates to soar, things are finally starting to die down thanks, in part to mass vaccinations. As a result, there's a giant post-COVID wedding boom and couples are starting to take advantage of the options to travel—and one of the most popular destinations that might come to a surprise to most couples celebrating their anniversary is Disney World. You might be surprised to find that a Walt Disney World vacation is actually everything you've been looking for—mixing warm weather, unique culture, amusement, thrills, fine dining, luxurious stays and more. It's one of the most magical places on Earth (or at least the U.S.A)—and don't even have to be game for the roller coasters! Here, we'll share where to stay, what to do and what sites to see to enjoy a romantic anniversary trip to Disney World.
Where to Stay
The first to-do when planning a trip, pretty much anywhere, is figuring out where to stay. Well, the options are pretty endless when it comes to Orlando, even when you narrow down accommodations that are within close distance to Disney World.
When you factor in that it's your anniversary, you'll want a romantic hotel that caters to couples as well as families—this can be tricky to find in the Disney World area. The top contender is Four Seasons Orlando at Walt Disney World® Resort. As its name suggests, it's far more than a hotel—it's a five-star resort hotel in a secluded residential neighborhood area of a lakeside haven, surrounded by luscious greens and the Four Seasons Golf and Sports Club Orlando. It's definitely worth the splurge if romance is a top priority.
The amenities are endless—a fully functioning spa that offers an array of treatments, from rejuvenating couples massages and therapeutic facials to IV vitamin therapies and even cryotherapy, four pools, one of which is adult-only (Oasis Pool), a fitness center with scheduled class offerings, and on-site restaurants that are award-winning on their own (Capa and Ravello).
If you're looking to get to the parks from the Four Seasons, you can either drive or utilize their free shuttle service, which leaves every half hour for Magic Kingdom and every hour for Disney's Animal Kingdom, Epcot and Disney's Hollywood Studios. It's about a 10-20 minute drive, depending on which park you intend on visiting.
If you're looking to stay a bit closer to the parks, especially Epcot and Hollywood Studios, consider staying at the brand-new Swan Reserve. It's an Autograph Collection hotel, as part of The Marriott, which means you can use your points if you're a member, and also means that it's super swanky and upscale. It's the perfect vibe for two in-love adults looking to take advantage of all that Disney has to offer while reveling in the love that they've built together. It's tranquil, not too large or loud and tends to be filled with more adults than young children as compared to other hotels in the area. Another major plus for staying at the Swan Reserve is that it's walking distance from both Epcot (15 minutes) and Hollywood Studios (25 minutes), but you can also conveniently take the skyliner, monorail or the ferry or water taxi offered by their sister properties, The Swan and The Dolphin.
Definitely be sure to make a reservation at their only on-site restaurant, Amare, which serves up Mediterranean fare morning, noon and night (we're talking classics like grilled souvlaki and bistecca al fiorentina) and has a killer wine menu to boot. And if you're interested in a vow renewal ceremony while in Disney, be sure to talk to the staff at the Swan Reserve. They can coordinate the whole thing for you—officiant, photographer, and a beautiful and serene location, either on their rooftop terrace with breathtaking views of the Epcot ball or Disney's Boardwalk waterfront.
What to Do
Of course, you'll probably want to hit up the Disney parks (or at least some of them). This year is the Disney World's 50th anniversary celebration, so there are tons of special events, including fireworks cruises and Disney enchantment to experience. If you can't make up your mind on which one to go to, consider getting the Park Hopper Pass, park tickets that allow you to visit more than one park per day. You may also want to get the Genie pass (kind of like a Fastpass), which lets you conveniently skip the line on your favorite rides (just be sure to book them in advance and keep re-booking after each ride you've gone on).
For a romantic trip to Disney world, Epcot is a must. It's basically a theme park made for adults, featuring tiny versions of some of the world's beautiful cities and sights, including Japan, Morocco, France, Italy, Germany, China, Norway, Mexico, Canada and the UK. Foodies will love the fact that you can order culturally-themed foods in each of these little destinations to get a true flavor for eating (and drinking) around the world—how romantic! While there aren't many thrill rides in this destination, it's certainly worth your time—and probably where you'll have the most fun. Rides to add to your list include Remy's Ratatouille Adventure!
The next-best Disney park for adults on a romantic anniversary trip is definitely Hollywood Studios. It's broken up into eight different sections, each with their own unique offerings. Among the most popular, especially for couples and Star Wars fans alike is Star Wars: Galaxy's Edge. It's like walking onto the set of a Star Wars film, complete with fun rides and photo opps. Also, be sure to visit Toy Story Land which might be littered with kiddos, but also features a super fun rollercoaster, the Slinky Dog Dash.
Of course, if you want to see the classic Cinderella Castle, you could stop by Magic Kingdom. While there are no crazy rollercoasters or alcohol served outside the sit-down restaurants, you can entertain your inner kiddo by catching a picture with Mickey, Minnie and other Disney characters and cast members on Main Street or hopping on some of the classic rides from your childhood: It's a Small World, Peter Pan's Flight, Jungle Cruise and The Many Adventures of Winnie the Pooh.
There are also a bevy of non-theme park events around the Disney World area that are perfect for a romantic anniversary trip. One of those is Disney Springs, an eclectic mix of restaurants, including steakhouses, California grills, fun shops and tons of entertainment. Whether you go for a daytime stroll or a nighttime visit, there is always fun to be had in this unique spot. On the food front, you truly can't go wrong, so be sure to come with an appetite and make a reservation at one of 50+ dining spots, from quick eats too full-on dining services. Morimoto is one restaurant that stands out among the rest. This pan-Asian cuisine brought to life by Iron Chef's Chef Masaharu Morimoto himself offers a unique dining experience for guests, with an exhibition kitchen so you can see all of the cooking action, a two-story interior clad with 30-foot chandeliers and a Shanghai-influenced vibe.
Looking for an off-roading adventure while you're in Orlando? Just a 45 minute drive from the central city is a unique opportunity to see a score of exotic animals (more than 150 species in total) in a safari-style setting at Wild Florida. Upon arrival, you simply order your tickets via drive-through service and then enter what is like an animal sanctuary. You drive at 5 miles per hour in your car and get to see real animals up close and personal for an hour or so as you follow the trail. The best part is the end, where you get the chance to feed the friendliest giraffes ever! Talk about a photo op!
Last, but not least, be sure to visit the Harry P. Leu Gardens before you go. This lush 50 acres of gardens showcases the largest camellia collection in the entire South, along with a formal rose garden, and gives you a true feel for "Old Florida." It's so romantic and includes three miles of paved scenic walkways, a butterfly garden, tropical stream garden, bamboo and palm gardens and an 1880s house museum.
As you can see, there's no limitations for all of the fun and romance to be had in Disney World for families and couples alike. After all, you deserve your very own happily ever after.