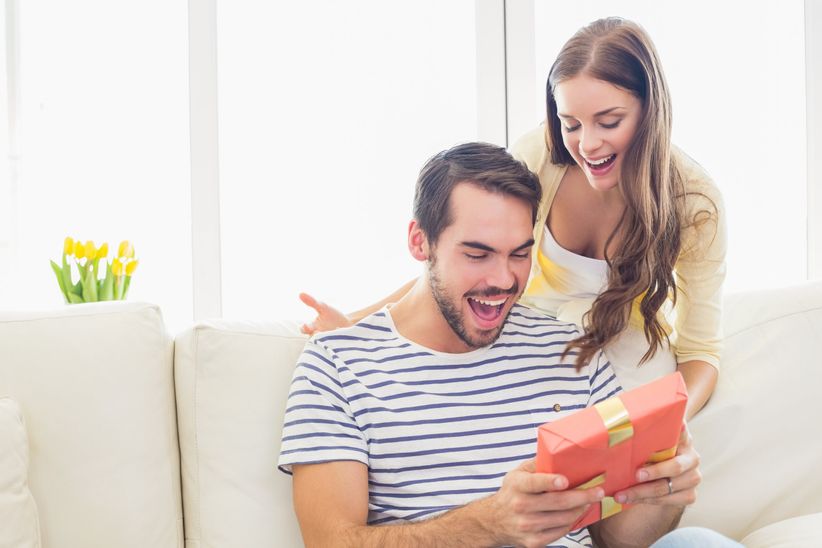 If you're reading this, it's probably because you're about to celebrate your 10-year wedding anniversary. A decade of marriage is no small feat, so when it comes time to select a 10-year anniversary gift, you've got to make sure to nail it. After all, you want to select something that shows your partner just how much you cherish them and all the memories you've made together. We're here to help, but first, we know you're probably wondering, "what is the traditional 10-year anniversary gift?"
Answer? Tin and aluminum are the traditional gifts for the 10-year anniversary. While those may not sound too exciting, there are some great gift options if you're willing to think outside the box and get a little creative. Looking for something splashier? You're in luck! The 10-year anniversary modern option is diamonds.
Here, we've rounded up lots of gifts that make great options for a 10-year anniversary gift. Keep reading!
10-Year Anniversary Gifts for Her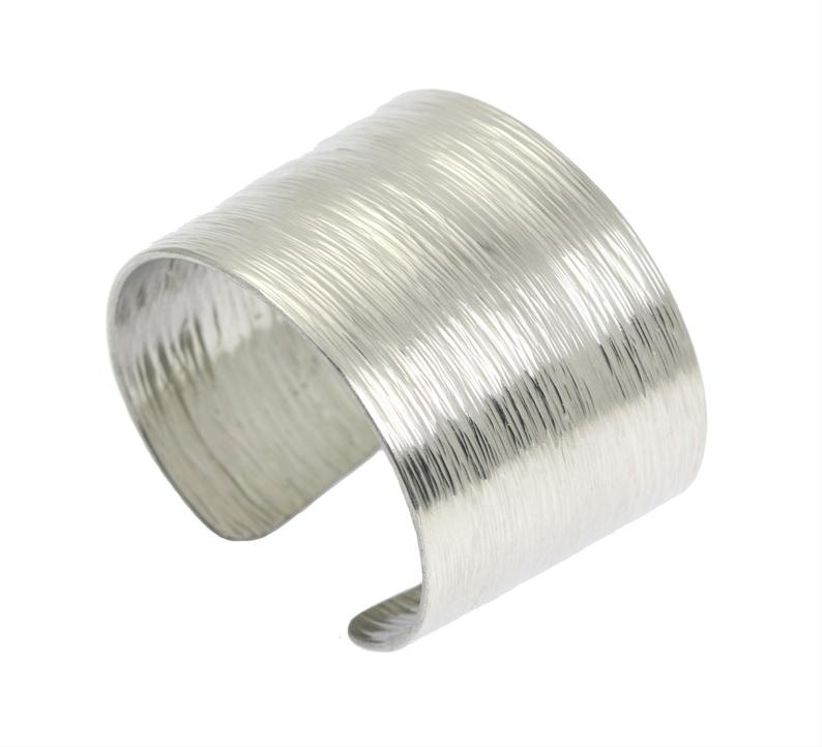 A gift of jewelry is always safe, and this beautiful and unique aluminum cuff bracelet keeps with tradition as you celebrate your ten-year anniversary together.
Johnsbrana aluminum cuff bracelet, $65, Etsy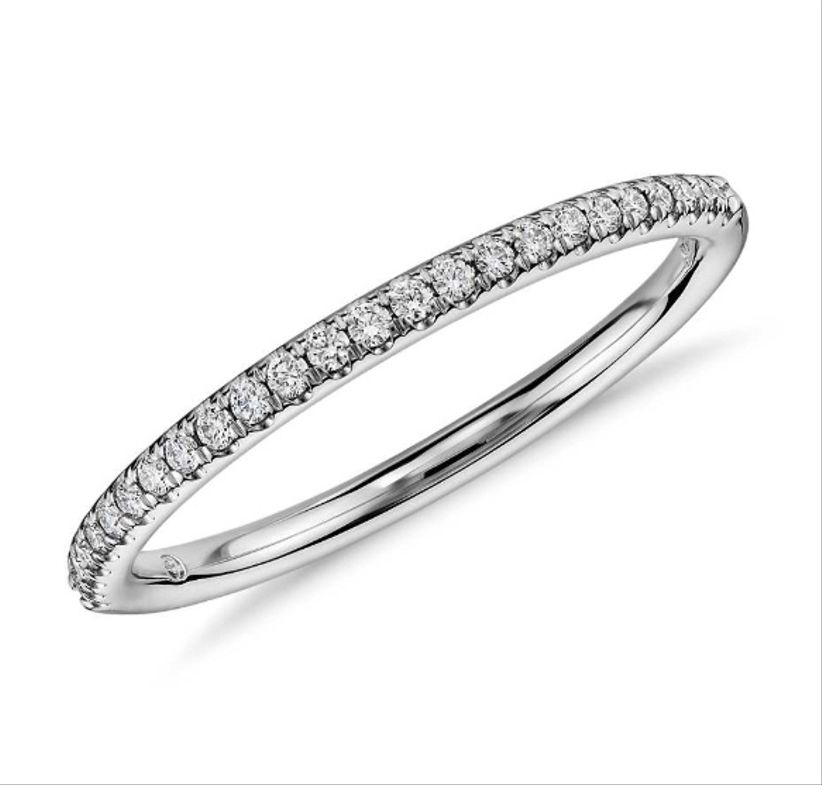 We're guessing she's been waiting with bated breath for this anniversary, since diamonds are the modern ten year anniversary gift for her. How to gift diamonds without breaking the bank? This stunning micropavé stackable diamond ring is a great option! Though petite on its own, it'll add a just-right touch of bling to her bridal set when stacked between her wedding band and her engagement ring.
Blue Nile petite micropave diamond ring, $625, Blue Nile
Pavé diamond stones adorn these whimsical initial pendants that would make a great option for a ten year anniversary gift. If you share a last name, opt for the first letter as a nod to her decade-long married name. Or, if you've welcomed children together, gift her their initial(s) so she can keep her little one(s) close to her heart all day.
BaubleBar 14K diamond initial pendant, $158, BaubleBar
When considering ten year anniversary gifts for her, it's simple to stick with a traditional gift when you opt for these trendy aluminum earrings. They're handcrafted into a cool twisty shape that dangle for a dramatic statement. These match-with-anything baubles are sure to be a hit.
PillarofSaltStudio hammered aluminum earrings, $24, Etsy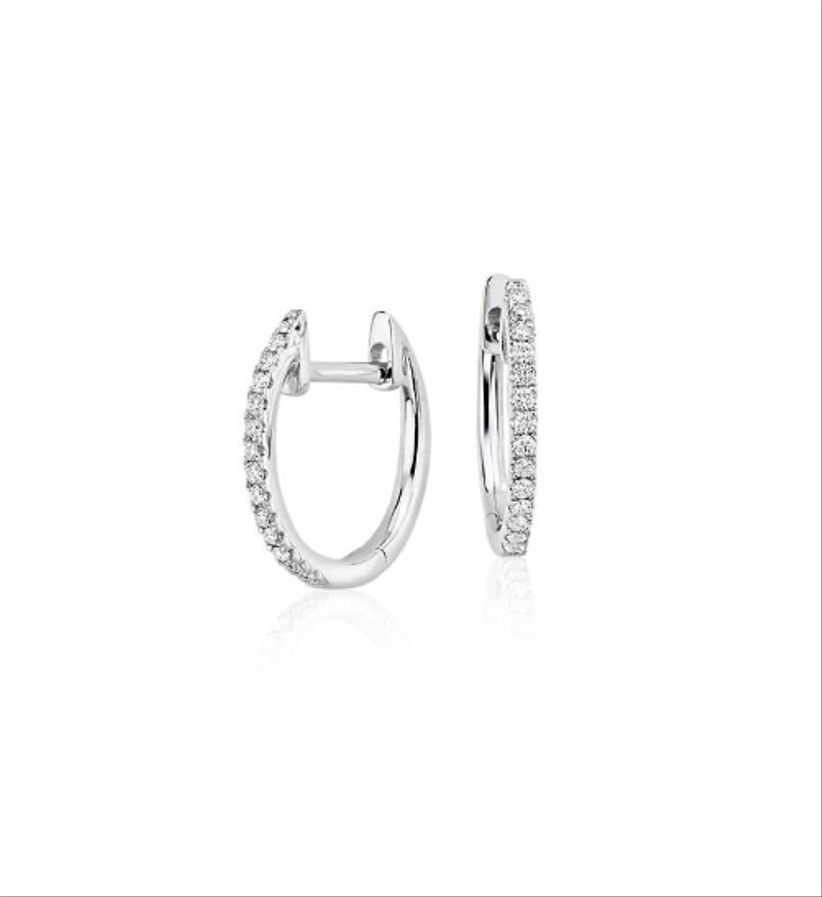 These beautiful diamond hoops make a perfect ten year anniversary gift if you know she's hoping for jewelry (and what girl wouldn't be—this is a huge milestone!). Available in three metals—rose gold, white gold or yellow gold—they feature a channel of petite diamonds and a hinged snap back for a snug fit.
Blue Nile petite diamond hoop earrings, $410, Blue Nile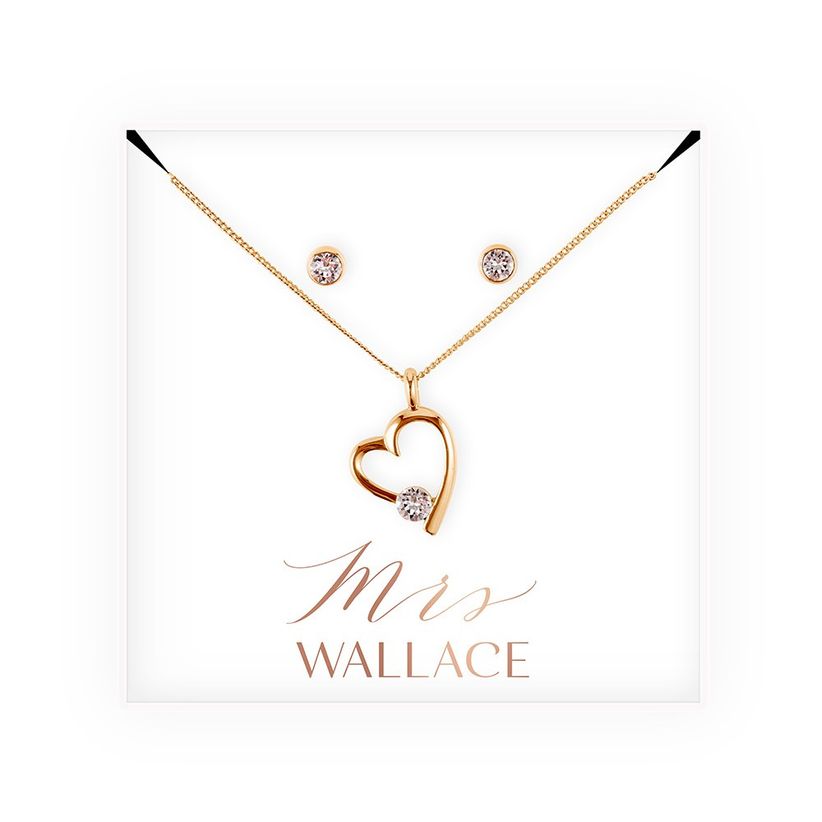 If diamonds aren't exactly within budget, this crystal jewelry set is still a lovely option for a 10-year anniversary gift. We love how the packaging can be customized to include the recipient's married name.
WeddingWire Shop personalized bridal party jewelry set, $20, WeddingWire Shop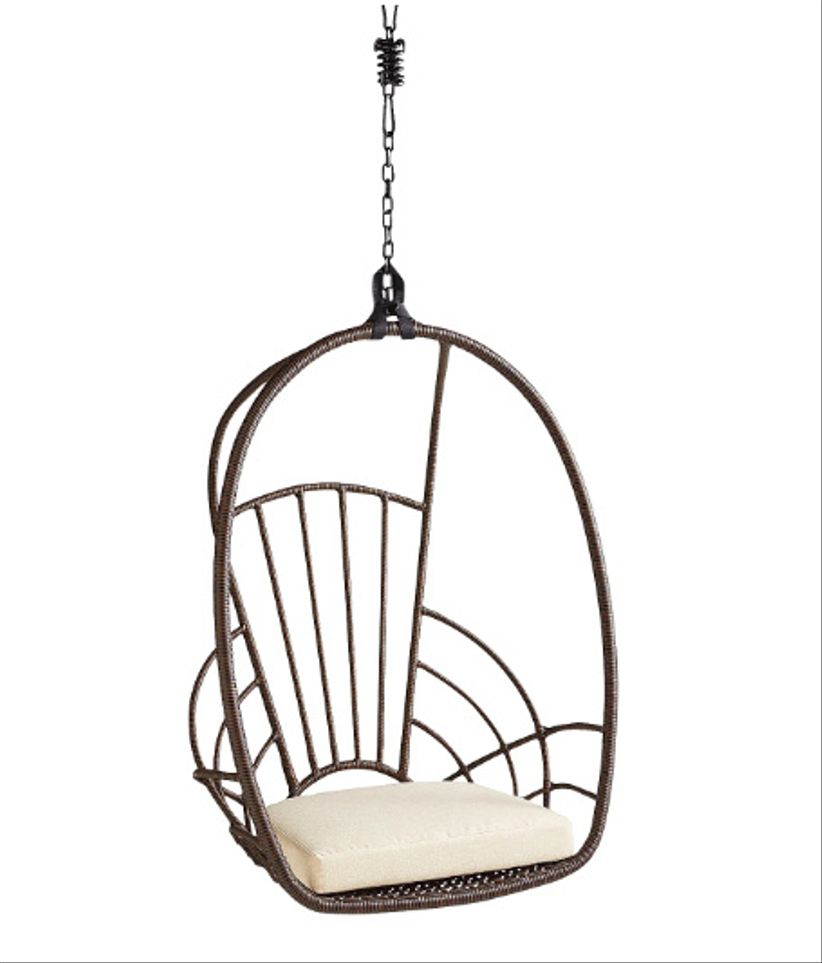 Give her the gift of comfort when you bring home this swingasan from Pier One. This unique gift will make the perfect addition to your outdoor space, and will have her thinking how lucky she is to be married to you every time she goes for a swing. And you might even want to grab two of these so you can swing a deux!
Pier 1 Imports swingasan with ivory cushion, $250, Pier 1
Good things come in small packages, and that can be true when you choose these beautiful vintage tins as a ten year anniversary gift for her. Whether you choose to add something small and sparkly in it (hint-hint) is up to you.
BSeyDesign small tin box with vintage design, $8, Etsy
No round up of ten year anniversary gifts for her would be complete without this tin sound wave wall hanging. We love that this one is designed with feminine colors like pink and purple, and that the name of your first dance song is emblazoned across the bottom with your names and wedding date.
ArtsyVoicePrint sound wave art tin anniversary gift, $80, Etsy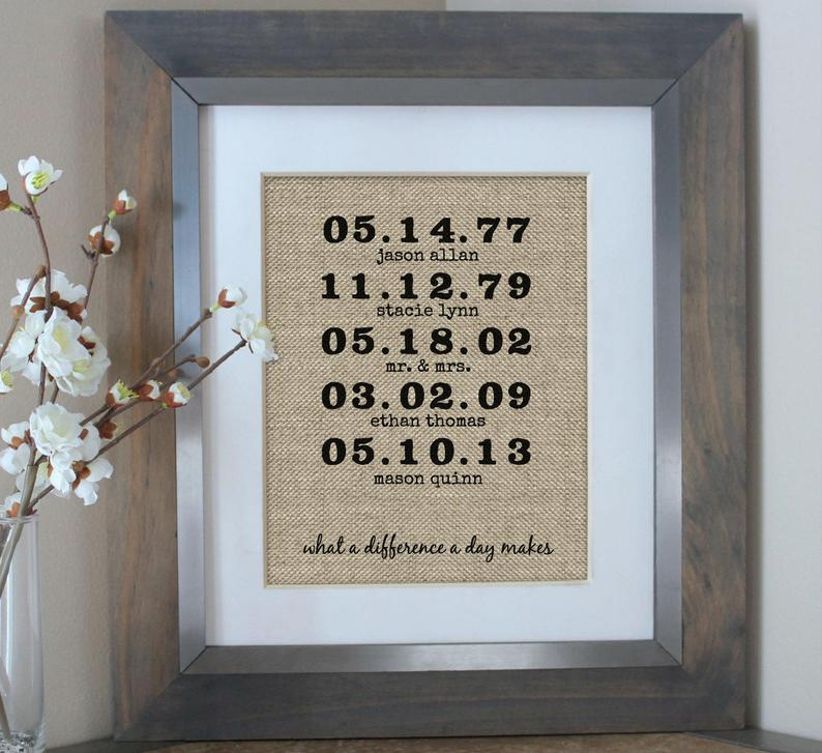 Here's a gift that'll certainly be close to her heart. It's a print that lists all the most important dates you've shared together, framed in an attractive rustic wood frame. Chances are, you've welcomed a few little ones over the decade you've spent as a married couple, so include them here, too! Print is available in 8x10 or 11x14 sizes.
EmmaAndTheBean What a Difference print, from $20, Etsy
10-Year Anniversary Gifts for Him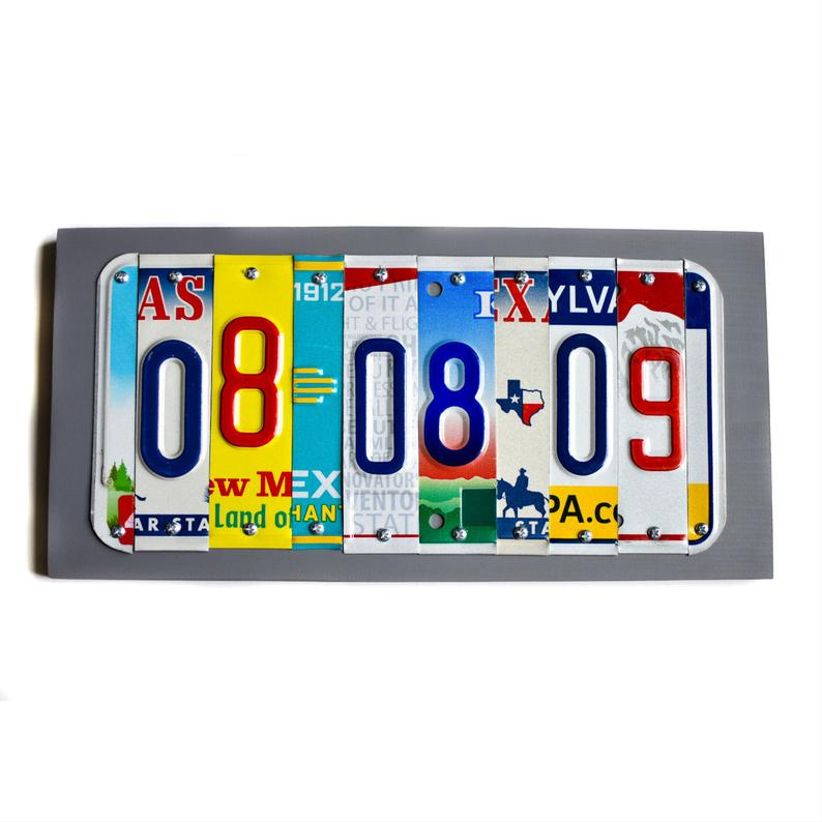 Elevate his man cave and check the box on the traditional gift of aluminum with this unique ten year anniversary gift for him. It's a wedding-date mash-up of license plates from different states. Another plus? It's a great way to ensure he never forgets your anniversary.
CLEVillageCraftsman license plate wedding anniversary date sign, $48, Etsy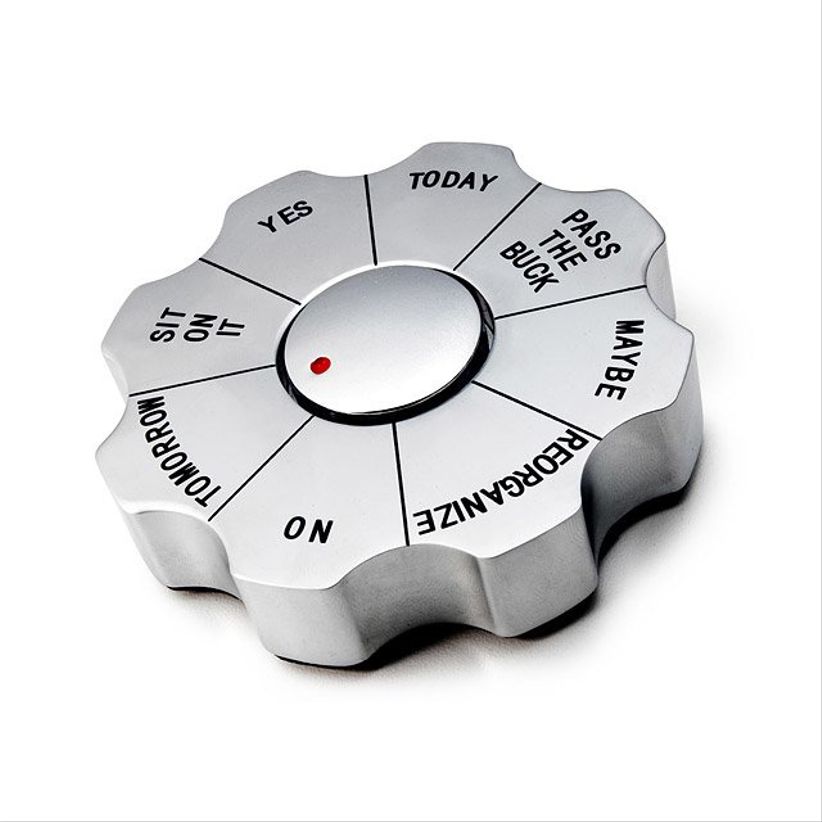 As his partner, you've probably helped him make many decisions over the years. Now, he'll be able to handle it on his own when you gift him this hilarious aluminum decision-maker paperweight. Mulling something over? Give it a spin and see what it tells you. It's sure to bring him lots of laughs.
Uncommon Goods aluminum decision paperweight, $18, Uncommon Goods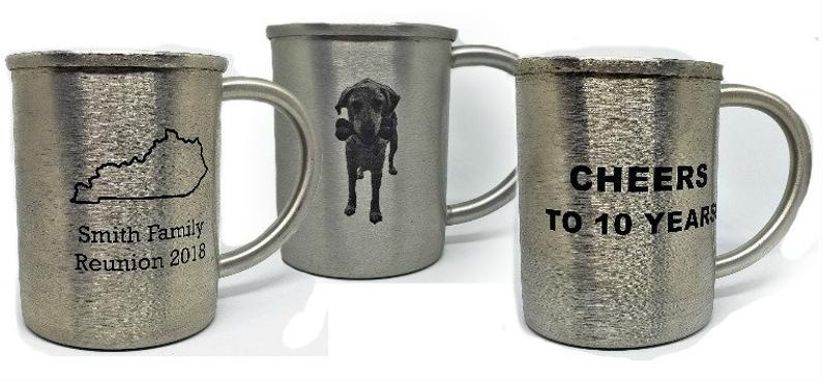 What could be a better choice for a ten year anniversary gift for him than a tin cup? We can't think of anything, and we love this one, from the aptly named Etsy shop OriginalTinCup. Choose from no engraving to any custom engraving you can come up with. Either way, it's sure to be a gift that he'll use over and over.
OriginalTinCup tin cup with customizable logo, $30, Etsy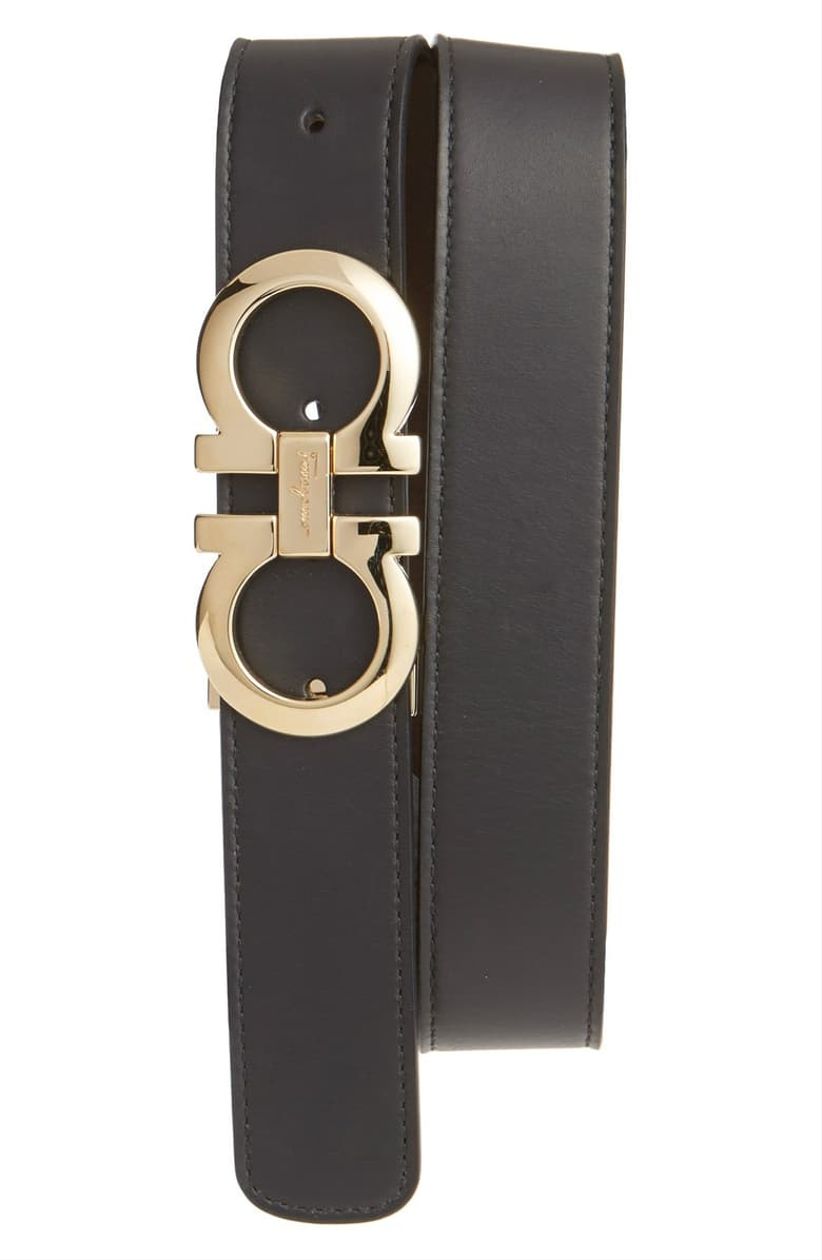 So what if the leather anniversary has long passed? This reversible leather belt from Salvatore Ferragamo still deserves a spot on our list. A prominent gold Gancio buckle takes center stage against this sleek leather belt with both brown and black options.
Salvatore Ferragamo reversible leather belt, $395, Nordstrom
For a totally luxe 10-year anniversary gift, go for these David Yurman compass cufflinks, complete with on-theme black diamonds in the center.
David Yurman Maritime compass cufflinks with black center diamonds, $550, Nordstrom
Ensure he never has to endure another lukewarm brew when he's got a set of these beer chillers in the freezer. Personalized with "world's coolest husband," this simple gift makes a great ten year anniversary gift for him.
Brew House Chillers beer chillers, $25, Amazon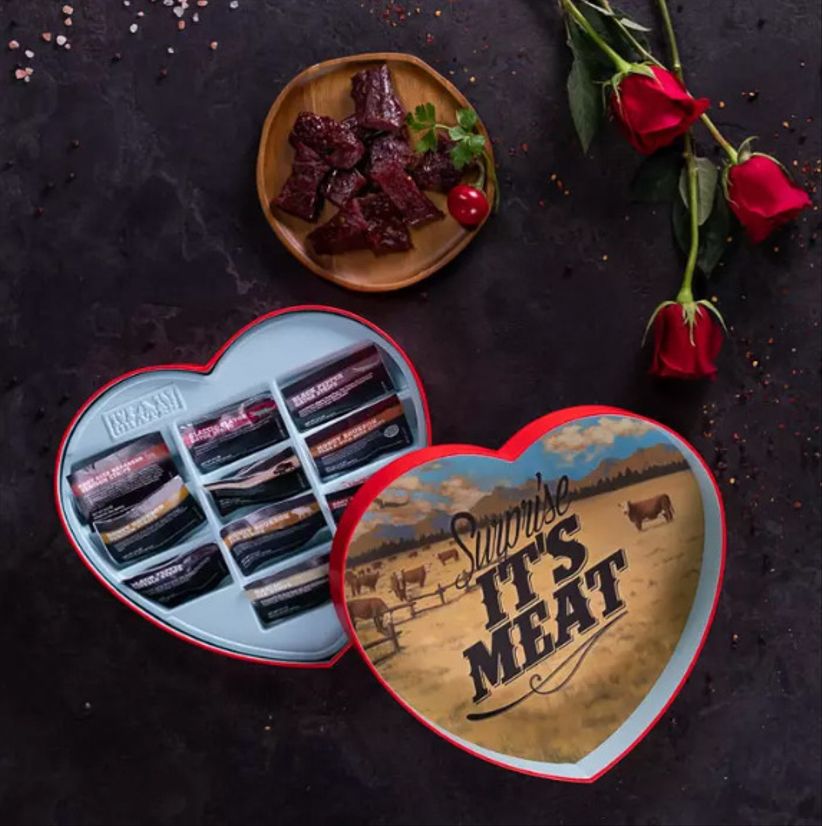 Can you think of a better 10-year anniversary gift for a husband than meat? We can't either. That's why this heart-shaped jerky gift is on our list (obviously). And with ten pieces of premium jerky encased in the heart, it's all the more perfect for a 10-year anniversary gift for him.
ManCrates exotic meats jerky heart, $50, ManCrates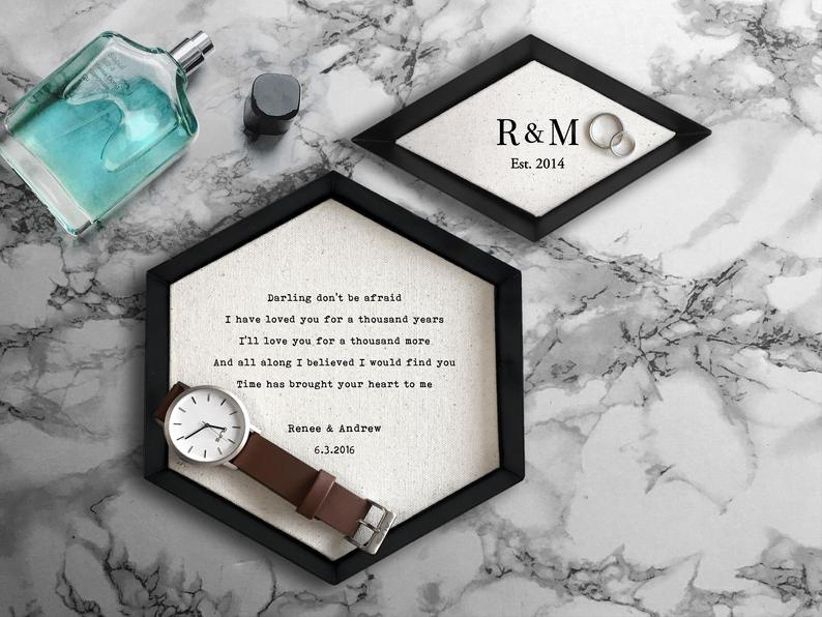 Since the 10-year anniversary gift modern option is diamonds, it can't hurt to gift him a diamond-shaped tray, right? That's exactly what we've got here, with these beautifully crafted linen-lined trays from Etsy shop PaperAnniversaryLove. You can customize them with any message you'd like to include, up to 55 characters. They're the perfect place for him to store all his belongings at the end of a long day.
PaperAnniversaryLove linen-lined trays, from $69, Etsy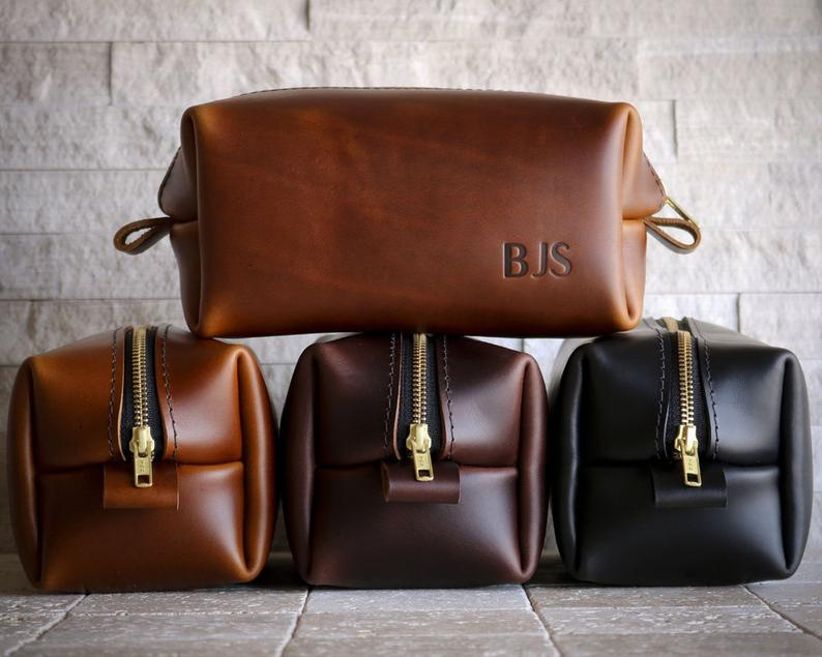 A great dopp kit is always a great gift for him, no matter what the occasion. That's why we've included this lovely leather kit from Etsy in our list of 10-year anniversary gifts. They're available in three different leather colors—whiskey leather, dark brown, and black—and they're able to be personalized if you choose.
ByPage personalized leather dopp kit, from $39, Etsy
10-Year Anniversary Gifts for Them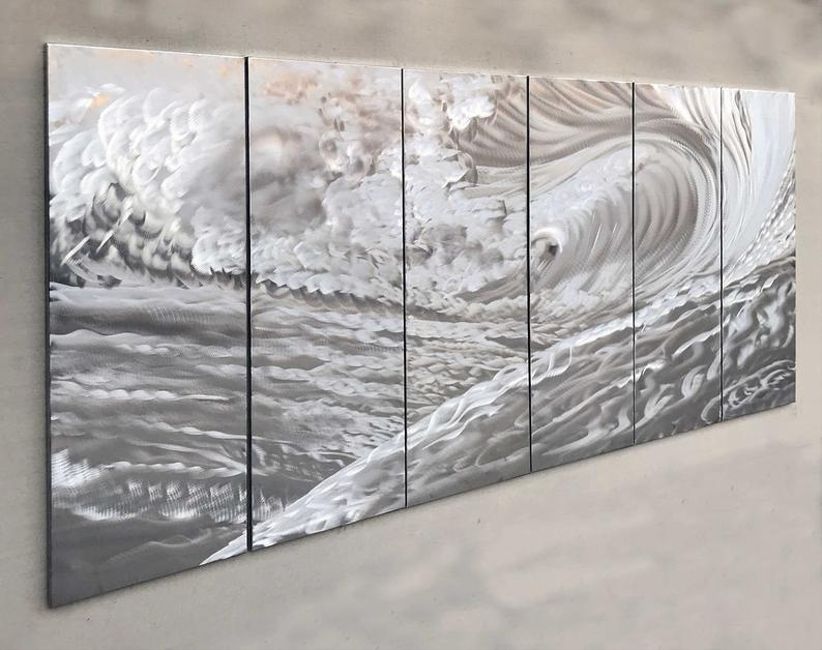 Looking for a 10-year wedding anniversary gift that'll make a total statement? Look no further than this dramatic 6-panelled aluminum print. This gorgeous piece displays a wave crashing in the sea, and would make the perfect centerpiece in a home filled with modern décor.
Hyart86 custom metal wall art, $160, Etsy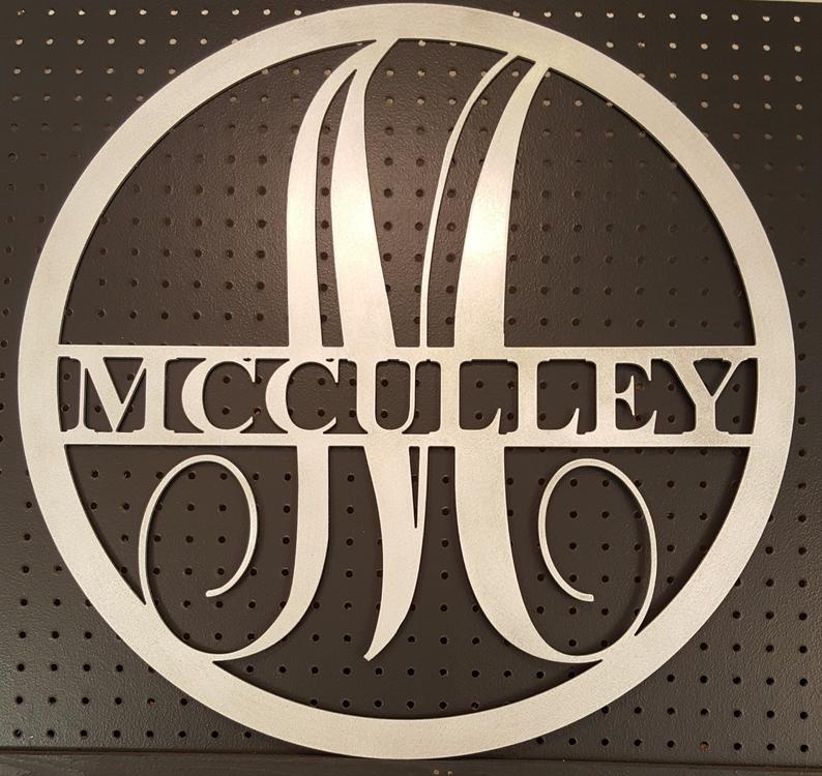 Help the couple celebrating a decade of love display their shared last name in style when you gift them this laser-cut aluminum monogram sign. It can be displayed as is or painted any color they choose. Either way, it's a beautiful addition to any front door.
MadFabMetalWorks paintable aluminum monogram decor, $70, Etsy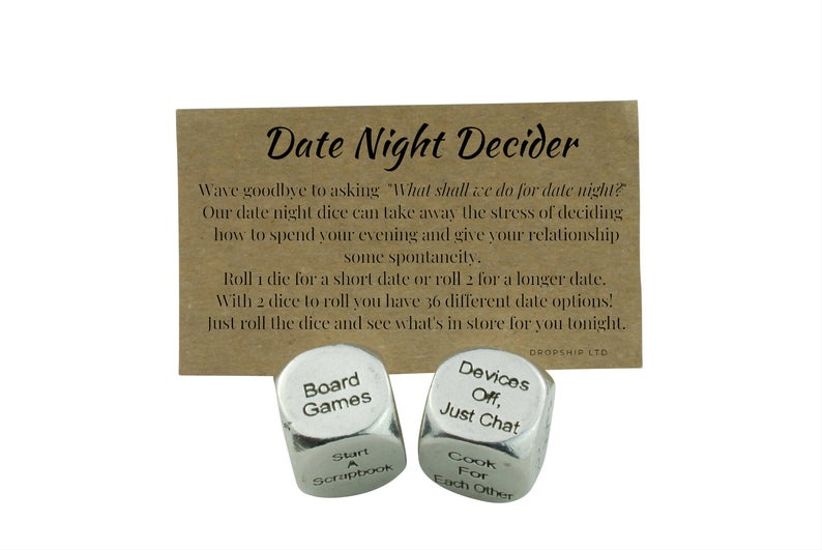 Ten years in, chances are the couple might be in search of some fresh date night ideas. Help them out when you opt for this traditional 10-year anniversary gift of tin date night dice. A quick roll of the dice provides a fun and humorous idea for how the couple should spend their special evening. This cute 10-year wedding anniversary gift arrives packaged in a black velvet pouch with a card explaining why tin is the traditional 10-year anniversary gift.
Anniversary Gifts date night dice, $17, Amazon
Stick with tradition when you gift the couple this simple but special gift of a hand-painted cookie tin. With their family name included on the design, they're sure to use this year after year.
MadForMonograms personalized Christmas cookie tin, $18, Etsy
This adorable sundial makes a perfect 10-year wedding anniversary gift. It's available with lots of different personalization options, including a matching stand. Handcrafted of the highest quality brass, and with tons of 5-star customer reviews, these sundials are a great way to show that you believe the couple's love stands the test of time.
TheMetalFoundry custom metal sundial, from $52, Etsy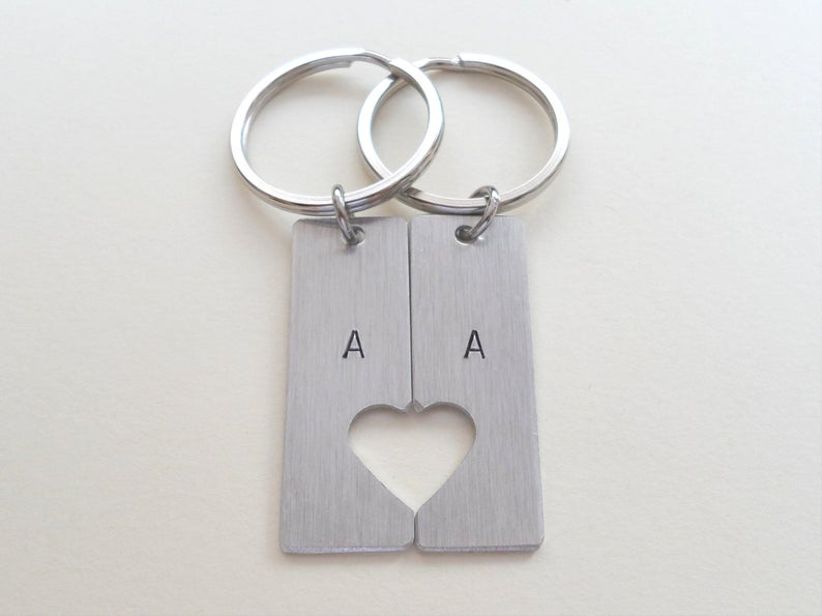 We love these cute little keychains as a 10-year anniversary gift for a couple. Not only are they made from aluminum, the cutouts form a heart when placed side by side.
Jewelry Everyday aluminum keychains, $14, Etsy
If the couple can't live without their coffee, gift them two of these stainless steel travel bottles, which can be personalized with their names.
WeddingWire Shop personalized travel bottle, $27, WeddingWire Shop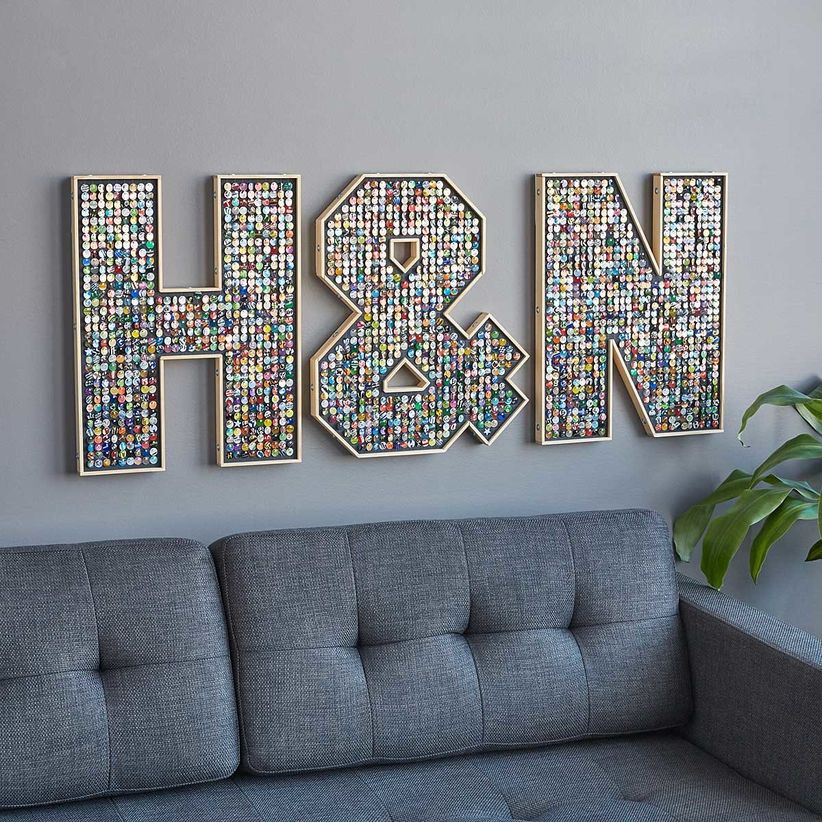 What a unique piece of artwork for a couple's home! These letters are made from recycled aluminum cans—but you wouldn't know it by looking at this colorful work of art.
Hannah & Nemo recycled dancing mosaic letters, $380, Uncommon Goods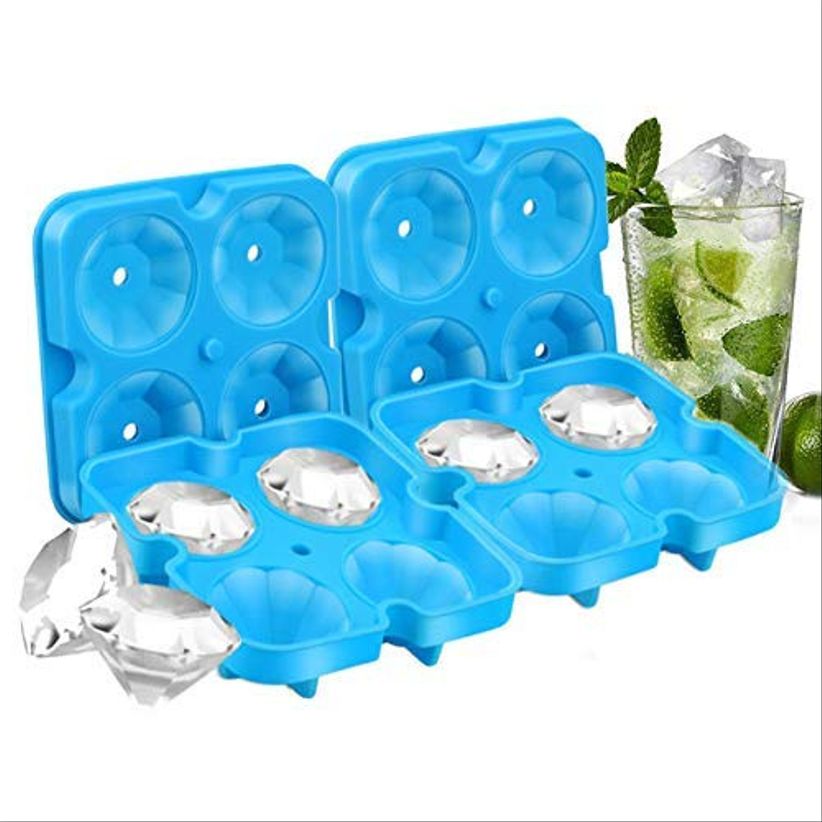 Maybe you've heard that diamonds are the 10-year anniversary gift modern option, but you can't quite afford to give the couple ice? No worries, now you can give them, well, ice in the shape of diamonds with these cheeky diamond-shaped ice trays. This fun gift is sure to be hit with the couple celebrating 10 years together.
Bella Vino diamond-shaped ice trays, $10, Amazon
The perfect companion gift to the ice trays above is this set of diamond-shaped glasses. They're perfect for whiskey, wine or anything in between, and are a great way to celebrate a 10-year wedding anniversary, even if real diamonds are a bit out of your budget.
The Wine Savant diamond-shaped glasses, $28, Amazon
Disclosure: This post contains affiliate links, some of which may be sponsored by paying vendors.