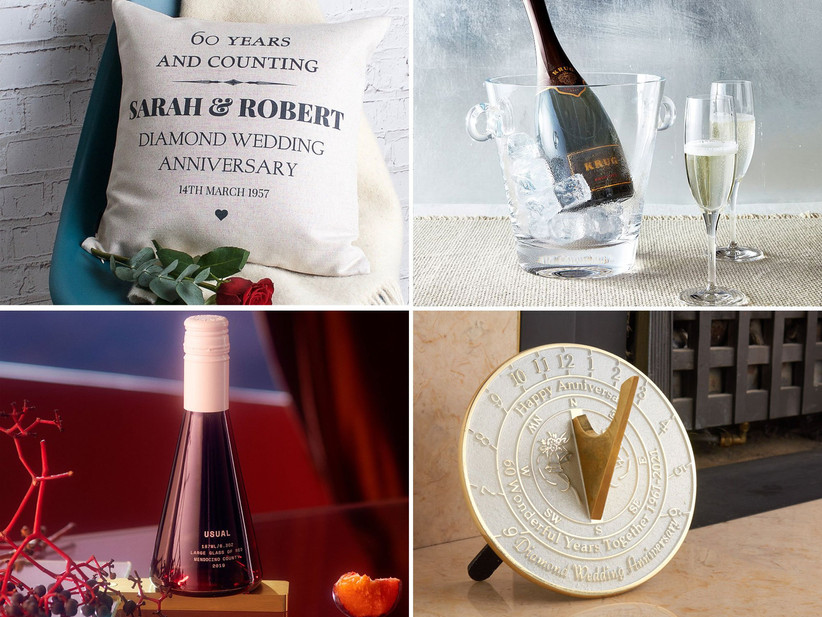 A 60th wedding anniversary is a major milestone anniversary to say the least. It's been six decades since your wedding day, and you're still together. Talk about a love that stands the test of time—and a lot of time at that. To celebrate such a special occasion, a perfect gift is in order. Whether you want to give your spouse a sweet wedding anniversary gift or you want to congratulate your parents, grandparents, or another happy couple in your life on this amazing marital milestone, we have a ton of great gift ideas to help recognize all that goes into reaching a 60th wedding anniversary.
What is the traditional 60-year anniversary gift?
It's no wonder that the 60th wedding anniversary is the diamond anniversary. Diamonds are known for their durability, clarity, and beauty—all traits of a happy 60-year marriage. The brilliant gemstone is not only the traditional gift to mark a 60-year anniversary, but it's also the modern gift theme and gemstone for it as well. The color to commemorate the diamond wedding anniversary is, fittingly, diamond white, and the flower is the elegant orchid. Of course, there's nothing to say you have to go with any set theme when it comes to a gift, and we've included plenty of alternative 60th anniversary gift ideas as well.
The Best 60-Year Anniversary Gifts
As you can see, when it comes to 60th wedding anniversary gift ideas, there's plenty of inspiration. To help you narrow things down a bit and find the perfect gift, we scoured the internet to round up an amazing array of finds. From traditional picks to modern gift ideas, one of these is bound to be the perfect gift for your loved one.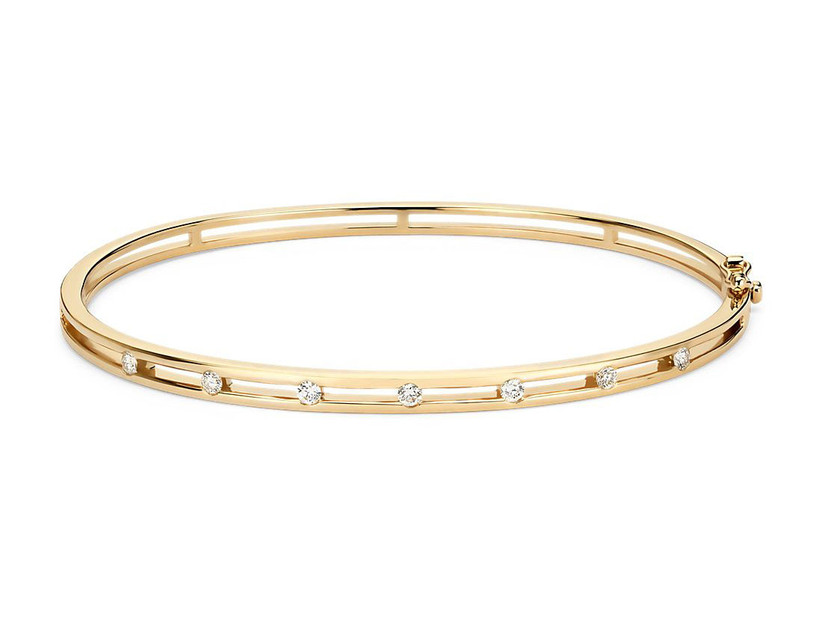 1. Jaw-dropping bracelet
A 60th wedding anniversary is a big deal, and if you want to go with a big gift to match, this incredible gold-and-diamond bracelet fits the bill brilliantly. It's a traditional gift with a modern vibe that's sure to be a favorite for years to come.
Blue Nile diamond station bangle bracelet, $1,495, Blue Nile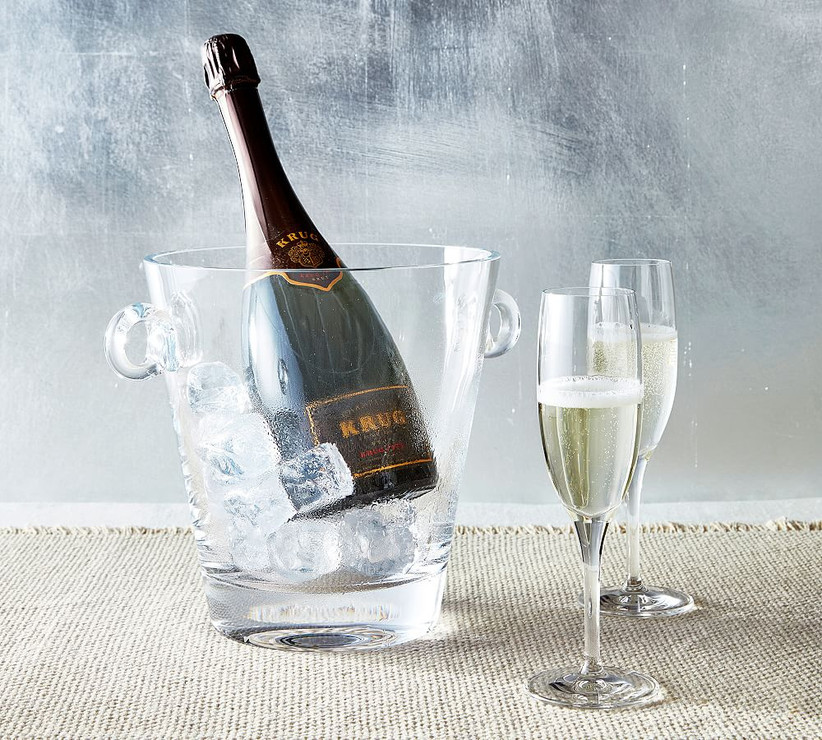 2. Personalized champagne flutes
They can raise a gorgeous glass to their years of marriage with these charming champagne flutes. They can be personalized with the couple's initials and the date of their wedding day.
Pottery Barn Champagne Lovers 3-piece gift set, $89, Pottery Barn
3. Sentimental photo frame
This picture frame is specially designed for a 60th wedding anniversary. It has space for two pictures of the happy couple, and the middle is filled with a count of all the months, weeks, days, and hours it takes to reach a 60-year anniversary.
Life Song Milestones 60th wedding anniversary photo frame, $80, Etsy
4. Fun cuff links
Golfers will get a kick out of these fun golf-bag cuff links. With an antique-plated base, they add a dapper detail to any shirtsleeves.
Cufflinks, Inc. golf bag cuff links, $65, Cufflinks.com
5. Sweet throw pillow
This pillow will add a special, sentimental touch to any living room. Designed specifically for celebrating a diamond wedding anniversary, it reads, "60 years and counting," and it can be personalized with your names and the date of your wedding day.
Vintage Designs Reborn personalized diamond 60th wedding anniversary cushion cover, from $42, Etsy
6. Sweets for your sweet
You simply can't go wrong with a box of Godiva chocolates. This gift set is filled with an assortment of 70 decadent, delicious Belgian chocolates. If you're lucky, maybe they'll share.
Godiva 70-piece assorted chocolate gold gift gox, $100, Godiva
7. Brilliant bracelet
Tennis anyone? Even if they've never swung a racquet, this diamond tennis bracelet makes a winning wedding anniversary gift. You can select from a variety of metal settings and determine the number of carats you want for the perfect gift.
Blue Nile diamond tennis bracelet, from $3,400, Blue Nile
8. Sweet socks
If your other half thinks there's nothing better than the feeling of a fresh pair of socks on their feet, this is the perfect gift for them. By signing them up for a Sock Fancy subscription, they can enjoy up to three playful new pairs of socks every month.
Sock Fancy gift subscription, from $57 for 3 months, Sock Fancy
9. High-end backpack
You've traveled quite a road together in 60 years, and this backpack is a great gift to take on the adventures yet to come. It's made of supple, full-grain leather, and it has room enough for a laptop, tablet, water bottle, and more.
Cuyana leather backpack, $395, Cuyana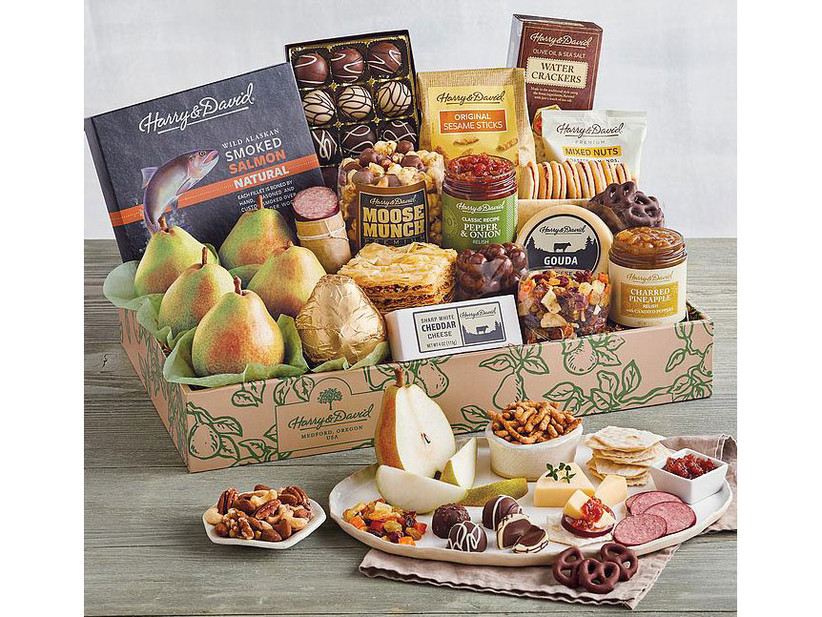 10. Delicious gift box
Say happy anniversary to your favorite couple with this gourmet gift box. It's filled with an amazing array of sweet and savory treats to help them celebrate the special occasion in delicious style.
Harry & David Gourmet Favorites gift box, from $150, Harry & David
11. Orchid wall art
Embrace the 60th wedding anniversary flower with this gorgeous orchid wall art. The modern black-and-white print is framed in beaded gold, making for a stunning addition to any space and a great reminder of their 60th wedding anniversary.
Artfully Walls The Orchid wall art, $218, Anthropologie
12. Sparkly studs
Diamonds don't have to cost a fortune. These lab-grown diamond earrings are as surprisingly affordable as they are stunning. The classic studs are set in white gold and will never go out of style.
Gemvara 0.25-carat lab-grown diamond stud earrings, $260, Gemvara
13. Timeless watch
A watch makes a great gift to honor all the time you've spent together since your wedding day. This one is made of gold-tone stainless steel and hits both the traditional gift and modern gift themes with eight diamonds embedded in the face.
Bulova Sutton watch, $396, Bulova
14. Diamond anniversary sundial
This sundial makes a unique and sentimental gift to honor a 60th wedding anniversary. Made from solid brass, the print on it reads: "Happy Anniversary," "60 Wonderful Years Together," and "Diamond Wedding Anniversary."
The Metal Foundry unique 60th anniversary sundial gift for couples, from $93, Etsy
15. Classic perfume
Take a twist on the diamond wedding anniversary theme with this classic perfume, White Diamonds. Originally created for the oh-so-glamorous Elizabeth Taylor, it has notes of narcissus, gardenia, and lily.
Elizabeth Taylor White Diamonds eau de toilette spray naturel, $53, Macy's
16. Cake delivery
Let them eat cake—and really amazing cake at that. Delivered fresh from Magnolia Bakery, this dessert set is filled with festive confetti sprinkles and is finished with pretty pastel frosting. Yum.
Magnolia Bakery confetti cake, from $65, Goldbelly
17. Photo book
Capture some of your favorite memories together in a sentimental photo book. Artifact Uprising has a variety of stunning options for a gorgeous keepsake album they're sure to cherish.
Artifact Uprising signature layflat photo album, from $289, Artifact Uprising
18. Box of flowers
While the orchid may be the official flower for the 60-year anniversary, you can't go wrong with roses no matter the occasion. This beautiful white box is filled with 42-49 fresh roses, available in a stunning array of colors. Pay tribute to the traditional 60th anniversary color by opting for bright white blooms.
Venus ET Fleur classic collection large square, $399, Venus ET Fleur
19. Wonderful wine
Say cheers to 60 years together with a glass of good wine. Each of these bottles contains one glass so you don't have to open an entire bottle if you're just in the mood for a single serving.
Usual Wines red wine box if 12 glasses, $96, Usual Wines
20. Initial serving tray
Subtle but romantic, this serving tray features the happy couple's initials carved into a tree. Made of maple wood, the tray is water-resistant on top and perfect for serving up tea, happy hour fare, or other tasty treats.
Jon and Julie Rousseau anniversary serving tray, from $65, Uncommon Goods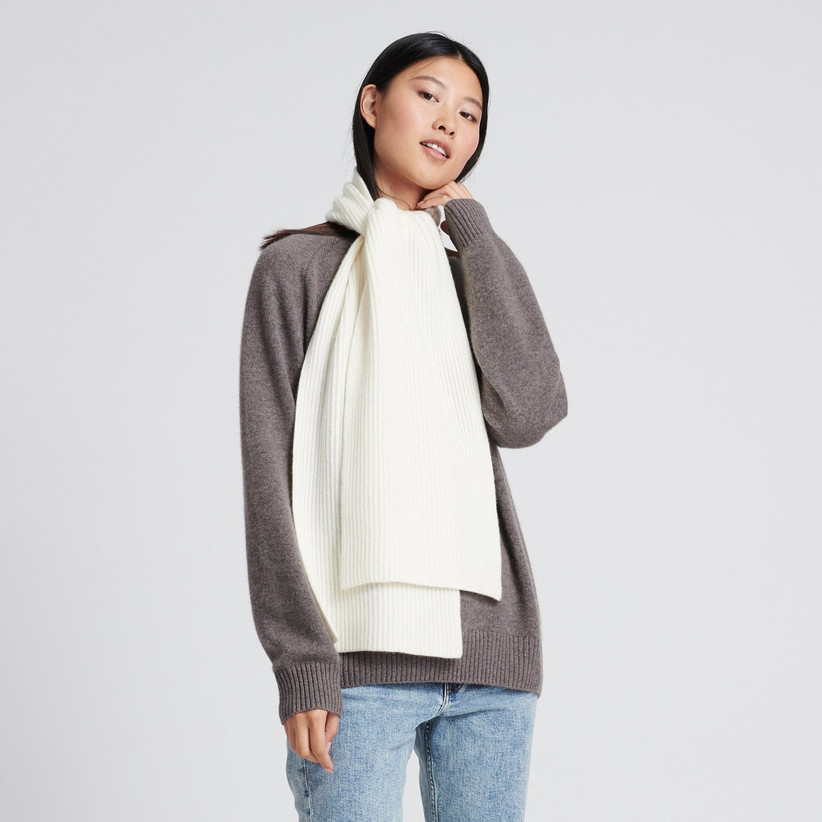 21. Luxurious scarf
A cozy, well-made cashmere scarf makes a great gift for any special occasion. This one also happens to come in diamond white, which beautifully embraces the official color of the 60th wedding anniversary.
NAADAM signature ribbed cashmere scarf in White, $125, NAADAM