11 Wedding Photo Books You'll Always Want to Have on Display
Sharing snaps on Instagram is fun, but it's not the most meaningful place to store your favorite memories. These wedding photo books are the perfect keepsake.
We have included third party products to help you navigate and enjoy life's biggest moments. Purchases made through links on this page may earn us a commission.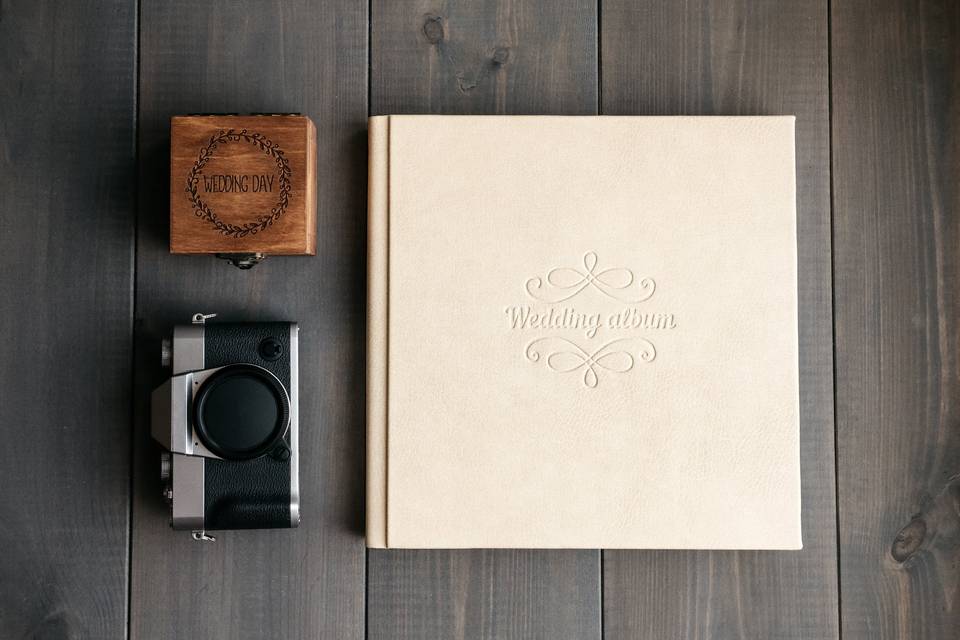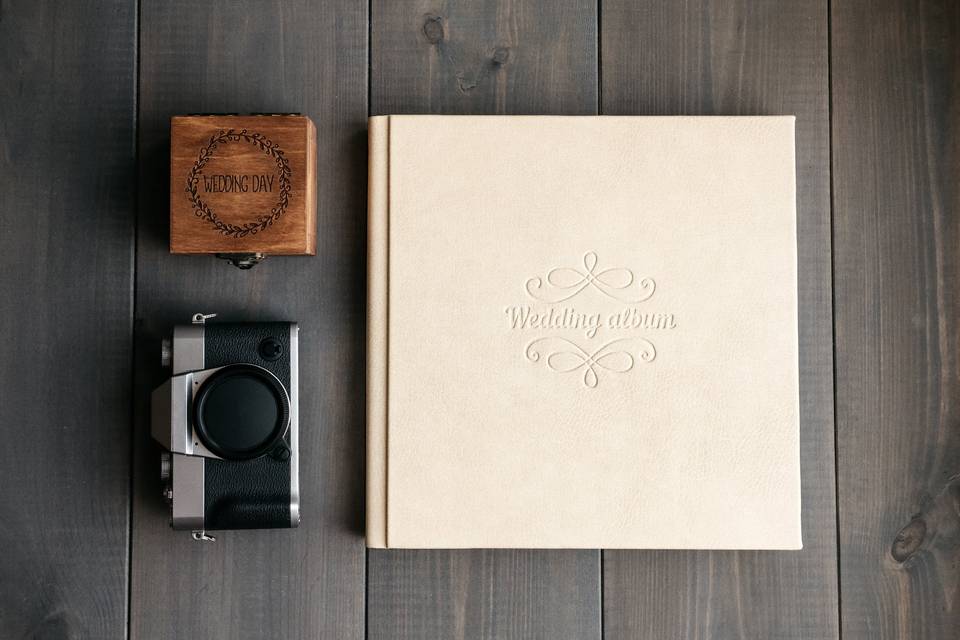 So much care goes into planning a wedding, from selecting a venue to deciding on smaller details like table settings. With that said, it's no surprise that hiring a professional photographer to capture it all is often a top priority for soonlyweds. But what comes next? Wedding photo books make for beautiful keepsakes you can permanently display on your coffee table or pull off the shelf to flick through on future anniversaries.
There are so many benefits to creating a wedding photo album. For starters, you'll both (finally) have to sort through that enormous stack of glossy images to find your favorite shots. It's a fun opportunity for you and your new spouse to relive the day, plus you'll likely find a few fun photos of loved ones you didn't notice before. So, if you're wondering what to do with your pictures after the big day, look no further. We've rounded up the best wedding photo books for all your most cherished memories below.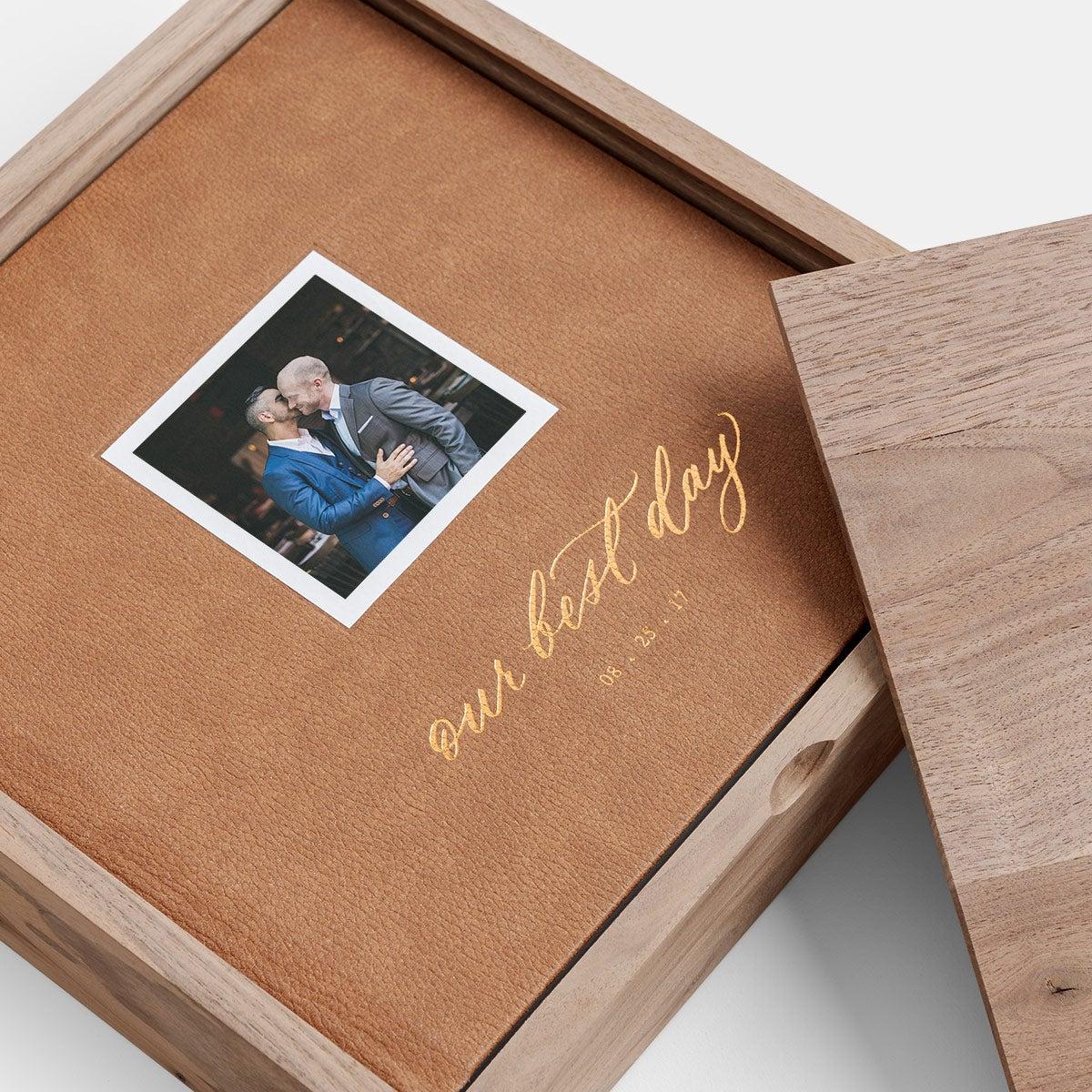 1. Luxury Layflat
Artifact Uprising hands down makes some of the best wedding photo books out there. The signature layflat album is made with marbled endsheets produced by fair-trade artisans in Bangladesh and premium ultra-thick paper—trust us, your photos will never look better. To get started, choose a size, cover material (linen or leather), color, and title text. From there, you can start building your masterpiece with the easy-to-use online tools. Upload your images, change page layouts to suit your preferences, and include any personalizations before hitting add to cart. The usual production time is eight business days, so you'll have your wedding photo book in hand before too long.
Artifact Uprising signature layflat photo album, from $289, Artifact Uprising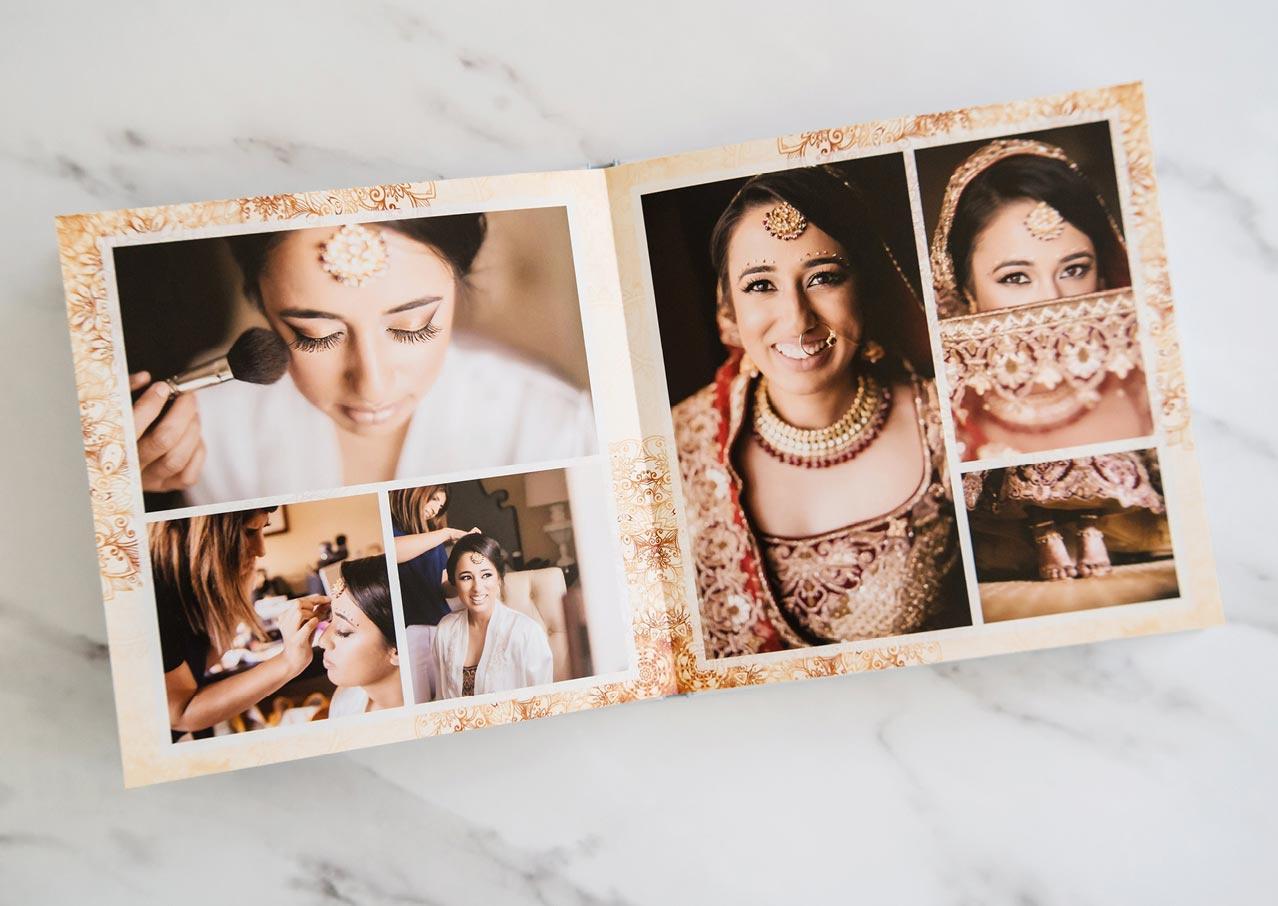 2. Classic Photo Book
After waiting patiently to get your wedding photos back, picking out a beautiful book to display them in is an exciting next step. PikPerfect's layflat wedding photo book comes in five different sizes to suit your style and budget. It's also available with a printed photo, linen-, or leather-bound cover, allowing you and your S.O. to choose what works best for you. Adding photos is easy—you can use your phone, computer, Dropbox, or Google Drive—but you don't design the layout yourself. Instead, the PikPerfect team emails a first draft within six working days and any revisions are free.
PikPerfect layflat wedding album, from $75, PikPerfect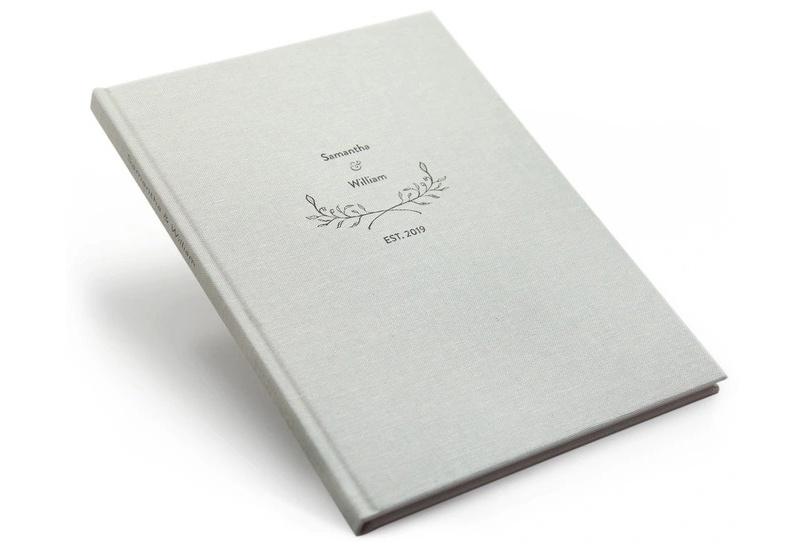 3. Premium Paper
MILK Books is another popular option with an excellent range of premium products. These heirloom-quality books have a durable stitched spine, allowing for glossy double-page spreads, and sustainable, acid-free paper designed to retain the vibrancy of your photos for years to come. For the cover, choose one of 17 unique templates or go with a laminated image, and opt for linen or premium coated cloth. There's also the option of adding a book jacket with another of your favorite pictures for an extra layer of protection. The online editing tools are a little more complicated than some other wedding photo book makers, but the end result will be worth it!
MILK Books premium photo book, from $59, MILK Books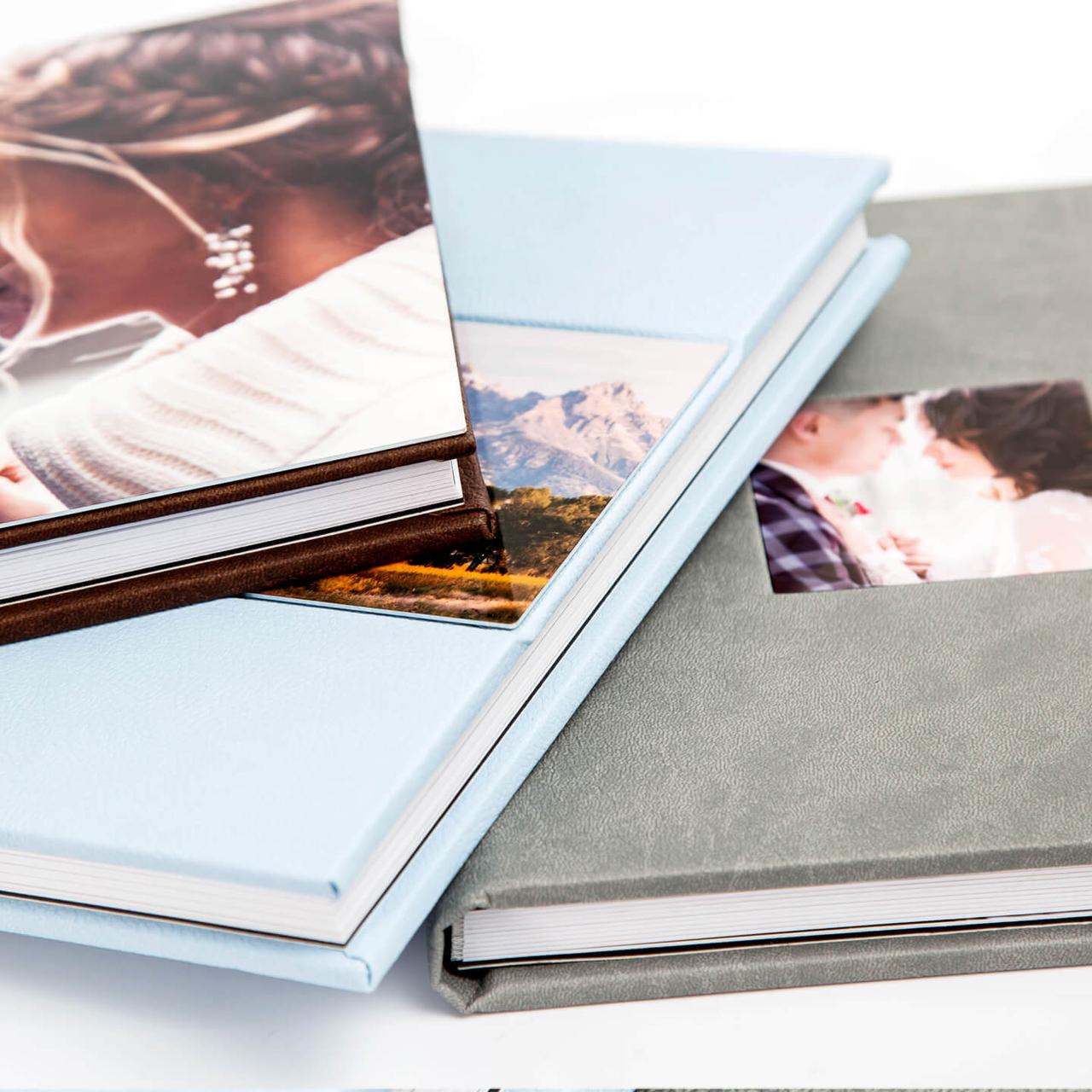 4. Durable Metal
The best wedding photo album books should stand the test of time, which is why we really like this cool offering from Printique. The cover image is infused onto the metal surface with a unique sublimation process, allowing it to stay in excellent condition for even longer. Make it your own by choosing your favorite color for the cover, from baby blue and soft pink to neutral shades of brown and gray. There are also eight different types of paper available, including luster, metallic, matte, and textured options. If you're new to using editing tools, the online photo book maker has a selection of pre-set styles, but you're also free to start from scratch and design your own.
Printique full metal cover photo album, from $200, Printique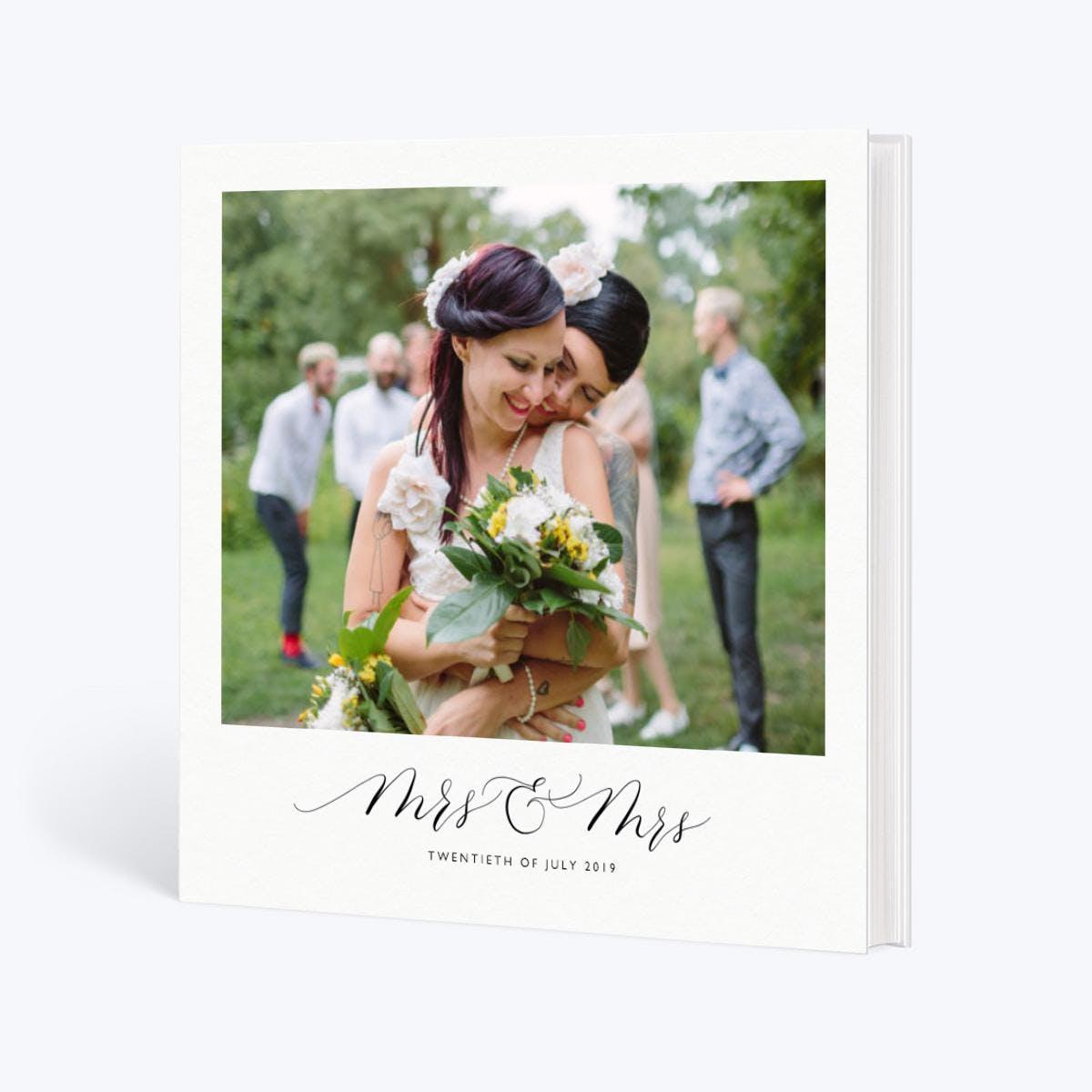 5. Elegant Photo Book
Papier has some lovely (and affordable!) designs to choose from. This elegant wedding photo book is printed on high-quality textured paper with a beautifully finished cover. For the best user experience, we suggest uploading all your images at once and taking advantage of the autofill tool. From there, you can easily drag and drop pages to swap them around, as well as edit individual photos and layouts. To finish, just personalize the cover with your wedding date. Fast turnaround and delivery times mean you should have your shiny new keepsake within a couple of weeks.
À L'aise Mrs & Mrs hardback photo book, from $49, Papier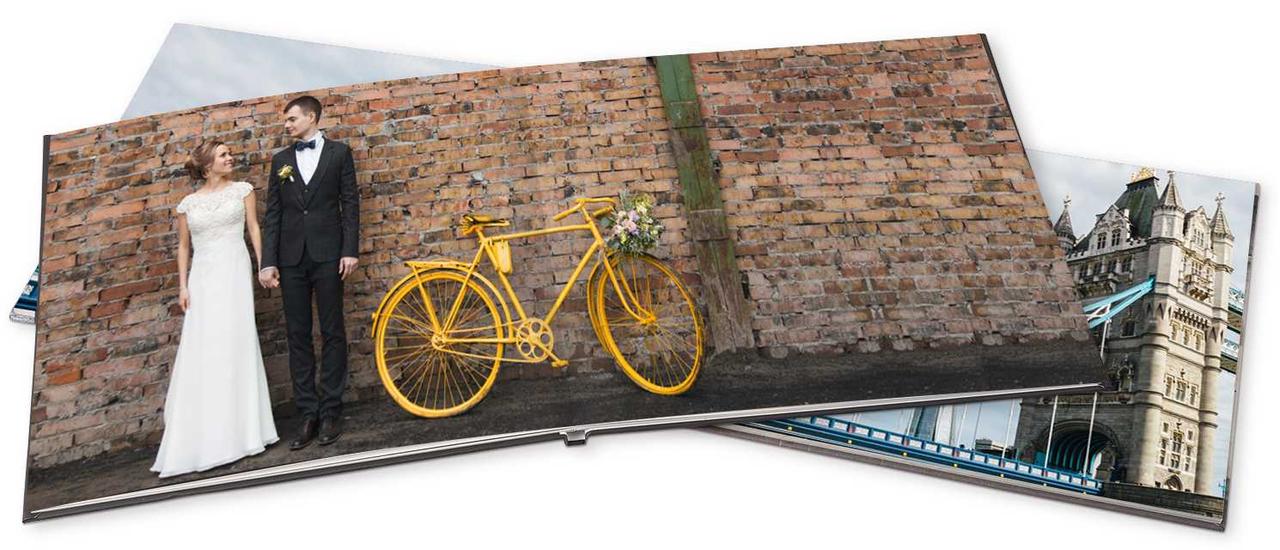 6. Glossy Hardcover
Snapfish is another popular tool for making wedding photo books online. Easily pick and choose different backgrounds and layouts to bring your vision to life, whether that's simple single-photo displays or a colorful collage. Depending on your style and budget, go for an elegant softcover or durable hardback. There's also a choice of matte-finish layflat or standard semi-gloss pages. The online editing tools are clear and simple to use, with plenty of opportunities to add personalizations like photo captions and different backgrounds.
Snapfish photo book, from $13 for a softcover, Snapfish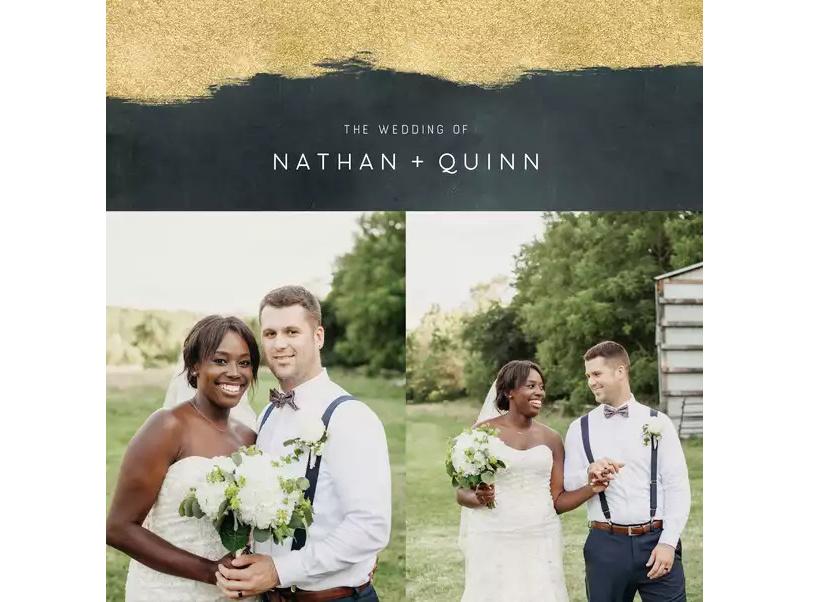 7. Contemporary Design
Mixbook is our favorite place to shop for affordable wedding photo books. The site has a selection of unique designs to suit couples' unique wedding themes. This stylish pick has a classic gold and black color palette with a contemporary geometric design throughout. But before you start putting it all together, there are a few customization options to decide on. Choose between a soft, hardback, or black leather cover, four different types of paper, and a selection of sizes. The online tools might take a little extra time to get comfortable with, but there are plenty of opportunities for personalization by changing layouts and adding backgrounds or stickers.
Mixbook Photo Co. modern geometric wedding photo book, from $16, Mixbook Photo Co.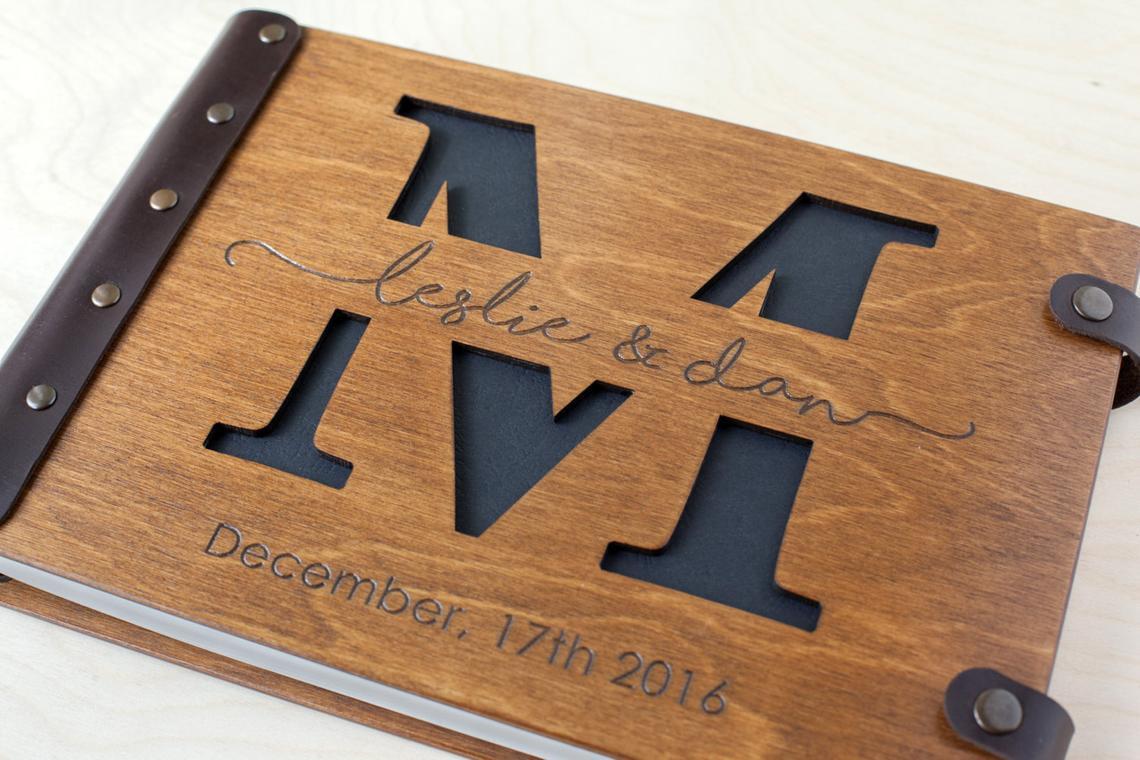 8. Wood Monogram
If you're willing to put in a little more time and effort, why not opt for a blank album or scrapbook? Order some professional prints of your favorite wedding photos either from your photographer or an online site like Artifact Uprising. You can then spend some quality time with your S.O. going through the pictures and deciding how to lay them out. This gorgeous wooden photo book can be laser engraved with your names and wedding date. Plus, if one of you is changing your last name, it comes personalized with a cutout of your new shared initial. Talk about a fun date night activity!
Woodlack monogram wood wedding photo book, from $70, Etsy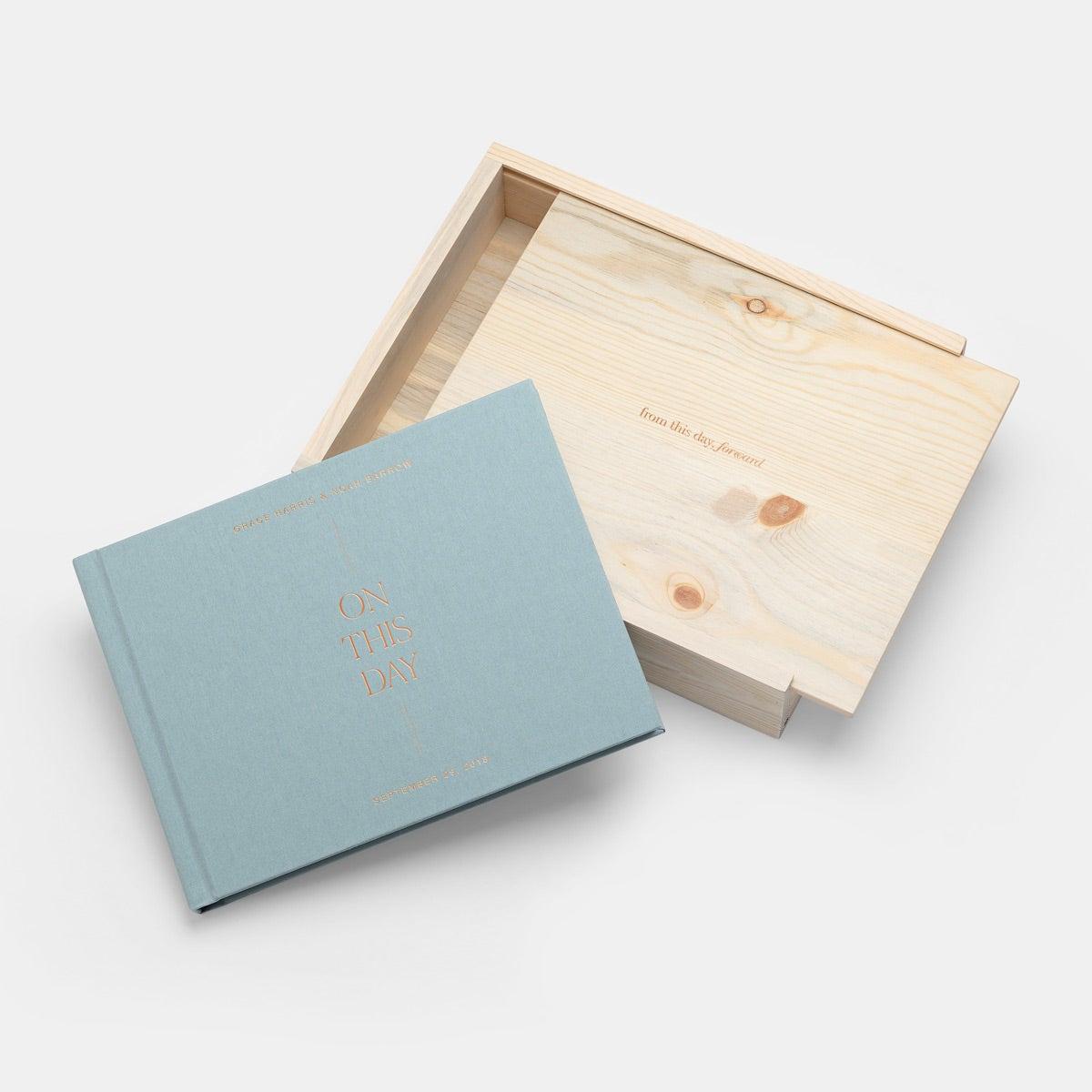 9. Foil-Stamped Photo Book
Yes, we might be just a little obsessed with the luxury wedding photo books at Artifact Uprising—but it's for good reason. This option features all the same gorgeous linen covers as the signature layflat album in an even bigger range of sizes. You and your partner will have more choice in creating the perfect book for you. Choose between glossy luster or matte superfine paper depending on your preferences. Either way, your wedding pictures will look stunning on every page. To keep your treasured memories even safer, add on the personalized wooden keepsake box. It's easily another one of the best wedding photo books available.
Artifact Uprising wedding layflat photo album, from $149, Artifact Uprising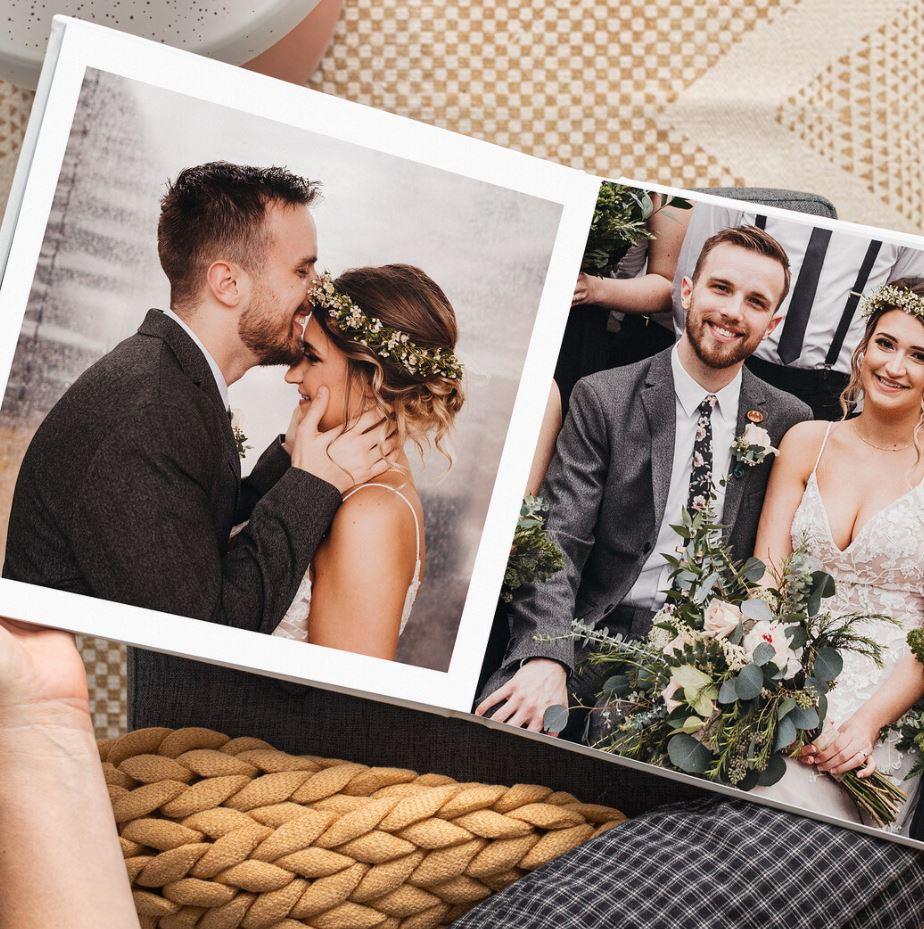 10. Minimalist Layflat
At the end of the day, your wedding photo book should reflect you and your partner's unique style, whether that means choosing something that aligns with your wedding theme or keeping things a little more low key. If you're leaning toward the latter, we love this stylishly minimalist layflat. It features a classic leather cover that can be beautifully debossed with your names and wedding date in a simple, clean font. Once you've decided on a size, putting together your photo book is easy—just drag and drop files from your computer onto the template or upload them into a gallery. The best part? You can save your work and return to it later, meaning it's totally safe to take a tea break.
Mpix signature photo album, from $160, Mpix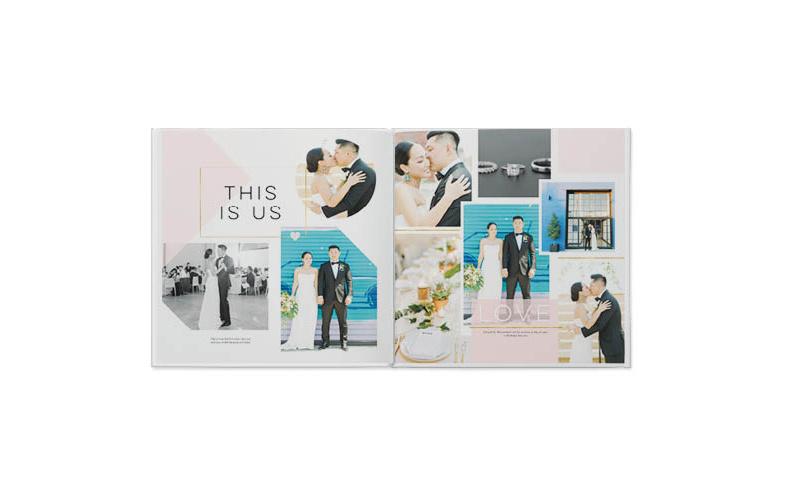 11. Modern Photo Book
Having digital copies of your images is a great way to keep them safe, but scrolling through your phone just doesn't feel the same as flipping through thick, glossy pages. This modern wedding photo book will showcase your love story like a chic magazine spread. Choose the luxurious flush mount album for seamless two-page displays or stick with the stunning leather-bound layflat for a more budget-friendly option. Once you've chosen your preferred book size and type, you can upload images from Instagram or Facebook, as well as directly from your computer or Google Photos. Bonus: The online tools are simple to use so you can easily change the layout, crop images, and add text.
Shutterfly Modern Love Story photo book, from $141, Shutterfly