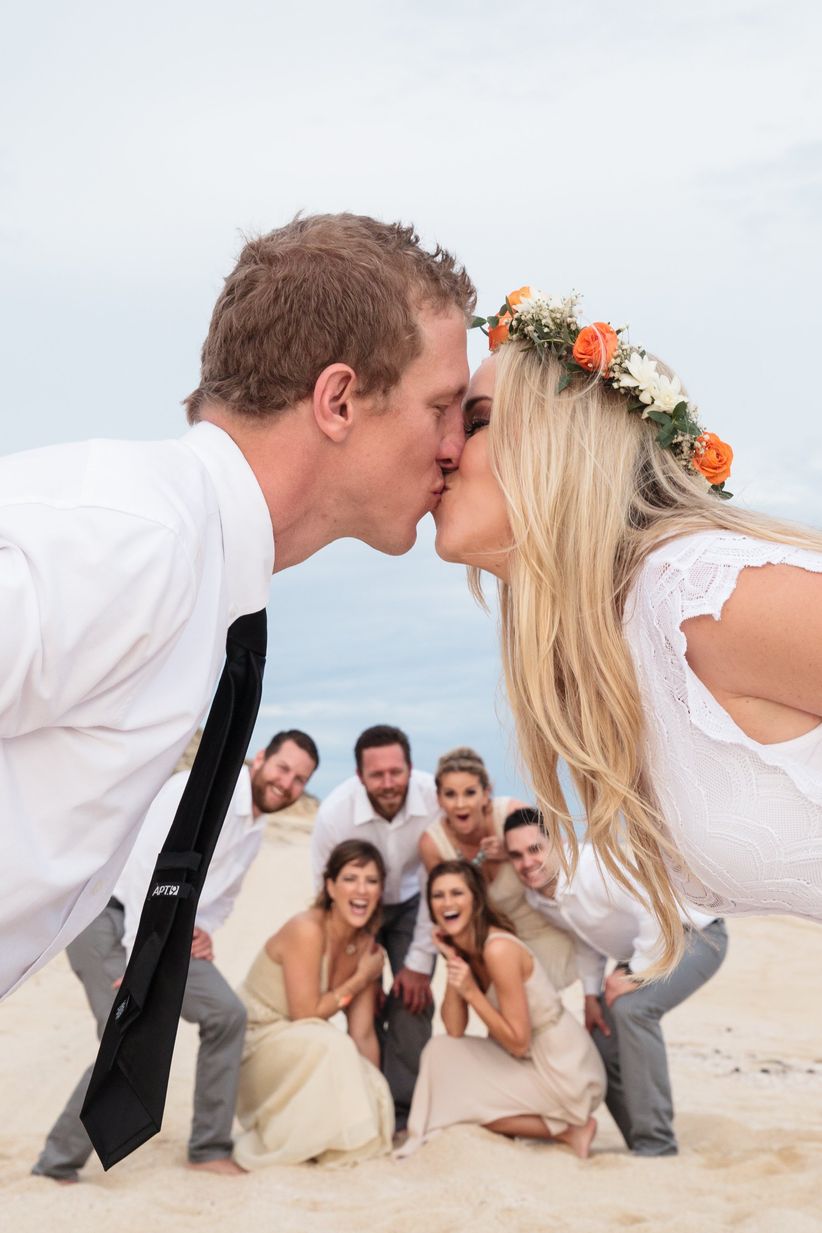 Photo: Anna Gomes Photography
Get creative with your wedding party pics by checking out some of our favorite groomsmen and bridesmaid photos. This year there have been quite a few unique poses that are definitely a must try! From playing tug of war with the newlyweds to incorporating some pretty cool props, these wedding party pics are totally steal-worthy!
A Background Kiss

Get your wedding party in the background as you and your S.O. share a quick kiss. You'll love all of their expressions too!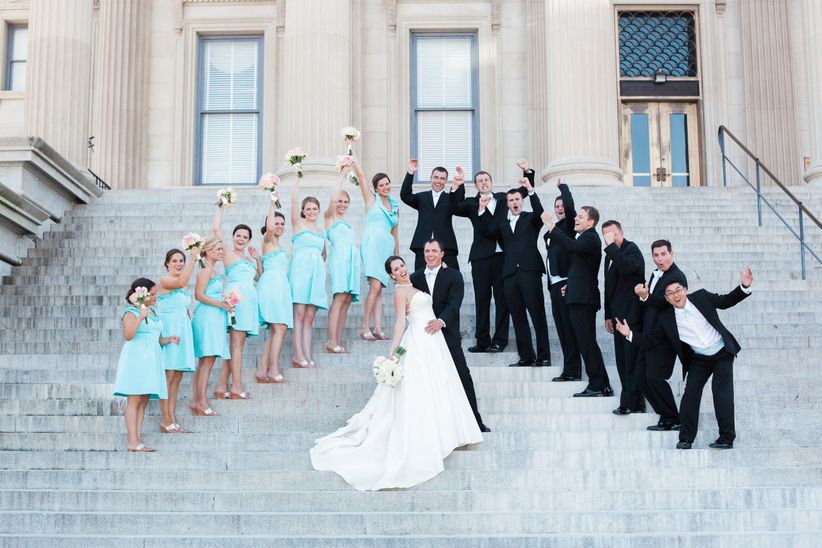 Photo: Judy Nuñez Photography
The V Pose

Arrange your wedding party in a V shape while you and your S.O. stand in the middle. Bonus points if you get your 'maids and 'men to 'raise the roof'!
Photo: Michael Anthony Photography
The Sunglass Pose

Have your wedding party don a pair of stunner shades for a cool and slick party pose. You can even wear a pair, too!
Photo: Diane Askew Photography
Newlywed Tug of War

This idea is perfect for bride and grooms-to-be looking for a fun and playful wedding party photo!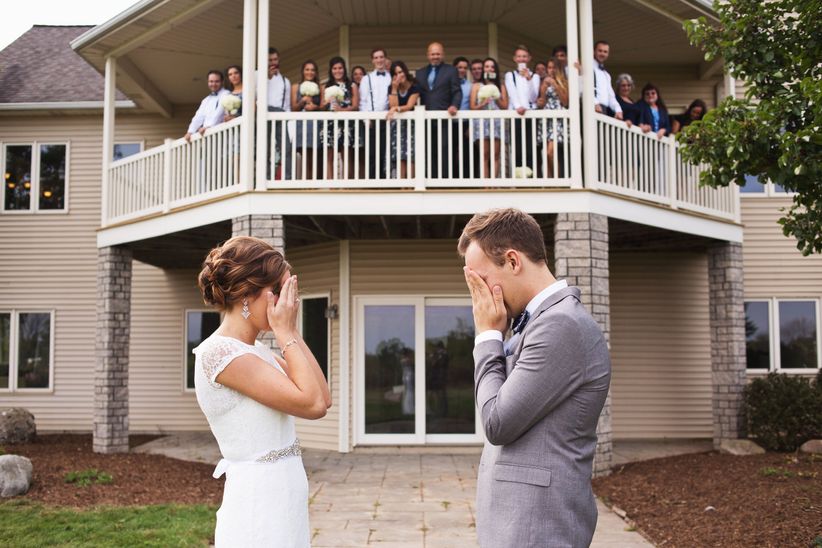 Photo: Sarah Gehman Photography
The First Look Photo

This idea is too cute! Have your wedding party recreate this photo by making them literally overlook your first look. You and your S.O. still get the intimacy of seeing each other for the first time as your wedding party 'awes' in the back!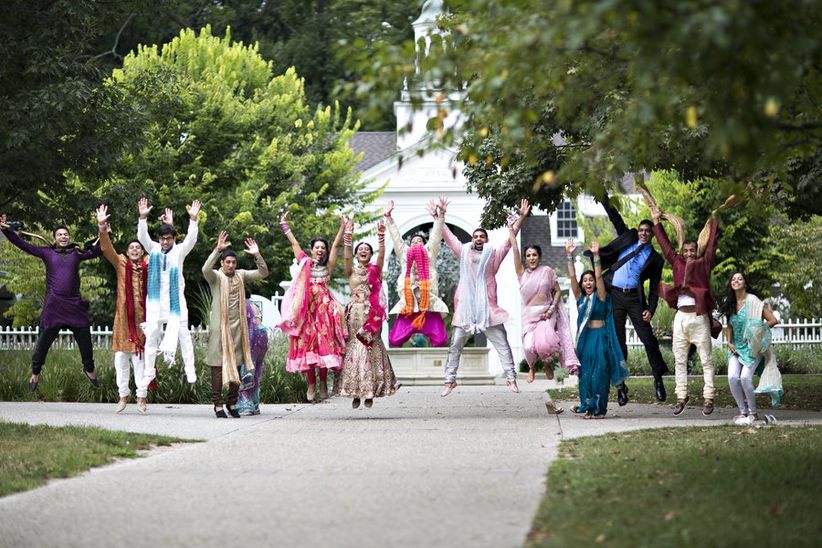 Photo: blue martini photography
Jump for Joy Pose

Get your wedding party to literally jump for joy with this photo idea. Trying to get everyone in the air at the same time will definitely get some laughs, too!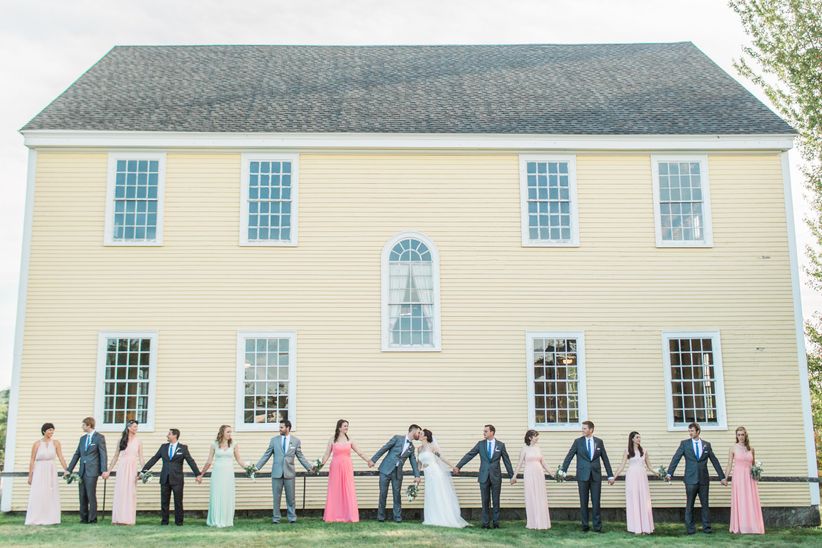 Photo: The Maine Tinker Studio
The Holding Hand Photo

Line up holding hands with you and your S.O. in the middle going in for a kiss. Whether you decide to line up outside of your venue or in an open space, this photo is sure be a hit.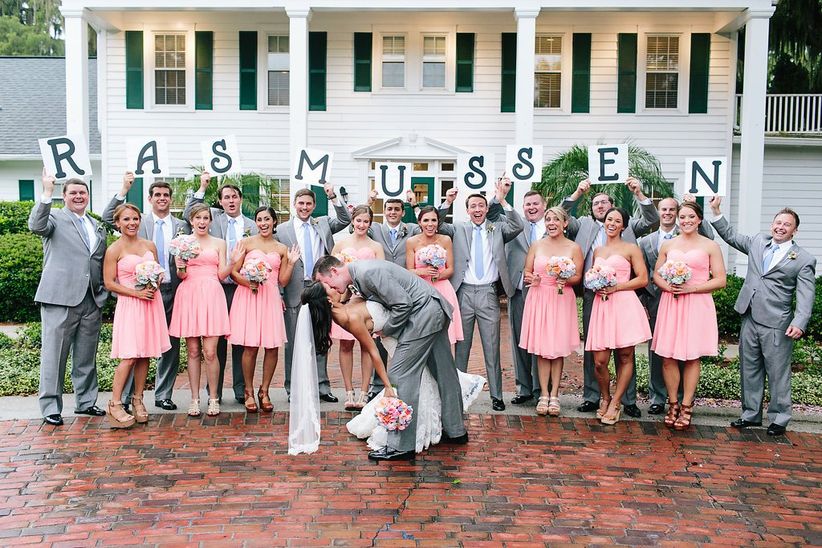 Photo: NIMA Photography
The Last Name Idea

Have a celebratory wedding party pic with this super fun idea! All you need are cut-out signs spelling out your last name. Then have your wedding party hold up each sign as you stand in front. We suggest doing a dip kiss for a wow-worthy photo!
Photo: Chil Studios
The Back Shot

Have your leading men and ladies turn around and link arms with you and your S.O. for a photo-worthy image. We love how simple this wedding photo idea is and its perfect in front of your venue's backdrop, too. Whether it be a mountainside, ranch or oceanfront, this photo idea is a must!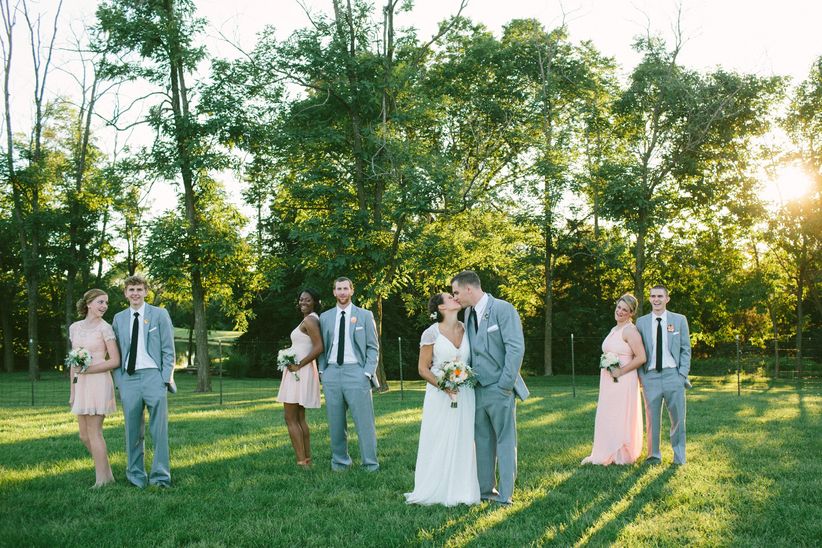 Photo: The Grays Photography
The Pair up

This idea is perfect if you have the same number of bridesmaids as you do for groomsmen. If you don't, not to worry! Just have a group of three instead of two.