7 Steps to Hiring a Destination Wedding Photographer
Find the right pro to capture your wedding day.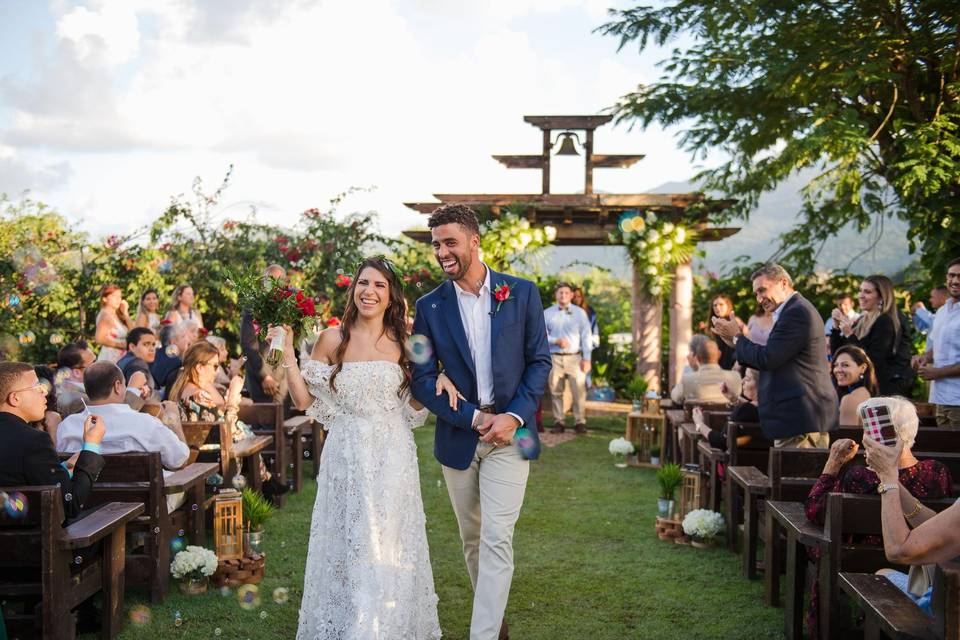 Destination weddings can be absolutely magical—whether you're planning a toes-in-the-sand beach ceremony, a mountain elopement, or a celebration in your favorite vacation spot. So it's essential to find a destination wedding photographer who can capture all the magic of your special day. But, whether you live a long flight or a car ride away from your wedding location, finding the right photo pro can be tricky. We asked three photographers from around the world to take us through the process of choosing a destination wedding photography pro for your "I dos".
Decide if you're hiring a traveling or local wedding photographer.
When it comes to hiring a destination wedding photographer, you can go a few different routes—hiring a photographer in your current city of residence who would travel to your wedding location, hiring a photographer who is not based in your wedding destination but specializes in traveling, or hiring a local photographer in your chosen wedding location. There are advantages and disadvantages to each. For example, by hiring a photographer in your home city, you'll have more access and be able to take engagement photos locally. But, you'll likely have to pay for their airfare, accommodations, and other travel expenses as part of their pricing.
In terms of hiring a local professional wedding photographer to capture your big day, while you won't be able to meet with them in person as often, there are certain advantages—namely, their familiarity with your wedding location. "I have over 14 years of experience shooting destination weddings in Costa Rica," says Sylvia Guardia, a photographer in Guanacaste, Costa Rica. "I know the venues, the vendors, the way the sun and weather behave at each month of the year...even the traffic and backroads. This all comes to my favor when shooting a wedding because I can focus on the most important aspects of the day without having to worry about secondary things that would otherwise be unknown to me if I didn't live and work here."
According to Maciej Bogusz of Papaya Wedding in San Jose, Costa Rica, a local wedding photographer will also have contacts for other vendors in the area who they can call upon in case of an emergency.
Do the research.
Researching wedding vendors takes time, but the effort is worth it once you've found the best wedding photographer for your event. Ready to get started? Let's go.
Find your style.
First and foremost, you'll want to determine which wedding photography style you prefer. Take some time to browse wedding photos on social media and consider the style—classic, photojournalistic, fine art, lifestyle, and/or fashion. Knowing which photography style you like will help you narrow down the myriad vendor options out there.
Go online and read reviews.
"Most wedding professionals will have a solid internet presence and an extensive online portfolio," says Camille Fontanez of Camille Fontanez Photography in Guaynabo, Puerto Rico. "There's nothing out there like Google. Additionally, industry-specific platforms such as WeddingWire are a great way to gauge expertise, as well as former customer reviews and experiences."
Check social media profiles.
As you're going through online galleries and reviews, check out photographers' social media profiles. Not only will you be able to see their most current work, looking at their Instagram stories, for example, can provide a window into their personality and style.
Get recommendations from your other local wedding vendors.
If you're already booked a few of your other wedding vendors, use them as resources as you search for your photographer. "Suppose you've already found your dream destination wedding venue—in that case, you can ask for their preferred vendor list or search online for photographers that have shot in those locations," says Fontanez. A local wedding planner can also be a big help in this regard.
Ask the right questions.
Once you've narrowed down the list to a couple of photographers, schedule interviews with your favorites. If you'll be traveling to your wedding location, you can schedule an in-person meeting, but most likely, these interviews will take place via video chat. As you're scheduling these meetings, take special note of a vendor's communication and response time—and if you and your future spouse "click" with the photographer (yes, pun totally intended). You'll be spending a lot of time together on your wedding day, so it's important to hire a pro you actually enjoy spending time with!
Here are some important questions to ask a destination wedding photographer, according to Bogusz, Fontanez, and Guardia:
Are you available on the date of our wedding? "I've had many couples ask about all the details without providing their wedding date and it turned out that I was already booked on that day," says Bogusz.
How long have you been in business?
Have you shot at my venue before? Can you show me a complete wedding?
Where can I see some reviews?
Will you be shooting my wedding, or will you send an associate?
What if severe weather hits?
What's your cancellation policy? How do you handle pandemic date changes in case there are travel restrictions?
What do your wedding packages include?
When will I see my photos?
Do you provide an online gallery of high-resolution images? Does the gallery expire after a certain period of time? Will I have printing rights?
How do you like to communicate with couples?
When are payments due?
Can you photograph my rehearsal dinner and/or other wedding-related events (if desired)?
What kind of retouching do I get in the images? "Don't assume the answer to this one: every wedding market is different, and editing styles vary significantly between countries!" says Fontanez.
Are travel fees included? "Even though I live here, some venues are far from home and do require travel fees to contemplate hotel and travel," says Guardia.
Can you recommend a videography vendor? "As a photographer, it's always nice to work alongside other vendors that I'm used to and comfortable working with, the day just flows better," says Guardia. "We're always happy to recommend trusted vendors when couples ask."
Read through the contract carefully.
Once you've selected your destination wedding photographer, it's time to make things official. Your chosen photographer should provide you with a written contract, spelling out the details of your chosen photography package. Be sure to read through this contract carefully before signing, and don't hesitate to reach out to your photographer with any questions or concerns.
Plan some pre-wedding conversations.
Whether you've hired a photographer based in your current city of residence or your wedding destination, it's important to come up with a plan for the months leading up to your big day. Will you have an engagement session? When and how will you communicate? What information does your photographer need from you before your wedding? Be sure that you and your photographer are on the same page as you enter this phase of wedding planning.