28 Christmas Ornaments for Your First Holiday as Newlyweds
Whether you're shopping for yourself or a special couple, a "just married" ornament is a thoughtful way mark this milestone.
We have included third party products to help you navigate and enjoy life's biggest moments. Purchases made through links on this page may earn us a commission.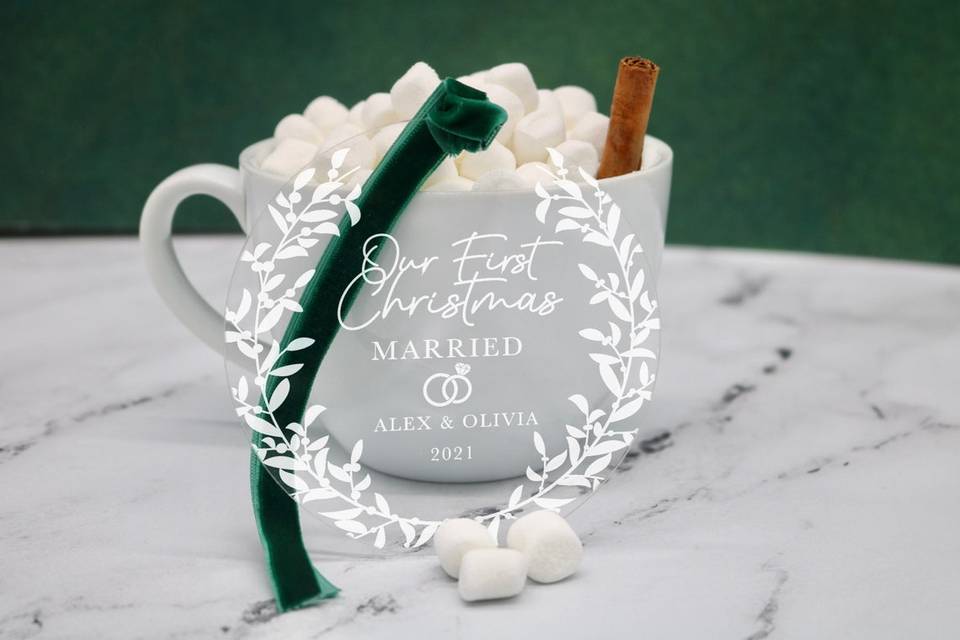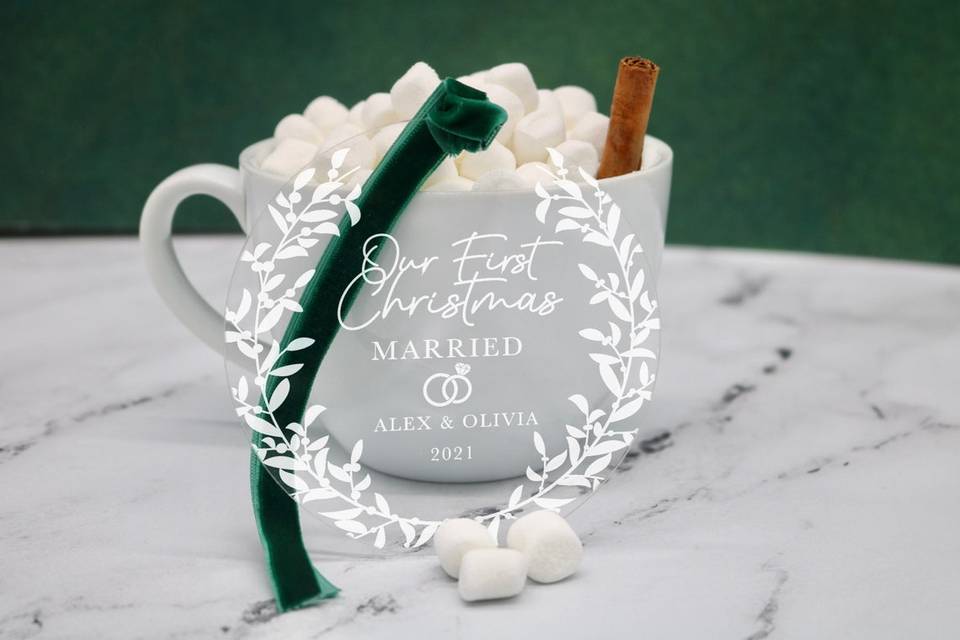 There are few things more special than your first holiday season as a newlywed. If you just got married, decorating your Christmas tree together will feel even more meaningful this time around, especially after everything that has happened in the last year (looking at you, pandemic). To help you make the most of this exciting occasion, we're sharing the best first Christmas married ornaments for couples who wed in 2021. Whether you're looking for your own tree or perusing thoughtful Christmas gifts or wedding gifts for the newlyweds in your life, these wedding ornaments are instant keepsakes that can be displayed year after year. Shop them below.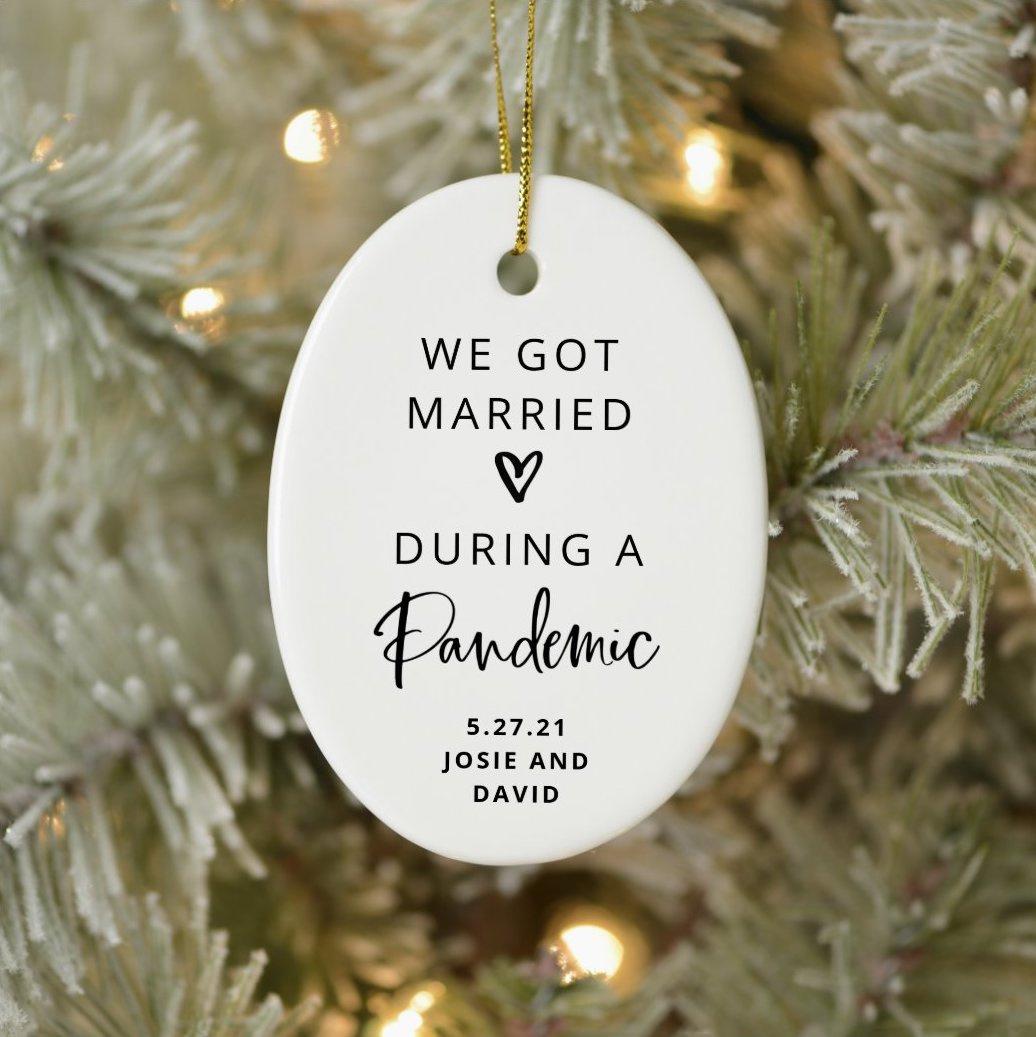 If you got married in 2021, congratulations! Getting married during a pandemic isn't something that anyone could have predicted, but it's still a reason to celebrate (now more than ever). This just married Christmas ornament is a representation of the year's unique circumstances.
Violet and Pine married during a pandemic ornament, $18, Zazzle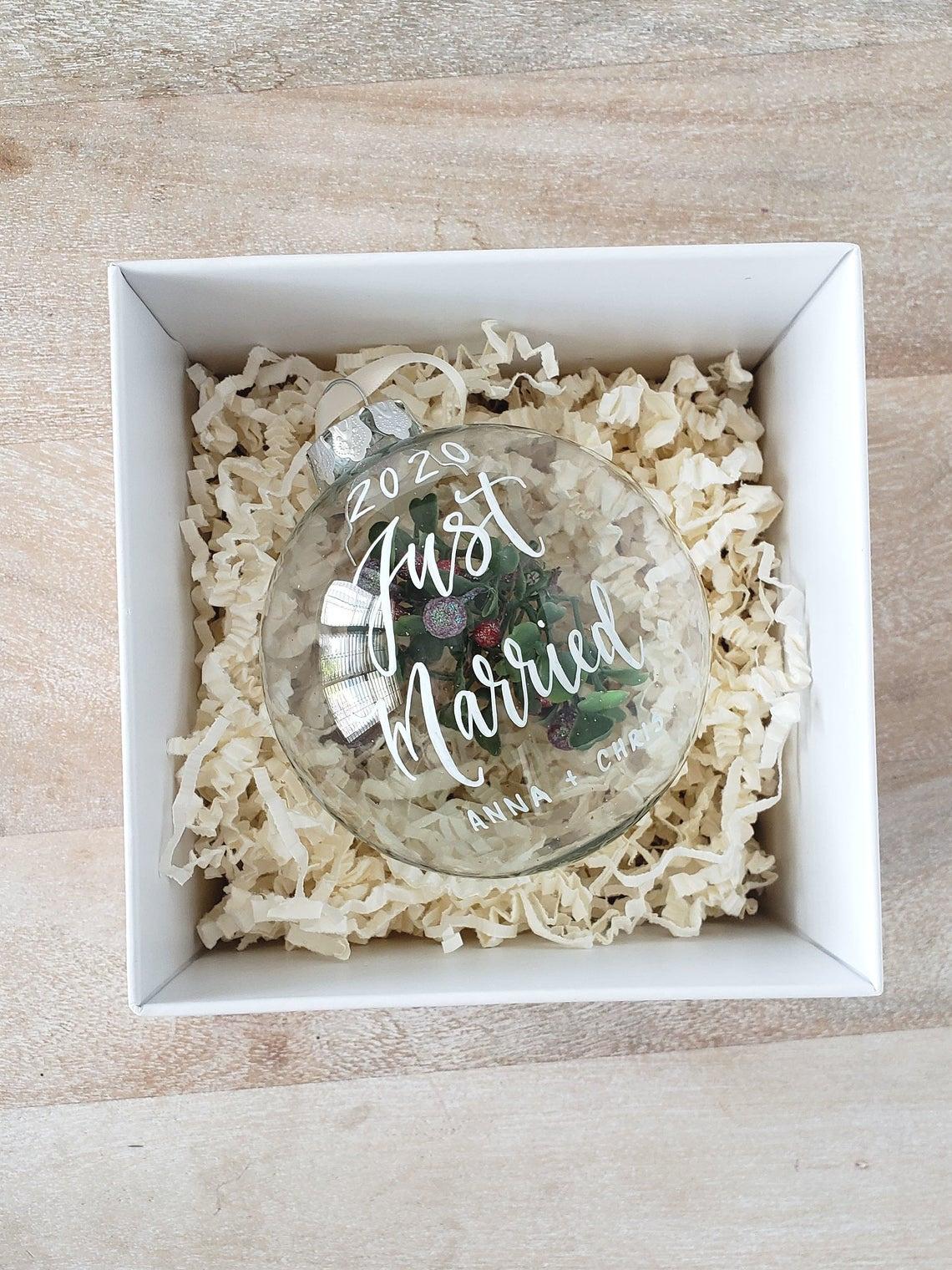 We know you probably don't need an excuse to give your new husband or wife a kiss, but this just married Christmas ornament is too cute to resist. It holds a faux mistletoe branch and can be personalized with your names and wedding year.
TheLetteringStudio just married ornament, from $26, Etsy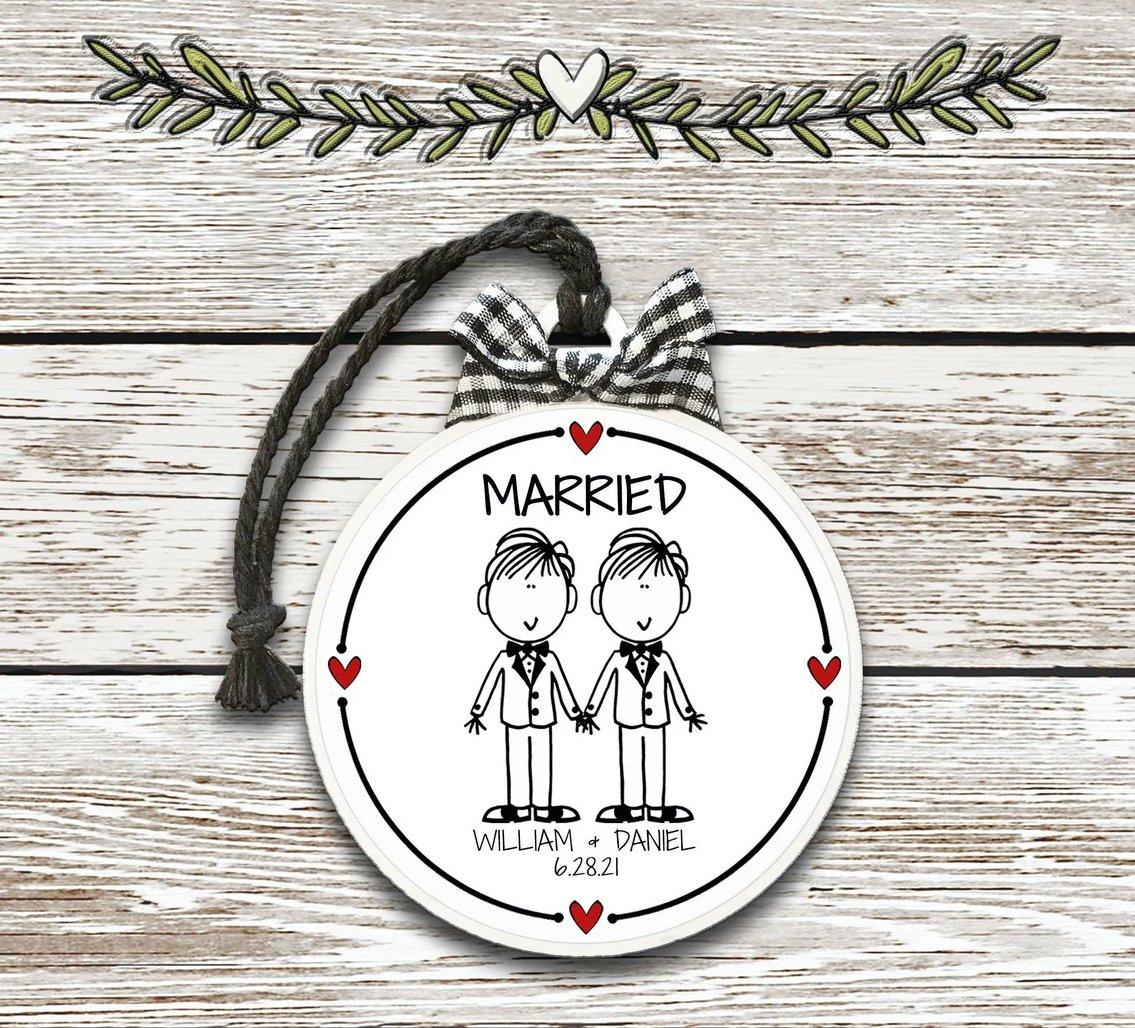 The cartoon-style drawing on this first Christmas married ornament is a cute addition to your tree if you're looking for something more playful and light-hearted.
HappyYouHappyMe personalized just married ornament, $22, Etsy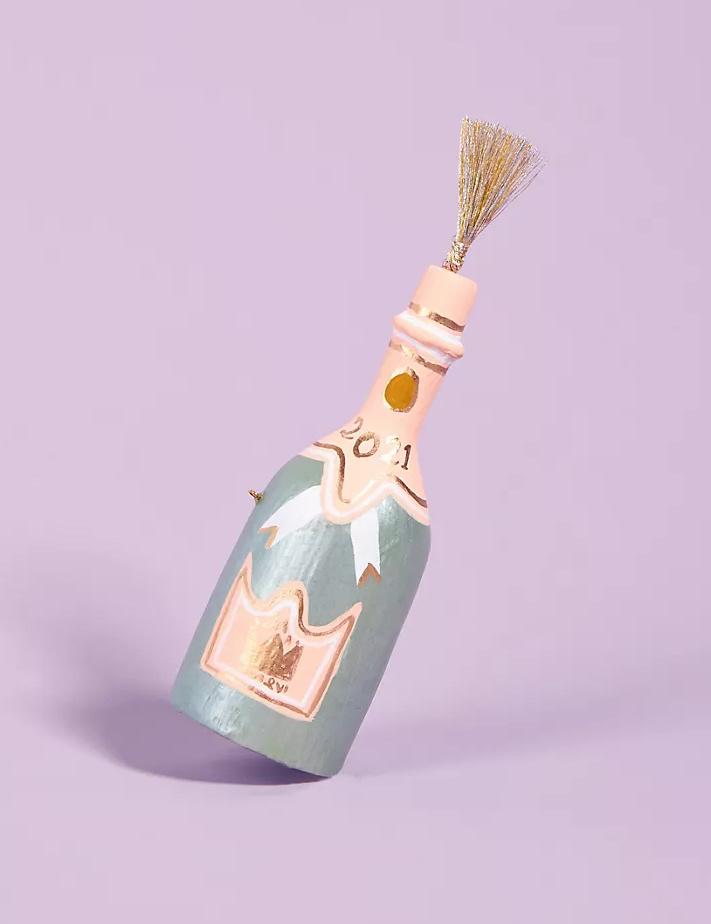 Keep the celebratory mood going with this decorative ornament in the shape of a champagne bottle. It's marked with the year, so they'll think of their first Christmas every time they hang it on the tree. This would also be a great engagement ornament for a couple planning their wedding.
Anthropologie tasseled champagne ornament, $18, Anthropologie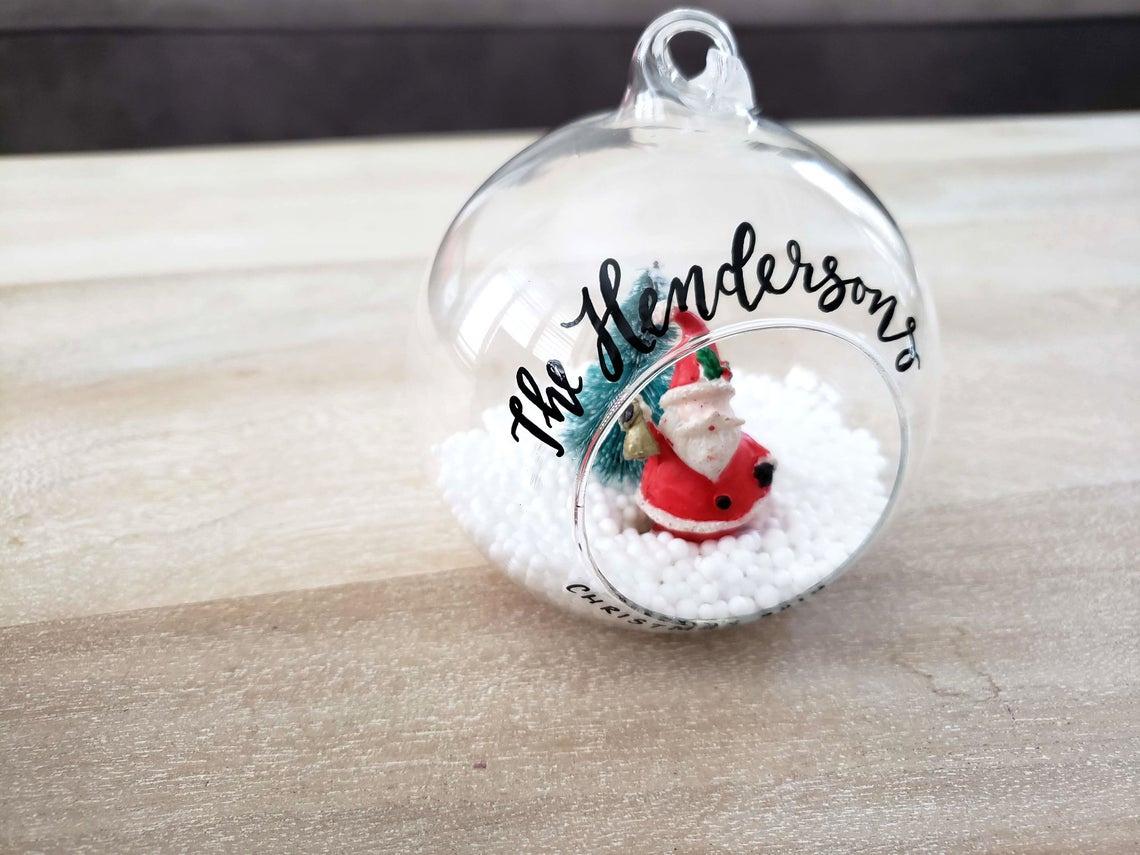 What could be cuter than this miniature Santa ornament? This vintage-inspired first Christmas married ornament comes customized with a family name and year.
TheLetteringStudio family name ornament, from $25, Etsy
Going for a whimsical Christmas look? This round porcelain ornament is decorated with modern typography, a trio of trees, and the year to make it a true keepsake piece.
Thecottonandcanvasco Mr. & Mr. ornament, $16, Etsy
This gold heart-shaped glass ornament is timeless and elegant—the kind of heirloom piece we'd eventually want to pass down through the family.
Inge-Glas Manufaktur Delights heart ornament, $19, Saks Fifth Avenue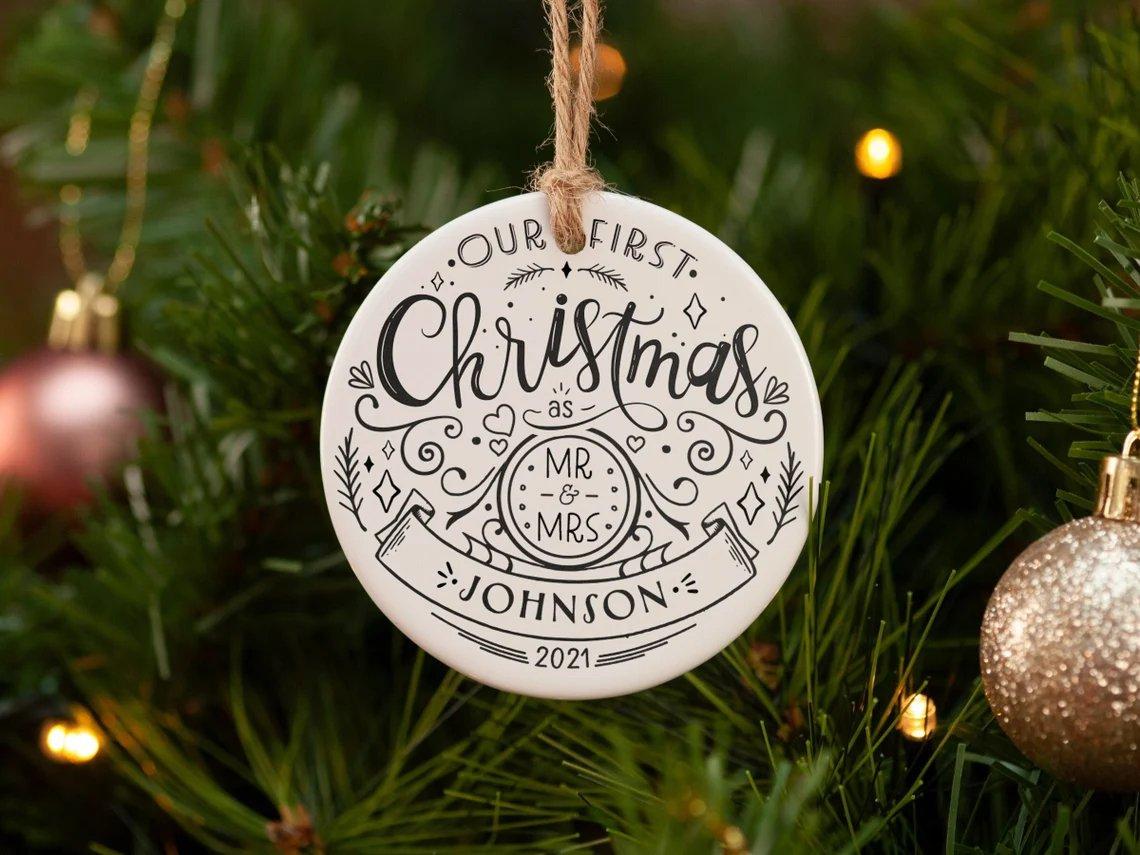 Personalize this just married Christmas ornament with your last name to turn it into a decorative, meaningful keepsake you'll treasure each year.
DiddlesAndPuds first Christmas ornament, $20, Etsy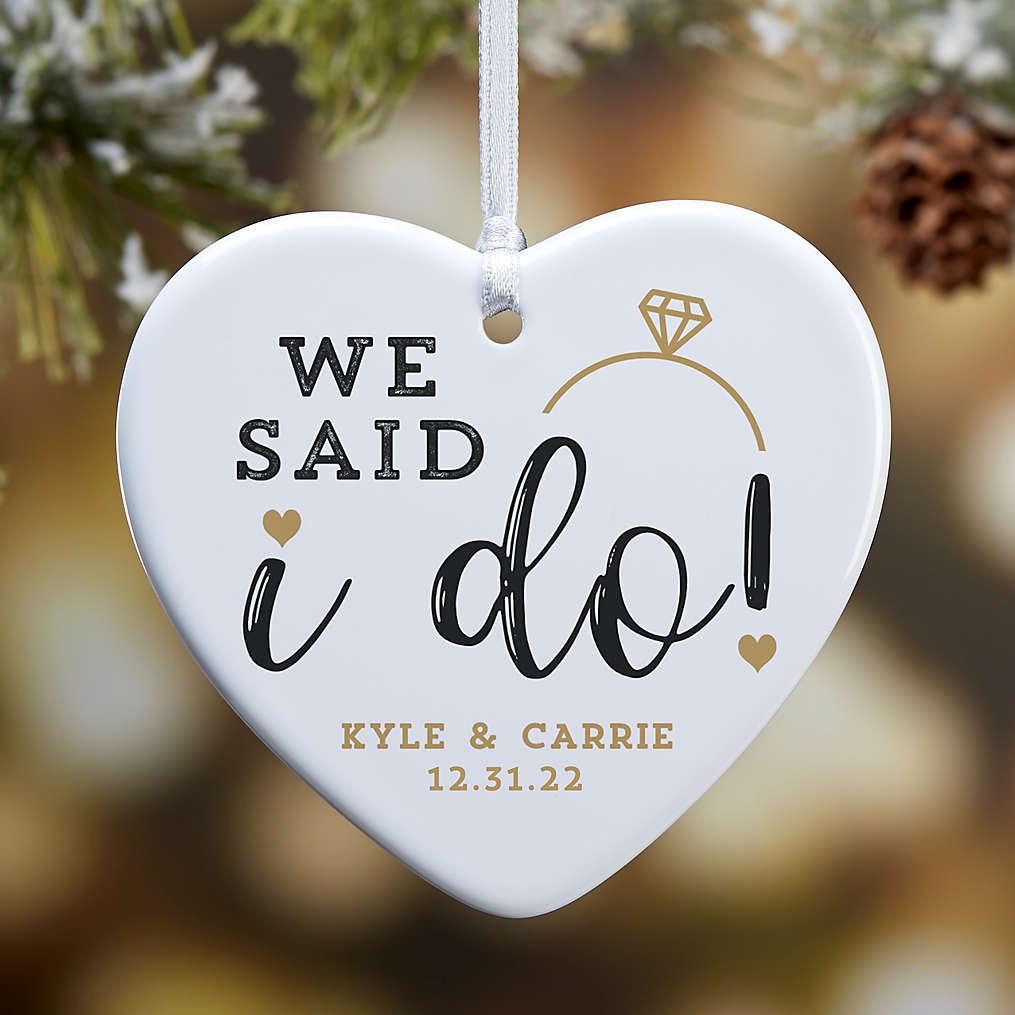 Celebrate the moment you said your "I do"s with this personalized ornament featuring your names and wedding day.
Bed Bath & Beyond "I Do" personalized heart ornament, $12, Bed Bath & Beyond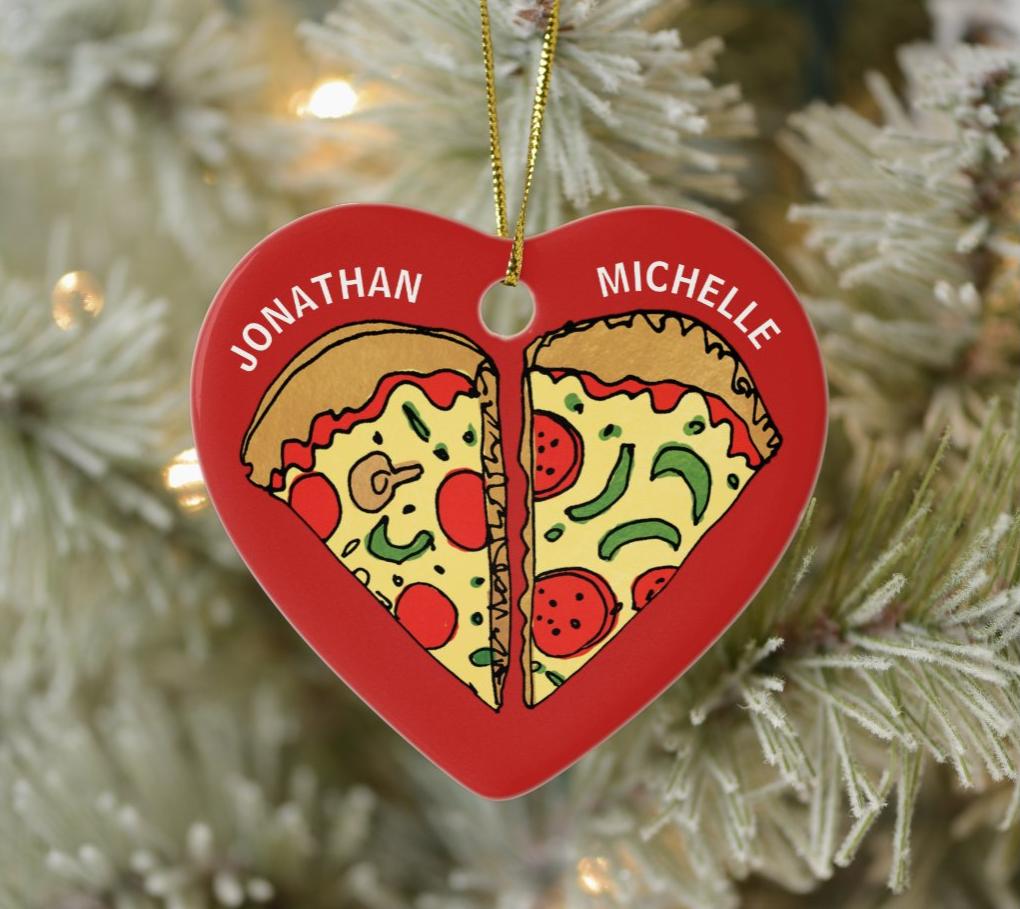 Looking for a totally unique wedding Christmas ornament? Surprise the newlyweds or your partner with this playful ornament to show that they have a pizza your heart (cheesy, we know).
I Love Digis pizza ornament, $20, Zazzle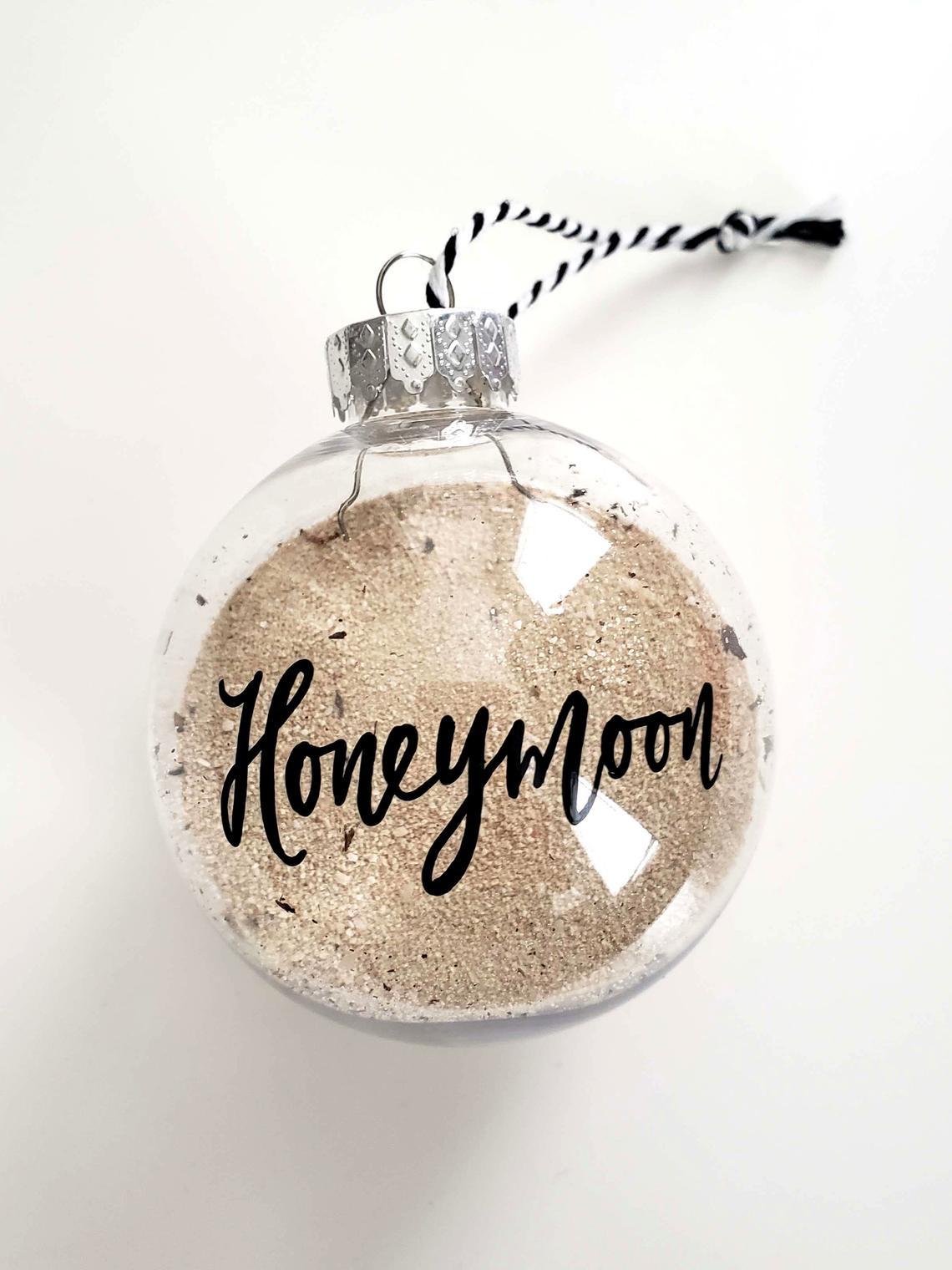 If you were able to go on a honeymoon or mini-moon this year, use this first Christmas wedding ornament to display sand, pebbles, flower petals, or another memento from your trip.
TheLetteringStudio honeymoon sand ornament, from $14, Etsy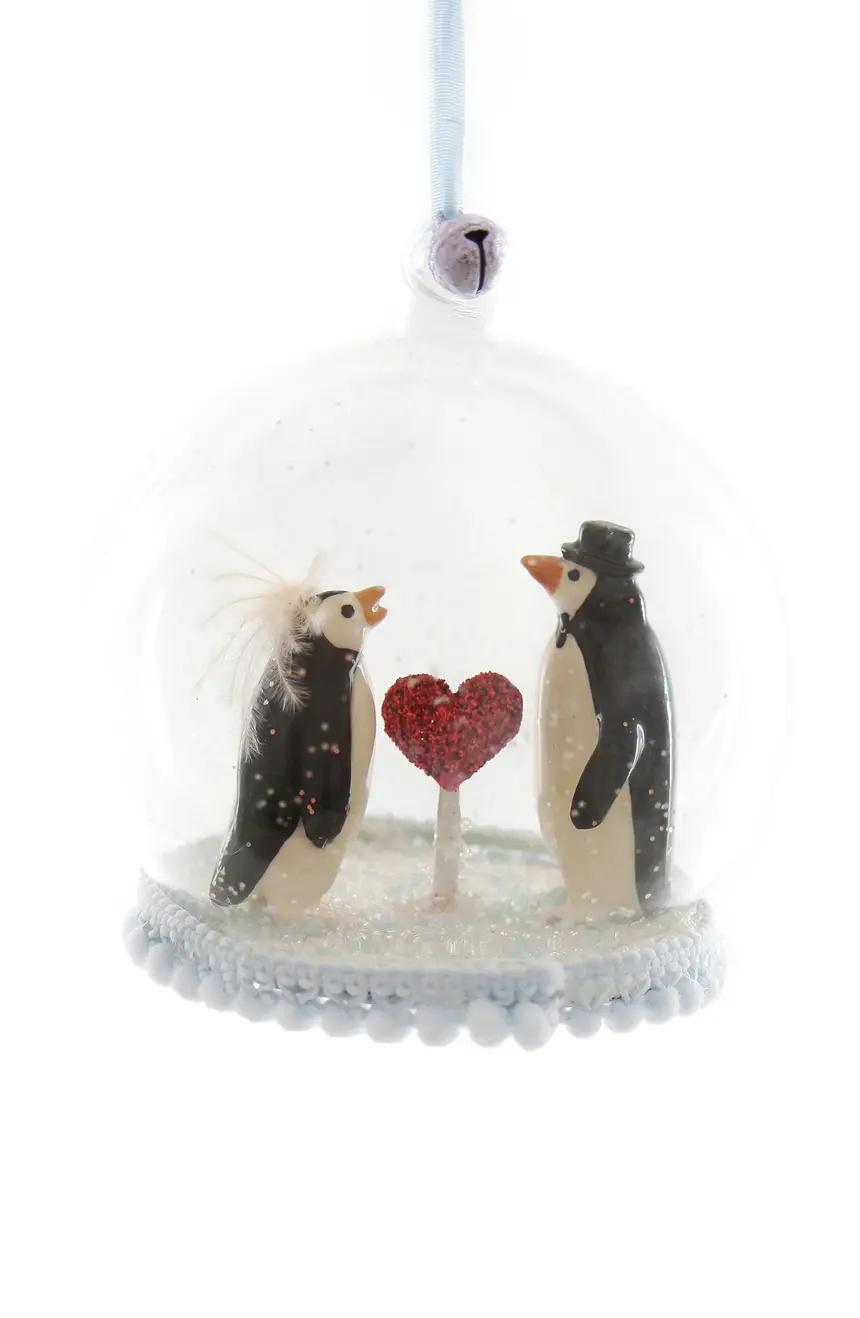 An adorable duo of penguins in a snow globe is a cute way to mark your first Christmas if you're not into overly personalized ornaments.
Cody Foster & Co. penguin heart globe ornament, $29, Nordstrom
If you're looking for a classic wedding ornament, this glass bulb is a great pick. Create your own custom bauble by choosing the ball color, text color, and type of ribbon.
TheHaberdasheryShop custom just married ornament, $24, Etsy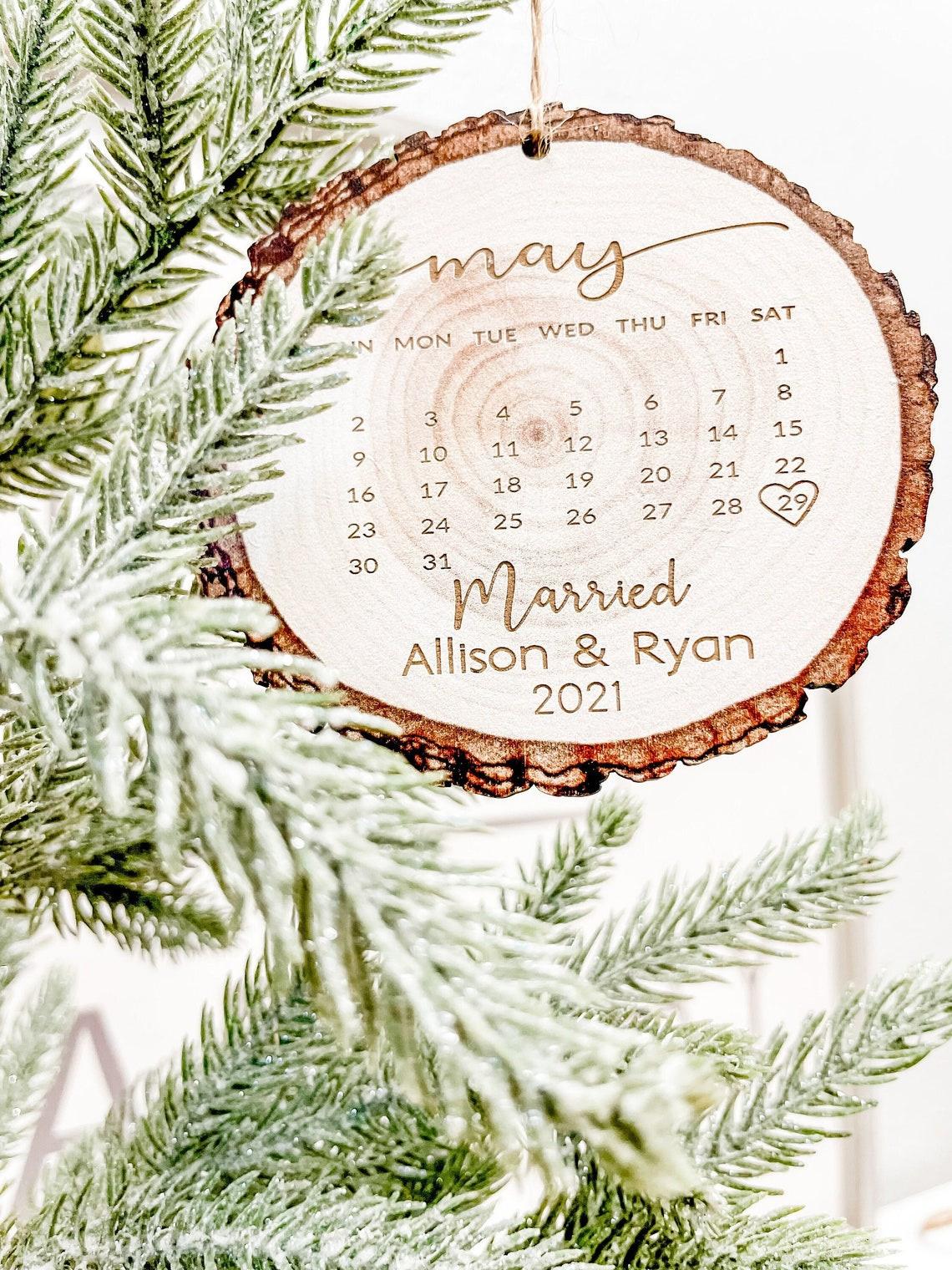 This simple ornament will fit right in with Christmas decor that's rustic or woodland inspired. Customize the calendar with your names and wedding date.
MKDGifts just married ornament, $30, Etsy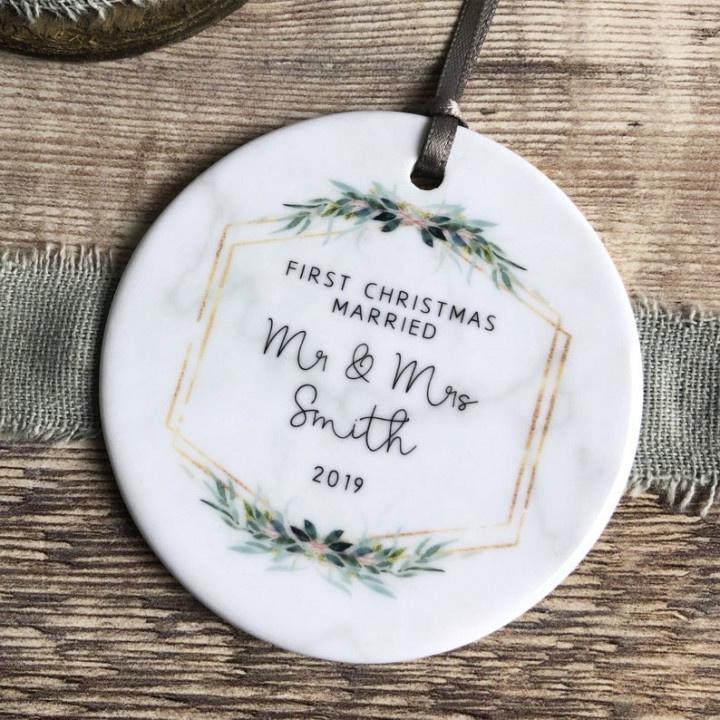 Choose this marble ornament decorated with gold hexagons and floral motifs if you love modern rustic style. Add a last name and the wedding year for a personal touch.
Beautifulgiftshop personalized first Christmas married ornament, $15, Etsy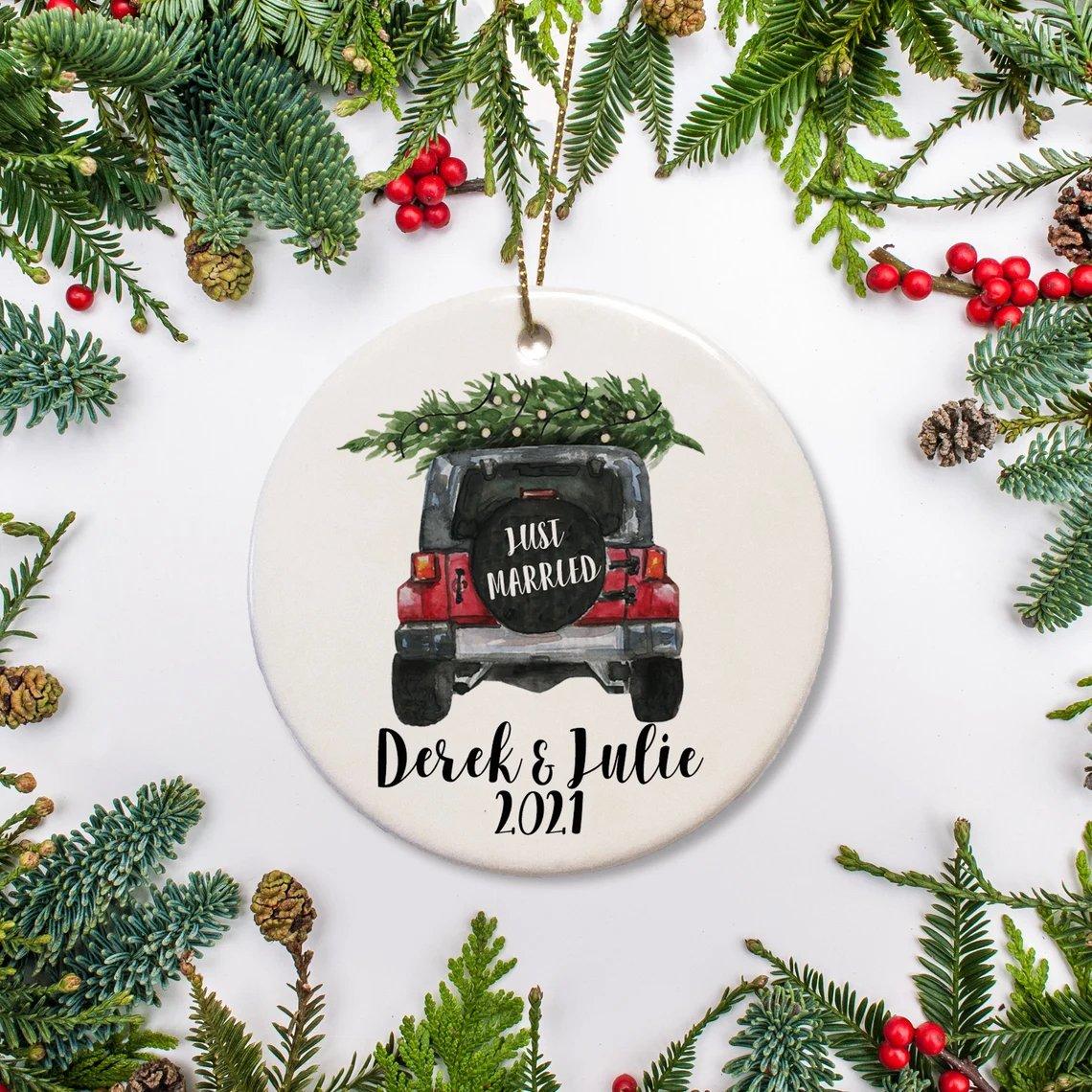 If you or you partner happen to drive a Jeep, we've found your perfect ornament. This festive wedding ornament, which shows a freshly cut Christmas tree on top of a red Jeep, is especially appropriate for anyone getting married right before the holiday.
PipsyShop just married newlywed Christmas ornament, from $23, Etsy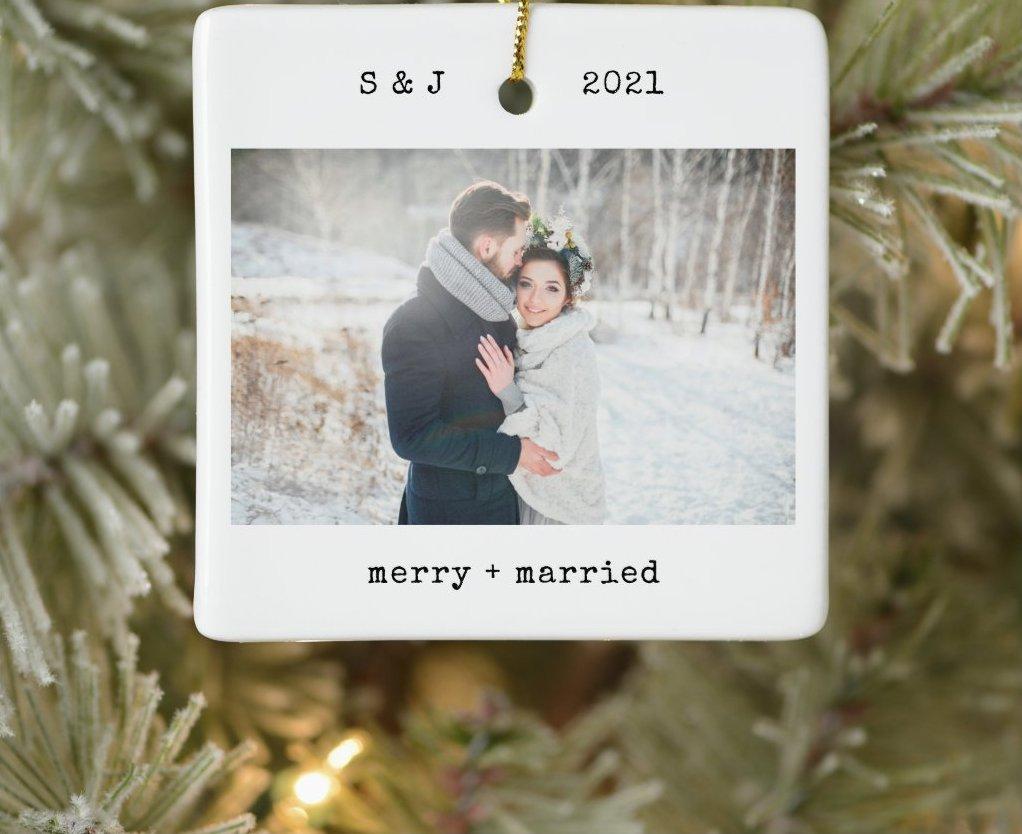 Show off one of your favorite engagement photos, wedding photos, or selfies with this custom ornament.
Violet and Pine Merry and Married photo ornament, $18, Zazzle
This sweet Christmas tree ornament would fight right in with whimsical holiday decor. It's also a cute idea if you're shopping for a married couple who loves animals.
Anthropologie hugging bears ornament, $24, Anthropologie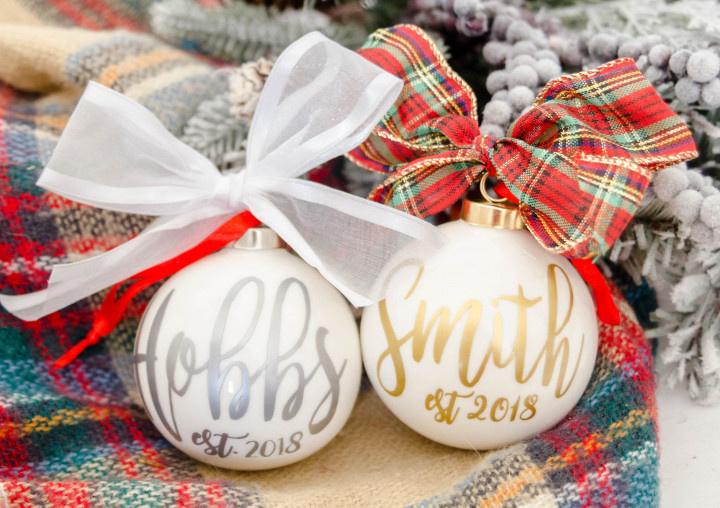 If you and your partner are opting to share a last name, we love this custom calligraphy ornament. Choose from silver or gold ink, then add a red plaid bow, a white ribbon with silver trim, or a burlap ribbon.
HappyMailBtq personalized ornament, from $31, Etsy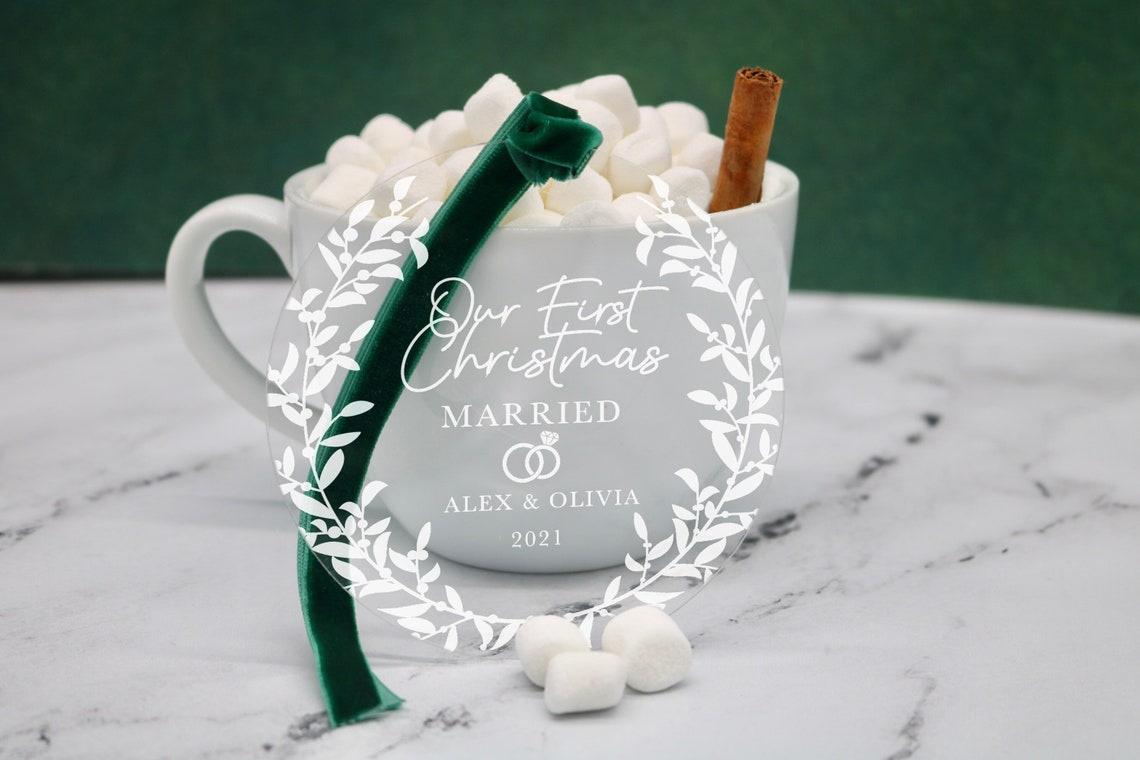 Modern meets traditional with this round acrylic ornament, which can be personalized with your names and wedding year.
ItsTheSeasonShop first Christmas married ornament, from $19, Etsy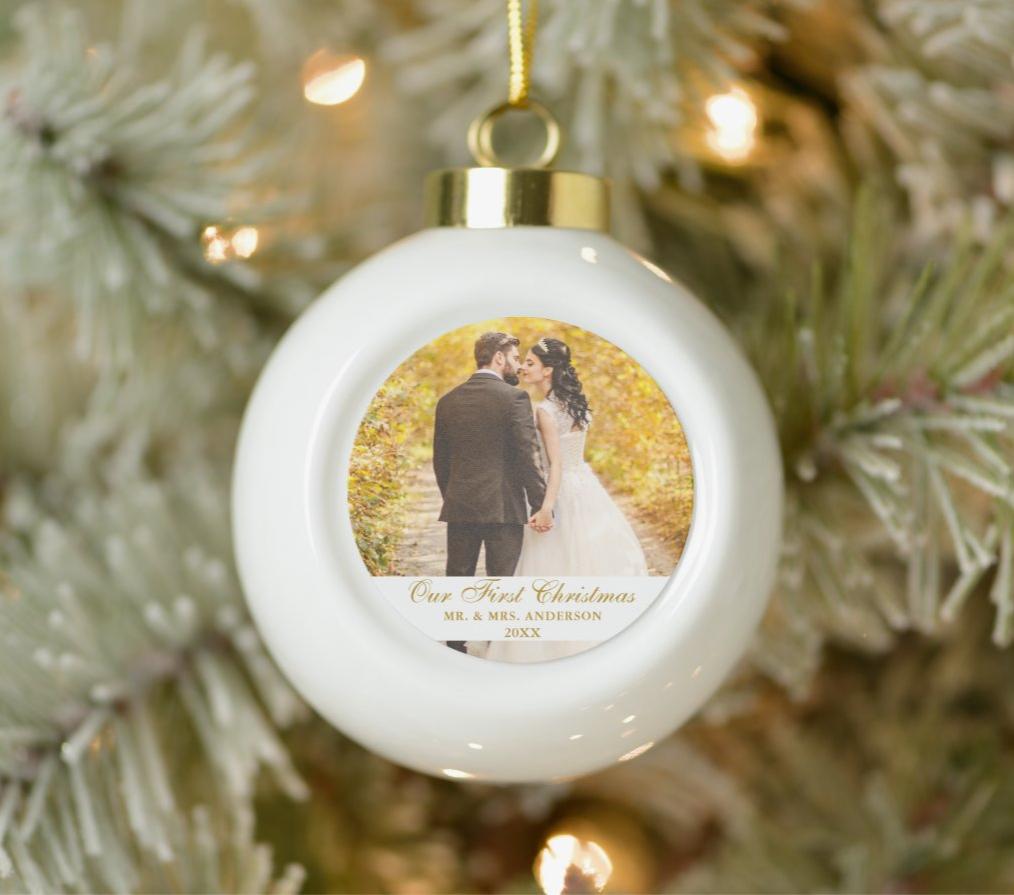 This ceramic ornament beautifully frames a favorite wedding photo from your special day. It's finished off with a banner at the bottom that reads, "Our First Christmas" along with your names and wedding date.
Happy Memories Card Company first Christmas photo ornament, $22, Zazzle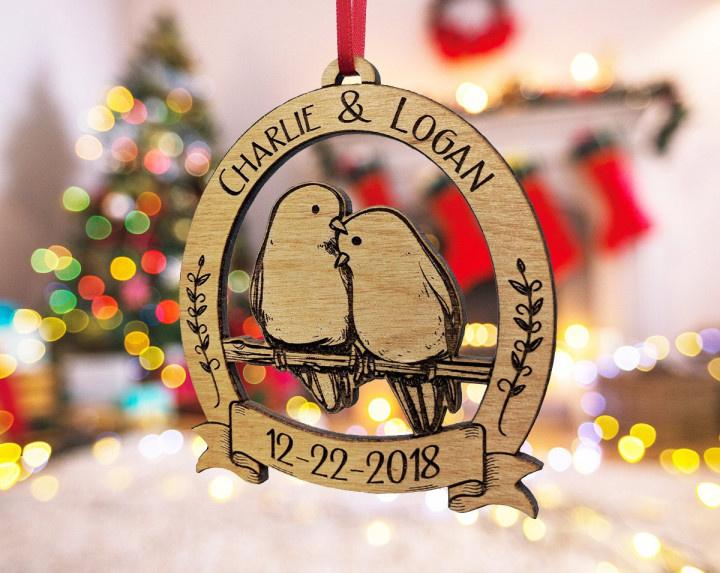 As a nod to The 12 Days of Christmas, this wooden ornament features two turtledoves seated on a branch. Add your names and your wedding date for a customized effect.
Eugenie2 personalized love birds couples Christmas, $15, Etsy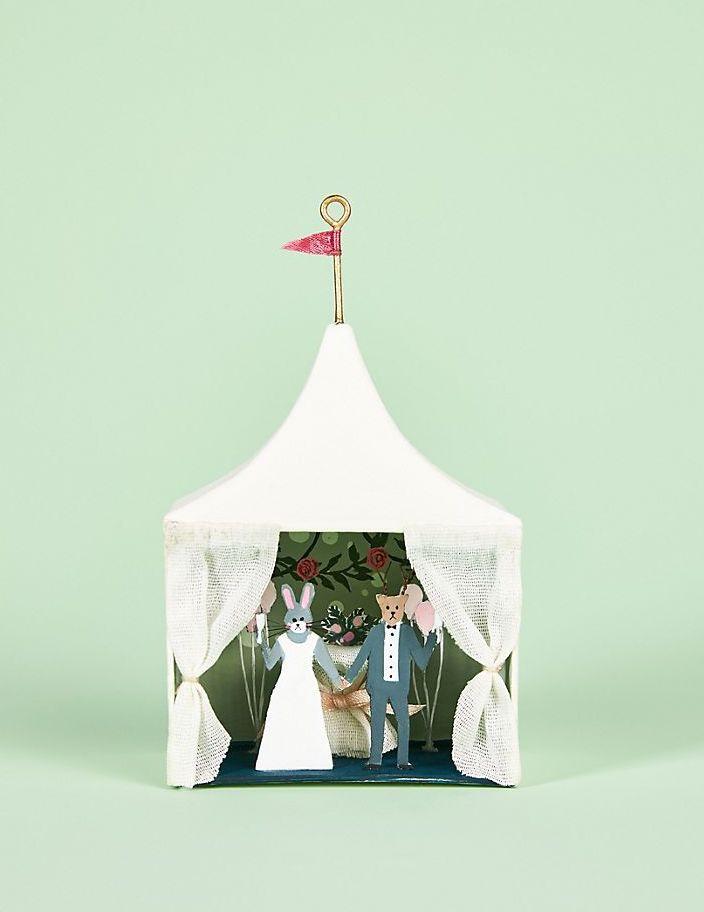 If your wedding reception took place under a tent, this ornament is a quirky but cute way to honor your first Christmas together.
Anthropologie wedding reception ornament, $24, Anthropologie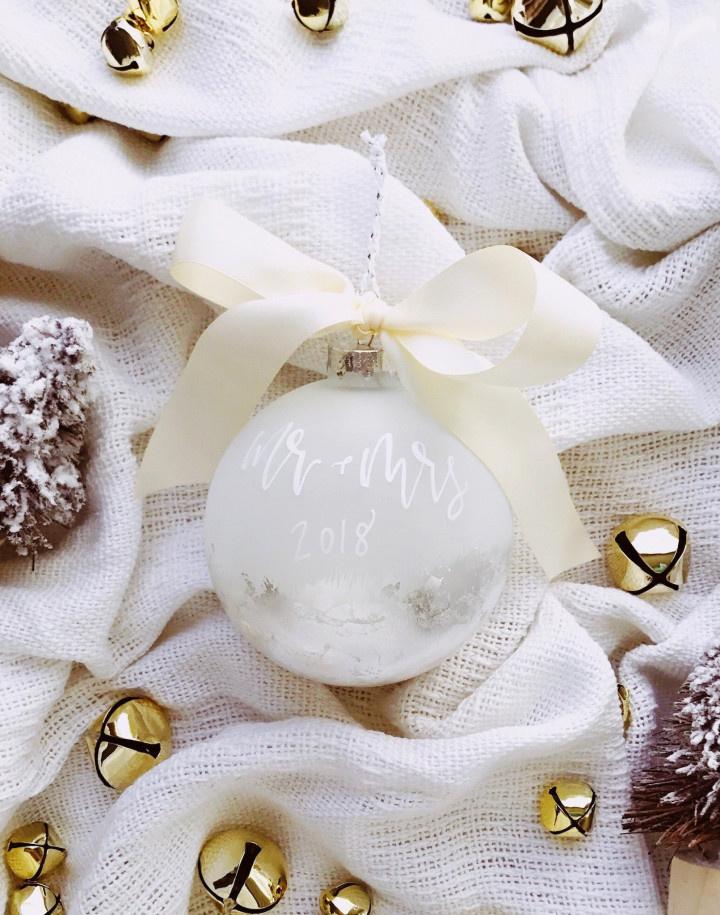 A frosted glass bulb, white calligraphy, and metallic silver foil all bring a winter wonderland vibe to this pretty wedding ornament.
Llynnletteringco Mr. & Mrs. silver flake ornament, from $22, Etsy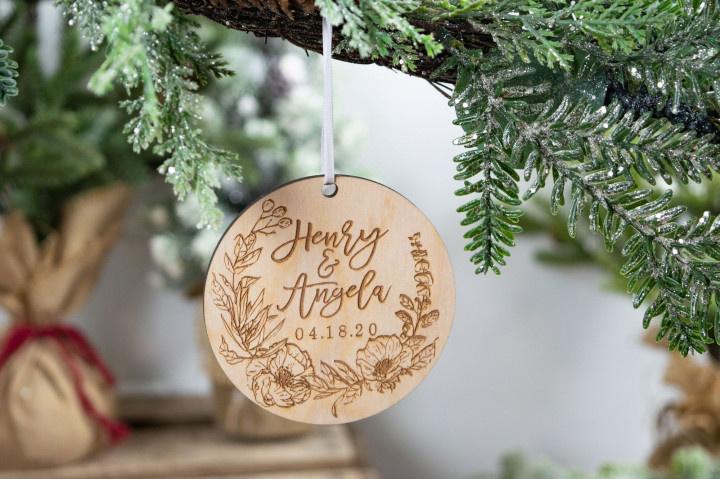 An engraved birch ornament is a must for the couple who loves rustic style. We love the pretty floral motif on this one.
CypressandWhim personalized Christmas ornament, $20, Etsy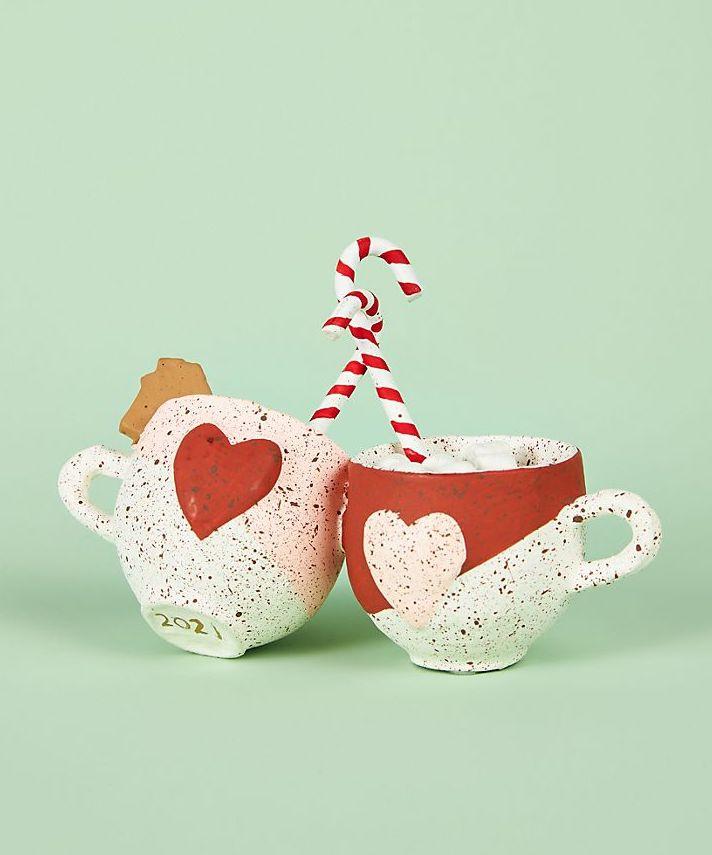 Love sipping your morning brew together? This creative Christmas ornament taps into your shared love for coffee—and each other.
Anthropologie peppermint latte ornament, $24, Anthropologie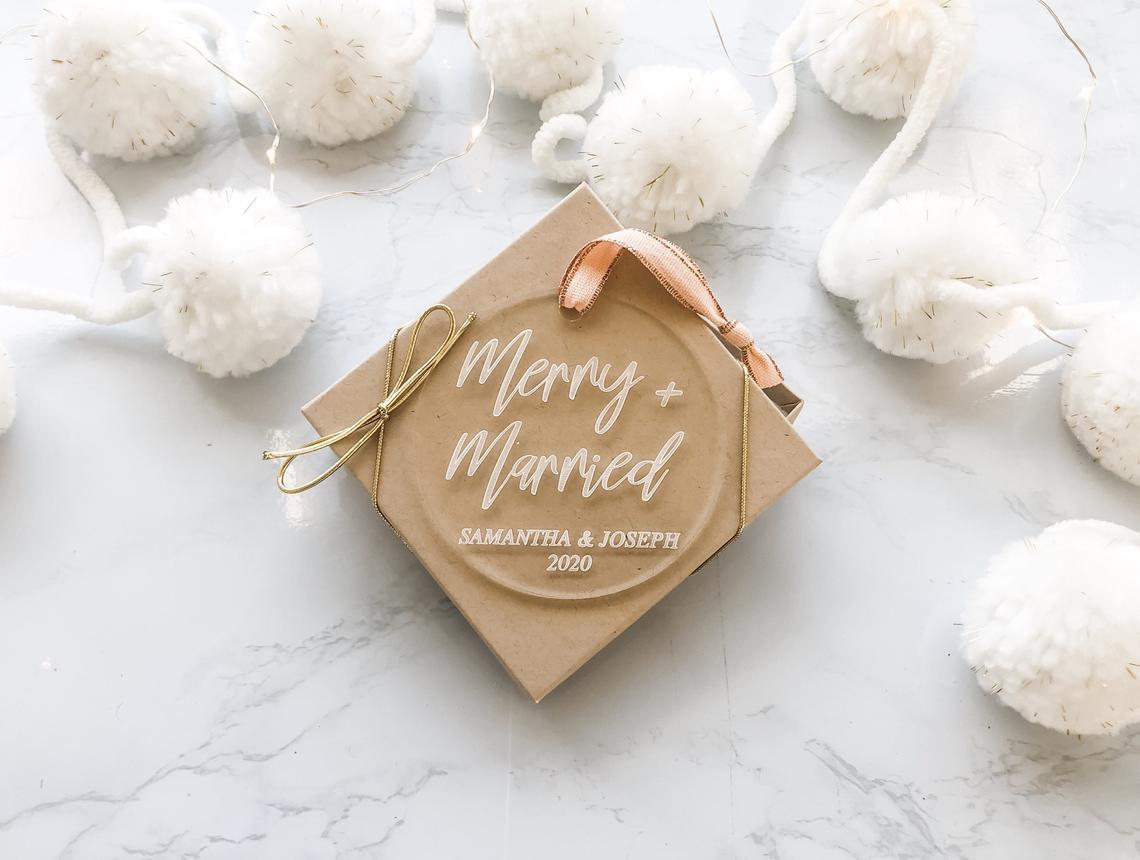 Keep it simple and to the point with this "merry and married" Christmas ornament, which you can personalize with your names and wedding year.
StringBirdBridal merry and married ornament, from $20, Etsy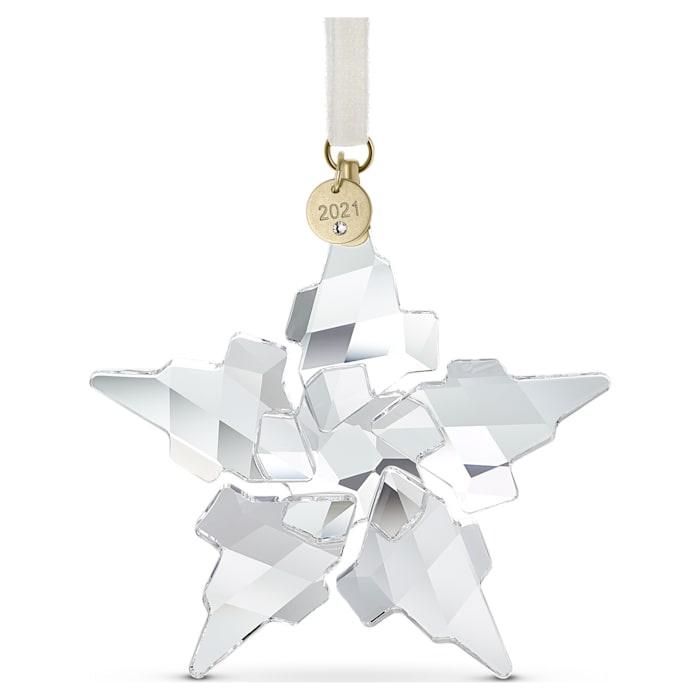 This keepsake ornament would make a special gift for a newly married couple or anyone who appreciates elegant baubles.
Swarovski annual edition 2021 ornament, $80, Swarovski