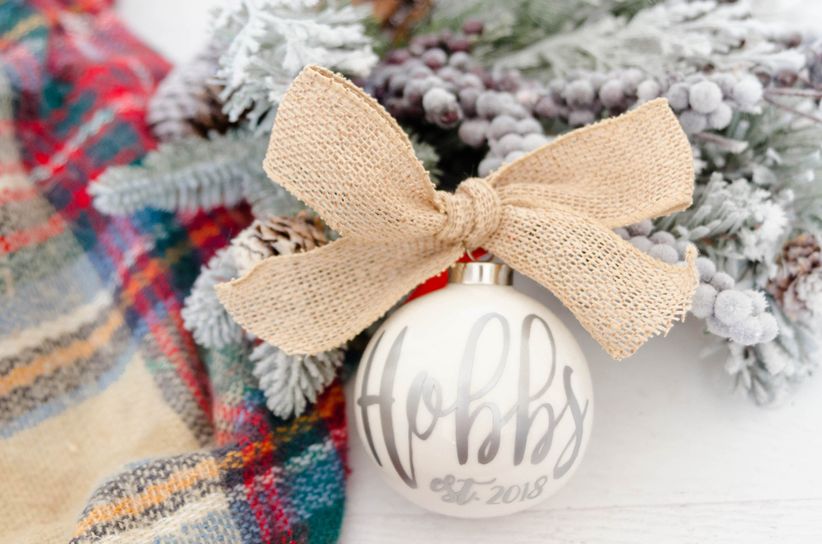 There are few things more special than your first holiday season as a newlywed. If you just got married, decorating your Christmas tree together will feel even more meaningful this time around. To help you make the most of this exciting occasion, we're sharing the best "our first Christmas" ornaments for couples who were married in 2019. Whether you're looking for your own tree or perusing thoughtful gift ideas for the newlyweds in your life, these wedding ornaments are instant keepsakes that can be displayed year after year. Shop them below!
Here are 20 "our first Christmas" ornaments for every style and budget.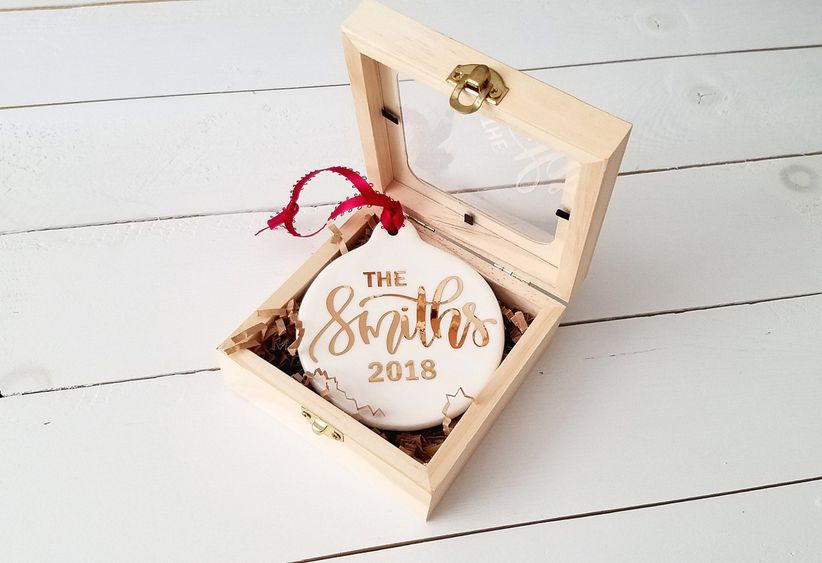 For the minimalistic couple, we love this round white porcelain ornament, which can be personalized with a family name, year, and ribbon and lettering in various colors.
BitsofImperfection custom family ornament, from $19, Etsy
What's more appropriate than a wedding cake to mark your first Christmas together? This elegant ornament features a delicate gold base engraved with the year.
Hallmark Keepsake 2019 wedding cake ornament, $20, Amazon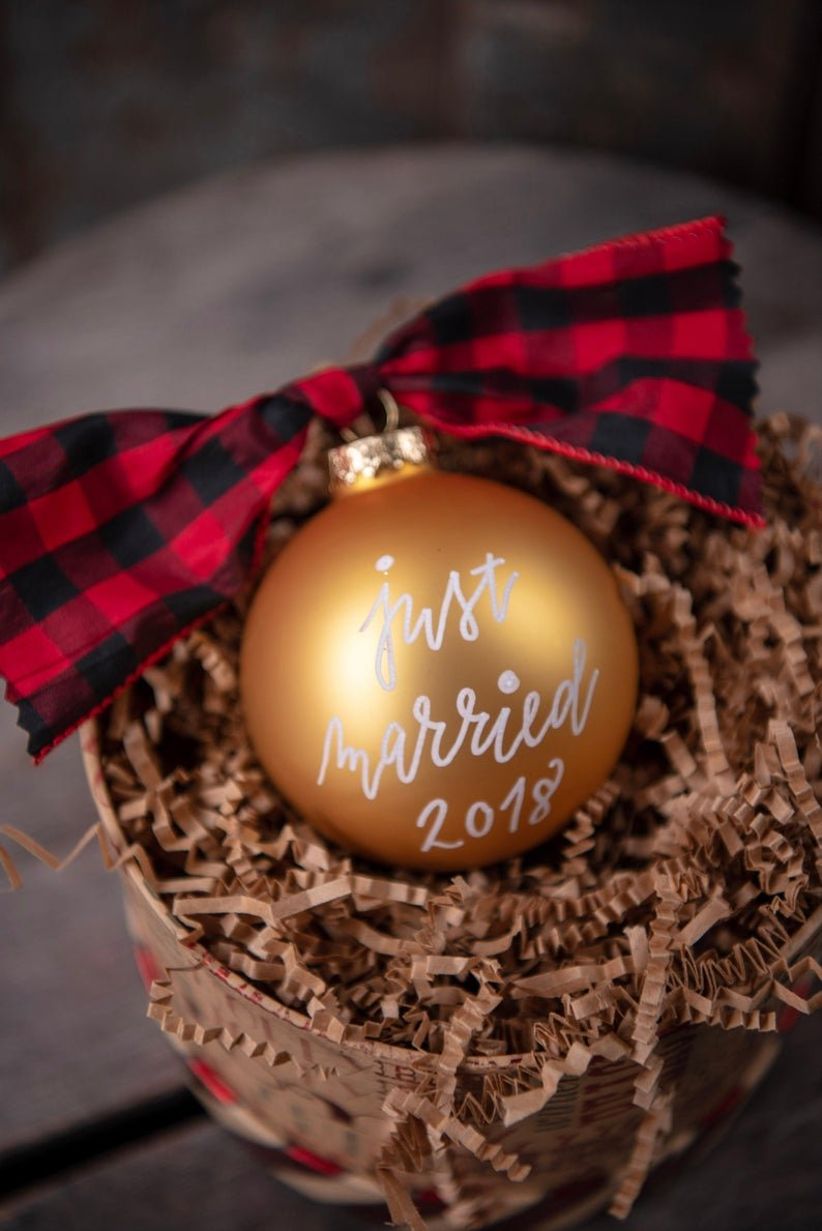 If you're looking for a classic wedding ornament, this glass bulb is a great pick. Create your own custom bauble by choosing the ball color, text color, and type of ribbon.
TheHaberdasheryShop custom just married ornament, from $17, Etsy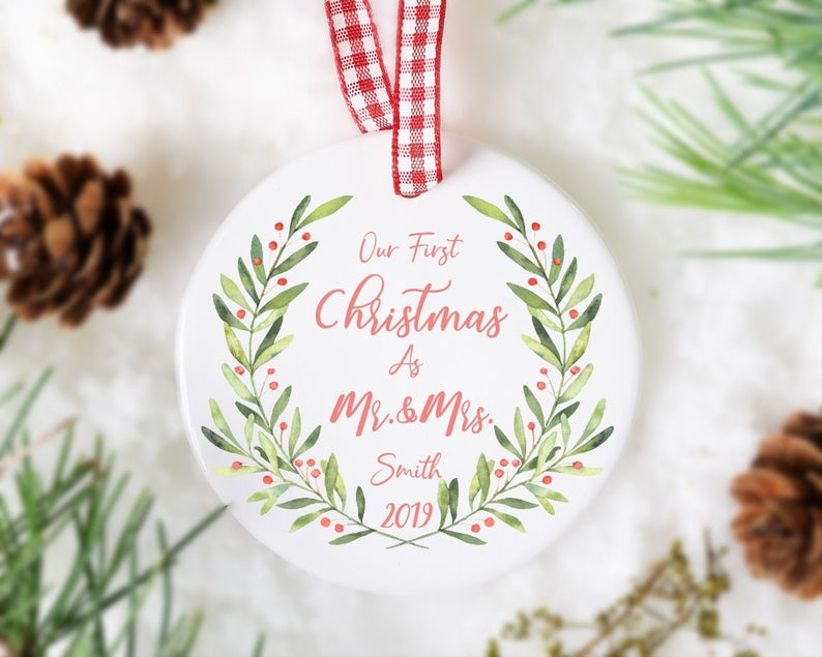 Holly branches and a red gingham ribbon add a sweet, vintage-inspired look to this "our first Christmas" ornament.
GeneGoodsToU first Christmas ornament, $15, Etsy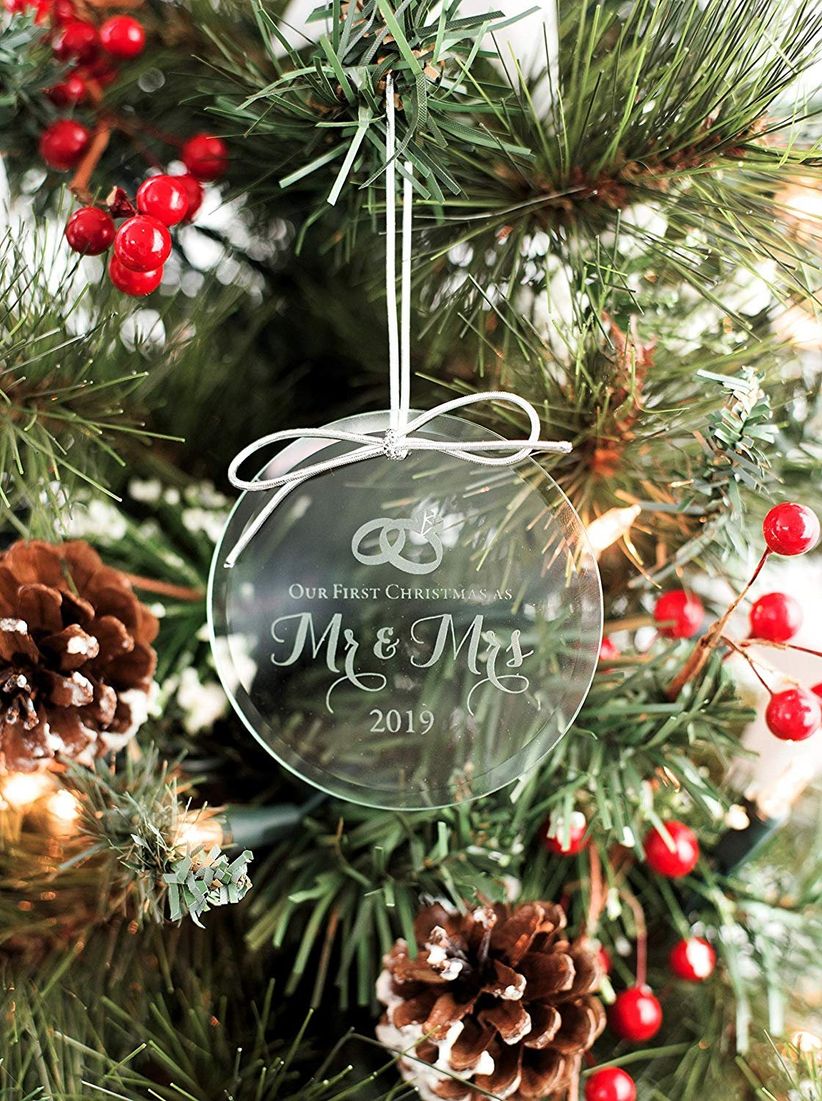 An etched glass ornament brings a little bit of sophistication to any Christmas tree. This wedding ornament reads, "Our first Christmas as Mr. & Mrs." accompanied by two rings and the year.
Memories by Moxie Mr. and Mrs. wedding ornament, $20, Amazon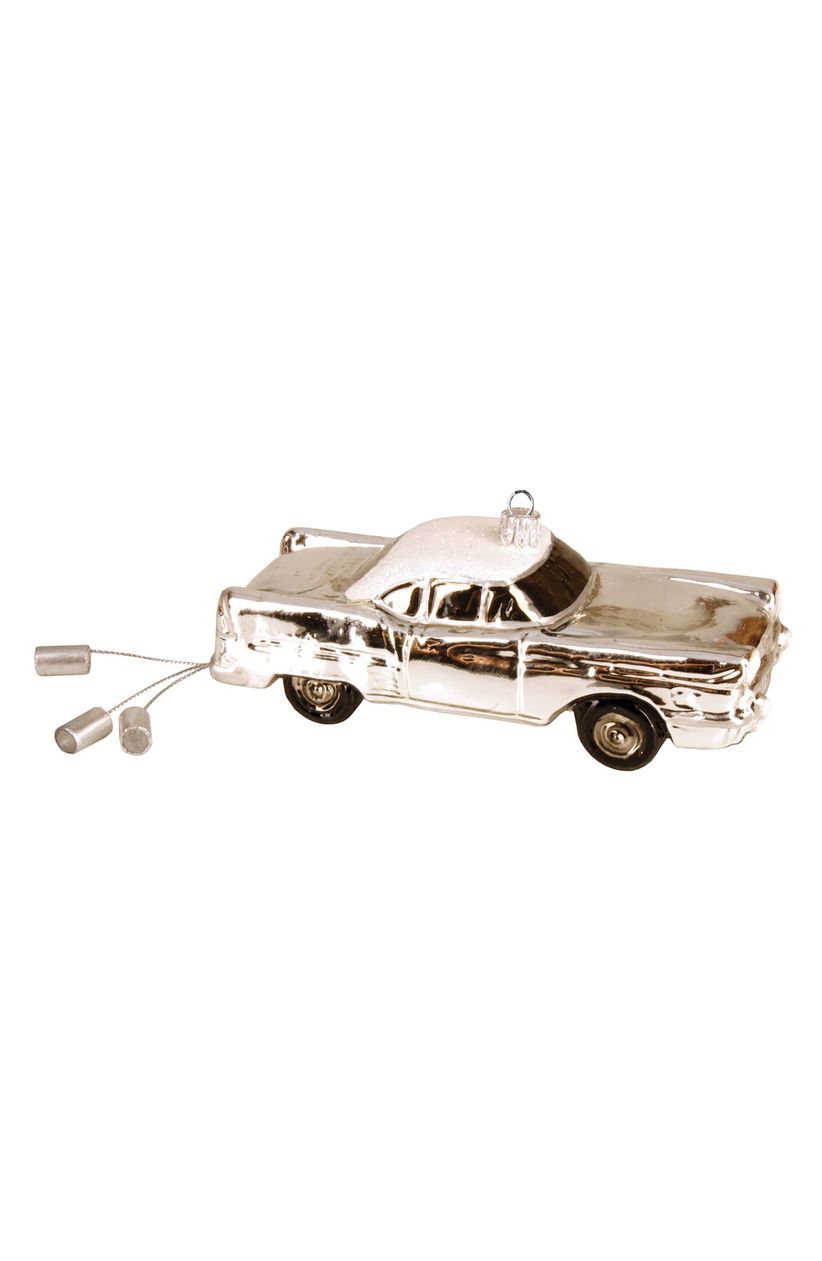 For the couple who made their getaway in a car decorated with tin cans: an adorable miniature version will remind them of the tradition each year.
Christopher Radko just married handblown glass car ornament, $35, Nordstrom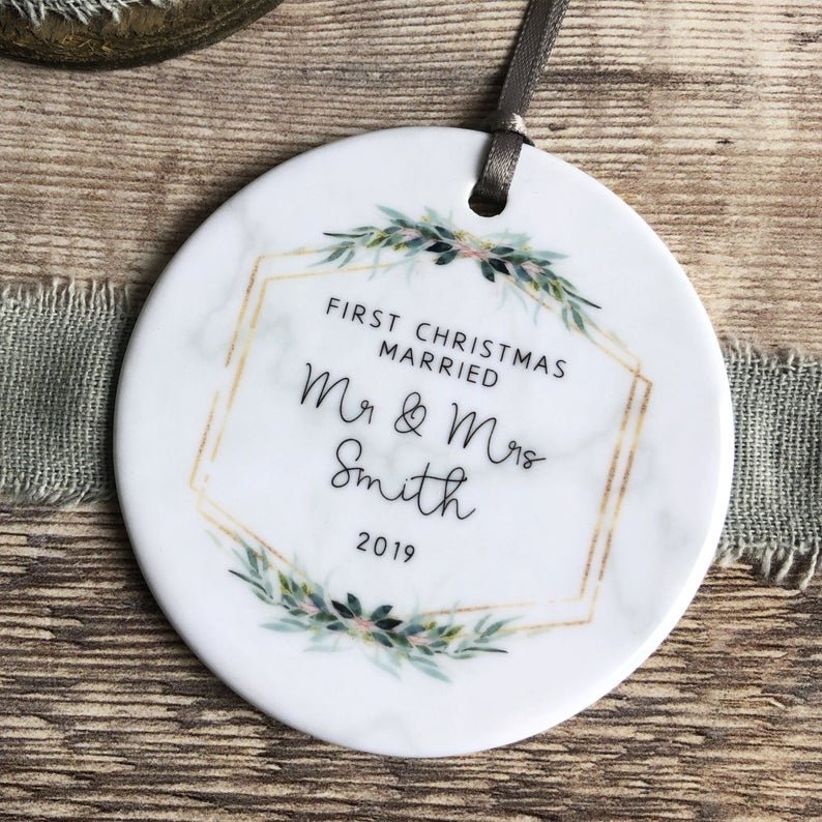 We're getting modern rustic vibes from this marble ornament decorated with gold hexagons and floral motifs. Add a last name and the wedding year for a personal touch.
Beautifulgiftshop personalized first Christmas married ornament, $13, Etsy
This opulent "our first Christmas" ornament is like a miniature work of art for your tree. The three-tier porcelain cake is decorated with intricate scrollwork, holly leaves, and gold detailing.
Lenox 2019 our first Christmas cake ornament, $60, Macy's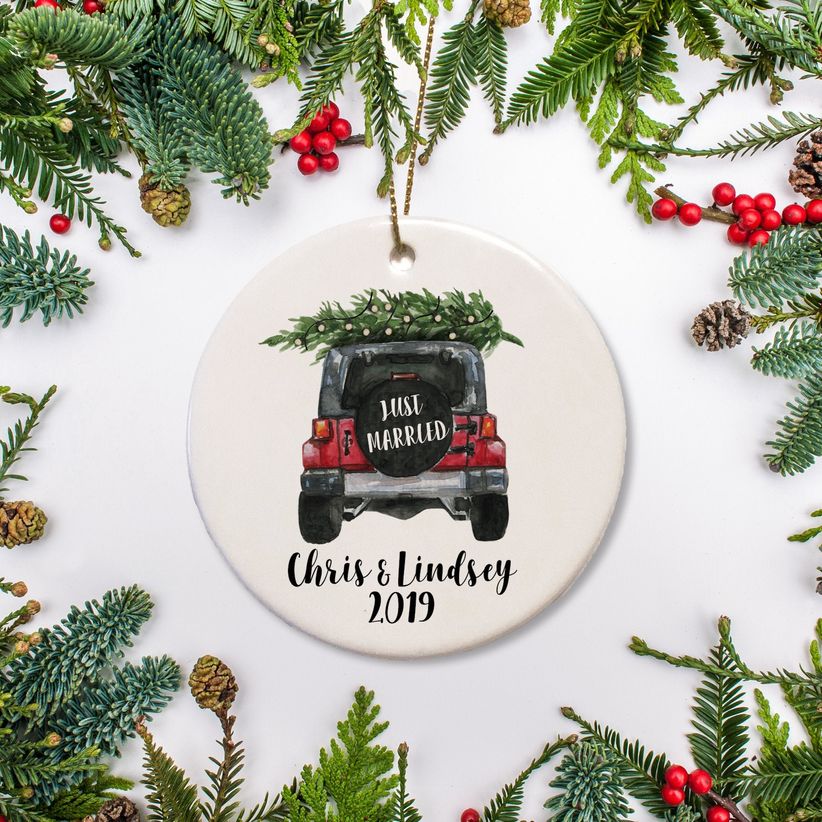 It's true—we've found the perfect ornament for Jeep drivers. This festive wedding ornament, which shows a freshly cut Christmas tree on top of a red Jeep, is especially appropriate for anyone getting married right before the holiday.
PipsyShop just married newlywed Christmas ornament, from $19, Etsy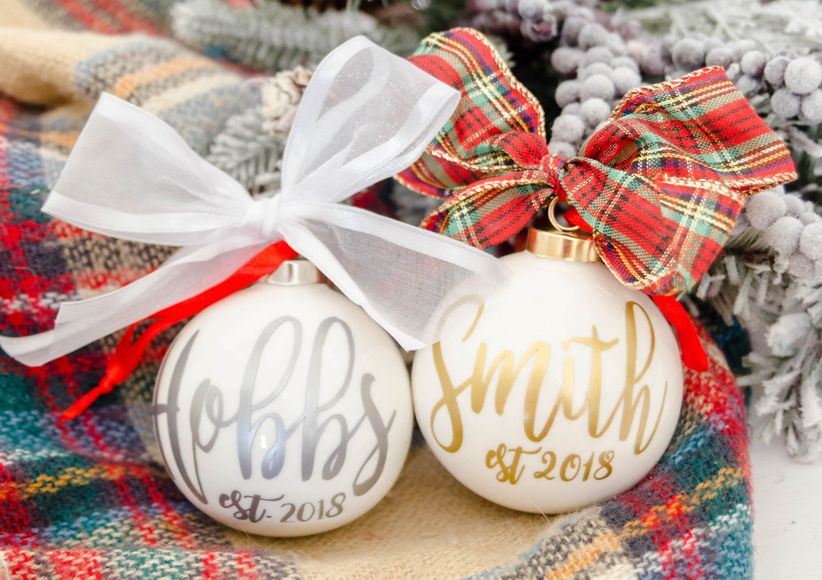 If you and your partner are opting to share a last name, we love this custom calligraphy ornament. Choose from silver or gold ink, then add a red plaid bow, a white ribbon with silver trim, or a burlap ribbon.
HappyMailBtq personalized ornament, from $26, Etsy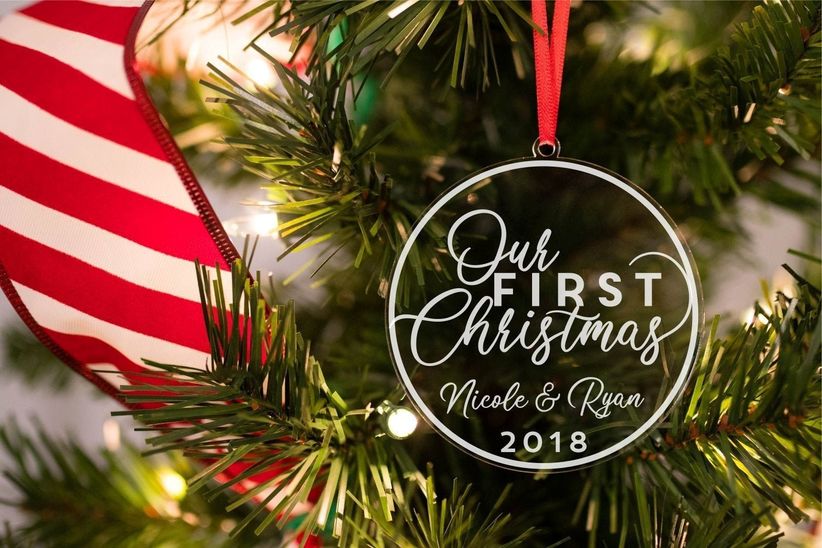 Modern meets traditional with this round ornament, which can be personalized with your names and wedding year.
ThePinkOwlDesigns our first Christmas ornament, from $19, Etsy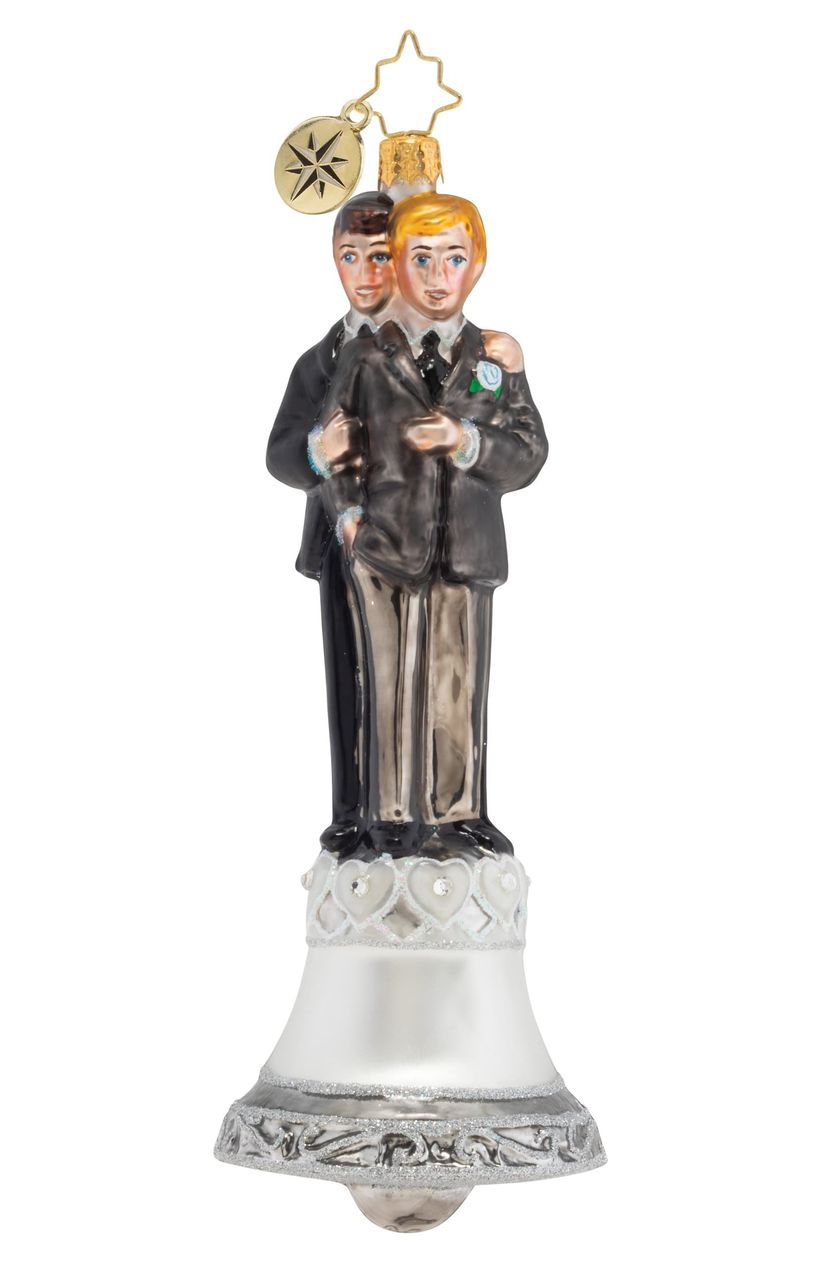 These dapper grooms are a vintage-style addition to your Christmas tree.
Christopher Radko dedicated devotion ornament, $60, Nordstrom
Say hello to one of the most unique "our first Christmas" ornament options around. This DIY ornament comes with an inkpad so you and your spouse can create a one-of-a-kind thumbprint heart right in the center.
Pearhead "our first Christmas" thumbprint ornament kit, $10, Amazon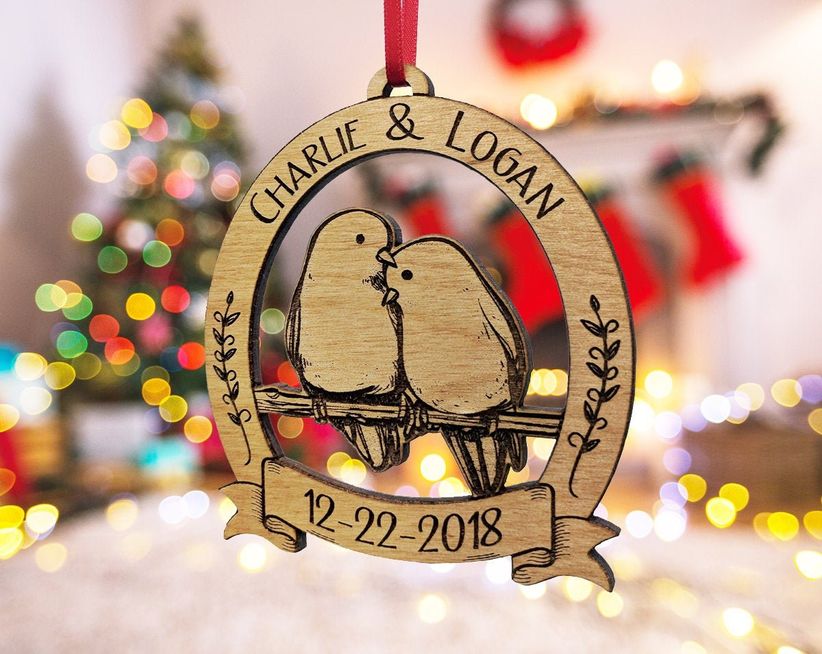 As a nod to The 12 Days of Christmas, this wooden ornament features two turtledoves seated on a branch. Add your names and your wedding date for a customized effect.
Eugenie2 personalized love birds couples Christmas, $15, Etsy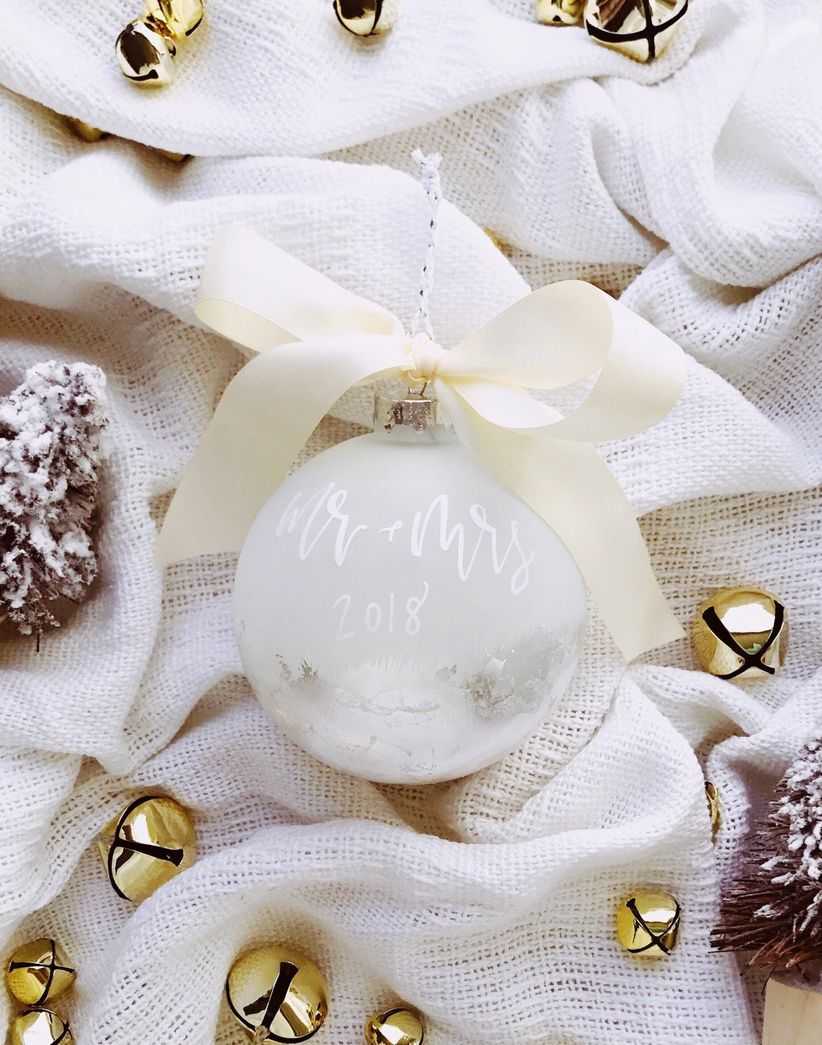 A frosted glass bulb, white calligraphy, and metallic silver foil all bring a winter wonderland vibe to this pretty wedding ornament.
Llynnletteringco Mr. & Mrs. silver flake ornament, from $16, Etsy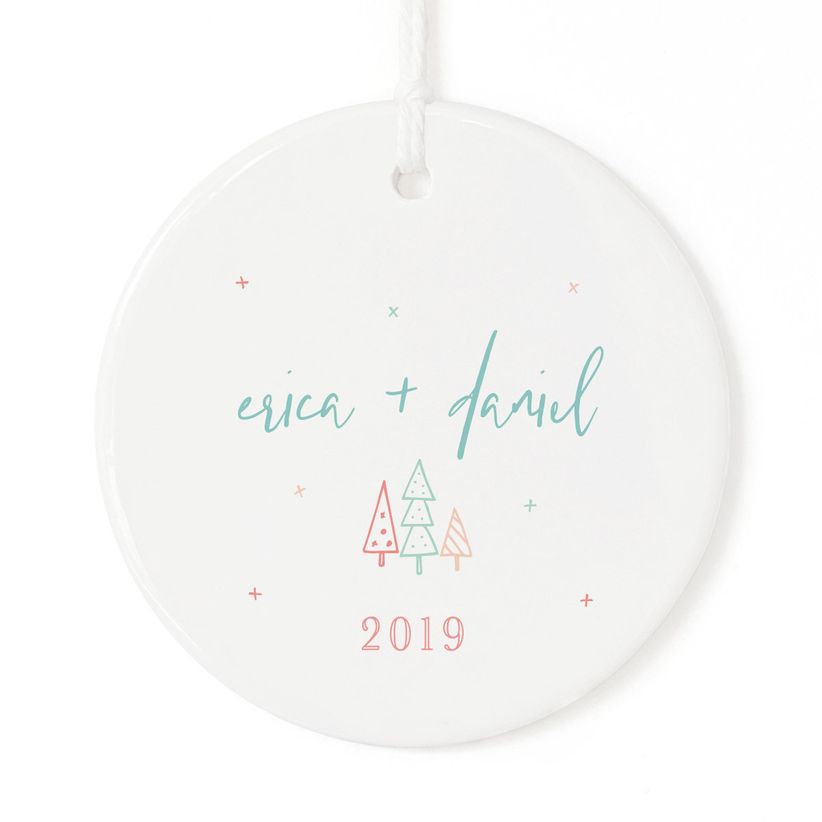 Going for a whimsical Christmas look? This round porcelain ornament is decorated with modern typography, a trio of trees, and the year to make it a true keepsake piece.
Thecottonandcanvasco 2019 porcelain Christmas ornament, $17, Etsy
Handmade in Europe using Renaissance-era glassblowing techniques, this ornament featuring two glam brides feels like a true antique gem.
Christopher Radko passionately perfect ornament, $60, Nordstrom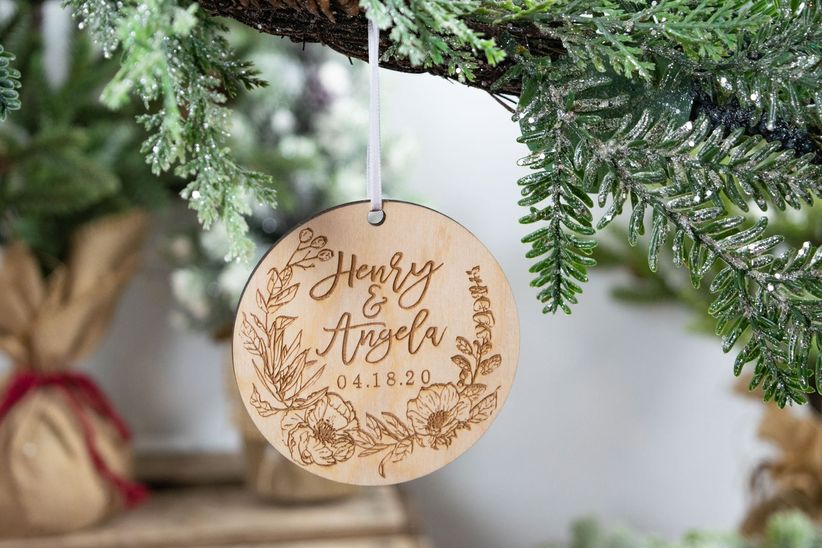 An engraved birch ornament is a must for the couple who loves rustic style. We love the pretty floral motif.
CypressandWhim personalized Christmas ornament, $15, Etsy
This non-traditional "our first Christmas" ornament is made with three separate discs: a sterling silver one for the year, a copper one for your names, and a nickel one with a sweet message.
Whiteliliedesigns first married Christmas ornament, from $28, Etsy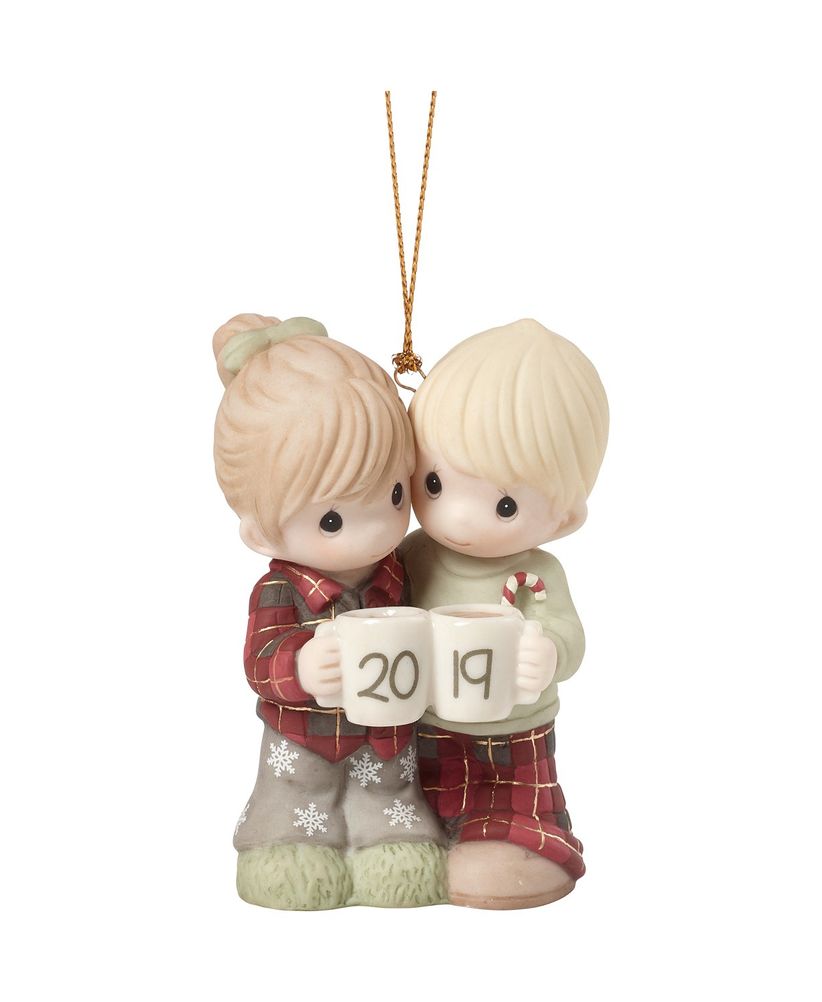 For the newlyweds who love to snuggle up by the fire while watching Christmas classics, this cute Precious Moments ornament is a perfect pick.
Precious Moments our first Christmas together ornament, $33, Macy's
Disclosure: This post contains affiliate links, some of which may be sponsored by paying vendors.