29 Christmas Ornaments for Your First Holiday as a Married Couple
Whether you're shopping for yourself or a special couple, a "just married" ornament is a thoughtful way to mark this milestone.
We have included third party products to help you navigate and enjoy life's biggest moments. Purchases made through links on this page may earn us a commission.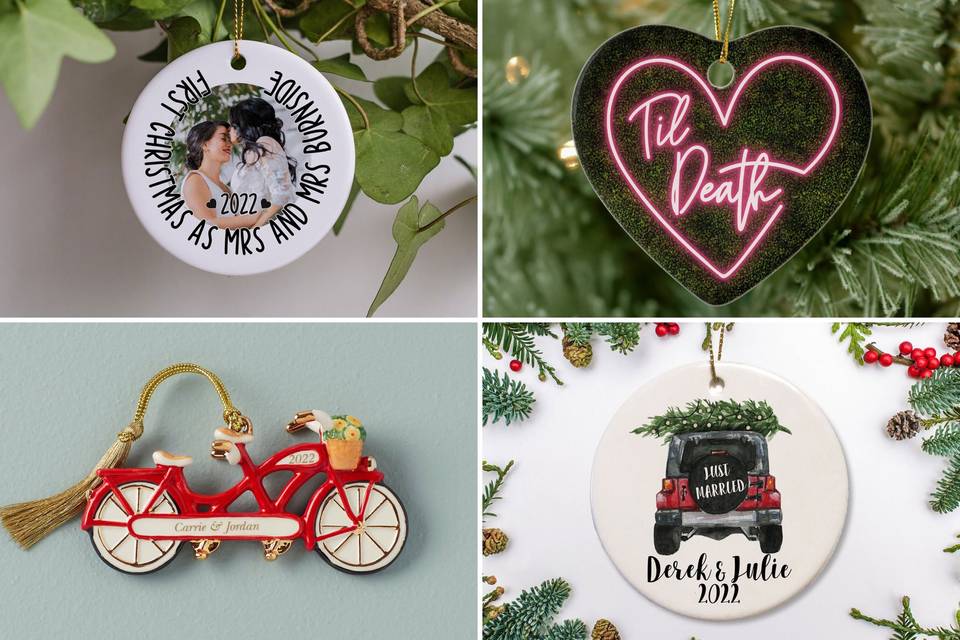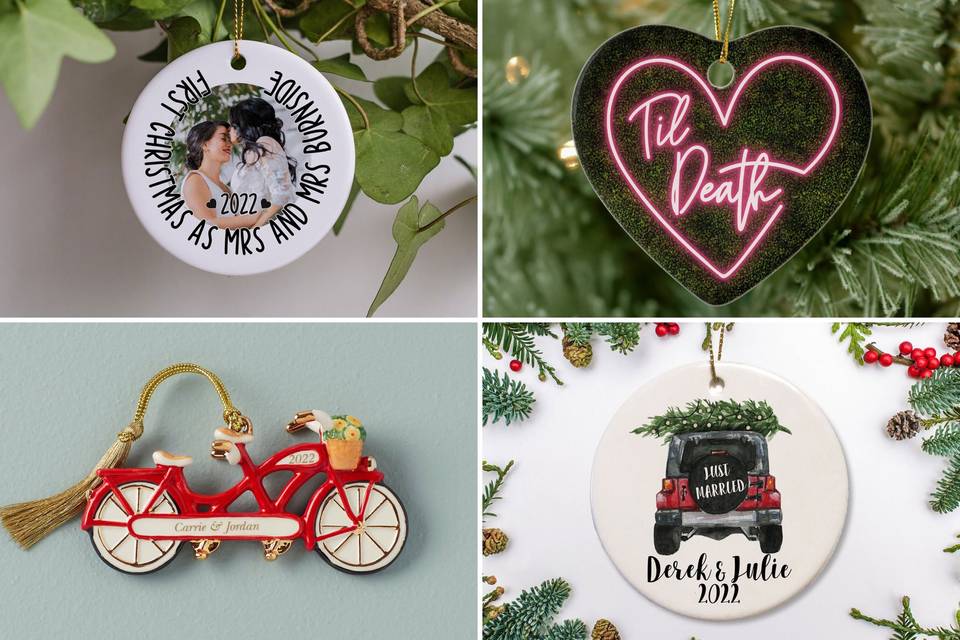 There are few things more special than your first holiday season as a newlywed. If you just got married, decorating your tree together will feel even more meaningful this time around. To help you mark this unique milestone, we've found lots of cute ornaments celebrating your first Christmas as a married couple. After a year filled with many ups and downs, it's a sweet way to commemorate the moments that mattered most in 2022.
These "first Christmas married" ornaments also make great wedding or holiday gifts for newlyweds. So if you know a pair of lovebirds who just said "I do," consider surprising them with a sweet keepsake too. Year after year, these wedding-themed Christmas ornaments will command nostalgic smiles all around. Shop our favorite cute, funny, and personalized picks below.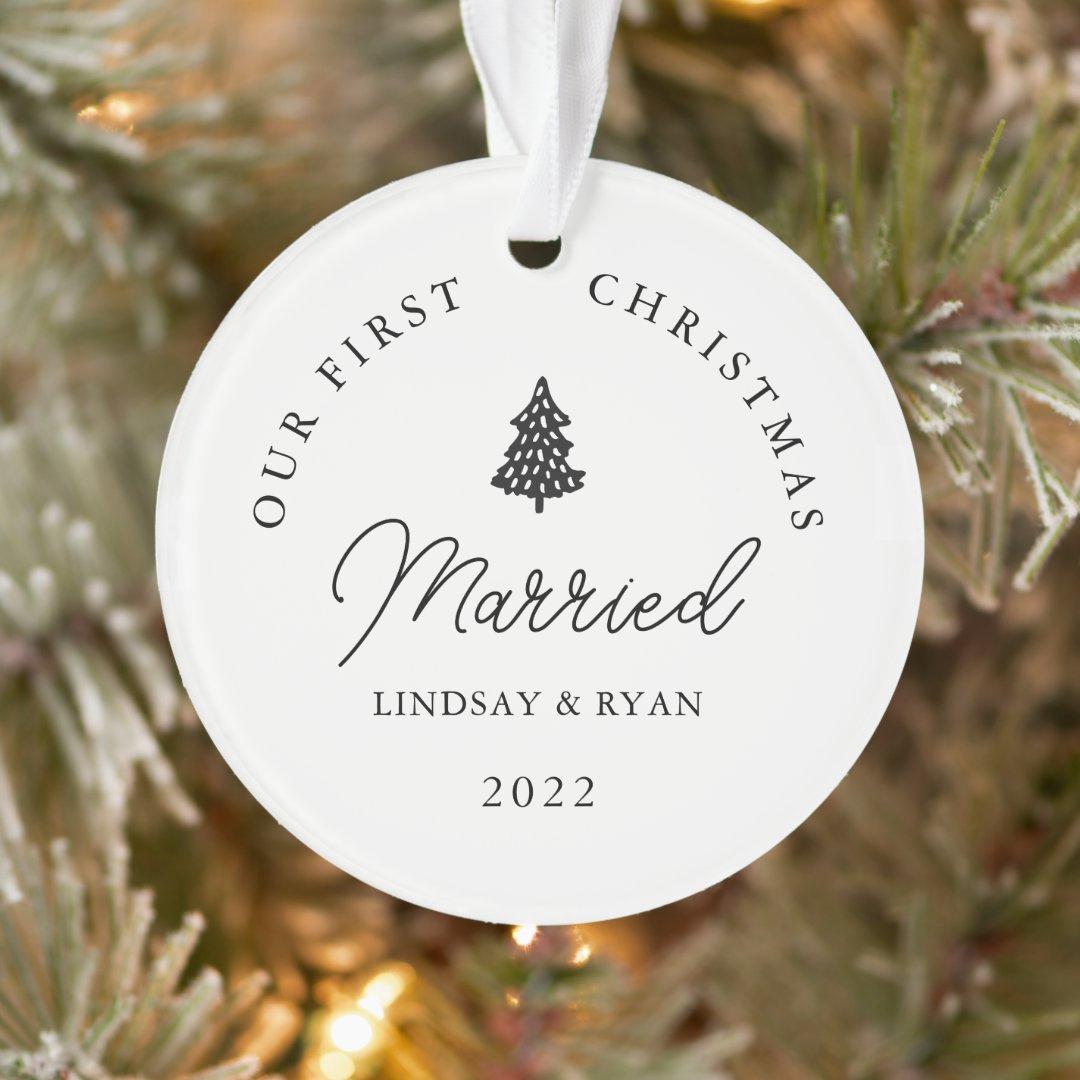 If you got married in 2022, congratulations! Getting married during a wedding boom is a truly amazing feat. In fact, we think it's more of a reason to celebrate than ever. After two years of a global pandemic, you finally got to give your love the celebration it deserves. This personalized "Our First Christmas Married" ornament is a sweet and simple way to commemorate the year you tied the knot. It's complete with your names on the front and a special photo on the back.
Sweet Home modern Our First Christmas Married photo ornament, $21, Zazzle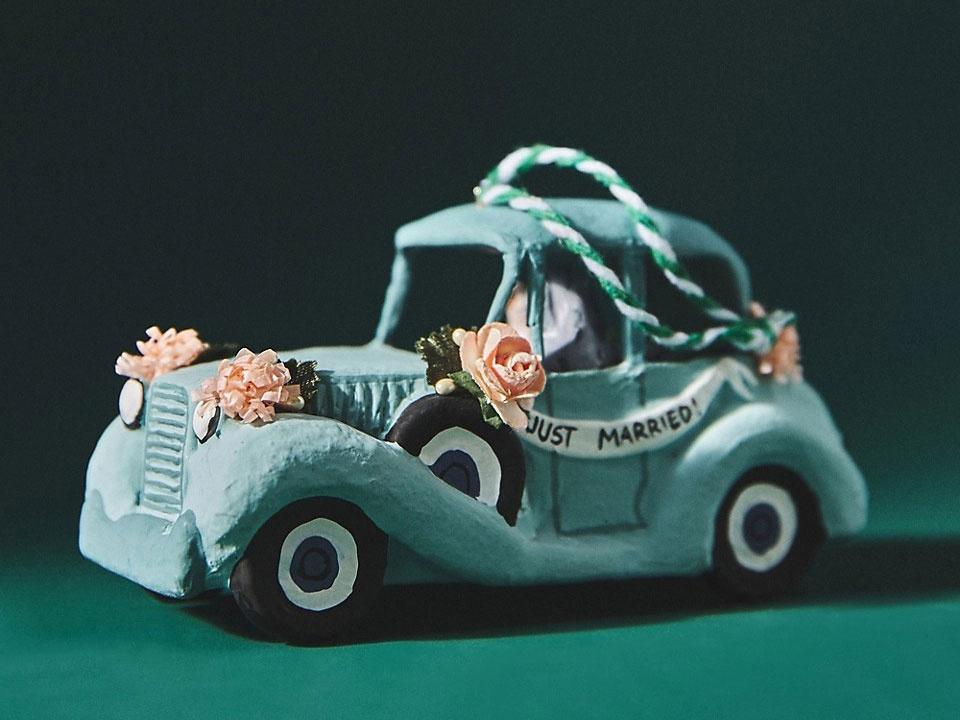 Okay, but how adorable is this "Just Married" Christmas ornament? It's inspired by a vintage wedding car and has a pair of newlywed pooches in the front seats. If you happened to make a grand entrance or exit on your big day in a retro mode of transport, this is the perfect keepsake.
Anthropologie Just Married ornament, $30, Anthropologie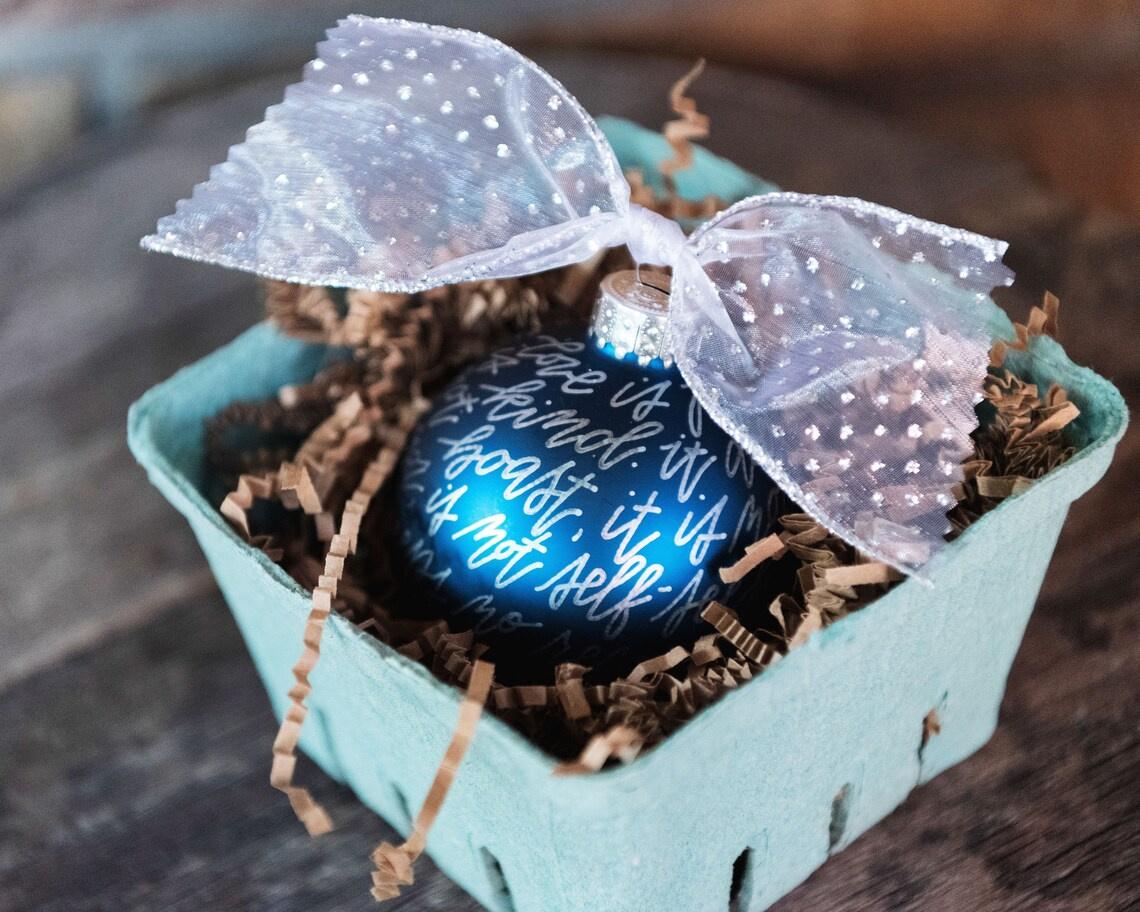 Surprise your husband, wife, or a happy couple this holiday season with a beautiful, custom Christmas ornament. The bauble is carefully personalized with the text of your choosing in the seller's own handwriting. You could choose an excerpt from your vows, another meaningful part of the wedding ceremony, or a simple, heartfelt quote wishing the newlyweds well.
The Haberdashery Shop custom quote ornament, $50, Etsy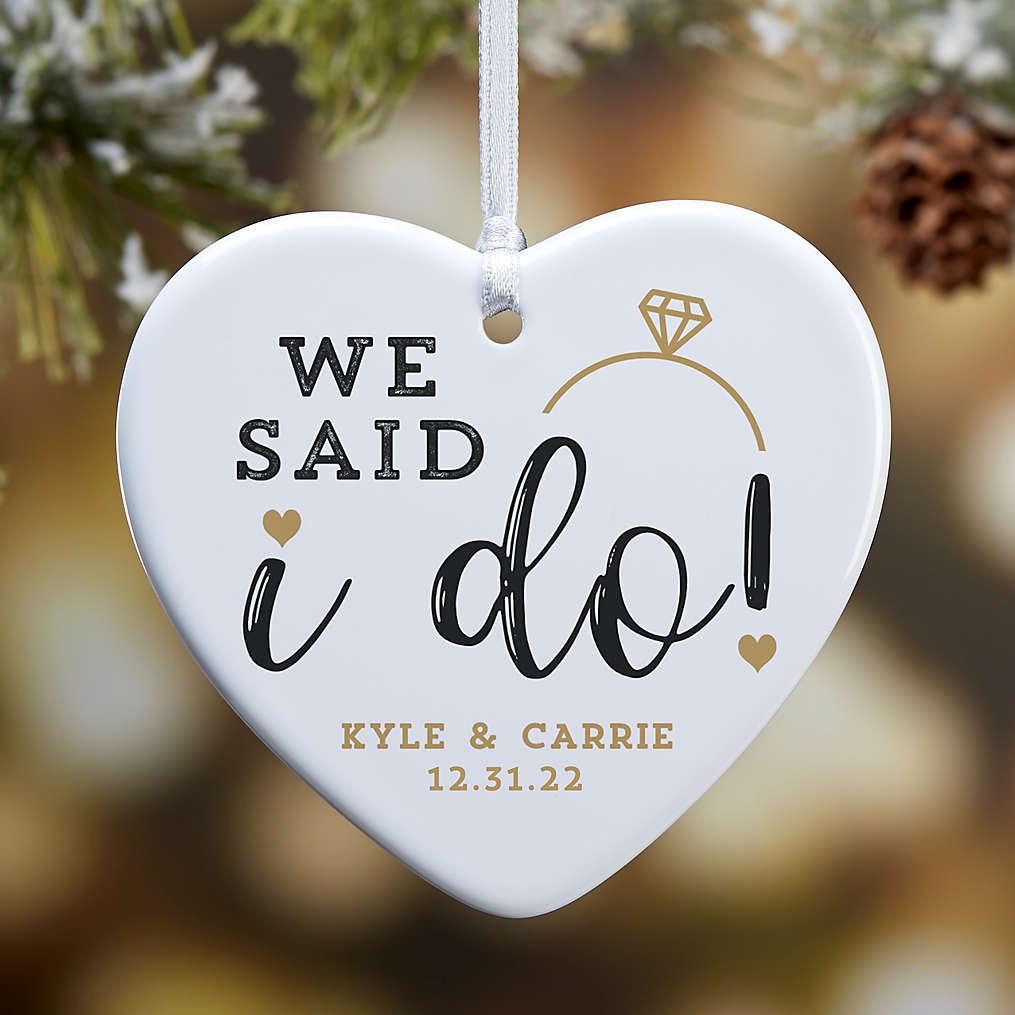 Celebrate the moment you said your "I do"s with this personalized porcelain ornament featuring your names and wedding date. The ribbon is included so you can stick it on the tree right away.
Bed Bath & Beyond I Do personalized heart ornament, $11, Bed Bath & Beyond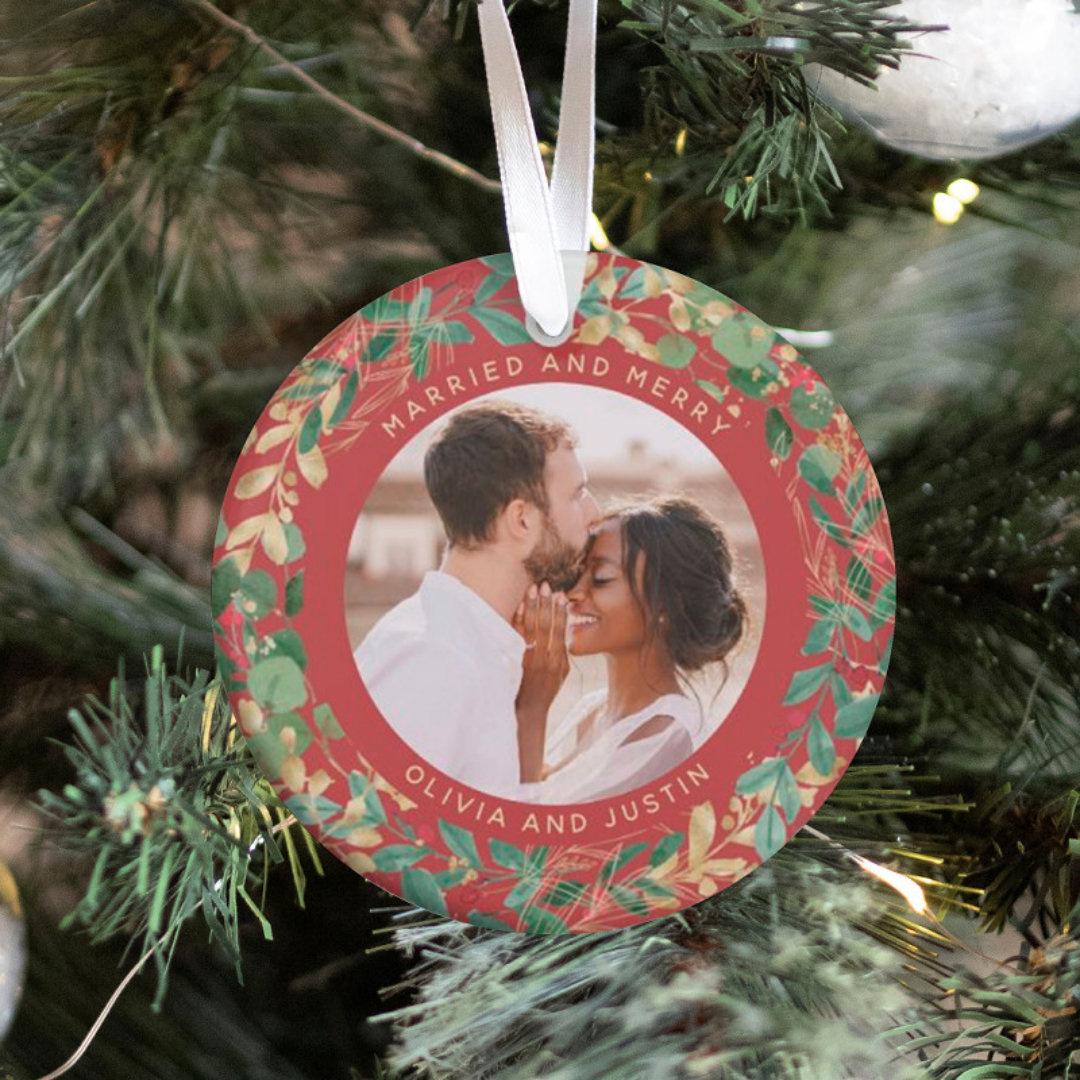 Choose this festive ornament decorated with gilded greenery and red berries if you love classic seasonal style. You can celebrate your first Christmas as a married couple with not one, but two photos from your special day. There's space on both the front and the back for images. Beneath the words "Married and Merry," you can add your names.
Violet and Pine gilded greenery red Married and Merry ornament, $20, Zazzle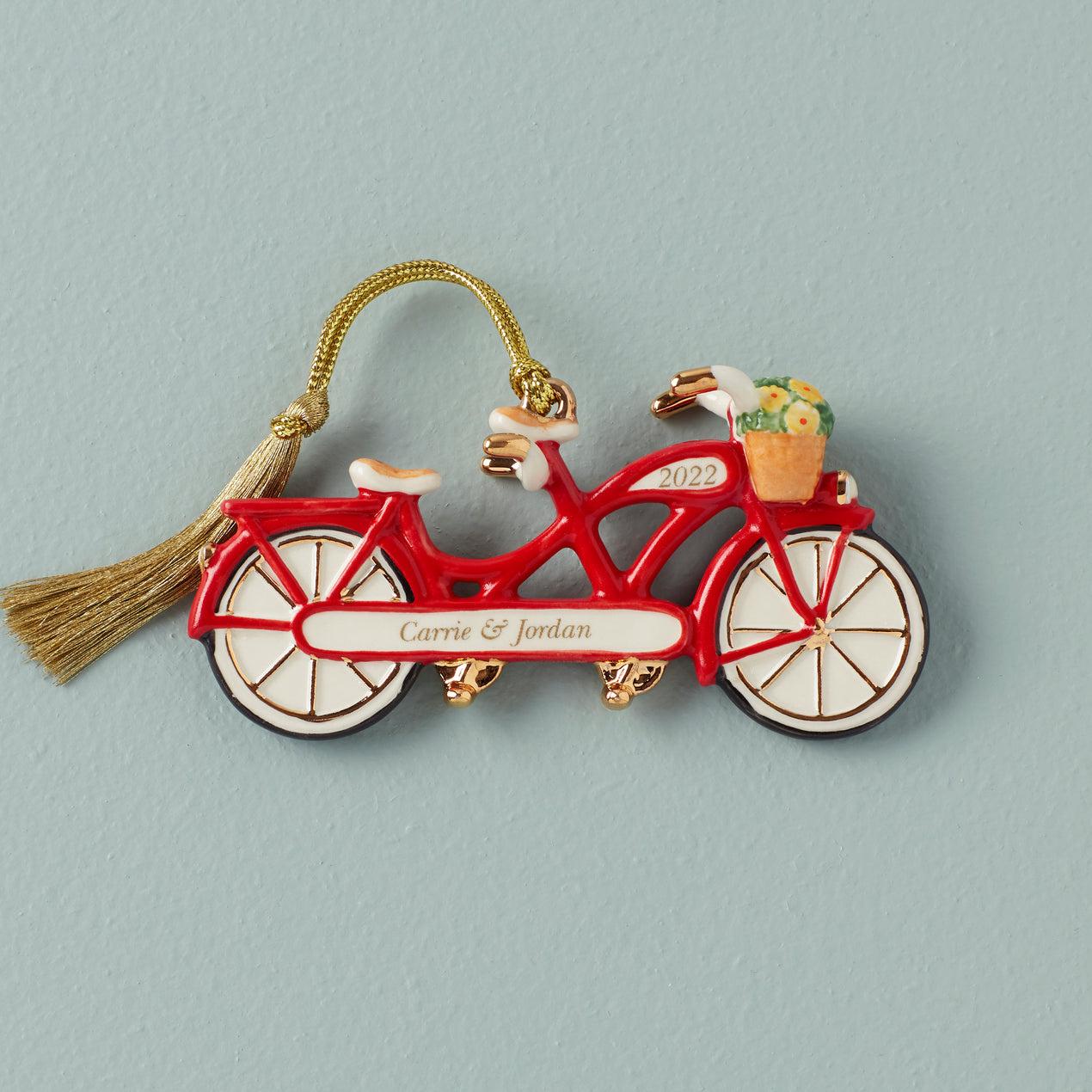 This bicycle Christmas tree ornament would fit right in with whimsical holiday decor. It's also a cute idea if you're shopping for a married couple who loves the outdoors. The tandem bike is personalized with their names and the year.
Lenox Bicycle Built for Two ornament, $80, Lenox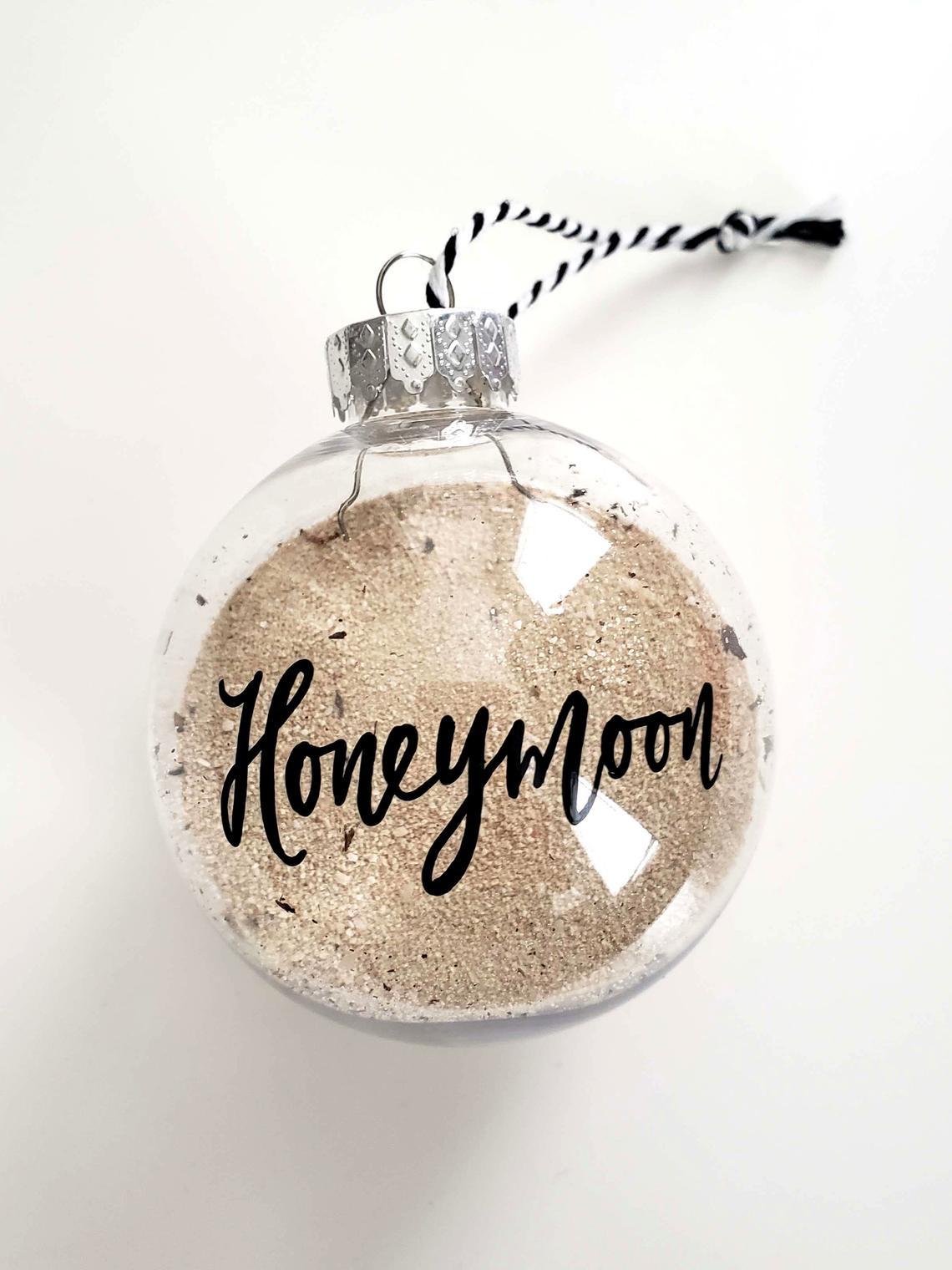 If you were able to go on a honeymoon or mini-moon this year, use this first Christmas wedding ornament to display sand, pebbles, flower petals, or another memento from your trip. It's a sweet and creative way to celebrate your highlights from 2022.
The Lettering Studio honeymoon sand ornament, from $15, Etsy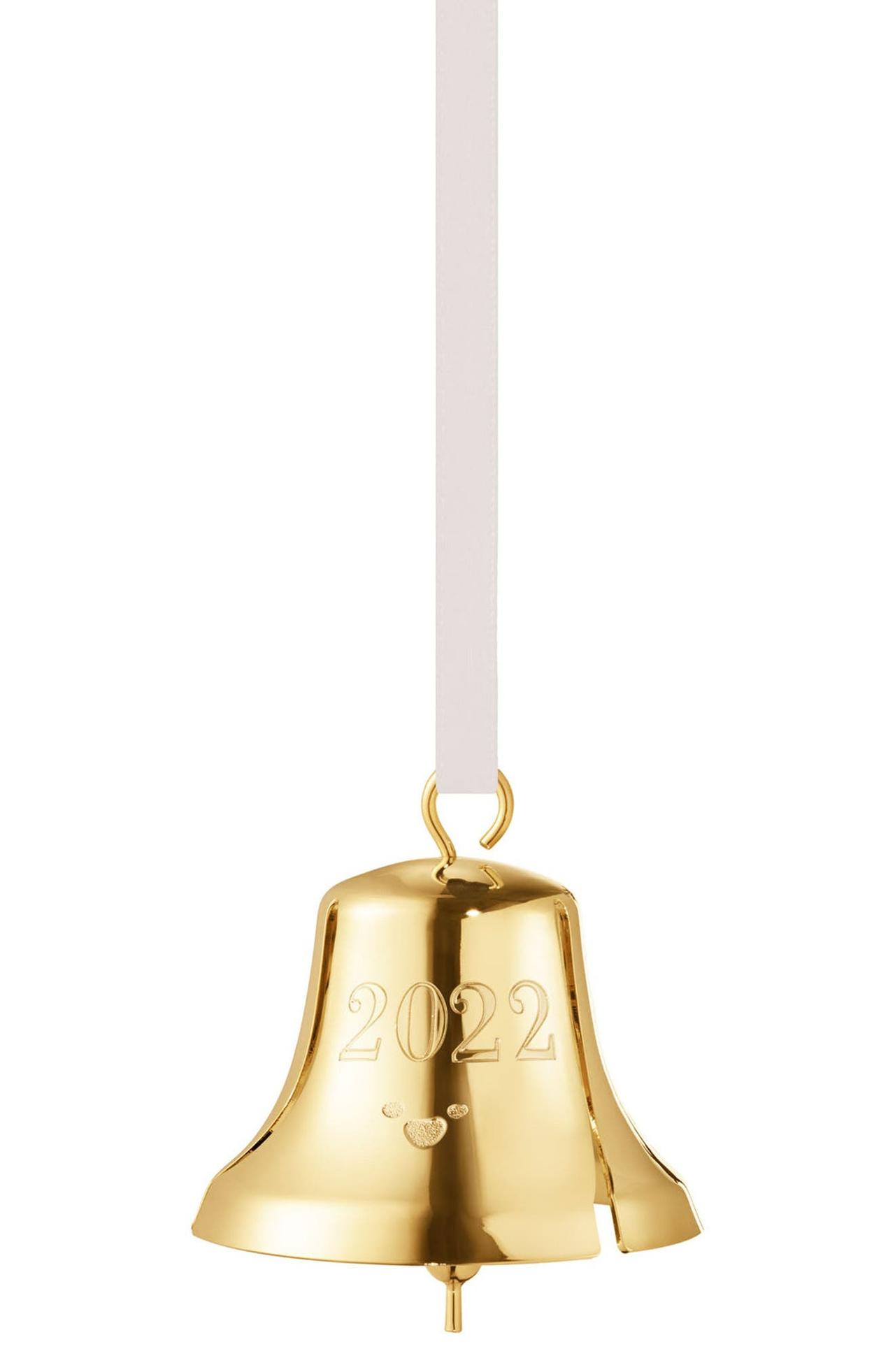 Celebrate the year that wedding bells rang with this sweet bell ornament. The gold-plated keepsake is engraved with "2022," so it'll always remind you of your first Christmas married.
Georg Jensen 2022 bell ornament, $35, Nordstrom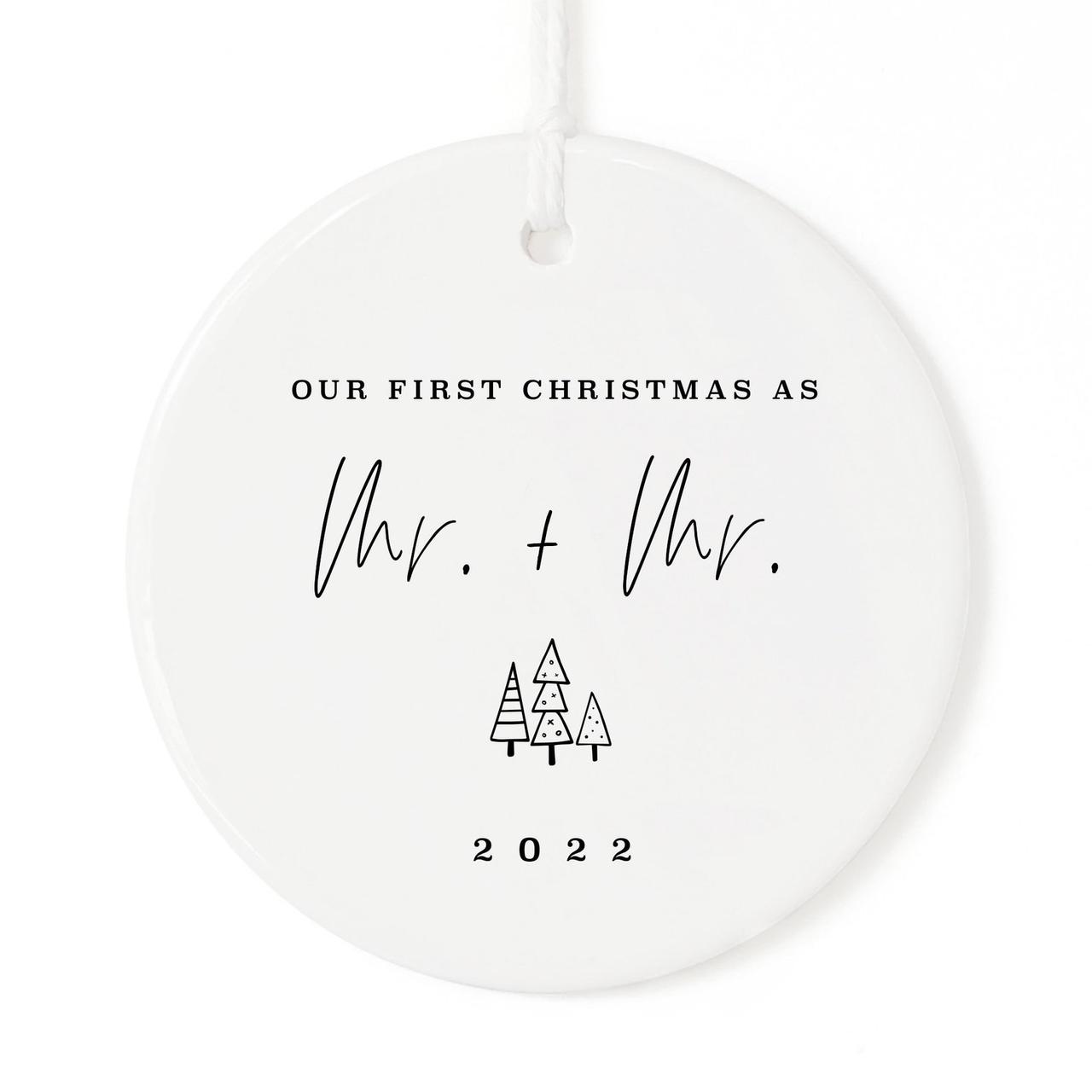 If you're going for a whimsical Christmas look, this round porcelain ornament is decorated with modern typography, a trio of trees, and the year to make it a true keepsake piece.
The Cotton & Canvas Company Our First Christmas as Mr. & Mr. ornament, $16, Etsy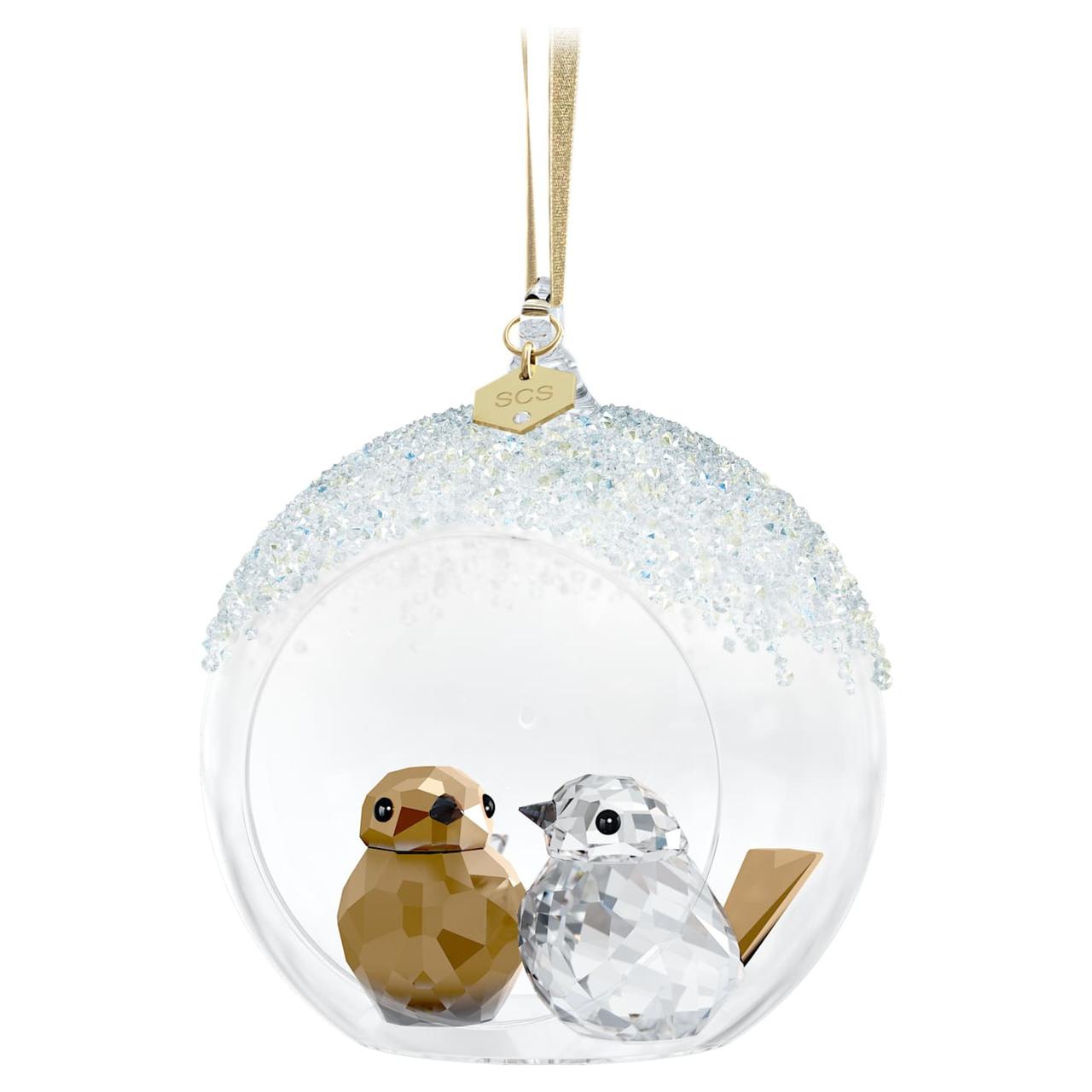 Looking for something splurge-worthy? Swarovski has stunning crystal keepsakes that are ideal for newlyweds celebrating their first Christmas together. Exhibit A: These beautiful lovebirds in clear and gold-tone crystal. The adorable birdies sit side-by-side in an open glass ball decorated with over a thousand snowflake-like crystals.
Swarovski Holiday Magic SCS annual edition 2022 ball ornament, $145, Swarovski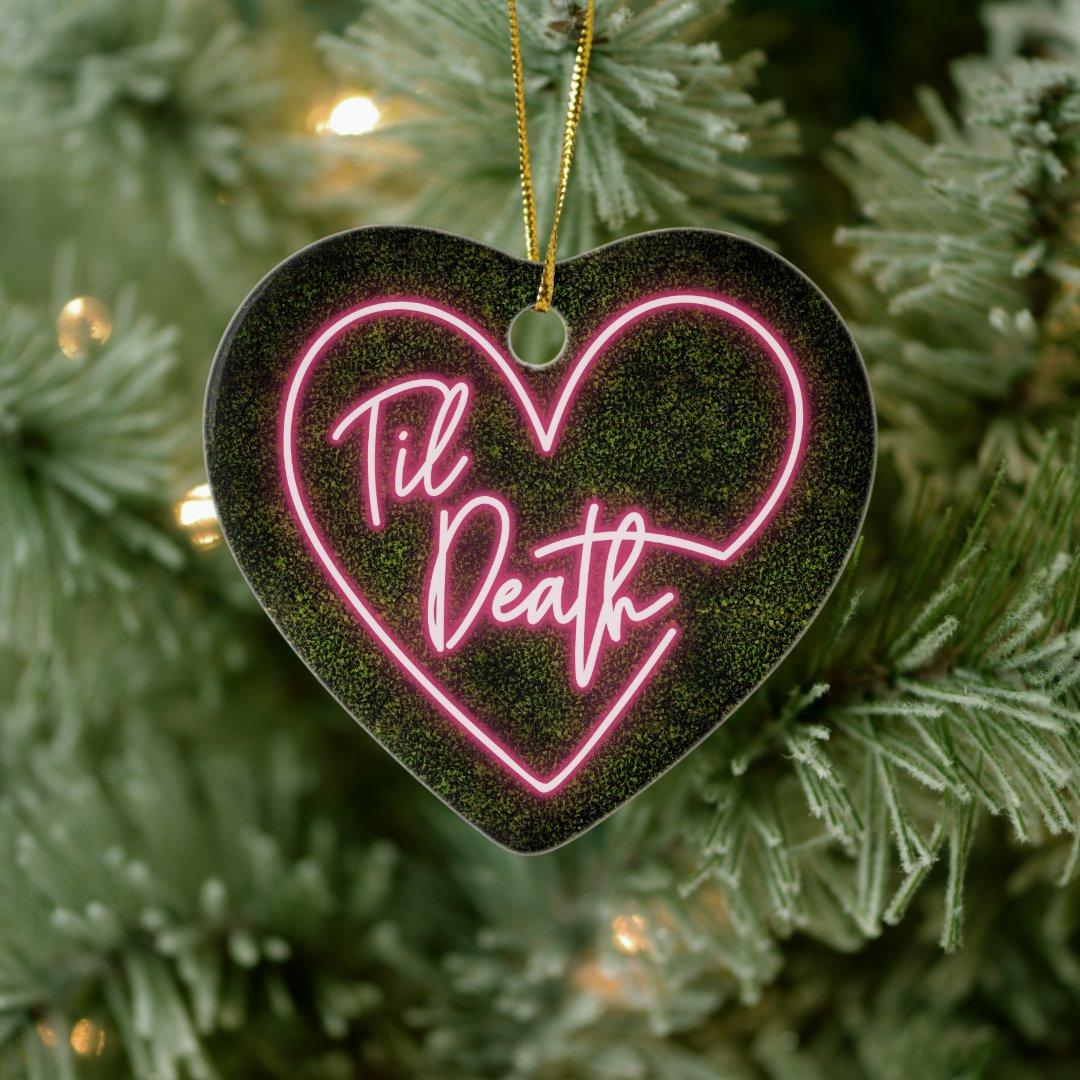 A Christmas ornament that reflects your wedding vibe is a unique way to honor the occasion. If a neon sign decorated your reception space, we've found a fitting keepsake. Show off your "just married" status with this heart-shaped holiday ornament in the style of a neon sign. It playfully reads "Til Death," making it an equally great option for couples who had a gothic wedding aesthetic.
Jill's Paperie Til Death neon first Christmas married ornament, $24, Zazzle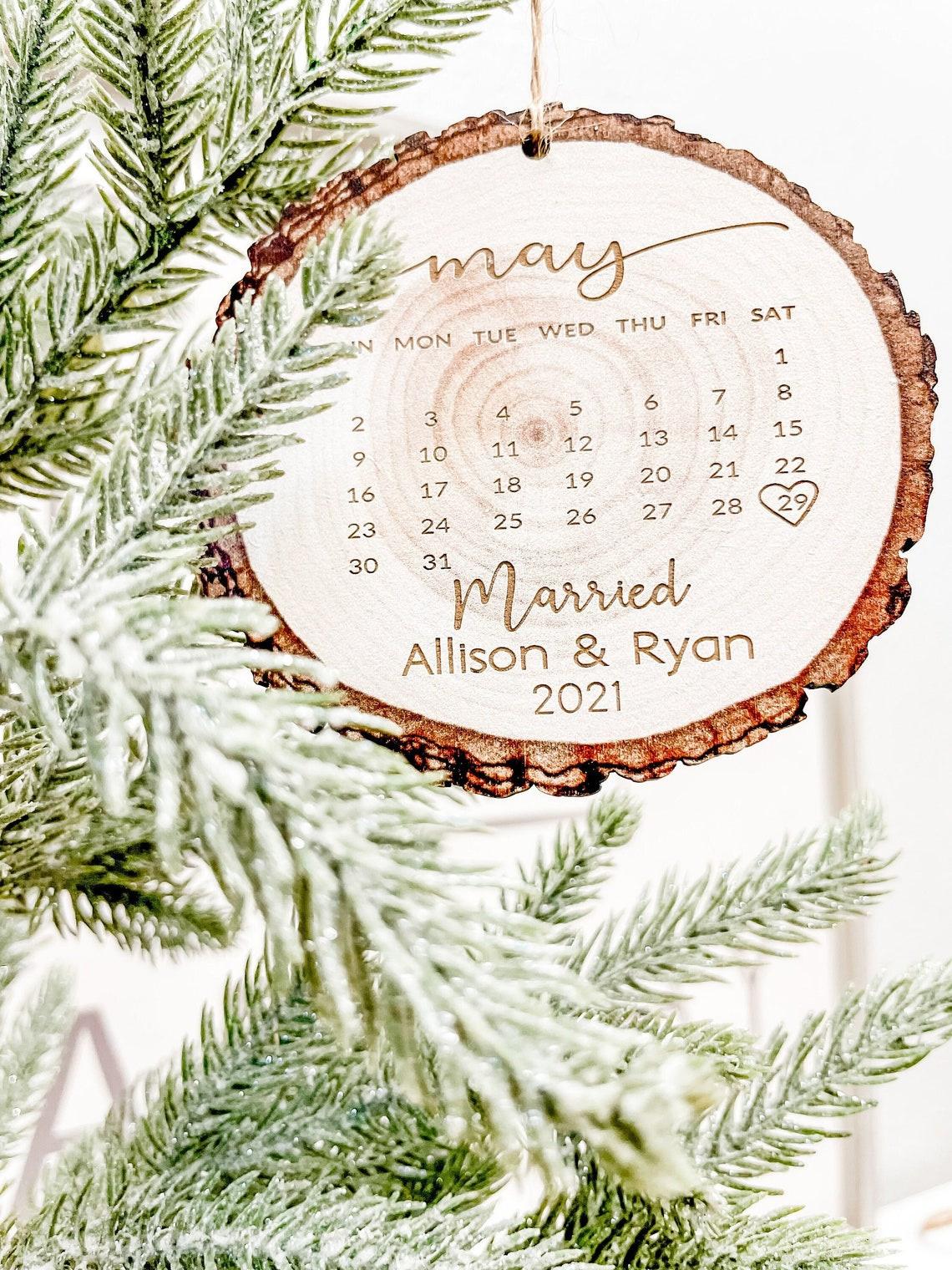 This simple wooden ornament will blend in beautifully alongside Christmas decor that's rustic or woodland-inspired. Customize the calendar with your names and wedding date for a cute, everlasting tribute to the day you tied the knot. There's also a slate option that gives the illusion of a chalkboard.
MKD Gifts first Christmas married ornament, $30, Etsy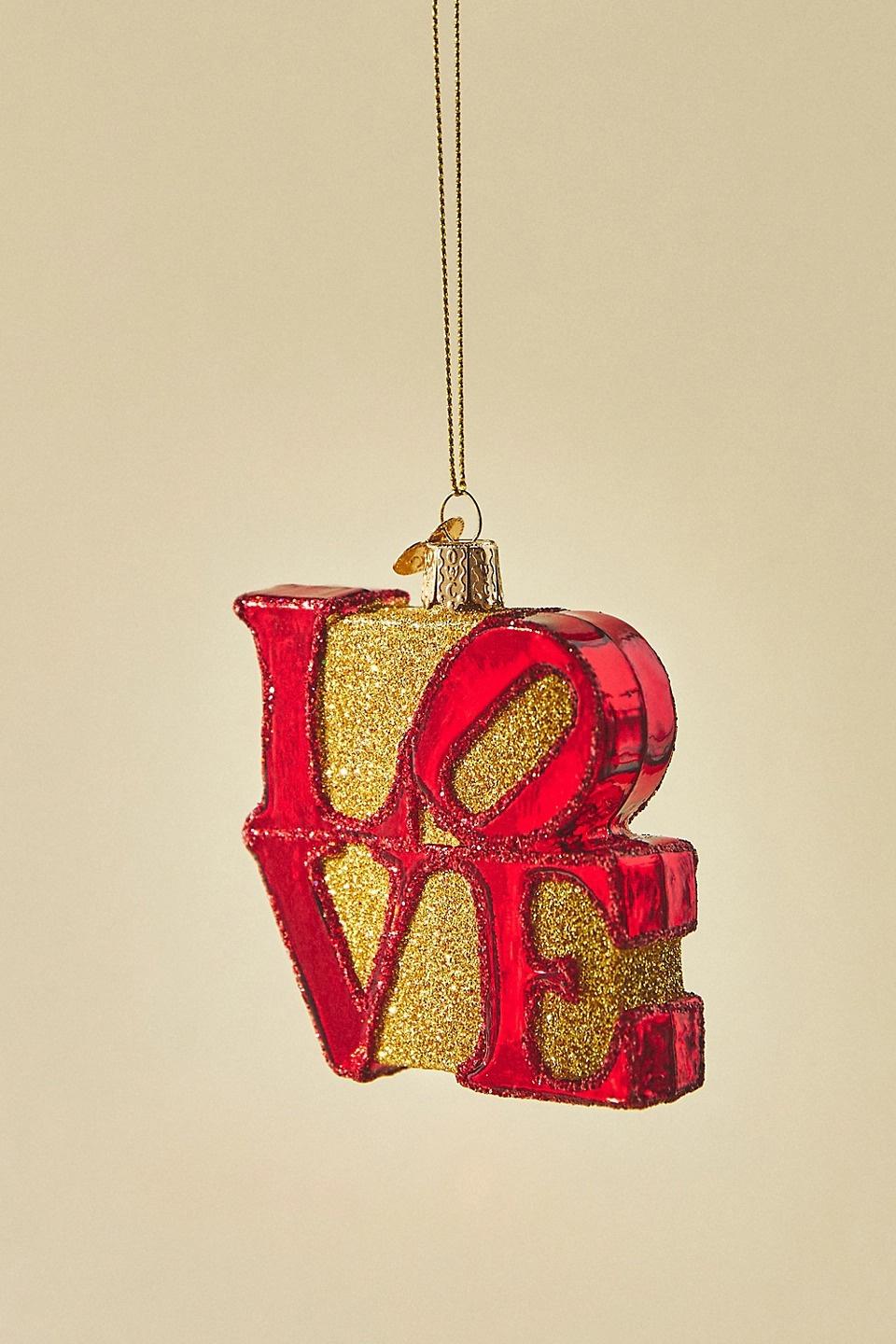 Nodding to Robert Indiana's iconic "LOVE" sculpture, this pop art-inspired glass ornament is a fun tribute to the year your love led to "I do"s. It's an eye-catching piece of decor that'll go down especially well with anyone who appreciates art.
Anthropologie Love sculpture ornament, $20, Anthropologie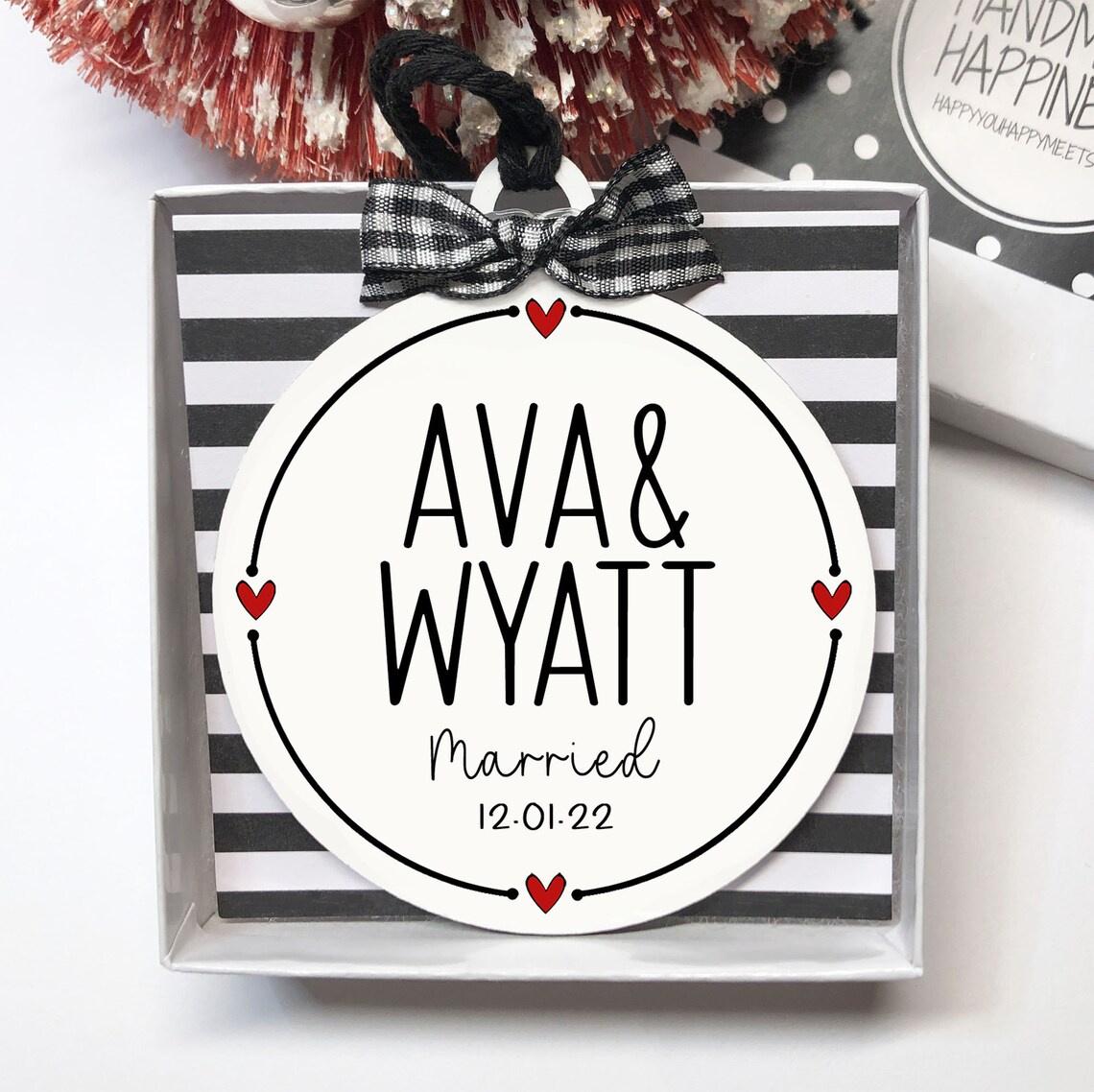 Couples with a minimalist sense of style, we got you. This matte-finish ornament clearly displays all the essential details (your names and the date you got married) on a clean, white background. A cute black border with tiny red hearts adds a touch of romance. How's that for an ornament celebrating your first married holiday?
Happy You Happy Me married ornament, $24, Etsy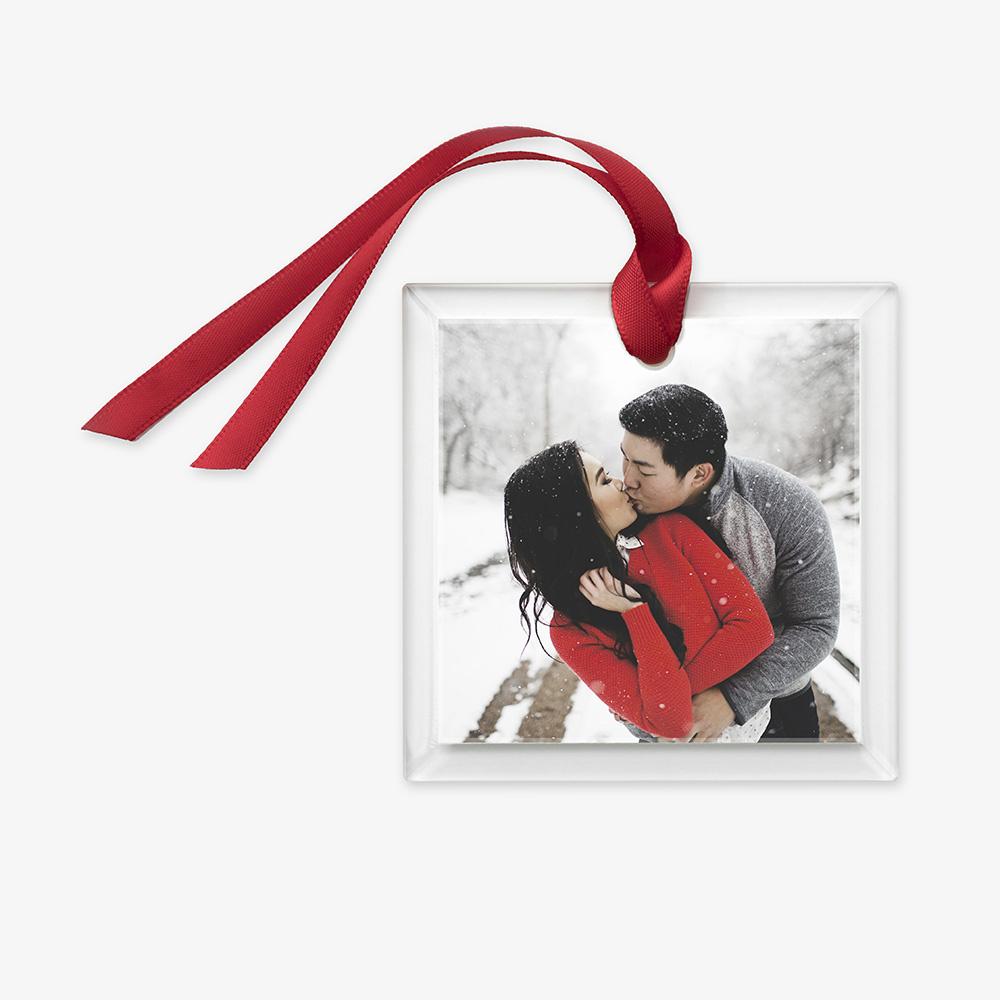 You know what they say: A picture is worth a thousand words. A precious snapshot from your wedding day will transport you right back to that moment every year when you pull it out of your box of holiday decorations. Psst, it's not just a great ornament for a couple's first Christmas married. Show off a favorite engagement photo, wedding photo, or selfie with this memento.
Kodak Moments glass square ornament, $18, Kodak Moments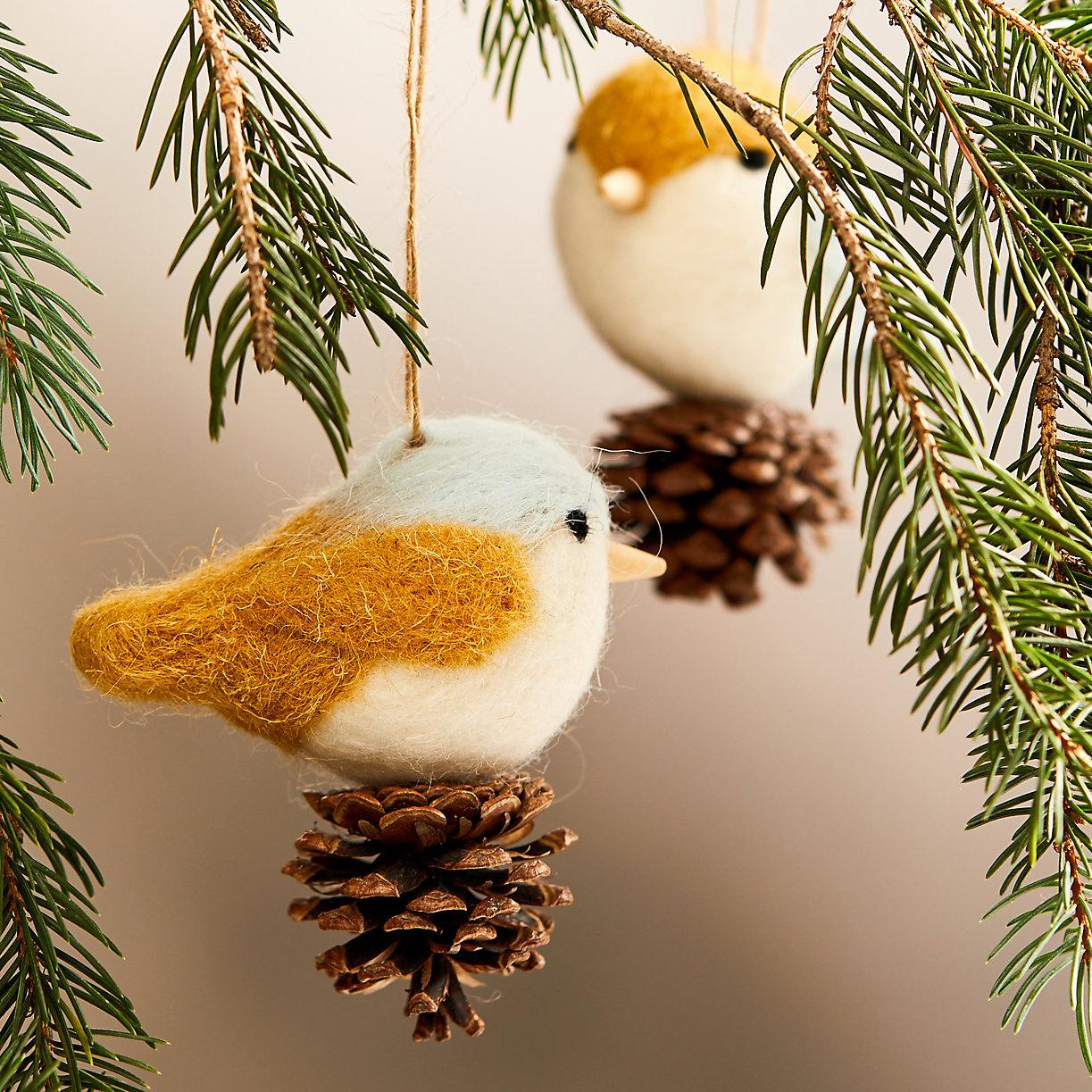 This adorable pair of lovebirds is an especially great option if you're looking for a wedding holiday ornament to give as a gift. It comes in a set of two, so the couple can hang them next to each other on their Christmas tree. Awwh!
Terrain Love Birds on Pinecones ornaments, $16 for a set of 2, Terrain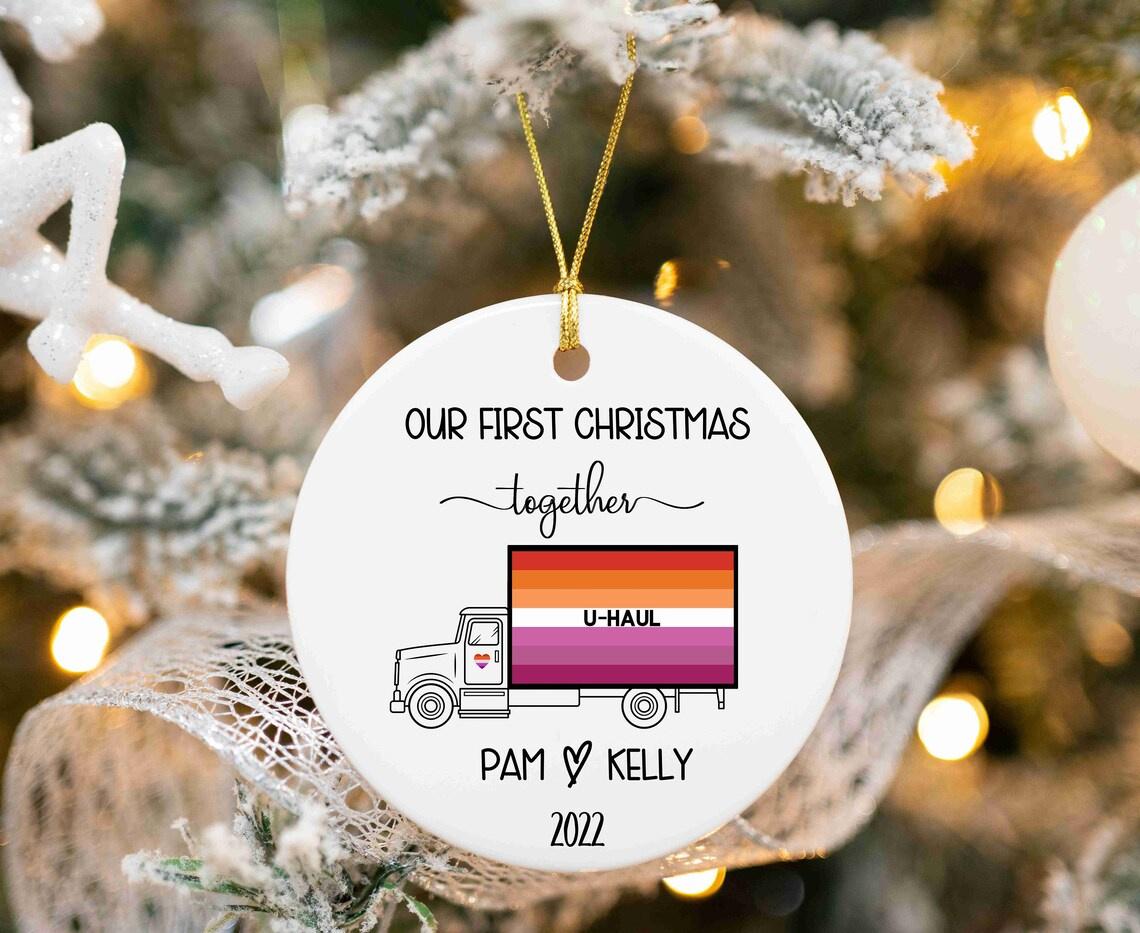 If you just became Mrs. and Mrs., celebrate your pride with this colorful "Our First Christmas Together" ornament. Each porcelain keepsake is made with love, care, and lots of pride by the Etsy seller. Plus, it comes personalized with your names and the year.
Made With Pride by Alli Our First Christmas Together LGBT ornament, $19, Etsy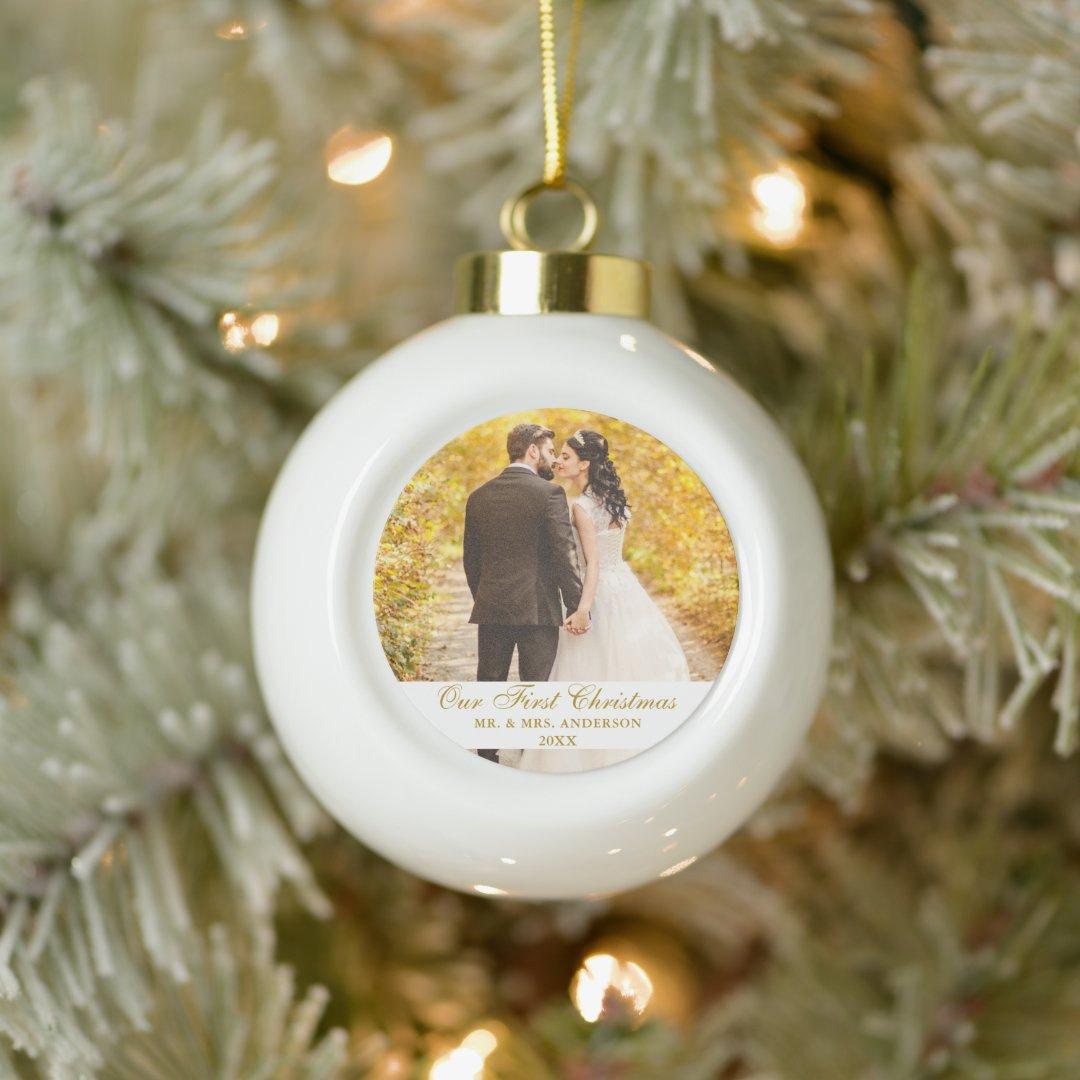 This ceramic ornament beautifully frames a favorite wedding photo from your special day. It's finished off with a banner at the bottom that reads, "Our First Christmas" along with your names and wedding date.
Happy Memories Card Company Our First Christmas wedding photo ornament, $25, Zazzle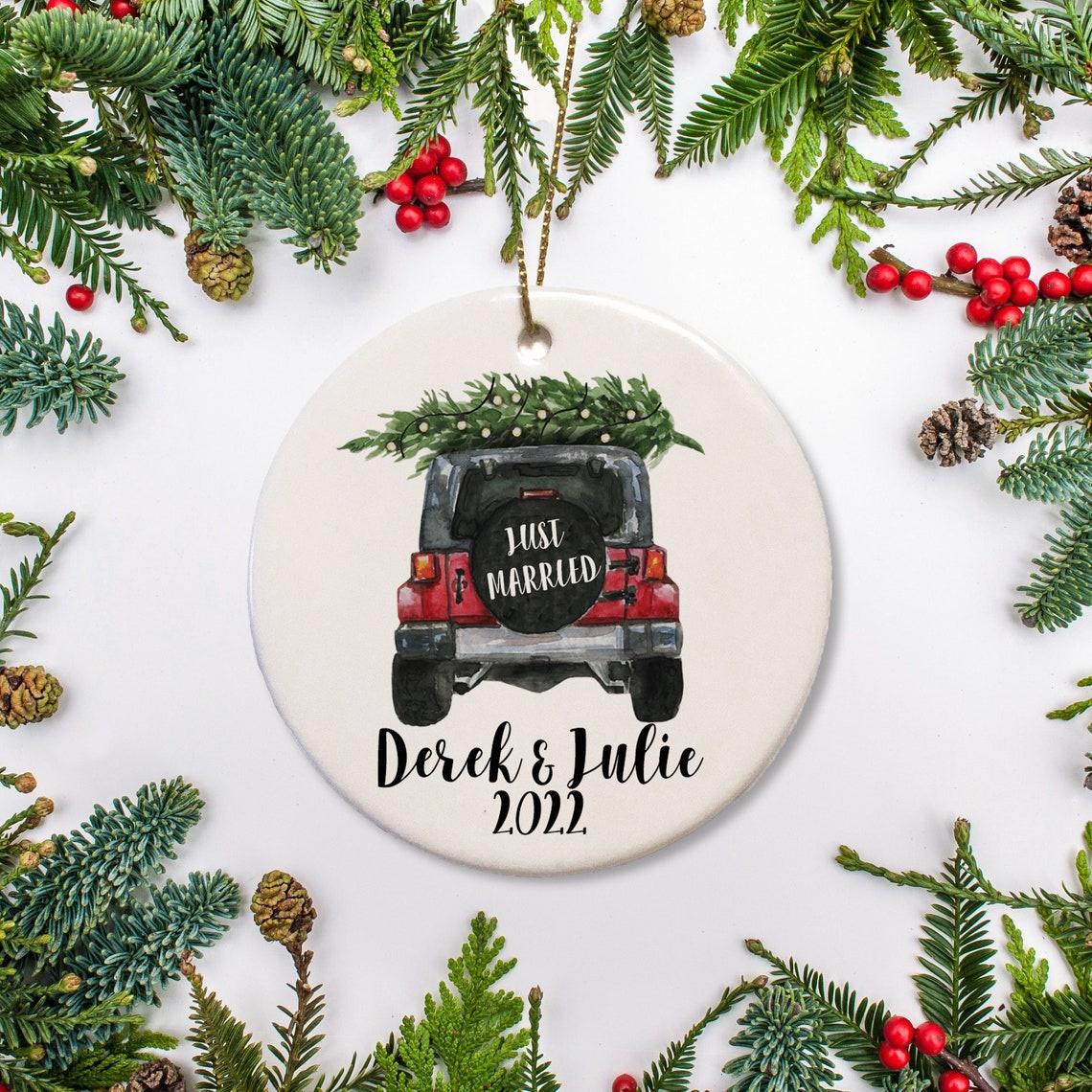 If you or your partner happens to drive a Jeep, we've found the perfect Christmas ornament for your first year married. This festive wedding keepsake, which shows a freshly cut Christmas tree on top of a red Jeep, is especially appropriate for anyone exchanging vows right before the holiday.
Pipsy Shop Just Married newlywed Christmas ornament, from $23, Etsy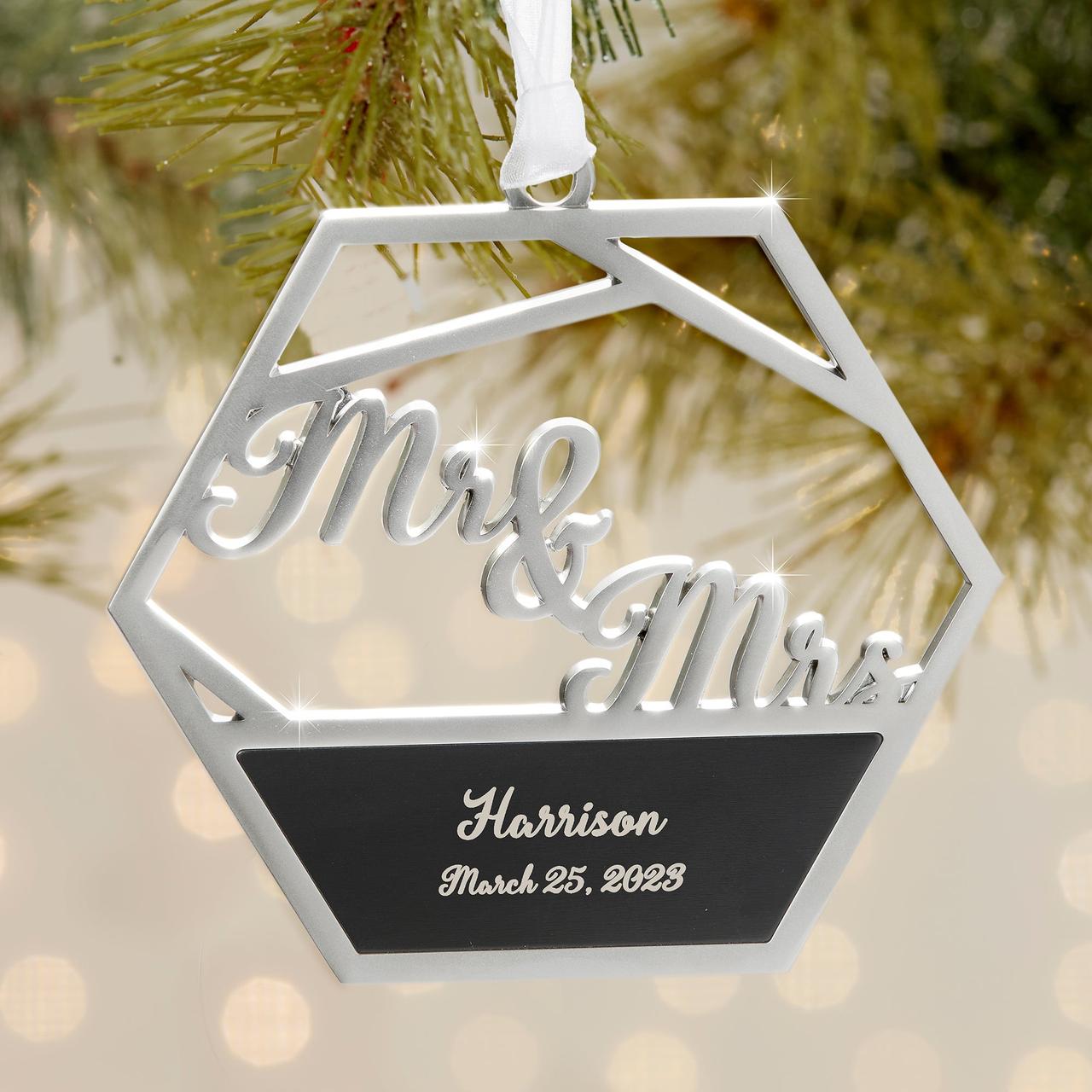 Here's one for the happy couple celebrating their first Christmas as Mr. and Mrs. This elegant metal ornament can be laser engraved with your first names or new family name (if you're sharing one, that is) inside a contemporary hexagonal frame. A pretty white ribbon is included so you can hang it on the tree ASAP.
Personalization Mall wedding couple personalized premium wedding ornament, $24, Personalization Mall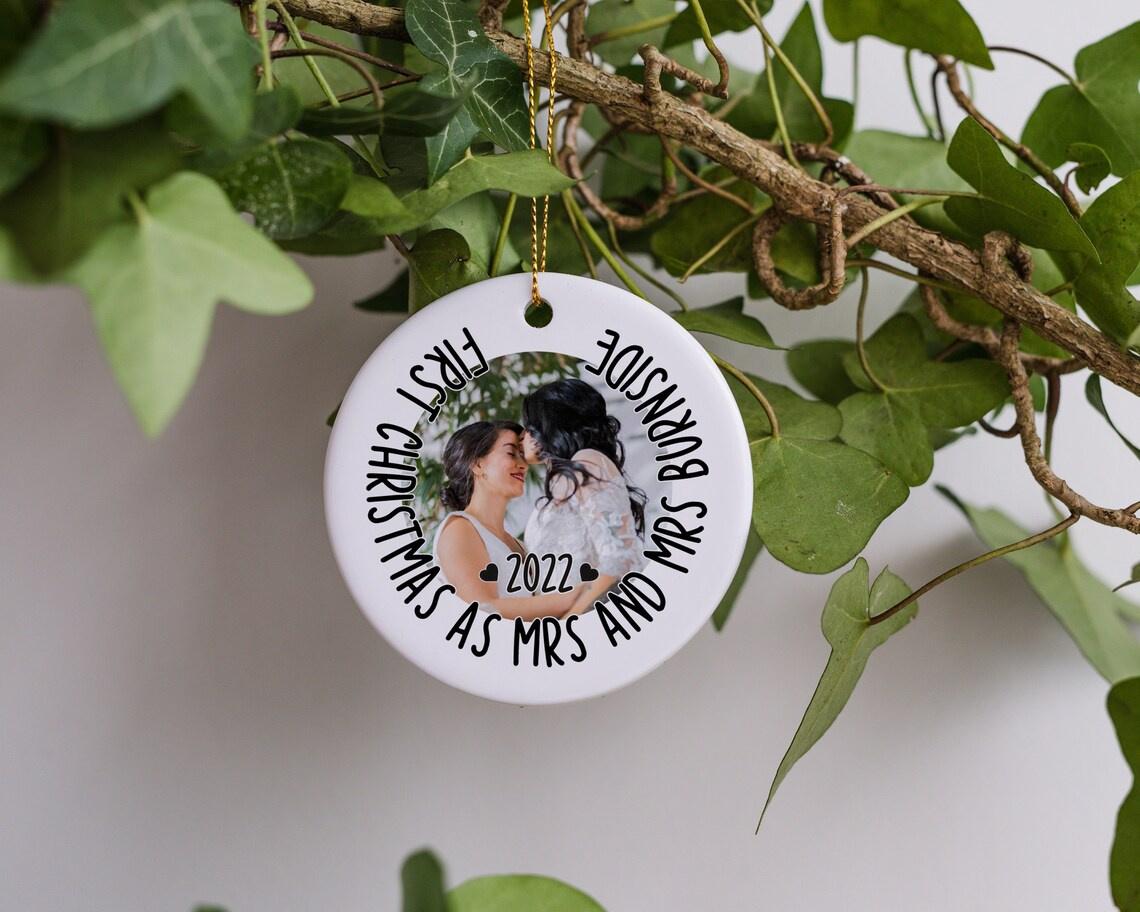 A photo from your wedding day makes this ornament a special holiday keepsake that'll bring back memories every year. This one is personalized with the words, "First Christmas as Mrs. and Mrs. Burnside." The Etsy seller will personalize it with your preferred name and titles.
Tee Pee Creations Gifts First Christmas as Mrs. and Mrs. bauble, from $10, Etsy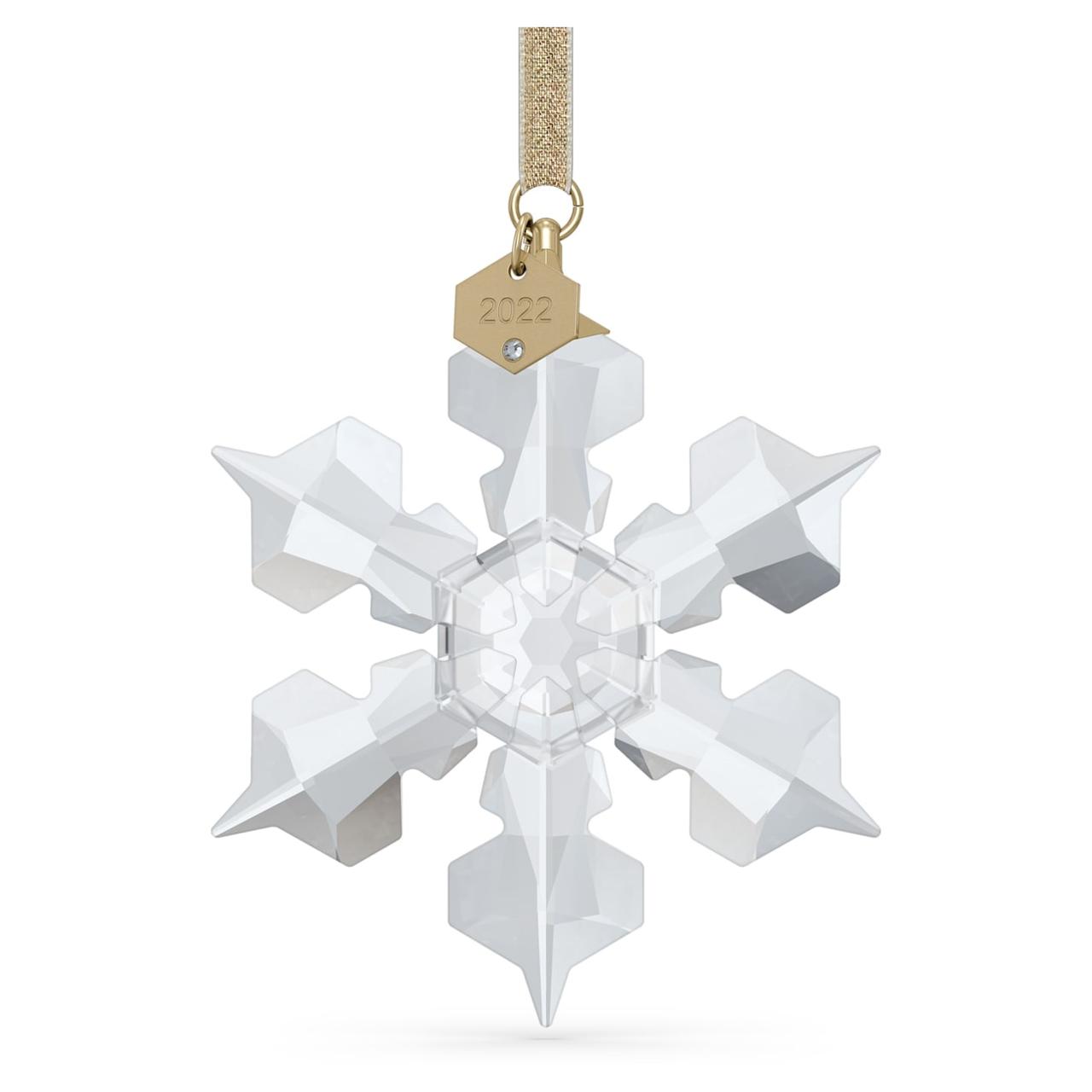 This keepsake Christmas ornament would make a special gift for a newly married couple or anyone who appreciates elegant baubles. It's the limited-edition 2022 version of Swarovski's stunning crystal snowflake. A small metal tag is engraved with the year so that first married holiday is never forgotten.
Swarovski annual edition 2022 ornament, $85, Swarovski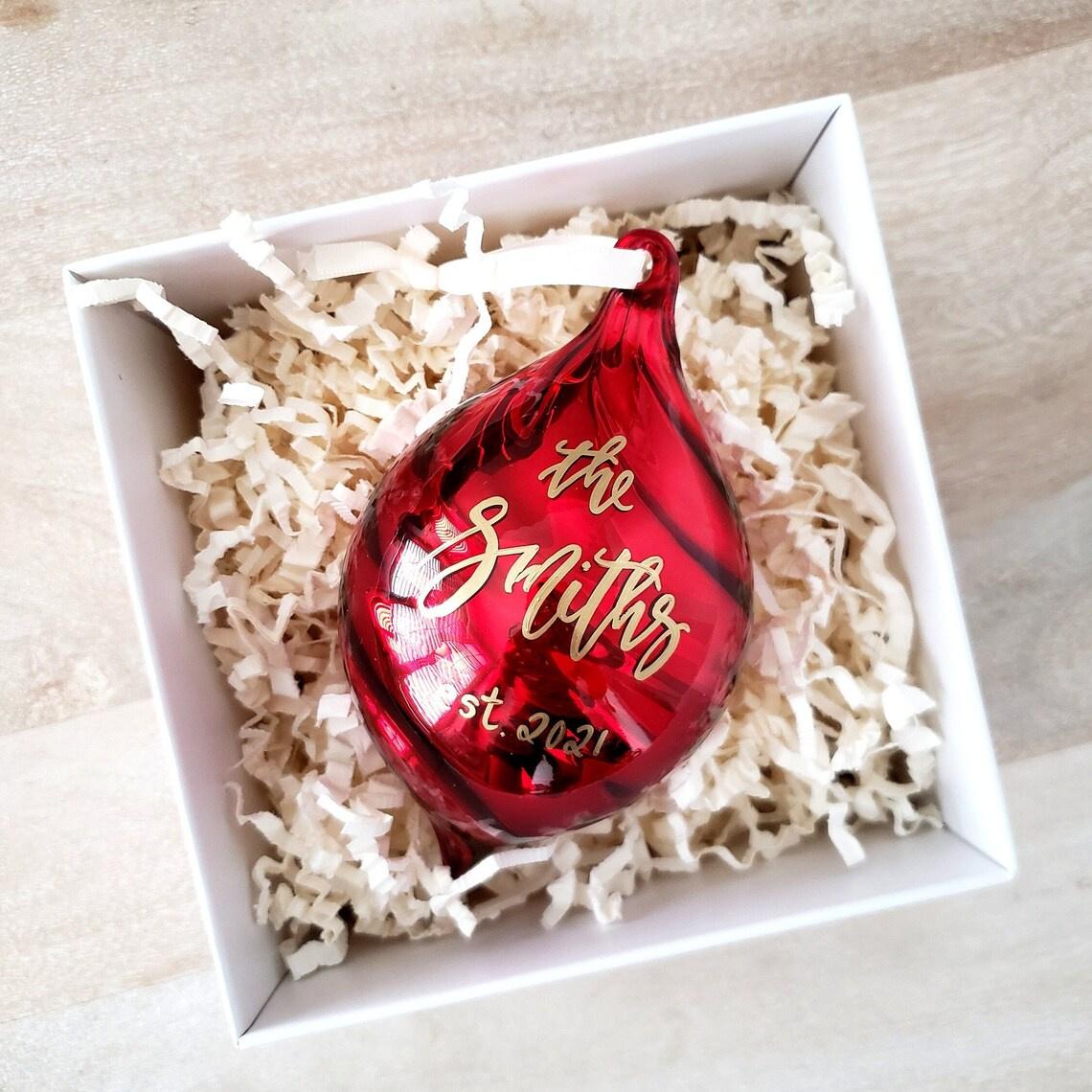 Colored glass is having a big moment right now, and there's no reason you can't bring this revived trend to your Christmas tree as well as your dining table. Choosing an ornament that's super on-trend for 2022 is a creative way to commemorate this special year in your lives. The bauble comes personalized with your new family name and an "est." year. It's eye-catching, sophisticated, and meaningful to boot.
The Lettering Studio personalized wedding ornament, from $28, Etsy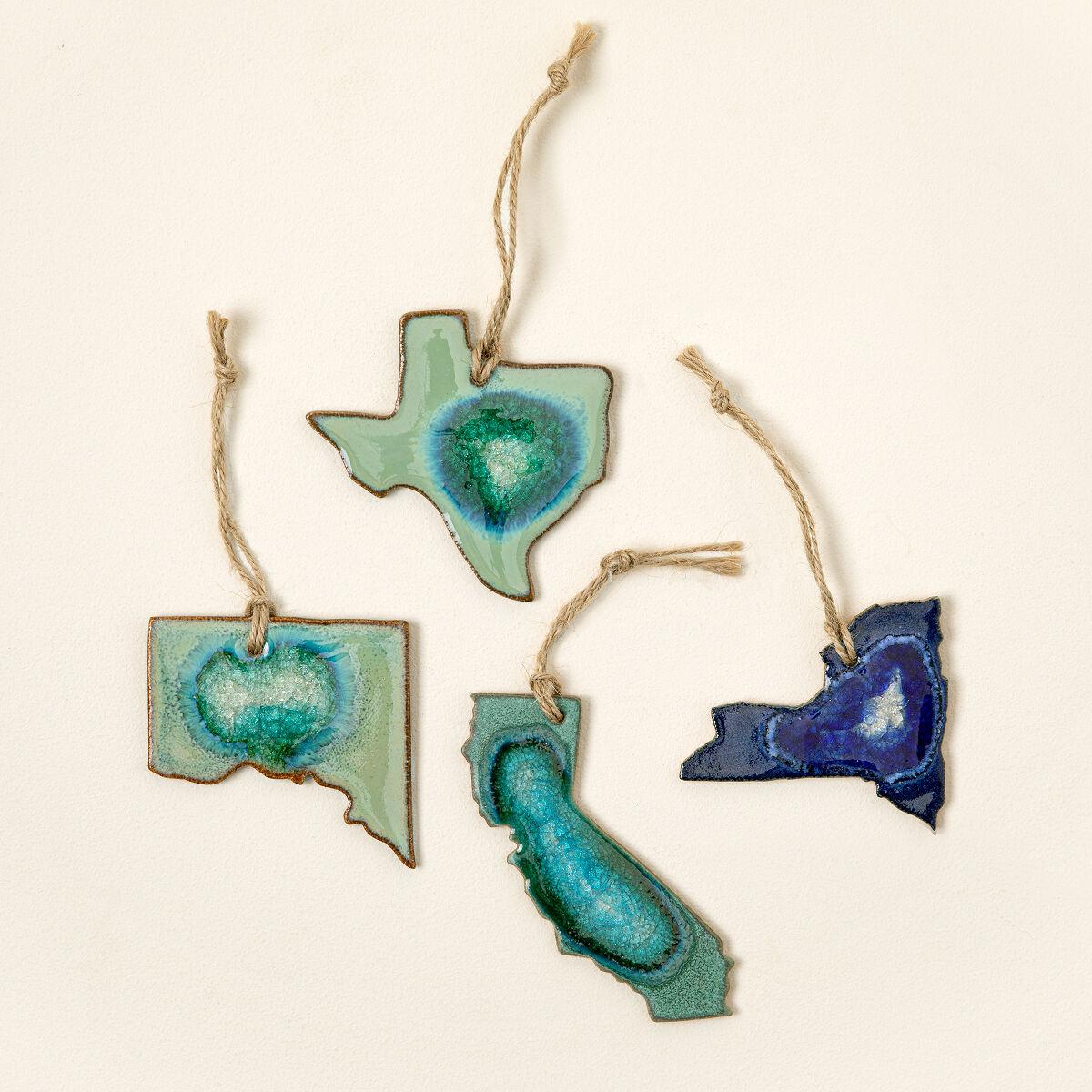 Did you and your new spouse get married in another state? If you traveled to tie the knot, this ornament is a unique way to honor the place that set the scene for your celebration. Artist Kerry Brooks creates beautiful geode ornaments in the shape of every US state. It's a truly special way to mark your first Christmas as a married couple.
Kerry Brooks geode state ornament, $18, Uncommon Goods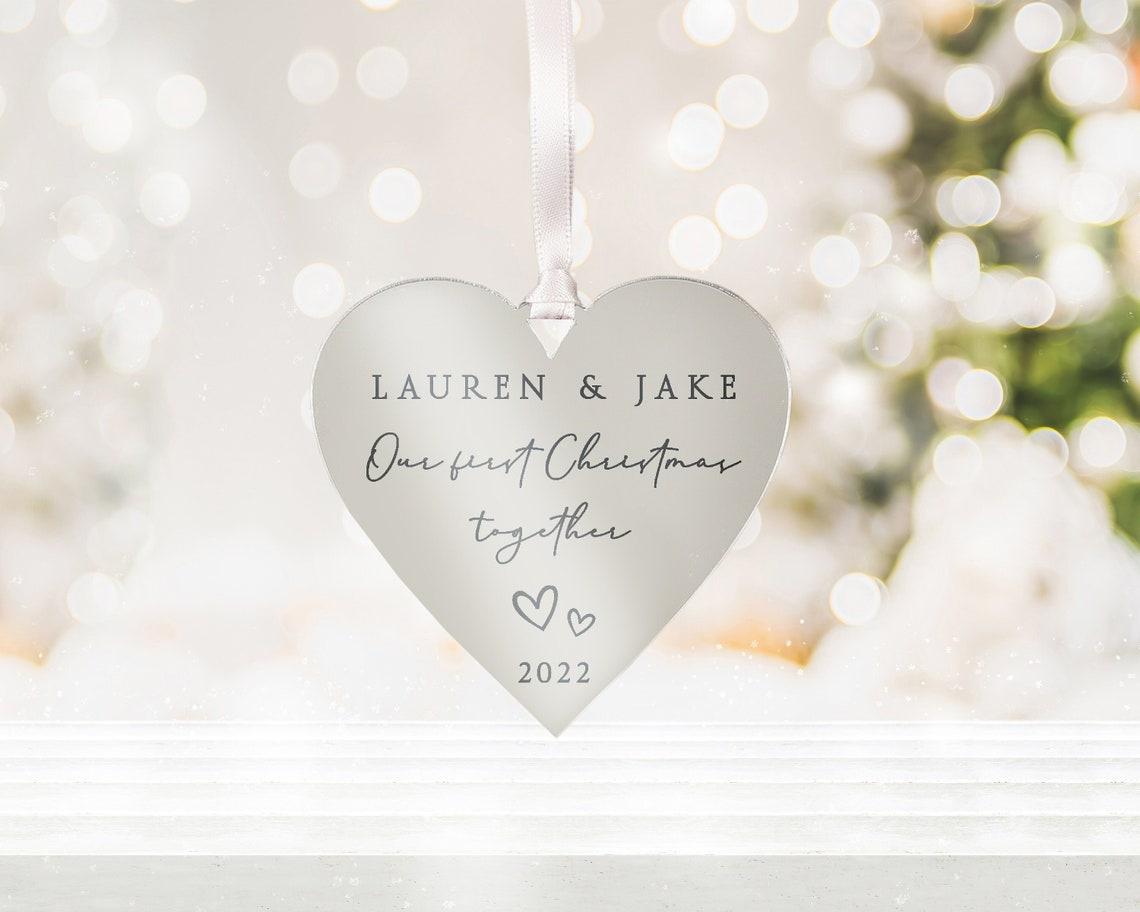 A heart-shaped Christmas tree ornament is a sweet way to celebrate your ever-growing love. Have it customized with your names, the year, and your choice of ribbon color. You can also choose from silver, beech, or clear material for the heart. Oh, and if you're shopping for someone else, the seller offers gift wrapping.
Honey & Wild Our First Christmas Together keepsake, from $8, Etsy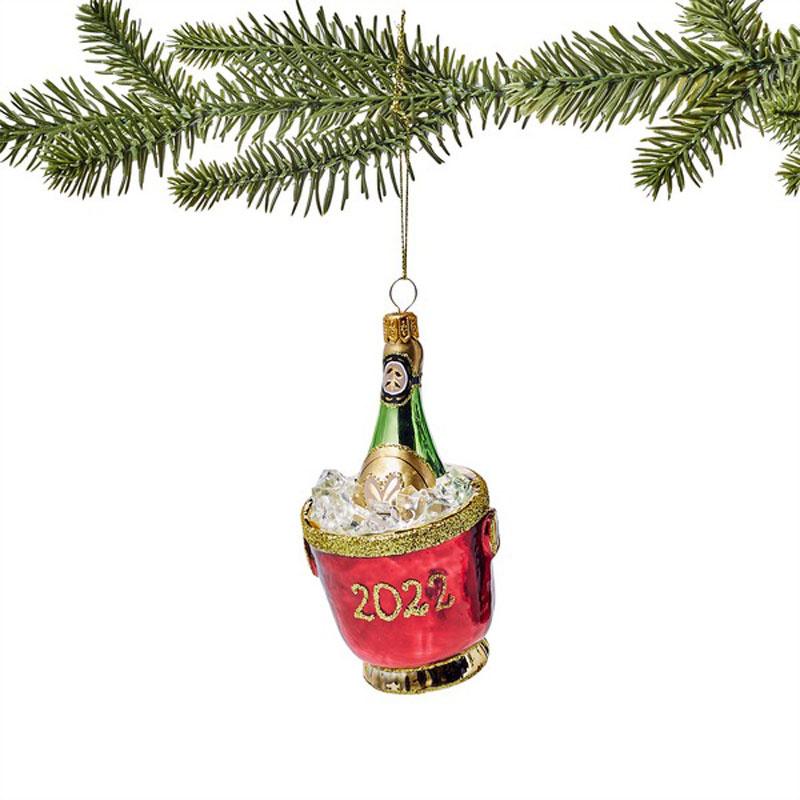 Keep the celebratory mood going with this decorative ornament in the shape of a champagne bottle and ice bucket. It's marked with the year, so they'll think of their first Christmas every time they hang it on the tree. This would also be a great engagement ornament for a couple planning their wedding.
Sur La Table 2022 champagne bottle in ice bucket ornament, $28, Sur La Table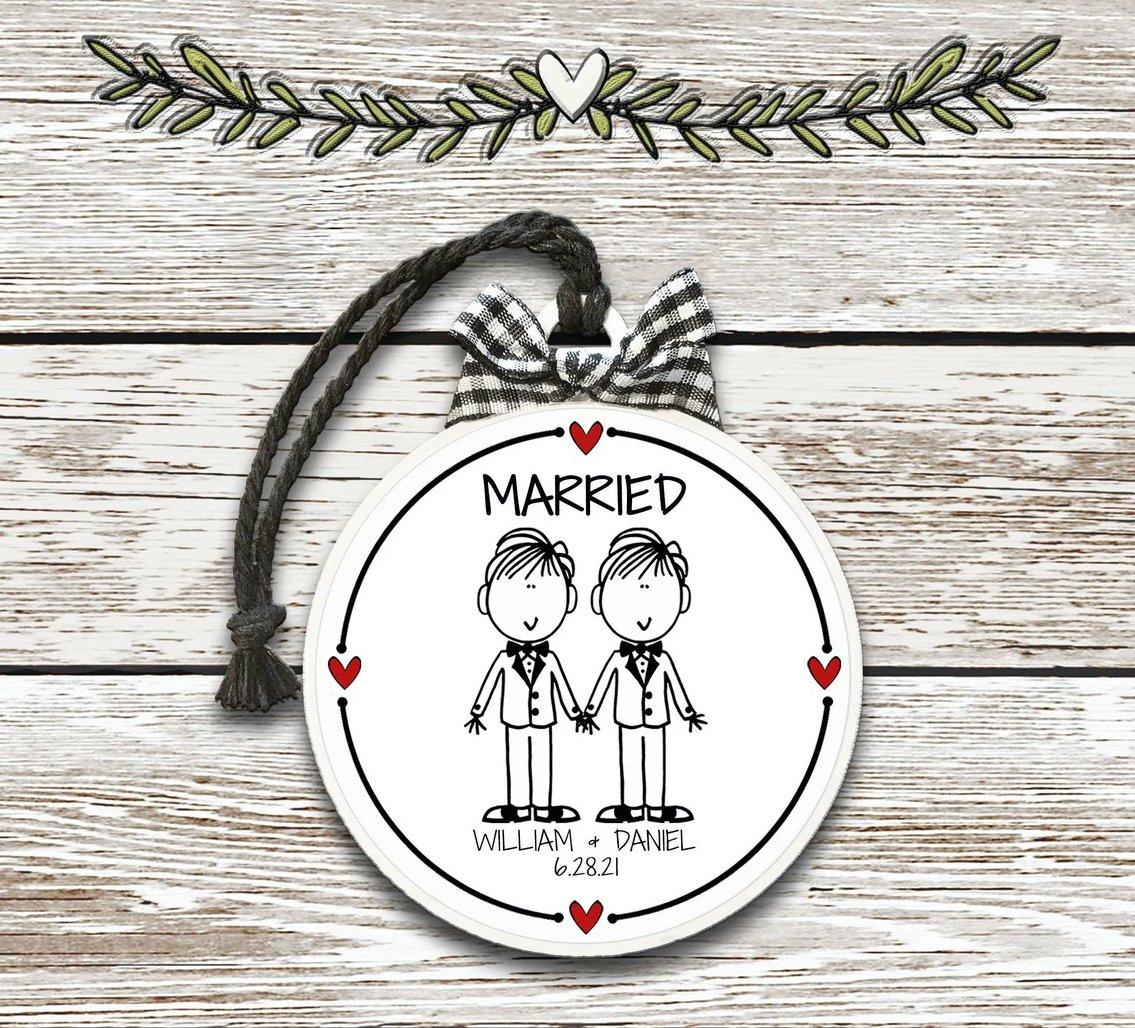 The cartoon-style drawing on this ornament for your first married Xmas is a cute addition to your tree if you're looking for something more playful and light-hearted.
Happy You Happy Me personalized just married ornament, $24, Etsy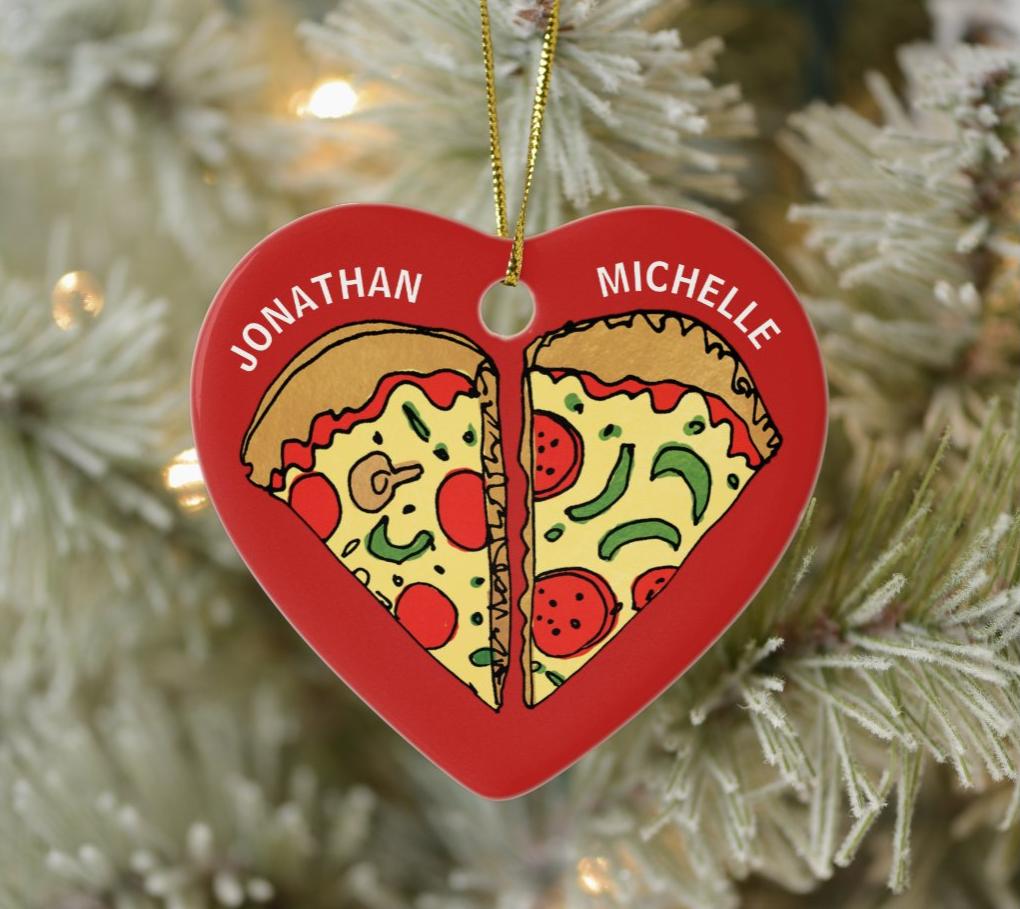 Looking for a totally unique wedding Christmas ornament for the newlyweds or your partner? Surprise them with this playful ornament to show that they have a pizza your heart (cheesy, we know).
I Love Digis pizza ornament, $23, Zazzle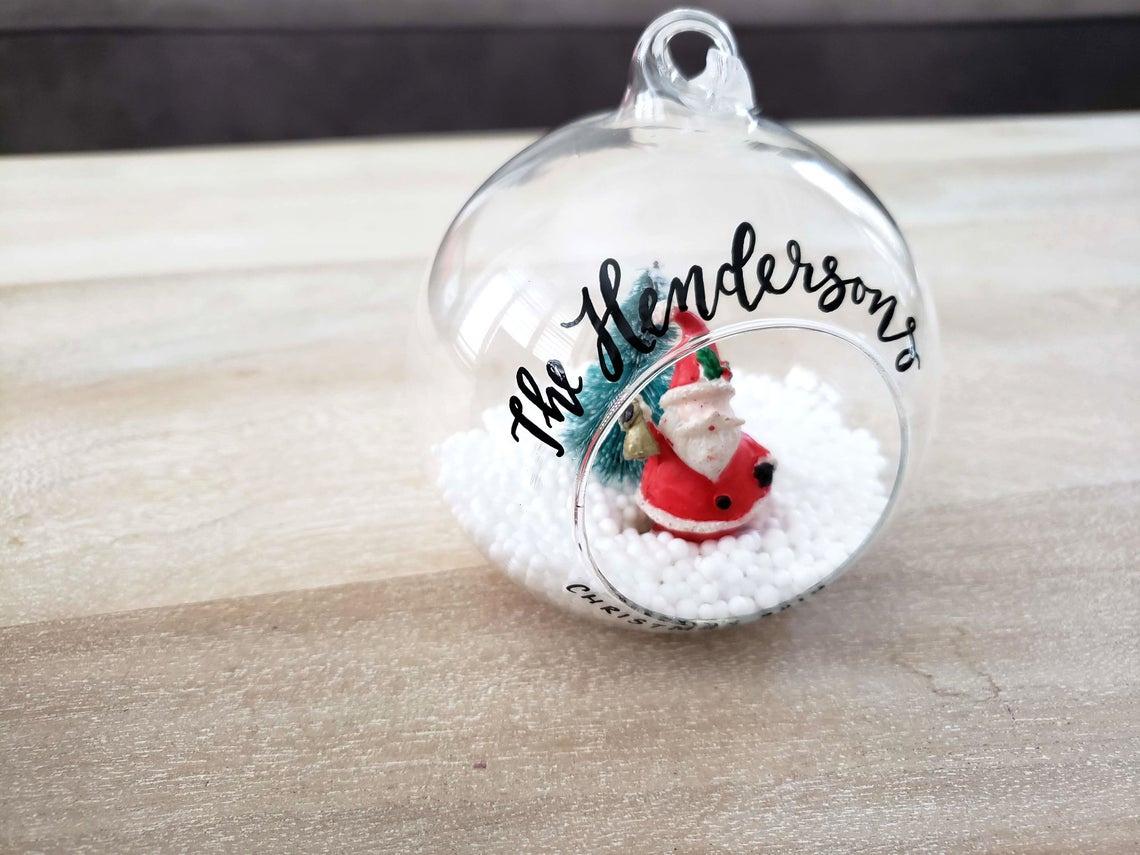 What could be cuter than this miniature Santa decoration? This vintage-inspired ornament for your first year of marriage comes customized with a family name and year. It's a lovely choice for newlyweds who are sharing a last name.
The Lettering Studio family name ornament, from $27, Etsy