What's a Gothic Wedding? Here's Everything You Need to Know
These gothic wedding ideas will bring dark and mysterious flair to your celebration—spooky szn or not.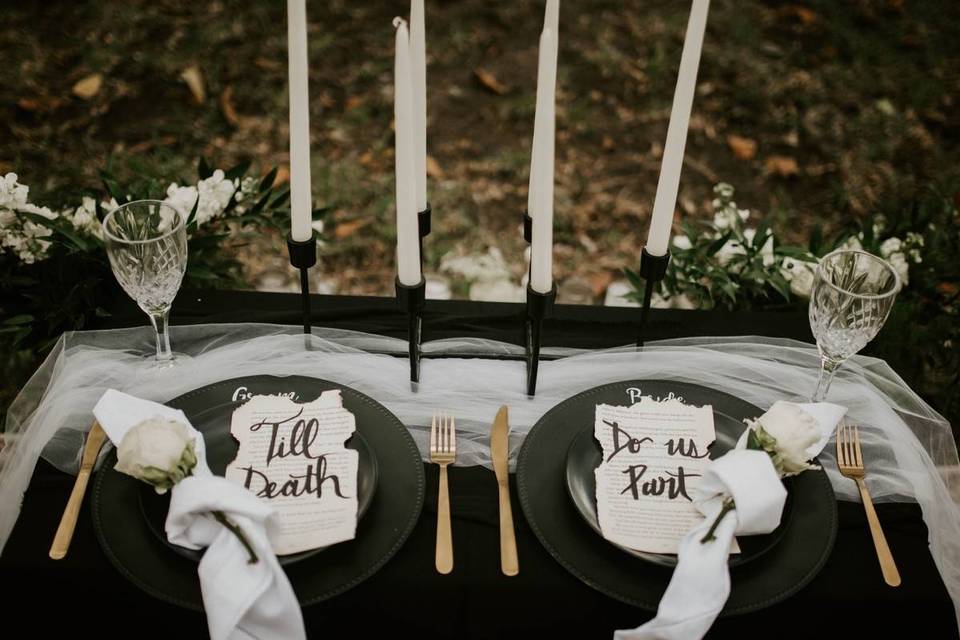 Whether you dream of being an honorary member of the Addams family no matter the time of year, or you're having a fall wedding and want to add a dash of hocus pocus to your big day, these gothic wedding ideas will do the trick. Gothic wedding style is best known for being theatrical, dark, and even a little morbid at times, but that's exactly what makes it so unique. From skeletons and spiders to spikes, candlesticks, and a lot of black, we're outlining everything you need to pull off your own gothic-themed wedding. Use these gothic wedding ideas for the ultimate creepy-but-chic aesthetic.
What is a gothic wedding?
A gothic-themed wedding can be surprisingly adaptable for your wedding day—you can go as full-on goth as you want, or limit it to only a few gothic details here and there. The main elements of gothic wedding style include a dark and moody color palette combined with opulent details to create a sense of fantasy. Antique influences, particularly from the Victorian era, are another huge component of this style. Some of the most popular gothic wedding ideas include skeletons, pumpkins, candles, chandeliers, red roses, and black wedding dresses. They're popular in the fall, especially around Halloween, but you can embrace this spooky theme any time of the year with a few tweaks.
What should a guest wear to a gothic themed wedding?
Wearing black to a wedding is sometimes a no-no, but if you're attending a gothic wedding, it's always an appropriate choice. A sleek black suit or evening gown will be on theme without upstaging the couple. It's also important to pay attention to the specific dress code that's written on the invitation—this will give you an idea of the formality of the event, and if you should go for a more understated look or an all-out costume.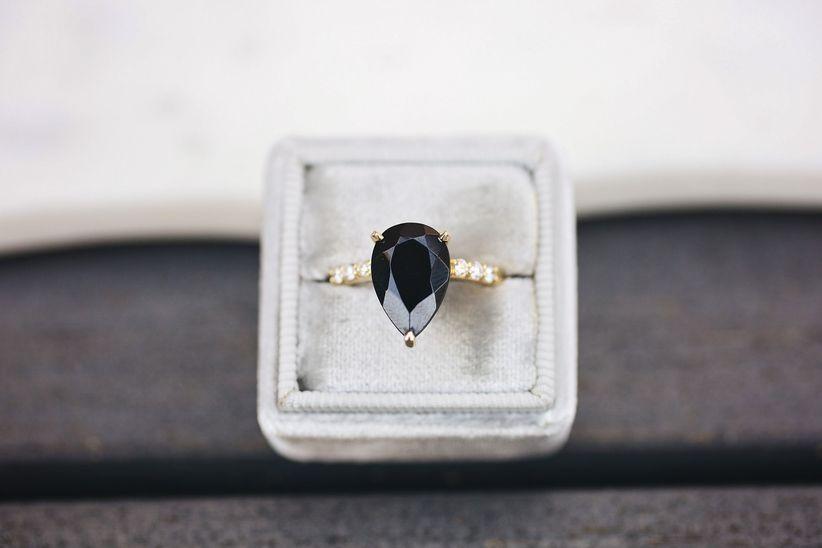 Black gemstone engagement ring
A black diamond or other dark gemstone—such as onyx, obsidian, or tourmaline—is only fitting for a gothic bride. Both yellow and silver metals complement darker stones, and they look especially unique in antique-inspired or cluster settings.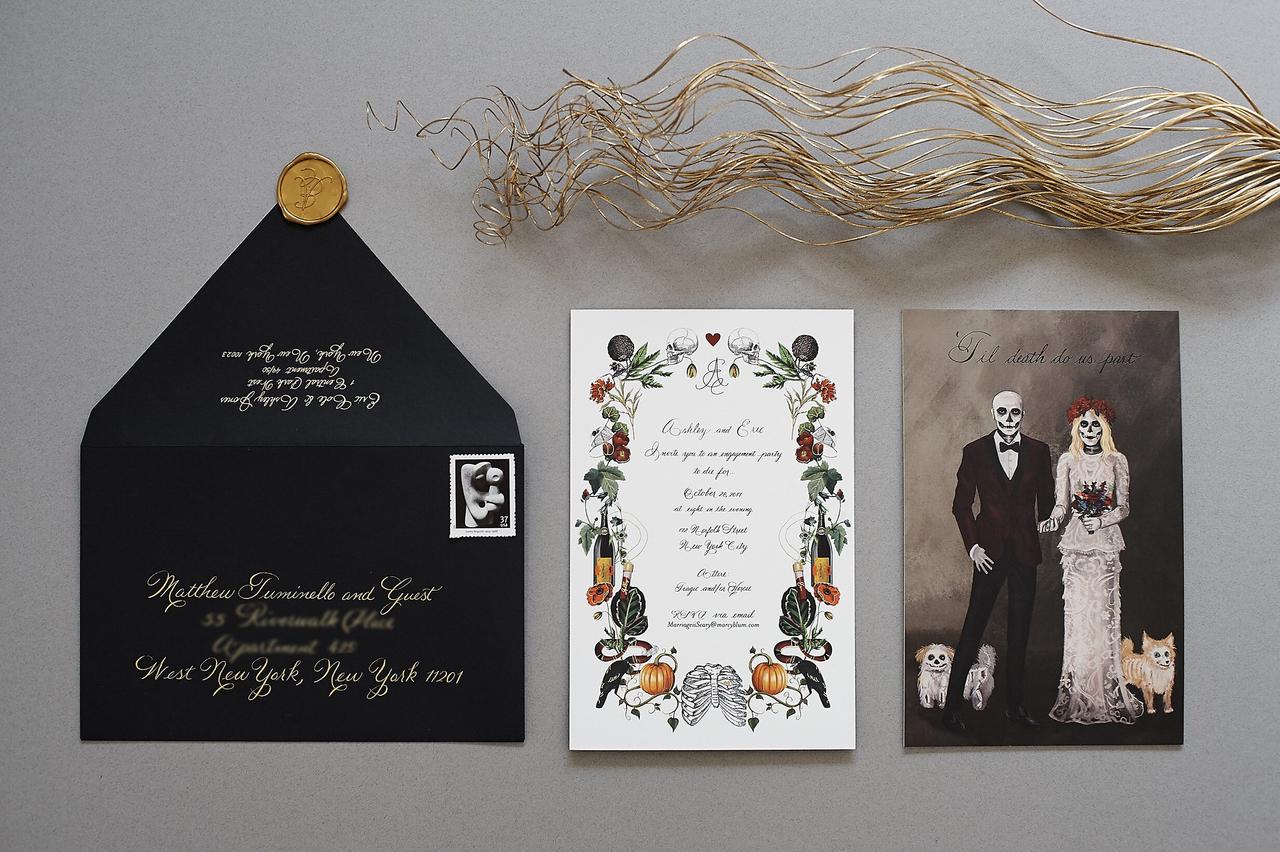 Skeleton wedding invitations
Give your guests a first glimpse at your gothic wedding theme by adding details like pumpkins, crows, and vintage-inspired botanicals to your invitation suite. For added personalization, look for a wedding stationery designer or artist who can create a custom drawing of you and your partner as skeletons.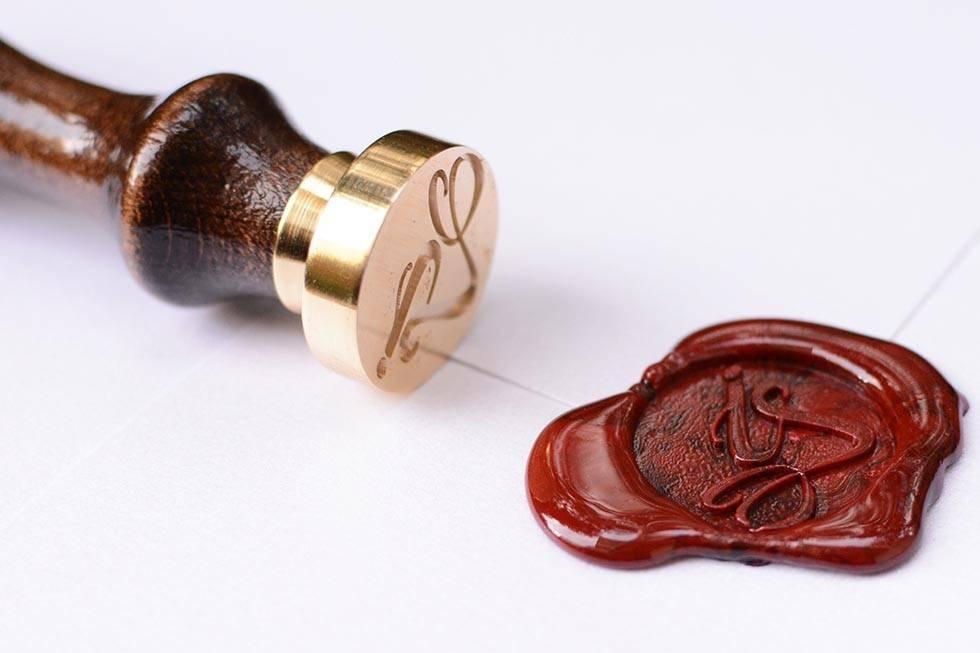 Red wax seal envelopes
Make your invitations look extra-official by sealing them with wax seal stamps (in a crimson red color, of course).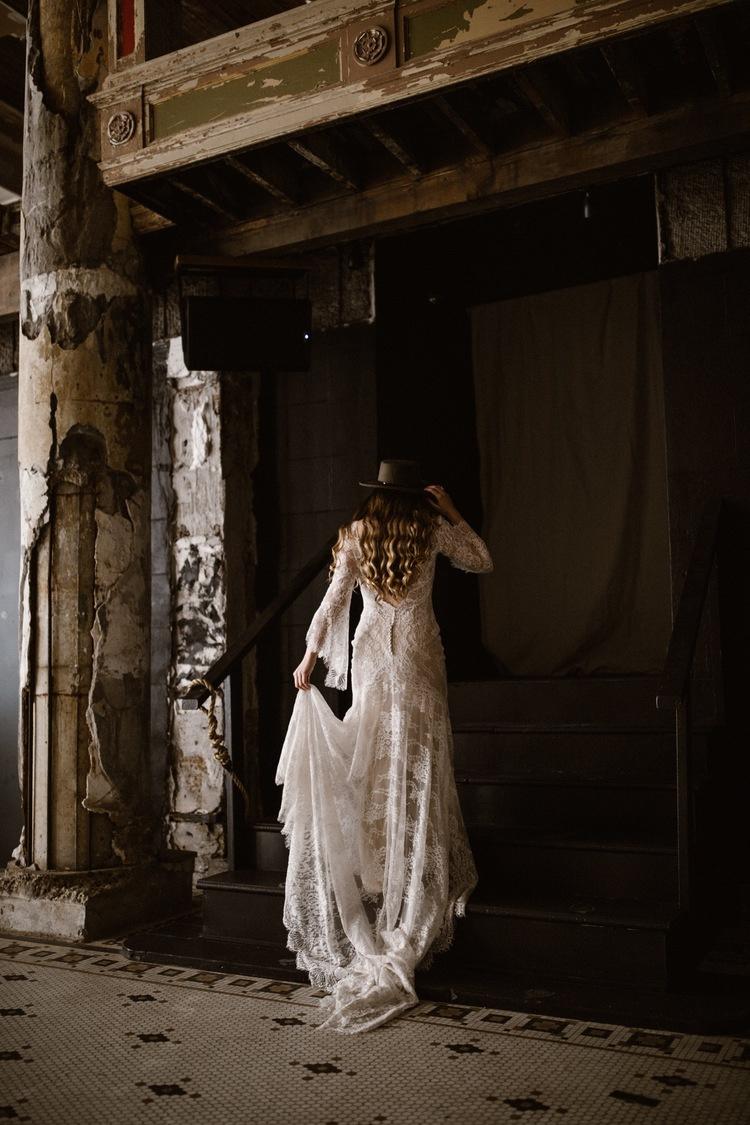 Lace wedding dress
At first glance, a white wedding dress might seem too traditional for a gothic wedding, but it's all about how you style it. Long sleeves and lace are reminiscent of Victorian wedding dresses but feel contemporary when you choose a fitted silhouette. Add some edge with colored velvet shoes, a wide-brim hat, or even a leather jacket.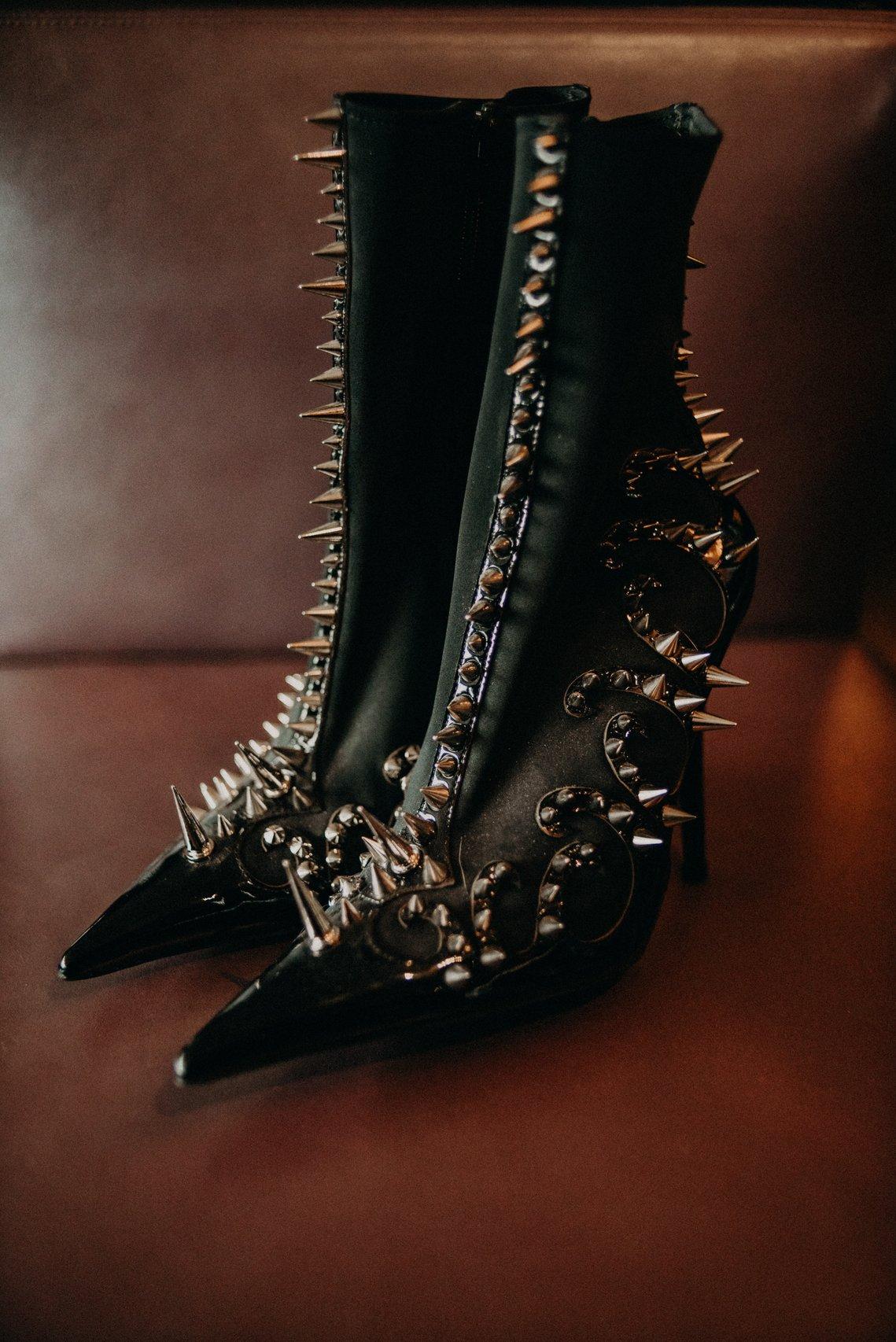 Spiked bridal booties
These shoes were made for a gothic wedding. Wear a pair of spiked black booties to make a statement with your bridal attire—but we'd suggest switching out of them before hitting the dance floor so you don't accidentally poke your guests.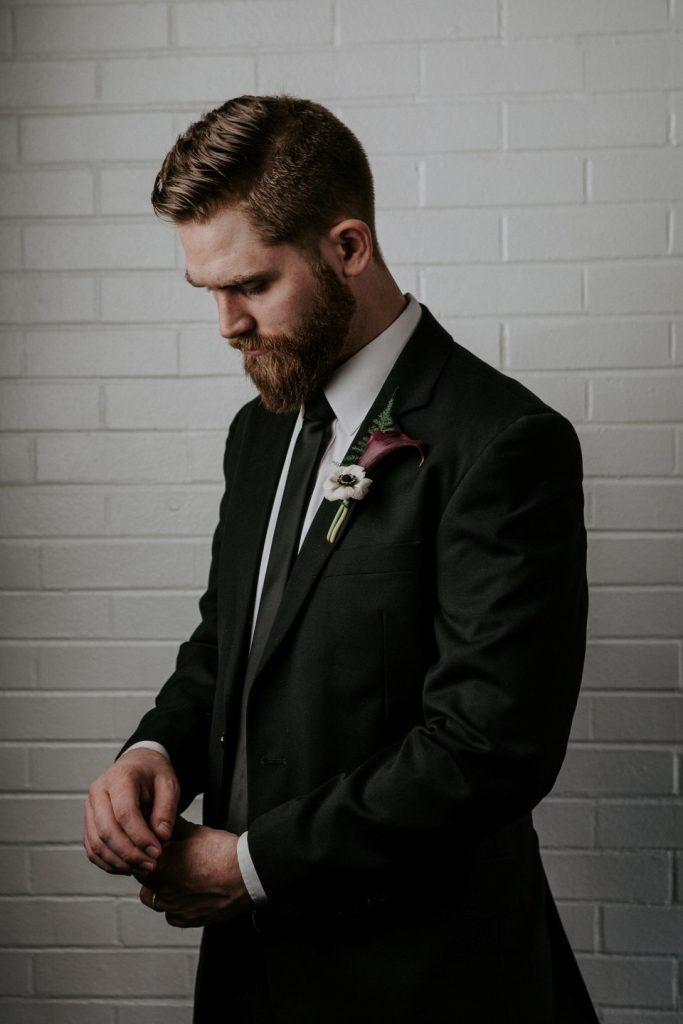 Sleek black suit
For grooms, a classic black suit is always in style and keeps your gothic wedding attire from looking costume-y. Opt for a skinny tie to give this timeless look an updated twist. Accessorize your suit with a dose of color by adding a burgundy calla lily boutonniere.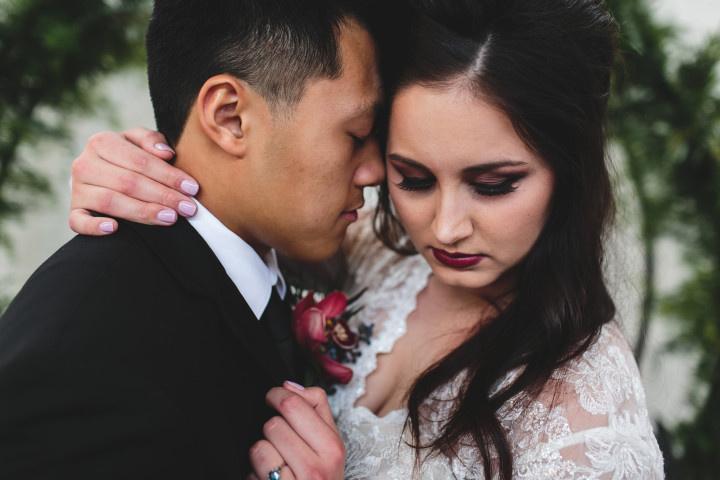 Sultry bridal makeup
We're all about barely-there bridal makeup, but there's something about a dramatic look that's just as irresistible. Smokey eyeshadow, full lashes, and berry lipstick are perfect for a gothic wedding. Keep the rest of your makeup light so that the overall look feels bridal versus overdone and cakey.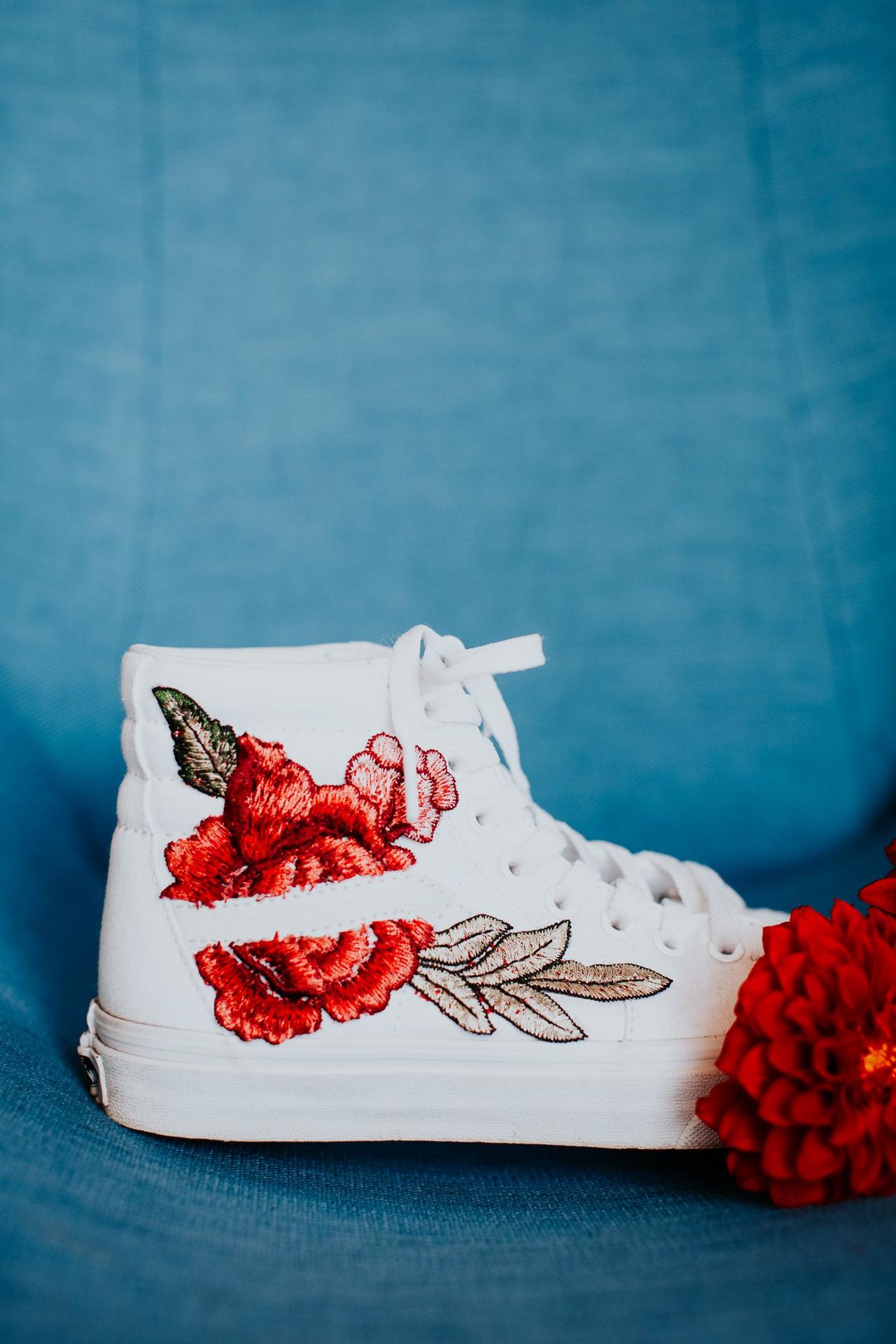 Rose-embroidered bridal sneakers
If sneakers are more your style, we love this high-top Vans style embroidered with a bright red rose. Copy the look by sewing or ironing a patch to a new pair of white kicks.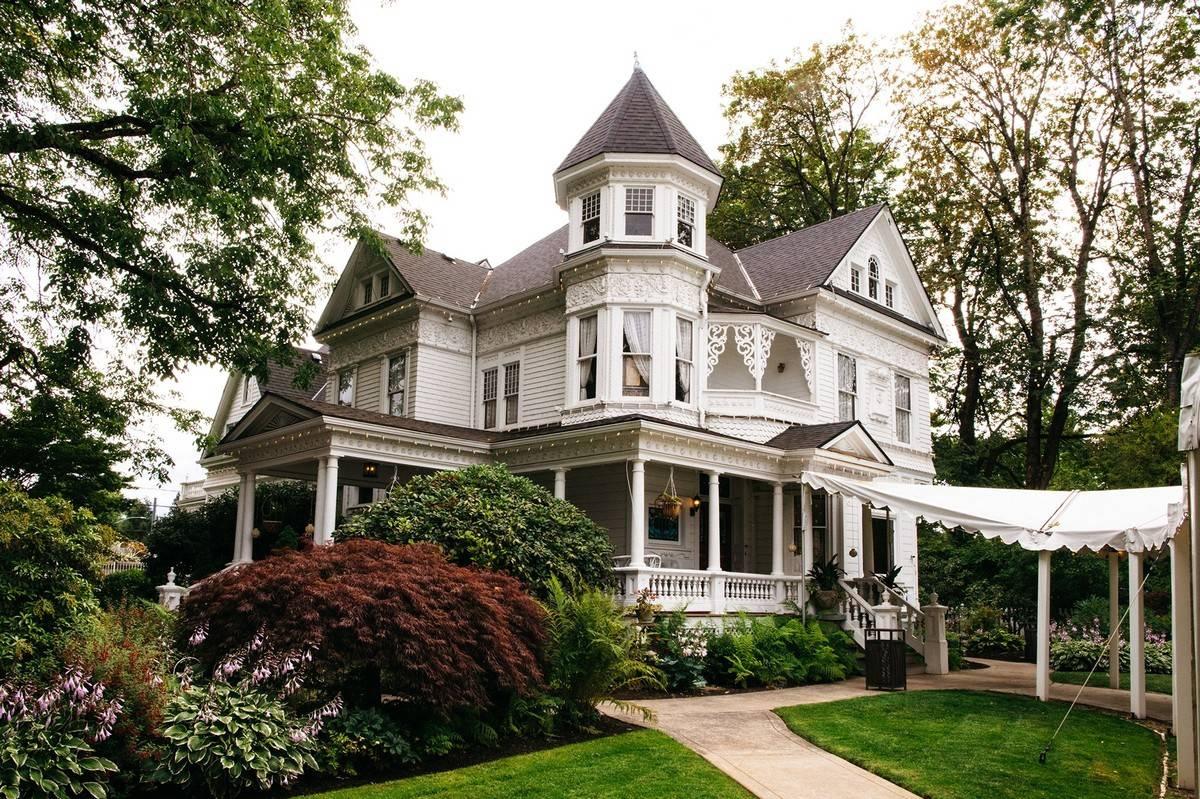 Victorian mansion wedding venue
The setting can make or break any gothic-themed wedding. For the most on-theme vibe, choose a venue with historical elements, such as a Victorian mansion, a refurbished warehouse, or a castle-esque banquet hall.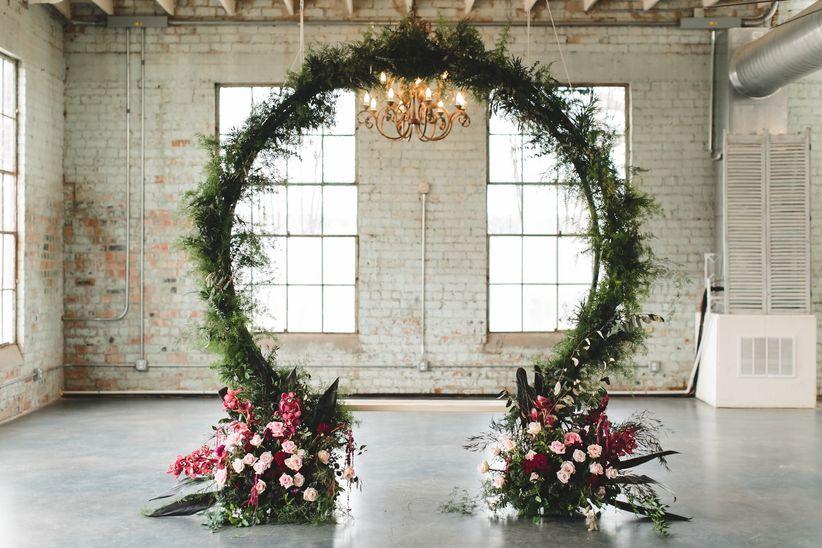 Greenery and red rose ceremony backdrop
Give the basic greenery ceremony backdrop a gothic wedding spin by adding roses in pink and dark red hues.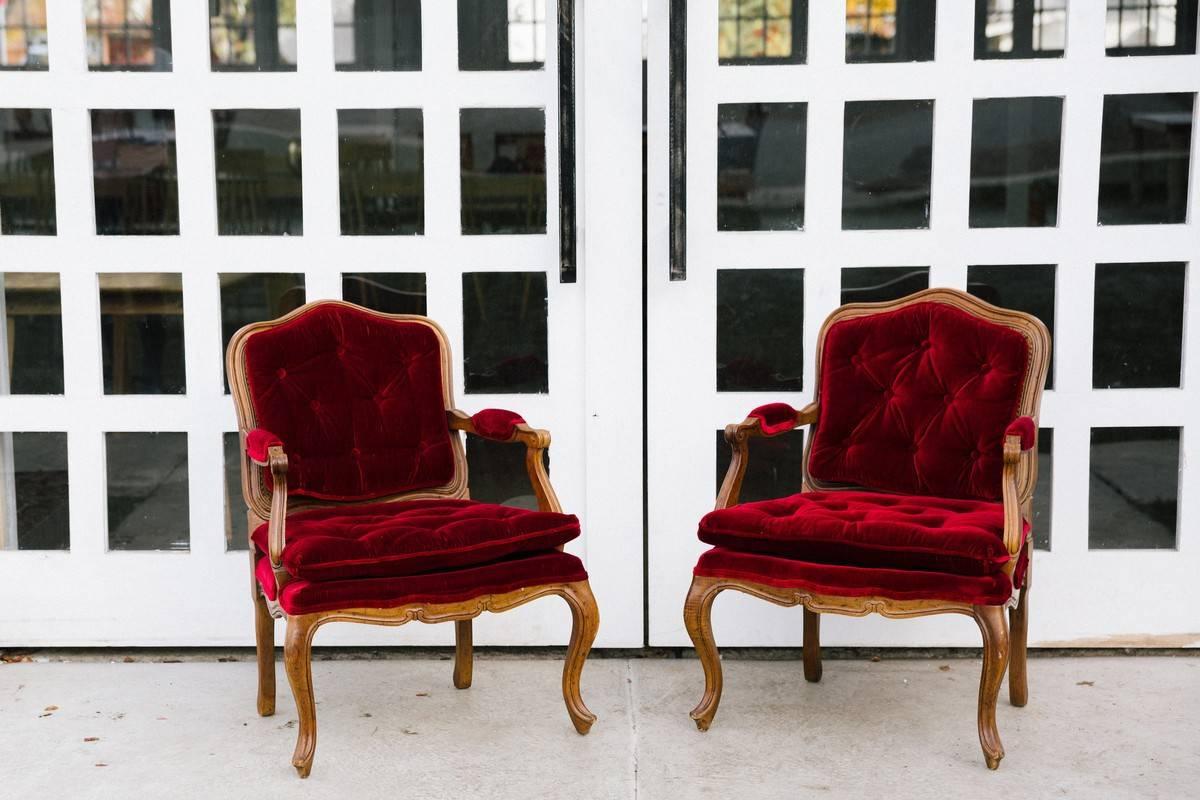 Red velvet chairs
As the guests of honor, you and your spouse deserve extra-fancy chairs for your sweetheart or head reception table. A pair of vintage armchairs upholstered in red velvet fabric is luxuriously gothic—check with local wedding rental companies to find specific options. Alternatively, you can use the chairs to create a lounge area near the bar or dance floor.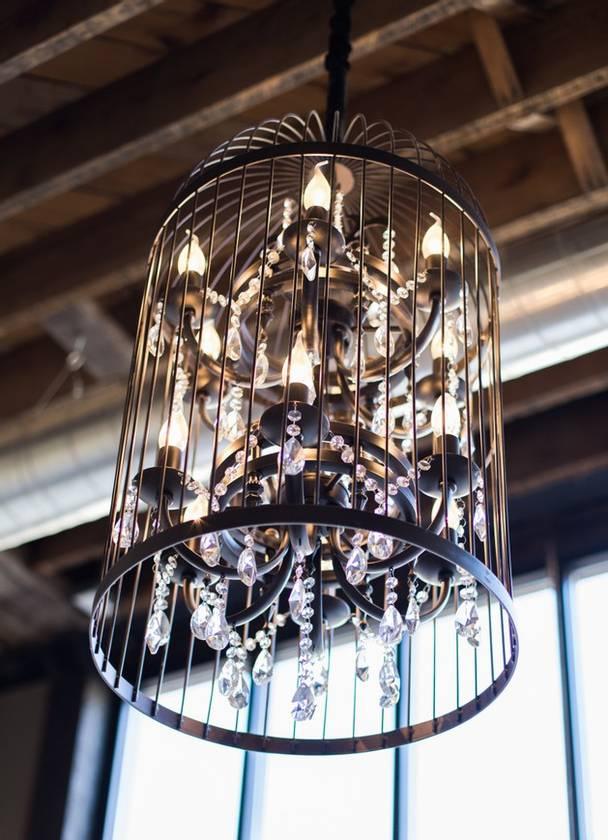 Birdcage chandelier
A black birdcage-style chandelier is much more on-theme for a gothic wedding compared to its classic counterpart. Ask your venue if it's possible to swap out any of the light fixtures with temporary rental lighting (this is more likely to be allowed at industrial and 'blank slate' locations) or use poles and shepherd's hooks to display your own chandeliers.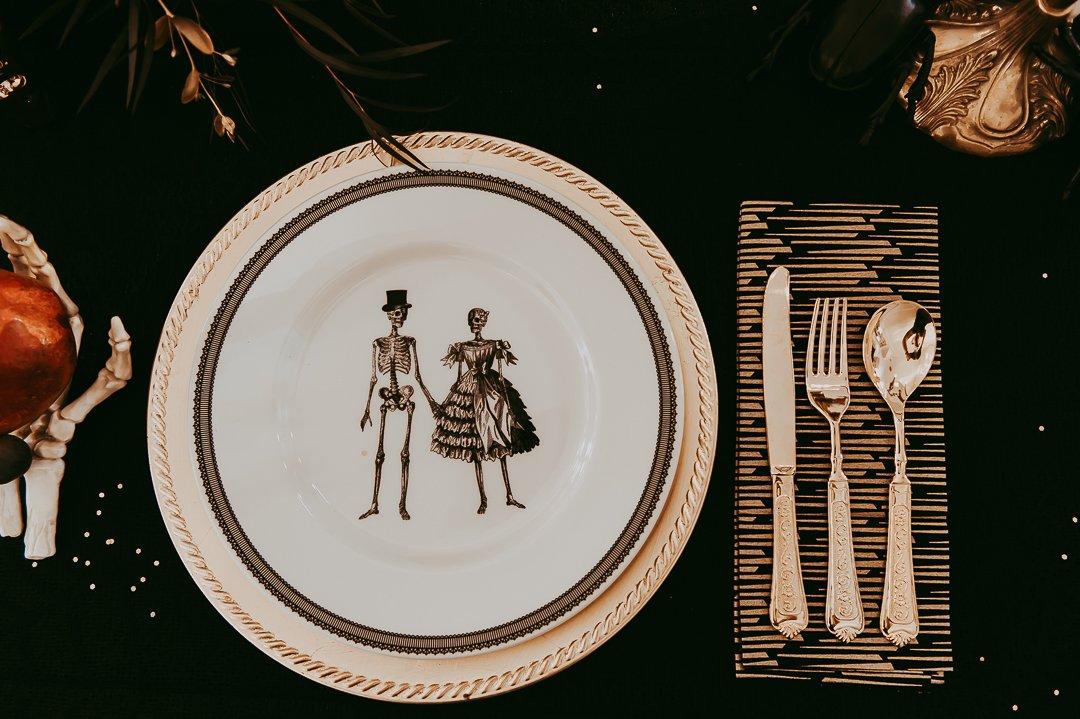 Skeleton wedding plates
Your reception tablescape is another place to incorporate some of our favorite gothic wedding ideas. This dinner plate featuring a cute skeleton couple is a quick way to add some gothic flair, even if the rest of the decor is fairly understated.
Candelabra wedding centerpiece
Taper candles are a must-have for any gothic wedding, but if plain white candles are too boring for your taste, consider using black or burgundy candles instead. Even when the candles aren't lit, they bring a sense of moodiness to the tablescape. Pair them with vintage brass candlesticks for total gothic opulence.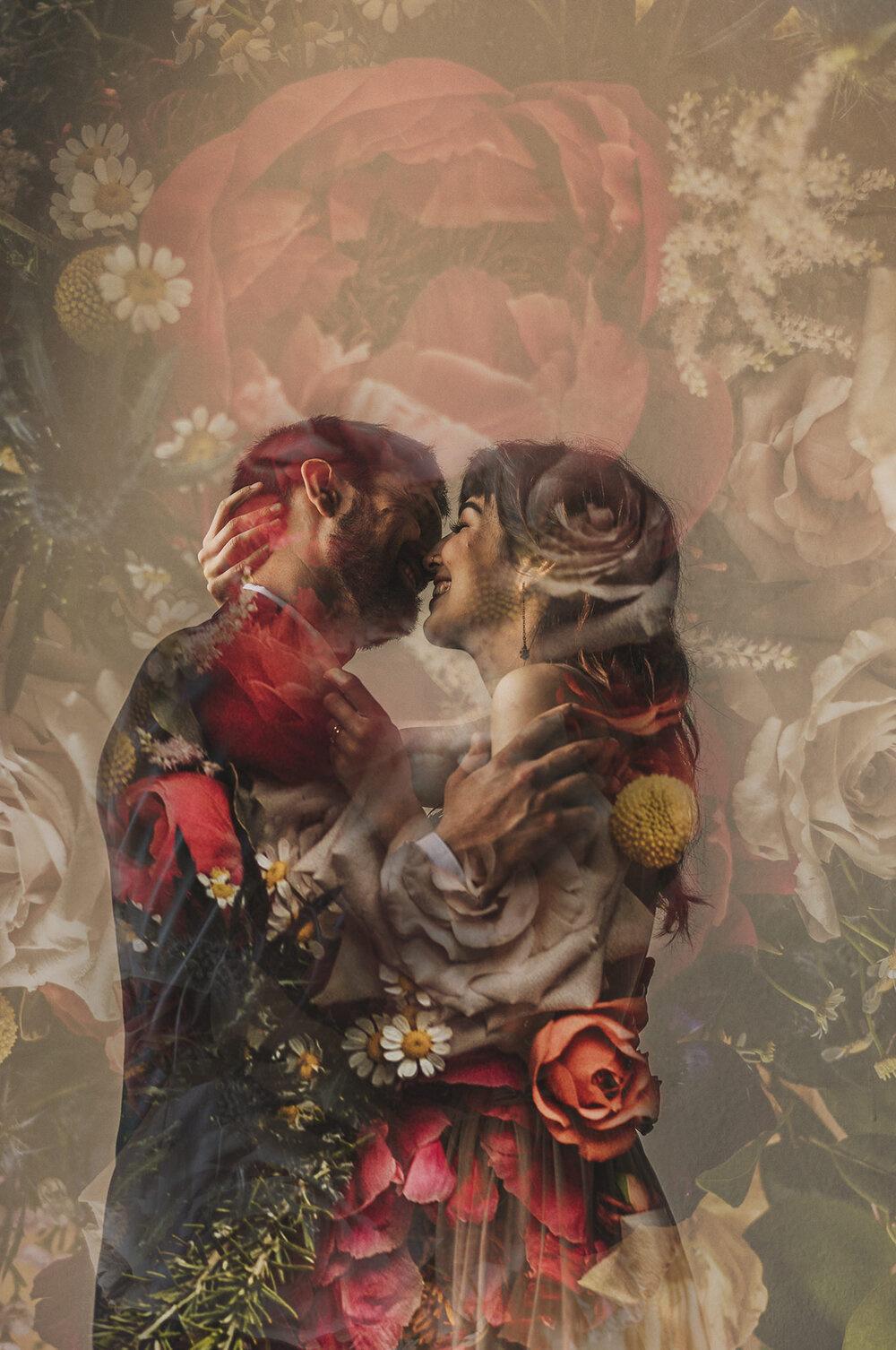 Double-exposure wedding portrait
You'll need to work with your wedding photographer for this gothic wedding idea, but the end result is too cool to resist. A double exposure is made by combining two separate photos—either on film or during the editing process—to create a layered, abstract effect. You can do this with portraits, landscapes, and detail shots. The final, one-of-a-kind product is reminiscent of antique photographs and paintings.
Spider swizzle sticks
No witches' brew is complete without a dash of the creepy crawlies. Add spider swizzle sticks to your signature cocktails for a detail that will delight your supernatural-loving guests.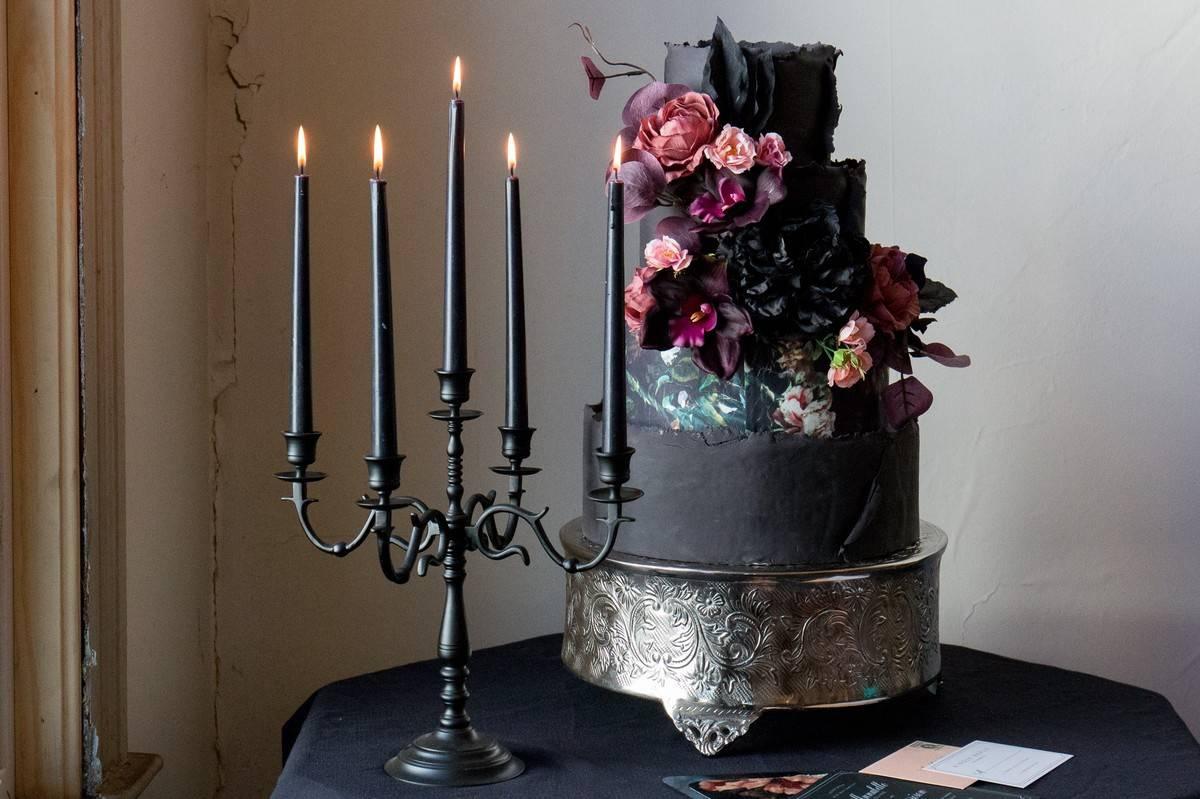 Black wedding cake
If there was ever a time to have a black wedding cake, a gothic wedding is it. Black fondant is the perfect backdrop for oversized purple and burgundy sugar flowers on this gorgeous dessert.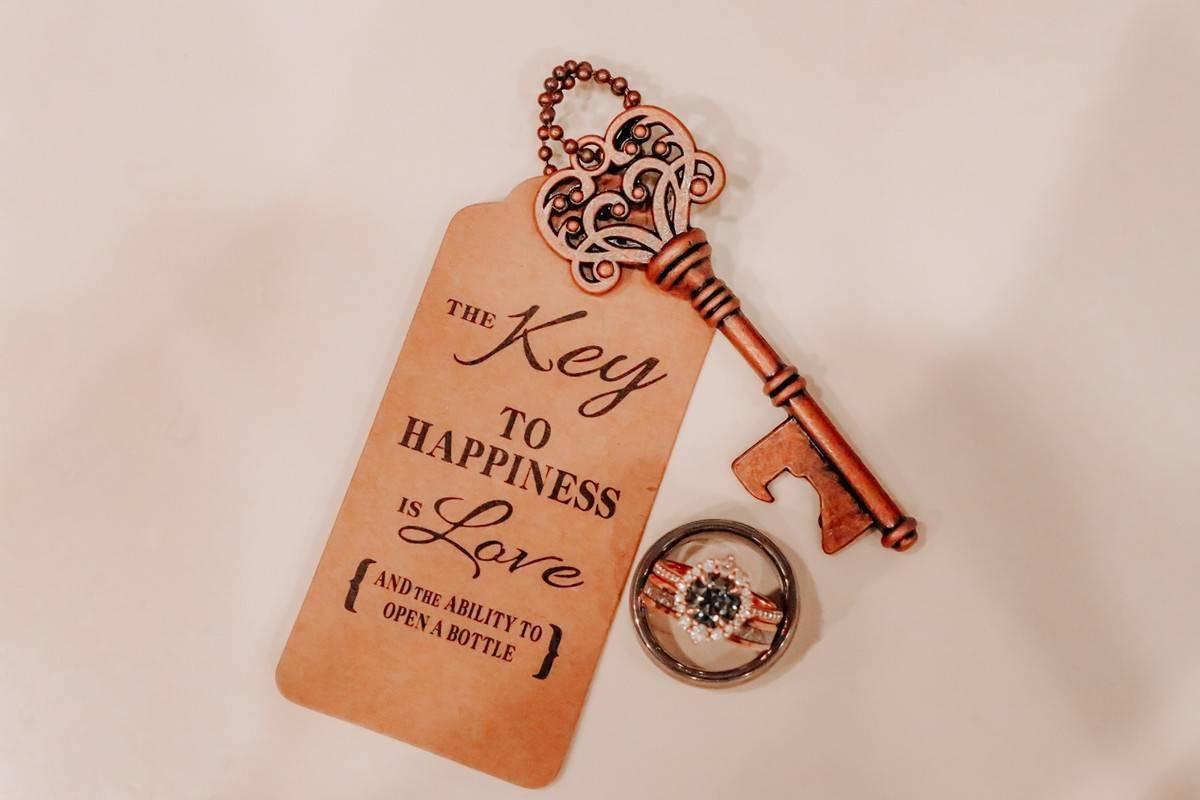 Skeleton key wedding favors
This skeleton key doubles as a bottle opener, which makes it an excellent choice if you're looking for practical gothic wedding favors. You can add a skeleton key to each place setting or display them at the start of your reception as creative guest escort cards.