The 18 Best Black Wedding Cakes to Wow Your Guests
No Plain Jane desserts here. These unexpectedly stunning black wedding cake designs will take everyone by surprise in the best way.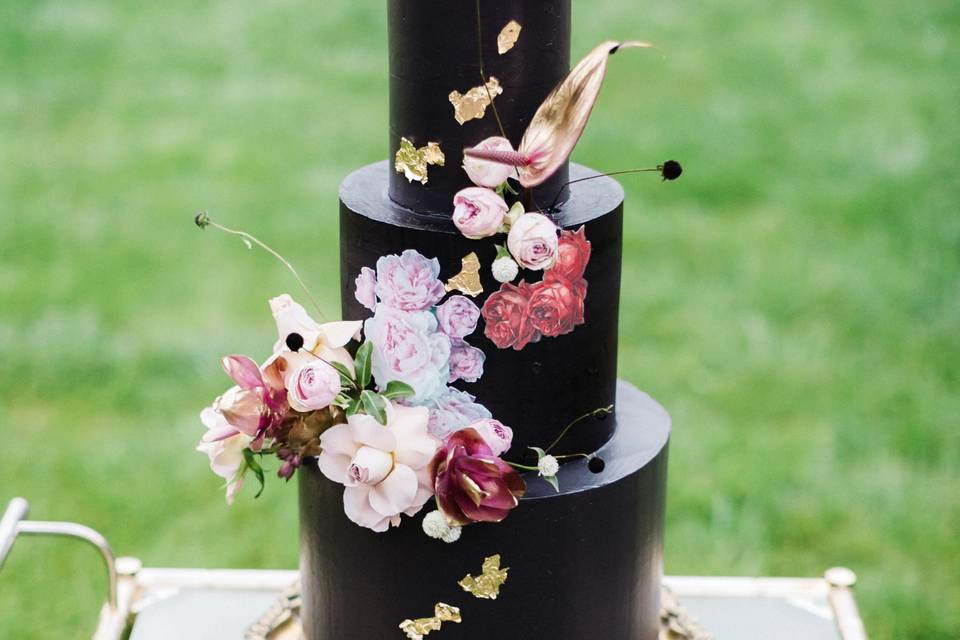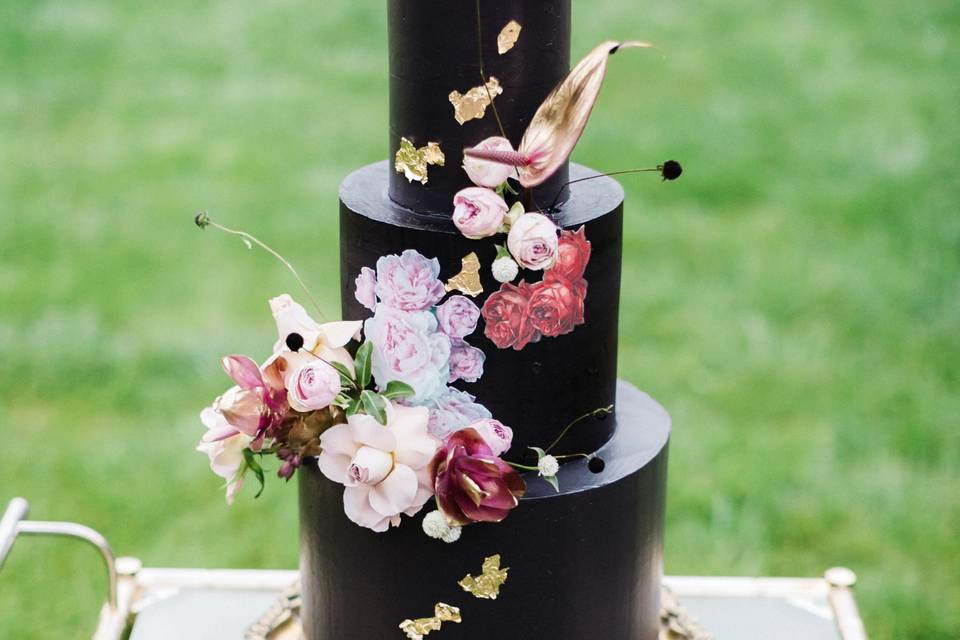 Black wedding cakes are daring and bold, which is precisely why we love them so much. They're anything but traditional, but with so many different designs to choose from, you actually might be surprised by how easily you can incorporate something as dramatic as a black fondant or buttercream cake into your wedding decor. From elegant black and white wedding cakes that skew more classic, to totally decadent red and black wedding cakes that will satisfy your wildest gothic fairytale dreams, we've picked some of our favorite designs to bookmark and share with your cake baker if you're ready to head over to the dark side.
Check out these incredible black wedding cakes that will definitely wow your guests.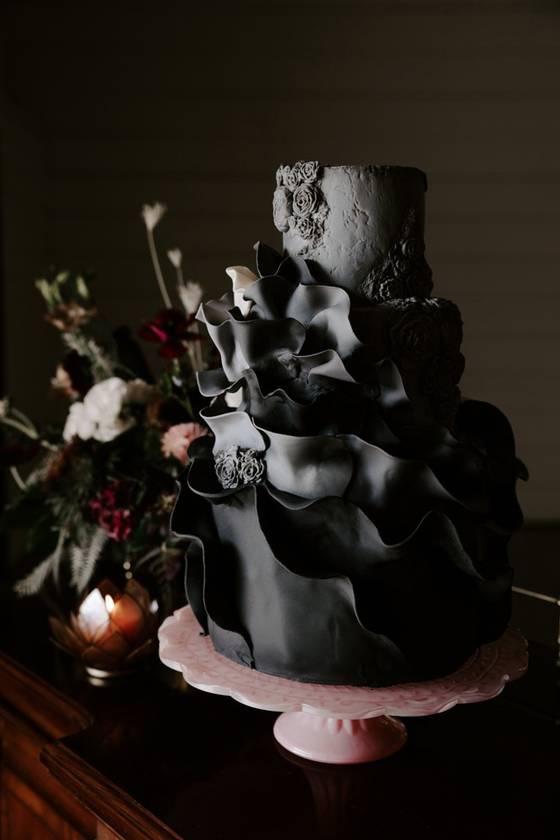 Ruffled fondant
Make your black wedding cake even more dramatic by adding three-dimensional details, like this ruffled fondant that looks like fabric draped across the tiers. A handful of bas relief flowers add a romantic vibe without being too dainty.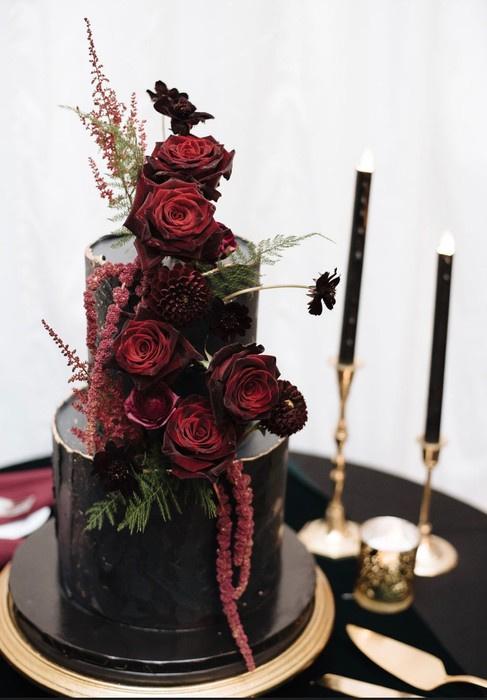 Berry hues
If you're having a fall or winter wedding, say hello to this gorgeous color combination. Burgundy, dark pink, and red flowers look incredible when showcased against a black wedding cake. Hints of gold leaf around the edges of each tier are the finishing touch.
Cake by Muscoreil's Fine Desserts
Sky-high tiers
White wedding cakes aren't your only option if you're going for a classic look—this six-tier stunner is elegant and regal, black fondant and all. The cascade of white roses and calla lilies brighten up this black and white wedding cake to keep it from becoming too moody or dark.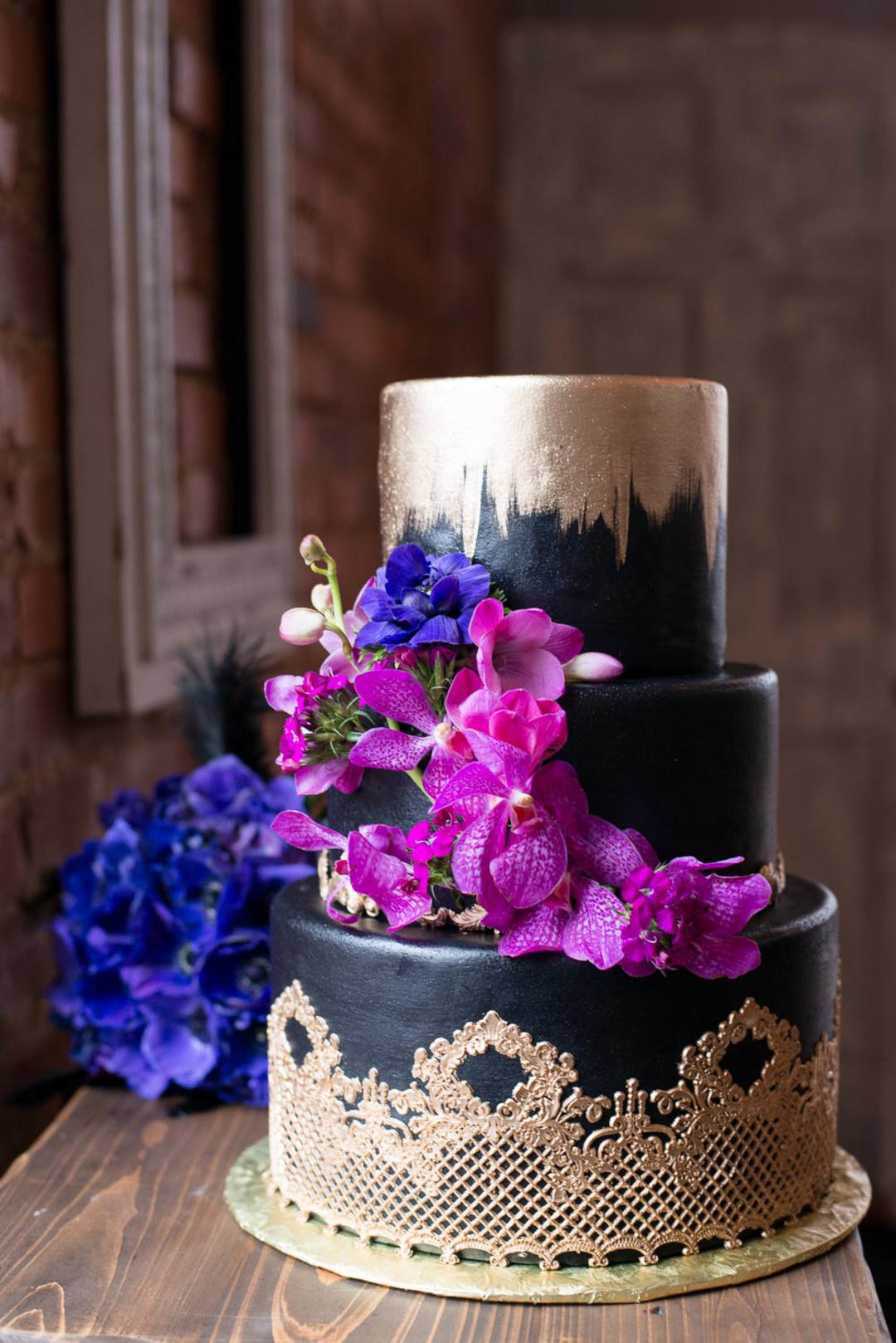 Cake by Acuna's Custom Cakes
Neon brights
Even if black is your favorite color, you can still add a few pops of brighter hues, like fuchsia and cobalt, to really make your cake stand out. Finish with edible metallic lace around the bottom tier to create a black and gold wedding cake that's opulent and ornate.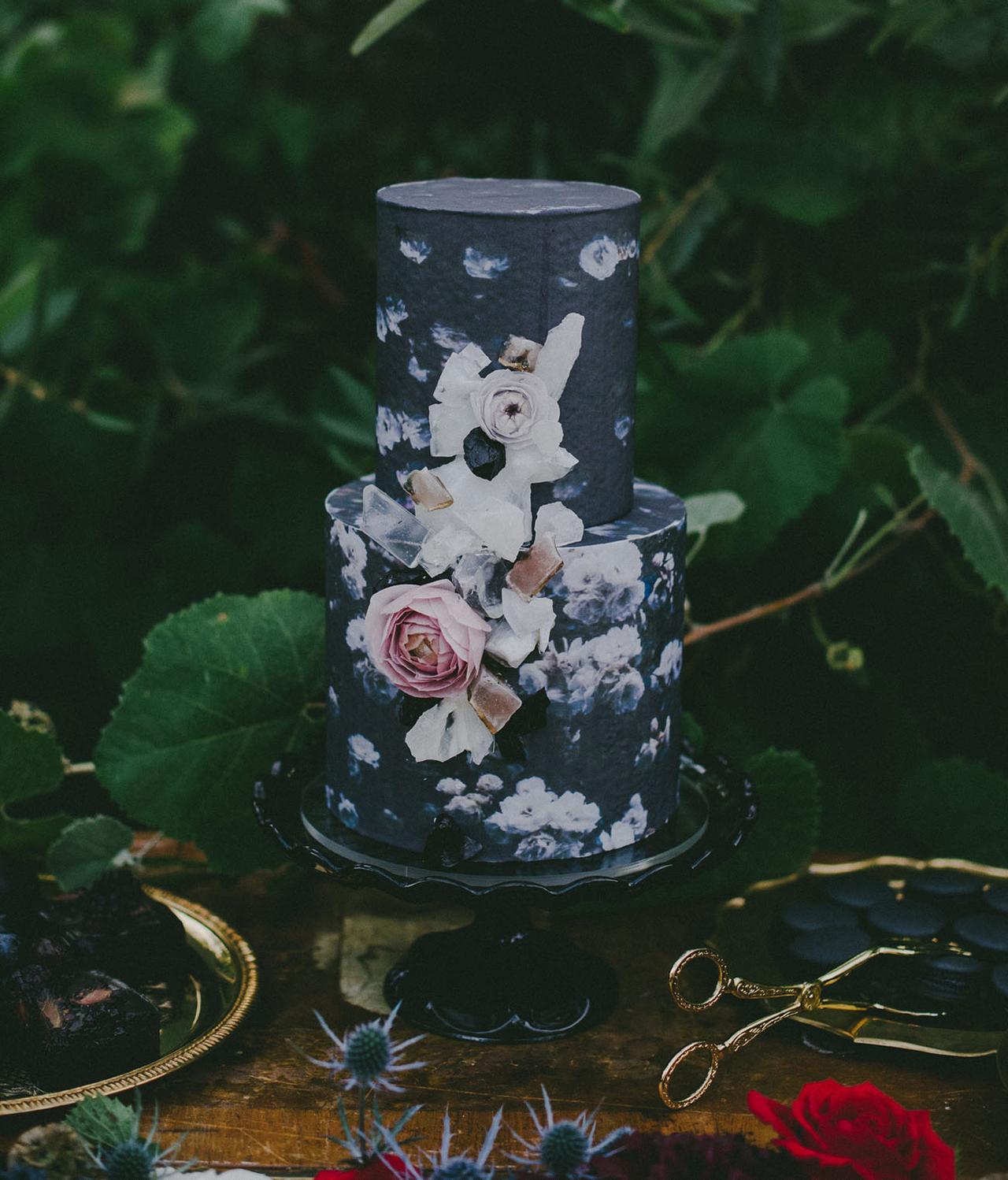 Printed flowers
Here's one of our favorite recent wedding cake trends: printed flowers. Your wedding cake baker can use edible ink to transfer a photograph of real flowers onto wafer paper or fondant, and the end result is like a work of art you can eat. Choose an image of white flowers against a black backdrop to achieve a moody, abstract effect. A few fresh flowers give the cake three-dimensional interest.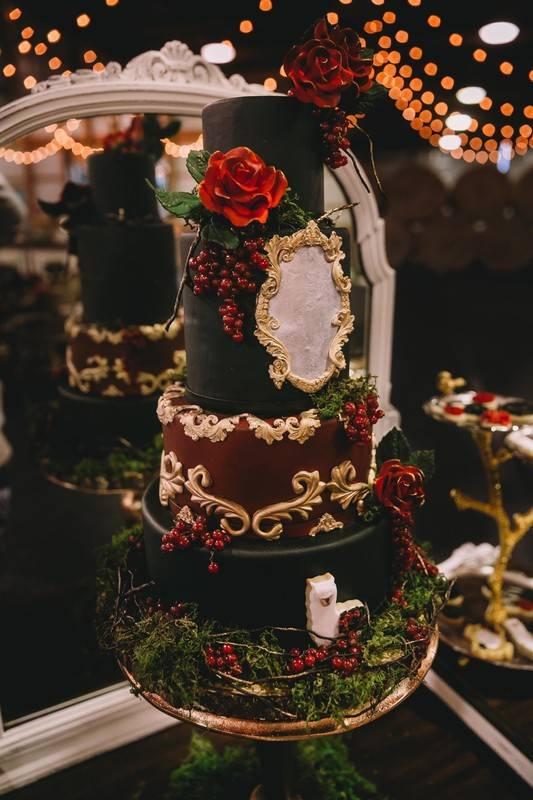 Fairytale-inspired scrollwork
Decorate your black wedding cake with golden scrollwork motifs, berries, and red roses for a dessert that's fit for a winter wonderland theme. For multi-tier cakes, you can use a contrasting color on one of the tiers to break up the darker palette, like this red and black wedding cake.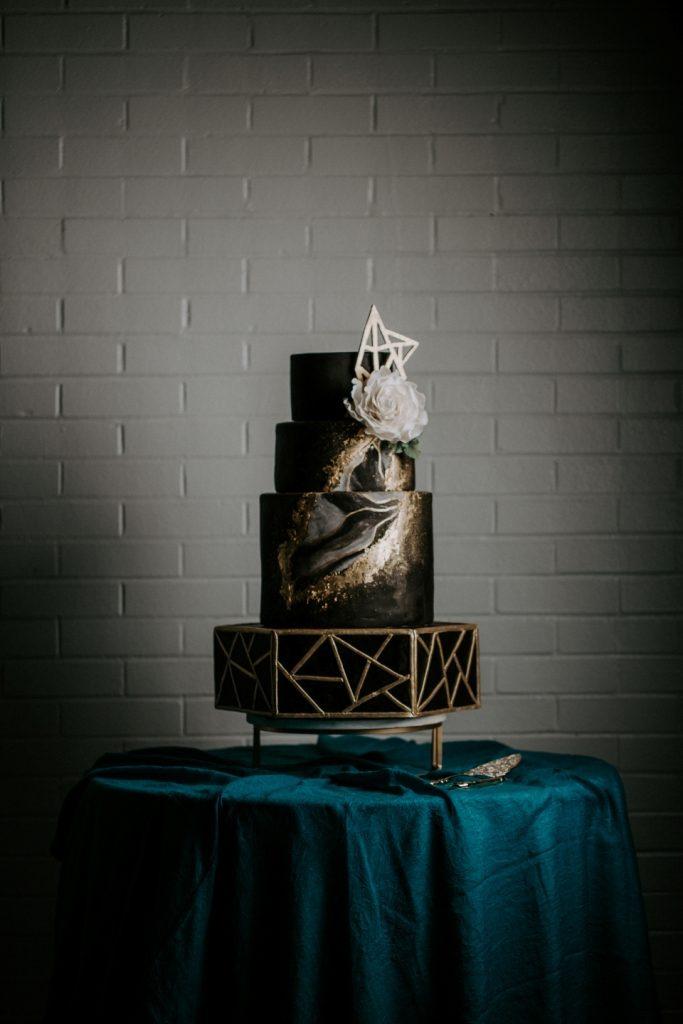 Marble illusion
You've seen marble cakes and geode cakes—this black wedding cake design combines both trends. Choose metallic accent colors, like gold and silver, for an ultra-modern palette. The painted "geode" on this cake pairs perfectly with the geometric details on the top and bottom tiers.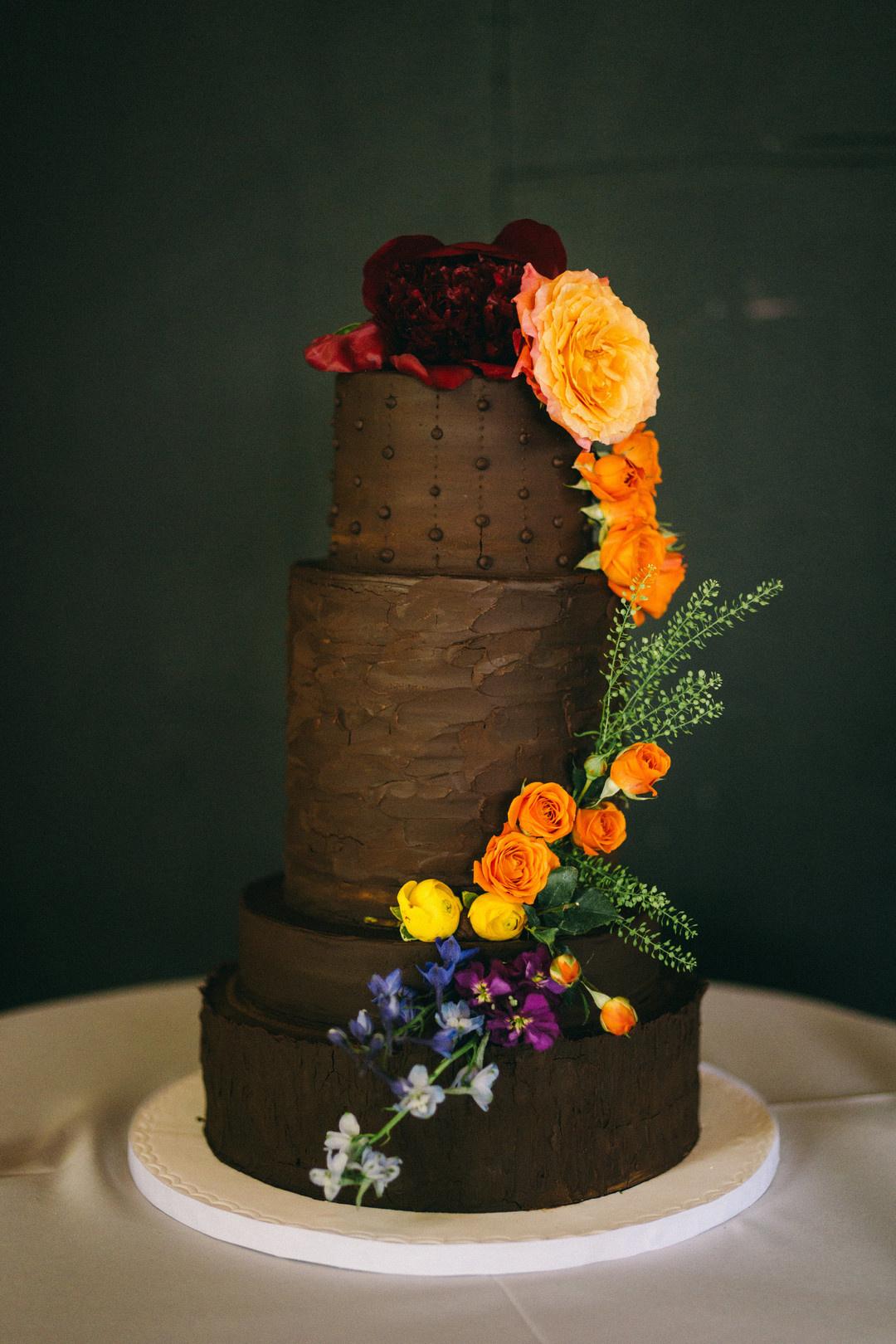 Cake by Cakes for All Seasons
Rustic undertones
While many black wedding cakes might seem too edgy for a rustic wedding, you can pull it off with the right design. The textured frosting on this cake resembles a faux bois (faux wood) pattern, and the colorful flowers give the cake a whimsical, countryside-inspired look.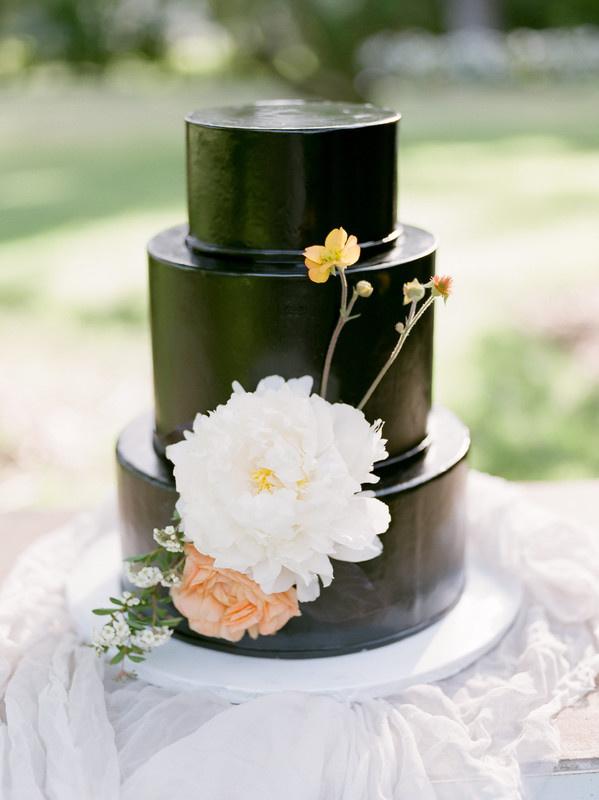 Sleek and streamlined
Frosting with a high-shine finish will give your black wedding cake a modern, minimalistic spin. Other details, such as elongated tiers (tiers that are taller than they are wide) and asymmetrical flowers, will keep the design looking fresh and streamlined.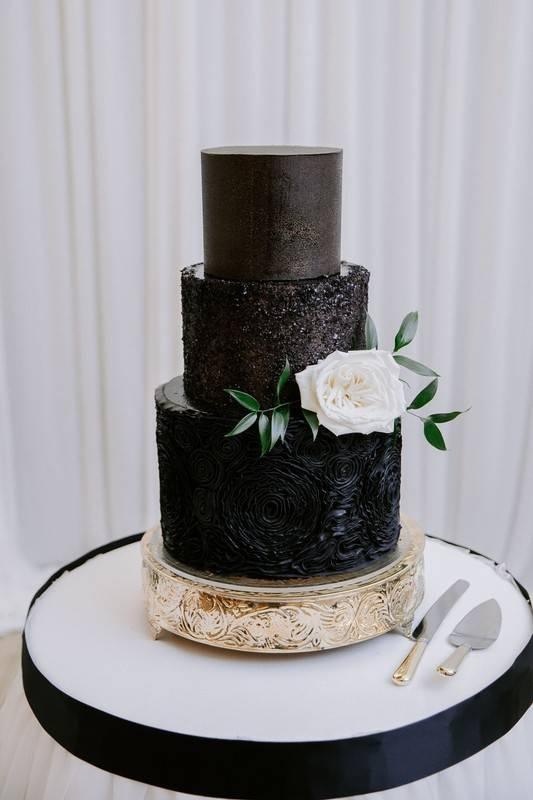 Mixed textures
If you can't choose just one decorative frosting texture, pick a few and mix 'em up! Multi-tier cakes are a great way to incorporate a variety of different patterns, piping techniques, and edible embellishments (for example dragées, or miniature sugar pearls). Stick with one color for all of the tiers to prevent the finished cake from feeling too busy.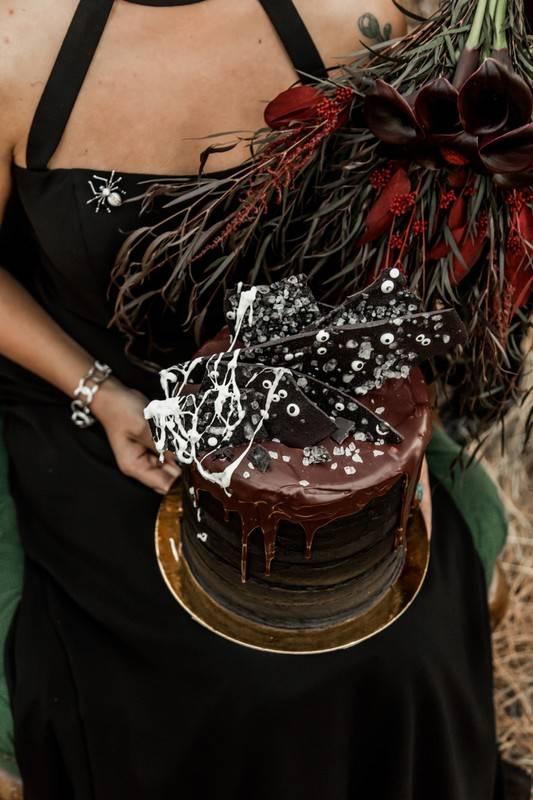 Chocolate details
Who says black and brown don't work together? Chocolate drip icing and fudge pieces are a decadent way to top off a black buttercream cake.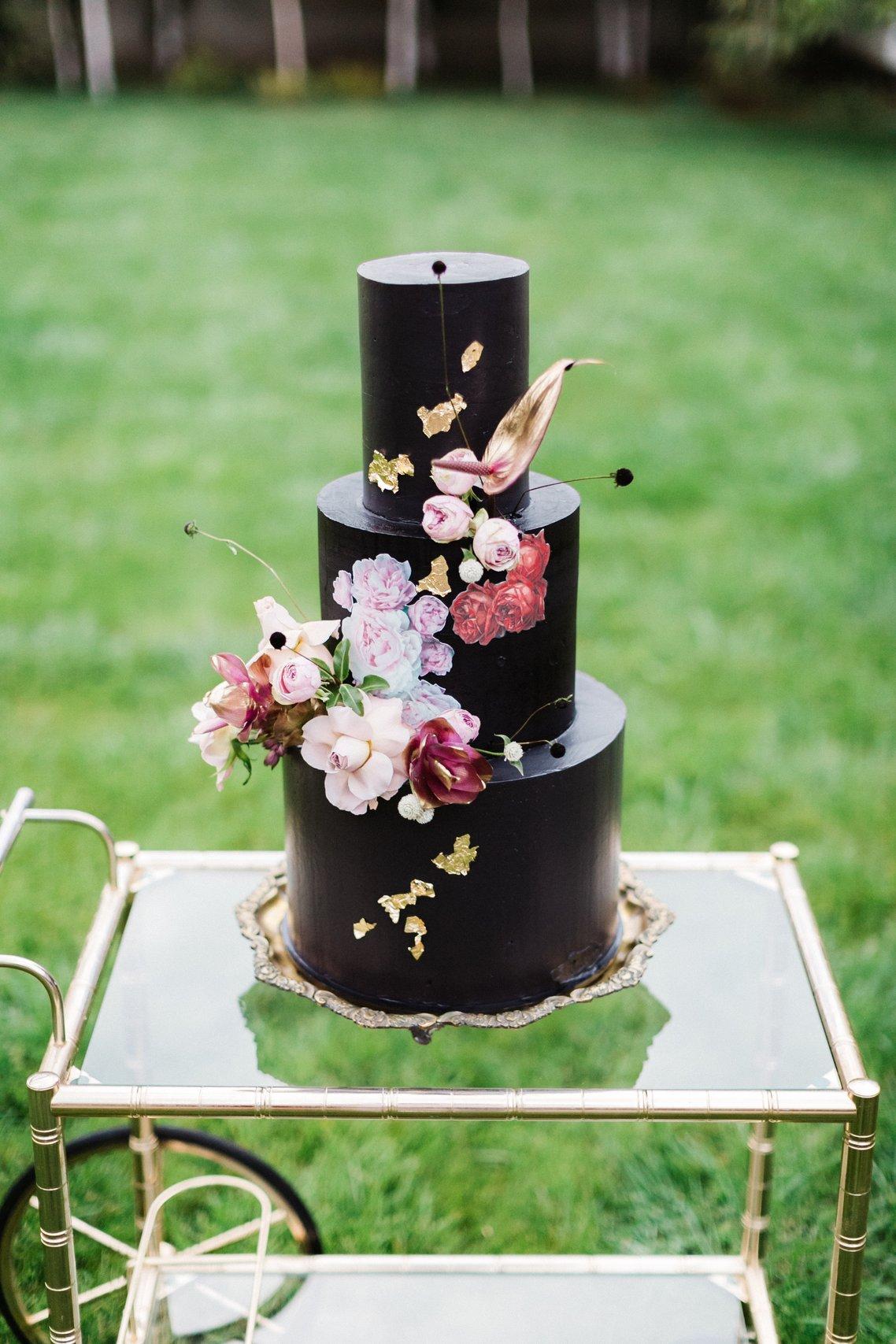 Hybrid florals
The printed flower trend strikes again—but instead of allover printed flowers, use a few cutouts to offset the real flowers that are decorating your black wedding cake and fill in any blank spaces.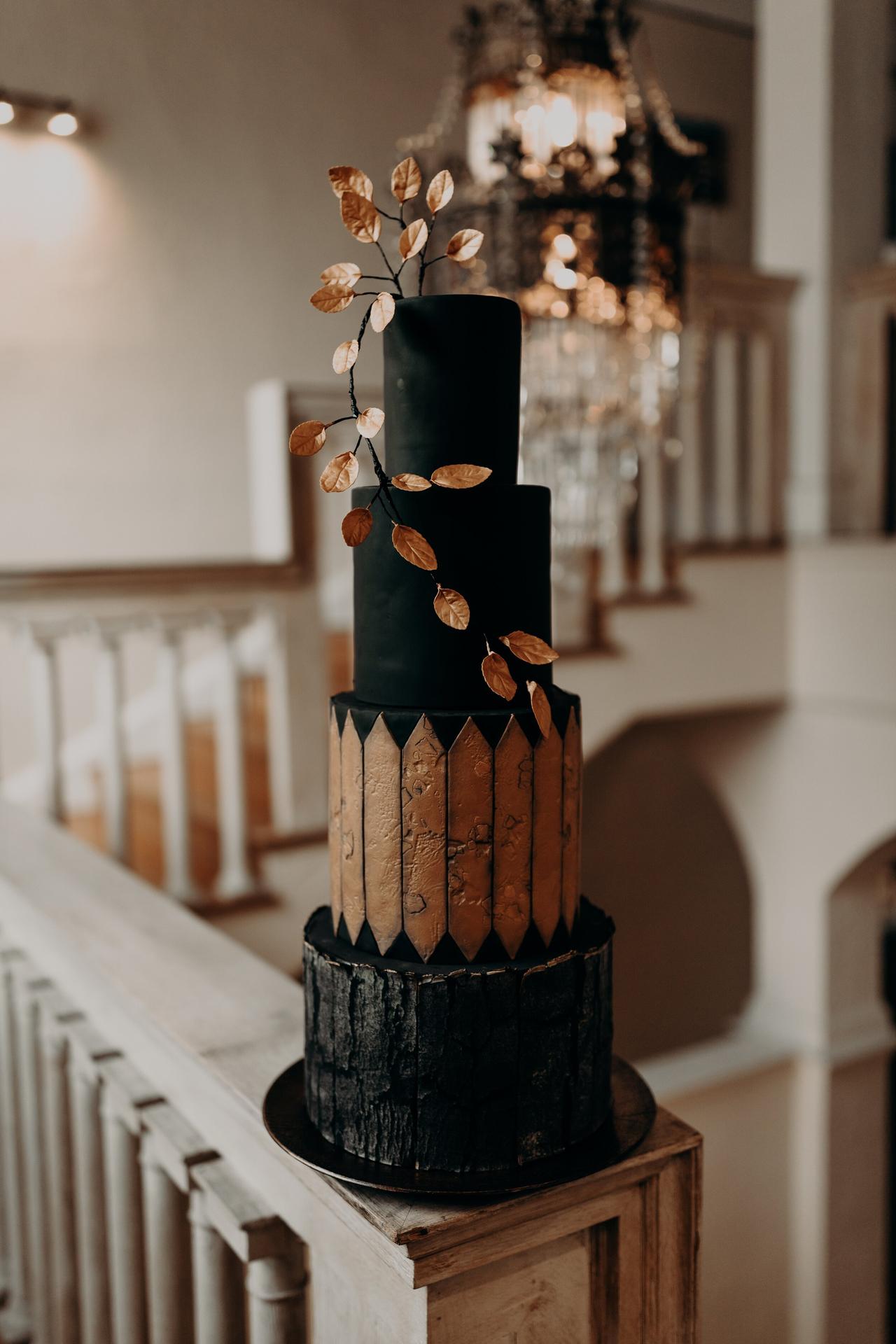 Copper accents
Black and metallic colors pair so well together, but if silver and gold hues don't match your wedding theme, try copper instead. This rosy metallic really pops against a dark backdrop—decorate a black fondant cake with copper leaves, geometric panels, or abstract copper brushstrokes if you're having a fall wedding.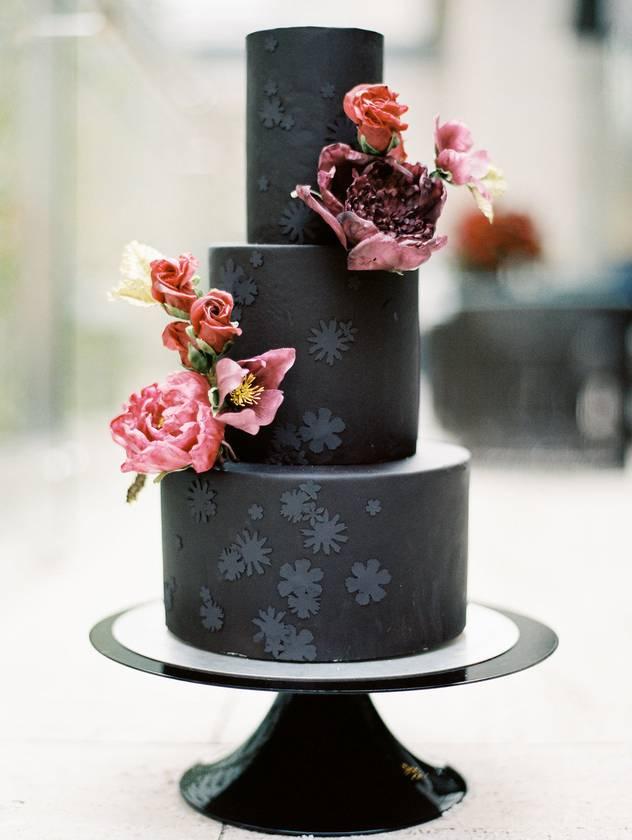 Oversized sugar flowers
If you love the idea of a dramatic black wedding cake but don't know how to make it seem wedding-appropriate, take this masterpiece as a perfect example. These oversized peonies and roses are actually made of sugar, and their eye-catching pink hues give the cake a romantic-meets-edgy look.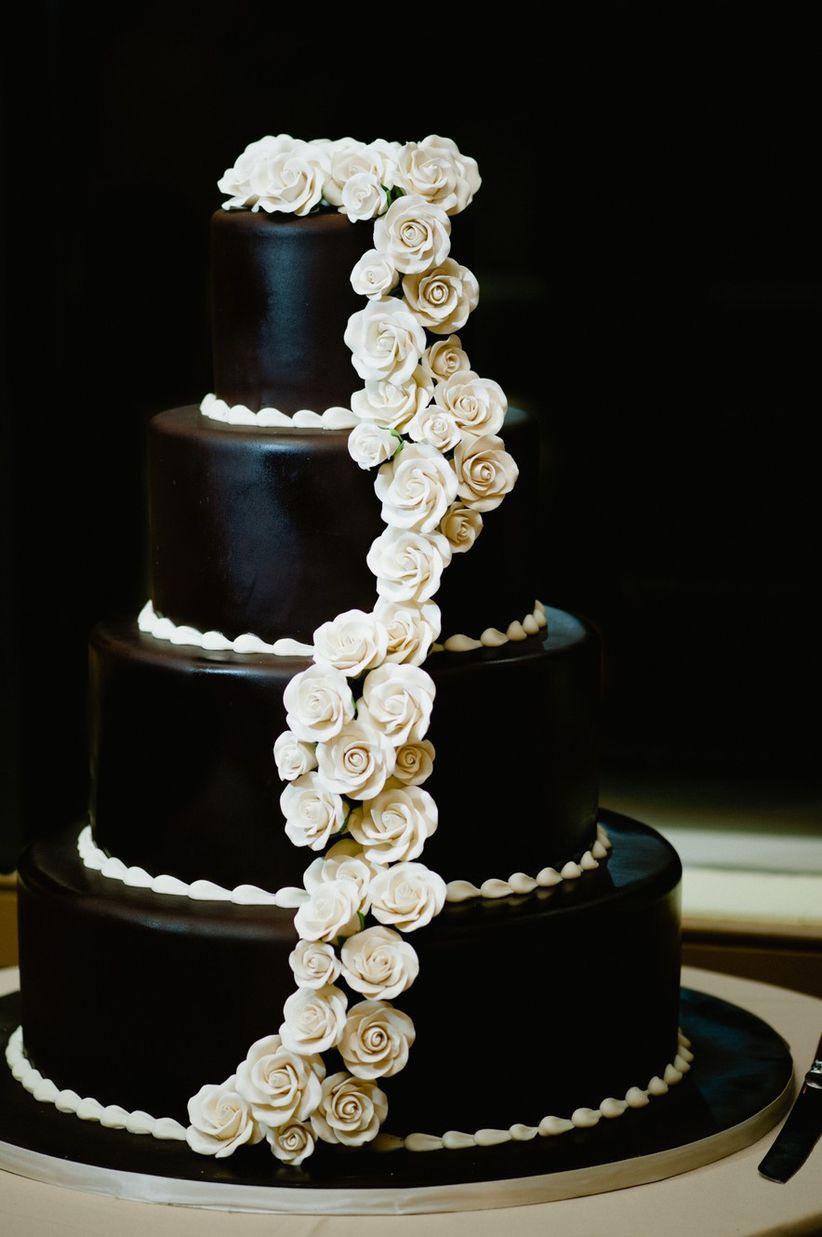 Hand-piped rosettes
When it comes to wedding cake decorating, few things are more classic than piped rosettes. Give this confectionary staple an unexpected twist by using dozens of rosettes to decorate a show-stopping black and white wedding cake. White piping around the bottom of each tier will pull the overall design together.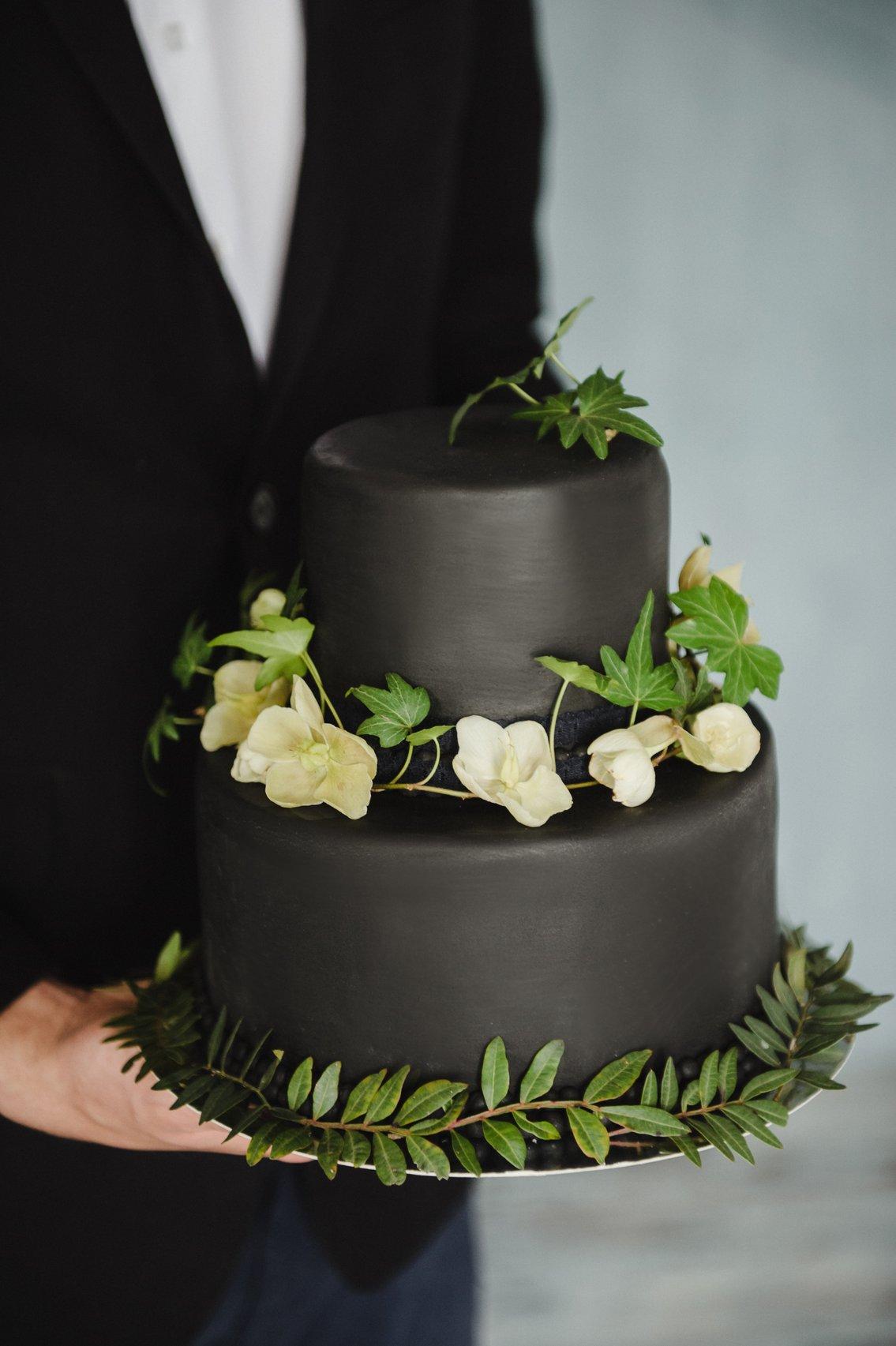 Fresh greenery
Greenery is the gift that keeps on giving—it looks amazing in bouquets, as decor, and even on your wedding cake. Use fresh flowers and greenery, such as ivy vines, hellebores, and sword ferns, to pull off this simple black wedding cake design.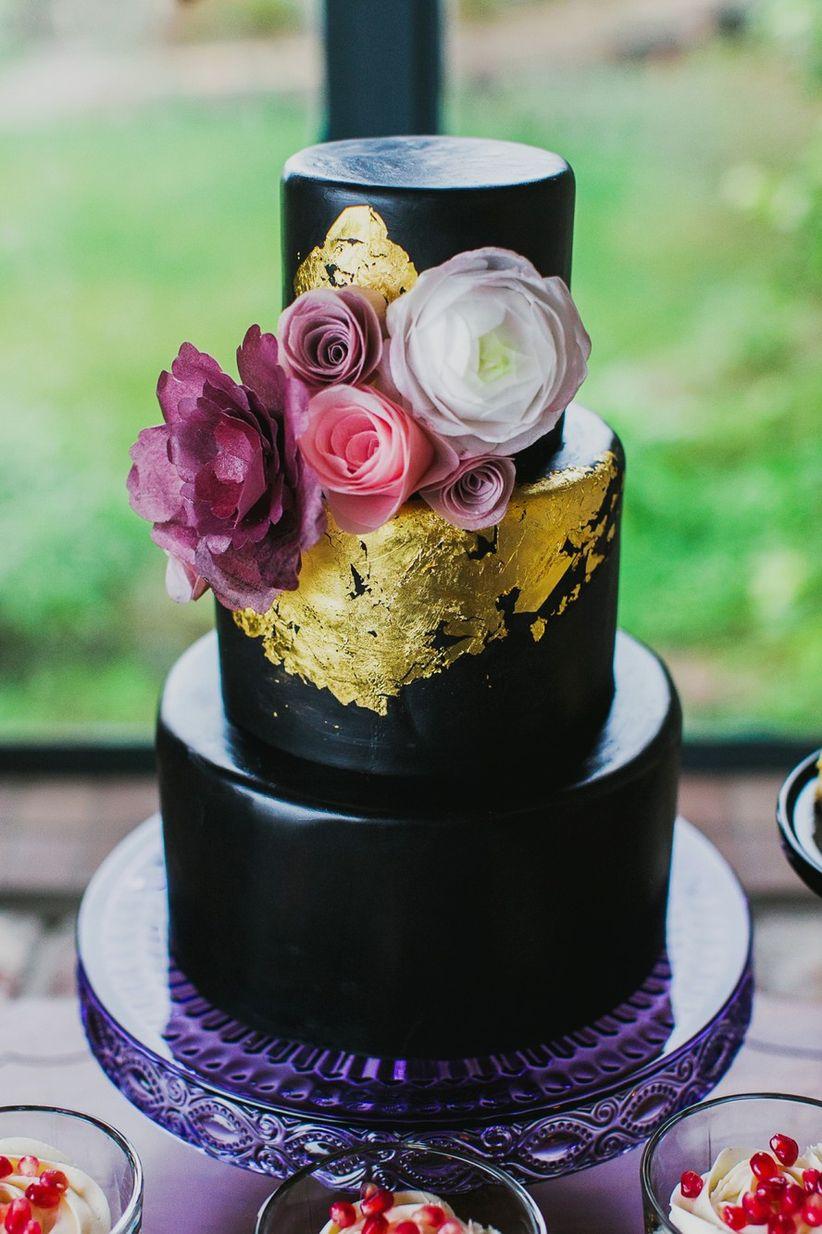 Edible gold leaf
One of the most popular ways to decorate a black wedding cake is by using edible gold leaf (yes, it's real gold and yes, you can actually eat it!). A black and gold wedding cake can work for any season or theme—you can customize yours by adding flowers to match your color palette or completing the cake with a unique topper.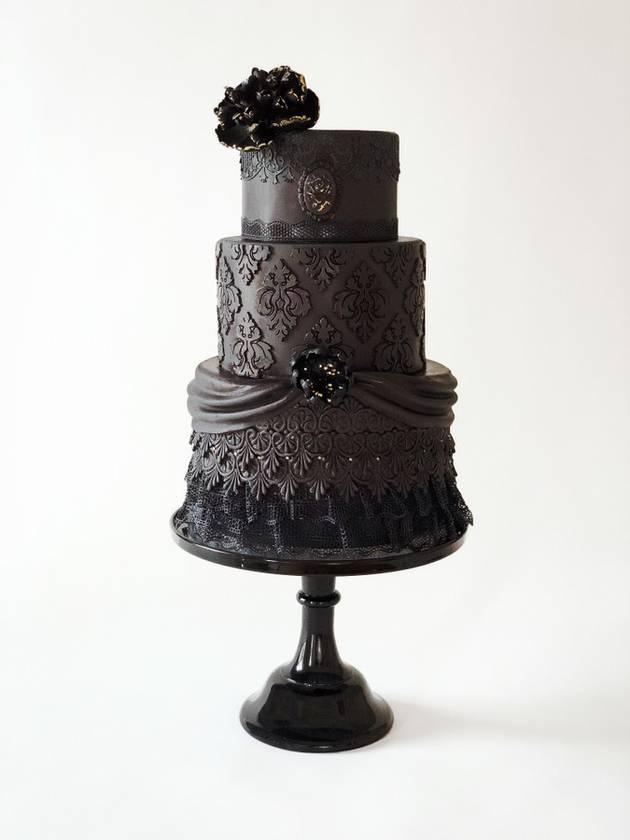 Victorian gothic
With an all-black wedding cake like this, there are bound to be several jaws on the floor at your reception. This Victorian-inspired cake is highly detailed, with damask motifs, brooches, lace, and flowers all combined into three tiers (and more importantly, entirely made of sugar). We could absolutely envision this type of cake at a Halloween wedding or as the pièce de résistance for a modern gothic theme.