27 Fall Wedding Cakes That Are Perfect for an Autumnal Celebration
Make sure your dessert looks as good as it tastes by recreating one of these unique fall-themed wedding cake ideas.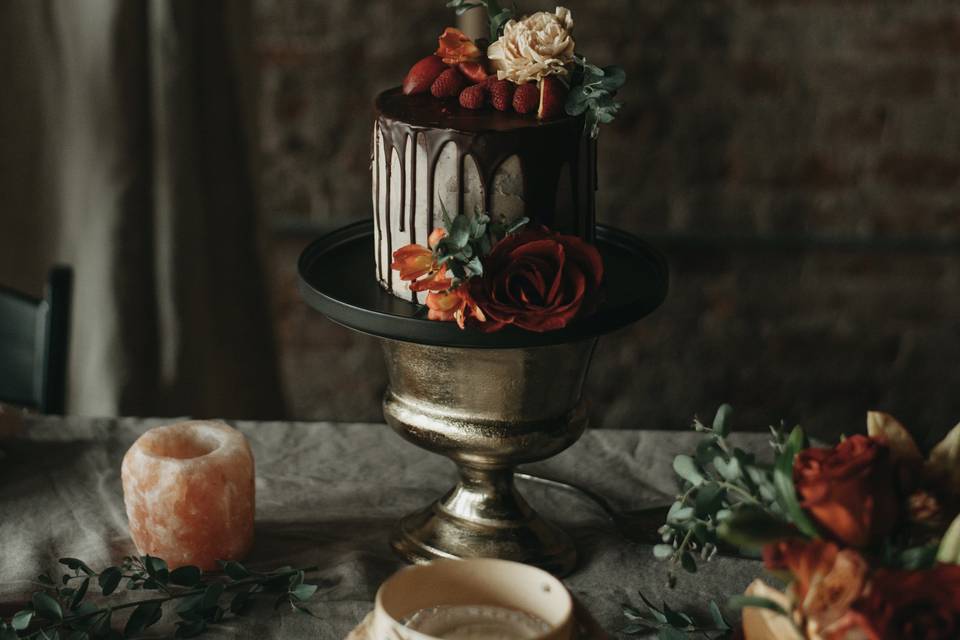 While you should plan to hire a cake baker and schedule your cake tasing about seven months before the big day, it's never too early to start thinking about your wedding cake—we can agree that dessert is one of the best parts about getting married, right? If you're saying "I do" in September, October, or November, you have a lot of options when it comes to fall-themed wedding cakes and finding a wedding cake design that you love. From simple buttercream confections decorated with greenery, to elaborate marble cakes and trendy drip icing, we're sharing some of our favorite autumnal cakes to give you some ideas. Here are 27 mouthwatering and beautiful fall wedding cakes for every style.
Fall Wedding Cake Colors
When it comes to your fall-themed wedding cake, look to seasonal color palettes like orange, red and burgundy, emerald green, and yellow. If you want to take a more subtle approach, muted pastel tones, like blush, mauve, and dusty blue are pretty options. Last but not least, you can't go wrong with basic black and white—consider adding metallic yellow gold or rose gold for a bit of glam.
Our Favorite Fall-Themed Wedding Cake Ideas
Along with getting ideas from your cake baker, one of the best ways to find a wedding cake design that you love is by gathering inspiration from other couples and vendors. These pin-worthy options will bring plenty of seasonal flair to your cake table.
Woodland-inspired wedding cake
Fresh flowers, feathers, and green graham crackers that resemble moss decorate this fall-themed wedding cake for a woodland-inspired vibe. Use this cake as your inspiration if you're into boho style or having a forest wedding.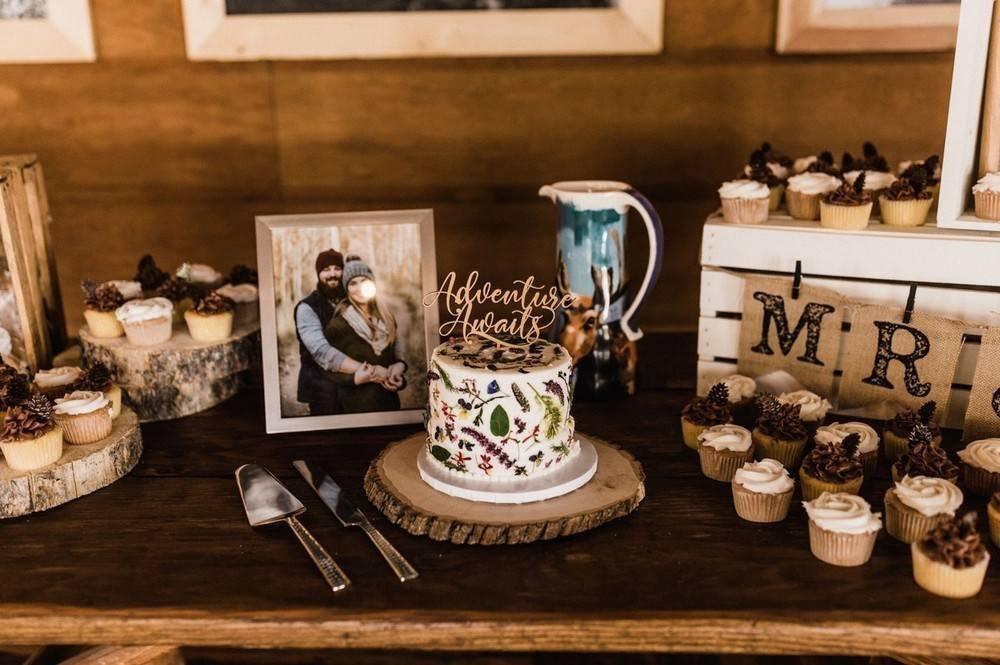 Wedding cake with edible flowers
Pressed flowers are a sweet and simple way to jazz up a basic fondant cake. When displayed on a wooden cake stand, this cake design is a perfect fit for a country wedding.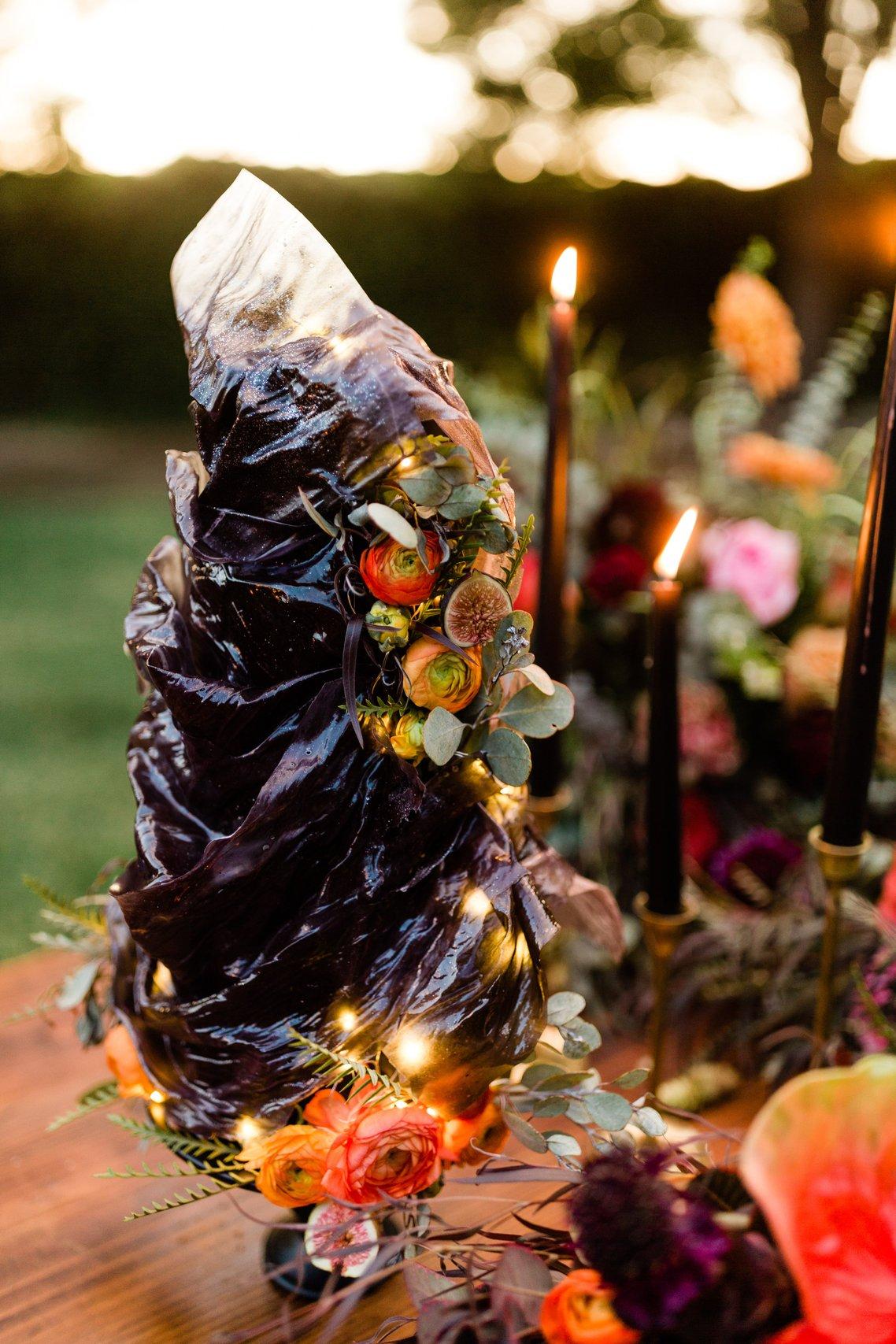 Cake by Belladonna Baking Co.
Halloween wedding cake
Getting married on or around October 31? A black wedding cake decorated with orange flowers and twinkle lights is especially fitting for a spooky theme.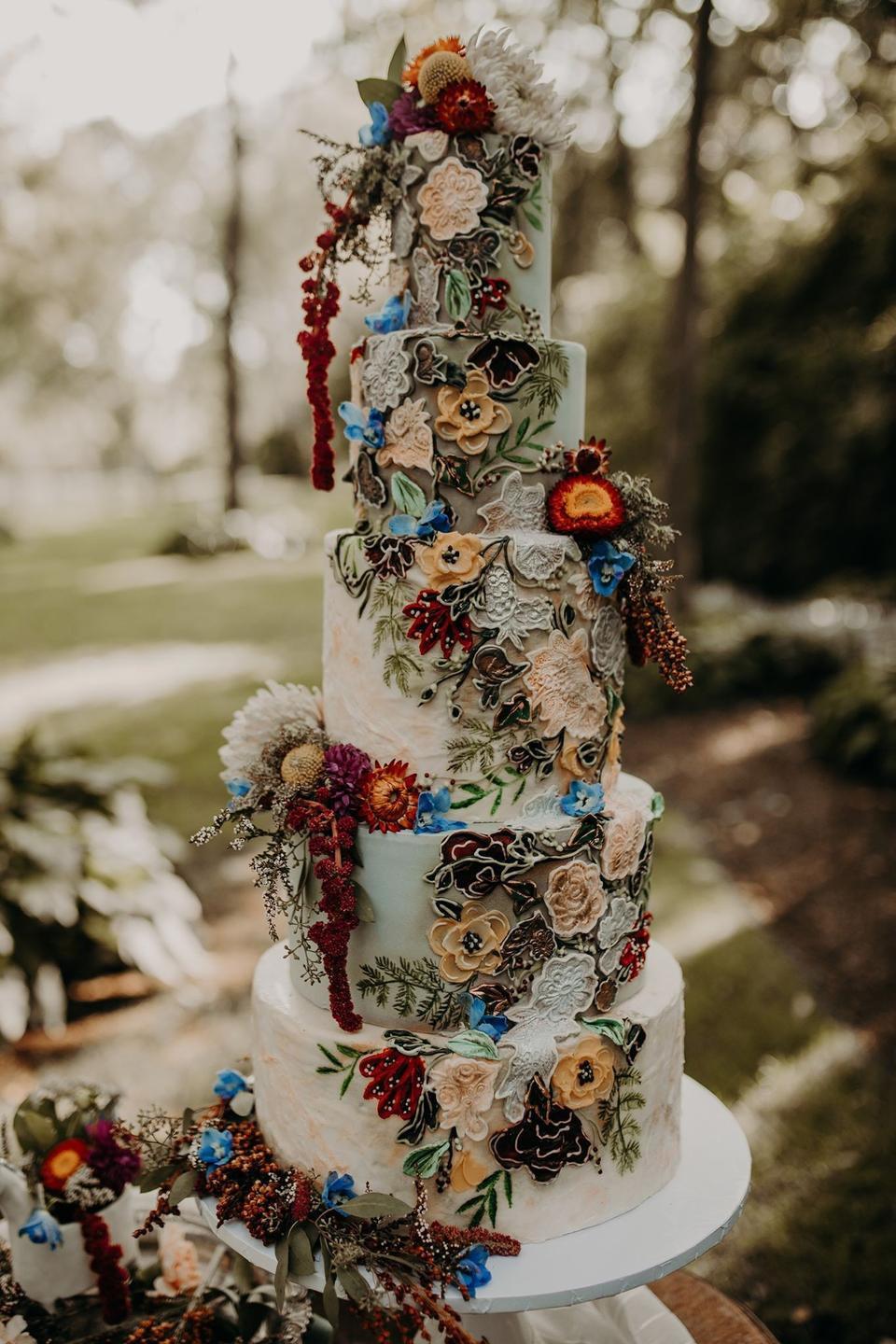 3D wedding cake
This five-tier masterpiece is even more memorable thanks to lace appliqués, hand-piped sugar flowers, and fresh flowers that all add a three-dimensional element.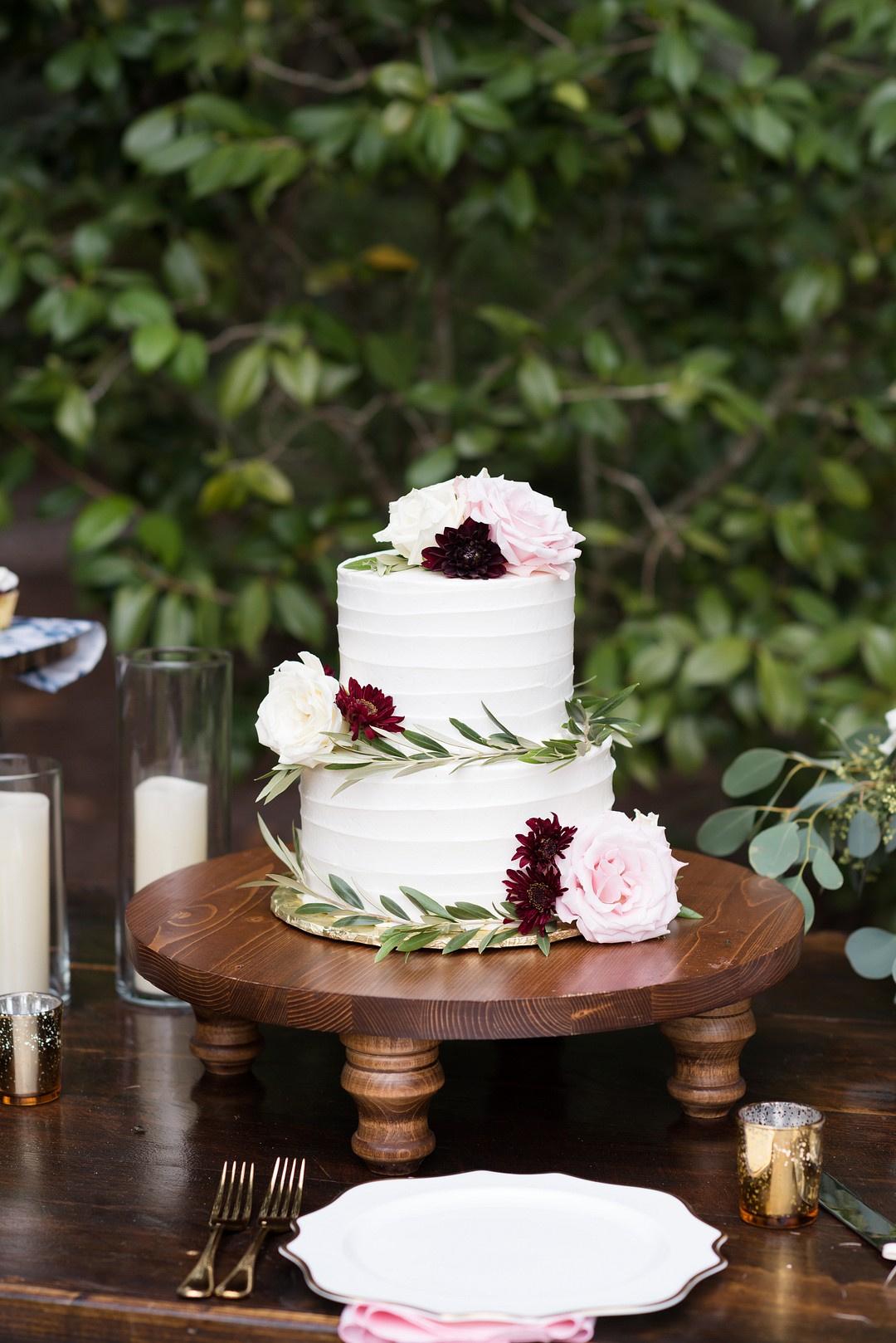 Cake by Lowcountry Flour Girls
White buttercream wedding cake
A white buttercream cake is a wedding staple. You can make this classic dessert totally your own by personalizing it with flowers, greenery or a decorative wedding cake topper and cake stand. Dark red mums, blush rosed, and olive branches are a gorgeous combination for a fall wedding.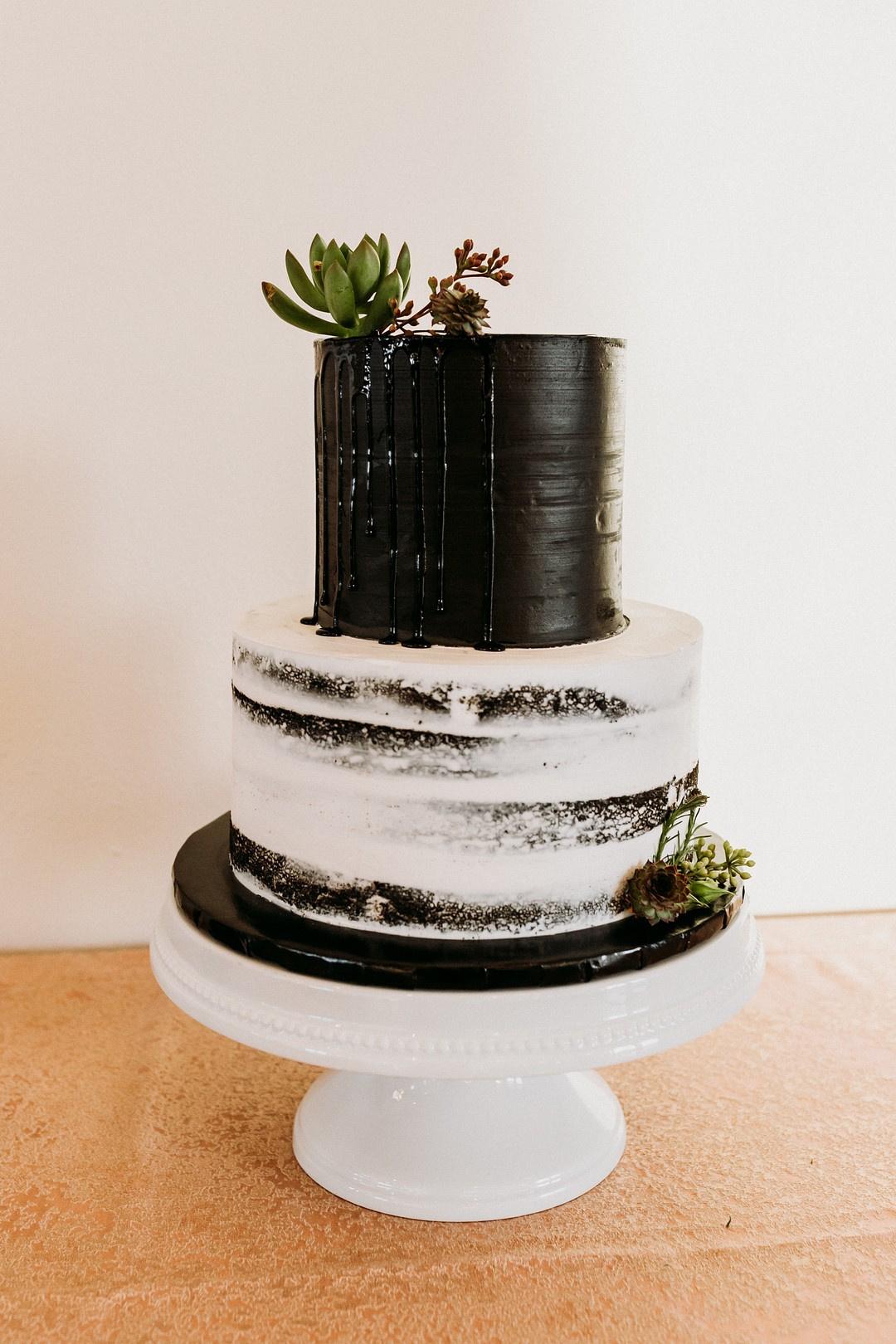 Cake by Loft22Cakes
Black and white wedding cake
Black frosting will instantly give your fall wedding cake an unexpected, edgy look. This style is ideal for a modern wedding (or even a Halloween wedding!). Add drip icing, succulents, and white buttercream to balance out the daring black details.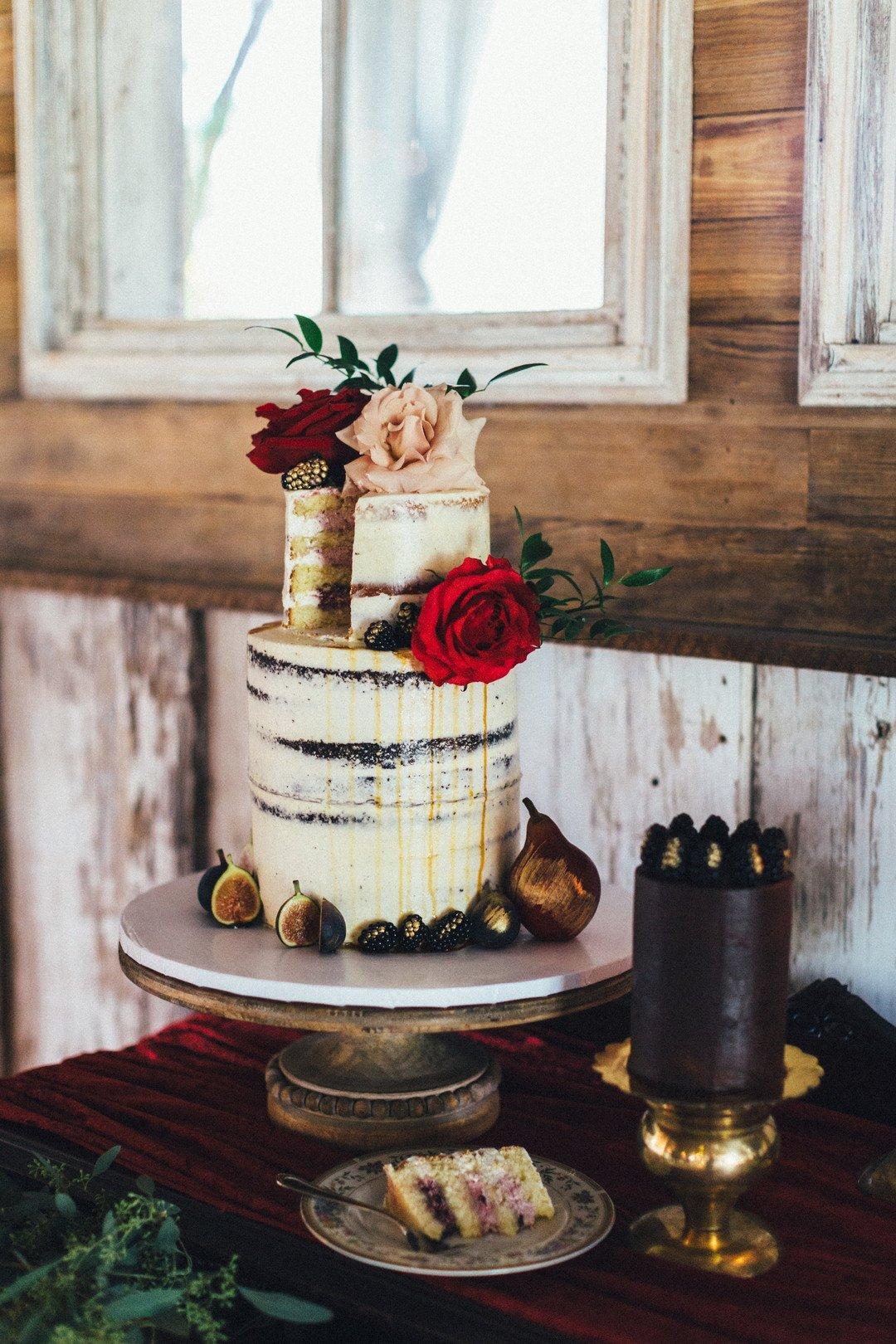 Cake by Cake Bueno
Semi-naked wedding cake
The semi-naked cake trend isn't going away anytime soon. For your fall wedding, pair a semi-naked wedding cake with caramel drip icing, gold-dipped fruits, lush roses, and mini cakes to create a decadent dessert spread.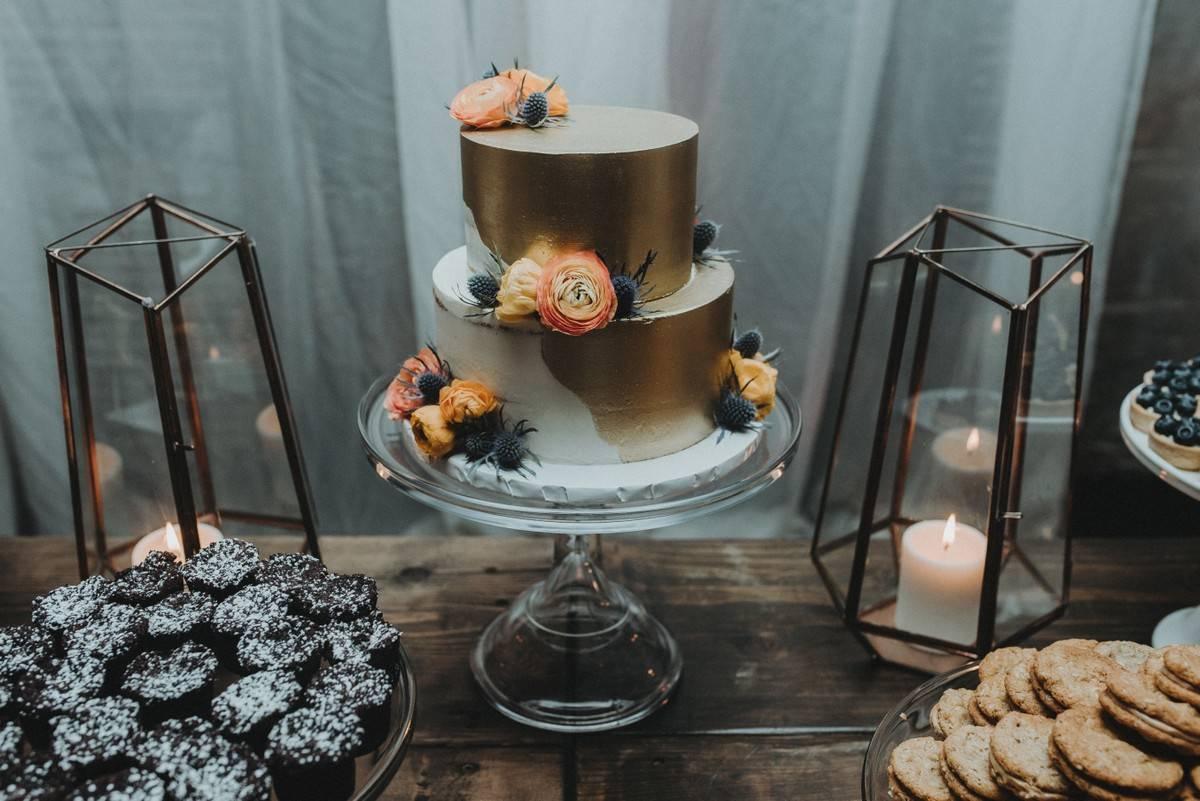 Gold leaf wedding cake
Metallic details are't just for your wedding decor—you can use edible metallic paints and foils to add a bit of shimmer to your wedding cake, too. Take a simple two-tier cake to the next level by adding a contrasting layer of gold leaf, then complete the look with fresh fall flowers in muted tones (like the orange ranunculus and blue thistle on this cake).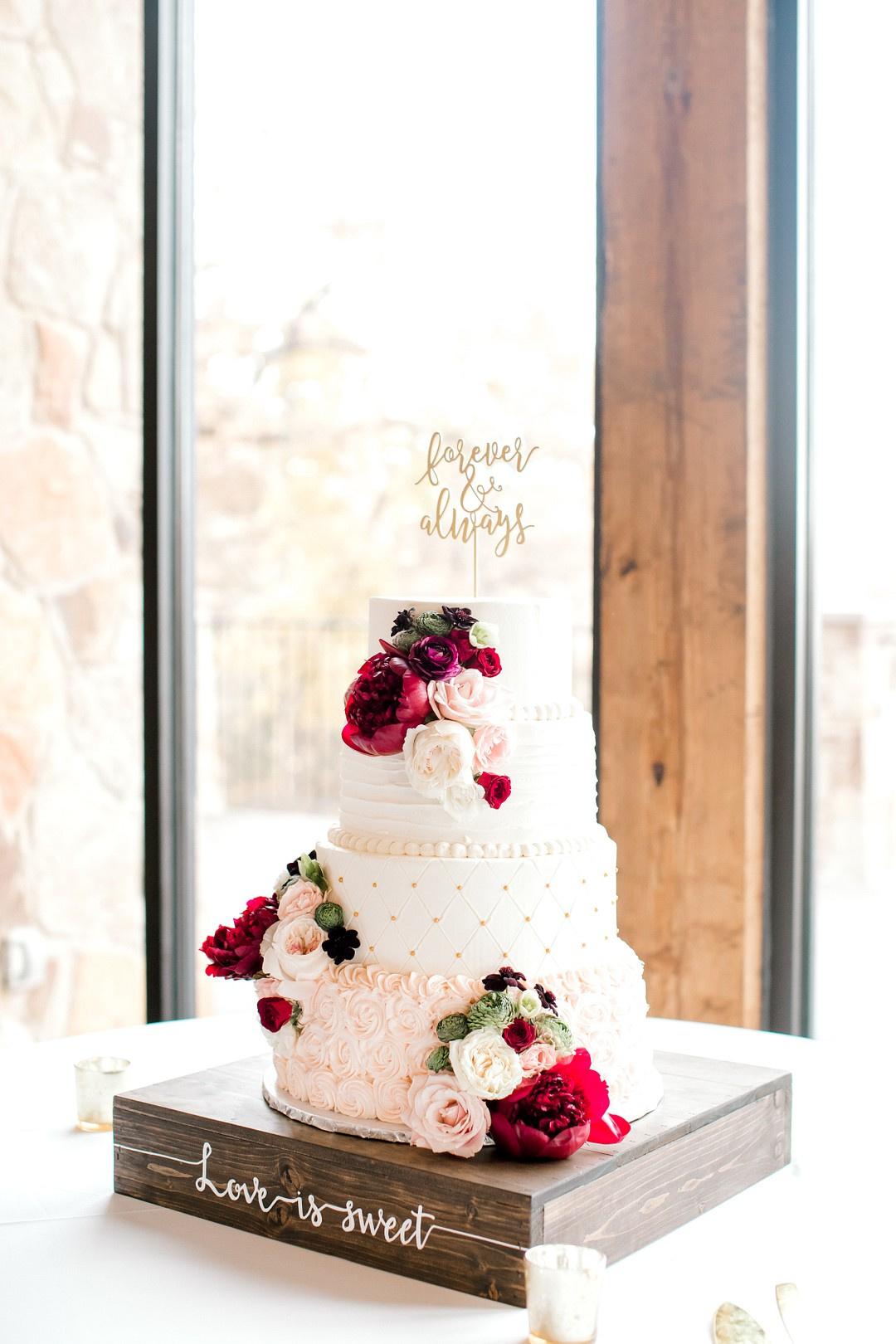 Cake by Colleens Cakes
Wedding cake with piped rosettes
If you're having an autumn wedding cake with three or more tiers, it's a great opportunity to incorporate a variety of patterns and textures. Ask your wedding cake baker to decorate each tier differently for a unique effect. Elegant pink frosting rosettes are made even prettier when you add fresh flowers, like these roses and peonies.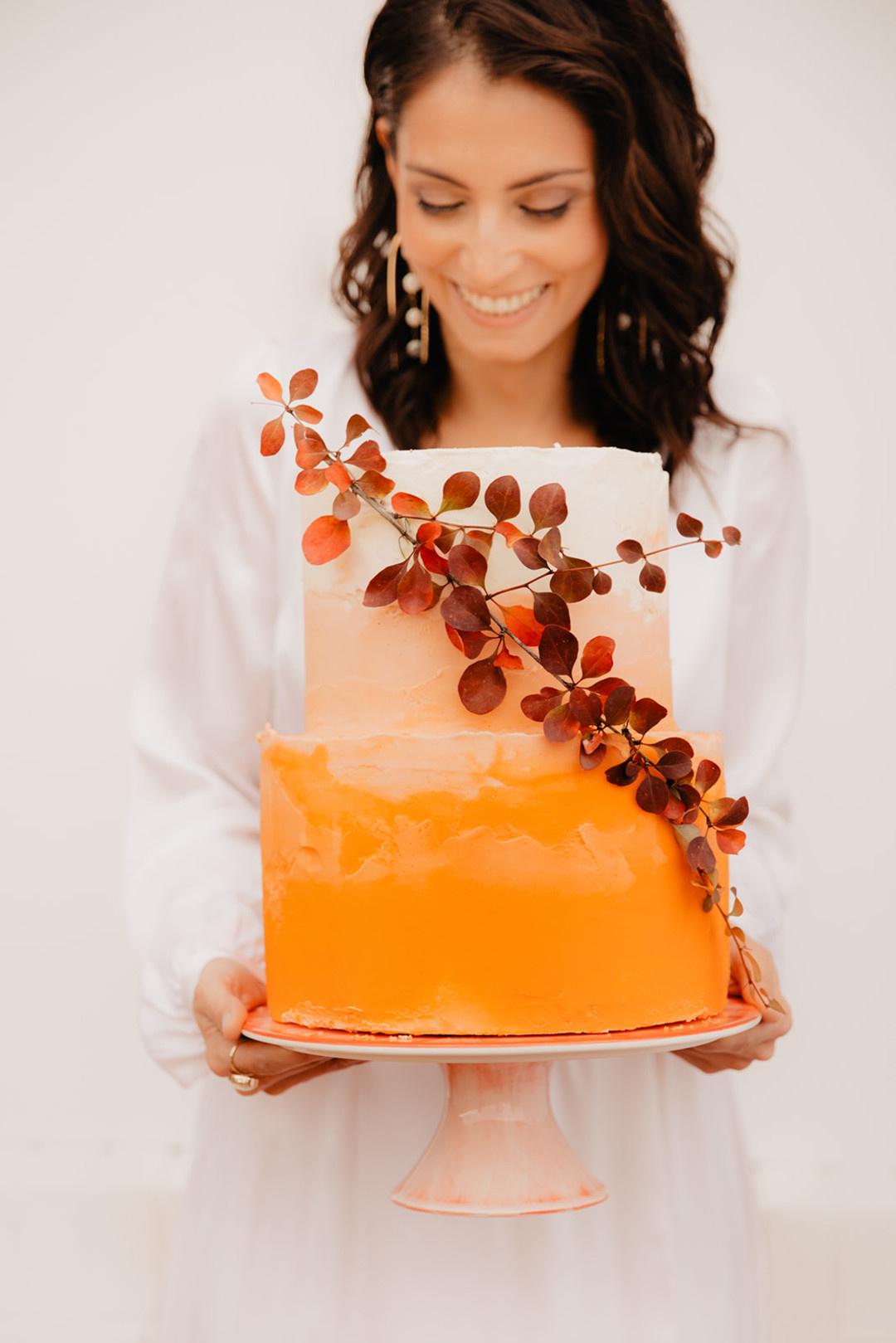 Cakes by Fairy Cakes Virginia
Abstract orange wedding cake
If you haven't already heard, orange is one of the trending wedding colors of the moment. Even better, it's a spot-on choice for fall color palettes. Take a cue from pumpkin spice and incorporate a pop of this bold color into your reception decor by opting for an orange wedding cake. If that's too much, a gradient frosting effect like the one seen here will immediately tone down the vibrancy. Add fall foliage and voilà.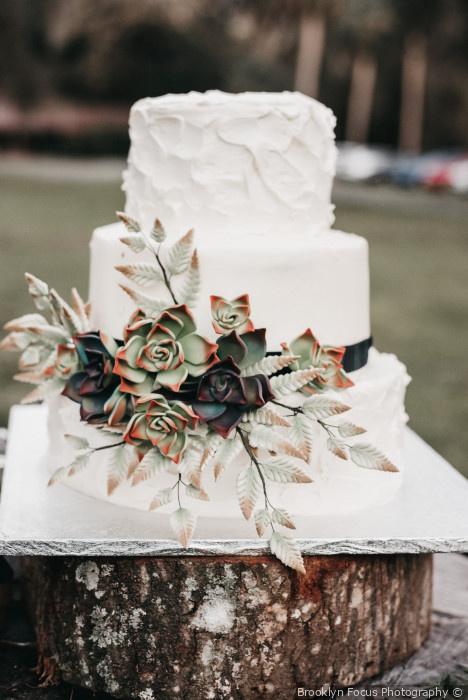 Wedding cake with earthy succulents
Succulents are a no-brainer for a boho or outdoor fall wedding. These plants are beautiful enough on your own, so all you need to showcase them is a simple white buttercream cake!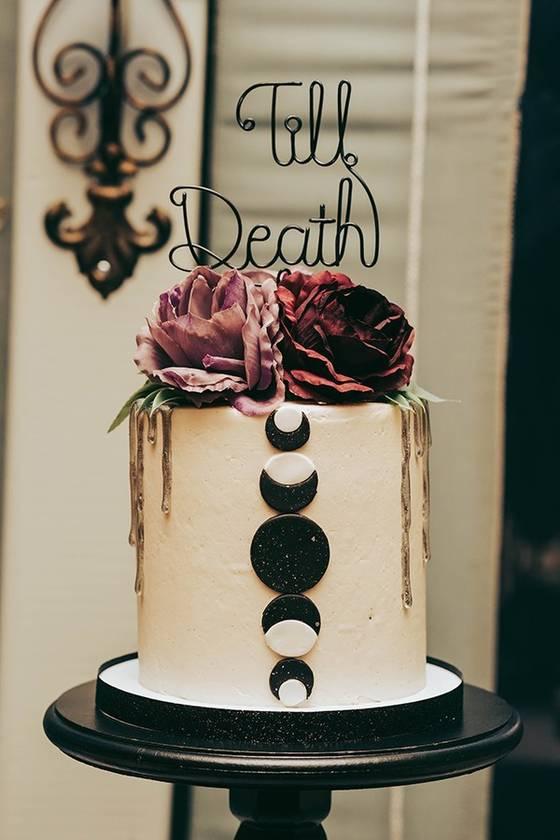 Moody moon phases wedding cake
If you're thinking about going goth for your wedding day, you'll love this moody one-tier cake decorated with moon phase decals, gold drip icing, and a topper that says it all: 'til death.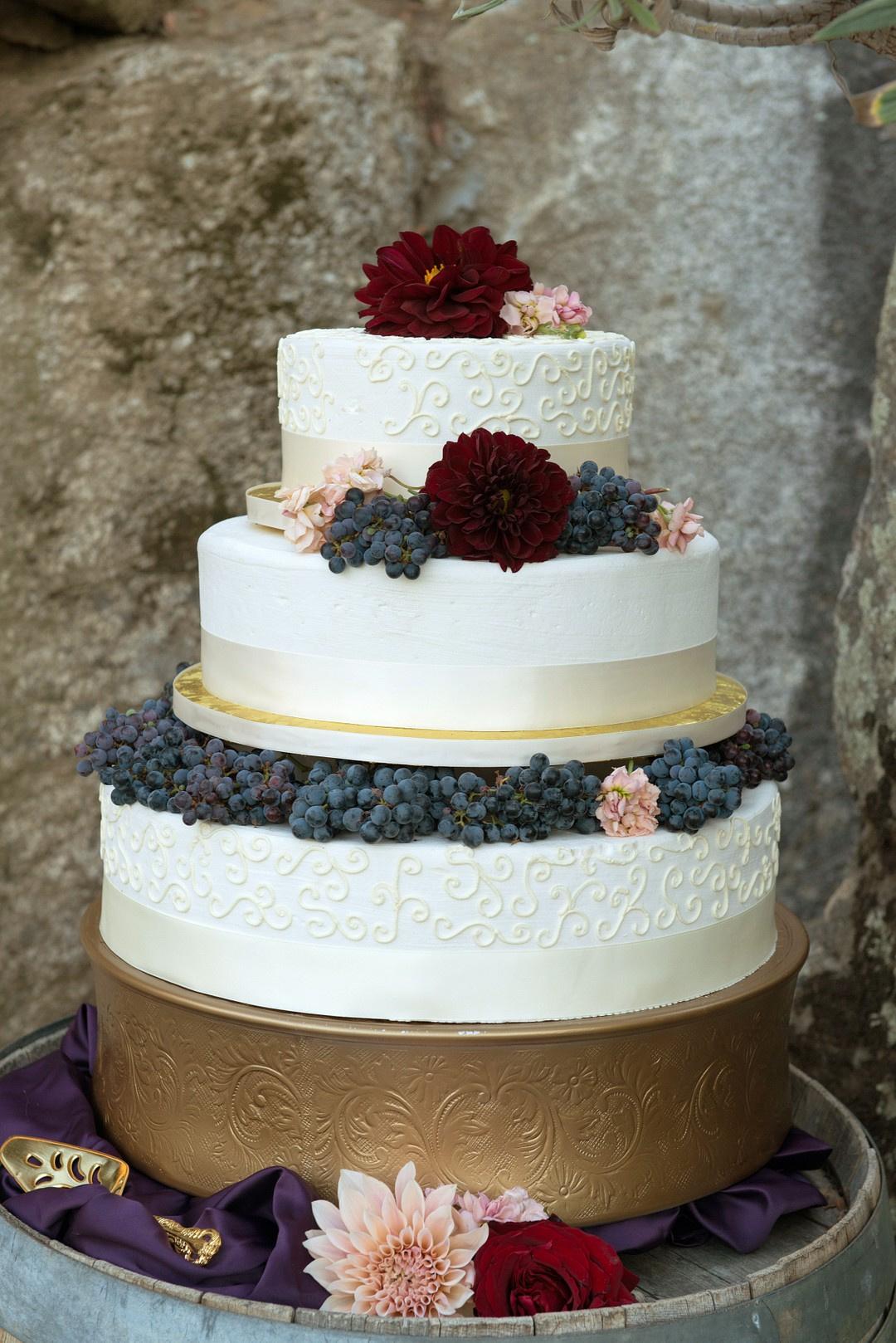 Vineyard-inspired wedding cake
Fresh seasonal fruit is another yummy way to decorate your fall wedding cake. If you're getting married at a vineyard or a winery, grapes are a must-have detail—use bunches of grapes to separate the tiers of your cake or let them cascade down the side like a waterfall.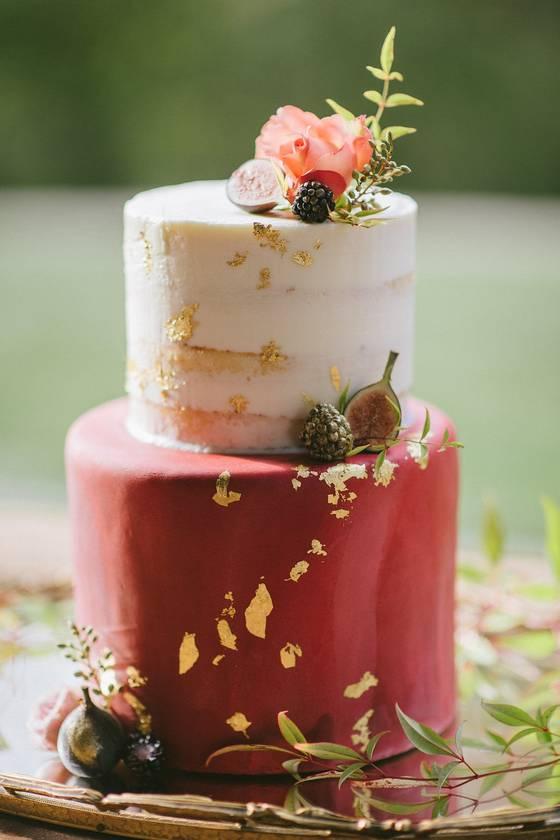 Wedding cake with colored tiers
Red and gold is one of the best color schemes for fall weddings. Give a miniature two-tier wedding cake some major personality by using red fondant, edible gold leaf, and fresh figs as garnish.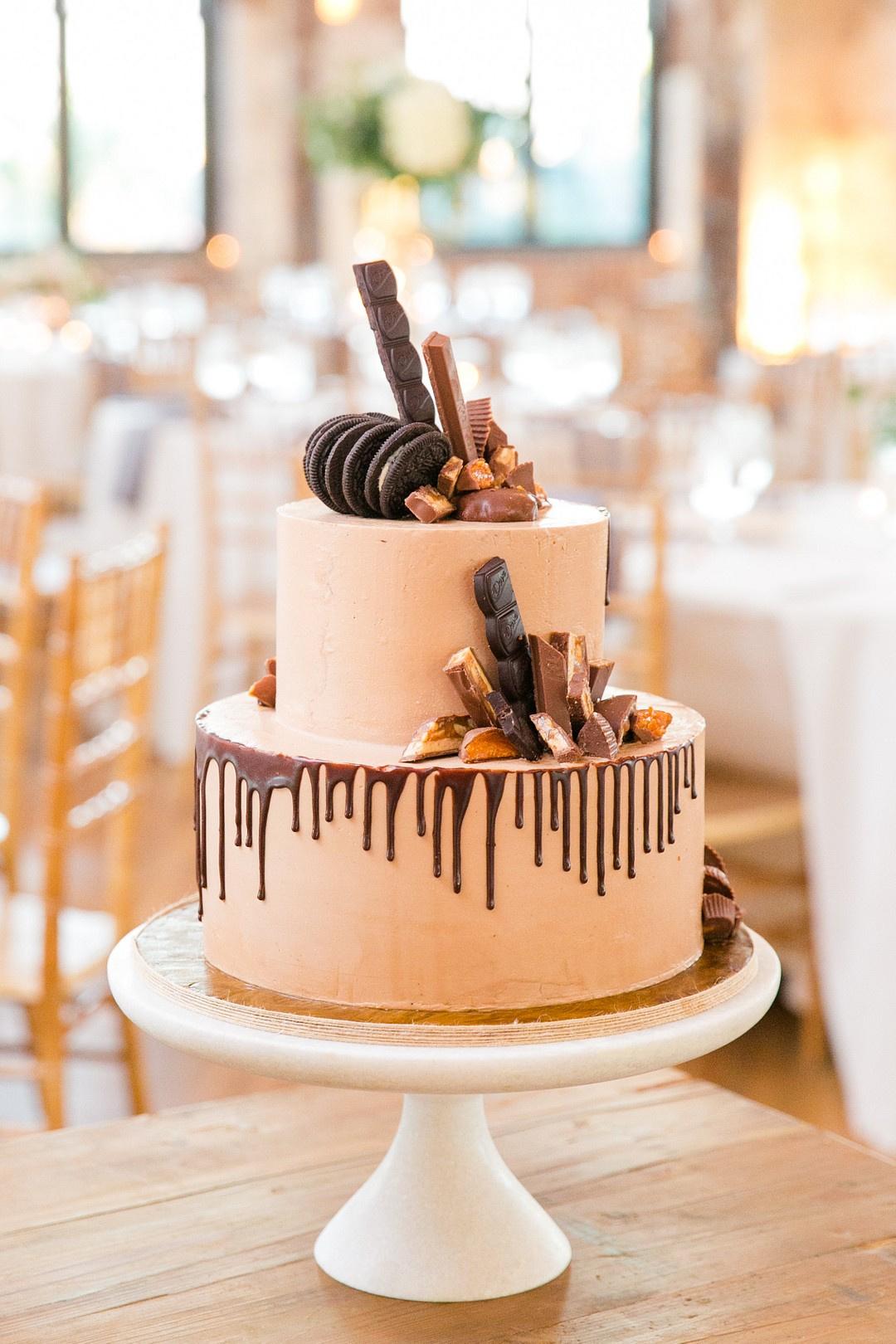 Cake by DeClare Cakes
Candy bar wedding cake
Calling all chocolate wedding cake lovers: you can have your wedding cake and your favorite candy all in one place. If flowers and greenery aren't your thing, a cluster of unwrapped candy bars, cookies, and chocolates looks just as enticing on top of the cake.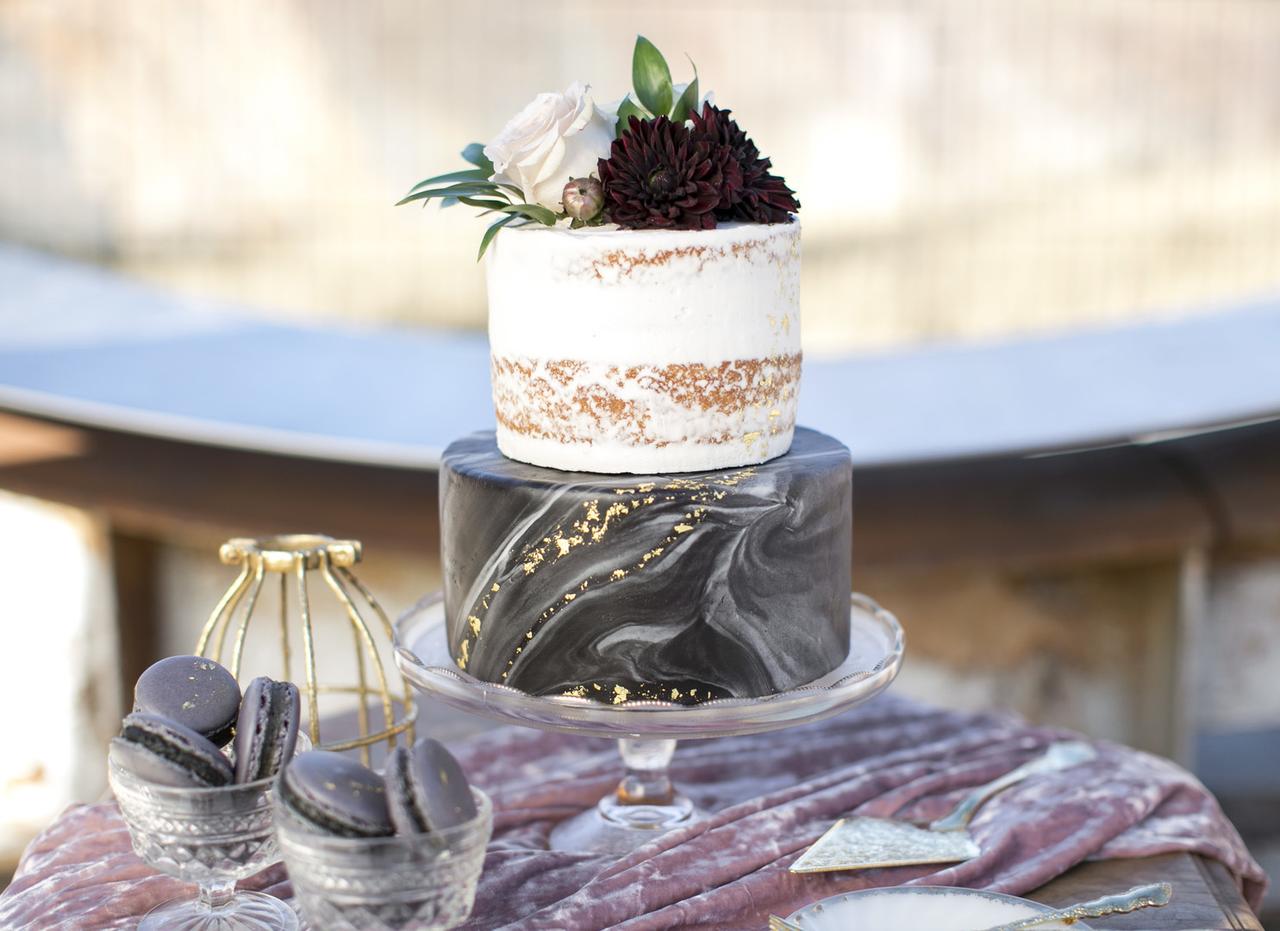 Cake by Bakehouse
Marbled fondant wedding cake
Decorate your fall wedding cake in marbled fondant to really wow your guests. This swirly print is ethereal, modern, and totally one-of-a-kind—no two marble patterns are exactly alike! Add a few touches of metallic gold leaf, then top off the cake with fresh flowers and greenery.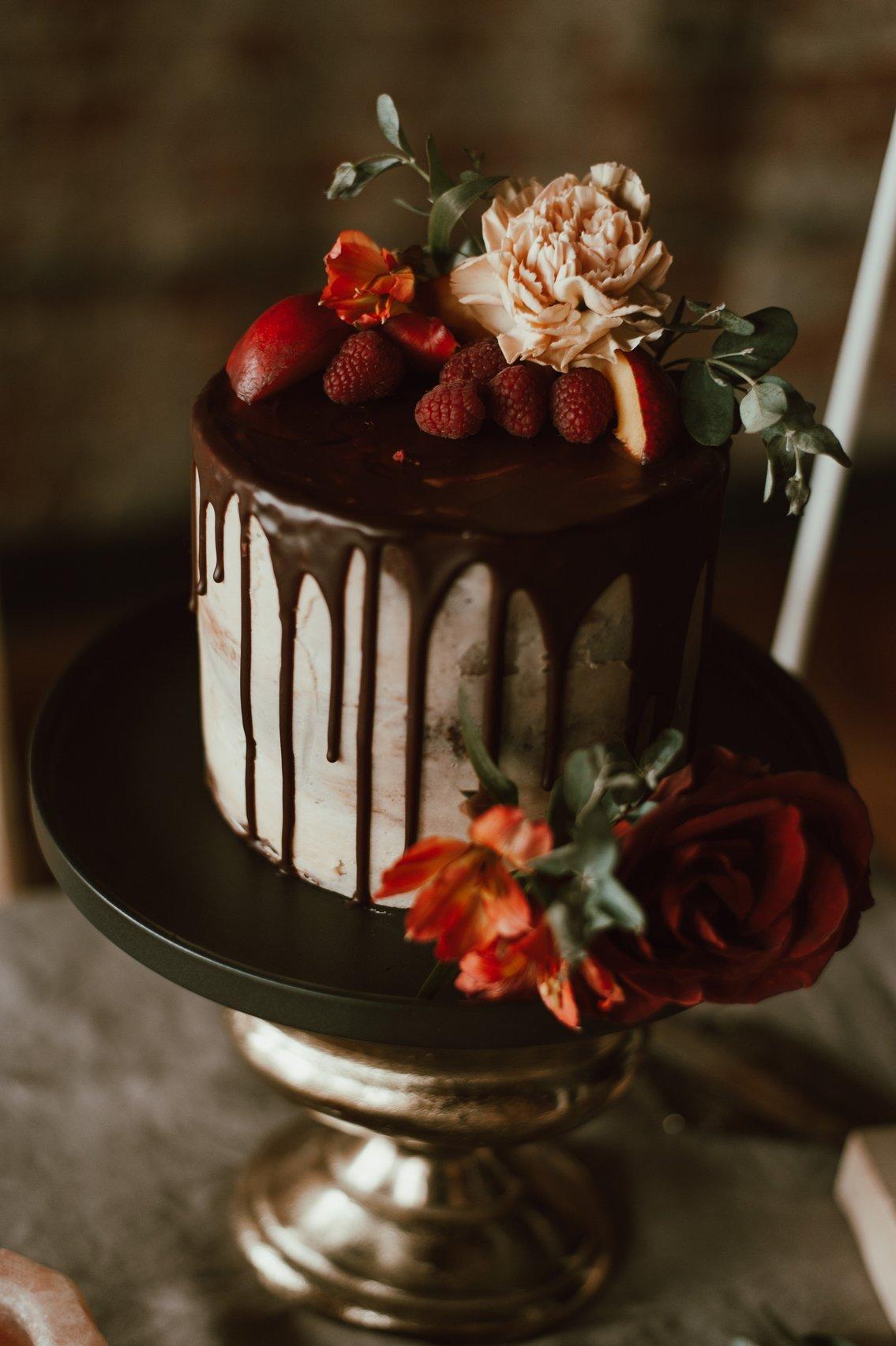 Cake by Amaranth Creative Co.
Drip wedding cake
Drip icing started out as a trend a few years ago, but it's safe to say that this technique has since become a staple in the wedding cake industry. The great part about it is the versatility—you can use essentially any type of icing or syrup to create the dripping effect, whether you choose a rich chocolate sauce, zesty lemon drizzle, or a berry glaze.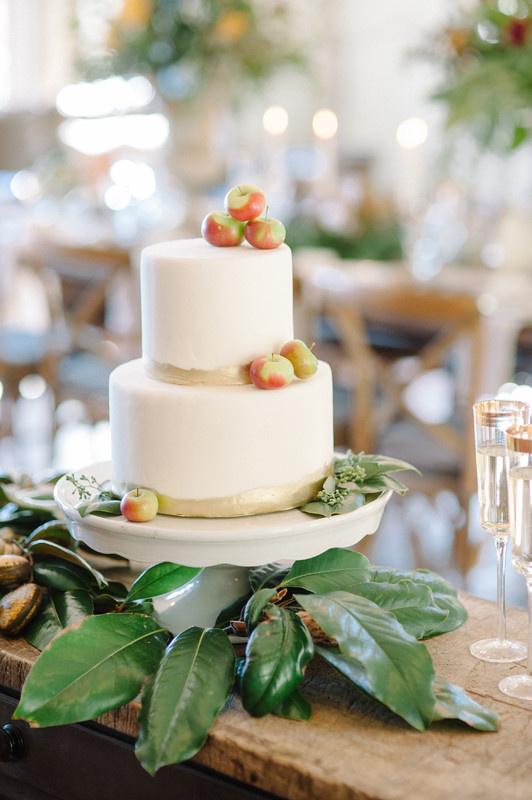 Rustic wedding cake with apples
Apples go hand-in-hand with fall wedding season, and that doesn't have to strictly mean serving apple pie or apple cider during your reception. You can use apples in your wedding decor and even to accent your wedding cake—miniature apples look so cute sitting on each tier of a fondant wedding cake.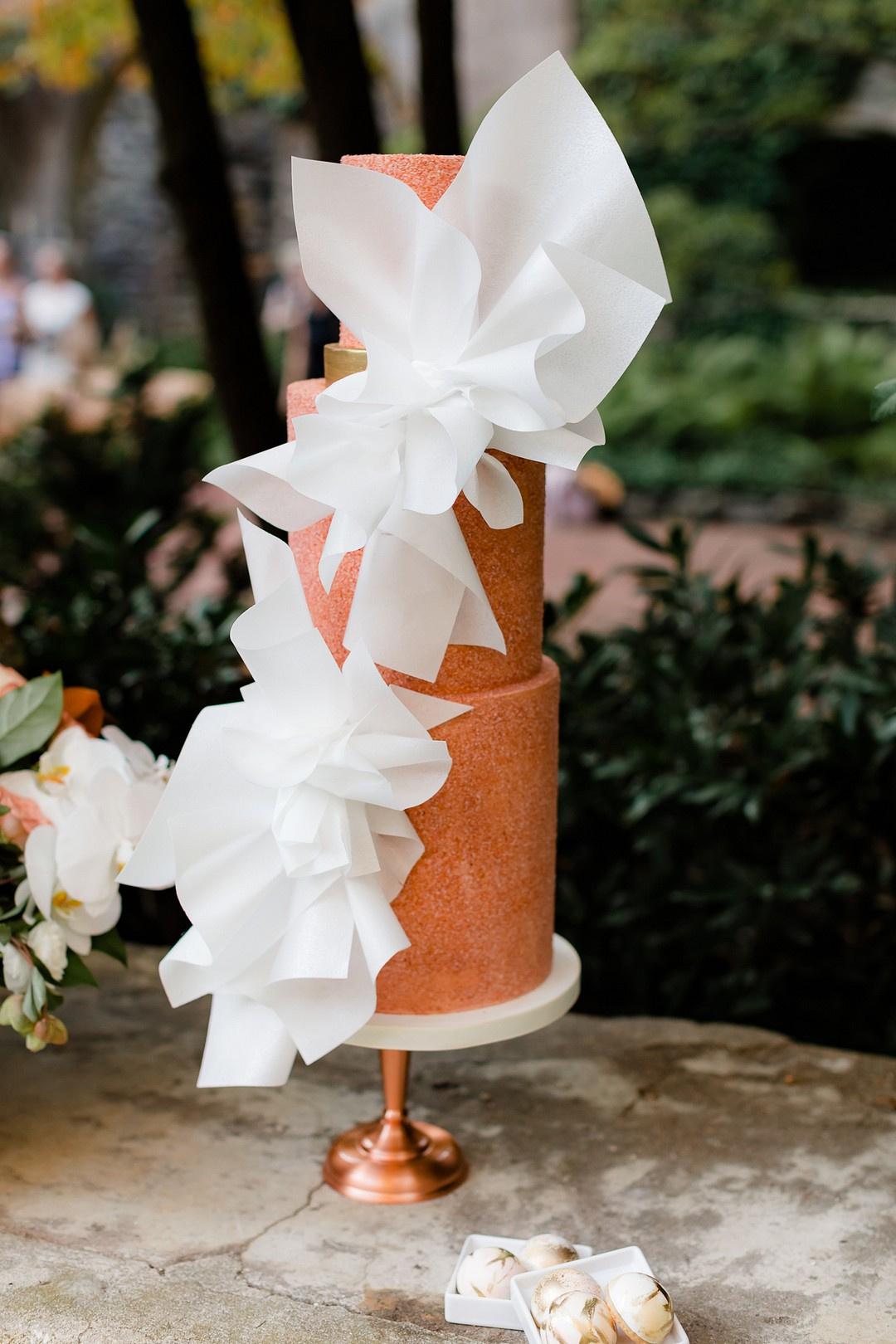 Cake by Park Ave Cakes
Wedding cake with elongated tiers
Wedding cakes with elongated tiers—tiers that are taller than they are wide—are perfect for creating a contemporary, statuesque look. This pumpkin orange wedding cake, which was inspired by high-fashion design, looks like a museum-worthy masterpiece.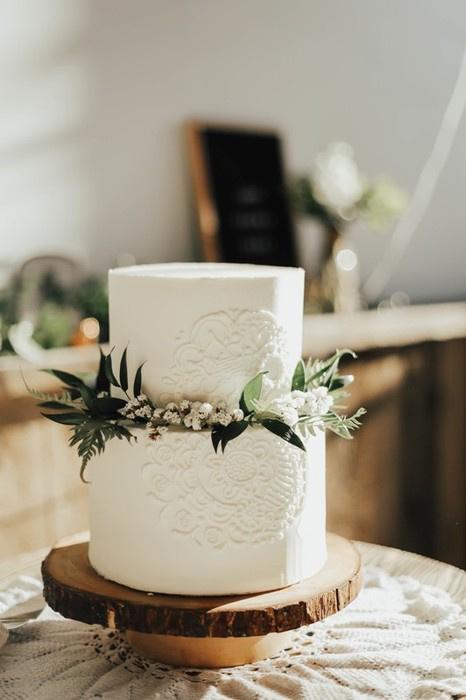 Macramé wedding cake
Enhance an all-white wedding cake with greenery and a hand-piped macramé design for a free-spirited, retro '70s vibe.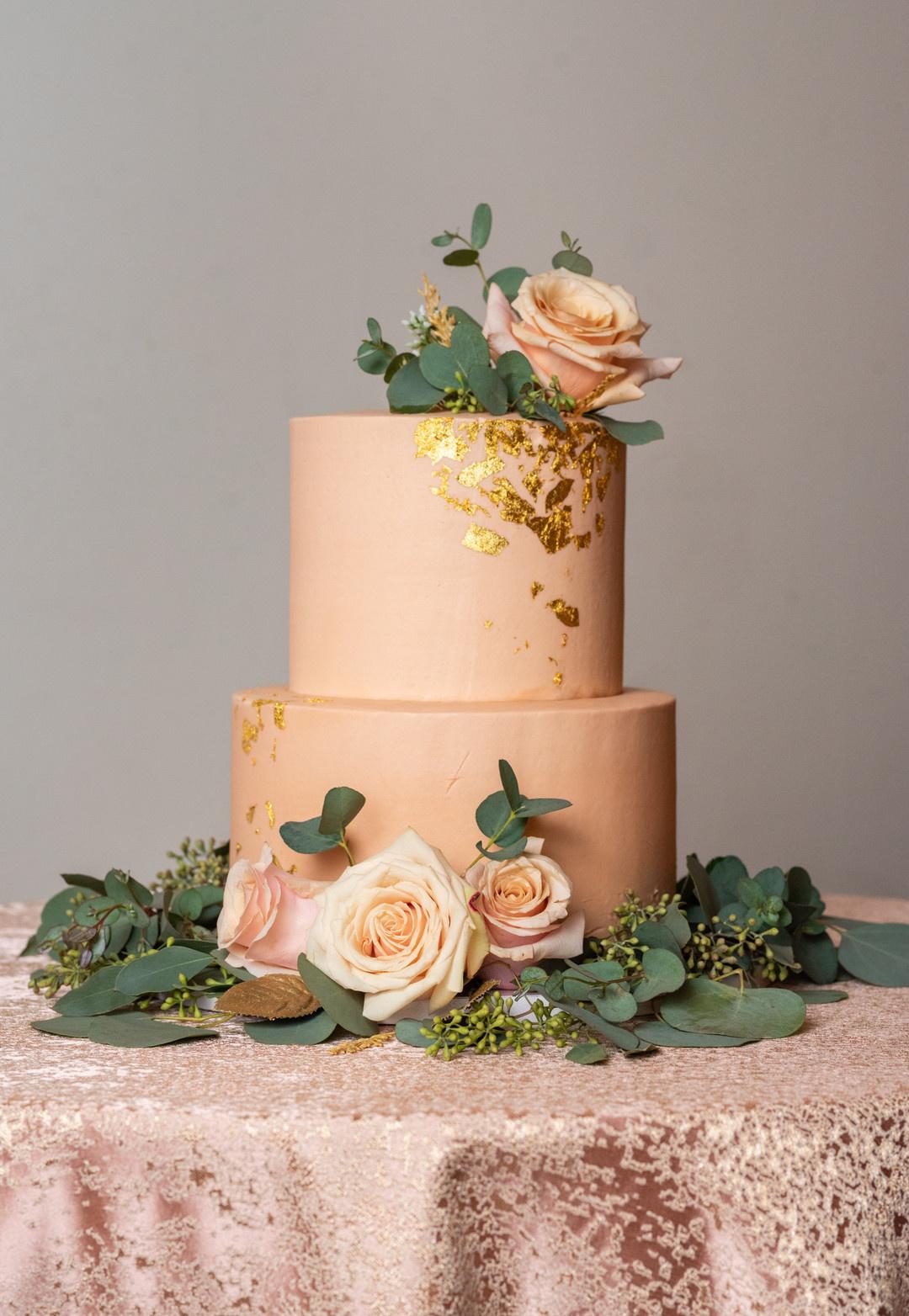 Cake by Acuna's Custom Cakes
Monochromatic color palette
This rosy-hued wedding cake is almost all one color, but the different textures and combination of tonal shades keep it from feeling boring. Pick a main color for your wedding cake and then experiment with flowers, colored foils, and even table linens that are all in the same color family to complete the dessert table display.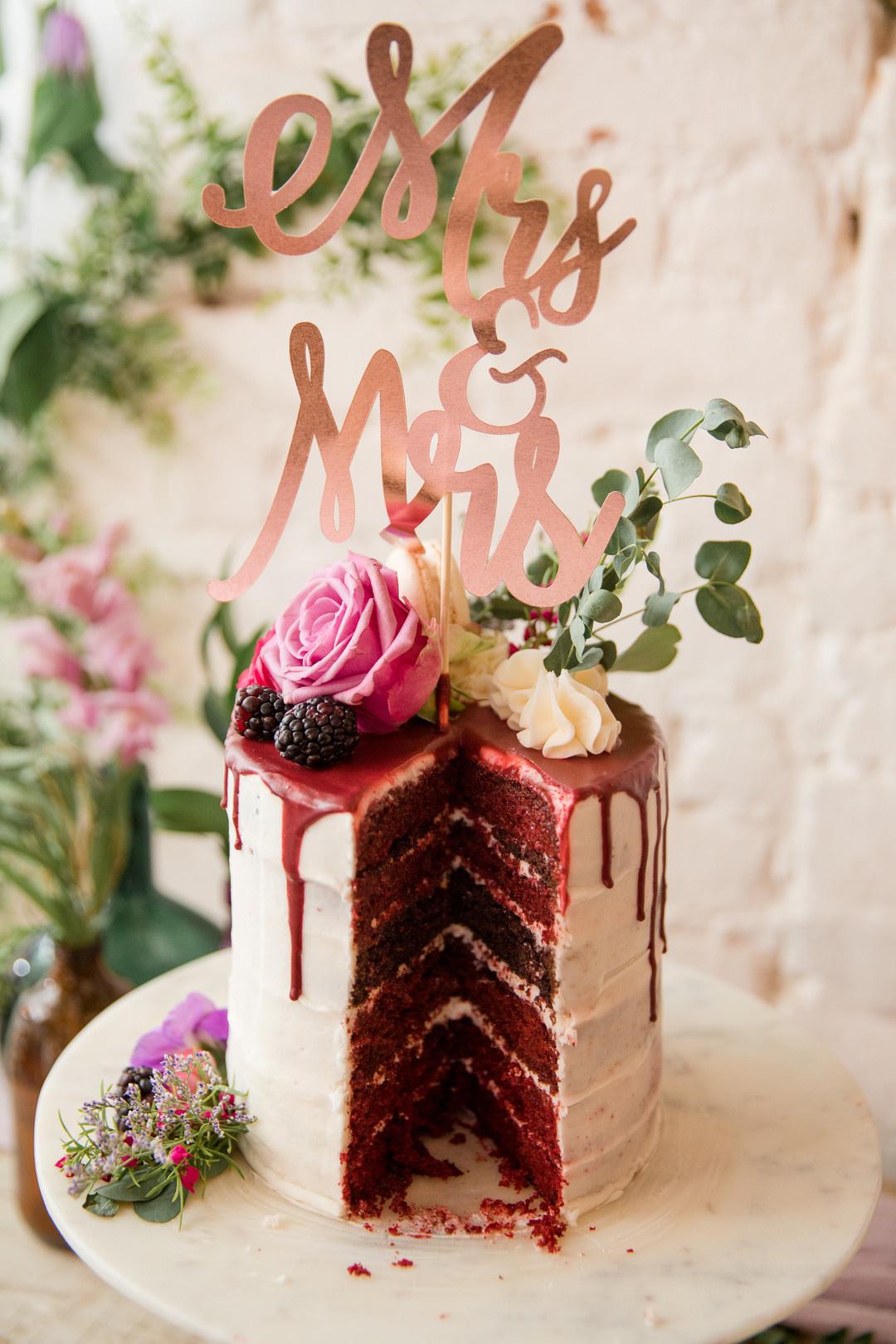 Cake by Electric City Bakehouse
Pink and red fall wedding cake
Decorate a red velvet cake with buttercream frosting, drip icing, pink flowers, and a rose gold topper for a majorly romantic confection.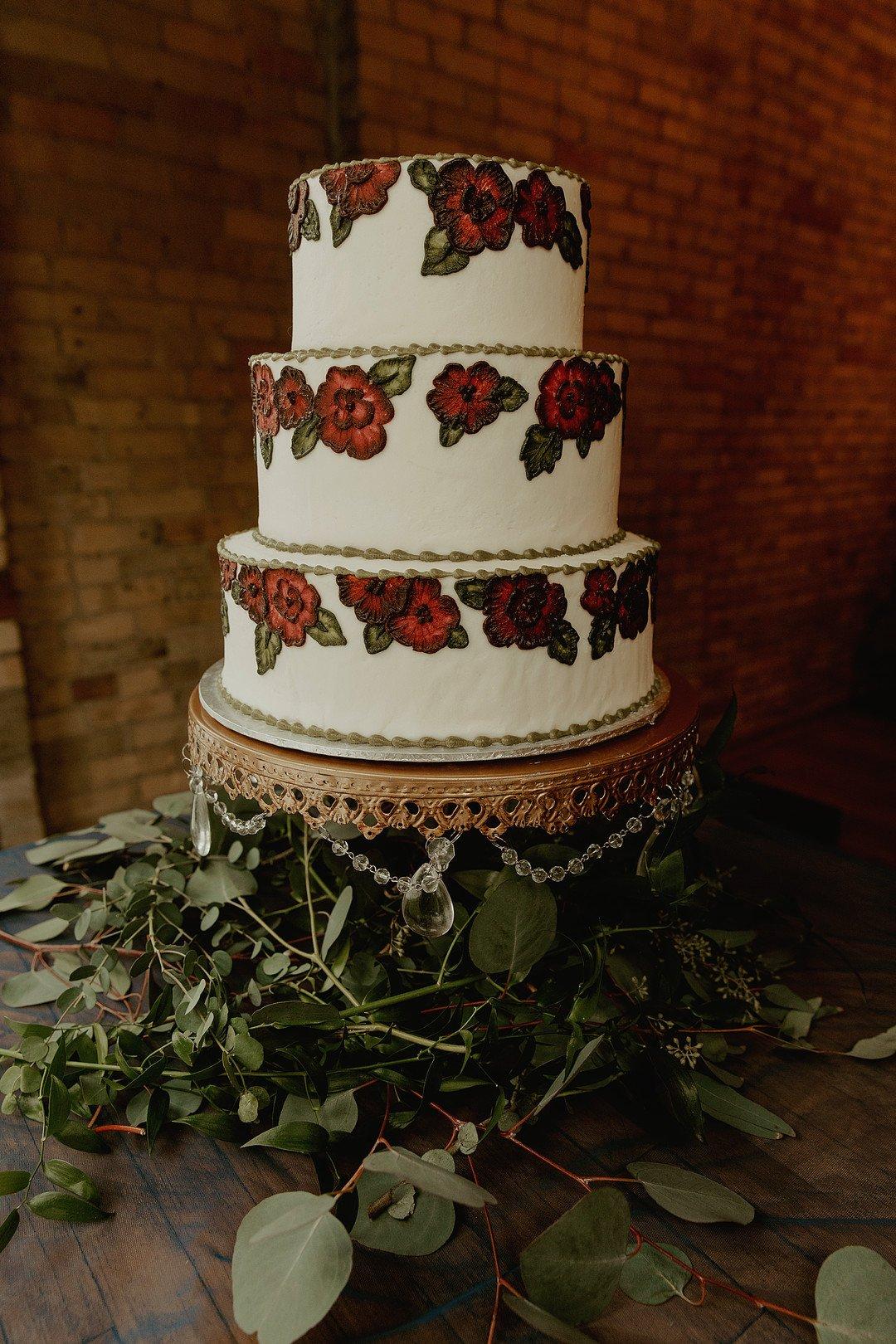 Wedding cake with hand-painted flowers
Instead of fresh flowers, decorate your fall wedding cake with artistic hand-painted flowers. The great thing about this idea is that the flowers can be as abstract or as realistic as you'd like—your wedding cake baker can provide a variety of options when it comes to different edible paints (called lustre dust), piping techniques, and floral designs.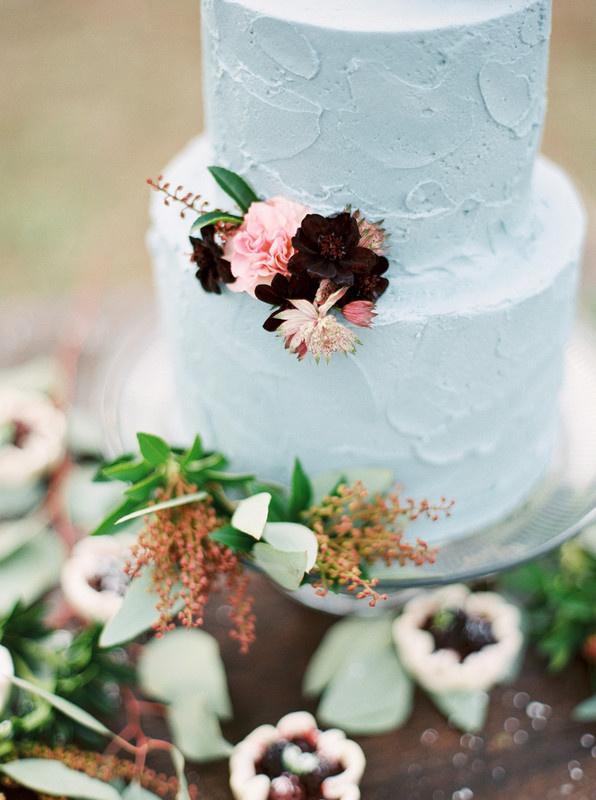 Blue and burgundy wedding cake
A blue wedding cake is completely unexpected, and that's exactly why we love it. For a fall wedding, decorate a light blue cake with rich burgundy flowers, like dahlias, scabiosa, ranunculus, or carnations.

Cake by Nona's Sweets
Wedding cupcake tower
Can't choose between a traditional wedding cake or cupcakes? You can have both! A small one-tier cake is perfect if you want the photo of you and your spouse cutting the cake, but cupcakes will be easier for your wedding guests to enjoy on-the-go, since they don't require flatware or plates. A wooden display tower is on par with a rustic wedding theme.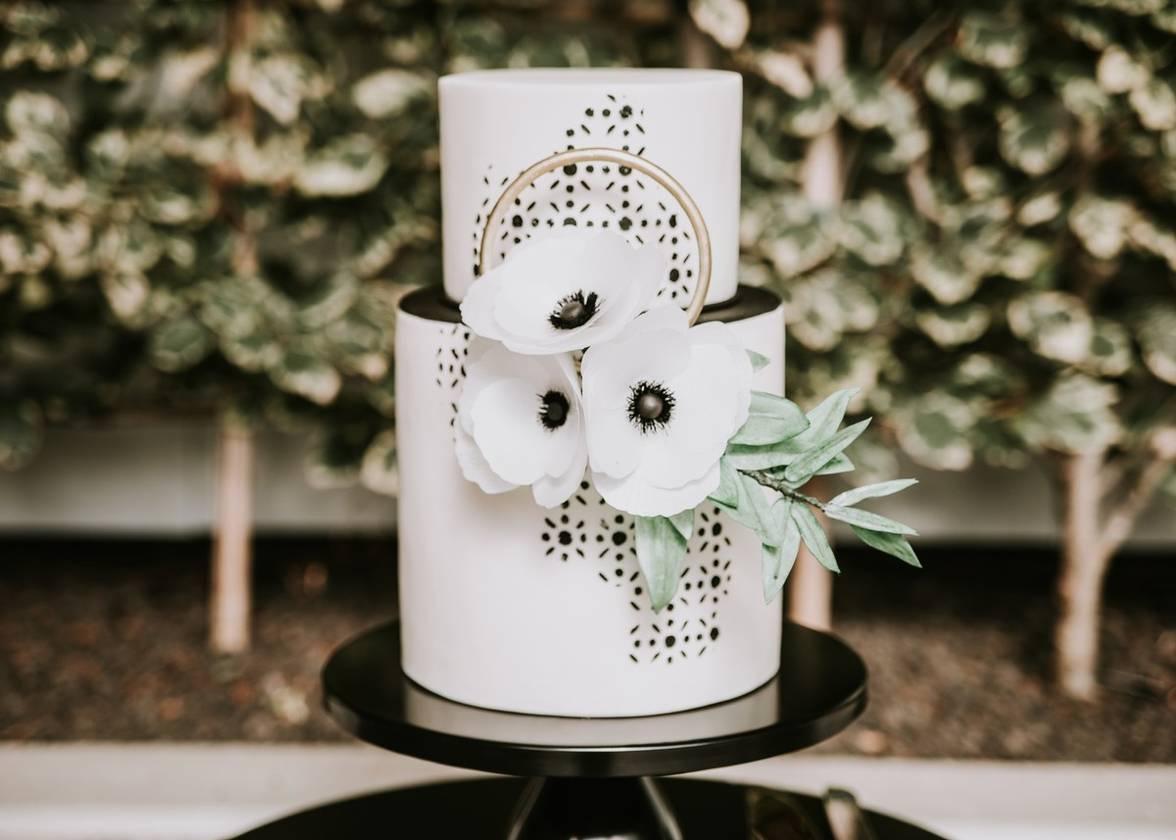 Black and white wedding cake
A sleek white fondant cake is ideal if you're having a modern or minimalist wedding theme. Abstract black details and paper flowers on the front of the cake give it an edgy-cool vibe.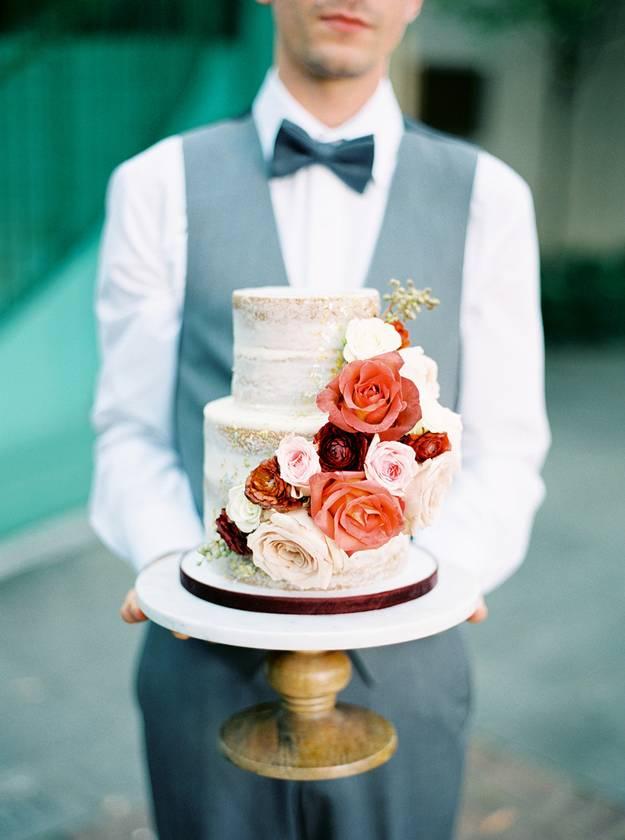 Floral cluster wedding cake
Use a cascade of fresh flowers as a simple way to decorate any fall wedding cake, whether you choose buttercream or fondant frosting.