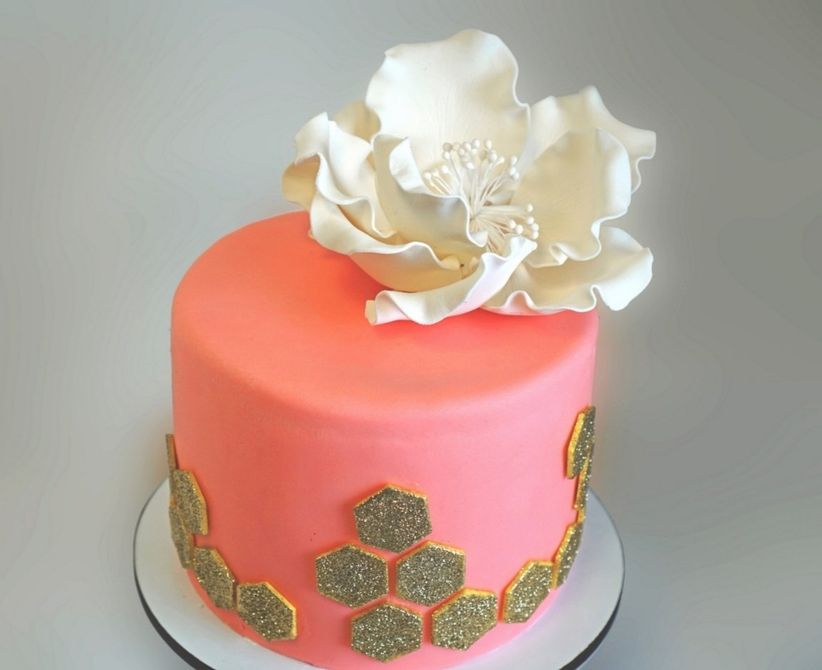 It's nearly impossible to ignore my sweet tooth as soon as I walk in the door of Fluffy Thoughts Cakes in McLean, Virginia. The display case is filled with dozens of delicious treats that get my stomach rumbling, even though I've already eaten breakfast. I'm guided into the back where I pass through a room filled with giant mixing bowls, trays of cake pops, and huge bins of ingredients. This room is where all the baking happens. I end up in the decorating room, where the finishers and cake decorators take a delicious confection and turn it into a work of art.

11:00 am- I take a walk around the perimeter of the decorating room and notice all the different supplies and materials the employees use to perfect their masterpieces. Three shelves in the corner hold dozens of baking pans of different shapes and sizes. Bins of creamy frosting are scattered around steel tabletops, dozens of spools of various colored ribbons are stored on the back wall which sit next to bins upon bins of cookie and cake cutters labeled with every holiday you could ever imagine. I notice trays of Christmas cookies and gingerbread houses on the opposite end of the room. Amilye, the store manager, tells me that December isn't as much about wedding cakes as it is holiday treats. I begin to realize just how true that is when I see one of the decorators frosting dozens of Christmas cookies. Everything from snowflakes to candy canes is on her decorating repertoire and I'm amazed by her steady hand and detailed designs.

11:20 am- I head back into the baking room where Susan, the pastry chef, is making a meringue for a special order holiday yule log in a mixing bowl so big I could comfortably sit in it, which I consider doing, but only for a second. When I notice the Monica the intern rolling cake pops, I ask Susan what her thoughts are on that current trend. "They're a lot of work," she says. She tells me they're a multi-step process involving rolling cake scraps and buttercream frosting together, placing them in a special contraption to smooth the edges, chilling them, dipping them in frosting, and decorating them. Turns out, cake pops take a lot more effort than I ever imagined, which is why they charge more for them than cupcakes. This doesn't stop customers apparently, since Monica's been working on cake pop orders all week.

11:45 am- Lara Halabi Stein, the owner of Fluffy Thoughts, comes over to greet me and tells me it's a crazy day at the bakery since her assistant, who usually handles a lot of the emails and phone calls, is off today. There are nine full-time employees, which boggles my mind since they produce between 300-400 wedding cakes a year. During their busy seasons, which is last from April through early June and the end of August through October, they'll make up to 15 cakes per week. They also have a kiosk at Nats stadium, which Lara pitched to the the catering director herself after she noticed the lack of sweets to choose from at the park.

12:00 pm- She shows me some of the sculpted cakes her employees are working on. Amilye is is hard at work sculpting a bulldog for a groom's cake. I compare the picture to her recreation sitting atop the cake and am floored by the similarity. Everything down to the furry wrinkles around the dog's eyes is perfect. How could anyone have the heart to slice into such an adorable pup? I ask myself. Oh that's right, because it probably tastes delicious. I see another cake in progress, which has a mini Dallas Cowboys cheerleader on one side, and what I'm told is going to be a Jets football player on the other side. The end product is going to look like a football field with the cake people on either side. I keep forgetting this is a bakery and not an artist's studio.

12:15 pm- As I make my way around the decorating room I see three other employees hard at work on various projects. One of them is icing a "Paw Patrol"-themed cake for a birthday party, one is rolling out pink fondant for a Winnie the Pooh-themed baby shower cake, and mini cakes for the front display case are also being decorated. Amilye apologizes for how slow it is at the bakery and I think she's joking since I've seen at least eight different tasty treats being made in the last hour alone.

12:30 pm- The group in the back begins chatting about the different Instagram accounts they follow for design inspiration. I shouldn't be surprised by this based on the amazing work I've already witnessed since arriving. Handles like @heytherecupcake_ and @unbirthdaybakery give them cake-spiration and I begin scrolling through their feeds, which just makes me even more hungry.

12:45 pm- One of the employees is finishing a cake for a wedding on Saturday, and I watch as she adds the second and third tiers. She inserts wooden dowels so the tiers don't collapse on one each other, which requires the use of a hammer, and I laugh to myself as I think back to the tiered cakes I've bit into and how they probably required tools to put together as well.

1:00 pm Amilye begins frosting two cakes, which will eventually be The Very Hungry Caterpillar-themed. She plans to craft 3D caterpillars for each of them. I notice a smorgasbord of abandoned edible cake adornments, only to learn that they always make extra decorations for their projects, in case they make a mistake. I find it hard to believe that mistakes are even made around here since everything looks flawless.

1:30 pm- One of the decorators is working on a birthday cake which she tells me will eventually resemble a ping pong table complete with a paddle and laboratory beakers (the recipient used to be a ping pong player and a scientist).

1:45 pm- After grabbing lunch next door, I come back into the bakery to find myself feeling just as hungry as before as I notice a large tub of chocolate frosting. I ask Susan if she's sick of sweets after working with them all day. She says no, despite all the baking she does on a regular basis. She likes baked goods just as much as the next person.

2:00 pm- Lara tells me that last night they threw a holiday party for their employees and the event planners that refer clients to them. They had stations set up for guests to decorate their own treats, enjoy food, and take home a doggie bag of the concoctions they made.

2:30 pm- Everyone in the decorating room is doing something different from when I left. Someone is spreading ganache frosting onto square cakes and someone is frosting a cake in a pretty ombre style to sell at the front.

3:00 pm- I head to Lara's office to ask her if I can have a moment of her time to pick her brain. Her door is covered in thank-you notes from brides and event planners. She has framed accolades all over her office. Lara was previously a psychologist, and she started Fluffy Thoughts in 2000 after her friends consistently complimented the goods she'd bring to parties. She started baking out of her home and eventually opened up Fluffy Thoughts in McLean almost six years ago. She says that her biggest priority is making sure everything is made from scratch. "Even our carrot cakes we grate the carrots, we chop up the nuts, we don't cut corners, we don't use boxes, we don't use mixes, we don't freeze our cakes. That's so hard to find nowadays," she says.

3:15 pm- She gets a call from a client asking if they can pick up the cake earlier than planned. Amilye then comes into the office asking Lara to clarify a detail on the tuxedo cake the man wants for his birthday party over the weekend. Amilye says she'll have the cake done by tomorrow morning at the latest. In the midst of their conversation, a bride calls for the sixth time that day to discuss the ever-changing vision of her wedding cake.

3:45 pm- We do a live-stream Q&A on the Periscope app so WeddingWire Twitter followers can get answers to all of their pressing wedding cake questions. She answers everything from where to look for inspiration and mistakes couples often make. Some snippets of advice: don't keep your cake outside during your reception if it's extremely hot out because it will melt and make sure you consider the venue's aesthetic when coming up with your cake design. Lara's favorite part of owning a cake bakery that specializes in high-end wedding cakes? "I love being a part of the couple's big day, seeing their face when they see their wedding cake, it just feels really good after you put so much hard work into a cake and just seeing them be so happy." And after finally biting into one of their chocolate pumpkin cupcakes as the day draws to a close, I don't see how anyone could go home unhappy after a treat from Fluffy Thoughts Cakes.