Fondant vs. Buttercream: The Sweetest Wedding Cake Debate
Learn about how fondant and buttercream icing are made, and what each brings to the (cake) table.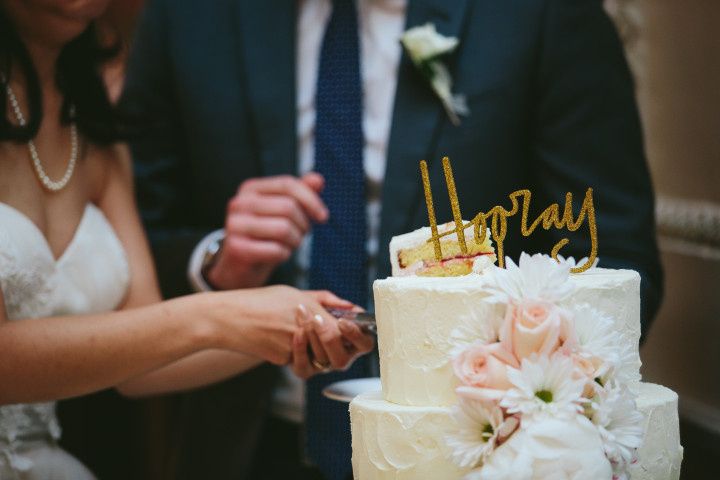 The joys of choosing your wedding cake are many, not least of which is the tasting process! But once you've picked a perfect selection of cake flavors, it's time to choose your decorations and icings. The two main types of icing used on wedding cakes are fondant and buttercream, and each has its advantages and disadvantages.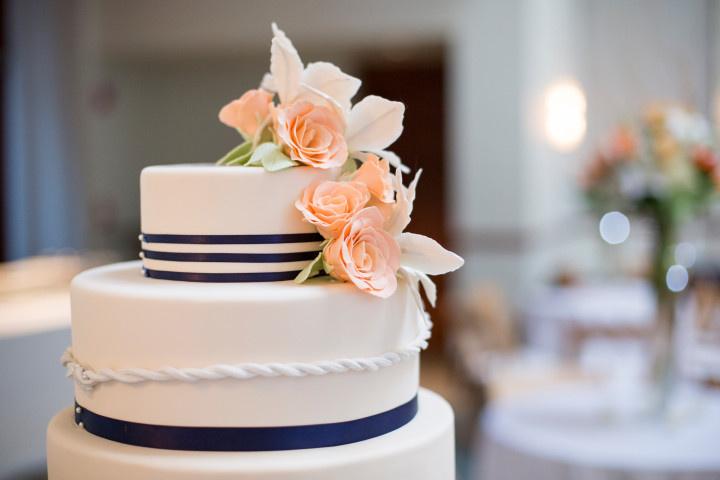 Fondant
What it is:
Fondant is a thin, clay-like icing most often made from confectioner's sugar (also known as powdered or icing sugar), corn syrup, and water. Some recipes may include gelatin (something to ask about if you're vegetarian or vegan) and others are made with marshmallows. It dries on contact with air and creates a smooth, solid finish, and it can be colored with food dyes.
Pros:
Fondant can be rolled out easily to cover the exterior of a cake with a beautiful pattern or finish. It seals in moisture too, meaning your sponge will be moist and flavorful when your cake is cut. Fondant is also great for sculpting, which makes it ideal for creating decorations such as sugar flowers, basket weave patterns, bows, cutouts, toppers — truly anything you can dream up.
Cons:
Fondant cannot be piped, so if you're picturing frosted rosettes around the layers of your cake, this type of icing is not for you. Fondant also dries quickly, which can cause cracks in the exterior of your cake. And because of its hard, clay-like texture — which can be difficult to cut through with a fork — fondant does not do well as a filling between layers of cake.
Fondant has a much more candy-like flavor than rich and soft buttercream. Many couples find the flavor of hard, candy-like fondant icing to be less pleasant than buttercream. Be sure to try both options at your cake tasting and discuss with your cake baker which option is best for you!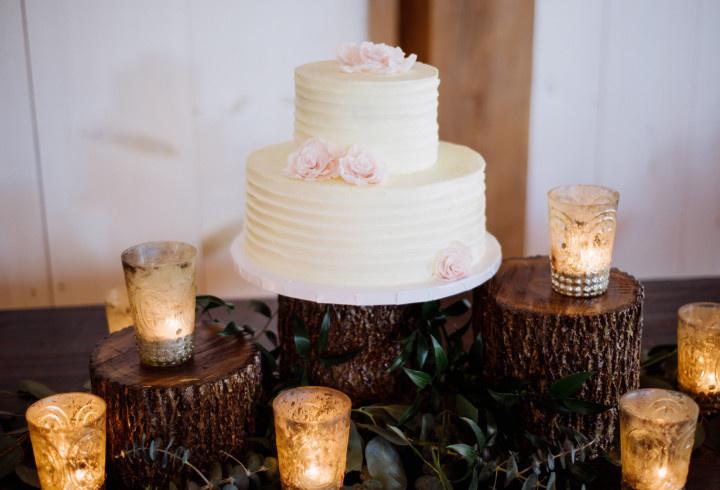 Buttercream
What it is:
Buttercream is the soft, rich, thick icing often found spread over grocery store and birthday cakes. It's made from confectioner's sugar, butter (or shortening), and flavoring — and sometimes egg whites — and can be colored with food-grade dye. It can be used as both a cake topping and filling.
Pros:
Because of its fat content, buttercream is rich and full of flavor, a reason many people prefer it to fondant. And because it's soft, it can be loaded easily into a piping bag to create flowers, designs, and piped edges. Piping buttercream using different tools and heads can create a variety of patterns and decorations.
Cons:
Buttercream is soft and must be spread by hand, which means that it will never lay as flat on the surface of a cake as firm, smooth fondant. If you're dreaming of an architectural cake with intricate designs, buttercream is not the icing for you.
It also melts in high heat and humidity, so it's less likely to hold its shape in warm climates or on particularly hot days. This can also make transportation a challenge, as buttercream may slide during a car ride and can be bumped and dented during a sudden stop.
Ultimately, the choice comes down to the texture and flavors you want from your cake, as well as the intricacy of the design you have in mind. If you're struggling with the balance between flavor and structured design, you have a couple of sneaky options. First, you can ask your baker to include a thick layer of buttercream beneath a fondant exterior, so that your guests will still get the rich flavor of buttercream without sacrificing design.
Second, ask your baker to create a faux layer cake — one made from foam, with just the smallest layer on top made from real cake. Your faux foam cake can be intricately designed and covered with fondant, but because the top layer is real cake, you'll still be able to make the first cut with your new spouse. Once you've made that first cut, the showstopper cake can be taken away to the kitchen where a buttercream-covered sheet cake will be cut and served to guests, allowing them to enjoy the full flavor of buttercream icing. A win-win!