Wedding Cake Tastings: Everything You Need to Know
Here is everything you need to know about your wedding cake tasting.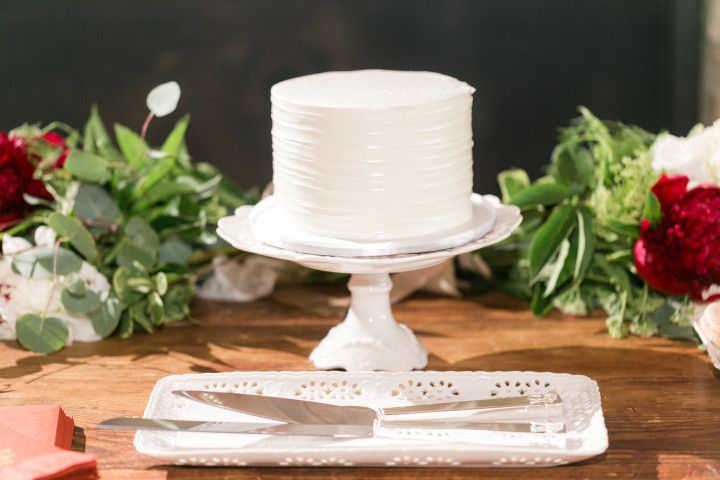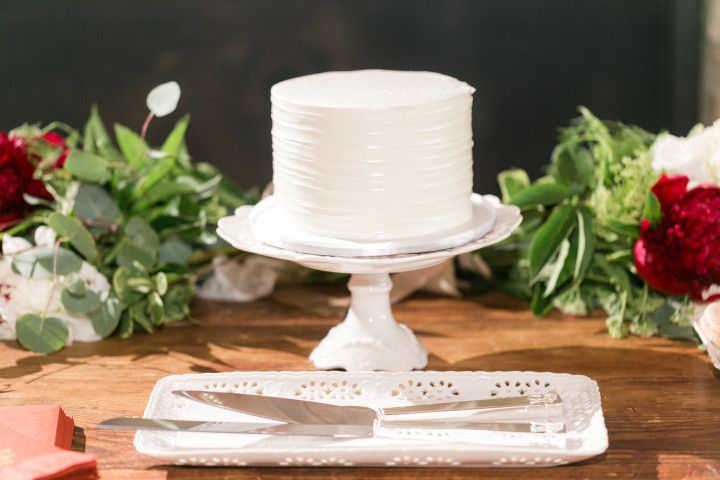 Photo: Karen Allen Photography
If you've been more excited about your wedding cake tasting than any other wedding planning activity thus far, we don't blame you. A whole afternoon spent indulging in desserts with the person you love? Sounds pretty perfect to us. But there's more to a cake tasting than just eating lots (and lots) of cake, so read on to find out what to expect from your tasting, and how to get ready for it!


Here's the rundown on everything you need to know about your wedding cake tasting.
Start by doing some serious research.
Talk to your married friends (or just your dessert-loving pals!), think about wedding cakes you've enjoyed in the past, and read reviews of bakeries on WeddingWire. Next, narrow down your list of possible bakery options and start making some calls. It's a good idea to schedule an in-person consultation with the one or two bakeries you're considering. A tasting may come with a fee, so be sure to ask if/how much the consultation will cost, and if that fee will be applied to the price of your cake if you choose that bakery.


Know your budget.
You want to get a realistic idea about the type of cake you can have based on your budget, so being upfront with your baker about how much you want to spend will ensure you get the best possible confection within your price range.


Have some ideas about flavor and style.
If you love chocolate cake, or red velvet is your favorite, let the bakery know you'd like to sample those flavors before your wedding cake tasting. The same goes for frosting: If you know you want buttercream and not fondant, or you only like cream cheese frosting, let your baker know.

It's also helpful to have some ideas about the desired look of your cake. Do you want sugar flowers? Real blooms? An elaborate watercolor design? Bring some images you've saved or just describe your vision. You'll likely get a sketch from the bakery soon after your wedding cake tasting.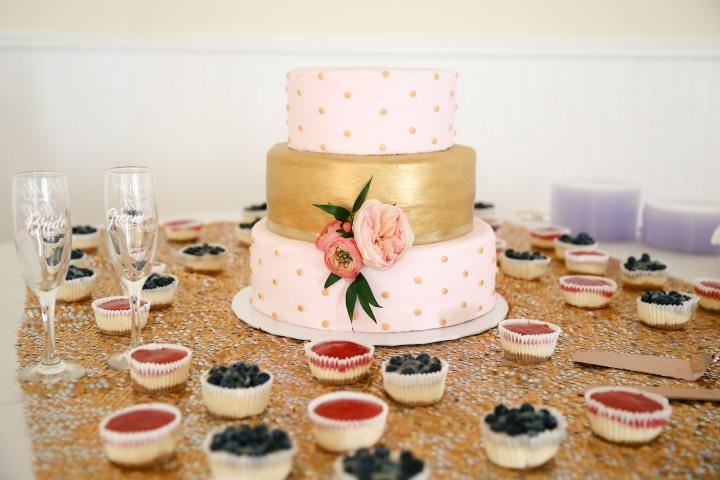 Photo: Hyde Park Photography
Know what you don't want.
If you absolutely hate red velvet cake, or would never want to see fondant at your wedding, tell your baker! You want your wedding cake to suit your tastes.


But also be open to suggestions.
On the other hand, your baker may offer a particular cake that surprises you, or a flavor that wouldn't normally appeal to your palate but seems perfect for your wedding. Be open to new ideas (it's good wedding cake tasting etiquette, after all)! And ask about seasonal flavors — you may want a cake with more cinnamon flavor for a winter wedding, for example.


Book your cake tasting about six months before your wedding.
By that time, you'll have a lot of your other wedding details worked out — such as location, dinner menu, and style — which can help you decide what flavor and type of cake will best suit your big day


Have a snack beforehand.
Do not go to your cake tasting on an empty stomach! Not only will this obscure your palate, you may also leave feeling light-headed from a sugar high.


Your wedding cake tasting will be about one to two hours.
Plan accordingly!


Drink water during your tasting.
This helps to cleanse your palate and also keep you hydrated while you're chowing down on sweet treats.


Try to taste different elements of the cake separately.
Try the sponge, frosting, and decorations separately, if possible, and then try them in different combinations. An experienced wedding cake baker will know the drill!


Make sure you connect with your baker.
Before you sign the contract, make sure you're working with someone you like. Your wedding is an incredibly special day, and you don't want be frustrated by your bakery just hours before you say "I do."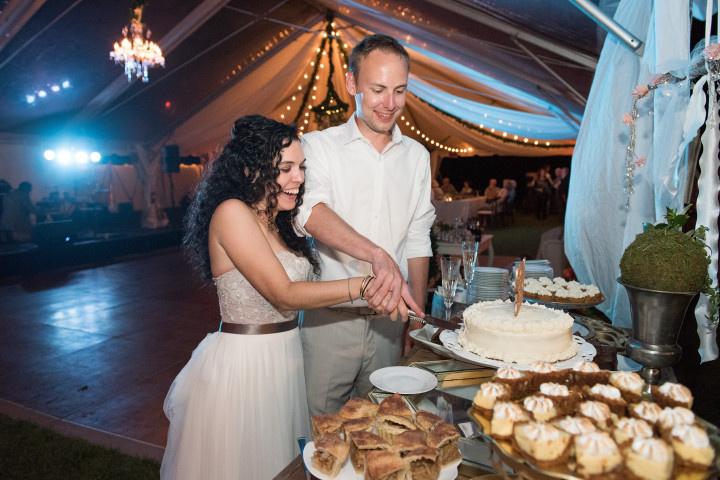 Photo: Natalie Heim Photography
And finally, ask these questions.
When will the cake be made? Do you deliver? What's the fee? When will it be delivered?
Write down the answers to these questions and then check them against your contract before you sign it.

What is the sponge made from? What about the frosting?
Not a big fan of Crisco? Make sure it doesn't end up in your cake!

Which decorations cost extra? How much?
An experienced wedding cake baker will explain these details for you, but be sure to ask for a price breakdown if one isn't provided. And again, check your notes against your contract.

What's the difference in price between sheet cake and tiered cake?
Many couples opt to have a "display cake" that has just one real tier that they can cut through, plus others made from Styrofoam, and a simpler sheet cake in the kitchen that will be cut behind the scenes and hand-delivered to guests. Ask if your bakery offers this option and if there's a significant price difference between it a fully real, tiered cake.

How large a slice do you consider one serving?
You may find that you can order a smaller cake if the bakery cuts its slices thick, and then cut your own slices thinner on the big day.

Will this cake hold up in hot weather?
This question will matter most if you're getting married outside in the summer; keep in mind that buttercream melts in high heat.

And of course, talk to your baker about any dietary restrictions or food allergies.
There may be hidden ingredients, such as almond extract, in your baker's frosting or sponge, and if someone in your family has a severe nut allergy, that's going to be a problem. So be clear about your needs before your wedding cake tasting.