10 Expert Tips to Avoid a Summer Wedding Cake Meltdown
This useful expert advice will help you keep your wedding cake cool and fresh as the summer heats up.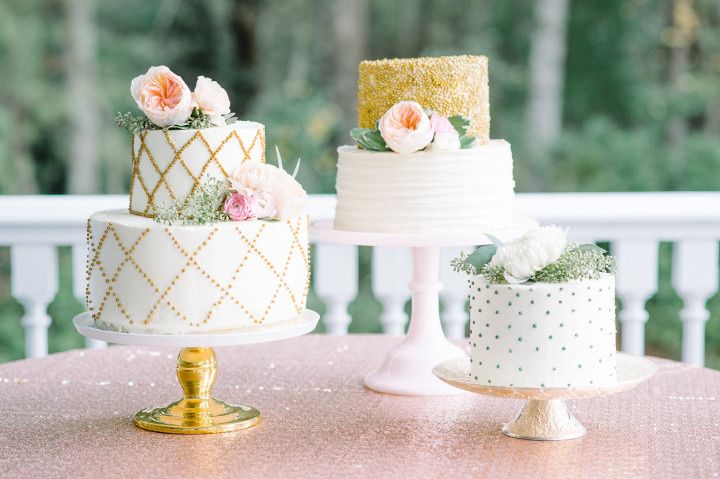 There are so many wonderful things about warm-weather weddings, but a summer wedding cake that's ruined by sitting out in the heat for hours isn't one of them. We talked to cake pros from around the country (particularly, some states where hot, sticky weather is common) to share their secrets to ensuring that your wedding cake won't wilt in the sun.
Here are ten tips, from the experts, to keep your wedding cake from a summer meltdown.
"I would recommend an all-white, ivory, or other pale neutral color scheme for cakes during outdoor events when the heat and humidity may be a concern. Black and other dark colored decorations will be the first to run on a cake in warm weather." —Hayden Campbell of Ashley Bakery in Charleston, South Carolina.

"I use edible wafer paper to make my flowers and love its versatility. It has the look and feel of paper, is light and airy, and the possibilities for decorating with it are endless! I love wafer paper especially for flowers because it will not melt or wilt in the heat as sugar flowers can. You don't have the long drying times for the flowers to be ready to use. They are also lighter than sugar and that can be a great advantage if making large and oversized flowers." —Bree Stanfill of Vintage Soul Cakes in Pooler, Georgia

"In the summer, you want to avoid placing any extra weight on buttercream cakes like gum paste flowers, fondant appliques, fondant bows, etc. We suggest for buttercream cakes in the summer to have light buttercream scroll work or sugar veil appliques."—Jackie-Sue Scelfo of Gambino's Bakeries in New Orleans, Louisiana.

"Summertime is also at a higher risk of bugs and debris flying around that would adhere to your cake, so keep that in mind as well." —Heather Singleton of Party Delights in Rolesville, North Carolina.

"The 'naked' cakes are really in right now and work perfectly for summer! Since there is no icing on the outside, there is no chance of having a melting problem if sitting outside We try to avoid any chocolate or white chocolate decorated cakes during the summer at an outside event. Chocolate and heat do not mix well so the chocolate can start to sag if it gets too warm." —Samantha Moline of Flour Power Cakery in El Cajon, California.

"Even fondant cakes are not fool proof. In high heat, a cake that has been refrigerated will express air and cause air pockets to form under the fondant - these will cause the cake to bulge in places as cakes come to room temperature. If they are not visible on the front they can be popped with a pin and gently pressed out but depending upon the design that's not always possible. That's when a well-placed flower here or there comes in handy!" —Rachael Louw of Sweet Traders in Huntington Beach, California.
"Most people prefer buttercream-iced cakes, however, rolled fondant icing can hold up better during the summer months. All bakeries have different buttercream recipes so just ask how their buttercream holds up in the heat. They will recommend which buttercream is best to use." —Jennifer Stevens of Ambrosia Cake Creations in Fuquay Varina, North Carolina

"Don't be afraid to ask your baker to use faux tiers for your wedding cake. If your cake carries too much weight that can also be a recipe for a melting, leaning disaster. So not only will faux tiers only help your cake stay in place, but also, it may help accelerate the cutting of your cake, as no outside cake will need to be disassembled but only the faux tiers removed for a straight bottom tier cut. Remember, only your baker knows how that cake was assembled and the tricks of carrying and disassembling it."—Karen Vazquez of Kakes by Karen in Naples, Florida

"We like the cake table to be ready when we deliver our cake. We really don't like anyone to move the cake once we set the cake up. However, if everything is outside then you really don't want the cake delivered until just before the wedding. If it is outdoors, be sure to have a canopy over the cake table so there is some type of shade."— Scelfo of Gambino's Bakeries.

"Indoors, the venue should definitely use the air conditioning and it should be set to a very cool room temperature of 72 degrees Fahrenheit. Once the guests arrive, the door will be opening and the room temperature will go up considerably." —Campbell of Ashley Bakery.