The Wedding Cake Timeline Every Engaged Couple With a Sweet Tooth Needs
Get psyched, dessert lovers! This wedding cake timeline will ensure that this oh-so important dessert is top-notch for your big day.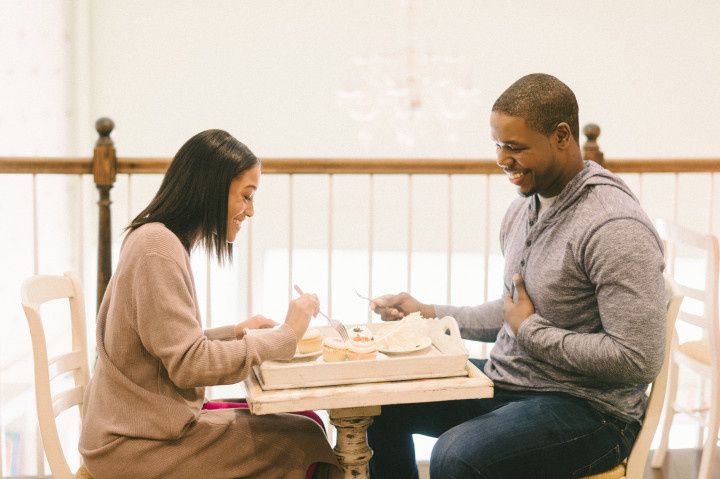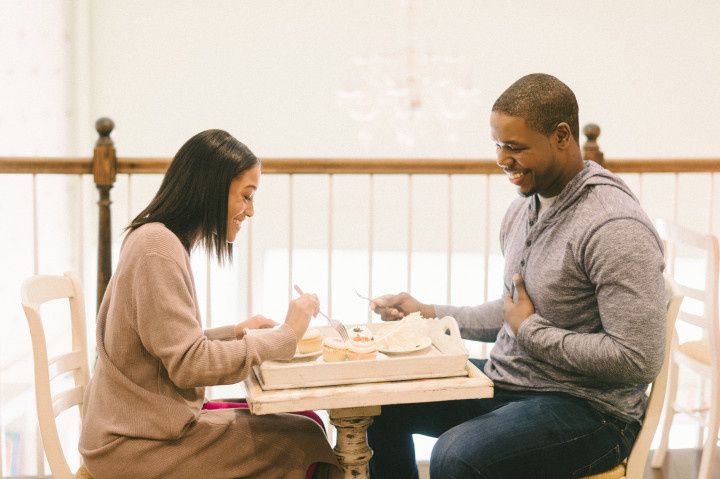 On the laundry list of to-dos lined up in preparation for your big day, one that you might be looking forward to the most is selecting and ordering your wedding cake. And rightfully so—this is one of the more fun and relaxing (not to mention delicious!) parts of planning your big day. Depending in how much time you have to plan, you might be wondering about a wedding cake timeline—when you'll need to select the design and flavors for this special and symbolic dessert.
Arlene Murray of Polkadot Cupcake Shop in Nutley, New Jersey, says that the sweet spot for reaching out to vendors about the wedding cake is around the six or seven-month mark. "At this point, they've likely had conversations about their ballpark guest count, the feel of the wedding and maybe even have tossed around ideas as to what they envision the cake to look like," she says. "While there are still the unknowns like final RSVPs, there is enough information to start seeing cake designers and to start doing tastings to narrow down what exactly they want."
Of course, every baker, and bakery, has their own way of doing things, so we reached out to several pros to establish the most ideal wedding cake timeline.
6 to 9 months before your wedding: Make your initial inquiry.
After Tiffany MacIsaac of Buttercream Bakeshop in Washington, D.C., receives an inquiry, she immediately sends out an FAQ, menu, and look book. "We request that the couple sends us some initial design details so we can get an idea of the desired design, which is a great way to begin the conversation and the specifics of cake design," she says. Upon reviewing the design details, a sample proposal is created for the couple to review to ensure their style is in line with the bakery's and that the general cost meets the couple's expectations.
4 to 6 months before your wedding: Schedule and complete your wedding cake tasting.
If the couple's on board with the design details and proposal, a cake tasting appointment is scheduled—this serves as your time to fully plan your cake on the wedding cake timeline. This is also the time to discuss overall design, including flowers and flower placement, how the cake will be displayed as well as what time and if you'll have a cake topper, explains Anthony Cuellar, pastry chef at Wente Vineyards, in Livermore, California. "You should keep in mind the season of your wedding and be understanding of fresh fruit availability and flavor restrictions, making sure that the dessert complements the dinner that everyone has just enjoyed before dessert," he says. "As an extra word of advice, keep your cake tasting group to a minimum or at least the people you trust when it comes to having similar tastes in terms of flavors and design, as too many times have I seen a stressed-out wedding couple because the family is arguing over what type of cake or dessert should be served on their big day."
4 to 6 months before your wedding: Book your cake vendor with a deposit.
If the couple didn't book a cake vendor at the time of the tasting, they'll typically call or email to book after the follow up, Arlene explains. "The booking process includes signing a contract which outlines our policies, what each party is responsible for, and payment terms," she says. "Order invoice is sent to secure the order, and deposit is due at the time of booking."
2 to 3 months before your wedding: Secure any cake accents.
If you'll have a custom topper, this is the time to order it—with plenty of shipping time, advises Janette Stenstrom of All Things Cake in Tulsa, Oklahoma. "If your cake will require ribbon or other non-edible accents that your baker requires you to supply, be sure to secure these in advance and deliver them to your bakery. If you'll have fresh flowers on your cake, be sure your florist knows to add this to your order," she says. "And if you'll need a cake stand, confirm the size with your baker and be sure to add it to your rental order."
2 to 3 weeks before your wedding: Confirm delivery details.
Most bakeries will call a few weeks before the wedding date to confirm the ceremony time, reception time and the venue address—an important part of the wedding cake timeline. Janette also confirms the guest count and recommends kitchen/sheet cake servings for additional servings, if necessary. "If your bakery doesn't provide this confirmation call, be sure to call and confirm when they will be delivering the cake, so you can add it to your wedding-day timeline," she adds.
Wedding Day: Cake is delivered!
Murray typically brings wedding cakes in several pieces and stack onsite. "The reason for this is because the cakes are both extremely heavy, and can be extremely large," she says. "A six-tier wedding cake isn't fitting in any typical SUV or van, so it is much easier to deliver in pieces and take the time to finish the cake at the venue." The typical timeframe for delivery is about one or two hours before the ceremony start time.
One Day Post-Wedding: Freeze the top tier of your wedding cake for your first anniversary.
If you choose to save your top tier of cake for your one-year anniversary, it's important that you get it in the freezer ASAP—don't forget about this part of the wedding cake timeline. "Cakes that are not good a year later, typically took too long to get frozen and went bad before they even made it to the freezer," says Stenstrom. "Wrap the chilled cake in plastic wrap and then place it in the bakery box provided by your baker—then, wrap the bakery box in plastic wrap and put it in the back of your freezer."