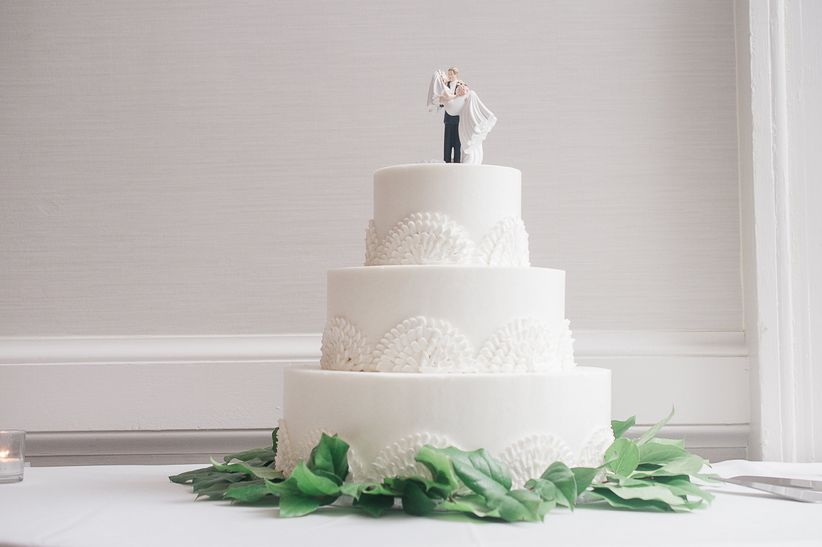 Photo: Artistic Imagez
Preserving the top tier of your wedding cake for your one-year anniversary is both a nice tradition and supposedly good luck (not to mention, an excuse to eat really good cake). The trick is making sure you freeze your cake so that it's actually something you'll want to eat a year later.


We've got the details on exactly how to preserve your wedding cake as well as a few alternative ways to celebrate the tradition.
1. Put someone else in charge of taking the cake at the end of the reception. The last thing you're going to want to think about on your wedding night is packing up your cake. Assign this ahead of time to a family or wedding party member or your caterer.
2. Remove cardboard and any decorations. The cardboard will affect the taste of the cake and decorations will just get in the way.
3. Before you wrap up the cake, freeze it for 30 minutes. This helps the icing to harden so it's easier to wrap.
4. Remove from the freezer and wrap tightly in at least 3 layers of plastic wrap. Then wrap it in 1-2 layers of aluminum foil, and stick the whole thing into a freezer-safe bag.
5. Place the cake in the freezer away from any strong-smelling foods, so the cake doesn't absorb those flavors.
6. To enjoy the cake on your anniversary, remove from the freezer 24 hours beforehand to thaw.
7. Unwrap, pop some champagne, and enjoy!
Note: Some types of cake will hold up better in the freezer than others. Light cakes like angel food cake or cakes with fillings like custard won't keep very well, whereas dense cakes like chocolate, pound, and carrot will do better.
If you don't want to go this route there are two other options that are becoming more popular lately. First, rather than preserving your actual wedding cake, you can order a smaller version of it for your one-year anniversary. Same delicious cake, but this one hasn't been sitting in your freezer for a year (win, win!).
Some bakeries will take care of cake preservation for you. In addition to your wedding cake, they'll provide you with a jar of cake that you can pop into your freezer without the hassle of having to properly preserve it yourself.
Lastly, to make the event even more fun, some couples take it a step further and put on their wedding outfits before enjoying their cake. Whichever route you choose, enjoying your wedding cake on your one-year anniversary is a sweet tradition—pun totally intended.