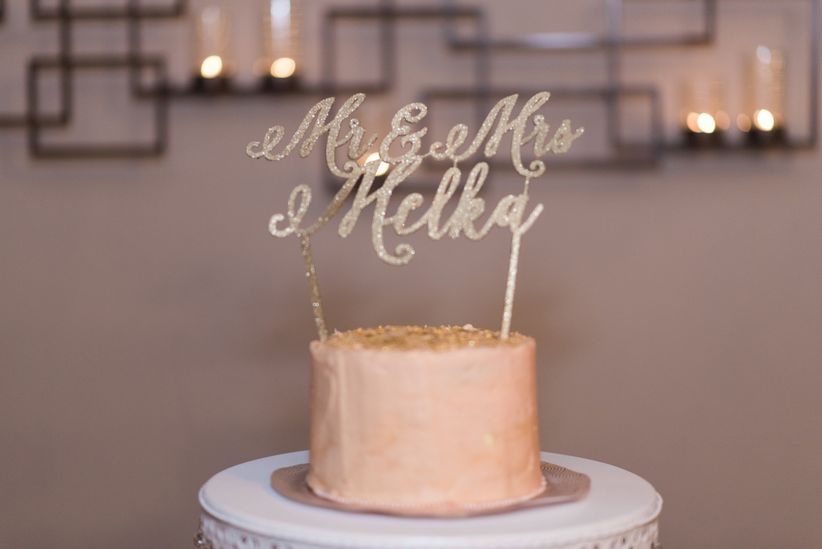 Photo: B. Jones Photography
Selecting a wedding cake can be a daunting task. After all, it plays a starring role at the reception and serves as the sweet send off for your wedding guests. But finding a wedding cake you love should be a fun—not stressful—activity on your wedding planning to-do list.


You'll want to consider the following before saying "I do" to your wedding cake.
Wedding Cake Style
You've carefully selected a theme and a color palette for your big day, and your wedding cake should be part of that seamless wedding aesthetic. When selecting a wedding cake, envision your dream cake before meeting with bakers. Is it adorned with the same flowers that are in the centerpieces? Is the icing the same hue as the bridesmaids' dresses? In addition, consider the season and degree of formality: Are you having a laid-back beach wedding or a glamorous winter wedding in a ballroom?
Just like picking your attire and your flowers, having some general ideas in mind before searching for
wedding cake vendors
will help make the process smoother.
In general, the
multi-tiered wedding cake
is the most traditional, classic option for a wedding cake, but there are endless choices when it comes to choosing what dessert to serve at your wedding.
Not sure where to start? Check out our
wedding cake photo galleries
to get some ideas.
Wedding Cake Budget
The average cost of a wedding cake is $510, but
wedding cake budgets
can vary greatly depending on the size, details and time it takes the baker to make and decorate. Since most bakers charge per slice, so the bigger the cake, the bigger the budget. A good rule of thumb is to order a cake that allows for one slice of cake per guest (Remember, you may want to save the top tier for your one-year anniversary). If you supplement your wedding cake with a dessert table or a
groom's cake
, the wedding cake doesn't need to be large enough for all your guests. Displaying a smaller cake and serving slices from an affordable sheet cake is another option to keep a wedding cake within budget.
There are generally two options for ordering a wedding cake: the cake can be ordered through your caterer or you can choose to work with a
local bakery
that specializes in wedding cakes. If you go with a baker, be sure and confirm that they do in fact specialize in wedding cakes. There is a difference between a wedding cake and a standard birthday cake!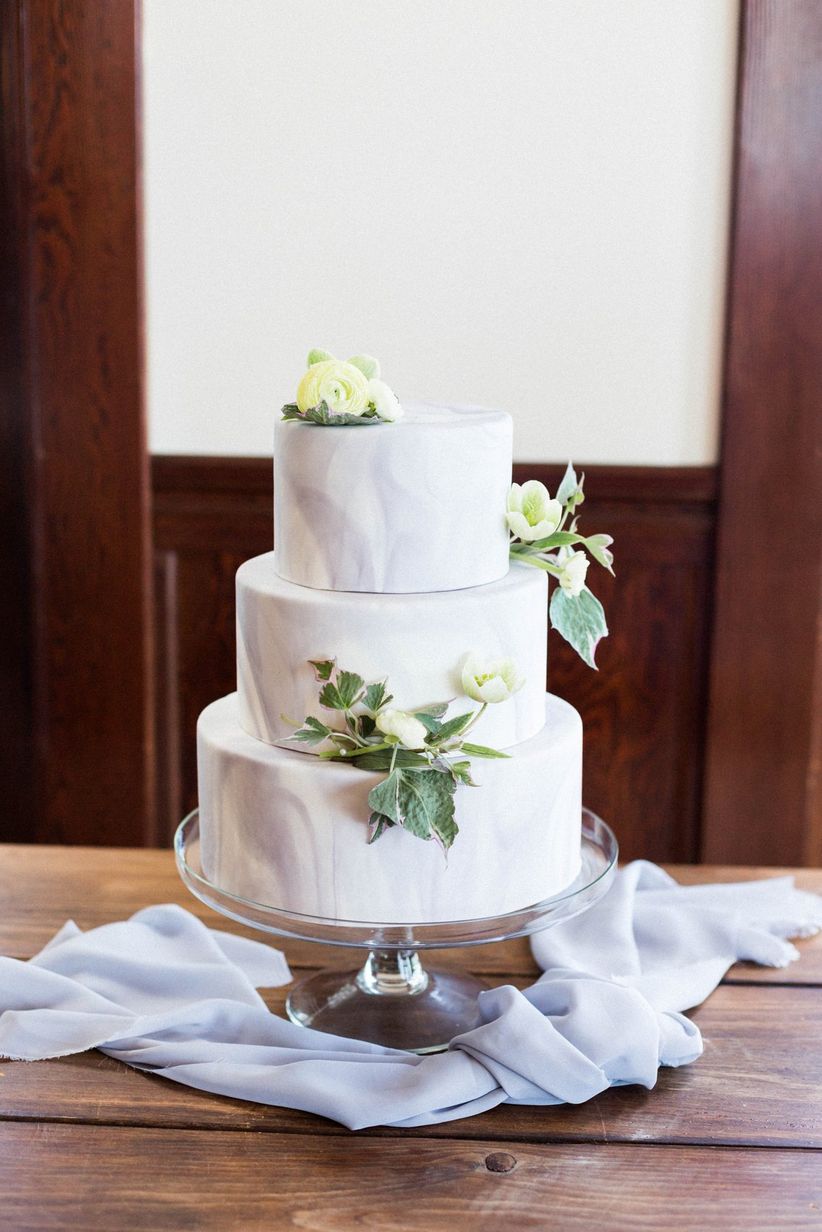 Photo: Darling Photography
Wedding Cake Baker

Now for one of the best parts of wedding planning: the cake tasting! Once you've dreamed up your cake and determined a budget, it's time to reach out to wedding cake bakers (or start working with your caterer). Similar to the venue, music and other time sensitive elements, wedding cake bakers can book up fast. It's best to find and book your wedding cake vendor at least six months in advance.

The initial consultation won't necessarily include the wedding cake tasting. Either via email, phone or in-person, you'll first want to ask your baker a few important questions, including:


Do you have my wedding date available?
What is the pricing on your wedding cakes?
Do you have a portfolio of past wedding cakes I can see?
Do you have references? (or check out our wedding cake vendor reviews)
How/when do you deliver the cake to the venue?
Can you design a custom cake based on my wedding's theme and color palette?
If the vendor is a match, it's time to move on to wedding cake tasting! The exterior of the cake may be beautiful, but, of course, you'll also want the dessert to be delicious. A cake tasting gives you the opportunity to sample multiple cake and icing flavors.
Get creative! Standard vanilla and chocolate flavors are great, but these days bakers are infusing their cakes with show stopping flavors (maple bacon buttercream, anyone?). Can't decide which flavors you like best? A multi-tiered cake can usually feature a different flavor for each tier (but will likely add an additional cost). The same goes for fondant, which is considered the classic wedding cake icing. But if you want a standout cake, chat with your baker about alternative icing options. From "naked" cakes to ombre exteriors, the decorations also include endless options.
If you have time, schedule cake tastings with more than one vendor to compare and contrast. Be sure and ask ahead of time if the cake tasting is complimentary or if you'll be charged a fee. You'll also want to check if your wedding cake vendor offers a freshly baked top-tier on your one-year anniversary (as opposed to freezing the top tier from your wedding day), a service that some wedding cake bakers now provide.
Once you've finalized your wedding cake vendor, you'll typically be asked to put a deposit down to hold your wedding date.
Photo: Vanessa Joy Photography
Wedding Cake Presentation

You've got the design, the budget, and the baker booked. Next you'll need to decide how the wedding cake fits into the big day. The cutting of the cake is a traditional part of the wedding reception. Work with your caterer and/or wedding planner to determine where the cake will be displayed during the reception and what time you and your spouse will cut the cake. Be sure and find out if the wedding cake baker or the caterer provides a cake cutting set for the ceremony. Or you may want to provide your own cake knife that you can use again on your one-year anniversary. Champagne glasses at the table are also a nice touch if you'd like to toast with your guests as part of the cake cutting ceremony. The cake cutting ceremony is a good time for the couple to say a few words and thank their guests for coming.

Once the cake is cut and you and your spouse have had the first taste, your guests get a slice. Determine in advance with the caterer if you want the cake served at each guest table or if you'd like slices available at a dessert table.

Wedding Cake Trends and Alternatives

Many brides and grooms choose to serve a traditional wedding cake at their reception, but a tiered wedding cake isn't the only way to go. A creative dessert display with many sweet offerings (including a wedding cake) is a popular option. This allows brides and grooms to show off their personalities with meaningful desserts like a favorite cookie recipe from childhood or ice cream from their first date. Cute cupcakes still find their way onto wedding dessert tables and even cake pops and candy buffets have become a popular option. The groom's cake—typically a smaller, creative cake displayed near the wedding cake—gives the groom the opportunity to spotlight an aspect of his personality, like a guitar-shaped cake or the logo from his university. The cake topper is also another way for a couple to get creative and show off their personality.

The wedding cake is definitely a delicious way to show off your wedding theme and offer a decadent finale on your big day. And finding the perfect wedding cake is half the fun!