22 Orange Wedding Details That Don't Remind You of a Traffic Cone
It's the latest color filling up everyone's inspiration boards and social media feeds—check out these chic orange wedding ideas to see why.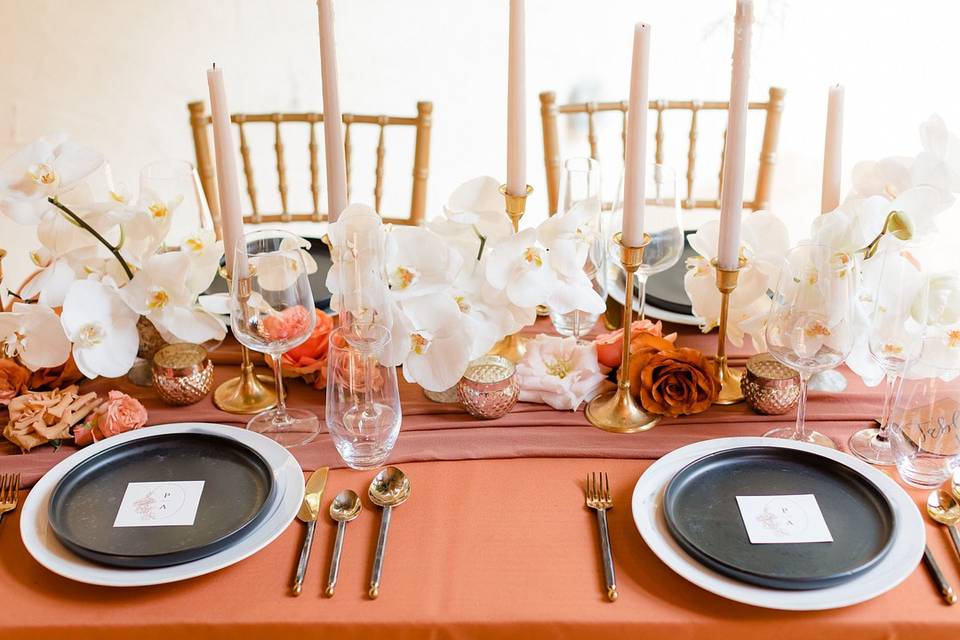 Call it what you want—terracotta, cantaloupe, rust, tangerine, Aperol spritz—but any way you spin it, it's easy to see that the color orange is having a moment right now. And because this color is a far cry from soft pastels and neutral palettes that have been all the rage in recent years, your first reaction might be that orange wedding decor is way too bold for your taste, especially when the hue is most often seen in neon form on some not-so-aesthetically pleasing things (like traffic cones). But in reality, the energetic vibe that orange embodies is exactly why we're so into this color right now, and the surprising thing is that it's actually more versatile than you think. The great thing about an orange wedding color palette is that you can make it as attention-grabbing or as understated as you want, and we're sharing some of our favorite ideas to show you how it's done (no construction equipment involved).
Bring a sense of warmth and vibrancy to your big day with these orange wedding ideas and details.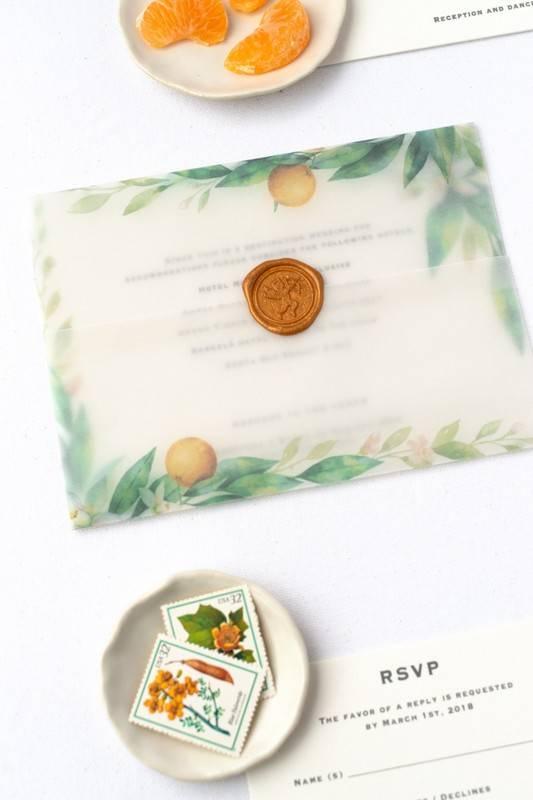 Botanical wedding invitations
Old-fashioned botanical illustrations and motifs are a major wedding invitation trend right now. Use oranges or other citrus fruits to inspire your invitation design and add a pop of color in an artistic way.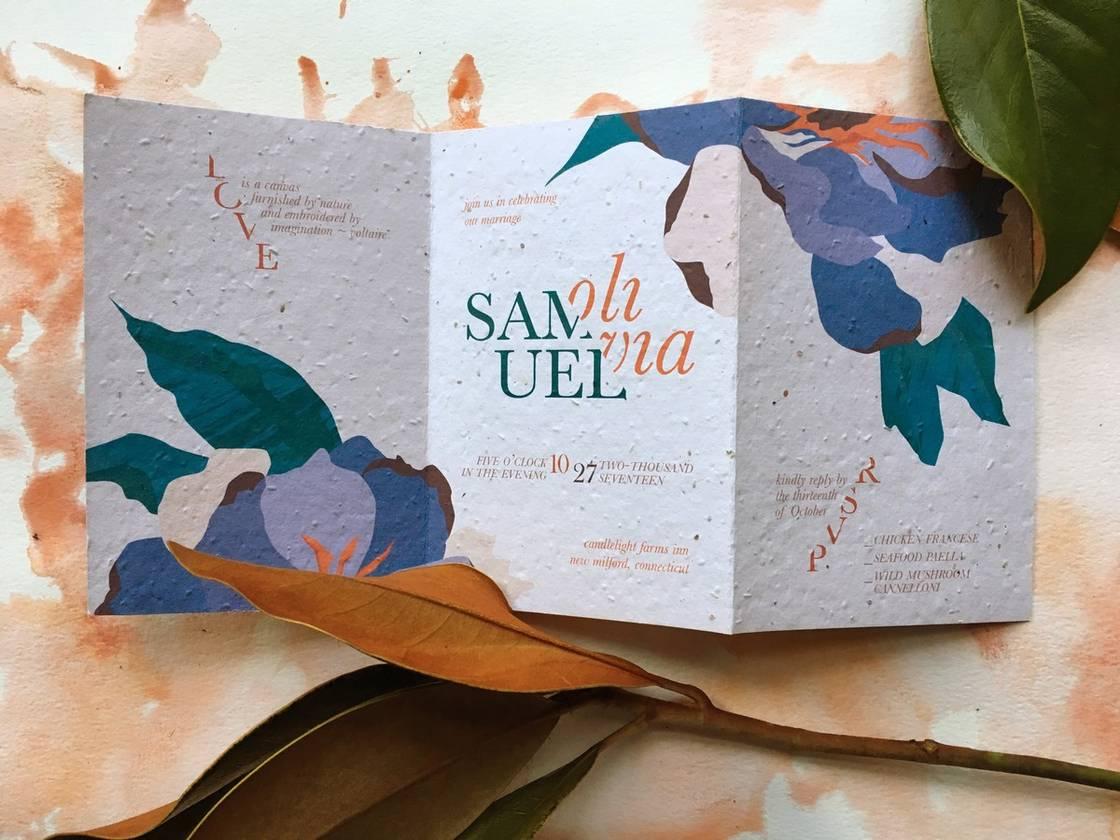 Orange stationary accents
Another way to incorporate orange into your wedding invitation design is to use the color for fonts and accent details. Muted colors, like dark teal, blue, and maroon will tone down the vibrancy of the orange hue.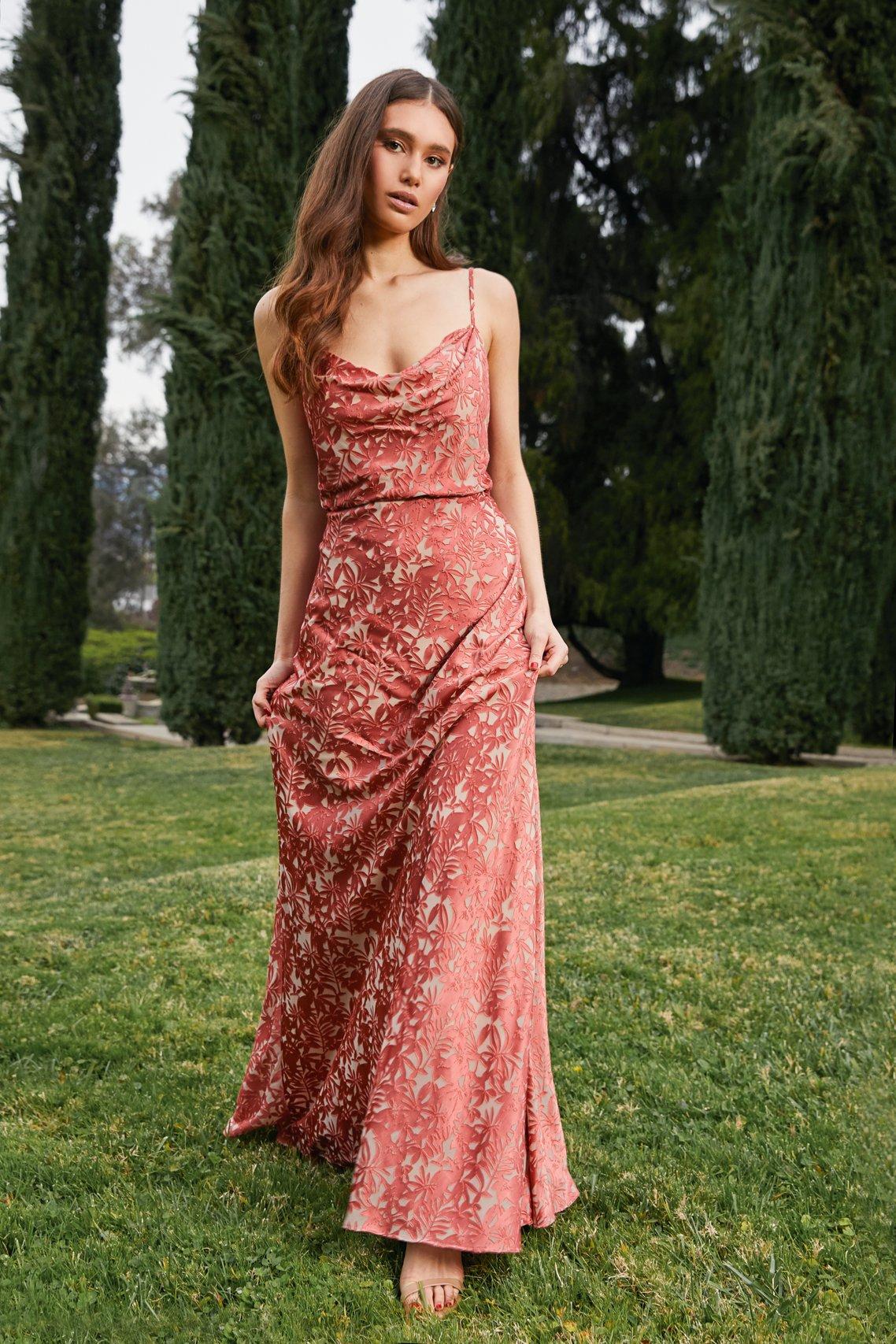 Dress by Jenny Yoo Bridesmaids
Bridesmaid dresses
Orange might seem like an unexpected color for your bridesmaid dresses, but it can actually look gorgeous! Rust orange is one of the trendiest bridesmaid colors of the moment, especially in velvet or slip dress silhouettes.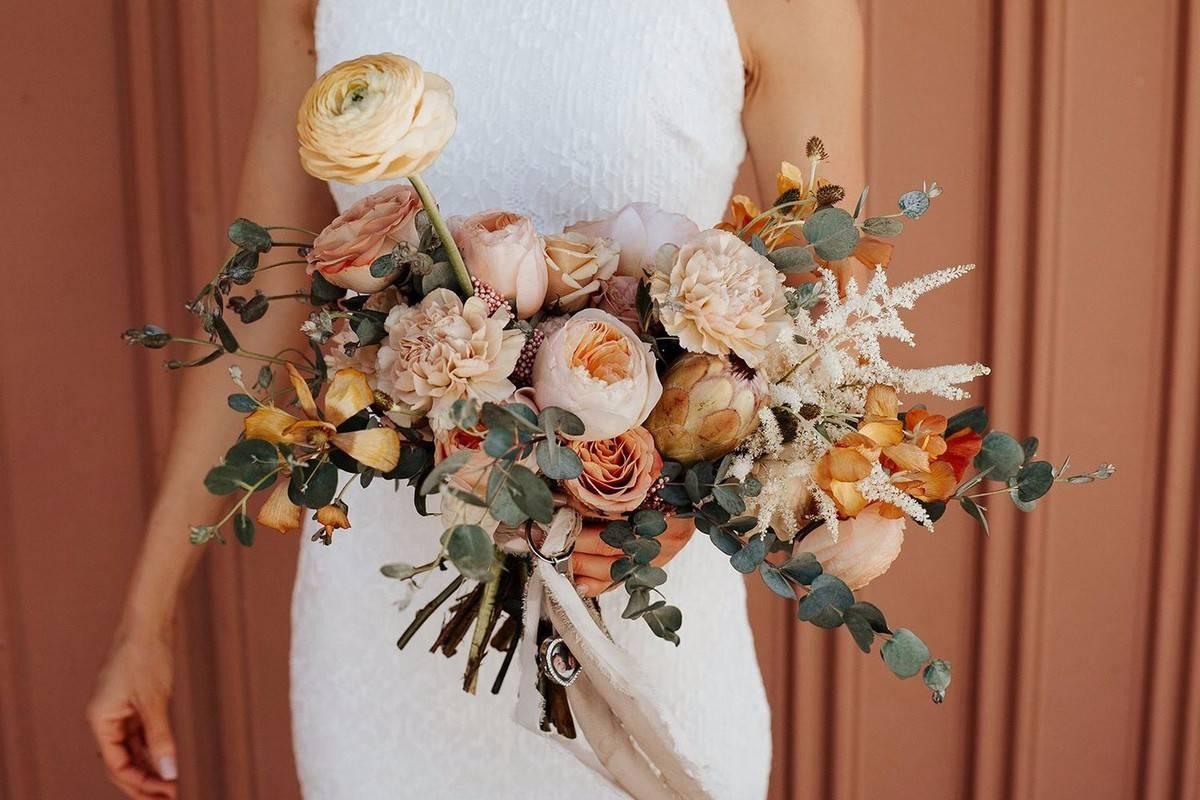 Muted orange flowers
Dark orange tones are just as eye-catching as their brighter counterparts, especially when it comes to flowers. For a wedding bouquet with a bohemian, earthy vibe, your florist can use a mixture of peach garden roses, vanda orchids, carnations, and ranunculus in various shades of orange. Accents like spiral eucalyptus, astilbe, and pink rice flower round out the arrangement.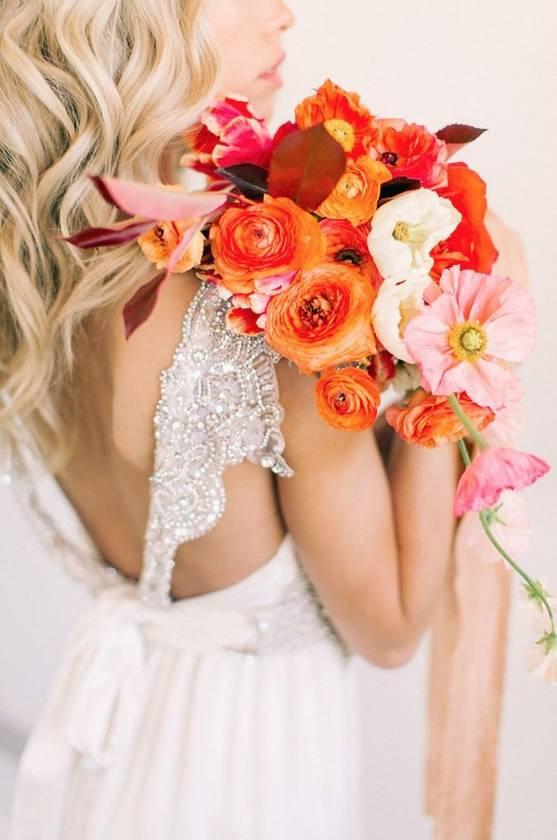 Ranunculus wedding bouquet
For a total statement-making bouquet, opt for flowers in neon orange and pink hues. This orange wedding bouquet of ranunculus and poppies is small but mighty.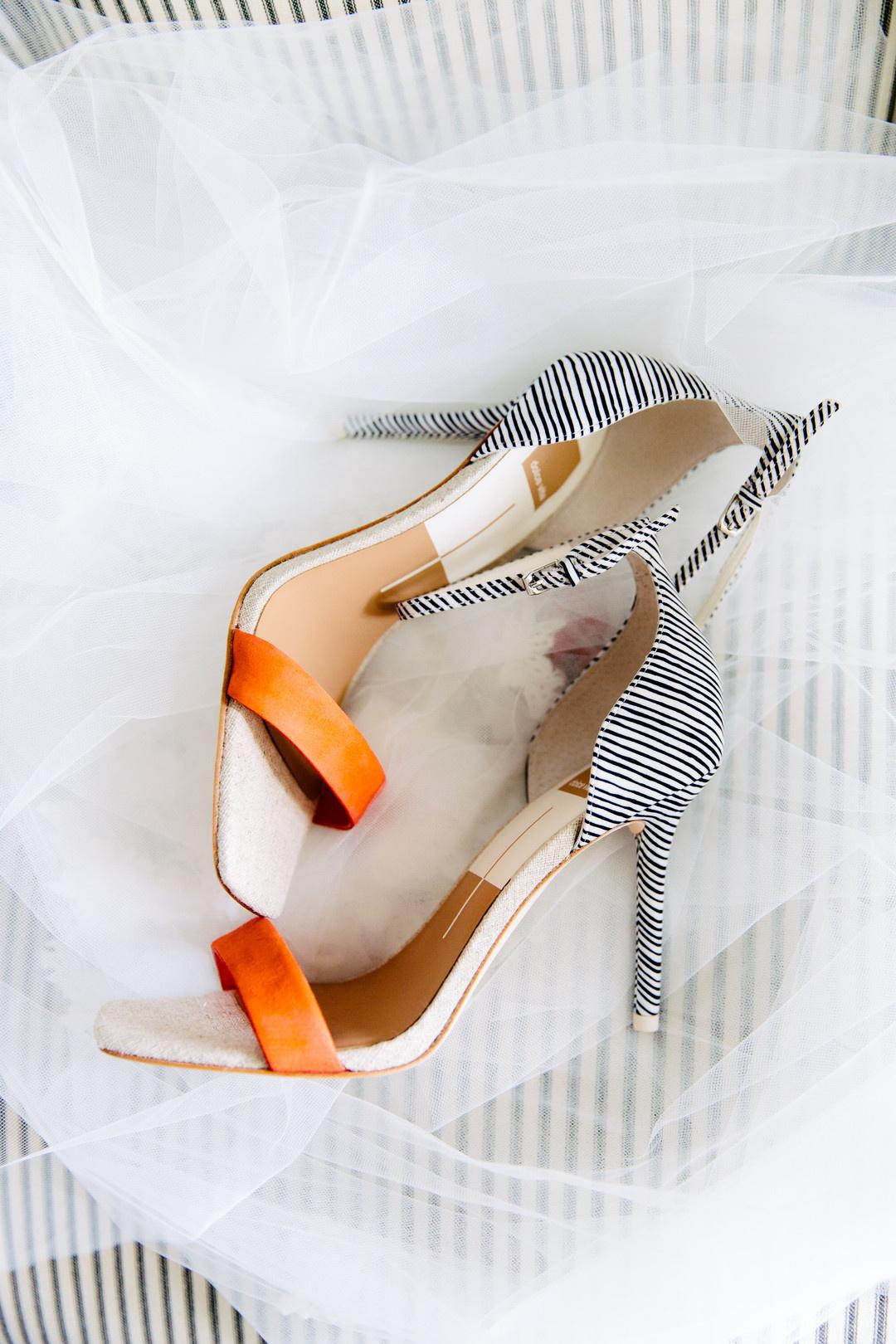 Wedding shoes
Your wedding shoes are a great opportunity to experiment with color. Look for heels or other wedding shoes with orange accents, like this pair of stiletto sandals with coral straps.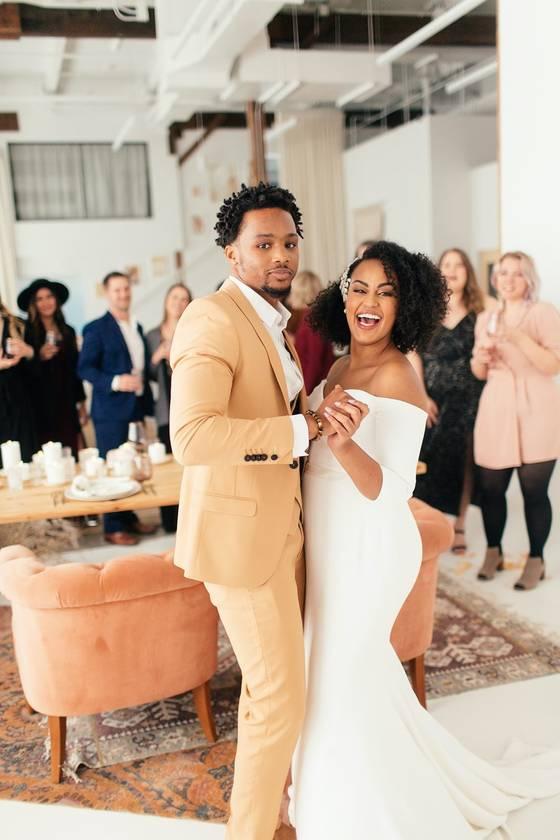 Apricot-colored suit
Tan suits are versatile enough for practically any dress code, but a suit with subtle orange undertones, like this apricot-colored style, gives this wedding attire staple a fashion-forward twist.
Candle aisle markers
Accent your ceremony aisle with pops of color by using orange candles, lanterns, pampas grass, and greenery. This ethereal setup is an easy way to incorporate orange wedding details in a way that doesn't feel overwhelming and still looks amazing.
Velvet furniture
Whether you're creating a wedding lounge area or looking for ways to make your head table feel extra-special, rental furniture is an easy way to add color and texture to your venue. A rust orange velvet chair (or two) will instantly bring a hip, retro vibe to any space.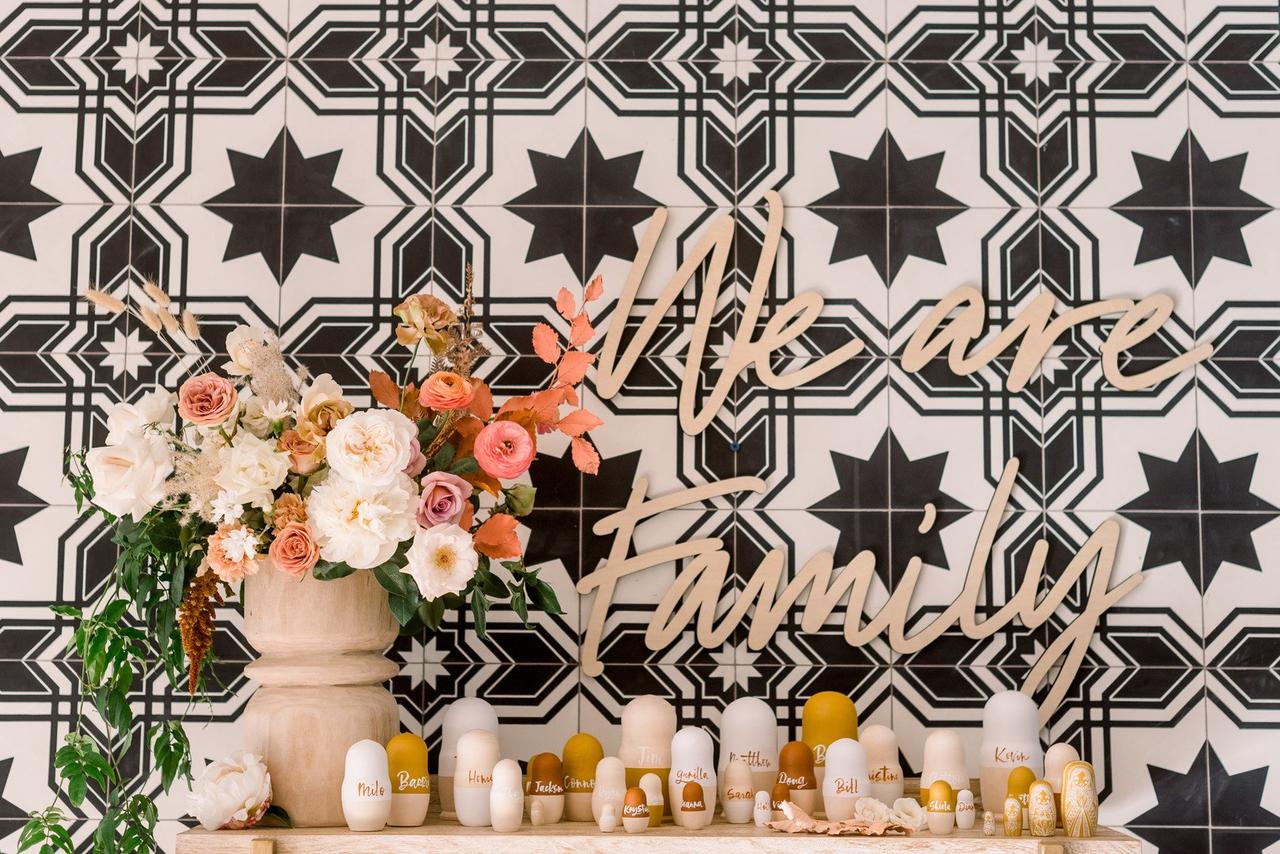 Planning by Amorology, floral design by The Dainty Lion
Floral arrangements
Your centerpieces and other floral arrangements are the perfect place to try out the orange wedding trend. Even if you don't use orange flowers, you can include botanical accents like colorful fall foliage, bronze amaranthus, and dried bunny tail grass to bring out orange tones.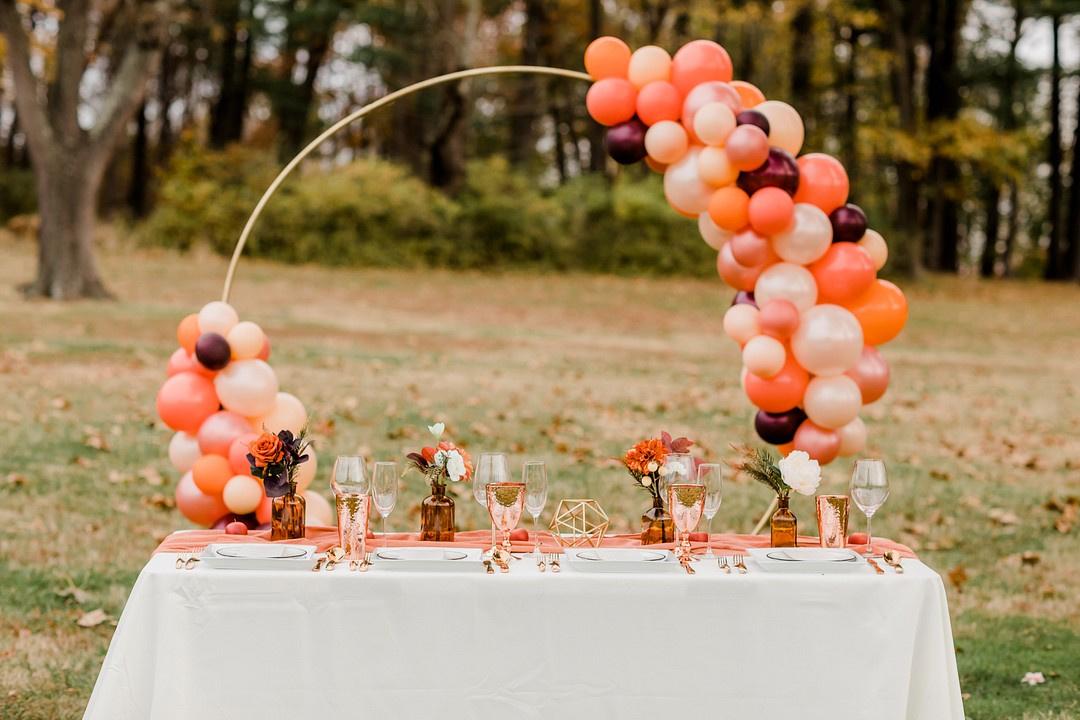 Planning by Creative Motion Events, arch by Balloons by Farida
Balloon arch
Add a balloon arch to your decor for a whimsical, fun detail. This '90s-inspired wedding idea will instantly add a pop of color to your wedding venue, along with being an irresistible photo op for your guests.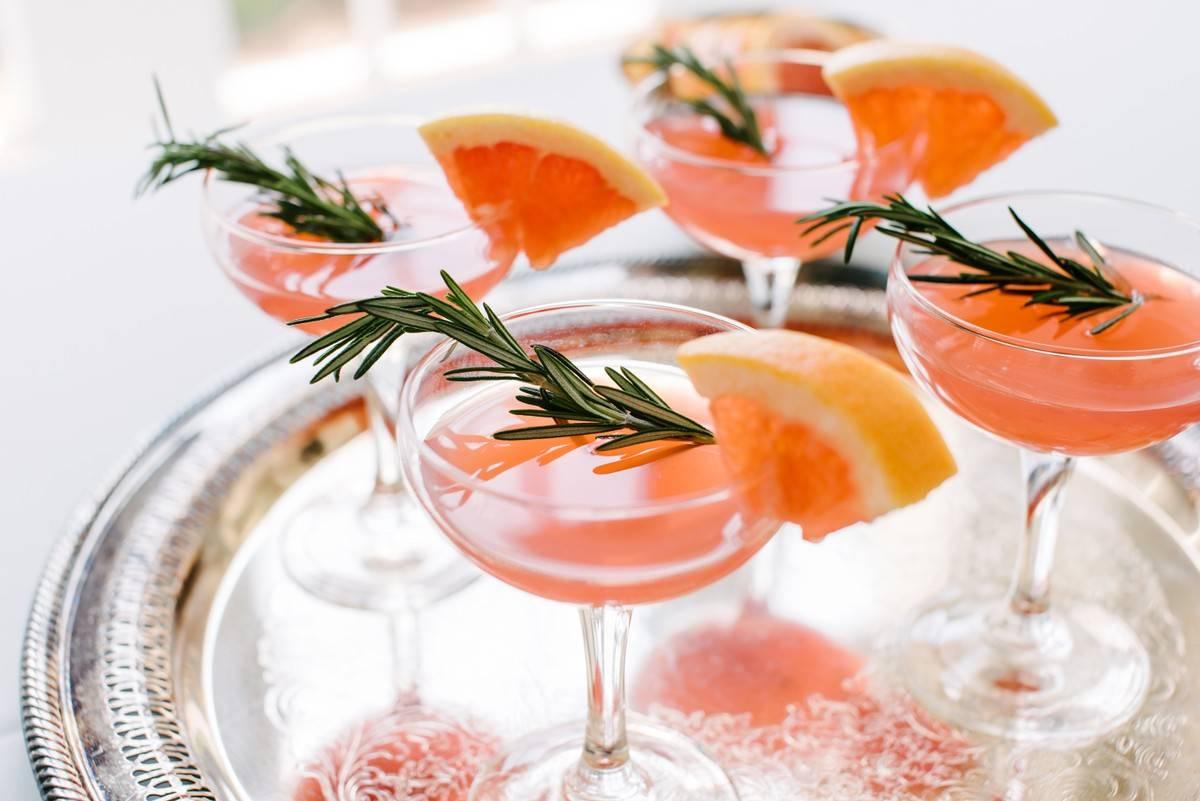 Bellinis
If decor and flowers aren't enough when it comes to trying the orange wedding trend, you can take a more literal approach by including actual oranges in your cocktails and other reception treats. Blood orange bellinis are so refreshing for a summer wedding, and they look aesthetically pleasing, too.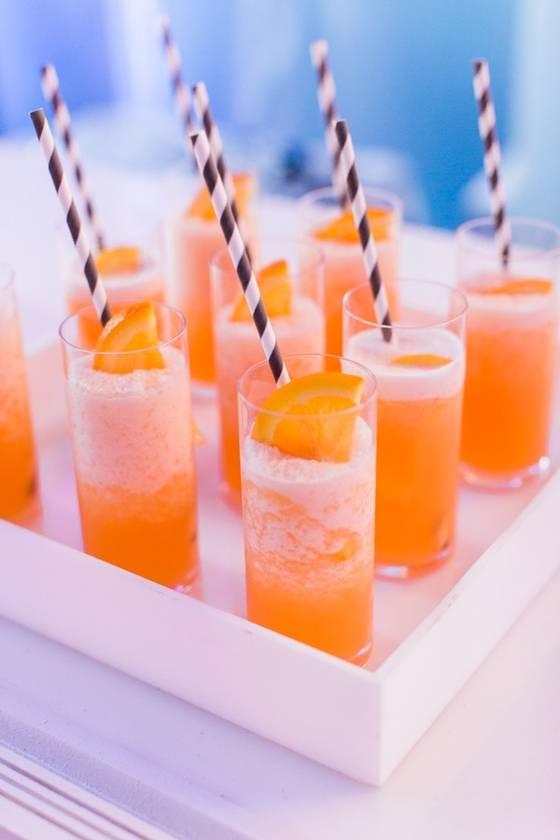 Frozen Aperol spritz
Another iconic orange-hued cocktail is the Aperol spritz, typically made using prosecco, seltzer water, and the Italian liqueur of the same name (which is how the drink gets its bright color). Serve this traditional cocktail blended with ice to make it even tastier.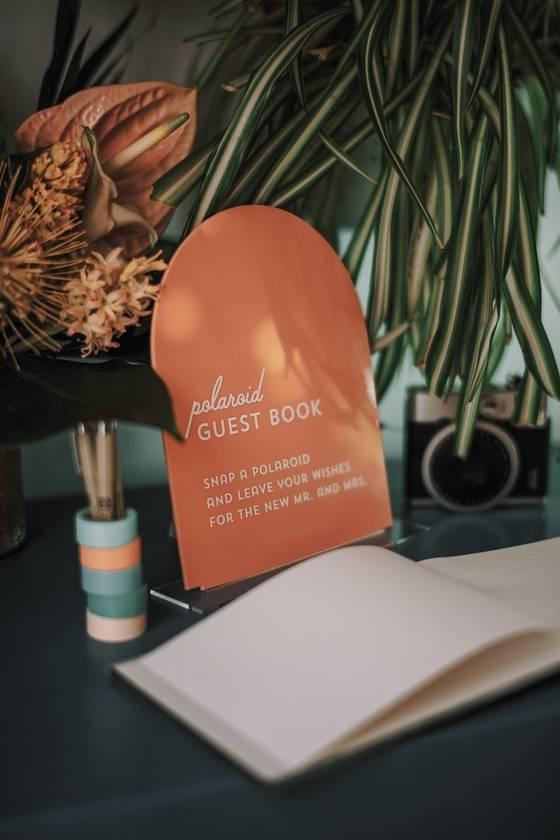 Guest book sign
Terracotta orange is one of our favorite variations of this color, since it brings an earthy, bohemian element to your wedding aesthetic. Try terracotta-colored signs as a way to incorporate this warm tone into your decor.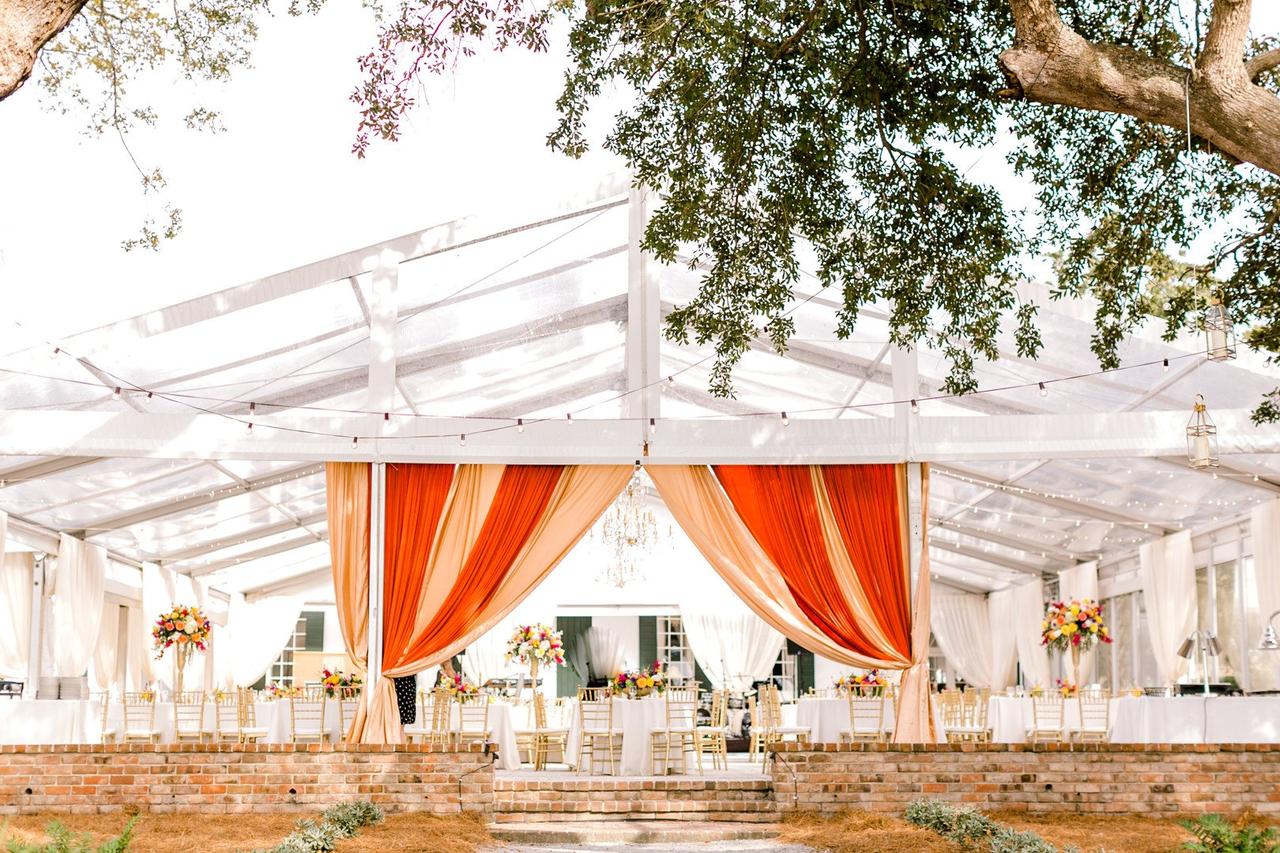 Planning by Intrigue Design & Events
Venue draping
Make a statement with your orange wedding decor by adding colorful tangerine and rust-hued drapes to your reception space. These two colors are especially stunning when paired with metallic gold accents—consider using Chiavari chairs, bronze lanterns, or geometric terrariums depending on the look you want.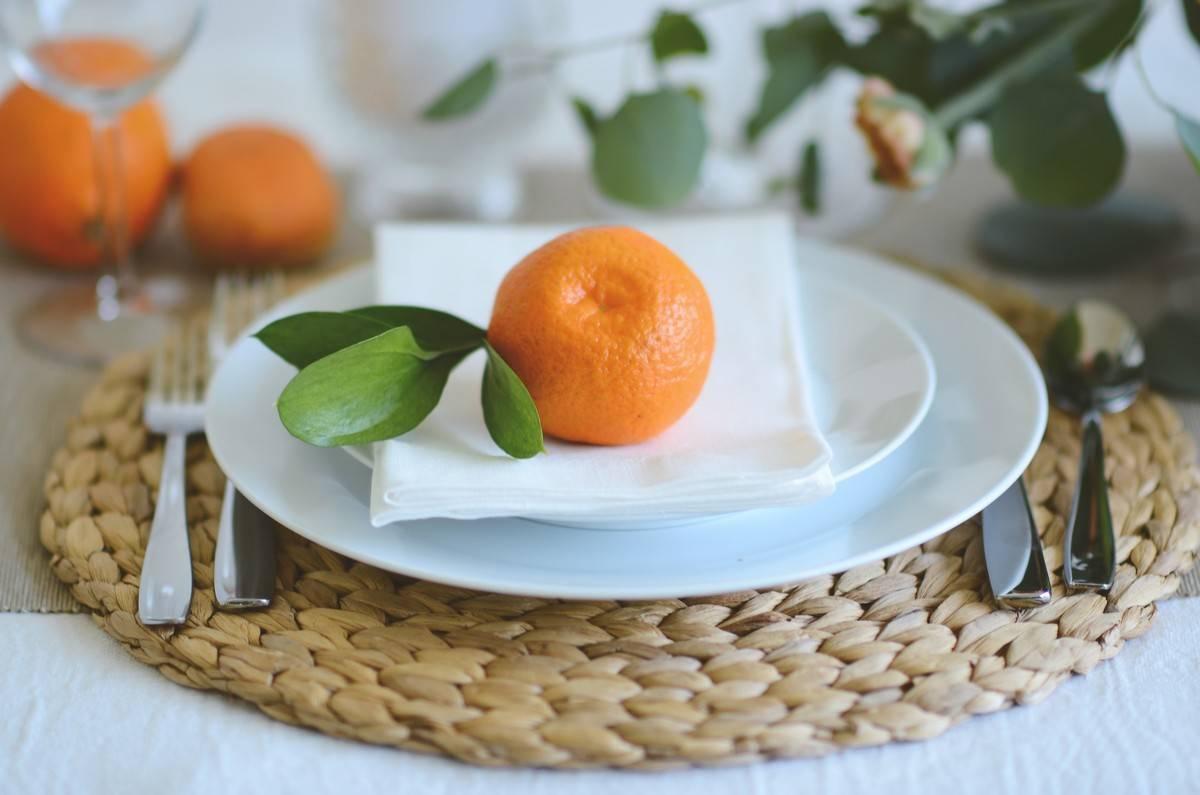 Place settings
Using orange in your reception tablescapes can be as simple as adding fresh clementines to each place setting. This idea is spot-on for a summer wedding or an Italian wedding theme.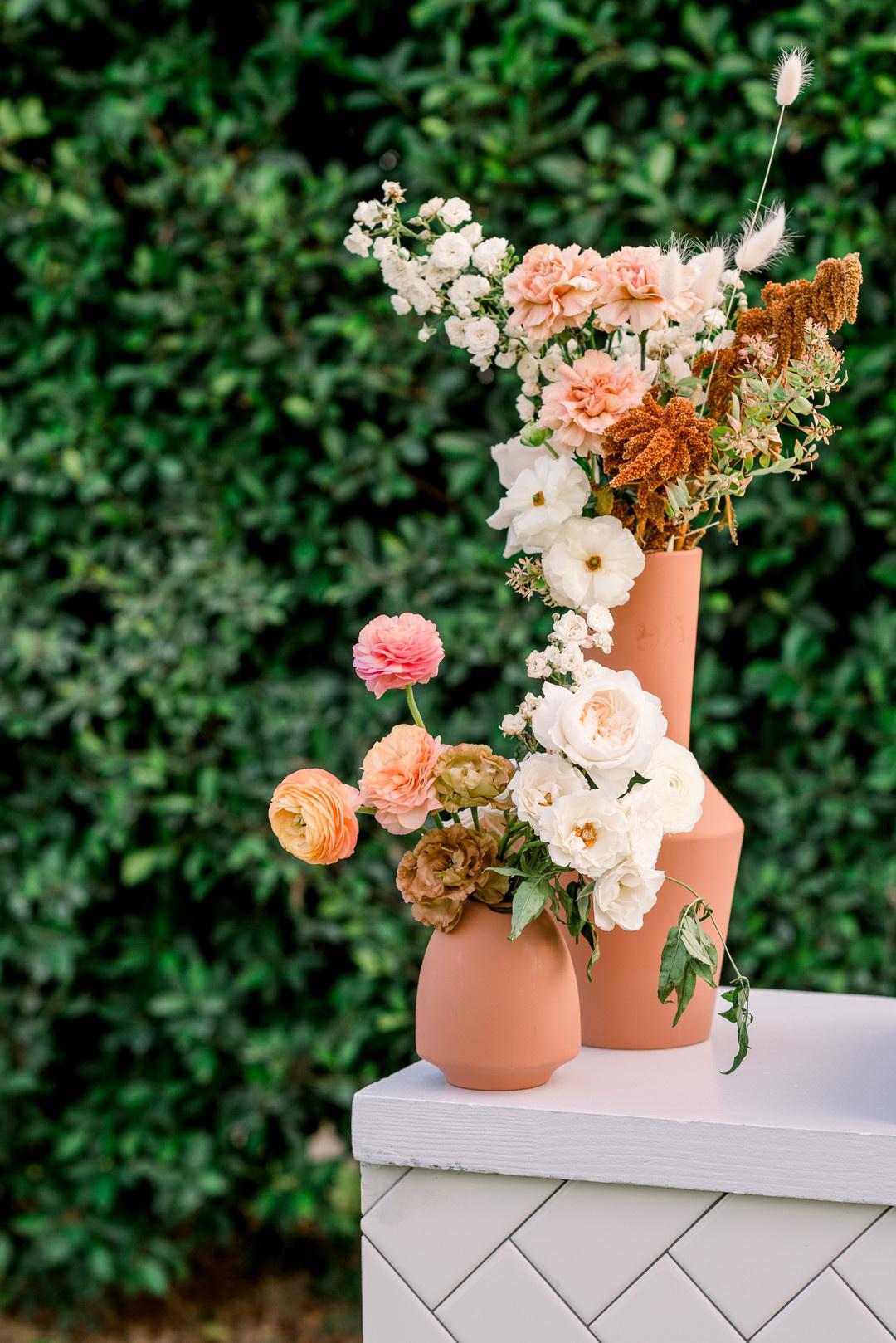 Planning by Amorology, floral design by The Dainty Lion
Terracotta vessels
Instead of using metal or glass vases for your centerpieces and accent arrangements, try terracotta clay vessels in mix-and-match shapes (we're kind of obsessed!).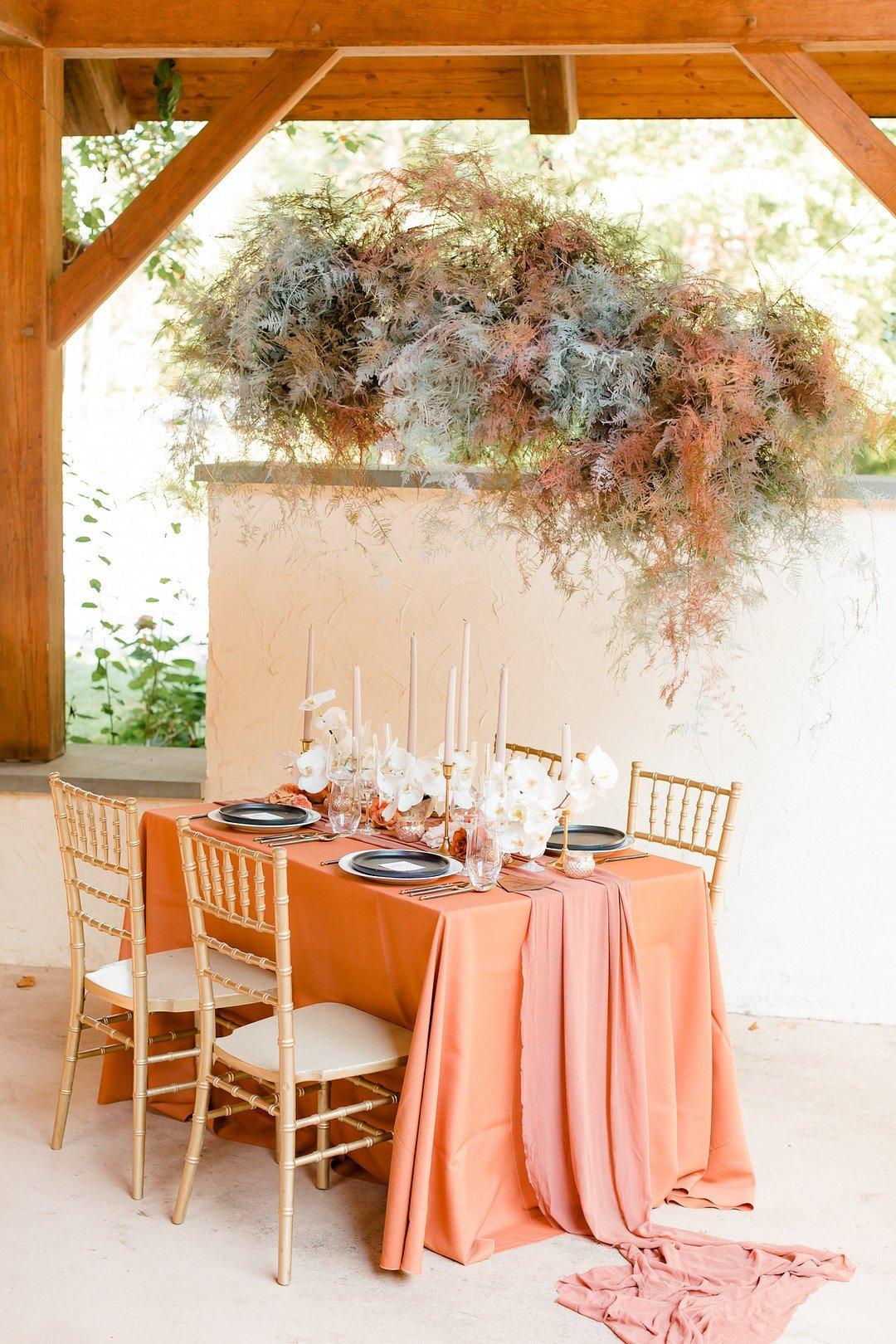 Planning by La Rue Events, floral design by Belovely Floral & Event Design
Table linens
Dare to go bold by adding colorful orange linens to your reception tables. A two-tone orange and coral palette gives visual dimension to the overall setup, while white orchid centerpieces and gold accents add the finishing touches without being overbearing.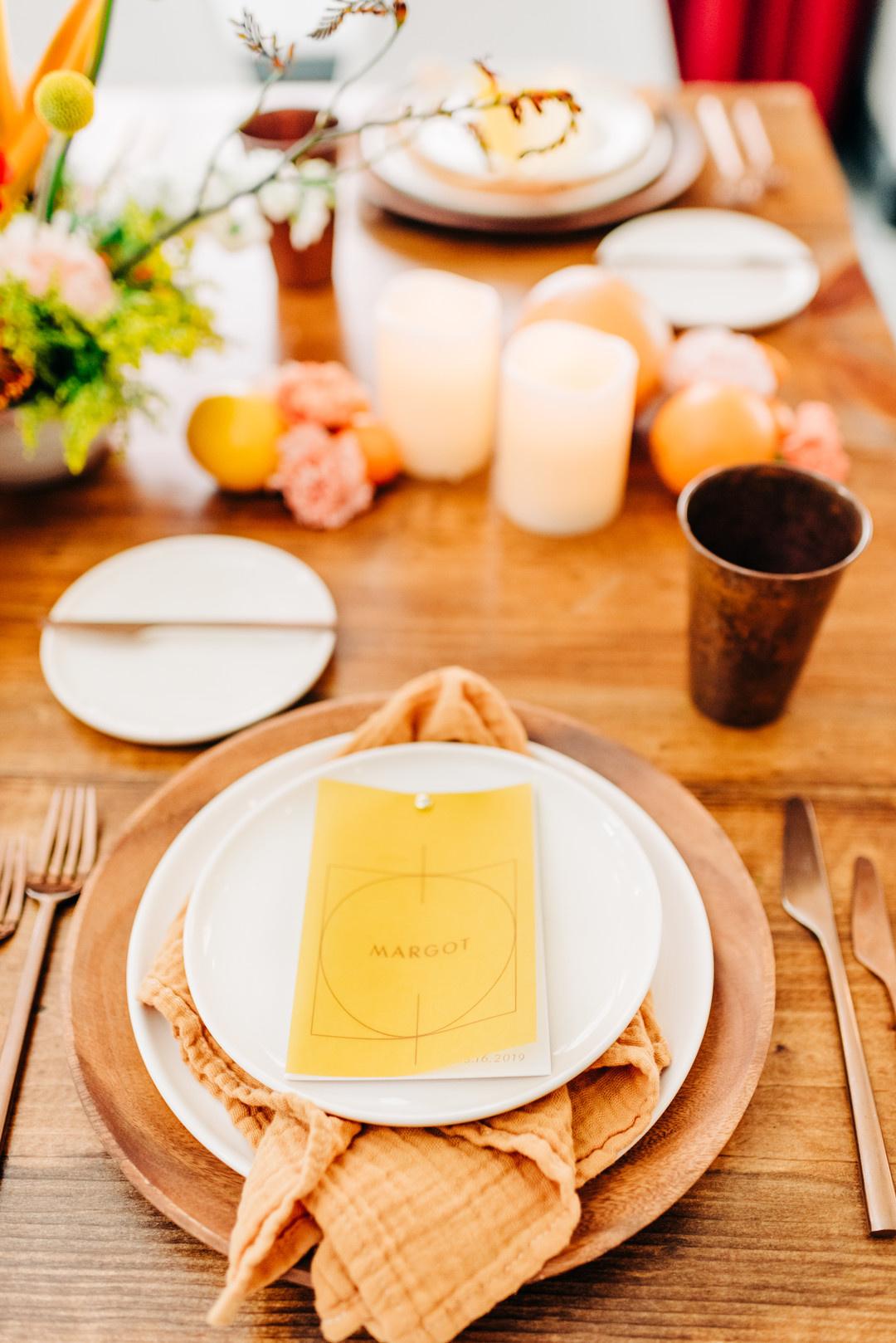 Planning by Jason Lloyd, menu by Bourne Paper Co.
Fabric napkins
If bright orange wedding table linens aren't your style, there are more subtle ways to use the color for your reception decor. Accent bare wood banquet tables with white dinner plates, copper flatware, and ginger orange napkins for an understated (but not boring) tablescape.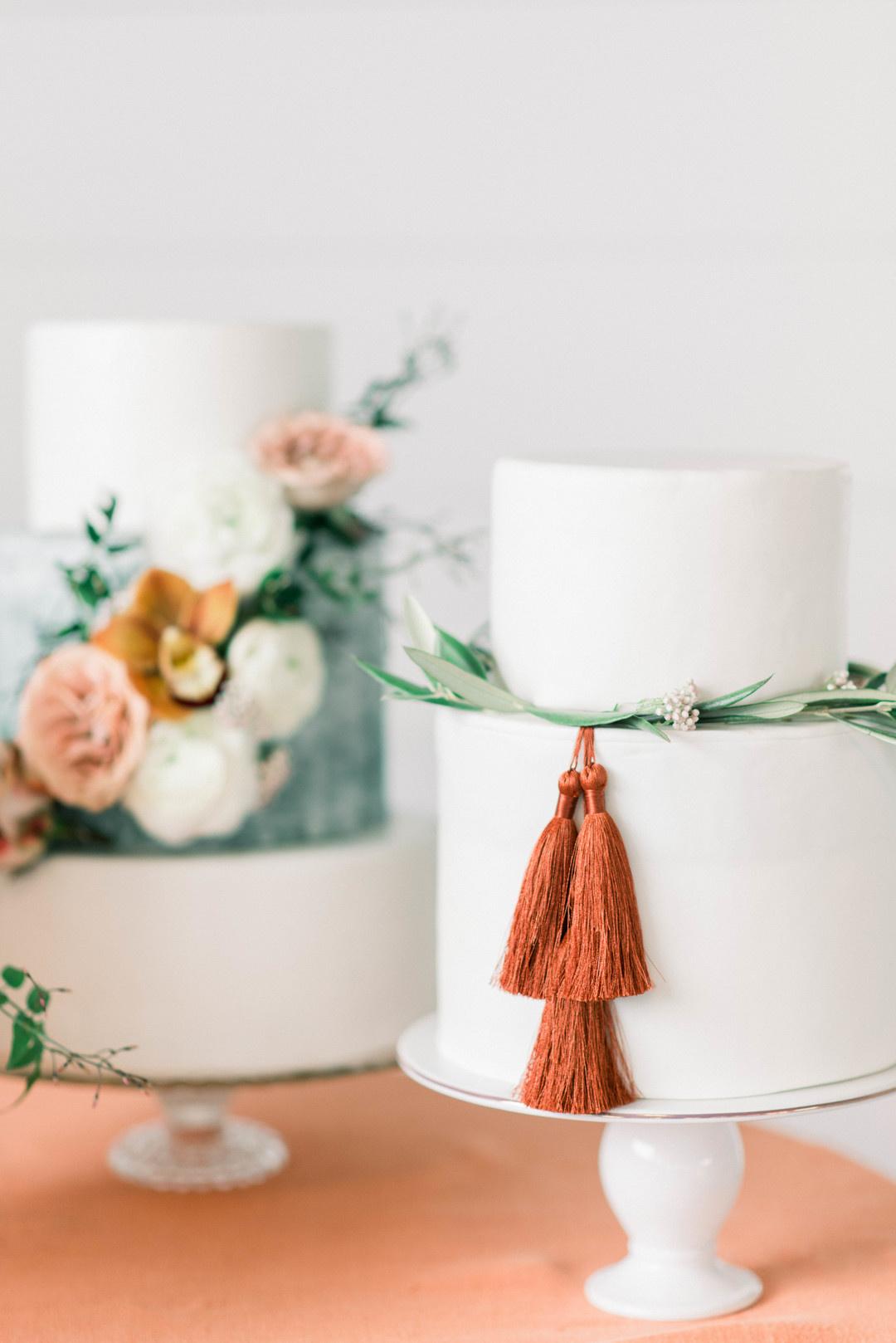 Planning by White Ivy Events, cake by Classic Cakes by Design
Decorative tassels
Reddish-orange tassels instantly turn a white fondant cake into a cool confectionary masterpiece. A hint of greenery makes this cake unique enough to stand on its own or as part of a larger dessert table.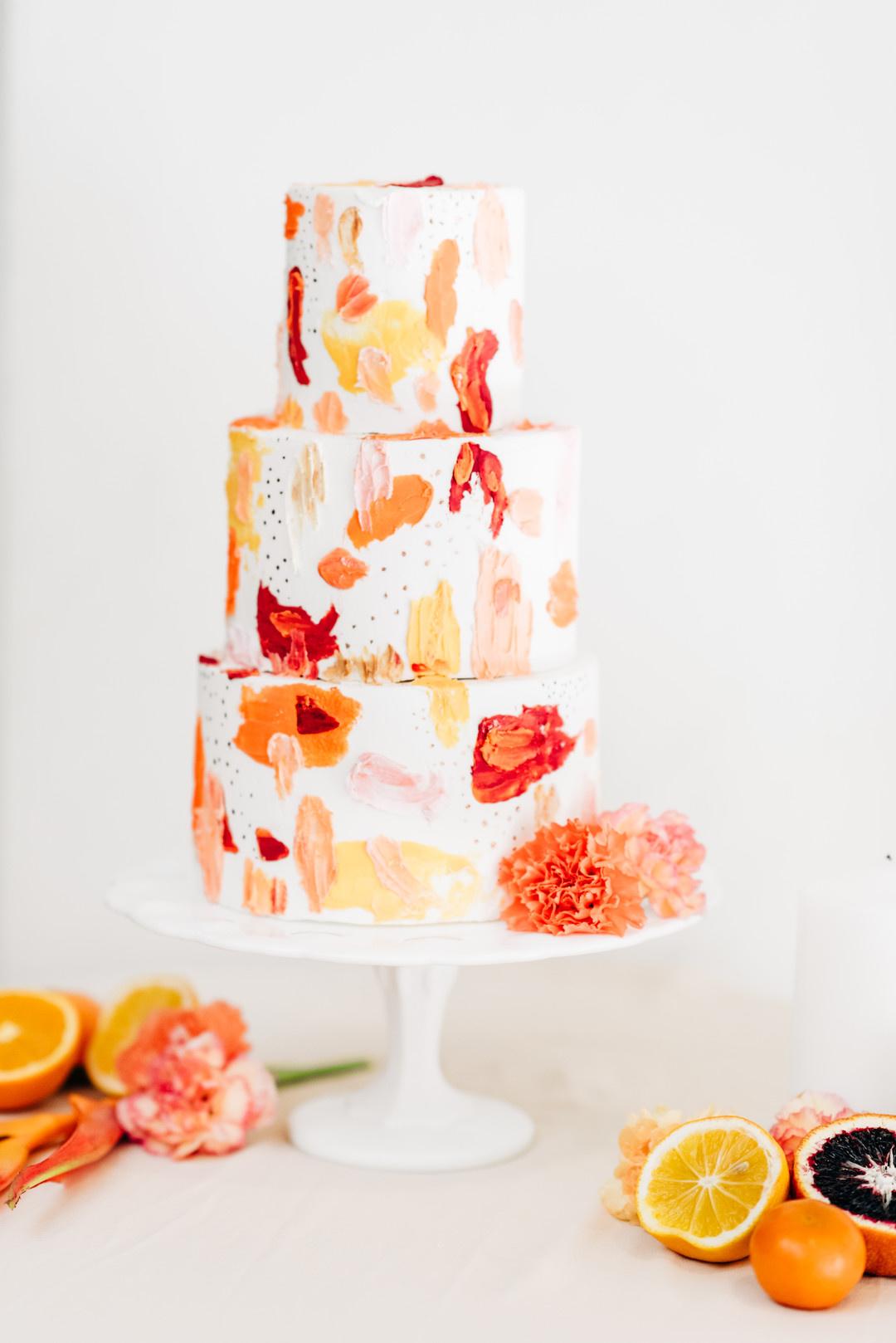 Cake by Nicole Bakes Cakes
Wedding cake
Painterly and impressionist details are huge wedding cake trends for 2020, and this artistic approach to cake design is a great way to bring color into your dessert table. Decorate a white fondant cake in abstract strokes of yellow, peach, mandarin, and dark orange for a cake that's truly one-of-a-kind.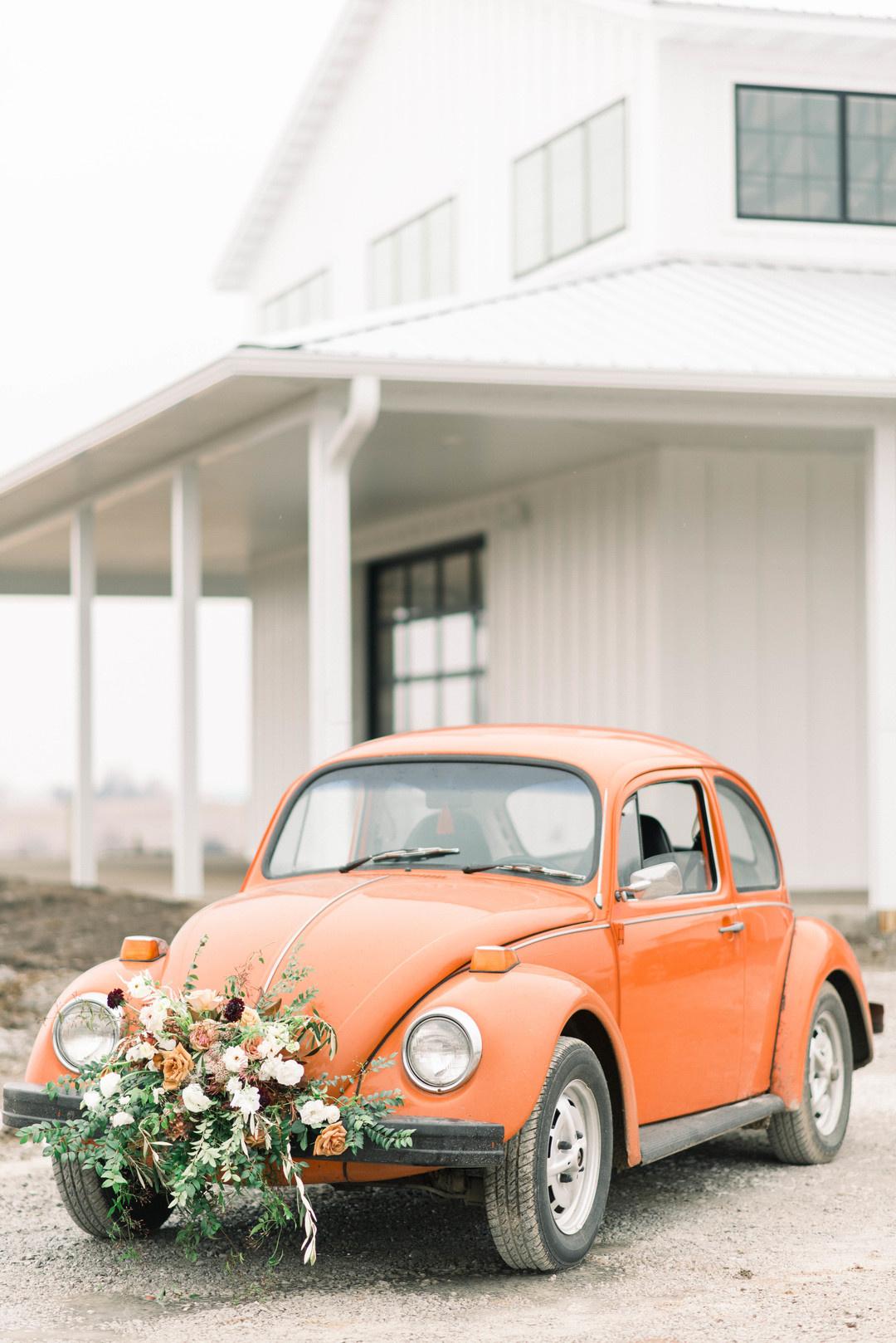 Planning by White Ivy Events, floral design by Shelly Sarver Designs
Getaway car
Whether you use it to drive off into the sunset at the end of the night or simply as a photo backdrop at your wedding venue, a vintage orange VW Beetle is too cute to resist. Check out local transportation rental companies to see if they can offer similar options for your big day.
Planning for main image by La Rue Events, floral design by Belovely Floral & Event Design