21 Granny Chic Wedding Ideas to Try If You Love Pastels and Flowers
Granny chic wedding style is this year's sleeper trend. Find out what this ultra-romantic, vintage aesthetic really means and how to nail it for your big day.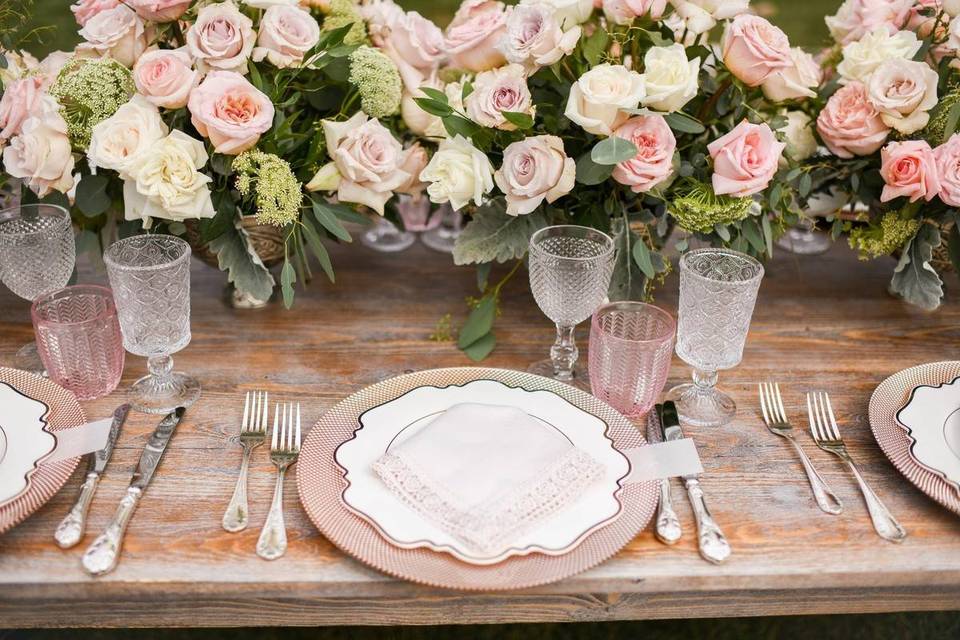 Even if you have the most stylish grandma in the world, you might still be surprised to see anything grandma-related suddenly becoming a wedding trend, but allow us to explain. Granny chic style—the art of dressing ladylike but comfortably in tailored suits, floral prints, checkered coats, kitten heels, and cutesy knit sets—has already taken the influencer fashion world by storm (we see you, Loveshackfancy). This highly-feminine aesthetic is also on the rise when it comes to interior home design trends, so it only makes sense that it's now carrying over into the wedding industry.
Grandmillennials, the unofficial name for millennials who are suddenly embracing all things retro, are getting inspired by granny chic style for their wedding days. If you're having trouble envisioning exactly what this means, think Pride and Prejudice meets The Marvelous Mrs. Maisel, with a touch of shabby chic à la Laura Ashley. Granny chic wedding style is all about pastel colors, upholstered furniture, pattern mixing, and most importantly, lots of flowers. The end result is both vintage and modern, with just the right amount of quirkiness.
See exactly how to use granny chic style on your wedding day with these ideas.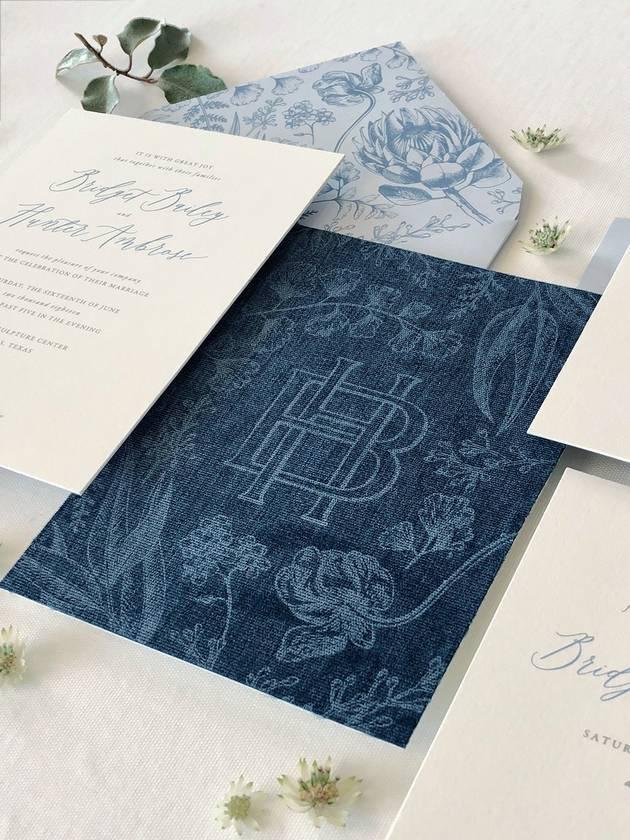 Velvet wedding invitations
Your guests will feel like they've been invited to a royal wedding upon opening their envelope to find an embossed velvet invitation. Use this rich fabric as a backing on printed invitations, and tie the theme together with patterned envelope liners and coordinating inserts.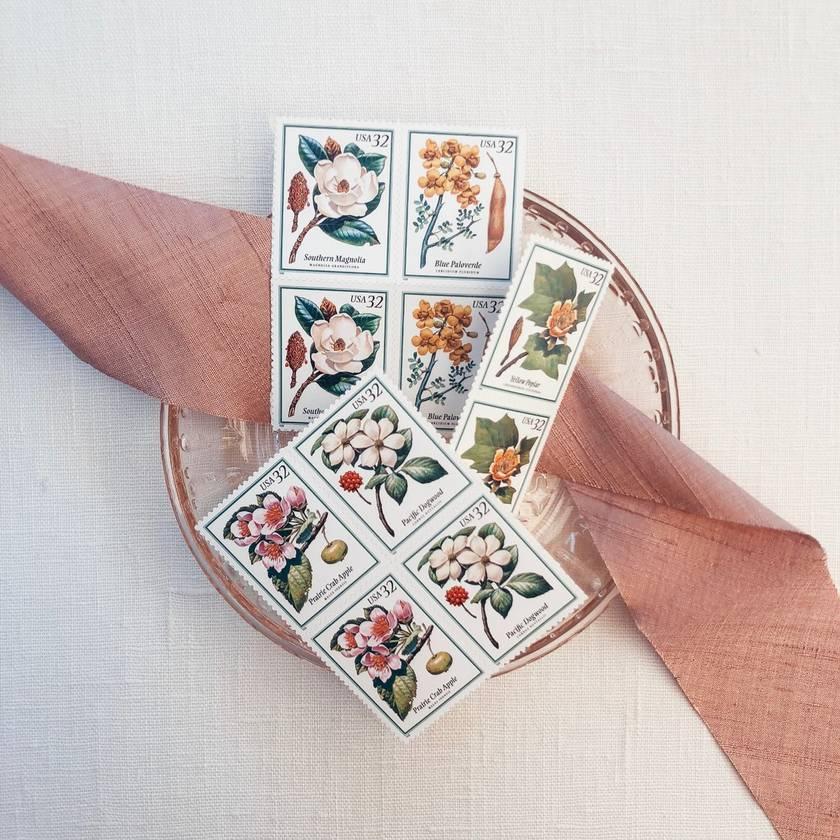 Botanical stamps
Vintage-inspired botanical stamps (or actual vintage stamps, if you can find them) can turn ordinary envelopes into miniature works of art. Use a collection of similar floral prints to reach the total postage amount—about $.55 for standard envelopes—for a one-of-a-kind look. Sometimes, it's the little details that can make all the difference!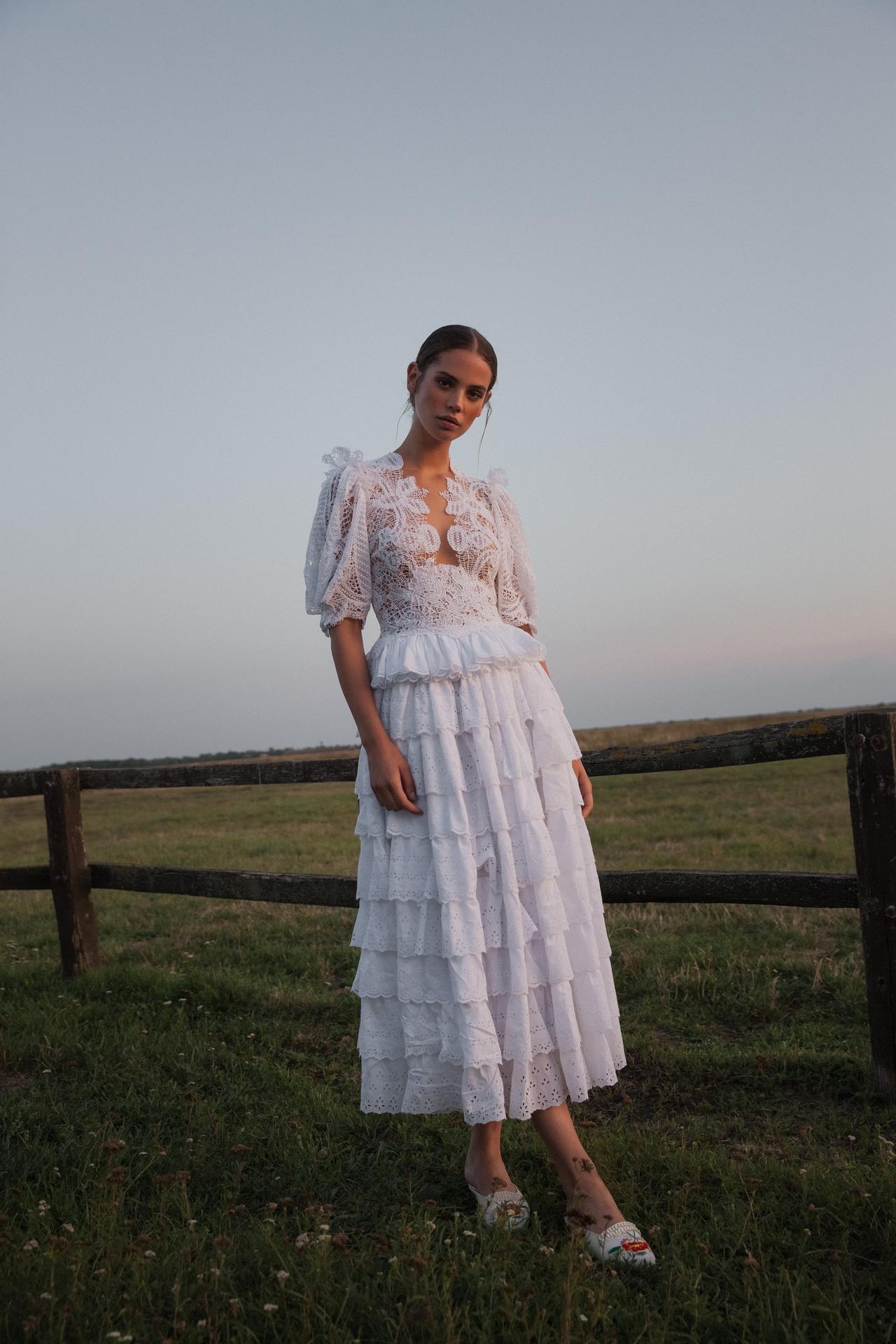 Folk-inspired wedding dress
A big element of granny chic wedding style is dressing the part. For brides, this is less about wearing your actual grandmother's clothing and more about choosing pieces with ultra-feminine details—think eyelet lace, frills, voluminous sleeves, bows, and floral prints on floral prints. Fitted sheath silhouettes, tulle skirts, and princess-style ball gowns all work with this romantic aesthetic, but if you want to go full-on grandma chic, consider a dress inspired by European or American folk costumes. This dress by Daalarna Couture is a bridal version traditional Hungarian folk wear, and the illusion lace bodice and tea-length hem make it feel totally wearable for your wedding day.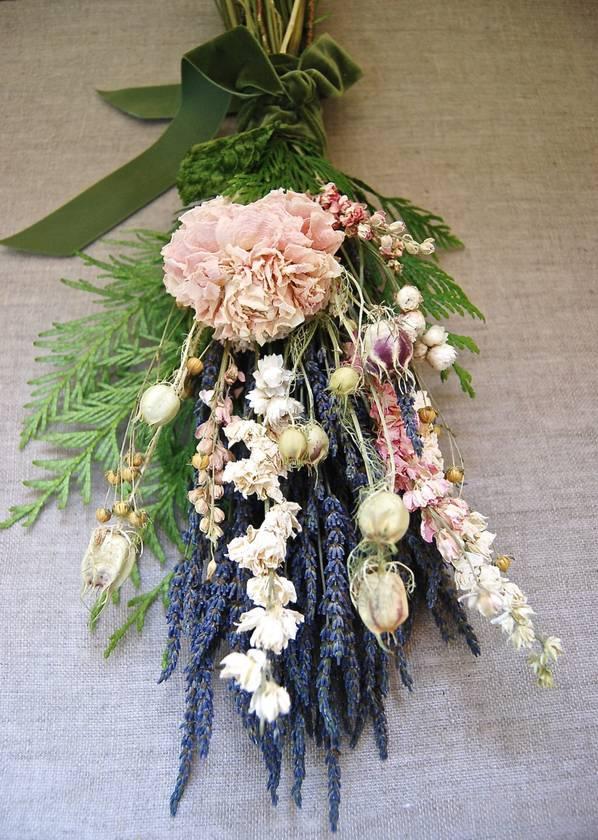 Dried wedding bouquet
If the idea of dried flowers reminds you of potpourri or bundles of herbs hanging in an old-fashioned apothecary (no? just us?), that's exactly the granny chic vibe we are going for. Either way, dried flowers are having a moment right now, from home decor to wedding bouquets. You might be surprised to see that dried flowers can look just as lovely as fresh flowers, and depending on the type of bloom and how it's dried, you'll end up with a pretty assortment of muted pastel tones. Dried accents like lavender and eucalyptus are more likely to keep most of their original pigment—ask your wedding florist if they've experimented with drying flowers or have any tips for getting the look you want. You can finish a dried flower arrangement with pampass grass, cotton stems, lunaria, fresh greenery, or velvet ribbons for extra texture.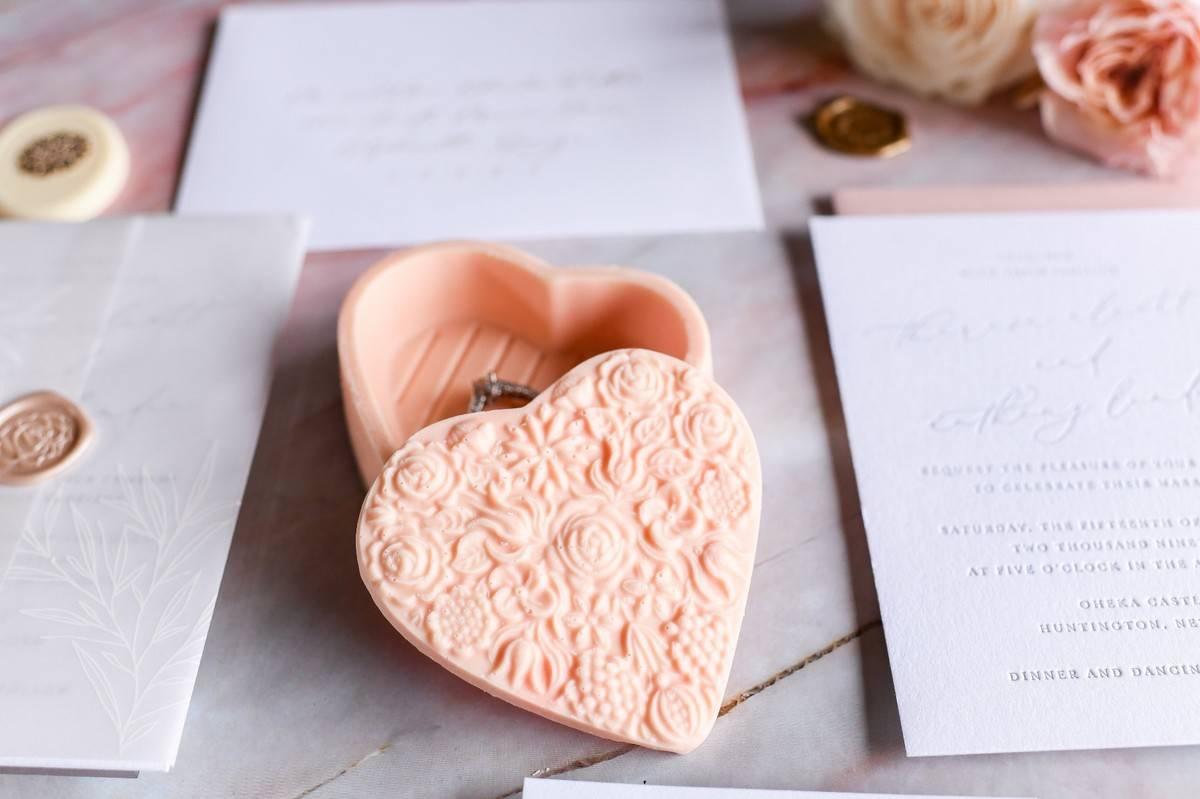 Porcelain ring box
Skip the velvet ring box in favor of a heart-shaped trinket box instead. It keeps your rings safe on the wedding day will look pretty sitting on a vanity or bedside table in the future. If you're worried about the box being damaged during the ceremony, ask your photographer to use it for their detail pictures and then swap it out for a more durable style when the big moment arrives.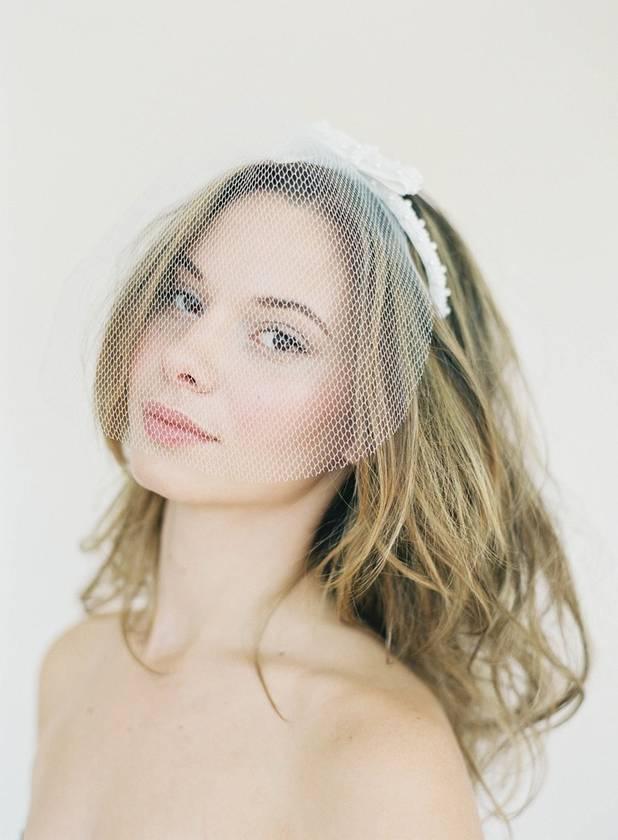 Blusher veil
Not into the idea of wearing a long wedding veil? A blusher veil, which covers your face to the tip of your chin, is straight out of the 1950s—and naturally, it's an obvious choice for granny chic wedding style. This veil is paired with a trendy pearl headband for an editorial look.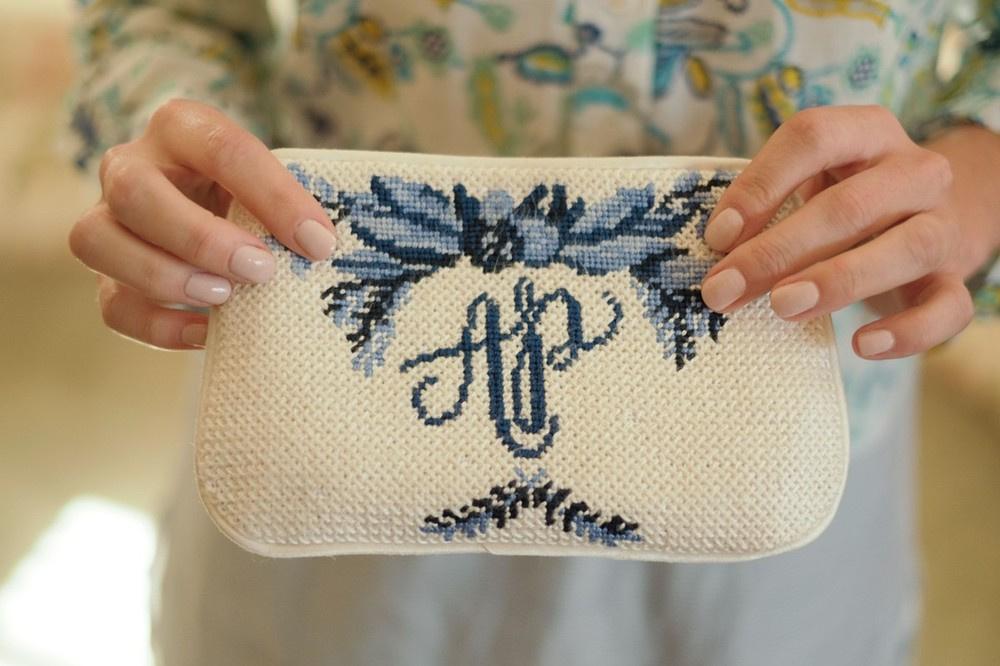 Needlepoint details
Needlepoint and cross-stitch patterns are the pinnacle of grandma chicness. You can use this kitschy embroidery technique on anything from monogrammed clutches and table numbers to wedding signage and custom portraits (check out Etsy for handmade options).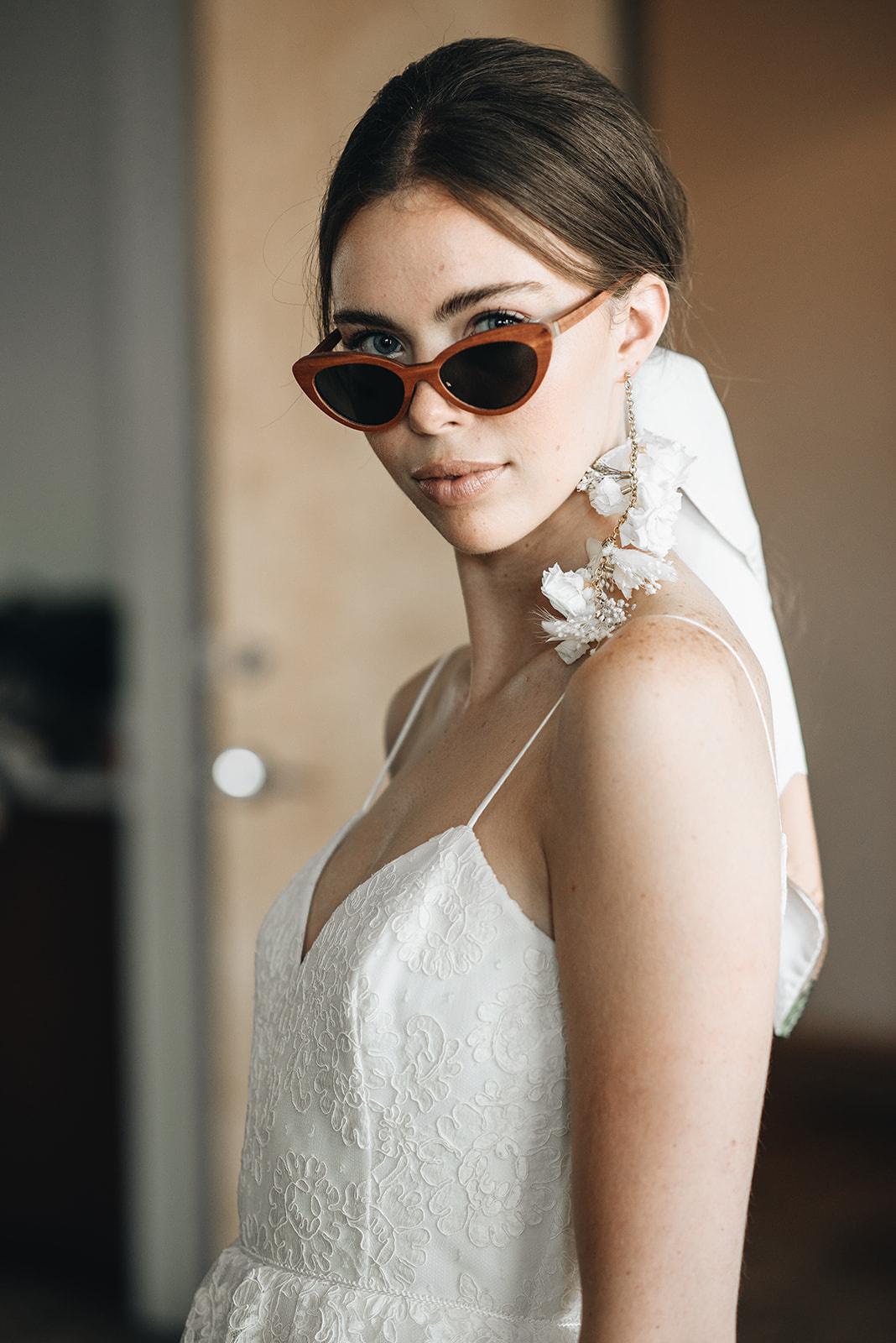 Cat-eye sunglasses
Get playful with your bridal accessories by rocking a pair of sunnies for your wedding portraits. Cat-eye frames are retro and a little sassy.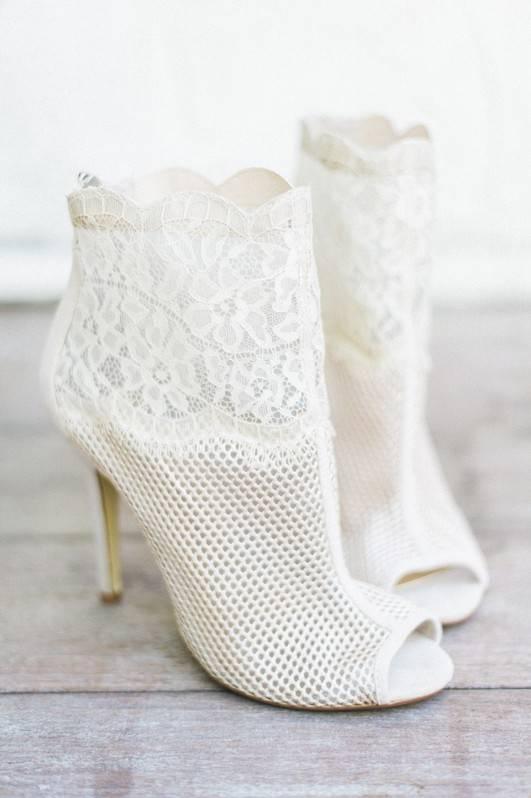 Lace wedding booties
Balance out a modest wedding dress by rocking a pair of heeled lace booties to give your outfit a bit of bridal edge. White booties bridge the gap between traditional and modern styles to keep your outfit from feeling too stuffy.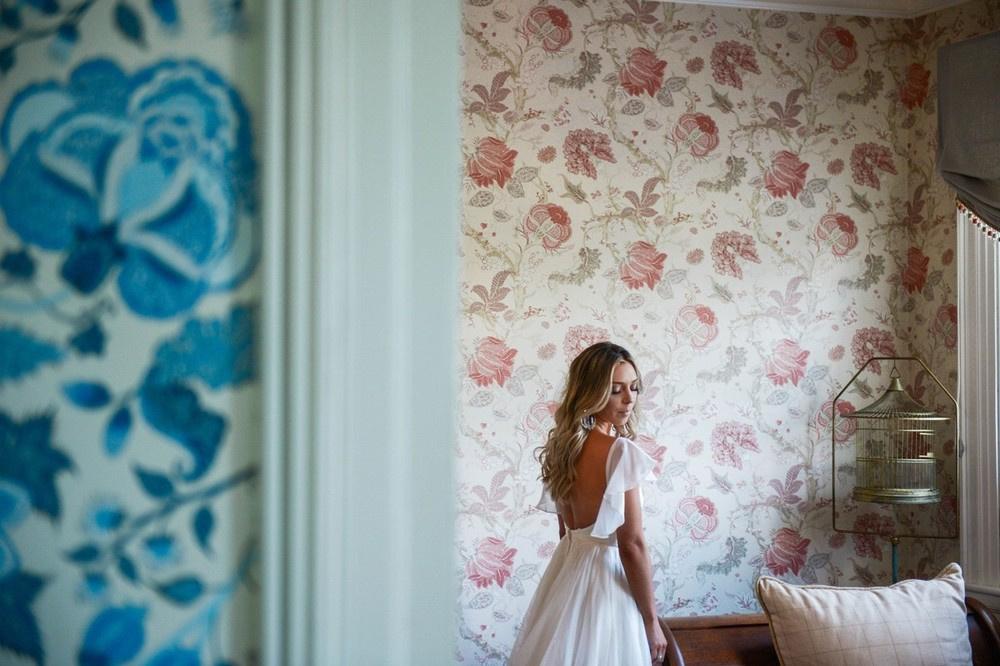 Patterned wallpaper
Wallpaper is one of our favorite wedding decor trend predictions for the year, but it's also a must-have for granny chic wedding style. Try to incorporate wallpaper into your wedding day somehow, whether that means using a wallpaper pattern to inspire your stationery suite, creating a decorative ceremony backdrop from wallpaper, or simply taking portraits in a wallpaper-covered room at your wedding venue. Floral patterns are the obvious choice, but bird prints, damasks, and chinoiserie motifs are also options.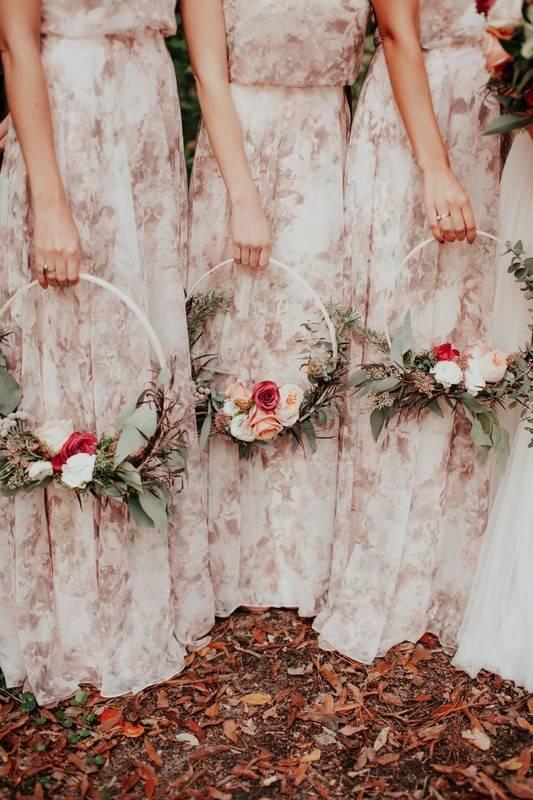 Patterned bridesmaid dresses
Patterned bridesmaid dresses might not be for everyone, but when it comes to creating a granny chic wedding party, they're a no-brainer. The more flower prints, the better—but if you're worried about visual overload, have your bridesmaids all wear the same dress or stay in the same color family.
Embroidered handkerchief
Carrying a cloth handkerchief was the norm until a few decades ago, and if you're planning to shed some happy tears on your wedding day, it's a perfect opportunity to embrace this old-school practice. Browse antique stores to find a handkerchief you like and take it to an embroidery shop (or try your own hand at stitching) to add your monogram, wedding date, or favorite love quote. Voilà: a custom wedding day keepsake.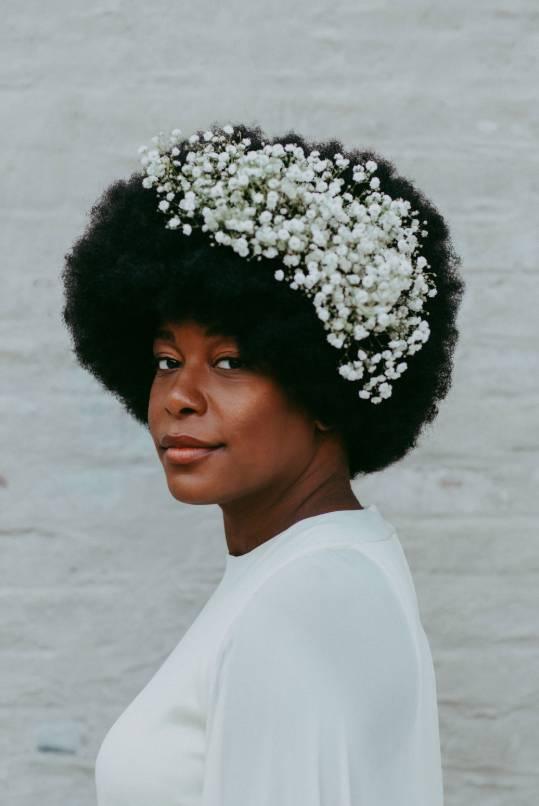 Baby's breath
No longer limited to just rustic weddings, baby's breath is making a decorative comeback, and ethereal brides are taking notice. The soft, fluffy appearance of baby's breath makes it a romantic addition to any wedding aesthetic, whether you wear it in your hair, suspend clouds of baby's breath from the ceiling as a centerpiece, or display sprigs of it in bud vases down a long banquet table. Its earthy vibe balances out the more traditional elements of granny chic style.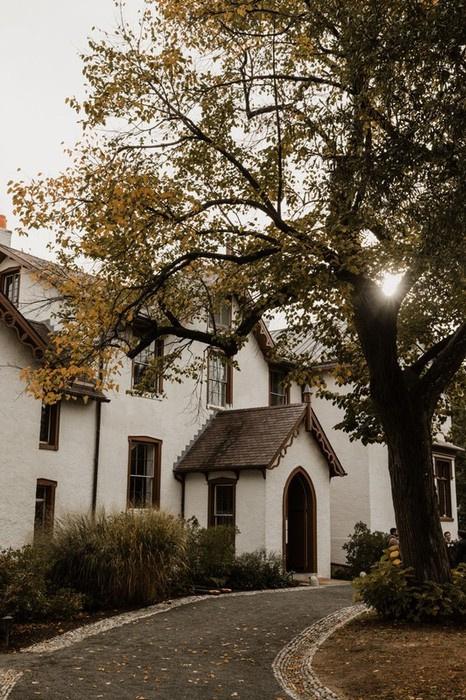 Cottage wedding venue
With the right decor, you can create this aesthetic at almost any type of venue, but a quaint setting like a cottage or historic estate will only add to the overall charm of the day. Look for a wedding venue with flowering gardens, ivy-covered buildings, picket fencing, and stone paths.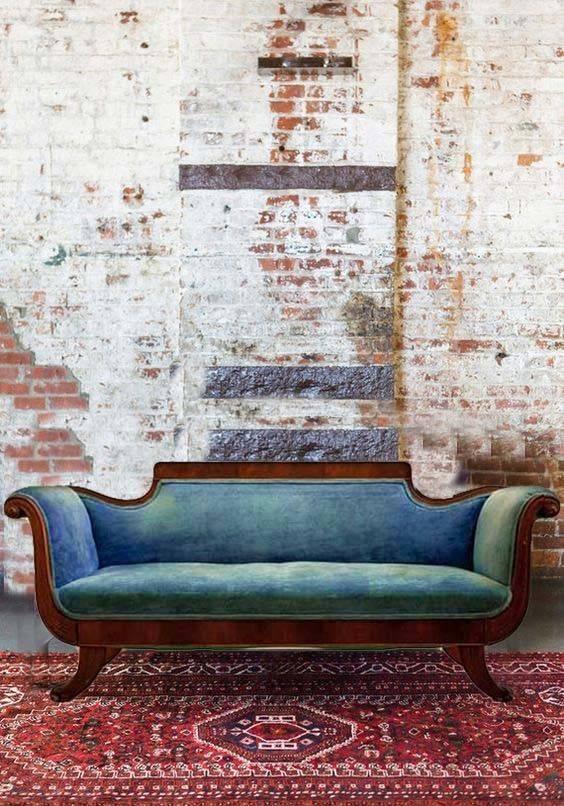 Velvet upholstery
Creating a cozy wedding reception lounge is a very grandma thing to do. You'll need at least one piece of upholstered velvet furniture, preferably antique, and a patterned area rug to complete the space.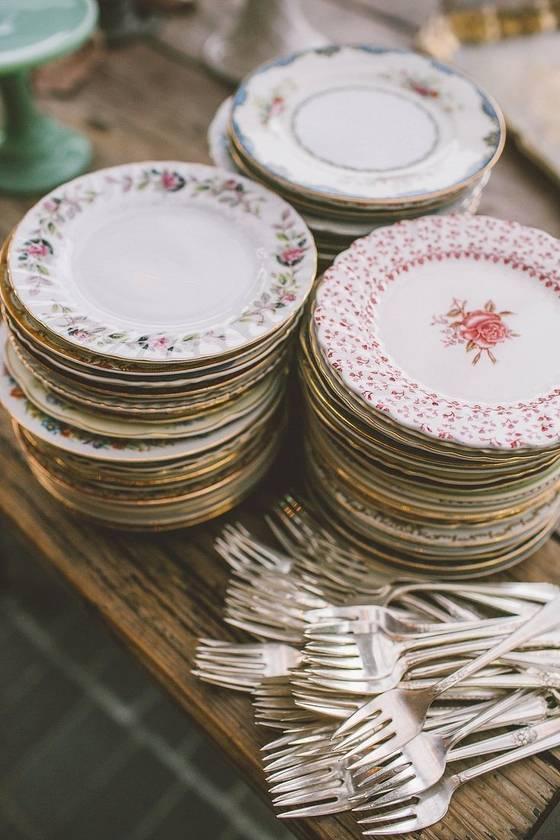 Floral print china
If you can find a wedding rental company that provides vintage china sets, it will be easy to achieve the mix-and-match look that pairs so well with granny chic style. You can opt for china in all colors and patterns for the most unique look, or you can choose pieces in various shades of one color for a perfectly un-perfect assortment.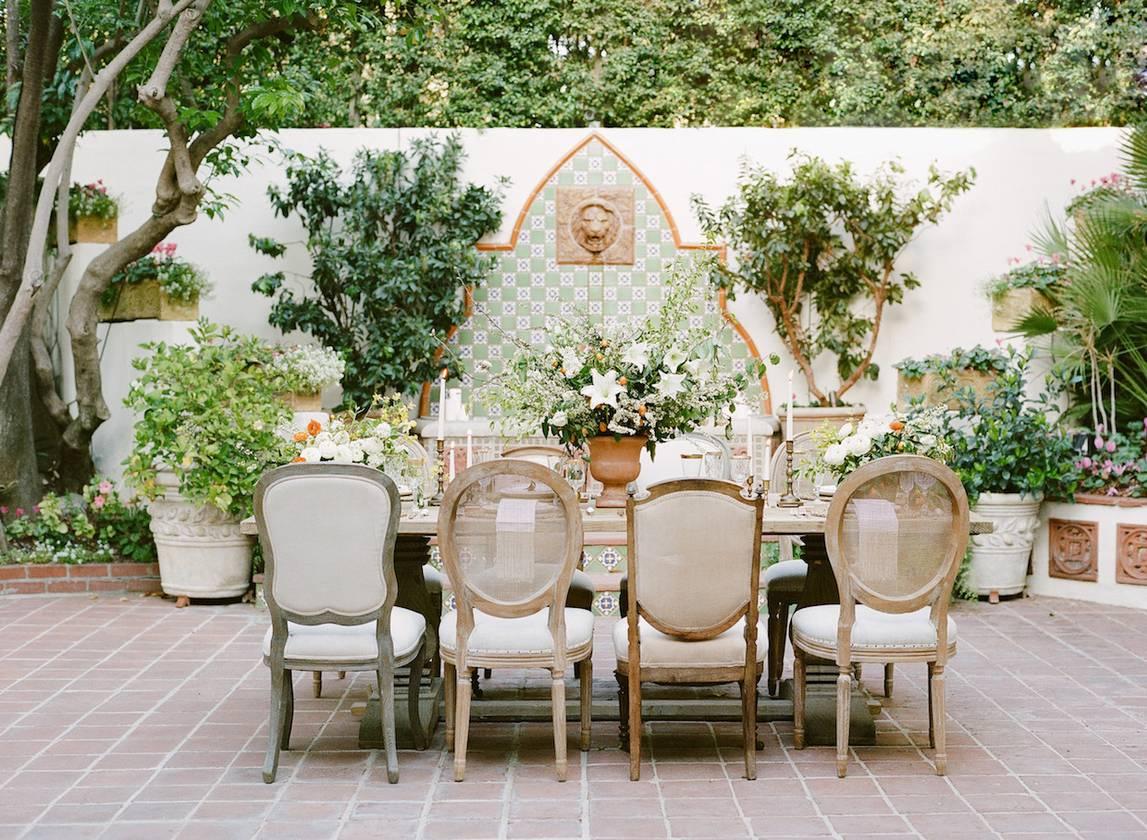 Mismatched rental chairs
Mixing and matching works for your rental furniture, too. While it's important to keep balance in mind, don't be afraid to use mismatched pieces, like chairs and benches, to bring an eclectic feel to your wedding. Avoid visual chaos by picking either mismatched chairs or tables (not both) and choosing a general color palette, such as neutrals, pinks and reds, or dark greens.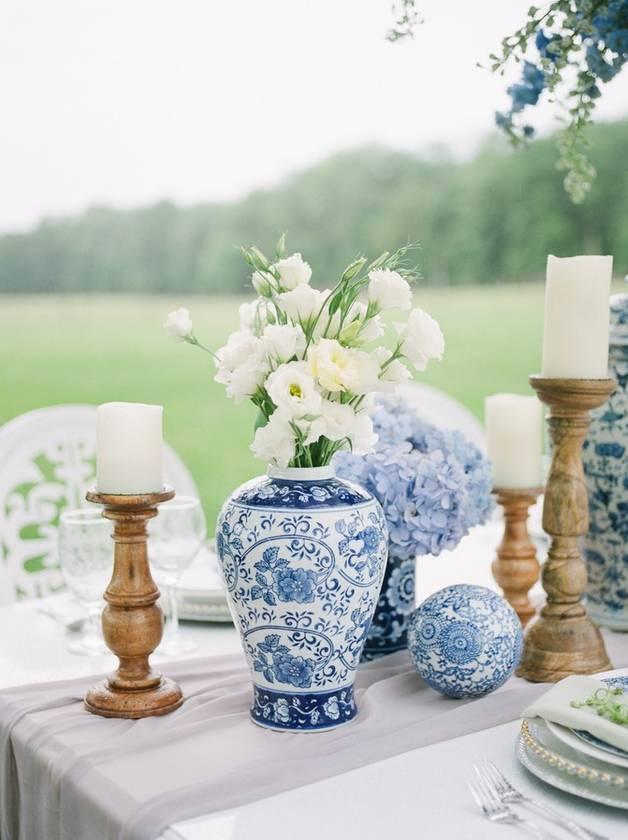 Chinoiserie vases
Blue and white chinoiserie vases—also called ginger jars—often depict floral or nature scenes and are staple items when it comes to traditional decor. These pieces were highly popular in European decor throughout the 17th and 18th centuries, and they bring an elegant, antique flair to your wedding day. You can source your own vases from flea markets and thrift stores, or you can rent them from local wedding decor companies.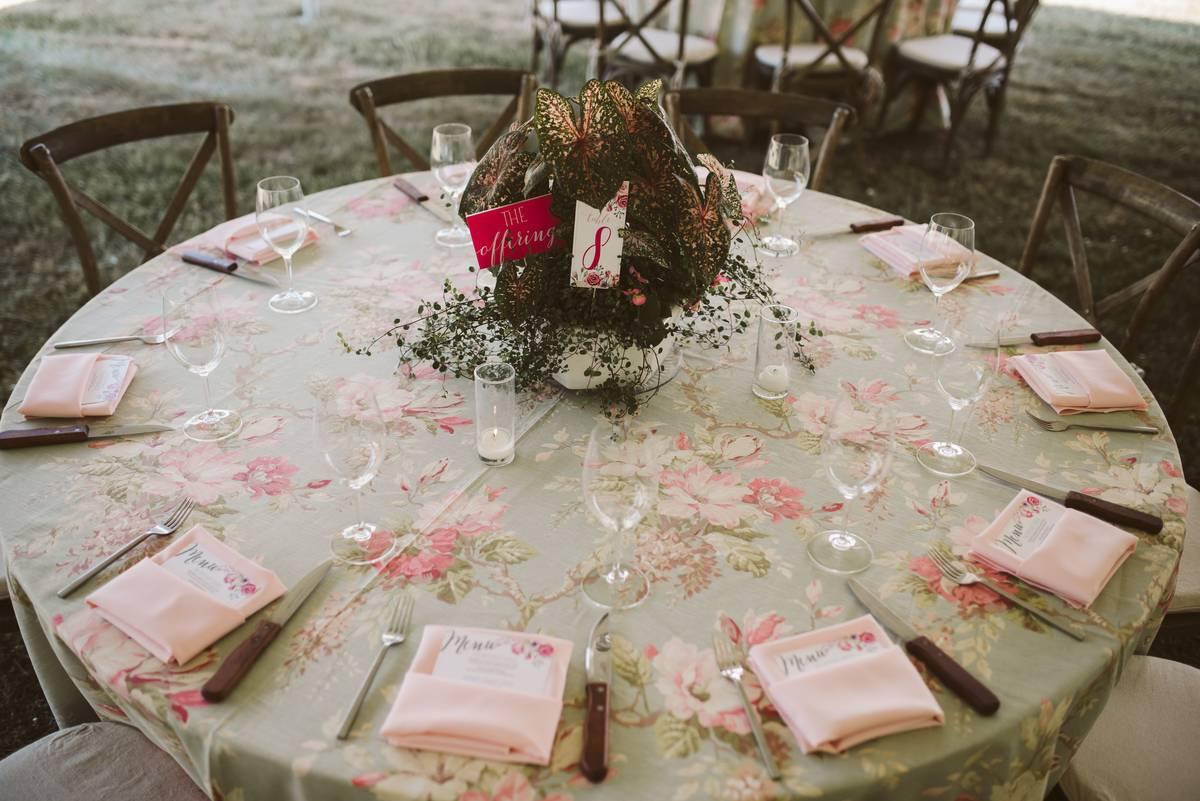 Floral textiles
Thought we were done talking about floral prints? Not so fast. Another place you can incorporate flowers into your wedding is through your table linens, whether it's tablecloths, fabric napkins, or chair covers. Look for timeless floral prints (French country linens are a good reference point) in soft color palettes for ultimate granny chic style.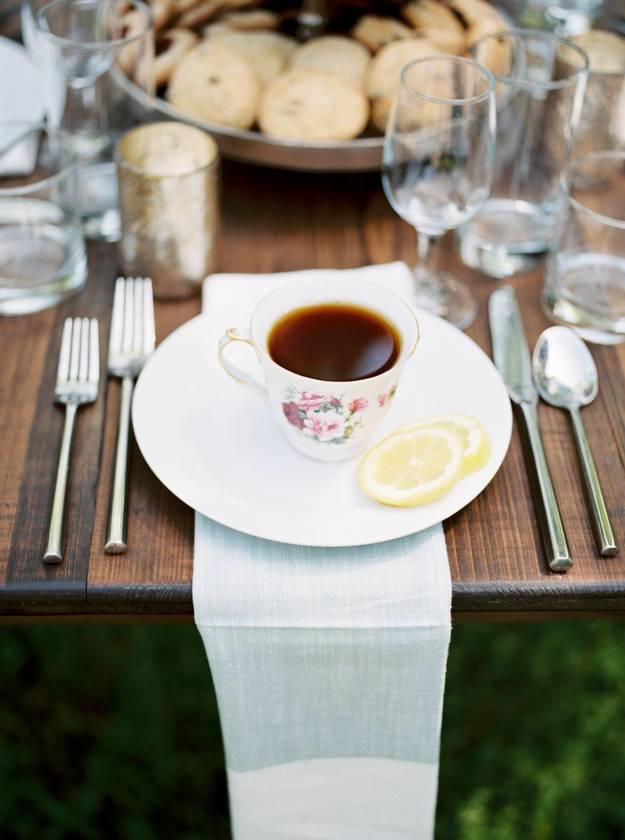 Cups of hot tea
Spiked or not, we can't argue that a hot cup of tea served in a dainty teacup feels very on-brand for granny chic style. Offer your guests a soothing cup of hot tea pre-dessert course or have a self-serve tea station available throughout the reception. Provide a selection of herbal teas, caffeinated teas, or even CBD teas if you're feeling experimental.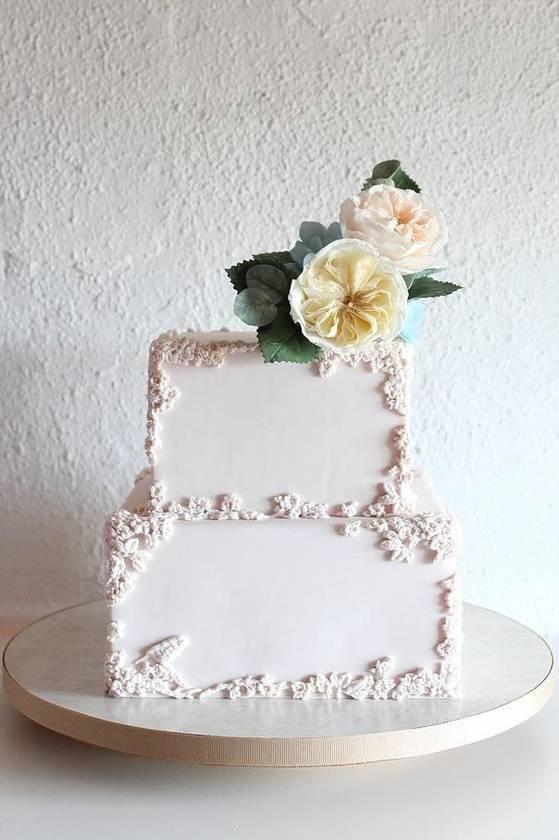 Bas relief wedding cake
A bas relief cake is classic but unexpected. This wedding cake style resembles a delicate carved sculpture (like that cabinet of figurines you were never allowed to touch at your grandma's house) and will look like a work of art sitting on display at your reception.