7 Trending Wedding Accessories from Bridal Fashion Week
In the words of Coco Chanel, you should always take one thing off before you leave the house. But after seeing these wedding accessories trends, we say pile 'em on.
We had a blast checking out the latest wedding dress trends at New York Bridal Fashion Week when designers debuted their Fall 2020 collections, but there were a surprising number of wedding accessories that also grabbed our attention on the runways. This season, it wasn't just about the dresses—many designers stepped up their game by serving us major inspo for a bride's entire look. We were wowed by statement jewelry, new hair accessories, and a fresh take on the bridal jacket trend. If you're looking for a way to tie your wedding day outfit together, don't miss these fabulous wedding accessories ideas.
Here are the latest steal-worthy wedding accessories, straight from the runways.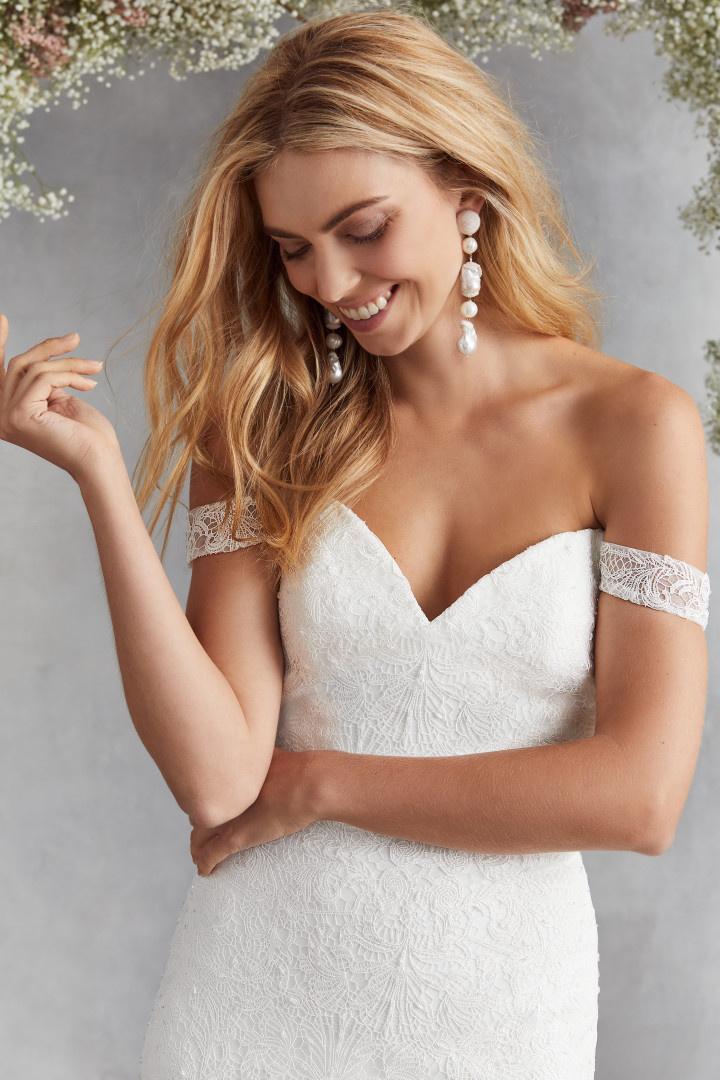 Dress by Kelly Faetanini
Baroque pearls
Pearl embellishments turned out to be one of the biggest wedding dress trends this season, but they also made their way into jewelry, hair accessories, and even shoes. Specifically, Baroque pearls (pearls with an irregular shape) were everywhere we looked. BHLDN, Karen Willis Holmes, Kelly Faetanini, and Galia Lahav all had models wearing pearl earrings for their latest lookbook campaigns, while Berta, Bekah Anne, and Lela Rose added pearls to headbands and tiaras.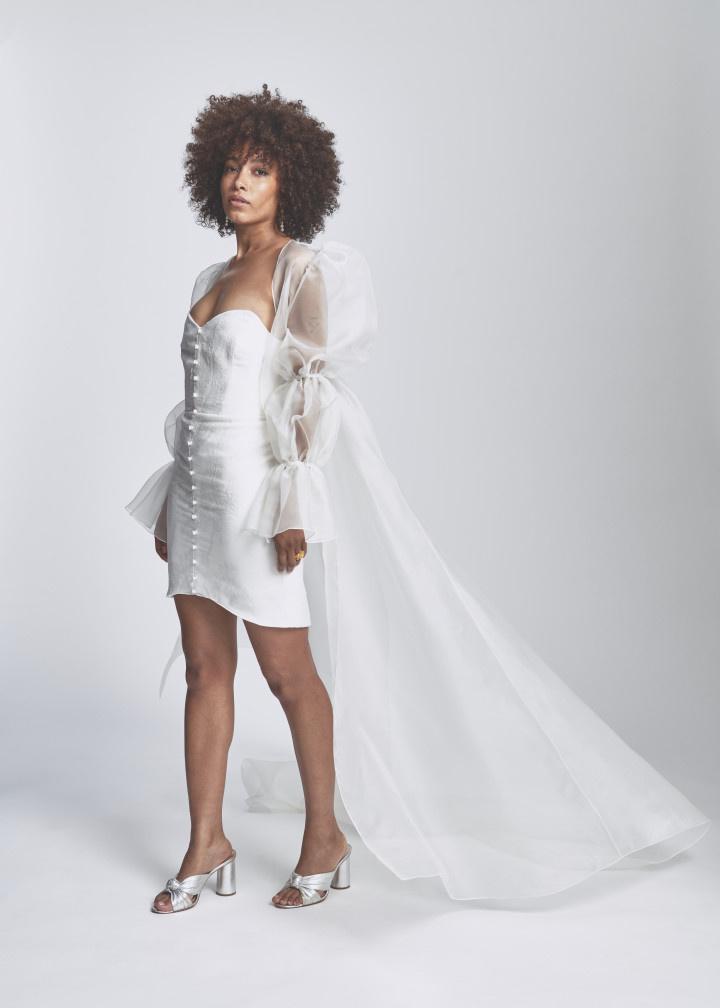 Dress by Alexandra Grecco
Sheer trenchcoats
You've seen bridal jackets, but you've never seen them like this. Instead of the already popular leather and denim styles, we saw designers pairing their dresses with sheer organza coats, as spotted in the collections by Alexandra Grecco and Danielle Frankel. While this style isn't likely to keep you warm in the event of a temperature drop, we can't deny that it looks ridiculously cool—and it's a non-committal way to add a bit of sartorial edge to your bridal look on the big day.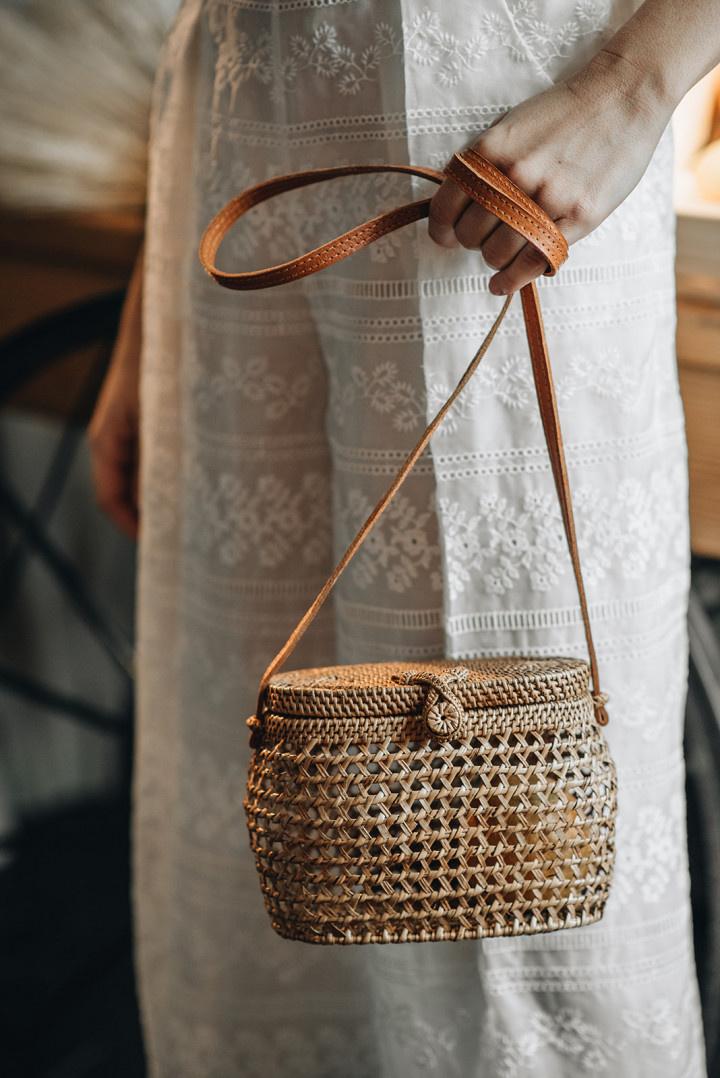 Dress by Laure de Sagazan
Rattan
If you've been on social media at all in the last six months, you probably know that rattan and straw accessories—specifically those cute basket-style handbags—are insanely popular among influencers and the everyday fashion set. And while we weren't too surprised to see that the trend is (finally) carrying over into bridal fashion, we are pretty excited about it! The latest dress collection from French designer Laure de Sagazan was presented with covetable basket bags by Bembien, and the models at Willowby by Watters rocked bohemian rattan tiaras for their runway walks.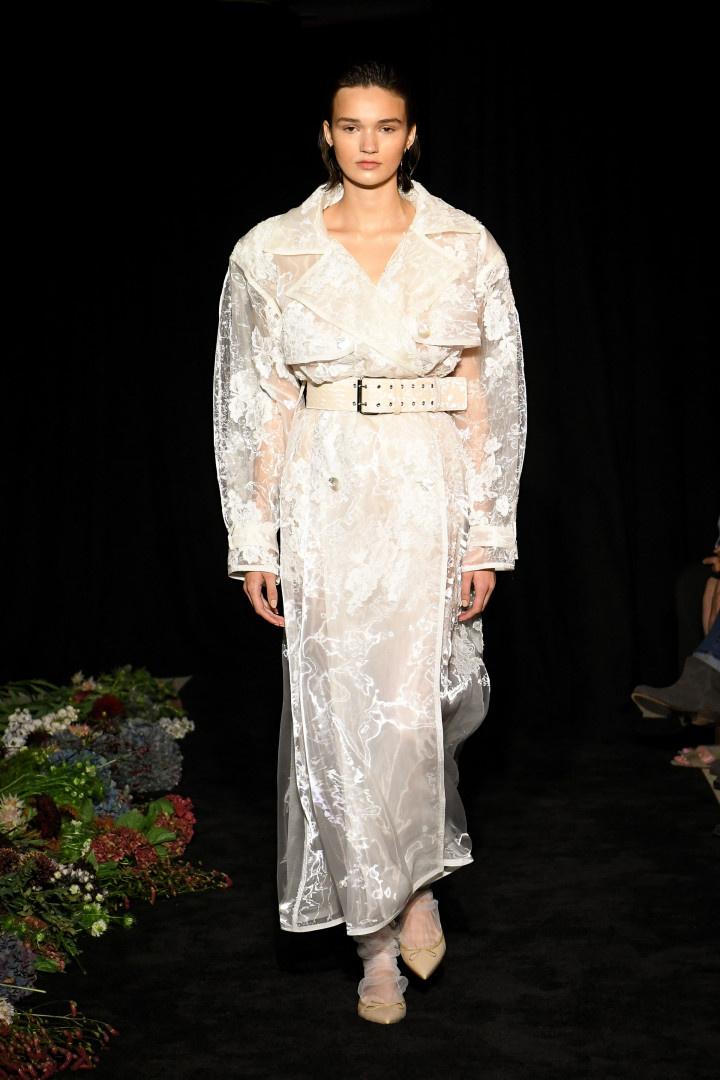 Dress by Danielle Frankel
Belts
Waist-cinching belts were some of the coolest and most unexpected wedding accessories to appear in designers' collections this season. The latest styles look like actual belts you'd find in ready-to-wear fashion—different than the bridal rhinestone sashes and floral appliqué ribbons we're accustomed to seeing with wedding gowns. Bold belts were featured in the collections from Danielle Frankel (see the belt/trench combo above) and Lee Petra Grebenau, who styled pearl belts with pearl-adorned wedding dresses.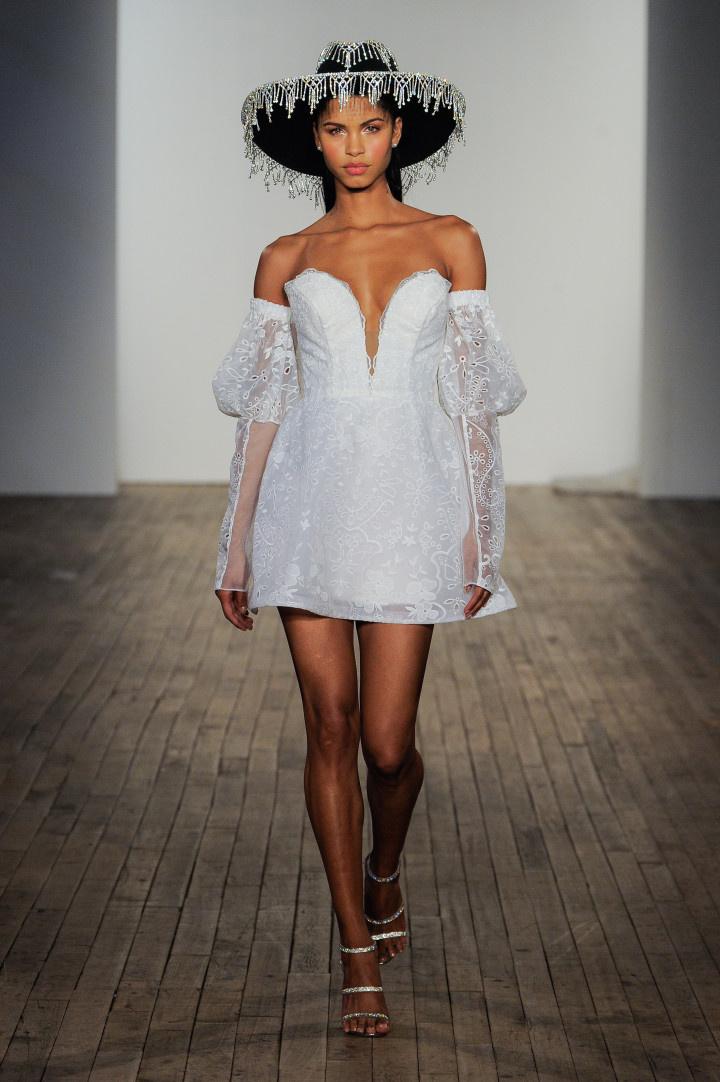 Dress by Hayley Paige
Hats
Remember the scene in The Parent Trap when Annie visits Elizabeth's bridal shop and they create the veil/top hat combination? This wedding accessories trend gives us immediate flashbacks to that moment, but 10 times better. Hats were a major theme for Fall 2020 at Bridal Fashion Week, and we're not talking about British wedding fascinators or retro pillbox styles. We saw oversized, statement-making hats in the collections from Watters and Carol Hannah, with Hayley Paige knocking it out of the park by sending models down the runway in bedazzled cowboy hats by Eugenia Kim. Whether you choose a romantic floppy style or a summer-appropriate straw design, bridal hats are a fun way to jazz up your look on the big day.
Dress by Lela Rose
Headbands
If your style icons include Blair Waldorf, Audrey Hepburn, or Brigitte Bardot, then rejoice with us, because headbands are back. Thick, padded headbands were another wedding accessories trend we spotted everywhere, from pearl-embellished styles at Lela Rose to velvet headbands at Wtoo by Watters and Allison Webb, to high-sparkle designs at Berta and Inbal Dror. Think of the headband as an "It" girl's alternative to the classic bridal tiara. Plus, it's one of the most versatile wedding accessories, since you can wear a headband with your hair up or down.
Dress by Pnina Tornai
Gloves
White gloves were a staple wedding accessory decades ago, though modern-day brides have mostly skipped them in favor of bare hands and arms, because how else are you going to show off that wedding day manicure? But lately, we've noticed the slow comeback of this traditional wedding accessory, and several designers (including Pnina Tornai and Vera Wang) confirmed our hunch with their latest collections that gloves are about to be en vogue once again. From luxurious satin elbow length-gloves to demure Swiss dot styles that barely covered the hands, bridal gloves are on track to be one of the trendiest wedding accessories for 2020.