6 Ways Wedding Planning Has Changed Since Your Mom (and Grandma!) Got Married
Weddings have changed a great deal since our parents and grandparents got married, from budget to venue to attire and more. Here's how.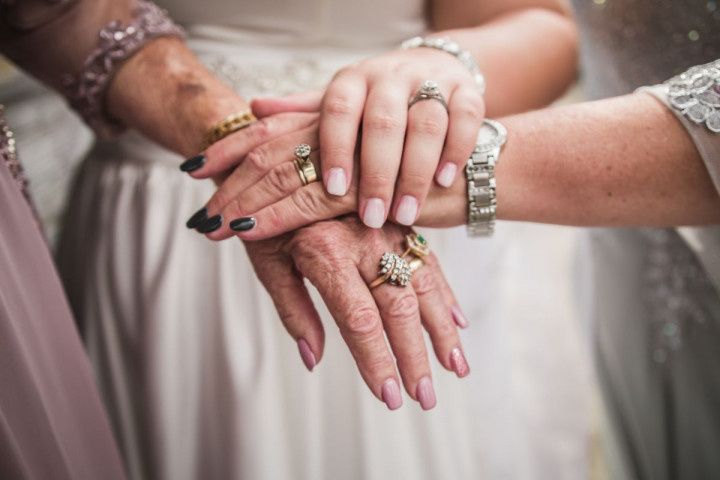 A lot has changed about wedding planning since your parents' and grandparents' weddings (if you're a millennial, it's likely that your parents got married around the 1980s and your grandparents in the 1950s). Of course, the rise of the Internet has been the biggest change, but traditions, attire, and etiquette have also shifted a great deal. It's interesting to note that the '50s and '80s were pivotal decades in the wedding industry, with weddings becoming more meticulously planned and detailed events during these times. Learning more about weddings in your parents' and grandparents' eras will help you appreciate the numerous technological advantages and wider variety of trends and options we have today—but these "vintage" weddings may also inspire your own celebration if you're going for an Old World vibe.
Check out the top ways wedding planning has changed since your parents and grandparents got married.
Engagements are longer.
In the 1940s, many men were shipping off to World War II so weddings were often hastily planned affairs (like, get engaged on a Monday, get married that weekend). Once the war ended and into the 1950s, weddings were planned a bit further in advance, but not by much—most couples got married within a few months of getting engaged. Couples were, on average, younger back then as well—most people got married in their early 20s, meaning courtships were relatively shorter. Moving into the 1980s, couples were (slightly) older, mostly getting married in their mid-20s, and engagements were a bit longer, with engaged couples usually marrying a few months after getting engaged. Nowadays, couples are getting married in their late 20s, and waiting an average of 13 months between the proposal and the wedding, so there's much more time for wedding planning.
Parents still pay for most of the wedding, but couples do contribute.
As mentioned, couples in the 1950s were marrying quite young, so it's no surprise that the bride's parents typically footed the bill for the wedding. In the 1950s, though, the tradition of the groom's family paying for the rehearsal dinner (if there was one) began, but most of the financial burden typically fell on the bride's parents. This tradition has continued through our parents' generation, and even into today, though couples are contributing more to their weddings than ever before. These days, the couple's parents contribute about 67 percent of the total cost of a wedding, while couples contribute about 28 percent. Parents are also still involved in the decision-making process—according to a WeddingWire survey, about 80 percent of parents are involved in planning their children's wedding.
Couples aren't always marrying in their hometown.
Back in our grandparents' time, most people stayed relatively close to home throughout their young adulthood, and so usually met their future spouses in their hometown or nearby. Therefore, hometown weddings were the norm. In the 1980s, even if couples weren't from the same city or town, they usually followed the tradition of marrying in the bride's hometown. Nowadays, 1 in 4 couples consider their wedding to be a destination wedding, meaning they got married in a different state or country than where they currently live or are from.
Weddings can be formal or casual.
Weddings in the 1950s were more formal than the "quickie" wartime weddings of the '40s. In fact, most weddings in the '40s included ceremonies only, with few receptions taking place. That changed in the 1950s and '60s, with more couples including receptions as part of their big day—though often these daytime parties simply included cake and punch, not a full meal. These weddings were classic, traditional, and elegant affairs, with grand wedding cakes and white floral arrangements (watch the 1950 version of Father of the Bride to get a better idea). In the 1980s, the "bigger is better" motto came back into favor with weddings becoming more formal and grander than ever, after more relaxed, backyard weddings were the norm in the hippie-chic 1960s and 70s. Today, however, weddings don't have to be black-tie affairs—couples can choose whether they'd prefer a more formal or more laid-back event based on their tastes and personalities.
Ceremonies don't have to be at a house of worship.
In our grandparents' generation, weddings were typically held in either a house of worship or a courthouse. If there were to be a reception, it was likely hosted in the reception room of a house of worship, or else a nearby hotel or the bride's parents' home. The house of worship ceremony was still popular into the 1980s, though more banquet halls and other types of venues were on the rise to host receptions, which were now commonplace. In the 21st century, only a quarter of couples choose to host their big day at a house of worship. A variety of wedding venues are available, from traditional hotel ballrooms and banquet halls to barns, industrial spaces, museums, gardens, and more. Outdoor weddings are also much more popular these days, with 53 percent of couples hosting their ceremony, reception, or both outdoors. With the exception of backyard weddings, most weddings in previous generations were held indoors.
Couples want their weddings to be personal, and don't always follow "trends."
Back in our grandparents' and parents' generation, wedding trends were dictated by the nuptials of major celebrities, as well as popular bridal magazines. This meant that most weddings during those times looked pretty similar, and details were often selected from catalogs provided by the venue. In the 1950s, couples were inspired by Grace Kelly and Prince Rainer III's wedding, as well as Elizabeth Taylor's wedding to Conrad Hilton. The tiered wedding cake, the white flowers, the sleeved ball gown wedding dress and classic veil—these were the major trends that could be seen at most 1950s weddings. Weddings of the 1980s were often inspired by Princess Diana and Prince Charles' over-the-top event, with details including massive cascading bouquets and over-the-top wedding dresses with huge sleeves. These days, no two weddings look alike. Couples use online resources, like Pinterest and Instagram, to find inspiration from both real weddings and celebrity weddings, and pick details. Brides, grooms, and their wedding vendors are encouraged to be creative in order to design an event that truly reflects the couple's style and taste.