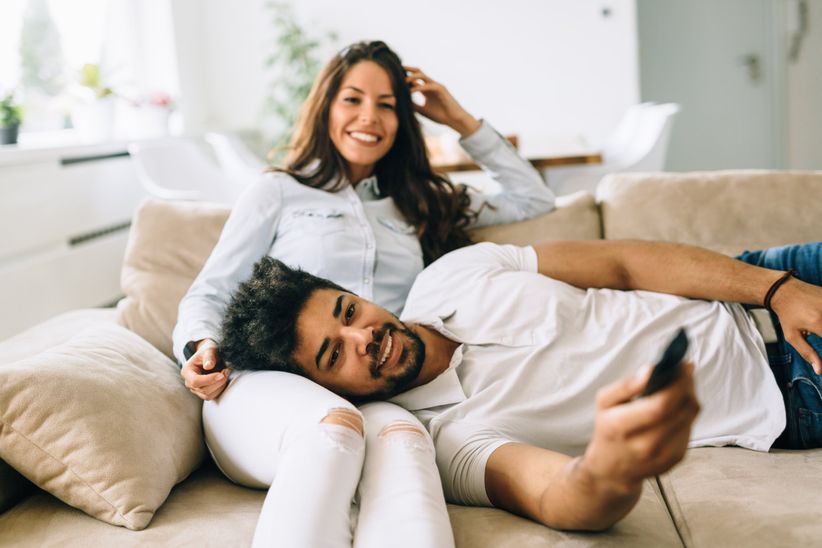 Couples can easily make wedding planning more entertaining by finding the best shows to binge watch while tackling tedious tasks, such as seating charts, emailing vendors, you name it. Wedding planning can consume a lot of your free time once you're engaged, so you'll definitely want to find a few go-to shows to stream during the process.
Whether you're a Netflix fan, Hulu subscriber, or Amazon Prime member (or all three!), these are the best shows to binge watch while wedding planning.
The Great British Baking Show
Provider: Netflix
Foodie couples will love binge watching this reality show. The Great British Baking Show is a light-hearted series that follows 12 amateur bakers competing to be the Star Baker. The show is filled with good humor, tasty treats, and doesn't require a lot of attention to follow along. Couples can easily tackle a few wedding planning projects while also tuning in to see which baker's biscuit, pastry, or cake wows the judges in each episode. Not to mention, the judges and the contestants' friendly banter paired with the classical music is very enjoyable to play in the background of your home.
Say Yes to the Dress
Provider: Amazon Prime
Say Yes to the Dress is one of the best shows to binge watch if you're in the midst of finding your dream gown. The reality TV show follows brides-to-be as they try to find the perfect dress at one of the biggest bridal salons in Manhattan, Kleinfeld. Brides will love watching this show while they are researching different silhouettes or dress styles and may even get some inspiration from the show, as well. This show is known for highlighting each bride's pain points when finding her wedding dress, such as sticking to a budget or dealing with overly-opinionated family members, making it so relatable.
Friends
Provider: Netflix
Friends will definitely be there for you when you're up late at night tallying RSVPs. The classic sitcom, which follows the one-of-a-kind friendship of six young adults living in New York, is guaranteed to make you lol while you're crossing things off of your checklist. Out of the six lead characters almost everyone of them has an episode where they get married, like our favorite, "The One With Chandler and Monica's Wedding", meaning you'll have plenty of episodes about the ups and downs of planning a wedding.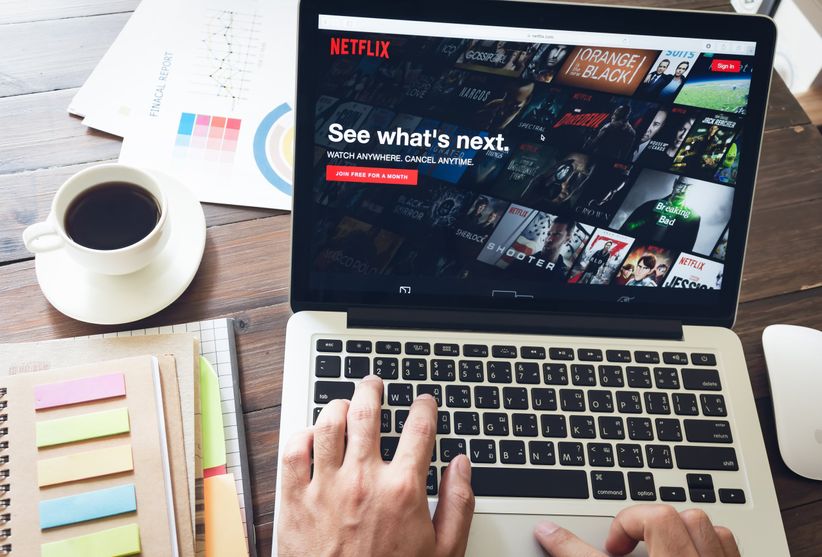 Queer Eye
Provider: Netflix
Couples who want a feel-good show to watch while they are planning their special day will love this reality makeover series, Queer Eye. This Netflix reboot features a new Fab Five that help transform men and women's lives. Staring food and wine specialist Antoni Porowski, interior designer Bobby Berk, grooming consultant Jonathan Van Ness, fashion designer Tan France, and culture expert Karamo Brown, you can easily take a few pointers from this show with you while your planning your big day. Whether you're motivated by Karamo's wise words or learn some decor tips from Bobby, you and your bae will want to sit down and plan together while watching this hit series.
Stay Here
Provider: Netflix
Do you love HGTV and want to find a show you can stream while you're researching wedding venues or browsing decor items? The Netflix original, Stay Here, is a great series to throw on because it focuses on home improvements—actually pretty relatable when you're planning a wedding. Throughout each show interior designer Genevieve Gorder and real estate expert Peter Lorimer help owners turn their properties into money-making rentals. Each episode features a new property owner with a whole new rental to redesign and renovate, so couples can easily find decor inspo and more by streaming this show.
Key & Peele
Provider: Hulu
Another show to stream that will definitely make you and your S.O. laugh is Key & Peele. Comics Keegan-Michael Key and Jordan Peele star in this sketch comedy series and are great to watch if you need a pick me up from dealing with an overbearing mother-in-law or other wedding-planning stressor. Each episode is only 30 minutes and features stand-up bits in between the different sketches, too. Filled with satirical jokes and other silly humor, you and your fiancé(e) will be quoting this show all throughout your planning process.
The Office
Provider: Netflix
The Office is one of the best shows to binge watch because it's filled with hilarious characters, relatable story lines, and has 9 seasons to stream. The mockumentary series is set at a paper company in Pennsylvania and includes witty jokes and even an adorable love story, (hello, Jim and Pam!). Starring Steve Carell and many other now familiar faces, couples will find it easy to wedding plan with this hit series on in the background.