The Best TV Shows to Watch While Wedding Planning (Or When You Need a Break)
Need some background noise as you're compiling your guest list or researching wedding venues? Here are the best wedding TV shows to binge watch and stream online.
We have included third party products to help you navigate and enjoy life's biggest moments. Purchases made through links on this page may earn us a commission.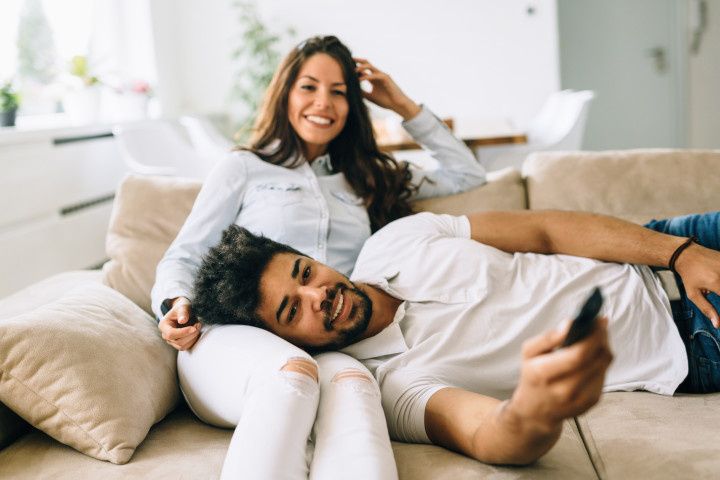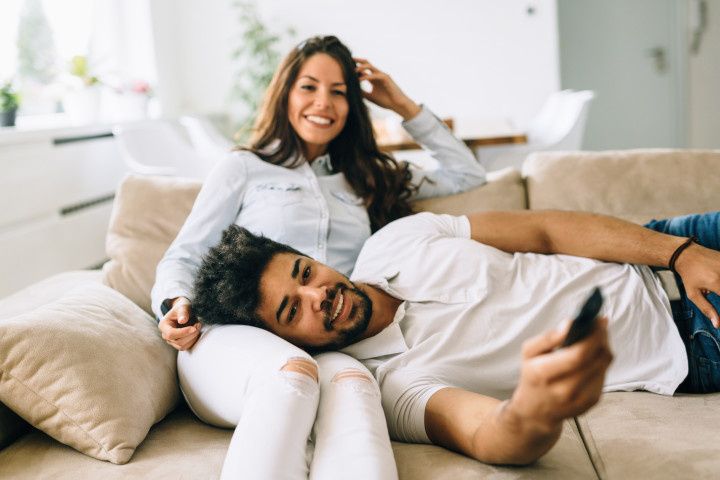 Planning a wedding can sometimes make you feel like you're short on free time, but you can easily make the process more entertaining (and much less daunting) by motivating yourself with a new show or two. We've created a list of some of the best wedding TV shows to binge watch and help you pass the time, whether you're arranging a seating chart, browsing color palette inspiration, or emailing your vendors. Some of our picks require less concentration than others when following along, making them ideal for when you're trying to multitask, while other wedding reality shows and wedding planning shows on this list are perfect for those times when you just need to put everything aside and take a break. From Netflix to Hulu and Disney+, here are our top wedding TV shows to binge watch while you're planning your big day (updated June 2021).
Best Wedding TV Shows to Watch on Netflix
Netflix subscriptions range from $8.99 to $17.99 per month. Depending on your plan, subscriptions include unlimited streaming, downloads to watch videos offline, and viewing on multiple screens at one time.
Bridgerton
If you haven't watched Bridgerton yet, what are you waiting for? This modern-day spin on the elite social circle of Regency-era England is filled with a whole lot of romance, drama, and eye candy—not to mention an extremely catchy soundtrack of instrumental pop song covers. Don't be surprised if you watch all eight of the one-hour episodes in a single weekend (or a day, if you're like us), and get ready for plenty of dreamy garden wedding inspiration.
Marriage or Mortgage
For many couples, the decision between buying a house or having your dream wedding is a big conversation. Marriage or Mortgage is a relatable wedding reality show that follows couples as they work with a real estate agent and a wedding planner to figure out what they really can afford.
The Big Day
Indian weddings are notoriously grand affairs, and this wedding TV show gives us a first look at the culture of them as we follow six couples from the engagement to the big day.
The Wedding Coach
If you're looking for a relatable wedding reality show, The Wedding Coach is a perfect match. This Netflix original stars comedian Jamie Lee, who meets with engaged couples that are struggling with the stress of planning their weddings. Although there are some emotional moments, Lee keeps the mood lighthearted by helping with things like DIY wedding decor and silly icebreakers to calm the jitters on the big day.
Say I Do
Hosted by a cast of professional interior designers, fashion experts, and gourmet chefs, this feel-good wedding planning show surprises engaged couples with their dream weddings—all pulled off in less than a week. Think Queer Eye meets Project Runway.
Love is Blind
Haven't watched this binge-worthy show yet? If the answer is no, get yourself to Netflix, stat. The show revolves around a hard-hitting question: Is it possible to fall in love with someone when you have no idea what they look like? Participants on the show mingle with potential partners by going on virtual blind dates—the catch is that they're separated by a wall and can't see each other in person until after they get engaged.
Best Wedding TV Shows to Watch on Hulu
Hulu plans start at $5.99 a month and include a free one-week trial. For $12.99 a month, you can bundle Hulu with ESPN+ and Disney+, which is less than you would pay to subscribe to each service separately. You can also bundle Hulu with HBO Max for $14.99 per month or live television starting at $64.99 per month.
Love Island
What do you get when a group of single people are transported to a tropical island, monitored 24/7, and forced to "couple up" with another contestant each week in order to make it to the next round? Meet Love Island, a British reality dating show that's bound to become one of your newest guilty pleasures.
The Bachelor / The Bachelorette / Bachelor in Paradise
You won't find all of the Bachelor seasons online, but Hulu has plenty of seasons of this wedding reality show to tide over any Bach Nation fan throughout your engagement (and then some). You'll find Season 17 (Sean Lowe), Season 18 (Juan Pablo), Season 20 (Ben Higgins), and Season 23 (Colton Underwood) of The Bachelor all on Hulu. For The Bachelorette, choose from Season 5 (Jillian Harris), Season 10 (Andi Dorfman), Season 12 (JoJo Fletcher), and Season 17 (Katie Thurston), which is currently airing. Hulu also has seasons 1 through 3 of Bachelor in Paradise.
Four Weddings and a Funeral
Based on the famous wedding movie of the same name, this 10-episode miniseries is about four American friends who reunite at a wedding in London after a few years apart. There's enough relationship drama and general mayhem to make the series (which was co-created by Mindy Kaling) worthy for anyone who loves a good rom-com.
How I Met Your Mother
If you haven't seen this famous sitcom yet, we'd recommend it as one of the best wedding planning shows to add to your list. HIMYM is about Ted Mosby recounting the story of how he met his wife (who doesn't make an appearance until the very last episode of the show) through a series of hilarious flashbacks. It's the perfect balance of lightheartedness, humor, and drama to lift your spirits during a planning sesh.
Marrying Millions
In this Lifetime original docuseries, couples from opposite ends of the financial spectrum date and try to navigate their very different lifestyles. Watch what happens as they deal with unsupportive family members, try to align on spending priorities, and plan weddings.
Married to Medicine
Obsessed with the Real Housewives franchise? We think you'll love Married to Medicine, which takes place in Atlanta and follows the lives of successful women who are either married to doctors or practicing as doctors themselves. In the same vein as Housewives, this wedding reality show serves up plenty of drama and sass as the women try to balance their home lives, social circles, and careers.
90 Day Fiancé
An oldie but goodie (the show first aired in 2014), 90 Day Fiancé is a dramatic—but addictive—look at couples who meet online, date long-distance, and must then decide if they're ready to get married after just 90 days. It's entertaining enough to watch while you focus on other wedding planning tasks, or you can press pause on your to-do list and immerse yourself in the whirlwind of the show.
Say Yes to the Dress
Say Yes to the Dress is one of the best wedding planning shows to watch if you're in the midst of shopping for your dream gown. The long-running reality TV show follows brides-to-be as they try to find the perfect wedding dress at Kleinfeld in New York City. No matter where you're planning to shop for your wedding dress, the show will help you learn the basics, from silhouettes to fabrics, and how price points vary among designers or styles. This show is known for highlighting each bride's wedding dress pain points, such as sticking to a budget or dealing with overly-opinionated family members, which makes it so relatable.
Best Wedding TV Shows to Watch on Amazon Prime Video
If you already have an Amazon Prime subscription, you can enjoy Amazon Prime Video at no extra cost. You can also purchase a Prime Video-only subscription for $8.99 a month or sign up for Amazon Prime, which starts at $12.99 per month.
Married at First Sight
Imagine marrying your partner without ever meeting them in person—or knowing much about them at all. Married at First Sight chronicles the journeys of couples who agree to legally marry a complete stranger, followed by the inevitable struggles they experience during the weeks after the wedding.
Poldark
If you love period pieces, you'll find Poldark to be the perfect escape from the stresses of wedding planning. This BBC series, which is based on the novels of the same name, follows a British soldier who returns home after the Revolutionary War only to learn that his childhood love is betrothed to someone else.
The Hills
Whether you're Team Lauren or Team Heidi, this series is always entertaining (even if only for the mid-2000s outfit throwbacks). If you watched The Hills the first time around, it's one of the best TV shows to binge watch again in the background while you unwind and focus on other wedding planning to-dos. The episodes are short, so use them to take breaks and motivate yourself to jump back in if you're focusing on a big task. All six seasons are available for free with Amazon Prime Video.
Making the Cut
Although it's not actually a wedding planning show, Making the Cut is a great option if you're in search of something to completely take your mind off of all things weddings. If you're a Project Runway fan, this show is right up your alley. You'll immediately recognize some familiar faces: Runway alums Heidi Klum and Tim Gunn are the hosts of the show. Twelve designers from across the world compete in fashion challenges to test their design skills, from jewelry to shoes and haute couture. There are appearances from guest judges, including Naomi Campbell and Nicole Richie, and the winning designer is awarded with the opportunity to sell their collection exclusively on Amazon.
Best Wedding TV Shows to Watch on Disney+
Sign up for Disney+ starting at $7.99 a month or $12.99 a month when you bundle with Hulu and ESPN+. Along with these shows, Disney+ is the only place you can stream Disney classics (including all your Disney Channel favorites), Pixar films, and the Star Wars franchise.
Disney's Fairytale Weddings
Behold: the ultimate source of wedding inspiration for any Disney fanatic. This binge-worthy show follows real couples as they plan their Disney-themed weddings at dream-come-true locations, including the Tree of Life in Animal Kingdom, a Disney cruise, and the Aulani resort in Hawaii. There are 14 episodes in total, and they're filled with wedding ideas you can recreate even if you're not getting married at one of the parks.
One Day at Disney
If you're fascinated by the ins and outs of the Disney resorts like we are, we recommend this as one of the best TV shows to binge watch next. Each episode gives you a behind-the-scenes look by following a Disney employee through their daily workflow—you'll learn about everything from animal keeping to candy making. A similar Disney+ show, The Imagineering Story, reveals the inside scoop on how the parks were created and what went into making some of the most famous Disney attractions.