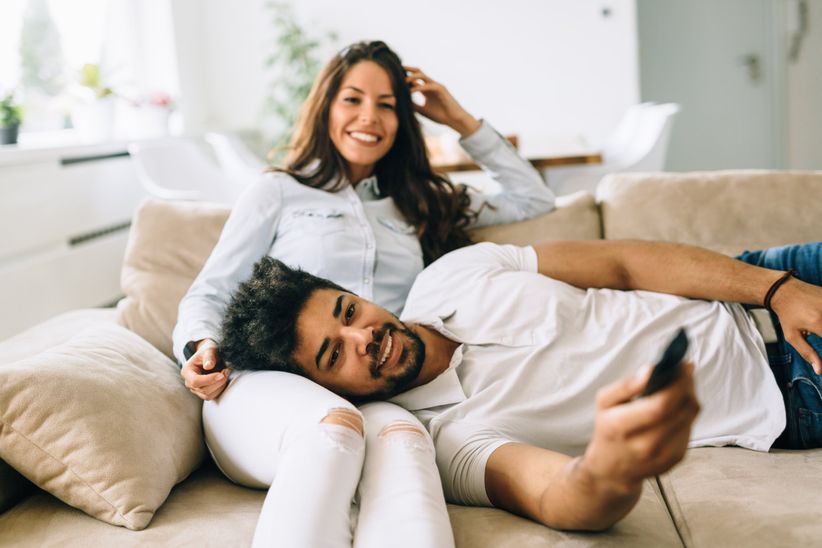 Planning a wedding can sometimes make you feel like you're short on free time, but you can easily make the process more entertaining (and much less daunting) by motivating yourself with a new show or two. We've created a list of some of the best TV shows to binge watch and help you pass the time, whether you're arranging a seating chart, browsing color palette inspiration, or emailing your vendors. Some of our picks require less concentration than others when following along, making them ideal for when you're trying to multitask, while other shows are perfect for those times when you just need to put everything aside and take a break.
From Netflix to Hulu and Disney+, these are the best TV shows to binge watch while you're planning your big day.
View this post on Instagram
Best shows to watch on Netflix
Netflix subscriptions range from $8.99 to $15.99 per month. Depending on your plan, subscriptions include unlimited streaming, downloads to watch videos offline, and viewing on multiple screens at one time.
If you haven't watched this binge-worthy show yet, get yourself to Netflix, stat. The show revolves around a hard-hitting question: Is it possible to fall in love with someone when you have no idea what they look like? Participants on the show mingle with potential partners by going on virtual blind dates—the catch is that they're separated by a wall and can't see each other in person until after they get engaged.
With a mix of thrills, romance, and action, Outer Banks is like the television version of your guilty pleasure beach read. The show focuses on 16-year-old John Booker Rutledge, a.k.a John B, and his search for his missing dad. Instead, John B and his friends find a shipwreck and hidden gold, with plenty of drama following suit. If you're from South Carolina, keep your eyes peeled—despite the show's name, Outer Banks was actually filmed in Charleston, so you might recognize some of the locations.
With each of the four episodes ringing in at under an hour, this uplifting miniseries could easily be watched in one weekend (or one sitting, especially during times of social distancing). It features a few big Hollywood names, including Octavia Spencer and Tiffany Haddish, but the real focus is the true story of the woman at the center of it all. Set in the early 1900s, Self-Made is based on the life of entrepreneur Madam C.J. Walker, whose line of Black hair care products helped her become the first female millionaire in America.
Do you love HGTV and want to find a show you can stream while you're researching wedding venues or browsing decor items? The Netflix original Stay Here is a great series to put on in the background. Starring Genevieve Gorder of Trading Spaces fame, the show focuses on home improvements and redesigns, which are both pretty relatable if you're planning a wedding or in the process of buying a new home.
The Great British Baking Show
Whether you're watching series one (which debuted nearly 10 years ago!) or series 10, The Great British Baking Show is here to soothe all of your wedding planning anxieties. The show is filled with lighthearted humor, tasty desserts, and it doesn't require a lot of attention to follow along. You can easily tackle a few wedding planning projects with the show on in the background—or take a break from your to-do list to find out which baker's creations wow the judges in each episode while also getting inspiration for your own wedding menu. If you're a longtime GBBS fan, you can also check out Nadiya's Time to Eat, which premiers on April 29 and stars a familiar baker from series six.
View this post on Instagram
Best shows to watch on Hulu
Hulu plans start at $5.99 a month and include a free one-week trial. For $12.99 a month, you can bundle Hulu with ESPN+ and Disney+, which is less than you would pay to subscribe to each service separately.
Now that all eight episodes of season one have been released, Little Fires Everywhere is one of the best TV shows to binge watch if you're looking for a new obsession. The story centers around Elena Richardson, played by Reese Witherspoon, and her 'picture-perfect' family as things start to go terribly downhill. The cast also includes Kerry Washington, AnnaSophia Robb, Geoff Stults (from 7th Heaven), and Broadway star Anika Noni Rose. This suspenseful drama, which takes place in a Cleveland suburb in the late 1990s, highlights a lot of cultural and societal struggles, so you'll need to be a bit more focused to follow along.
An oldie but goodie (the show first aired in 2014), 90 Day Fiancé is a dramatic—but addictive—look at couples who meet online, date long-distance, and must then decide if they're ready to get married after just 90 days. It's entertaining enough to watch while you focus on other wedding planning tasks, or you can press pause on your to-do list and immerse yourself in the whirlwind of the show.
For a show that will definitely make you and your S.O. laugh, stream Key & Peele on Hulu. Comics Keegan-Michael Key and Jordan Peele star in this sketch comedy series and are great to watch if you need a pick-me-up from wedding planning stress. Each episode is only 30 minutes and features stand-up bits in between the different sketches, and it won't be long before you find yourself quoting the show's silly humor with your fiancé(e).
Say Yes to the Dress is one of the best shows to watch if you're in the midst of shopping for your dream gown. The long-running reality TV show follows brides-to-be as they try to find the perfect wedding dress at Kleinfeld in New York City. No matter where you're planning to shop for your wedding dress, the show will help you learn the basics, from silhouettes to fabrics, and how price points vary among designers or styles. This show is known for highlighting each bride's wedding dress pain points, such as sticking to a budget or dealing with overly-opinionated family members, which makes it so relatable.
View this post on Instagram
Best shows to watch on Amazon Prime Video
If you already have an Amazon Prime subscription, you can enjoy Amazon Prime Video at no extra cost. You can also purchase a Prime Video-only subscription for $8.99 a month or sign up for Amazon Prime, which starts at $12.99 per month.
Whether you're Team Lauren or Team Heidi, this series is always entertaining (even if only for the mid-2000s outfit throwbacks). If you watched The Hills the first time around, it's one of the best TV shows to binge watch again in the background while you unwind and focus on other wedding planning to-dos. The episodes are short, so use them to take breaks and motivate yourself to jump back in if you're focusing on a big task. All six seasons are available for free with Amazon Prime Video.
If you're a Project Runway fan, this show is right up your alley. You'll immediately recognize some familiar faces: Runway alums Heidi Klum and Tim Gunn are the hosts of the show. Twelve designers from across the world compete in fashion challenges to test their design skills, from jewelry to shoes and haute couture. There are appearances from guest judges, including Naomi Campbell and Nicole Richie, and the winning designer is awarded with the opportunity to sell their collection exclusively on Amazon.
Here's your opportunity to see the Duchess of Sussex in action before she met Prince Harry. Suits is a fictional dramedy about a lawyer who never actually attended law school—think Law & Order with more humor meets Legally Blonde with less pink. Although Meghan Markle exited Suits in 2018, eight of the show's nine seasons are included for free with Amazon Prime Video, giving you hours of binge-worthy content whenever you need a break from wedding planning.
With the first five seasons available on Amazon Prime Video, RuPaul's Drag Race is one of the best TV shows to binge watch if you're looking for a mixture of comedy and sass. Contestants serve major looks (and attitude) as they compete to win the title of 'America's next drag superstar' through song, makeup, and costume challenges. The show is full of laugh-out-loud moments and quotable lines—watch it with your wedding party and we guarantee the group chat will be lit.
View this post on Instagram
Best shows to watch on Disney+
Sign up for Disney+ starting at $6.99 a month or $12.99 a month when you bundle with Hulu and ESPN+. Along with these shows, Disney+ is the only place you can stream Disney classics (including all your Disney Channel favorites), Pixar films, and the Star Wars franchise.
Disney's Fairytale Weddings
Behold: the ultimate source of wedding inspiration for any Disney fanatic. This binge-worthy show follows real couples as they plan their Disney-themed weddings at dream-come-true locations, including the Tree of Life in Animal Kingdom, a Disney cruise, and the Aulani resort in Hawaii. There are 14 episodes in total, and they're filled with wedding ideas you can recreate even if you're not getting married at one of the parks.
We're going super old-school with this one, but with seven seasons of shows, Boy Meets World will keep you entertained for hours as you're planning your wedding at home. This classic Disney show is lighthearted enough that you can listen to it in the background while you're browsing wedding inspiration or doing other things around the house. Decades on, it still makes us laugh, and some of the events in the later seasons are surprisingly relatable now that we're all adults. If nothing else, Angela and Topanga are still major '90s style icons.
If you're fascinated by the ins and outs of the Disney resorts like we are, we recommend this as one of the best TV shows to binge watch next. Each episode gives you a behind-the-scenes look by following a Disney employee through their daily workflow—you'll learn about everything from animal keeping to candy making. A similar Disney+ show, The Imagineering Story, reveals the inside scoop on how the parks were created and what went into making some of the most famous Disney attractions.
Disclosure: This post contains affiliate links, some of which may be sponsored by paying vendors.