Attending an Indian Wedding? Here's What to Expect
Make sure you'll know what to expect when attending an Indian wedding. Learn about the various religions that may be observed and the customs associated with each.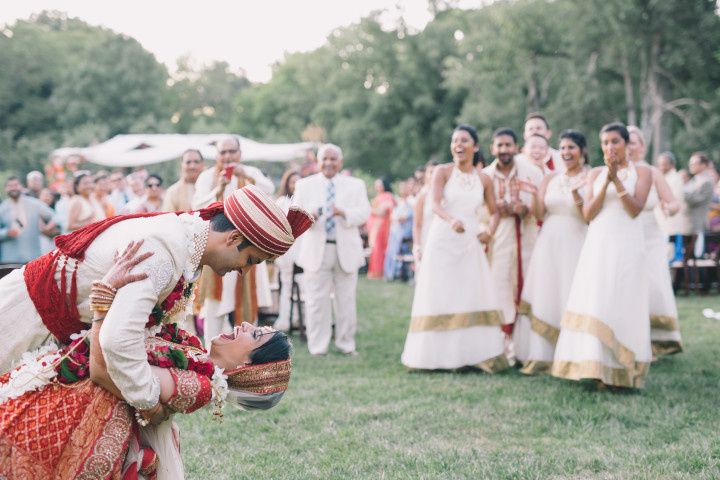 First off, good job on scoring an invite! Attending an Indian wedding, especially for the first time, is exciting and full of joyful emotions. Whether your friends are Sikh, Muslim or will be having a Hindu wedding, there are lots of commonalities that will thread through your first Indian wedding. We asked wedding planners who specialize in South Asian weddings to share their top tips for guests attending an Indian wedding for the first time, so you can understand some of the Indian wedding customs and traditions.
Attending an Indian wedding often means multi-day celebrations full of colorful decor, dancing and delicious food.
Indian wedding ceremony: Sikh ceremony, Muslim tradition or Hindu wedding?
Your first Indian wedding ceremony will likely either be a traditional Sikh ceremony, a Hindu wedding, or a Muslim celebration.
Hinduism is the most popular religion of India and Nepal, observed by almost 900 million people. For Hindu weddings, you'll want to be prepared when you see flower petals being passed around during the ceremony. Riri Patel of tanaRi events in New York explained that, "Traditionally, when the couple are doing their pheras, (circling around the fire), close family members and guests sitting in the front can stand up and sprinkle the petals on the couple. It is regarded as blessings and love for the couple."
Islam is the second largest religion in the world with adherents occupying every corner of the globe, including the Indian subcontinent. Couples with Indian Muslim roots will be married via a Nikah, which is a three-part religious ceremony that takes place in a mosque.
Sikhism is a 500-year-old religious tradition mainly practiced by devotees in the Indian subcontinent and throughout the Indian diaspora.
"At a Sikh ceremony, when eating the lungar (communal food), accept the roti (bread) as a blessing by placing your hands together, then opening them palms up," advised Preeti Vasudeva of Preeti Exclusive Creations in Washington, DC.
What to Wear to an Indian Wedding
If you're attending an Indian wedding, you can rent Indian wedding attire, including saree or lehengas for women and a kurta or sherwani for men, from a variety of sources. Borrow Bollywood and Saris & Things are two sites that offer Indian wedding attire rental. Black and white are not traditionally worn to Indian weddings, so pick another hue (preferably a bright one!) for your attire.
Regardless of the religion of the couple, you'll want to be sure to remove your shoes if the ceremony takes place inside a place of worship. Women will also need to bring a scarf to cover your head (guys can use a handkerchief), unless you're planning to wear a saree, in which case you can drape the dress fabric over your head.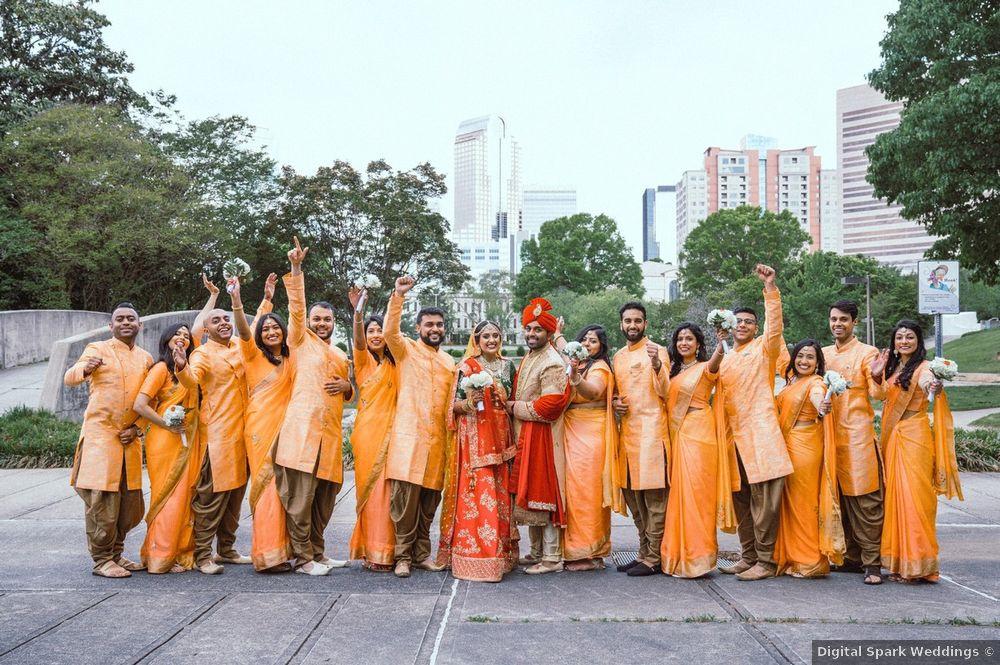 Schedule of Events—How Long is an Indian Wedding?
If you're a close friend of the person who's invited you to your first Indian wedding, there's a big chance you'll also be invited to take part in some of the rituals that many couples plan before the big day, which is why Indian weddings are notorious for being long affairs. "It is customary for some South Asian weddings to go on for three to four days, so get plenty of sleep!" said Neeva Dhariwal of Project Bride DC in Rockville, Maryland.
Haldi ceremonies: If you've ever seen a Color Run or Holi festival, then you're already familiar with the basics of a Haldi before attending an Indian wedding. It's an intimate ceremony that close friends and family of the couple will be invited to celebrate on the first day of the festivities. The couple will host separate Haldis at their respective homes before the wedding to bless the couple and ward off evil. The Haldi paste is made from turmeric by elders of the couple and, while the premise of this Indian wedding ritual is solemn, there's colorful paste involved, so music, dancing, food, laughs and stunning photos will likely be the result.
Mehendi parties: You're probably familiar with Mehendi, which is also called henna. Before she's married, Indian brides gather with their closest friends and family to dance, celebrate and decorate their hands and feet with intricate henna designs. Typically, this event will happen on the morning of the second day of wedding events. Historically a tradition of North India, it has exploded in popularity and lots of Indian American couples with roots all over the subcontinent and from various religions engage in the happy ritual.
Sangeet: A sangeet usually takes place the night before the wedding. It can feel very similar to a wedding reception, with food, dancing, and fun—and everyone is invited! The couple's family members and friends perform special dances to celebrate the couple.
Baraat: The groom typically makes a grand entrance into the ceremony in a fancy car, in a boat, on a horse, or another creative method. An Indian drum, called a dhol, is played while guests dance and celebrate.
Ceremony: The groom then joins the bride's family for the milni ceremony, where gifts, candy, and flower garlands may be exchanged. The groom removes his shoes and sits under the mandap, or canopy. The bride makes her entrance, called the kanya aagaman, and her parents "give her away," a tradition known as kanya daan. The ceremony consists of many different traditions, including the satapadi, where the groom leads the bride around a small fire.
Reception: After the ceremony, the party begins! Food, dancing, and toasts are all major parts of an Indian wedding reception. One fun tradition is the bride's side of the family stealing the groom's shoes, and requesting money to give them back!
Indian Wedding Gift Etiquette
Guests traditionally do not bring boxed gifts to Indian weddings. Instead, send a gift from the couple's wedding registry to their home in advance or bring a card with money to the event.