Wedding Money Dance Moves You'll Def Want to Try
In many cultures, the dollar dance is a fun reception tradition. Here are some examples from around the world.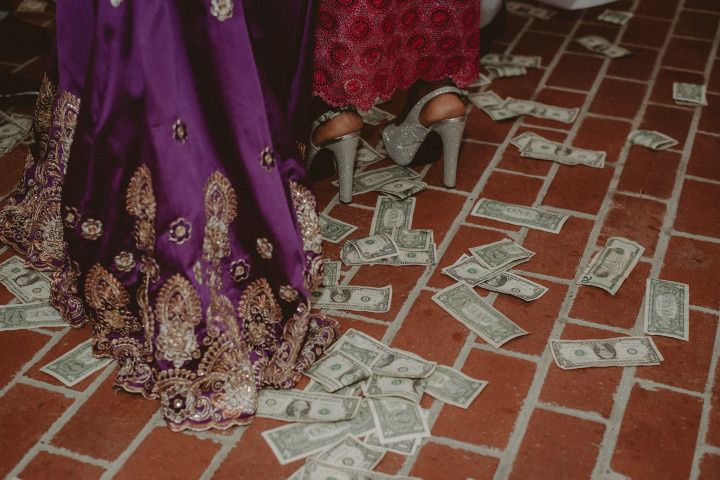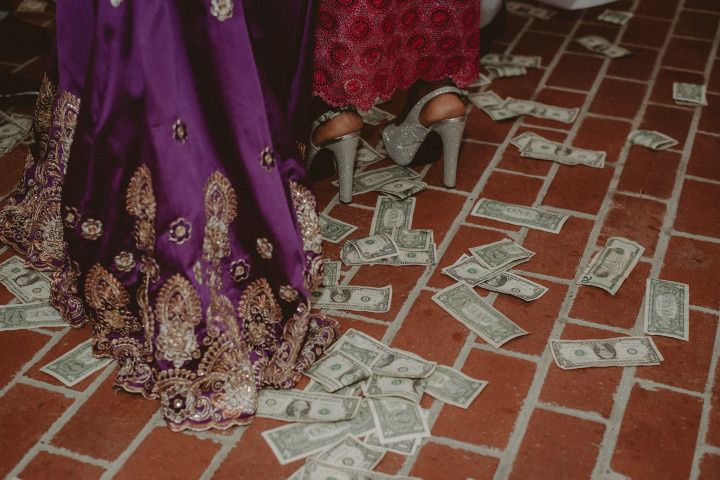 Add the wedding money dance to the list of uh-mazing traditions we're grateful different immigrant groups have brought to the States. Money dances, also called a dollar dance, are exactly what they sound like. During the wedding reception, the newlyweds take a twirl around the dance floor as their friends and family pin money on them or throw dollar bills at their feet. Other variations include guests lining up to "pay" to dance with the bride or groom. There's scant evidence as to when or where this tradition started, but many cultures perform this ritual at weddings including Greek Americans, Filipino Americans, Nigerian Americans and other ethnic groups. A note to guests seeing the dollar dance for the first time — this doesn't replace your gift!

You'll be ready to bust out your own moves once you check out these wedding money dance videos.
We're going to need a rake for these bills.
You'd never know it by the nonchalant sways of the bride and groom, but this Nigerian couple raked in the dough, quite literally, during their reception wedding money dance. Take a look at their reception video and you'll see their guests eagerly spraying them with bills, despite the dance floor being completely covered with cash already. It's a good thing some efficient guests had industrial brooms on hand to sweep away the piles of dollars as the rest of the party danced the night away.
Get your dollars ready.
What a popular bride Mariver was at her Los Angeles wedding to Dennis. At her traditional Filipino wedding reception, Mariver danced with a line of male guests who didn't hesitate to pin a bill on her dress before asking her to dance. For his part, Dennis also got a couple of dances in during this fun reception highlight.
Even the littlest dancers can get behind a good dollar dance.
No guest was left behind at this wedding money dance in Westbury, NY. As is customary in the traditional Filipino money dance, the bride and groom danced separately with different guests who each pinned a bill on them before the dance. When a tiny wedding guest cut in on the groom's dance, she was also granted a turn around the dance floor.
Skip the safety pins and just stuff the cash.
Maybe Crystal didn't want to risk damage to her wedding gown during her wedding dollar dance, or maybe she didn't want the bills to crowd the dance floor. Whatever the reason, she eschewed other money dance traditions and allowed her guests to tuck their bills into her dress as opposed to pinning or throwing on the floor. Whatever way you choose to grab your wedding cash, the intent is always the same.
Covered in cash is never a bad thing.
Dino and Christina got a little more than they probably bargained for with their wedding money dance cash flow. After being draped in streams of pinned notes at their Greek wedding reception that covered their wedding attire (and made a nice crown for Dino), their original dress and suit were nowhere to be seen under the gleam of the cash. But if the exuberant dancing was any indication, this couple didn't seem to mind the extra threads at all.