7 Greek Wedding Traditions & the Meanings Behind Them
Learn the meanings behind these symbolic Greek wedding traditions so you can weave traditions from the old country into your big day.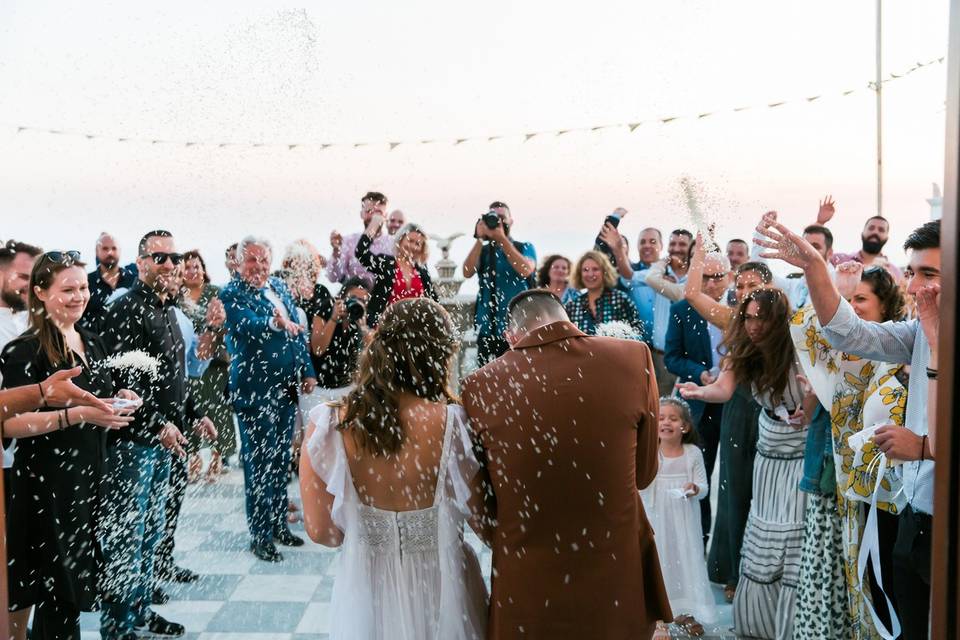 For couples planning a Greek wedding, there's a rich well of Greek wedding traditions to choose from for your big day. Whether you're hightailing it to Greece for your nuptials, finding an Eastern Orthodox church for your ceremony or simply looking to weave in a bit of Greek culture into a secular ceremony, the traditions of Greek celebrations are full of cultural meaning. From food to dance to religious customs and back, you'll be reaching for a tambourine to join in the fun before it's all said and done.
Find out the meaning behind these unique Greek wedding traditions.
Stefana crowns
The tradition of placing a delicate, white crown on top of the bride and groom's head was said to originate in the 11th century and is still one of the most important Greek wedding traditions. Greek wedding ceremonies feature an elaborate ritual with the crowns. First, the priest places a crown on both the bride and groom's head. Then, the Koumbaros, or wedding sponsor, intertwines the crowns three times to symbolize the couple's union. Finally, the crowns are tied together with a ribbon.
Greek wedding witness pins, or martyrika
Once a Greek wedding ceremony is complete, the Koumbaros will often hand out a tiny lapel pin with a small ribbon to the wedding guests. The Greek wedding traditions colors are white, blue or pink and many also have a small cross in the center. These are meant to symbolize the sacrament the wedding guests have just witnessed.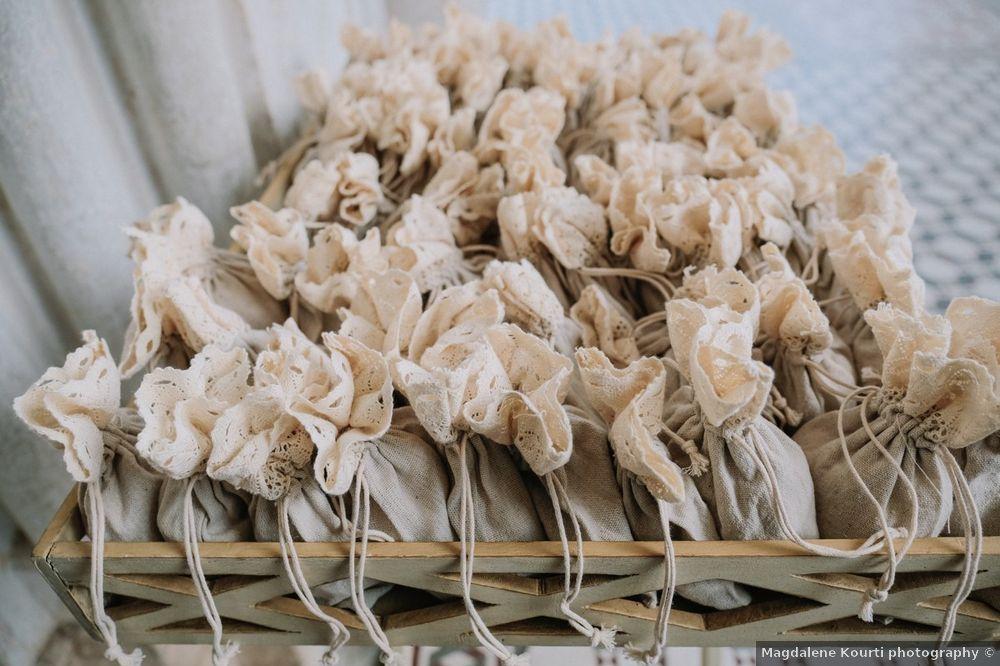 Yuvetsi, Tiropita and Baklava
Food is one of the most important Greek wedding traditions! While Greek Americans have a rich and diverse selection of homeland foods to choose from, certain dishes seem to always show up on a traditional Greek wedding menu. Yuvetsi is lamb or beef stew with orzo; tiropita is a cheese pastry and baklava is, of course, the pastry sweetened with honey and nuts.
Kalamatiano
This festive wedding dance shares the same name as the ancient Greek folk dance, but for a Greek wedding it has a pretty specific meaning. The bride stands in the middle with her MOH to the immediate left and the female wedding guests hold hands and encircle the two. Although meant as a women-only celebration, you might see a few guys join in as well.
Zembekiko
Not to be left out, the Zembekiko is for the groom, his best man, groomsmen and other men at the reception. It's a similar circle dance as the Kalamatiano and it's customary for those who aren't joining in to kneel and clap along to the music while the groom dances.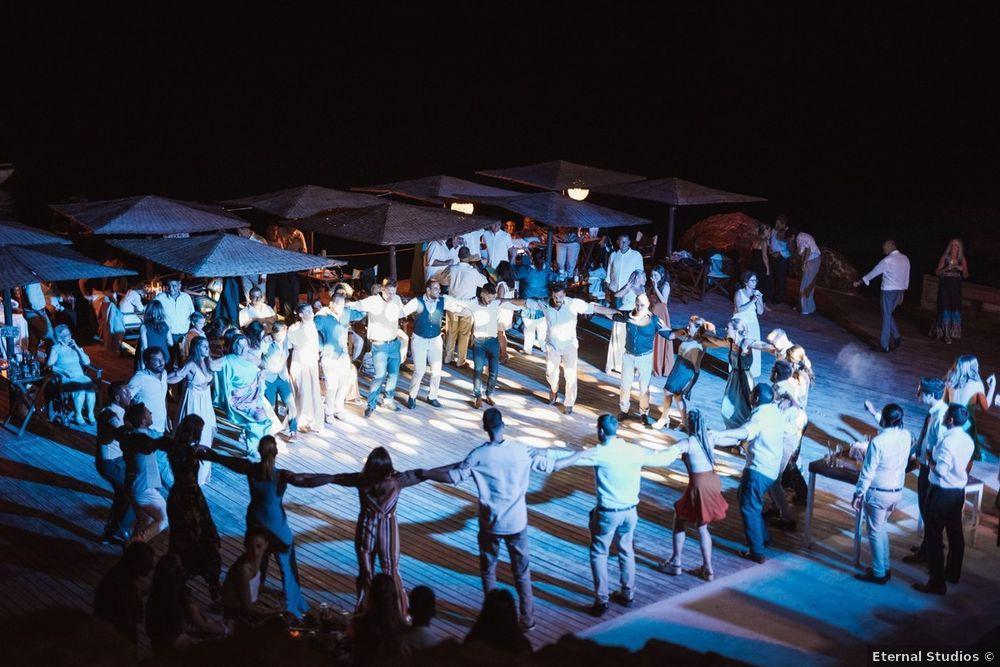 Greek wedding dollar dance
Once the wedding reception is in full swing, a traditional Greek wedding dollar dance will probably ensue. One of the many customs Greek Americans brought from Greece, this is a playful dance between the newlywed couple that is rewarded by guests tossing dollar bills onto the dance floor or pinning them onto the couple's attire. It's totally optional for guests and isn't a substitute for wedding gifts, but rather a fun, symbolic way to congratulate the couple on their new marriage.
Jordan almonds, or bombonieria
For many Greek wedding guests, the tradition of handing out candy-coated almonds as a wedding favor is one of the many memorable aspects of a Greek wedding. This enduring wedding tradition is called bombonieria and has been associated with Eastern Orthodox weddings for more than three millennia. The salty-sweet combination symbolizes life's ups and downs and the hope that there will be more sweet than bitter. Couples typically give an odd number of almonds in each favor to note the indivisible power of their marriage with five being the most traditional number. Each almond symbolizes their hopes for their life: health, happiness, fertility, wealth and a long life.