The 5 Wedding Menu Rules Every Couple Should Follow
There's a way to find a balance between pleasing your guests and catering to your own tastes—here's some advice on creating an amazing wedding menu.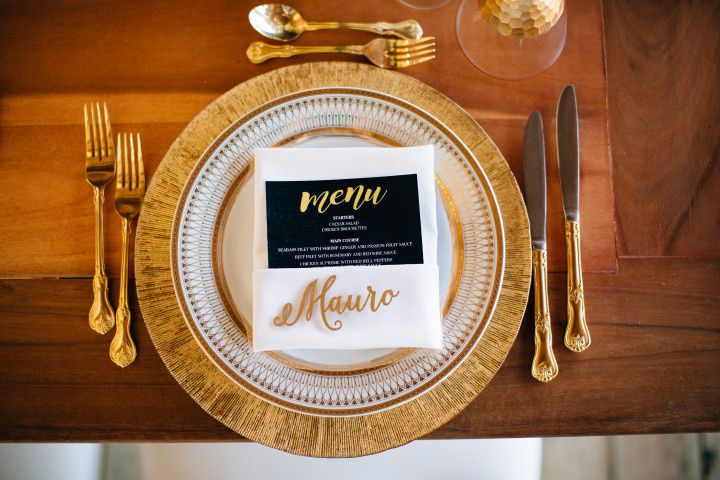 Wardrobe, florals, invitations, first dance…all of these are amazing ways to let your and your partner's true personalities shine through at your wedding. But did you know your wedding menu is another amazing way to showcase your great taste on your big day? (Pun intended!) An artfully curated wedding menu can expertly exude who you both are while also pleasing the diverse preferences of your guests and be totally memorable—but beware, making your wedding reception food too personal might be off-putting to some guests.
Here's how to balance pleasing your guests with catering to your own tastes.
Offer options.
Keep in mind that your wedding menu should reflect your tastes and preferences, not cater solely to them—after all, your wedding food is more or less a gift to your guests to thank them for taking the time to come celebrate you and your partner. It isn't all about you—so even if you're both die-hard vegetarians, you should still offer an option for carnivores, since you'll likely have many in attendance. If one of you has a certain intolerance, like gluten, it's totally OK to offer wedding food ideas that are gluten - (or whatever-) free, but there's no need to craft a completely gluten free menu (your caterers should know how to handle preparing food for people with intolerances safely and securely—make sure you talk this over with them in detail before you sign the contract!). Work with your caterers to let your wedding menu highlight your preferences, rather than be steamrolled by them—for example, if you're vegetarian, let the vegetarian dish take top billing and offer something meat-oriented as a second choice.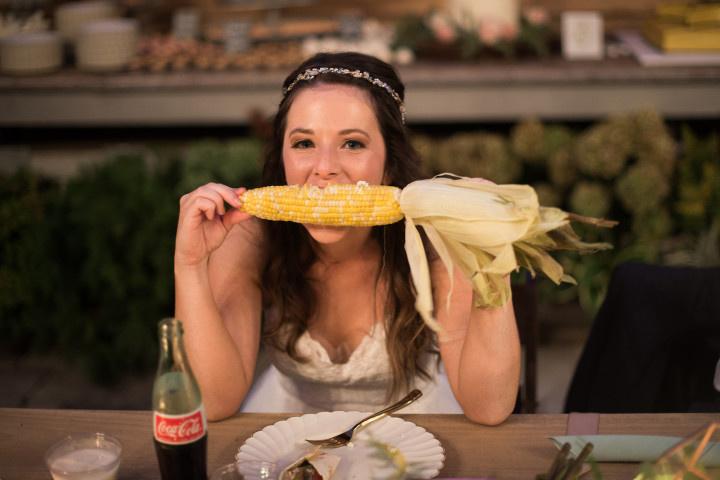 Stay grounded.
Maybe you and your partner are total foodies, but that doesn't mean that your whole wedding menu should be made up of items no one on your guest list has never heard of before. Besides celebrating love, people go to weddings for two things: food and fun ("fun" being the open bar, usually…). Regardless of your exotic tastes, you shouldn't make the "food" part a struggle for your guests to get through—not everyone is excited by escargot or thinks truffle foam is #dinnergoals. Further, if people will be doing a lot of drinking, the food should be substantial enough to soak up all that liquor, and super-fancy food that half the guest list is afraid of won't make the cut. Instead, share with your caterers that you and your partner love adventurous eating and would like to incorporate that creatively (and sparingly) into your wedding menu. The safest places to do so would be during cocktail hour or as sides during dinner. That way, you can have some delicious classics alongside more unique picks, and everyone can get their fill how they like, while maybe trying one or two new things they've never tasted before. Remember, really well-made, thoughtful, simple food never goes out of style, so when in doubt, don't put trendiness over time-tested favorites.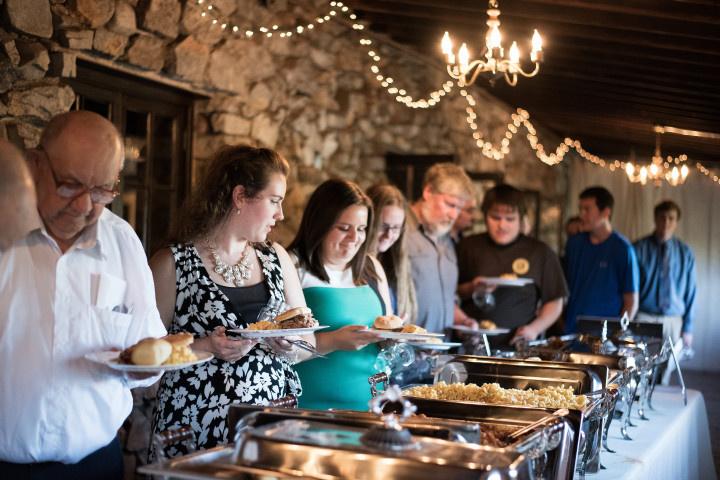 Be realistic about timing.
Love the idea of a super-late dinner? Or a super drawn-out one that takes up most of your reception? Maybe you want food to be the main event because you and your partner love food as much as you love one another (or, almost as much), but it's important to be thoughtful and courteous of your guests when it comes to figuring out the scheduling of your cocktail hour and meal. The bottom line is, wedding guests become hangry very easily. As is expected, as they're essentially beholden to you as their only source of food and hydration for an eight hour block of time! You can expect much from a wedding guest—like asking them to stand in the rain and still be happy to watch you exchange vows, or dance like no one's watching in 100,000-degree weather—but you cannot expect them to wait till 11pm to eat when they've had nothing but canapes at 3pm and champagne… since. So, time things kindly. Want a late dinner? Have a second round of passed appetizers between cocktail hour and the main event to tide people over. Or have your full dinner at regular dinnertime, then offer a fun late-night meal for those still partying and in need of refueling. If you're thinking of a lengthy, many-course experience for dinner, start a little earlier so servers aren't plating food while people are going crazy to "Uptown Funk" on the dance floor. Fine dining and wedding dancing just don't mix, and it's not fun for guests to have to switch gears between dancing and dining to avoid FOMO.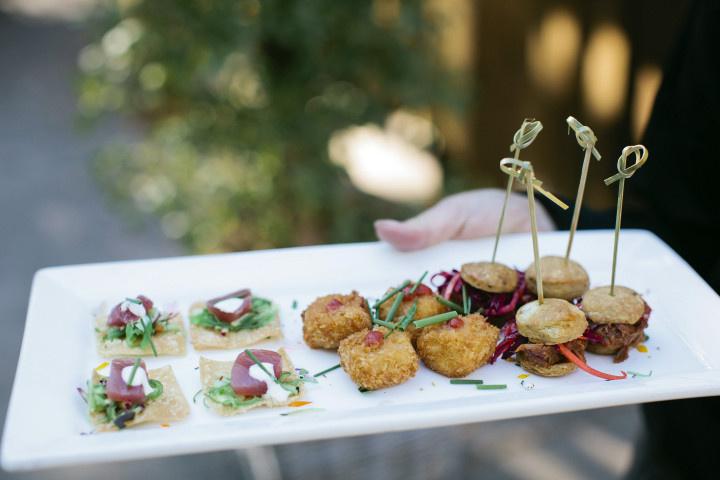 Make the wedding reception food fit the mood.
So, you were dying to have a ballroom wedding, but you're also dying to have a pizza truck cater it. My first piece of advice is "do whatever you want," but if you're really concerned with guest experience, it may behoove you to try and make the fare match the venue a little more closely. Guests showing up to a formal wedding are expecting—and dressed for—a formal dinner. Likewise, guests attending a rustic barn wedding probably are expecting something a little more low key and casual (and don't necessarily want a fine dining experience fit a Michelin star restaurant). The best caterers today are creative and innovative, and can take your inspiration—whatever it is—and make it fit your venue, as long as you're clear about what you want and have vision. Love the idea of pizza at your formal affair? Ask your caterer to serve fancy flatbreads as a starter. Want to dial up the elegance of your menu at your camp wedding without making it feel out of place? Explore classics with a modern, refined twist.
Set the right scene.
A quick anecdote for this one—my now-husband and I devised an amazing wedding menu with our caterer that I'm still proud of a year out from our wedding (maybe I should move on? I dunno). I felt it fit our personalities perfectly, and our rustic venue, too—there was a local salad, fried chicken, tomato pie, and more. Everything was delicious, and everyone raved about it! The one thing that didn't work? The bamboo utensils I selected based purely on appearance, which cracked in half as people attempted to cut their crispy chicken, and were totally useless for picking up tender salad greens! Looking back, we all laugh at the cacophony of fork-snapping sounds that accompanied our amazing dinner, but also, I totally regret putting style over substance when it came to picking out our table settings. The truth is, you can plan a masterful wedding menu, but if you let your vision take over and aren't strategic about the servingware and settings you provide, or renting enough of whatever you need, or even the way you seat tables (i.e., making sure not to cram people together!), your guests' dining experience can be compromised. Which means that food you put so much thought into? Totally overshadowed. The best way to make sure this won't happen is to talk over your dinnerware, servingware and table setup ideas with your caterer—after all, who better to ask how their food should be served?—then let their insights guide the choices you make. (Rather than letting your Pinterest board guide you.)